Subscribe/Access
Advertisements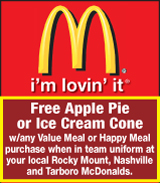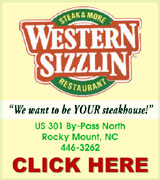 Sections
Member Options
Back
Nash hears opposition to waste fees


Nash County towns are joining together to fight a proposed fee that will be assessed to municipal residents for use of the county's convenience centers.
Nash County Commissioners voted last month for staff to include a $25 annual fee for municipal residents. The fee would allow homeowners in Nashville, Castalia, Spring Hope, Bailey, Middlesex, Sharpsburg, Rocky Mount and Whitakers to use the county's convenience centers.

More ...
AMANDA CLARK, GRAPHIC STAFF WRITER
School system begins new anti-bullying campaign


The Nash Rocky Mount Schools (NRMS) administration delivered its new anti-bullying campaign to principals last week, called "You + Me = Bully Free." Principals are now sharing this with teachers, who will then bring the campaign to students and parents.
The NRMS system has a "Safe School Tip Line" at 252-220-0677 and an email address at mysafeschool@nrms.org, for students, parents, and the community to give officials anonymous information.

More ...
MICHELE A. CRUZ, GRAPHIC CORRESPONDENT
Local youth petition Town Council for skate park


Two local youth are asking the Town of Nashville to consider building a skate park in town.
Tristen West and Chase Williams sent a letter to Mayor Donald Street, along with a petition containing over 100 names, asking for the skate park.
Mayor Street included the letter and petition in information at last week's regular town board meeting. Both West and Williams attended the meeting.

More ...
AMANDA CLARK, GRAPHIC STAFF WRITER
Spring Hope to begin budget


The Town of Spring Hope is getting an early start to planning the upcoming budget, as Town Manager John Holpe unveiled a proposed budget for the 2014-2015 fiscal year on Monday night.
Holpe told commissioners the budget was a very conservative one. The general fund budget proposed was $1,014,305.
"This is $1,895 less than the budget we adopted last July 1," Holpe said.

More ...
AMANDA CLARK, GRAPHIC STAFF WRITER
Affiliation between Nash and UNC now complete
Nash Health Care's affiliation agreement with UNC Health Care officially began last week.
A recent press release states, "Nash Health Care entered a new era in its mission to provide superior quality health care for area citizens last week as its affiliation agreement with UNC Health Care took effect."
The release continues that the management services agreement allows Nash Health Care to acquire managerial, clinical and operational resources from UNC Health Care.
More ...

David Winstead (center) was the recipient of an Appreciation Award for his volunteer work at the department. Presenting the award was Captain Jason Edwards (far left) and Lt. Tracey Wood (far right).

Nashville firefighters earn awards


Nashville firefighters were recognized on Sunday afternoon during an award's celebration hosted by the Nashville Fire Department.
Three of those who were honored as Career Firefighter of the Year, Volunteer of the Year and Junior Firefighter of the Year, logged over 700 hours of training in 2013.

More ...
AMANDA CLARK, GRAPHIC STAFF WRITER
NASHVILLE POLICE BRIEFS
INCIDENTS
A damage to property (vandalism) was reported on 4/1/14 at the Laser Wash at L&L Food Stores
A damage to property (vandalism) was reported on 4/3/14 at 922 Old Wilson Road
A breaking and entering a residential was reported on 4/3/14 at 203 Windy Oak Drive
More ...
NASH COUNTY SHERIFF'S OFFICE REPORTS
A fraud was reported on 3/31/14 at 6350 Stoney Hill Church Road
A larceny of lawn mower parts was reported on 4/1/14 at 13108 NC 33
A breaking, entering and larceny of a residence was reported on 4/1/14 at 4940 Southern Nash High Road
A domestic violence was reported on 4/1/14 at 2312 Tom George Road
More ...
Tax service company owner and tax return preparer sentenced to prison
A manager of a tax return preparation business was sentenced to prison last week in federal court.
Senior United States District Judge W. Earl Britt sentenced Crystal D. Dickens, 25, of Rocky Mount to 35 months in prison followed by three years of supervised release. Dickens was also ordered to pay restitution in the amount of $652,413.
More ...
Nash County Democrats hold rally


Nash Democrats met on Thursday. March 27, for their annual Spring Rally held at the Momeyer Ruritan Club. Chairman Jan Mills led the ceremonies which were attended by roughly 100 people, including candidates presenting their claims for public office.
Several of those who spoke were candidates for non-partisan judicial races.

More ...
AMELIA HARPER, GRAPHIC CORRESPONDENT
Castalia plans budget meeting


Castalia Commissioners are planning to have a special budget meeting to discuss the town's financial affairs for the coming fiscal year. The meeting is scheduled for Monday, May 19 at 6:30 at the town hall. Castalia must adopt a new budget before the next fiscal year begins in July.
In the meantime, Mayor Ellene Leonard updated the public on the current plans for the Castalia Park.

More ...
AMELIA HARPER, GRAPHIC CORRESPONDENT
No injuries reported from recent Nash-Rocky Mount bus accident
A Nash-Rocky Mount Public Schools bus driver was charged with failure to maintain lane control after an accident last week.
According to the North Carolina State Highway Patrol, Domenick Terrell Battle, 24, was driving school bus  306  west on Boddie Mill Pond Road when he ran off the right shoulder of the road. The bus overturned and came to rest upside down in a ditch. Bus 306 serves Nashville Elementary School.
More ...
Easter activities planned in Nash County
With Easter just over a week away, several Easter Egg Hunts are scheduled in area towns.
Nash County Parks and Recreation will be hosting its annual Easter Egg Hunt on Saturday, April 12 at Ennis Park in Red Oak. The event will be held from 9 a.m. until 11 a.m. for ages 10 and under.
The event will include door prizes, face painting and pictures with the Easter Bunny.
More ...
Sheriff candidate to speak at Community Watch meeting
Stanley "Big Grif" Griffin will be a guest speaker at the Park Avenue Community Watch meeting this Thursday night, April 10.
The Park Avenue Community Watch is hosting all three candidates for Nash County Sheriff. Last month, Gene Braswell spoke to the community watch group.
More ...
Nashville's Coffee with a Cop set for April 17
Church Street Grill will host Nashville Police Department's next Coffee with a Cop event on April 17.
The event will be held from 9 a.m. until 11 a.m.
Coffee with a Cop is a community outreach program that allows citizens and others in the community to sit down and meet Police Chief Tom Bashore and Nashville Police Officers, ask questions and voice concerns.
More ...
Students honor former coach
A reception was recently held for Coach David Cooke, former coach and teacher at Coopers High School. Around 40 former students and ball players greeted and reminisced about the days at Coopers High School during the 1950's. In 1952, Cooke coached the Coopers Girl's Basketball Team, winning the Nash County Championship and advanced to the State Playoffs.
More ...
Scholarship awarded to NCC student
Nash Community College nursing student Angelica Williams of Spring Hope has been awarded the Jean Wynne Memorial Scholarship funded by the Rocky Mount Luncheon Pilot Club. The scholarship is awarded annually to a student with academic merit. Since its charter in March 1975, the Rocky Mount Luncheon Pilot Club, Inc. has served community organizations in the Rocky Mount area by raising awareness of brain disorders.
More ...
ENGAGED
Ricky and Lisa West, of Nashville, and Michael and Barb Anthony, of Cary, announce the engagement of their daughter, Meredith Leigh Anthony, of Wilmington, to Gabriel Norris Branch, of Wilmington. He is the son of Frank and Cissy Branch, of Red Oak. A June 7, 2014 wedding is planned at Emerald Isle.
More ...
North Carolina releases 2013 domestic violence statistics
A total of 108 North Carolinians lost their lives in domestic violence murders in 2013, a decrease of 14 from the previous year, Attorney General Roy Cooper recently announced.
"Any drop in murders is a hopeful sign, but for every abusive relationship that ends with a tragic death, many more victims continue to suffer," Cooper said. "We must continue to fight this dangerous crime and help victims escape abuse."
More ...
Local youth prepare for annual 4-H Livestock Show and Sale


Over 175 youth will be participating in the 77th annual Eastern Carolina 4-H Livestock Show and Sale, set for April 15 and 16.
The event will be held at the East Carolina Agriculture and Education Center in Rocky Mount.
Youth from Nash, Halifax and Edgecombe Counties will exhibiting market steers, hogs, lambs and goats during the event.

More ...
AMANDA CLARK, GRAPHIC STAFF WRITER
Renovations continue on historic Red Oak Community Building


What began as a simple preservation project has now escalated into a full scale face-lift for Red Oak's historic community building. The log building was slated to undergo restoration and preservation of the exterior logs during the month of January. However, Red Mayor Alfred Wester said that once the exterior was completed and looked so good, he and other members of the town board felt that the interior logs needed to be treated as well.

More ...
AMELIA HARPER, GRAPHIC CORRESPONDENT
Relay for Life annual flower sale begins
The annual Relay for Life Flower Sale has begun offering a variety of flowers, baskets and bedding plants. Deadline to order and pay for flowers is Sunday, April 20. Delivery of flowers in Nashville at Ebenezer PHC on Thursday, April 24. Please pay in cash or make checks payable to Ebenezer PHC Relay for Life. Proceeds support Relay for Life of Nash County. Call Michael 252-903-6813 or Liz at 252-469-1120 to place your order.
More ...
Jackson speaks at event supporting digital transition
Dr. Anthony Jackson, superintendent of Nash-Rocky Mount Public Schools, recently joined educators nationwide for the second annual Future@Now: Roadmap to the Digital Transition, a forum focused on a critical issue in education today – implementing effective, district-level digital transitions that prepare students for citizenship, college and careers.
More ...
NCC Foundation launches campaign
The Nash Community College Foundation 2014 Campaign began on March 25th under the leadership of the Board of Directors to help meet the needs of the College and to provide support for students continuing their education.
"Generations of students have depended on Nash Community College as they pursue a degree or develop a skill-set to better themselves and improve the quality of life for their families.
More ...
Local photographer attends educational institute
Allen Hinnant of Photography by Allen Hinnant, attended a Professional Photographers of America affiliate school in March. Hinnant attended the East Coast School with instructor Richard Sturdevant of Garland, Texas. Richard Sturdevant is a leading expert in photographic artistry and creative composites. He is one of two photographers to go "double diamond" in PPA's international print competition.
More ...
Nash County Blood Drives for April 2014
Wednesday, April 9 from 9:30 a.m. until 3:30 p.m at Honeywell Corporation, 3475 Wesleyan Boulevard, Rocky Mount
Thursday, April 10 from 12 until 6 p.m. at Englewood Presbyterian Church, 100 South Englewood Drive, Rocky Mount
Friday, April 11 from 11 a.m. until 4:30 p.m. at Englewood Presbyterian Church, 100 South Englewood Drive, Rocky Mount
More ...

Kay Turner (far right) with Matt Papa. Turner is the Acteens and Youth Consultant for the North Roanoke Baptist Association.
Hundreds attend "Look and Live Tour" in Rocky Mount
Over 500 youth and adults from churches all over attended the Matt Papa "Look and Live Tour" on Friday, April 4 at Englewood Baptist Church in Rocky Mount.
The event was sponsored by the North Roanoke Baptist Association.
The band Cloverton performed first with inspirational songs of worship and praise.
More ...
SERVICE AWARD
West Mount Ruritan Club President Russell Cockrell (at left) recently presented Past President Gold Joyner (at right) with an award for 55 years of dedication to the club and community.
More ...
MOUNT ZION FWB CHURCH NEWS


I was not able to attend church again today. Thank Robert Tyner for making the CD's for the sick and shut-ins. I miss the Christian fellowship when I'm not there, but enjoy the CD. The choir sang "Sweet, Sweet Spirit" for the call to worship. Pastor Ronnie prayed the prayer of invocation. Hymns of worship were "Down at the Cross" and "Lead Me to Calvary." Algie Jones Jr. led the singing. Our pastor welcomed everyone and made announcements.

More ...
ROSALENE BASS
Local farmer supports Bailey Area Ministries
Local farmer Debbie High has directed a $2,500 donation to Bailey Area Ministries. Funded by America's Farmers Grow Communities, the donation will help the group fund its food pantry and its client services, which include medicine, utilities assistance, and emergency assistance. The organization, which includes a group of nine churches, businesses, and individuals, is supported entirely by donations.
More ...
Zebulon resident is recipient of NCC's Academic Excellence Award
Jessica Avila, of Zebulon, is Nash Community College's 2013-2014 Academic Excellence Award recipient. Each year, the Academic Excellence Award is presented to North Carolina community college students who exhibit outstanding scholastic achievements. The award represents the highest academic honor at Nash Community College.
Jessica Avila is an Associate in Science student maintaining a 4.0 overall grade point average.
More ...
BCBSNC gives grant to expand Shape NC program
Blue Cross and Blue Shield of North Carolina (BCBSNC) Foundation is investing a second $3 million grant over three years to the North Carolina Partnership for Children (NCPC) to expand Shape NC.
As a result of the first investment, Shape NC, an early childhood initiative focused on increasing the number of young children starting kindergarten at a healthy weight, improved access to healthy fruits and vegetables and increased physical activity for more than 1,000 North Carolina children.
More ...
How to be nine-years old, a lesson from Kent


I almost forgot that it was time for me to write my yearly column in place of my Dad this week. I have a lot going on, and I actually had to put my book on hold to write this.
The plot of my book is very complicated, as it has dinosaurs, paleontology, Greek gods, and a bunch of traps. Dad should be able to tell you all about it, because I have talked to him about it every week for about six months.

More ...
Mike Brantley
It's time we take bullying seriously


Recently, a teenager took his life because of bullying.
This particular teenager was a student at North Pitt High School, where I graduated. The school is a rural school and is a typical high school.
I didn't know the young boy. I didn't know his family either. But nonetheless, the issue hit home.

More ...
Amanda Clark
For Wont of the Public Trust


The Duke Energy coal ash saga reminds us of the old poem, "For Wont of a Nail." No doubt you remember that because of a missing horseshoe nail a horse, a rider, a message, a battle, a war and a kingdom were lost. In our modern-day proverb we would suggest beginning by saying that for wont of doing the right thing the public trust was lost.

More ...
Guest column: My Spin by Tom Campbell
Backward Glances


This photo was found in the Graphic's 1955 archives. It looks as thought it may have been taken at an event, possibly in a school auditorium. If you recognize anyone, call us at 459-7101.

More ...
A PICTORIAL LOOK INTO THE PAST

TYLER'S TIME. Nash Central veteran Tyler King delivers a pitch during last week's road baseball victory against backyard rival Northern Nash.

THE KING RULES


RED OAK -- Even though this is his first season on the job, Northern Nash baseball coach Leonard Allen knew about Nash Central's Tyler King long before he arrived in Red Oak.
That's because Allen served as the region coach for last year's North Carolina State Baseball Games -- and King was a key member of Allen's roster.

More ...
GEOFF NEVILLE, Graphic Sportswriter

TYREKA TAKES A LOOK FOR SN. Southern Nash High School's Tyreka Nicholson eyes a pitch for the Ladybirds during last Thursday afternoon's home, non-conference softball matchup against backyard rival Bunn.

Bunn Gets Best Of Rival Southern


STANHOPE -- Coming off a heartbreaking, 12-inning loss one day earlier against Wilson Hunt, the Southern Nash Ladybirds didn't have much left in the softball tank for last Thursday's backyard rivalry showdown against Bunn.
Southern Nash was in the contest until Bunn broke through for an 8-2 decison at Ladybird Field.
The decisive stanza came in the top of the fifth as BHS scored four runs to pull away.

More ...
GEOFF NEVILLE, Graphic Sportswriter

GETTING BETTER ALL THE TIME. Northern Nash's Kiana Thomas (center) was one of the most improved girls basketball standouts this season in Nash County.

Nash Co. hoopsters honored


NASH COUNTY -- Nash County enjoyed a high-level season on the girls hardwood in 2013-14 -- and plenty of evidence is found on the North Carolina Basketball Coaches Association All-District 3 Team.
Northern Nash senior guard Alexus Hill earned District 3 Player of the Year honors after leading the Lady Knights to the Elite Eight of the Class 3-A State Playoffs.

More ...
GEOFF NEVILLE, Graphic Sportswriter
Wesleyan schedule finalized


ROCKY MOUNT -- North Carolina Wesleyan College's football squad will open its 2014 season on Sept. 6 at home against Stevenson University.
Kickoff is scheduled for 7 p.m. at Rocky Mount Municipal Stadium.
NCWC's complete ledger is as follows, with home events listed in CAPS:

More ...
Staff Reports
Godwin helps NN get past Bulldogs


RED OAK -- After a slow start to the campaign, the Northern Nash High school fast-pitch softball squad has quickly worked its way back toward the .500 level.
Northern, coached by Greg Tharrington, picked up three consecutive victories in a recent six-day span, two of which were in Big East Conference action.

More ...
Staff Reports
Carolina Mudcats defeated by Nationals


ZEBULON -- The Potomac Nationals scored five runs over the final two innings as the Carolina Mudcats stumbled down the stretch in a 6-4 loss on Sunday afternoon at Five County Stadium in a Class A Carolina League baseball event.
The rally secured a series split for the Nationals and ruined a terrific outing for right-hander Cole Sulser.
Sulser struck out seven batters and one-hit the Nationals over five solid innings in first Carolina League start.

More ...
Staff Reports
NNHS continues soccer schedule


RED OAK -- Poor weather continues to be an issue for the Northern Nash High School girls soccer squad -- but the Lady Knights are still managing to get in some matches.
Last week, Northern Nash stepped out of Big East Conference action and secured a lopsided 9-0 decision against Southern Vance.

More ...
GEOFF NEVILLE, Graphic Sportswriter
NCWC Salutes Seniors


ROCKY MOUNT -- North Carolina Wesleyan College's baseball team honored its 2014 senior class on Sunday afternoon, then proceeded to take the rubber game of its three-game series with USA South rival Methodist University by a 5-4 score.
The Bishops had previously split Saturday's twinbill with the Monarchs, taking game one by a 5-1 tally before dropping game two 6-4.

More ...
Staff Reports
Pirates claim series over Owls


HOUSTON, TEXAS -- East Carolina University scored a pair of two-out runs in the top of the ninth and turned a game-ending double play to claim a 2-1 Conference USA baseball series win over No. 12 Rice at Reckling Park on Sunday afternoon.
With the win, the Pirates improve to 19-13 overall and 8-4 in league play, while the Owls fall to 22-12 and 10-5 in the league standings.

More ...
Staff Reports
AARON IT OUT
Northern Nash's Aaron Barrett unleashes a pitch toward home plate for the Knights during their home baseball setback last Tuesday night against the Nash Central Bulldogs in a Big East Conference diamond showdown in Red Oak.
More ...
DON'T GO ANYWHERE
Bunn's Alli Davis uses eye contact to make sure a Southern Nash runner stays at first base during last Thursday's prep fast-pitch softball event.
More ...
ON TARGET
Nash Central's D. Sutton makes contact with a pitch during the Bulldogs' road baseball conquest last Tuesday night against the Northern Nash Knights.
More ...
PETE ROSE SLIDE
Southern Nash's Amanda Wood (right) dives head-first into second base to complete a double as Bunn's Victoria Dunston takes the throw during last Thursday's softball game.
More ...
WHITLEY WOWS 'EM
Nash Central's Kelsee Whitley delivers a pitch for the Lady Bulldogs during last Tuesday evening's road fast-pitch softball meeting with Northern Nash in Big East Conference action.
More ...
BLUEGRASS AND BARBECUE
The Grass Cats provided the entertainment for Nash Arts' annual Denim and Diamonds Gala, which was held on March 21 at Nash Arts. The sold out event, "A Night of Bluegrass and Barbecue," featured food, entertainment and a silent auction.
More ...
SPRING CONCERT
The April concert of the 2014 season at Warren County's historic Cherry Hill will feature Ang Li, a Steinway artist/pianist, who will perform works by Bach, Hayden, Debussey, Wagner, Glass and Albeniz. Her performance is slated to begin at 3 p.m. Sunday, April 13, at Cherry Hill. Ang Li is an internationally acclaimed piano virtuoso who is considered one of the rising classical piano stars.
More ...
CLARENCE HIGGS
Nashville –– Clarence Higgs, age 86, of Nashville, passed away on Sunday, April 6 , 2014.
More ...
DOROTHY HARDY LUCAS
Dorothy Hazel Hardy Lucas, age 87, passed away  Saturday, April 5, 2014. Born in Nash County on June 7, 1926, she was the daughter of the late Earl Dewey Hardy and Agnes Clay Hardy. She is also preceded in death by sisters, Frances Moss and Margaret Lynch; and brother, J. E. Hardy.
More ...
DOUGLAS RAY KING
NASHVILLE - Douglas Ray King, 72, passed away Friday, April 4, 2014.  He was born  July 10, 1941 in New Hanover County to the late Luther D. and Susan  Watters King.   In addition to his parents Doug was preceded in death by a sister.
More ...
GERTRUDE "TRUDY" BOONE BRIGMAN
Gertrude "Trudy" Boone Brigman, age 100, passed away Thursday, April 3, 2014. Born in Nash County on June 16, 1913, she was the daughter of the late William Oscar Boone and Sallie Bell Boone. She was preceded in death by her husband, James E. Brigman and brother, W.O. Boone Jr.
More ...
KATIE DENTON SAVAGE
TARBORO - Katie Denton Savage, 81, passed away  April 5, 2014. She was born on November 10, 1932. She was the daughter of the late Floyd Benjamin Denton and Carrie Lee Baines. She was preceded in death by her first husband, Mack Barnes, her second husband, Aldine Thorne and her third husband, William "Bill" Savage; and her mother-in-law, Nancy Whitley Barnes.
More ...
LAWRENCE DANIEL "DANNY" ARMSTRONG
Lawrence Daniel "Danny" Armstrong, age 59, passed away on April 3, 2014. He was born in Rocky Mount to Lonnie Ray and Jean Armstrong. Danny was preceded in death by his mother, Jean Hoell Armstrong.
More ...
MICHAEL WAYNE BRILEY
Michael Wayne Briley, 50,  passed away, Wednesday, April 2, 2014. He was born March 6th, 1964 in Nash County.  Mike is preceded in death by his father, William Dennis Briley.
More ...
TILLIE FULLER FOUNTAIN
Tillie Fuller Fountain, age 85, passed away Sunday, April 6, 2014. Born in Nash County on May 23, 1928, she was the daughter of the late William C. Fuller and Beulah Joyner Fuller. She was also preceded in death by her husband, Joe Fountain Jr.; sisters, Nell Dabrowski and Cadie Hamilton; and brothers, William C. Fuller Jr. and Giles Fuller.
More ...