Subscribe/Access
Advertisements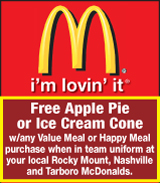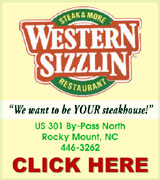 Sections
Member Options
Back
Nashville rejects apartment complex


Nashville's Town Council turned down a rezoning request on Tuesday night, after tabling the request for 30 days to get more information.
Dozens of citizens attended the meeting and have made their feelings known that they were against the rezoning of property across from Kerr Drug.

More ...
AMANDA CLARK, GRAPHIC STAFF WRITER
Ronnie Taylor, Sr.
Father, son face pirating charges
A Nashville father and son were arrested last week for pirating movies and music.
A joint investigation between the Nash County Sheriff's Office, Nashville Police Department and NC State Bureau of Investigation, along with the Secretary of State's Office, led to a search warrant being executed at 214 E Sixth Street in Nashville on March 20.
More ...
Nash County updates Parks and Rec plan


Nash County's Board of Commissioners recently awarded a contract to update the county's Parks and Recreation Master Plan.
The original plan is 10 years old and to receive Parks and Recreation Trust Fund (PARTF) money, must be updated.
The initial plan was adopted by Nash County's Board of Commissioners in October 2004.

More ...
AMANDA CLARK, GRAPHIC STAFF WRITER
Nashville Rec to offer disc golf course


A sport growing in popularity will soon have a course at Nashville's Glover Park.
A nine-hole disc golf course is scheduled to be complete at the end of April, Jim Glover, Nashville Parks and Recreation Director, said.
The course has been a wish list item for a few years, Glover said, and thanks to Bryan Braswell, has become a reality.

More ...
AMANDA CLARK, GRAPHIC STAFF WRITER

PINEWOOD DERBY ––– Jaylen Lucas, of Coopers Cub Scout Troop 37, makes sure his car is lined up before his race. Troop 37 held its annual Pinewood Derby race on Saturday, March 29. The Coopers Ruritan Club served the scouts lunch.
Coopers holds annual Pinewood Derby event
Coopers Cub Scouts Troop 37 held its annual Pinewood Derby on Saturday, March 29 at the Scout Bunkhouse on Volunteer Road.
Each first, second and first place den winner received a trophy and then an overall first, second and third place winner was awarded as well.
More ...
Glover Park to host Wounded Warrior Amputee Softball game April 12th


Local law enforcement officers will trade in their badges for baseball bats on April 12 as they face off with the Wounded Warrior Amputee Softball Team.
Three games will played on Saturday, April 12 at Glover Park in Nashville. The Rocky Mount Police Department, Nash County Sheriff's Office and North Carolina State Highway Patrol Women's All Stars will all play the Wounded Warriors Amputee Softball Team.

More ...
AMANDA CLARK, GRAPHIC STAFF WRITER
Middlesex starts budget process


Middlesex Commissioners met last Tuesday afternoon to begin work on the budget process.
Mayor and Town Administrator LuHarvey Lewis said the meeting was just the initial one to get input from the board before actual work began on the budget.
Lewis went over a list of items with the board, including tax rates, sanitation rates, and park and public building improvements.

More ...
AMANDA CLARK, GRAPHIC STAFF WRITER
Nashville PD hosts Operation Medicine Drop at CVS
More than 8 million doses of old prescription and over-the-counter drugs were collected across North Carolina recently during Operation Medicine Drop, Attorney General Roy Cooper announced.
Since Operation Medicine Drop started in 2009, approximately 61 million total doses have been turned in.
More ...
NASHVILLE POLICE BRIEFS
INCIDENTS
A possession of drug paraphernalia and trafficking of narcotics was reported on 3/26/14 at E Washington Street and Club Drive
A possession of counterfeit money was reported on 3/27/14 at Wal-Mart, 1205 Eastern Avenue
More ...
NASH COUNTY SHERIFF'S OFFICE REPORTS
A breaking, entering and larceny of a residence was reported on 3/25/14 at 1618 Taylor's Store Road
An assault on a female was reported on 3/25/14 at 1498 Broken Road
A larceny from a motor vehicle was reported on 3/25/14 at 2723 S Browntown Road
An injury to personal property was reported on 3/25/14 at 4609 Red Road
More ...
Atkinson visits N-RMPS
State Superintendent of Public Instruction Dr. June Atkinson recently visited Nash-Rocky Mount Public Schools, and shared her thoughts on the district's efforts to advance digital learning. Atkinson had the opportunity to see firsthand how the school district's iConnect digital learning initiative impacts classroom instruction.
Atkinson was joined by NRMPS Superintendent Dr. Anthony Jackson, School Board Chair Evelyn Bulluck, and several other administrators for her classroom tours.
More ...
PACK 76 HOLDS PINEWOOD DERBY
Cub Scout Pack 76 held its annual Pinewood Derby on February 15, 2014. Pictured above are winners of the derby. The overall winner was Whitaker Bennett. Best in Show was Bryce Lewis.
More ...
CONTRIBUTION
United Way Tar River Region was awarded $3,000 from the Wells Fargo Community Needs Grant in December 2013.  This grant will help sustain United Way health and human service programs throughout Nash and Edgecombe Counties.
More ...

Middle and high school students perform in the All-County Band on March 25 at Minges Auditorium at Wesleyan College's Dunn Center.
Students perform in All-District band concert
Approximately 200 Nash-Rocky Mount Public Schools middle and high school students came together March 25 for the annual All-County band performances at Minges Auditorium at Wesleyan College's Dunn Center.
Michelle Matia, an 8th grade student at Rocky Mount Middle School, said she was excited to have participated in the concert.
More ...
Speaker
Rotarian President Krista Ikirt, left, stands with NC Senator Angela Bryant, who spoke to the Rocky Mount Rotary Club on Monday, March 24th at the DoubleTree hotel during their 1pm meeting.
More ...
MILITARY NEWS
Air Force Airman Barry J. Andrews Jr. graduated from basic military training at Joint Base San Antonio-Lackland, San Antonio, Texas.
The airman completed an intensive, eight-week program that included training in military discipline and studies, Air Force core values, physical fitness, and basic warfare principles and skills.
More ...
Governor appoints Nash County man to NC Awards Commission
Governor Pat McCrory recently appointed William Noble to the North Carolina Awards Commission.
Noble, of Nash County, is a principal with The Trust Company of the South. He has been an active member of the First Tee of the Triangle Foundation, the Boys and Girls Home of North Carolina and many other organizations. He will serve as chair of the commission.
More ...
SENIORS LEARN SELF-DEFENSE
Sensei Allen Clark, owner and instructor at Nashville Academy of Martial Arts, has been teaching basic self-defense at the Nash County Senior Center since January. Pictured above, Clark (far left) shows Beth Ann Williams, Katerina Hockman and Daisy Jefferson how to defend themselves using canes.
More ...
First Timothy honors First Lady at special celebration
The Pastor's Aide Ministry and the First Timothy Church of Love family, under the leadership of Pastor Willie N. Hedgepeth, honored the church's First Lady, Minister Jennie Hedgepeth, on Sunday, March 23, 2014 at 4 p.m.
Minister Jennie is loved by all at First Timothy Church of Love, especially the youth. She works with the Youth Ministry staff, teaches youth Sunday School and youth Bible Study on Monday nights.
More ...
MOUNT ZION FWB CHURCH NEWS


I was able to attend worship service today. When I got outside, I thought the  wind was gong to blow me away. It has been a windy day, but it is a day the Lord hath made and I will rejoice and be glad in it." Our choir sang "Thy Loving Kindness" for the call to worship.

More ...
ROSALENE BASS
Nash County Blood Drives for April 2014
Thursday, April 3 from 8:30 a.m. until 2:30 p.m. at Nash Community College, 522 N Old Carriage Road, Rocky Mount
Saturday, April 5 from 10 a.m. until 2 p.m at Thorne's Chapel Baptist Church, 1624 Windsor Drive, Rocky Mount
Monday, April 7 from 3 until 7 p.m. at Bethlehem Baptist Church, 305 South Halifax Road, Rocky Mount
More ...
Wilson to host writing workshop
Author/Artist Dawn Deanna Wilson will facilitate Creating Memorable Characters, a hands-on workshop for beginner to intermediate writers (even the secret ones) in Winterville on April 5.
Bring a notebook, pen, and prepare to create unforgettable characters.  The workshop will be held at The Coffee Shack, 168 Beacon Drive in Winterville on Saturday, April 5, 2014 from 10-12:30.
More ...
BEULAH COMMUNITY NEWS


Last week in the Beulah News I asked my readers to please send me news they would like to be included. I was really pleased to hear from a member of the Daniels family, Ethel "Doodle" Daniels. She was married to the late Earl Daniels who came from a large family from the Beulah Community. Everyone who was a part of the Beulah Community growing up has special memories of that family.

More ...
WILMA ENROUGHTY
SAFETY DAY
Nash County Farm Bureau and NC Cooperative Extension hosted Nash County Safety Day at the Agriculture Center on March 19. The day featured presentations on Fire Safety, Agromedicine, Chemical Safety, Tractor/UTV Safety, Vision and Hearing Safety, Chainsaw Safety, a Fatal Driving Course as well as several others. Around 35 attended the presentations. Pictured above, Tanya Heath, Livestock Agent for Nash/Edgecombe Counties, shows a jar of chemicals during a presentation on chemical safety.
More ...
Worthington a winner in international contest
Tobey Worthington, Mu Chapter President, was a winner in Delta Kappa Gamma (DKG) Society International Contest. 
Participants had to submit ideas on how they were involved in strengthening their chapters.  Worthington's involvement was to increase communication by e-mail, snail mail, telephone calls, and text messages.  She also sends a note to members who have missed several meetings, to let the person know they were missed.
More ...
PEACHTREE COMMUNITY NEWS


A chilling rain was falling as Peachtree folks gathered at the church for worship.  Sanctuary flowers were given in memory of Lottie Savage Stallings by her daughter's family, Debbie and Roy Carawan, and their daughter, Ashley White.
Pastor Whitehouse chose as his sermon topic, "Whose Side are You On?"

More ...
BARBARA HARDISON
SCOUTING FOR FOOD
Scouts from Cub Scout Pack 76 delivered over 750 pounds of food to Faith Christian Ministries on February 15, 2014 as part of their annual Scouting for Food drive. Pack leaders said the troop appreciates the generosity of everyone in the community who donated.
More ...
RED OAK NEWS


Women in Action met at Red Oak Baptist Church on Thursday, March 27.
Welcome to Paulette Langley, Zachary Langley, and Caleb Camp who were baptized Sunday, March 30 at Red Oak Baptist Church!

More ...
Suzy Pearce
Health Awareness Seminar to be held in Rocky Mount
East Coast Talking Talk Show (ECT) will be presenting a series of health awareness seminars titled "Health Matters to You and Me" between now and December.
The first series, which focused on Kidney, Lymphedema, Colorectal Cancer, Diabetes and Nutrition, was held in March.
The next series will be held on Wednesday, April 2 at at 10 a.m. at the Booker T. Theatre Facility at 170 East Thomas Street in Rocky Mount.
More ...

Pictured front to back are Zachary Privette and Chelsea Crocker.
NCC students assist in state research
Zachary Privette's eyes light up when he speaks of the research he's participating in. "People need to know about this," he said. "What we are doing could make a difference in human health one day." Zachary is a Nash Community College transfer student majoring in Biology.
More ...
Dunn Center hosts Gospel Extravaganza
A one of a kind gospel and spiritual extravaganza is planned for April 5th at the Dunn Center. A total of four nationally acclaimed professional groups will join together for individual performances and also as one big 'Super Group'.
The Tar River Orchestra and Chorus is featuring three of their awarding winning groups and have invited a special guest artist to join them for a night of great American music.
More ...
Tri-Chapter Brunch
Mu Chapter Members of Delta Kappa Gamma International Society attended the annual Tri-Chapter Brunch, with Beta Theta, and host chapter Gamma Lambda, at Edgecombe Community College in Tarboro. Pictured above, (row one) are  Ann C. Bishop, Katherine Collins, Margaret L. Lewis, Margie Parker Brantley, Jeannette Pittman. (Row 2) Ann B. Robbins, Tobey Worthington, Reba Fulghum, Jane Parvin, Suzanne Downs, Patricia Taylor.
More ...
Holly is 14! But she's still daddy's little girl


Dear Holly,
When I started writing these letters back in 2000, they were a lot of fun. And, they were easy. There were bottles, and sleepless nights, and toys, and storybooks and your big brown eyes looking up at me and story time.
And, today you turn 14.

More ...
Mike Brantley
Swinging temps make for severe cabin feve


We've had some interesting weather the last few months. We've had snow and 70-degree weather all in the same week. That is just strange for North Carolina, at least it used to be.
I'm a little worried about what this summer will bring and if I should really pack my winter clothes completely up.
I am thankful that April is here because maybe that'll be the start of nicer weather.

More ...
Amanda Clark
There really is no place like home!


It may be taking a while for spring to arrive –– even though it's long past the time marked on the calendar –– but I'm sure once it arrives, it won't be long before the typical southern heat and humidity will be causing us to complain about as much as we did over winter weather.
Summertime brings lots of fond memories, especially those of mini-vacations I spent with my sisters while growing up.

More ...
Jo Anne Cooper
League president applauds recent ruling


Dear Editor,
The League of Women Voters of NC is pleased with the recent ruling by U.S. Magistrate Judge Joi Elizabeth Peake that correspondence and emails between legislators and outside parties must be made public and can be used in the legal case challenging the 2013 voter law.  Transparency in government is a key principle of our democracy, and legislators should be held to the same rules as other government entities. 

More ...
Letters to the Editor:
Backward Glances


NATIONAL GUARDSMEN PREPARE FOR FEDERAL INSPECTION –– This photo originally published in The Graphic April 14, 1955. Lt. John W. Stallings, left, and Sgt. John S. Pollard, seated, are shown here going over the application papers of several new enlistees in the National Guard company being organized here.

More ...
A PICTORIAL LOOK INTO THE PAST
Nash County Animal Friends' Notebook


You, as a pet owner are 100 percent responsible.  Virtually every pet that ends up in a shelter or on the street is there because a human relationship failed them. It's always the pet that pays in the end.  We would rather a person not adopt a pet unless they commit to do the following, because just feeding isn't enough.

More ...
Carol Vierela, NASH COUNTY ANIMAL FRIENDS

DAVIS DELIVERS ONCE AGAIN. Northern Nash's Tremel Davis secured an impressive victory at No. 1 Singles as part of the Knights' home boys tennis match last Thursday against Big East Conference foe Hunt.

TITANS AT THE TOP


RED OAK -- Northern Nash High School's defense of its Big East Conference boys tennis championship has proven to be a simple matter of depth perception.
Certainly, Northern's lineup is top heavy as the Knights boast strong players at both No. 1 and No. 2 Singles -- Tremel Davis and Matthew Outlaw.

More ...
GEOFF NEVILLE, Graphic Sportswriter - 1 opinion posted

WHERE WILL IT LAND. (L to R) Nash Central's Kaley Sharpe and Bunn's Rachel Maynard try to retrieve a throw-in during last Thursday afternoon's girls soccer match on the NC campus in Rocky Mount.

Bunn Ousts Bulldogs Once Again


ROCKY MOUNT -- Goal scoring continues to be an issue for the Nash Central Lady Bulldogs -- and it's the primary reason that Coach Ryan Ruiz's club has been unable to make consistent headway this season against a challenging schedule.
Last Thursday, Nash Central hosted Bunn in a rematch of a contest that was claimed by host BHS (1-0) thanks to a late marker.

More ...
GEOFF NEVILLE, Graphic Sportswriter
Warriors pace BE standings


CHAPEL HILL -- Wells Fargo, along with the North Carolina High School Athletic Association, has announced the final standings in the Wells Fargo Conference Cup competitions through the 2013-14 winter sports season.
The Wells Fargo Cup Award recognizes the high schools that achieve the best overall interscholastic athletic performance within each of the state's four competitive classifications.

More ...
Staff Reports
Southern Nash honors athletes


STANHOPE -- Southern Nash High School recently honored several of its student-athletes during a Winter Sports Awards Ceremony on the SNHS campus.
A list of winners by sport is as follows:

More ...
GEOFF NEVILLE, Graphic Sportswriter
Parks and Recreation hires new employee


NASHVILLE -- Adam Rodgers has recently accepted the position as Recreation Program Coordinator for Nash County Parks and Recreation.
His passion for parks and recreation started as a kid playing baseball, where the little things like making friends on the team or having a great role model as a coach made such a huge impact on his life. 

More ...
Staff Reports
Mudcats announce Opening Day roster


ZEBULON -- The Carolina Mudcats have announced their Opening Day roster for 2014.
First-year manager Scooter Tucker and his staff will guide a club that includes 19 returning players.
This year's roster is highlighted by the return of infielder Erik Gonzalez. Baseball America lists Gonzalez as the 19th-best prospect in the Cleveland Indians Player Development System.

More ...
Staff Reports
NC Wesleyan sweeps home doubleheader


ROCKY MOUNT -- Senior Will Beasley and freshman Spencer Ramsey each picked up wins on the mound on Monday, helping their North Carolina Wesleyan College Battling Bishop baseball team secure a doubleheader sweep of Piedmont College at Bauer Field on the NCWC campus.
Wesleyan took game one by an 8-5 score thanks to a pair of RBIs each by sophomores Ciro Norzagaray and Jason Riley, while game two saw Beasley go the distance for a 3-2 victory.

More ...
Staff Reports
NN wins soccer events


RED OAK -- Alexus Hill registered a hat trick as Northern Nash defeated Nash Central on Monday in Big East Conference girls soccer action.
NNHS, coached by Joe McCarthy, is now 5-1 overall to go with a 2-1 mark in Big East play.
Rebekah Beal also found the back of the net for the Lady Knights, while Chandler Pierce, Natalie DePalma and Taylor West contributed assists.

More ...
GEOFF NEVILLE, Graphic Sportswriter
NCWC golfers shine at tourney


JACKSONVILLE -- North Carolina Wesleyan College's golf team turned heads in the USA South Conference this past weekend with an impressive showing at the highly-competitive Camp Lejeune Intercollegiate.
The Battling Bishops recorded an 8th-place finish among 32 teams, which included finishing ahead of league foes Greensboro, Averett and Ferrum.

More ...
Staff Reports
ECU wins diamond series


GREENVILLE -- Charlie Yorgen's RBI triple in the eighth inning broke a one-all tie propelling East Carolina University (17-11) to its seventh straight win and a weekend baseball sweep of UMBC (5-14), 2-1, Sunday afternoon at Lewis Field inside Clark-LeClair Stadium.
Dylan Brown singled through the right side to lead off the eighth.

More ...
Staff Reports
ELEY ON THE BALL
Brianna Eley (left) controls the ball for Nash Central during last Thursday's home loss to Bunn.
More ...
HE'S NO. 1
Tremel Davis has been excellent at No. 1 Singles this season for the Northern Nash boys tennis squad.
More ...
OUCH
Nash Central's Jessie Harbour (right) heads the ball forward while being defended by Bunn's Jaden Richards during last Thursday's girls soccer contest at NCHS.
More ...
Dover
Nash Arts to feature Dover, Gorman in rare concert
Nash Arts will welcome singers Connie Dover and Skip Gorman in concert on Saturday, April 12 at 7 p.m.
For over two decades, Connie Dover has been collecting and recording arrangements of the traditional music of Ireland, Scotland and the American West at her studio in North Kansas City, Missouri. She sings in fluent Irish, Scots Gaelic, French and Latin. She has performed around the world and has been a featured guest on Garrison Keillor's A Prairie Home Companion, and NPR's Weekend Edition and Thistle and Shamrock.
More ...
DAHANA LOSHEMA COCHISE BLUE
JACKSONVILLE, F.L –– Dahana Loshema Cochise Blue, 2 months, of Jacksonville, Florida, passed away Wednesday, March 5, 2014 in Holly Hill, S.C.
More ...
DIONE DENISE BLUE
JACKSONVILLE, F.L. –– Dione Denise Blue, 42, of Jacksonville, Florida, and formerly of Rocky Mount,  died on Wednesday, March 5, 2014 in Holly Hill, S.C.
More ...
EARLINE CAUL
Earline Caul, age 74, passed away on March 27, 2014. She was born in Nashville.  She was preceded in death by her parents, William McKinley Davis and Mazola Williams Garnett, both of Nashville and  stepfather, Christopher Garnett; two brothers, Nathaniel Williams, Sr. and Van Arthur Davis; and one sister, Carolyn Davis.
More ...
EDWARD DALE CARWELL
ROCKY MOUNT - Edward Dale Carwell, 53, passed away, Sunday March 30, 2014. He was born April 16, 1960 in Wake County. He was preceded in death by his father, Edward Horace Carwell.
More ...
FOREST RICHARDSON
HOLLISTER - Funeral services for Forest Richardson, 68, who died Monday, March 24, 2014, were observed Sunday, March 30 at 2 p.m. at White Rock Baptist Church, with Rev. Alonzo West officiating. Burial followed at Old White Rock Church cemetery.
More ...
JAMES EDMOND WRIGHT
ROCKY MOUNT ––– James Edmond Wright, 78, of Rocky Mount, died on Wednesday, March 26, 2014 at South Village Nursing Center in Rocky Mount.
More ...
LINDA PREAST BUNN
Linda Preast Bunn, age 63 passed away Friday, March 28, 2014. She was a lifelong resident of Rocky Mount. She was born in Nash County  on December 15, 1950.  She was preceded in death by her parents Connie and Lurlene Preast and her grandson Caden Anthony Davis.
More ...
LOWANZA RATRON BLUE
JACKSONVILLE, F.L. –– Lowanza Ratron Blue, 6, of Jacksonville, Florida, died on Wednesday, March 5, 2014 in Holly Hill, S.C.
More ...
MARIO "MARTY" DEANS
Mario "Marty" Deans, age 26, passed away March 28, 2014. He was born in Rocky Mount. He was preceded in death by his dad, Danny G. Deans; his maternal grandfather, William Henry "Bill" Melton; his maternal great grandmother, Violet Irene Worrell; and his paternal grandmother, Molly Champion.
More ...
NANNIE MAE WEBB
Nannie Mae Lanier Webb, 95, passed away on Friday, March 28, 2014. She is preceded in death by her husband, Jesse Thad Webb; son, Mahlon Webb; daughter, Janice Lindsey; granddaughter, Leslie Osorio; grandson, Randall Webb; and two great grandchildren.
More ...
SUSIE LEONARD BARTHOLOMEW
Susie Leonard Bartholomew, age 80, passed away  Monday, March 24, 2014. Born in Franklin County on March 18, 1934, she was the daughter of the late Eugene B. Leonard and Lillie Valentine Leonard. She was also preceded in death by her husband, Herbert "Dick" G. Bartholomew; sisters, Mary L. Nash, Pansy L. German, Rochelle L. Hayes and Nancy Leonard; and brother, Wilton Eugene Leonard.
More ...