Subscribe/Access
Advertisements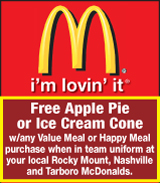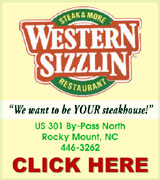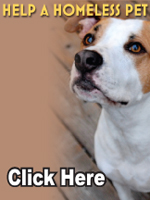 Sections
Member Options
Back
School system gains cost savings


The Nash-Rocky Mount Schools (NRMS) administration reported several cost savings achievements to the board, through their ongoing energy efficiency success and transportation efficiency increases, as well as a large reduction in their use of mobile units.
At the board's work session earlier this month in preparation for their March meeting, Dr. Eric Cunningham, NRMS associate superintendent, reported the system has saved nearly $460,000 in utility costs over the last two school years.

More ...
MICHELE A. CRUZ, GRAPHIC CORRESPONDENT
Rocky Mount man charged in Griffin's robbery


The Nash County Sheriff's Office charged a Rocky Mount man earlier this month with robbing the Griffin's Food Store in Red Oak.
According to Sgt. Jeremy Worrell, of the Nash County Sheriff's Office, Clyde Junius Rogers, 25, was charged with robbery with a dangerous weapon, breaking and entering and two counts of kidnapping for the robbery, which occurred on  January 24 around 4:30 a.m.

More ...
AMANDA CLARK, GRAPHIC STAFF WRITER
Nash starts budget process


Nash Community College and Nash-Rocky Mount Public Schools' leaders presented budget requests to Nash County Commissioners on Monday during the start of commissioner's annual budget retreat.
The retreat was scheduled to begin last Thursday with departmental requests and possibly go through Friday but weather forced the county to move departmental requests to Monday, February 24.

More ...
AMANDA CLARK, GRAPHIC STAFF WRITER

Patricia Harris

American Legion holds annual appreciation event


Keeping with tradition, American Legion Post 110 of Nashville honored its ladies on Monday night during its annual Ladies Night.
The event is held every February and is a way for the Legion to honor the ladies of the post, as well as those in the community that support the Legion.

More ...
AMANDA CLARK, GRAPHIC STAFF WRITER
NHC projects $5 million revenue loss


As predicted at the last Nash Health Care board meeting, CFO Al Hooks presented a 2014 budget that predicts a more than five million dollar loss in operating revenue. If this scenario holds true, it will still mean a significant increase in operating revenues in comparison with 2013. During 2013, the system posted a roughly 7.5 million dollar loss in operating income, which was nearly 13 million less than the $5,215,000 increase projected in the 2013 budget.

More ...
AMELIA HARPER, GRAPHIC CORRESPONDENT
Nashville eyes future projects


Future projects that seemed out of reach for Nashville are now more of a reality, after Nashville's Town Council put the projects on the town's radar for coming years.
Town Council members discussed numerous projects during its annual budget retreat, held January 30, 31 and February 3.

More ...
AMANDA CLARK, GRAPHIC STAFF WRITER
Finch named to Soil and Water Hall of Fame Award


A local farmer and soil and water supervisor was recently honored with the North Carolina Association of Soil and Water Conservation Districts Hall of Fame Award.
John Finch received the award at a special banquet last month.
The Hall of Fame Award is the most distinguished honor that can be given to a Soil and Water Supervisor in North Carolina. Finch is the 36th person to be inducted into the Hall of Fame.

More ...
AMANDA CLARK, GRAPHIC STAFF WRITER
NASHVILLE POLICE BRIEFS
INCIDENTS
A larceny was reported on 2/11/14 at Wal-Mart, 1205 Eastern Avenue
An involuntary commitment was reported on 2/11/14 on Eastpointe Avenue
A larceny (shoplifting) was reported on 2/11/14 at Wal-Mart, 1205 Eastern Avenue
More ...
NASH COUNTY SHERIFF'S OFFICE REPORTS
A missing person was reported on 2/10/14 at 7907 Buck Deans Road
A breaking, entering and larceny of a residence was reported on 2/11/14 at 9146 Red Oak Battleboro Road
A narcotics violation was reported on 2/11/14 at 3402 Old Carriage Farm Road
A breaking, entering and larceny of a residence and damage to property was reported on 2/11/14 at 3609 Flag Pond Loop Road
More ...
Filing continues for primary


Just over a week remains to file for primary elections.
Only one candidate has filed since last Monday for local seats. District Attorney Robert Evans, a Democrat, of Rocky Mount, filed for re-election to the post he's held since 2009. Evans was appointed to the post by then Governor Beverly Perdue after then D.A. Howard Boney resigned.

More ...
AMANDA CLARK, GRAPHIC STAFF WRITER
TECH TOUR
Nash-Rocky Mount Schools hosted Community Tech Tours on February 5 in conjunction with National Digital Learning Day. Eight schools participated in the Tech Tours, where parents and others in the community were given an opportunity to come out and tour schools and see firsthand how technology is playing a role in learning. Pictured at left, seventh grade science teacher Timothy Finn helps student Chris High with an assignment utilizing the Imovie application to show the parts of the cell and their function.
More ...
Kaitlyn Joyner
Castalia youth is NC finalist in national pageant
Kaitlyn Joyner was selected as a state finalist in the National American Miss North Carolina pageant.
The pageant is for girls ages seven through nine and will be held June 26-28, 2014 at the Marriott in Winston-Salem.
Kaitlyn is nine years old and lives in Castalia with her parents, Mark and Donna Joyner.
The winner of the pageant will receive a $1,000 cash award, the official crown and banner, a bouquet of roses, and air transportation to compete in the national pageant at Disneyland in California.
More ...
John Byrd
Spring Hope man promoted to Brigadier General
Army Col. John Byrd stood at attention as the Honor Guard presented his brigadier general officer's flag; a single star on a red field.
The flag was placed next to the United States and North Carolina colors during his promotion ceremony at North Carolina National Guard Joint Force Headquarters Friday.
Though the unfurling of the star of a general officer's flag is a ritual, it is also descriptive of Byrd's career.
More ...
Boykin graduates basic training
Air Force Airman 1st Class Jordan M. Boykin graduated from basic military training at Joint Base San Antonio-Lackland, San Antonio, Texas.
The airman completed an intensive, eight-week program that included training in military discipline and studies, Air Force core values, physical fitness, and basic warfare principles and skills.
More ...
ENGAGED
Melody and Leonard Jarman of Louisburg,  and Michael and Diana Mowery of Grove City, Ohio, announce the engagement of their daughter, Mary Renee Crotts of Louisburg, to John Rusty Creekmore of Nashville. He is the son of Everette and Ann Creekmore of Louisburg. The wedding is planned for March 15, 2014 at White Level Community Holiness Church.
More ...
ENGAGED
Richard and Barbara Blanchard of Spring Hope announce the engagement of their daughter, Barbie Blanchard of Wilson, to Chad Keen of Wilson, the son of Robert Keen of Wilson and Claudia Moore of Wilson. The wedding is planned for 5 p.m., May 17, 2014 at The Leaning Tree in Bailey.
More ...
Prepares dinner
Culinary Specialist Seaman Sidorayon Petway, from Rocky Mount, prepares dinner for the crew aboard the amphibious dock landing ship Gunston Hall (LSDn 44). Gunston Hall is deployed in support of maritime security operations, providing crisis response capability, increasing theater security cooperation and a forward naval presence in the U.S. Navy's 5th and 6th Fleet Area of Responsibilities.
More ...
Animal Man visits Cedar Grove
Dan Breeding, known as "Dan the Animal Man," visited Cedar Grove on Friday, February 7 as part of the school's PBIS Reward Celebration and to celebrate the 100th day of school. Pictured above, Dan the Animal Man shows students how a Lemur uses its feet to hang on to things. Students were able to see four different animals during the presentation.
More ...
National Wear Red Day
Nash Community College students, faculty and staff wore red on Friday, February 7th in honor of National Wear Red Day and the fight against heart disease. Participants walked the campus loop to bring awareness to, heart disease, the number one killer among women.
More ...
SNOW DAY
Alex and Austin Averette of Middlesex show off their bright snowman they built during last week's snow.
More ...
Health Department achieves accreditation status
The Nash County Health Department is proud to announce that they have been awarded accreditation status by the North Carolina Local Health Department Accreditation (NCLHDA) Board. Accreditation is only designated to local health departments and districts that undertake and meet a series of stringent standards outlined in current state statutes and administrative codes to ensure the protection of the health of the public.
More ...
NCC receives grant from Eaton
Nash Community College is the recipient of a $10,000 grant from Eaton. The purpose of the grant is to support high school students in pursuing training in advanced manufacturing and to provide Nash Community College advanced manufacturing students with hands-on project-based learning opportunities.
Eaton is a global power management company that provides energy-efficient solutions to assist clients in managing electrical, hydraulic and mechanical power.
More ...
MOUNT ZION FWB CHURCH NEWS


Our choir sang "Everyday With Jesus" for the call to worship. Pastor Ronnie welcomed everyone and prayed the prayer of invocation. Hymns of worship were "Old Time Power" and "A Shelter in the Time of Storm," led by Kenneth Parker.
Greg Manning prayed the offertory prayer. After receiving of tithes and offerings, we sang the doxology and greeted one another.

More ...
Roselene Bass
PEACHTREE COMMUNITY NEWS


We survived the 'snow of the century', as it was called by the TV weather men.  Ice and snow kept most folks at home from Wednesday at noon, when the snow began, until Friday.  It was a blessing that with all of this, very few people in the area lost electric power.
Sunday morning was sunny but cold. Pastor Whitehouse welcomed the faithful who attended church. 

More ...
Barbara Hardison
RED OAK NEWS


Welcome to new members of Red Oak Baptist Church, Steve and Charlotte Clayton!
A youth Worship retreat is planned for the coming weeks at Red Oak United Methodist Church.  For more information contact the church office at 937-9300.
The "Putting on the Armor"  Bible study continues on Friday, February 21 at 6:00 p.m. at ROUMC.

More ...
Suzy Pearce - 1 opinion posted
BEULAH COMMUNITY NEWS


Everyone is really glad that we are not supposed to have any more snow this week. That means everyone except the children. I hear that they have really enjoyed the "vacation" from school. For the adults highways, traffic, and  regular schedules have really been hectic. If the children had been in school last week they would have been out on Monday for Presidents Day but now they have several school days to make up.

More ...
WILMA ENROUGHTY
WEST MOUNT RURITAN NEWS, 1
Russell Cockrell (center), of the West Mount Ruritan Club, was recently presented with the prestigious Ruritan for Life Award by Ruritan District Governor Fran Bunn (far right) and Past Ruritan National President Wayne Outlaw. Outlaw is also a member of the West Mount Ruritan Club.
More ...
WEST MOUNT RURITAN NEWS, 2
The West Mount Ruritan Club elected new officers for the 2014 year. Pictured (L-R) is: Past President Russell Cockrell; President Buck Pittman; Vice President Johnnie Massie; Secretary Bob Alford; Treasurer Lester Weaver; and Board of Directors Jake Pridgen, Gold Joyner and Wayne Outlaw.
More ...
SEW WHAT GIVES TO PAWNC
The 4-H Sew What Club recently donated pillows and blankets to PAW-NC and the Nash County Animal Shelter. The pillows were covered by club members with zippers for easy washing. Pictured on the front row (L-R) is; Logan Cary, Lexi Gibson, Kendall Proctor, Allison Strufe and Natalie Price.
More ...
United Way names Fazio Board Chair
United Way Tar River Region is proud to welcome the new Chairman of the Board of Directors, Gary Fazio, CEO of Boice-Willis Clinic.  During a breakfast reception, former Board Chair James Gray, President of North Carolina Wesleyan College, officially passed the gavel to Fazio who has served on the United Way Board in various capacities since January 2007.
More ...
Englewood Garden Club meets
Brenda Flora Thibodeau, Library Associate III and Adult Programming of Braswell Memorial Library, was guest speaker at the Englewood Garden Club Meeting in February.  Her focus was on programs and services offered at the library.  She discussed the Summer Reading Program and the book discussion series.  She talked about Adult and Teen Programs, Genealogy and local history, meeting rooms available for groups, the Passport Office, as well as computer classes, and the use of computers.
More ...
CEDAR GROVE ELEMENTARY SCIENCE FAIR
Cedar Grove Elementary School held a school wide science fair in January. Students from all grade levels participated and completed many interesting science projects.   Dr. Freshwater, 5th grade Math and Science teacher, coordinated the event for the school.  First, second and third place winners were selected from grades K-2 as well as 3-5.  Pictured above is Jamiya Griffin, 1st place K-2.
More ...
PEOPLE IN THE COMMUNITY
Andrew Rine celebrated his 5th birthday on January 12,th 2014 by requesting his friends to only bring gifts to be donated to the Pregnancy Care Center of Rocky Mount for babies born to PCC clients.  Says Andrew, "Some people are really excited to have their babies, but they don't have the things they need.  So I wanted to celebrate my life by helping them get the things they need for their babies."  Andrew is the son of Jay and Michelle Rine.
More ...
Rocky Mount Rotary Club Speaker
Rotarian President Krista Ikirt, left, stands with Pastor James Gailliard from Word Tabernacle Church, who spoke to the Rocky Mount Rotary Club on Monday, February 3rd at the DoubleTree hotel at their 1pm meeting.
More ...
Nash County Blood Drives for February
Thursday, February 20 from 11 a.m. until 5 p.m. at City of Rocky Mount, Thorpe Road
Friday, February 21 from 2:30 until 7 p.m. at Nashville Elementary School, 209 East Virginia Avenue, Nashville
Monday, February 24 from 3 until 7 p.m. at Church of the Good Shepherd, 231 N Church Street
Tuesday, February 25 from 10 a.m. until 3:30 p.m. at Nash Health Care Systems, 2460 Curtis Ellis Drive, Rocky Mount
More ...
Introducing President Hamilton and a coupon


Many of you readers who can say they attended school before history classes went through many filters of revision are familiar with the Founding Fathers.
I was on the tail end of that education. Men such as George Washington, Thomas Jefferson and James Madison were considered great men who while human, put the framework of the United States into place. Perhaps each of these men should have his own day, rather than share a generic holiday known as Presidents Day. But that is another topic.

More ...
Mike Brantley
Citizen's Academy is a great opportunity


If you live, or work, in Nashville, you should consider taking the Nashville Police Department's upcoming Citizen's Police Academy.
The academy starts next month and will run through June 18. There will also be a graduation ceremony on June 25.
This is the third Citizen's Police Academy the department has hosted and I bet it's going to be one of the best.

More ...
Amanda Clark
Tax help you can trust. Refunds minus the fees


The April tax filing deadline is getting closer and if you're like most families who anticipate a refund, your money can't come soon enough.  We all want our money quickly, but think twice before you opt for an "instant" or "rapid" refund from commercial tax preparers and banks.
Thanks to changes in federal regulations, most banks have stopped offering short-term, high interest loans known as refund anticipation loans (RALs).

More ...
GUEST GOLUMN, Attorney General Roy Cooper
Backward Glances


COURTHOUSE VISIT –– This photo originally published in The Graphic May 6, 1965. Students from Middlesex School were taken on a tour of the Nash County Courthouse by Henry Milgroom of Battleboro, chairman of the Nash County Board of Commissioners. Tim Lovelace, their teacher, accompanied them.

More ...
A PICTORIAL LOOK INTO THE PAST
Nash County Animal Friends' Notebook


NCAF and PAWNC lost a good friend. Jim was a cherished volunteer, transporter and foster who loved every animal he met. Jim was the beloved husband of our photographer, Karen. "Animal lovers are a special breed of humans, generous of spirit, full of empathy, perhaps a little prone to sentimentality, and with hearts as big as a cloudless sky." ~ John Grogan

More ...
Carol Vierela, NASH COUNTY ANIMAL FRIENDS
NASH ARTS
Mark & John Bunn will perform at Nash Arts Saturday, February 22 at 7 p.m. Admission is $10 (plus tax).  Also, the Voyages in Clay by Susan Williamson exhibit is ongoing until February 28. For additional information visit www.nasharts.org or call 252-459-4734. Nash Arts is located at 100 E. Washington Street, Nashville. 
More ...
ERVIN WARD
APEX - Funeral services for Ervin Ward, 54, who died Wednesday, Feb. 12, 2014, were held Tuesday, Feb. 18, at Mt. Vernon Baptist Church, with the Rev. Milton Solomon officiating. Burial will follow in the New Zion AME Zion Church cemetery in Robbins, N.C.
More ...
FELTON GARVIS BOWDEN
SPRING HOPE - Felton Garvis Bowden, 81, passed away Tuesday, February 11, 2014. He was born May 13, 1932 in Nash County to the late Edmond and Lillie Pearl Coppedge Bowden. In addition to his parents Felton was preceded in death by a brother, Ray Bowden.
More ...
JAMES LESTER HAYWOOD
NASHVILLE - James Lester Haywood, 70, passed away Friday, February 14, 2014.  He was born in Wilson County, December 2, 1943 to the late Dorcie Lester and Bertha Jenkins Haywood.
More ...
JANET DENSON THOMPSON
Janet Denson Thompson, 59, passed away Tuesday, February 11, 2014. Jan was born in Rocky Mount, North Carolina on October 11, 1954, to William Arthur Denson, Jr. and Betty Henry Denson.
More ...
JOHN MARSHALL BROCK
John Marshall Brock, 87 of Middlesex passed away Saturday, February 15, 2014.    A private service will be held in Ocracoke at a late date.
More ...
JOHNNY "RAY" BEST
NASHVILLE - Funeral services for Johnny Ray Best, 62, who died on Friday, Feb. 7, 2014, were held Friday, Feb. 14, at 1 p.m., at Mt. Zion Holiness Church with Elder Melvin Arrington officiating. Burial followed in the Oakland Cemetery.
More ...
RICKY STUART JOYNER
Ricky Stuart Joyner, 58, passed away Tuesday, February 11, 2014.  He was born in Biloxi, MS to the late Roy Leon Joyner and Betty Tharrington Joyner.
More ...
SAMUEL JONES
NEW HAVEN, CT - Samuel Jones, 86,  formerly of Franklin County, died on Tuesday, February 4, 2014.
Funeral services were held on Saturday, February 15, 2014 at Castalia Baptist Church. Burial followed in the Jones Cemetery.
More ...
THELMA WALKER EDWARDS
Thelma Walker Edwards, age 91, passed away Tuesday, February 11, 2014. Born in Nashville on August 3, 1922, she was the daughter of the late George Walker and Lizzie Bass Walker. She was also preceded in death by her husband, William H. Edwards and son, Tracy Edwards.
More ...