Subscribe/Access
Advertisements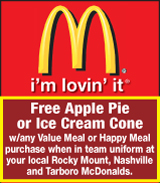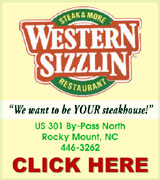 Sections
Member Options
Back
Nashville celebrates Christmas!


Christmas will kick off in Nashville on December 7 with the annual Children's Christmas Parade.
The Christmas Parade will start at 4 p.m. on Saturday, December 7 and will be followed by the ceremonial lighting of the tree. Santa will also stop by and listen to the wishes of children at the Nash County Administration Building.
Nashville's Christmas Parade is all about the children.

More ...
AMANDA CLARK, GRAPHIC STAFF WRITER
4-H'ers to unveil holiday light show December 6


The 4-H Electric Club will unveil its holiday light show on Friday, December 6 in a special ceremony at the Nash County Agriculture Center in Nashville.
This is the second year the club has put on the light show.
The 4-H Electric Club, dubbed the Circuiteers, is one of the newest 4-H clubs, said leader John Wind.

More ...
AMANDA CLARK, GRAPHIC STAFF WRITER

RURITAN OF THE YEAR –– Coopers Ruritan member Peggy Winstead was named Ruritan of the Year last week. Standing with Winstead is Ruritan member Stuart Lamm.

Winstead named Coopers 2013 Ruritan of the Year


Peggy Winstead serves the Coopers Ruritan Club quietly. As secretary of the club, she has many responsibilities, many of which no one even knows about.
Winstead's quiet leadership is one of many reasons members chose her as the 2013 Ruritan of the Year.
Winstead was honored last week at the Coopers Ruritan Club's annual Appreciation Banquet.

More ...
AMANDA CLARK, GRAPHIC STAFF WRITER
Extension Service seeks input from communities


The North Carolina Cooperative Extension Service will celebrate its centennial next year and is looking for input from the community as it prepares for another 100 years of service.
A series of listening sessions are being held across the state to give citizens in all 100 North Carolina counties a chance to offer their feedback on what the Cooperative Extension's priorities should be.

More ...
AMANDA CLARK, GRAPHIC STAFF WRITER
NPD Spotlight
The Nashville Graphic is introducing officers of the Nashville Police Department each month as part of an "Officer Spotlight" series.  The articles are featured the last Wednesday of each month  to help Nashville residents get to know the officers who protect and serve their communities.
Officer Name: Jeremy Guzman
More ...
Moss to be placed on heart transplant list


There are sports teams. And then there is Courtney's Team.
The community has come together and dubbed themselves "Team Courtney" to show support for 17-year-old Courtney Moss, who will soon be placed on a waiting list for a heart transplant.
Courtney was born with Atrial Septum Defect, or a hole in her heart. The hole was repaired in 1997 but in 1998, Courtney went into heart failure.

More ...
AMANDA CLARK, GRAPHIC STAFF WRITER
NASHVILLE POLICE BRIEFS
INCIDENTS
A damage to property (vandalism) was reported on 11/20/13 at Nashville Elementary School, 209 Virginia Avenue
A damage to property was reported on 11/20/13 on Richardson Court
A missing person was reported on 11/21/13 at 1118 Sunnyfield Road
More ...
NASH SHERIFF'S OFFICE REPORTS
A narcotics violation was reported on 11/18/13 at 64 Bypass at the Red Oak Exit
A narcotics violation was reported on 11/19/13 at 222 W Washington Street
A fugitive was reported on 11/19/13 at 222 W Washington Street
A possession of drug paraphernalia was reported on 11/20/13 on Taylor Store Road
More ...
West Mount Food Mart robbed by armed man
The Nash County Sheriff's Office is looking for a man believed to have robbed the West Mount Food Mart on Saturday night.
According to Sgt. Jeremy Worrell, a white male subject came in the store with a gun around 9 p.m. and demanded money. The cashier gave the man money and he left on foot.
More ...
Illusions of the King
Keith Henderson performed Saturday, October 19 at the Rocky Mount Farmers Market. His show was 'Illusions of the King."
More ...
SCHOLARSHIP
Megan Webb of Spring Hope is this year's recipient of the William and Lennie Everett Honorary Nursing Scholarship.  Webb is 2010 graduate of Northern Nash High School and is a nursing student at Nash Community College.  Webb is the daughter of Lynette Webb of Nashville.
More ...
Apprenticeships noted at Nash Correctional Institution
Nash Correctional Institution recently celebrated the 30th anniversary of the Multi-Trades Apprenticeship and Training Committee (MTATC) program at Nash Correctional Institution Print Plant.  MTATC is a North Carolina Department of Labor program that offers apprenticeships to qualified inmates allowing them to gain experience in all aspects of printing as well as management, data entry, shipping, maintenance and other related skills.
More ...
Massengale, Pressley wed
Amanda Louise Massengale and Carson Hackney Pressley were married Saturday, Nov. 2, 2013 at the Barn at Woodlake Meadows, in Bear Creek.
Officiating minister for the 4 p.m. outdoor ceremony was Allen Williams.
The bride is the daughter of Ray and Beth Massengale of Whitakers.
More ...
Nash youth participate in NC State Fair, 1
Nash County youth had a chance to assist with the NC State Fair Special Show. Pictured is Nash County's Maryanna Bennett (far right), who assisted Nathan, a special needs participant, during the NC State Fair Special Show. 
More ...
PBIS Celebration
Coopers Elementary School held a PBIS Celebration for students at the end of the first six weeks. There were games and inflatables as part of the celebration, which will be held at the end of every six weeks. Pictured above is Mallory Alston and DaNyla Taybron, enjoying the obstacle course at the PBIS celebration. (Contributed photos)
More ...
Achievement Award
The Senator James D Speed Achievement Award was presented to Luke LaHay (far right) on October 19, 2013 at the NC State Fair in Raleigh by Agriclulture Commissioner Steve Troxler (center) . This scholarship required that Luke show a history of strong leadership skills, integrity, good sportsmanship, achievement of goals, and be an advocate of today's agricultural industry. LaHay is the son of Charles and Molly LaHay, of Elm City.
More ...
ROTARY MEETS
Rotarian President Krista Ikirt, at left, stands with NC State Trooper Clee Atkinson, at right, who spoke to the Rocky Mount Rotary Club on November 18 at the DoubleTree hotel at their 1 p.m. meeting.
More ...

Andrea Smith (at left), Assistant Principal at Southern Nash High School, recieves sweet potatoes from Lisa Barnes, of Farm Pak on Friday afternoon.
Community gives back to SNHS teachers, staff
Southern Nash High School again teamed up with Piggly Wiggly of Bailey and held a Turkey Giveaway for the entire faculty and staff.
Farm Pak and Rob Glover Produce also donated items to enable a full Thanksgiving meal in each bag. Along with the meal, staff also received gift bags from Piggly Wiggly and Waste Industries.
This is the second year the school has held the Turkey Giveaway.
More ...

William Mangum, creator of the Honor Card. (Contributed photo)
It's the season for giving
William Mangum has once again donated his artistic skills for The Honor Card program and several Nashville businesses will have the cards available for purchase.
Mangum has created the Christmas Card for the past 25 years and all proceeds from the sale of the card go to help combat homelessness in North Carolina.
More ...
Finalists take part in Shark Tank competition
Seven finalists entered the Shark Tank recently hopes of walking away with cash prizes and new business opportunities.  The competition was tough with over sixty applications received from entrepreneurs and students from Rocky Mount, Wilson, and the surrounding area. 
More ...
Belk contributes $5,000 to United Way Tar River Region
Belk announced recently a $5000 contribution to the United Way Tar River Region.  The check was presented to Ginny Mohrbutter, executive director of United Way, by Randy Kroner, store manager of Belk at Gold East Crossing Mall. 
"We're pleased to present this contribution on behalf of Belk, Inc. and our stores to benefit the local United Way and its partner agencies that serve our community," said Kroner.
More ...
Nash County Blood Drives
Wednesday, December 4 from 9 a.m. until 3 p.m. at the Nash County Senior Center, 102 N Alston Street, Nashville
Saturday, December 7 from 9:30 a.m. until 2:30 p.m. at Capital Ford Lincoln, 2012 Stone Rose Drive, Rocky Mount
Thursday, December 12 from 12 until 6 p.m. at Englewood Presbyterian Church, 100 South Englewood Drive, Rocky Mount
More ...
Certificates presented
Margaret Sink presented Margie Parker Brantley with three supplemental certificates for her ancestors who served in the War for Southern Independence.  They were David Lawrence Batts, who was taken prisoner, and confined to Point Lookout, Md., until he was exchanged and paroled; John Lewis Dickens Batts, who survived the war; and William Calvin Batts, who was wounded, captured, exchanged, and paroled, at Appomattox Court House, Va.
More ...
Food and Clothing Drive
The Town of Nashville recently held a Food and Clothing Drive for My Sister's House. Employees and citizens donated 153 lbs. of food as well as multiple boxes and bags of clothing, toys, books and other items. All the items were given to My Sister's House in Nashville last week. Pictured are Town of Nashville police, fire and library employees along with My Sister's House Executive Director Meredith Holland (center behind table).
More ...
QUILT OF VALOR
Members of the Crafty Quilters group at the Nash County Senior Center helped organize a drawing to give away a patriotic quilt in honor of Veterans Day. The material for the quilt was donated by Janet House and Shirley Baker did most of the quilting. Veterans who are members of the Senior Center were eligible to put their names in the drawing for the quilt. Pictured above is Agnes Moore and Shirley Baker, who made the quilt.
More ...
Rocky Mount Christmas Parade is Dec. 1
The 58th annual Rocky Mount Christmas Parade will be held on Sunday, December 1, 2013 at 3 p.m. in Downtown Rocky Mount. This year's Grand Marshal will be Tisha Powell of ABC Channel 11 News in Raleigh, N.C. Powell co-anchors Eyewitness News at 5 p.m. and 5:30 p.m. She also anchors Eyewitness News at 10 p.m. on CW 22 and the 11 p.m. show on ABC 11.
More ...

Nash Central High Seniors Jessica Rogers and Andrew Beal, were directors of the production.
Nash Central High School Drama Team earns awards
Nash Central High School's drama club competition team recently participated in the regional North Carolina Theatre Conference High School Play Festival and brought home several awards.
The production the team used was student written, directed, performed and produced. Joanna Hale, drama teacher at Nash Central High School, served as an advisor for the team.
More ...
Nash Health honors chaplains at annual banquet
Almost everyone has heard of the evangelist Billy Graham, but very few have heard of Pearl Good. Good faithfully followed Graham's crusades across the country---at her own expense—and prayed for the event. For decades, no one affiliated with the Graham evangelistic team was aware of her silent, yet powerful, contributions to the ministry.
This same philosophy of unselfish faithfulness could easily apply to the chaplains at Nash Health Care.
More ...
MOUNT ZION FWB CHURCH NEWS


Due to the holiday coming up. I have to get my article in early, before Sunday. Therefore, I have little church news and a message of my own. At church Sunday night at 6 p.m., we had a Thanksgiving service of singing by our own members and a time for testimonies and praise. Afterwards, we had a soup and sandwich meal (also dessert) and time of fellowship.

More ...
Roselene Bass
RED OAK NEWS


What a joyous Christmas children around the world will have this season as the Operation Christmas Child boxes are delivered!  Not only will the children receive a special Christmas gift, but they will also receive a spiritual gift as they learn about Jesus.  Red Oak Baptist Church met and exceeded their goal of collecting 200 boxes by collecting over 212!  That's  212 children around the world who will be reached with the gospel!

More ...
Suzy Pearce
BEULAH COMMUNITY NEWS


Happy Thanksgiving everyone!  Please enjoy time with family if you can. Have safe travel through the holidays. May God bless everyone and comfort those who may have family members who have passed on during the last year. Show love always to those you still have with you. We never know what tomorrow (or the year ahead) may bring.

More ...
WILMA ENROUGHTY
PEACHTREE COMMUNITY NEWS


Scott Mason and his news' crew from WRAL visited Peachtree last Thursday.  They came to visit the "Collard Crew" and to get information for a segment of the 'Carolina Traveler'.  It will appear on Channel 5 on Wednesday, November 27, during the 5:00 PM news program.  Hope you can watch it.

More ...
Barbara Hardison
DSS taking applications for low income energy assistance
The Nash County Department of Social Services will begin taking applications on December 2 for its Low Income Energy Assistance Program.
Applications will be taken on the first floor of the Claude Mayo, Jr. Administration Building from 8 a.m. until 4:30 p.m. Monday through Friday beginning on December 2.
More ...
Farm Market Summary Nov. 18-Nov. 22


North Carolina's egg prices trended higher on all sizes when compared to last week. Supplies are light to meet a good to very good demand. The North Carolina weighted average price quoted Thursday, Nov 21, 2013 for small lot sales of delivered, cartoned, grade "A" eggs was 169.43 for Extra Large, 169.43 for Large, 125.34 for Medium, and 105.00 for Small eggs.

More ...
Contributed by Federal-State Market News Service, Divisoin of Marketing, NCDA&CS
BETHEL HEROES MEET
UDC Bethel Heroes Chapter 636 held its November meeting at the Braswell Memorial Library.  Guest speaker was Hoyle Kip Vinson, Commander, of the SVC Robert Henry Ricks Camp 75 located in Rocky Mount. Commander Vinson spoke about an upcoming joint fund raiser between the Robert Henry Ricks Camp 75 and Bethel Heroes Chapter 636.
More ...
Operation Christmas Child
Nashville United Methodist Church held an Operation Christmas Child packing party on November 17. Through this mission, the children and volunteers were able to pack 150 boxes for children this year. A special prayer was prayed over the boxes, with each child placing their hand on the boxes before shipping the boxes out the next day.
More ...
Carefully avoiding the Ides of Black Friday


You might have heard them talking about some kind of nuclear option last week in the U.S. Senate. That's not a nuclear option, that is a bunch of gasbags.
The nuclear option, the one that makes manly men hide behind their recliners, clutching a TV remote and dreaming of leftovers is real. It's called Black Friday.

More ...
Mike Brantley
Please support local shops and events


Well, the holidays are here, whether you like it or not or are ready for it or not.
I hope everyone is able to at least enjoy their turkey and more importantly, their families before venturing out into the crazy shopping world.
Black Friday is slowly becoming a thing of the past. Now, you don't even have to wait for Friday to start your shopping.

More ...
Amanda Clark
Thankful for all that is right here at home


Recently, I was heading towards the back door of The Graphic office, while at the same time, Lozen Pittman of My Sister's House was stepping out of her car that was parked nearby.
She suddenly blurted out a "Whoa!" upon turning in my direction. I quickly looked  expecting something horrific to be in her path, but she was smiling and gazing towards the sky. At first I saw nothing. I walked towards her wondering what she could see  that I could not. She then began speaking of how beautiful it was –– referring to this thing that I could not see!

More ...
Jo Anne Cooper
Backward Glances


CHRISTMAS DOLLS –– This photo originally published in The Graphic December 21, 1967. These three little girls smiled as they were given dolls at the Salvation Army Christmas Party held in Rocky Mount.

More ...
A PICTORIAL LOOK INTO THE PAST
Nash County Animal Friends' Notebook


The Shelter is CLOSED Thursday and Friday this week for the Holiday.
Did you know that BONES are DANGEROUS to dog?  Especially cooked bones, such as those from your turkey!  They can splinter and cause major damage.  Raw bones (or the raw meat) can have deadly bacteria!  Even the larger bones such as those from a ham or a roast can make your dog deadly sick.

More ...
Carol Vierela, NASH COUNTY ANIMAL FRIENDS

I'VE GOT MY EYE ON YOU. Southern Nash's John Michael Clanton (left) makes a strong move during a team match against Louisburg as part of last Saturday's Southern Vance High School Runnin Raider Duals, which were staged in Henderson.

Southern Opens Mat Campaign


HENDERSON -- With its roster still in a state of flux due to the recent ending of the football season, Southern Nash High School's wrestling squad hit the road last Saturday to take part in the annual Southern Vance Runnin Raider Duals.
There was plenty of tough competition at the event, and that's just what SNHS head coach Eddie Coble wants during the early portion of the campaign.

More ...
GEOFF NEVILLE, Graphic Sportswriter

BUCKET BOUND. Southern Nash's Marquise Wright makes a strong move toward the basket during last Thursday's road victory at Corinth Holders.

SN SINKS PIRATES


STANHOPE -- With football season ending just a few days ago, Southern Nash High School boys basketball coach Robbie Kennedy still isn't sure about the make-up of his squad for the 2013-14 campaign.
Kennedy expects gridiron stars Tahj Deans and Richard Hall to be impact hoops performers for the Firebirds. But there are also a few other footballers who have tried out for basketball -- and Kennedy is still in the assessment process with those players.

More ...
GEOFF NEVILLE, Graphic Sportswriter

GREAT GAME. Southern Nash's Danyelle Noland (left) was outstanding during last Thursday's contest at Corinth Holders.

Southern stopped in extras


WENDELL -- Southern Nash experienced both ends of the emotional spectrum during its opening week of the 2013-14 girls basketball season.
During last Tuesday's inaugural contest of the campaign, Southern used a late flurry to defeat Goldsboro by a 47-38 margin.

More ...
GEOFF NEVILLE, Graphic Sportswriter
Southern Nash stalled in state football playoffs


STANHOPE -- Before the postseason began, Southern Nash High School grid coach Brian Foster indicated that his Firebirds had a successful season -- regardless of how SN finished in the Class 3-AA State Playoffs.
That assessment didn't make last Friday's second-round loss at Eastern Wayne.
Southern Nash racked up over 380 total yards, but the Firebirds were hindered by 22 called penalties to go with five turnovers in a 21-17 setback to the Warriors.

More ...
GEOFF NEVILLE, Graphic Sportswriter
Nash Co. hosting signups


NASH COUNTY -- The Nash County Parks and Recreation Department will be hosting signups for boys and girls basketball through November 29.
Cost is $50 per player, and ages 4-18 are welcome to participate.
Games will be held at Spring Hope, Middlesex and Coopers Elementary Schools.

More ...
Staff Reports
NCHSAA STATE PLAYOFF UPDATE


NASH COUNTY -- Listed are last Friday's scores and this Friday's schedule for the Class 3-A and Class 3-AA State Football Playoffs:

More ...
Staff Reports
Soccer Stars Selected


NASH COUNTY -- Nash County schools claimed two of the top three honors for the 2013 All-Big East Conference Boys Soccer Team.
Pablo Mier, who spearheaded Southern Nash's efforts in its own end of the field, was saluted as the Defensive Player of the Year.

More ...
GEOFF NEVILLE, Graphic Sportswriter
NCWC stadouts make all-league


FAYETTEVILLE -- The USA South Athletic Conference released its 2013 postseason football awards last week, with a total of 65 student-athletes being recognized.
A trio of North Carolina Wesleyan College Battling Bishops earned accolades, highlighted by First Team honors for running back Jacques Alston and defensive back Travonne Marshall.

More ...
Staff Reports
Mudcats players collect Cleveland honors


ZEBULON -- Two players from the Carolina Mudcats' 2013 squad took home year-end honors from the Cleveland Indians last Thursday afternoon.
Right-handed pitcher Cody Anderson is the Bob Feller Award recipient for top organizational pitcher.
Second baseman Joey Wendle was announced the winner of the Lou Boudreau Award for top position player.

More ...
Staff Reports

HOLIDAY SPIRIT. Nearly 100 North Carolina Wesleyan College student-athletes teamed together last Wednesday to pack shoeboxes full of holiday gifts for Operation Christmas Child at Edge Gymnasium.

Bishops help out needy kids


ROCKY MOUNT -- North Carolina Wesleyan College's student-athletes exemplified the spirit of "Random Acts of Kindness" week on November 20 when nearly 100 Battling Bishops met at Edge Gymnasium to pack shoeboxes for Operation Christmas Child.
The Department of Athletics' 12 varsity teams joined together to collect enough donations to fill and ship 102 boxes for needy children around the world!

More ...
Staff Reports
Bissette signs with USF


RALEIGH -- Nash County native Meredith Bissette, the daughter of Greg and Marlene Bissette and granddaughter of Betty Bissette, signed National Letter of Intent recently to play softball for one of the country's top programs.
Meredith had division 1 offers from multiple schools in North Carolina, Tennessee, South Carolina, New York, Ohio, Indiana and Florida.

More ...
Staff Reports
Hunters assist hungry families


NASH COUNTY -- What a remarkable year 1993 was.
History was made when North Carolina sportsmen saw the need to feed the hungry and began the grassroots program of venison donation.
The NC Hunters for the Hungry program was formed  as a 501 c (3) tax exempt, non-profit organization to coordinate the efforts of hunters, sportsmen's organizations, processors, food banks and generous individuals to feed the hungry with our abundant natural resource the white-tailed deer – venison.

More ...
Staff Reports
NCWC drops pair on hardwood


HAMPDEN-SYDNEY, VA. -- The North Carolina Wesleyan college Battling Bishop men's basketball team dropped a pair of contests at last weekend's South Region Classic, falling to Shenandoah by an 87-80 score on Friday before dropping a 90-73 decision to host Hampden-Sydney on Saturday.
Last Friday's game versus Shenandoah featured nine ties and seven lead changes. The Bishops, who led by as many as ten points midway through the first half, held a slim 38-36 lead at the break.

More ...
Staff Reports
Hurricanes offer ticket package


RALEIGH -- Kyle Prairie, Vice President of Ticket Sales for the National Hockey League's Carolina Hurricanes, has announced that the team is now offering a three-game Hurricanes Holiday Pack.
Plans start at $59 and are available in five different seating categories at PNC Center.
The Hurricanes Holiday Pack is available now by calling 1-866-NHL-CANES.

More ...
Staff Reports
Tar River Orchestra and Chorus offer holiday events
The Tar River Orchestra and Chorus announced two holiday season special events added to their already scheduled concert series. This means that there will be three holiday concerts available to the area from the Tar River Orchestra and Chorus.
Friday, December 6th the Tar River Children's Chorus and Tar River Strings kick off the holiday season with their traditional Christmas Voices concert.
More ...

SCROOGE AND TINY TIM –– Justin Nale is playing the role of Ebenezer Scrooge this year while his 10 year-old son, Jonathan, was cast as Tiny Tim in the twelfth season of "A Christmas Carol" at Nash Arts Center.

"A CHRISTMAS CAROL"
Nash Arts Center celebrates twelfth season of play


Nash Arts will host its twelfth season of "A Christmas Carol" with shows available on December 6, 7, 13 and 14 at 7:30 p.m. and on December 8 at 2:30 p.m.
General admission tickets are $12. Tickets are $10 for senior citizens and children 12 and under. Nash Arts members receive discounts according to the level of their membership. Call 252-459-4734 for tickets or visit http://www.brownpapertickets.com/event/517213

More ...
JO ANNE COOPER, GRAPHIC PUBLISHER
CHARLES RICHARD WOOD
Charles Richard Wood, 65, of Middlesex passed away Saturday, November 23, 2013. Funeral services were held November 26, 2013  at Joyner's Funeral Home, Wilson.  Interment  followed in Hollywood Cemetery, Middlesex.  The Rev. Roy Jernigan officiated.
More ...
DAVID CHARLES DRUM
David Charles Drum, age 62, passed away Friday, November 22, 2013. Born in Gastonia on June 18, 1951, he was the son of the late David Alexander Drum and Pauline Price Drum. He was preceded in death by his brother, Lanny D. Drum.
More ...
DAVID TANK DAVENPORT, JR.
Battleboro ––David Tank Davenport, Jr., 83, passed away Sunday, November 24, 2013.He was born in Nash County, February 12, 1930, and was the son of the late David Tank Davenport, Sr. and Hazel Lassiter Davenport. He was preceded in death by his grandson, Matthew Noah Davenport and a sister, Betty Ruth Davenport Smith.
More ...
DONALD RAY WATSON
Donald Ray Watson, age 68, passed away Friday, November 22, 2013. Born in Nash County on August 6, 1945, he was the son of the late John Robert Watson and Estelle Daughtridge Watson. He was also preceded in death by his brothers, James Robert Watson and Thomas Arnold Watson.
More ...
ERNESTINE GODWIN ETHERIDGE
Ernestine Godwin Etheridge, 77, of Bailey passed away on November 19, 2013. She was preceded in death by her parents, Ernest Godwin and Lessie Glenn Earp Godwin; her sister, Annie Lee Viverette and her brothers, Jimmy Godwin, Larry Godwin, Bobby Godwin and Walter Godwin.
More ...
FREDDIE NELSON TURNER
Freddie Nelson Turner, Sr., age 77, passed away Friday, November 22, 2013. Born in Edgecombe County on August 22, 1936, he was the son of the late Jacob "Jake" Turner and Pauline Jones Turner. He was also preceded in death by brothers, Marvin Earl Turner, Leroy Turner, and Billy Richard Turner; and sister, Betty Turner Crooker.
More ...
IDALENE MAE TAYLOR
Idalene Mae Taylor born January 28, 1941, passed away on November 24, 2013.  She is predeceased in death by her father and mother Walter Linwood and Patsie Mills Taylor, her twin sister Idean T. Dickerson, and Grandson Ryan C. Bobbitt.
More ...
JAMES ALBERT LAMM
James Albert Lamm, 58, of Bailey passed away November 21, 2013. He was preceded in death by his parents, William Albert Lamm and Violet Strickland Lamm, and his sister, Anne Denton.
More ...
KENNETH GORMAN PARRISHER
Kenneth Gorman Parrisher, aka "Silver Fox", "Horseshoe King" of Sharpsburg,  passed away November 21, 2013. He was born in Tarboro on September 13, 1934.
More ...
MARY AILEEN BAKER
Mary Aileen Cockrell Baker passed away November 20, 2013. She was born December 29, 1921 to the late Lee Weldon and Mae Vick Cockrell. She was also preceded in death by her brothers, Boyd and Duke Cockrell and her husband John James Baker.
More ...
MINNIE ROSE WINSTEAD TURNER
Minnie Rose Winstead Turner, age 89, passed away on Saturday, November 23, 2013. Born in Halifax County on January 16, 1924, she was the daughter of the late Joseph Edgar Rose and Ella Fannie Lee Langley Rose. She was also preceded in death by her husband, Milton L. Turner and sister, Margaret Edwards.
More ...