Subscribe/Access
Advertisements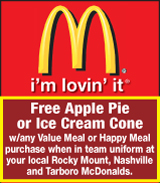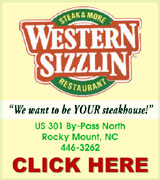 Sections
Member Options
Back

ZOMBIES IN DOWNTOWN –– Nash Central High School's Dance Team treated runners to a special surprise, as they performed Michael Jackson's "Thriller" after the 5K run, and before the one-mile run on Saturday morning.

They did the – Monster Dash!


Close to 300 runners, some clad in costume, took to the streets of Nashville Saturday morning for the first ever Monster Dash for United Way.
Rosemary Dorsey, Nash County Assistant County Manager and one of the organizers for the event, said she was pleased with how the event turned out.

More ...
AMANDA CLARK, GRAPHIC STAFF WRITER

Rodriguez
Sheriff seeks shooting suspects
The Nash County Sheriff's Office is looking for two Hispanic men allegedly involved in a shooting at a store in the Sandy Cross community on Sunday night.
According to the Sheriff's Office, two individuals were shot several times and one was beaten with a pool stick, after an argument that stemmed from a pool game at the La Pasada Hispanic Store, on Highway 58 in the Sandy Cross community.
More ...
Nashville hires finance director
The Town of Nashville has hired a Tarboro woman to serve as the new Finance Director.
Anne Mann will begin work next week.
The finance director position was left vacant earlier this year after the retirement of Barbara Pleasants. Sandra Taylor had served as the Interim Finance Director.
More ...
Governor visits Hospira to unveil new facility
North Carolina Governor Pat McCrory visited Rocky Mount last week to help unveil a new building at Hospira.
The new quality and analytical testing laboratory will bring around 200 new jobs to the area, along with an overall $200 million investment.
The laboratory will feature the latest technology and advancements in quality and analytical testing and inspection and will be responsible for testing over 450 different products.
More ...
Election Day is Nov. 5th!


Early voting for municipal elections will end on Saturday and as of Tuesday morning, only 92 had participated in one-stop voting.
John Kearney, Elections Director, said he was disappointed in the numbers so far and encouraged voters to get out and participate in early voting.

More ...
AMANDA CLARK, GRAPHIC STAFF WRITER
NPD Spotlight
The Nashville Graphic is introducing officers of the Nashville Police Department each month as part of an "Officer Spotlight" series.  The articles are featured the last Wednesday of each month  to help Nashville residents get to know the officers who protect and serve their communities.
More ...

Renee Frederick (center) serves Anthony Gagnon (at left) and his grandfather, Willard Inscoe (at right). Inscoe, 98, of Nashville, was the oldest veteran in attendance at the annual Veterans Luncheon last Wednesday.

Honoring veterans


Over 70 veterans were treated to an appreciation lunch last week in Middlesex.
Brenda Stallings has been hosting the veterans, mostly World War II and Korean War veterans, for the past five years at her home.
Stallings began the luncheon five years ago as a way to thank veterans for their service. Stallings' father, Floyd Whitley, was a World War II veteran. He passed away in February 2012.

More ...
AMANDA CLARK, GRAPHIC STAFF WRITER
NASHVILLE POLICE BRIEFS
INCIDENTS
A larceny and breaking and entering a motor vehicle was reported on 10/20/13 at 802 E Washington Street
A missing person was reported on 10/22/13 at 408 E Green Street
A possession of drug paraphernalia, possession of marijuana and possession of cocaine was reported on 10/22/13 at 602 Lake View Drive
More ...
NASH SHERIFF'S OFFICE REPORTS
A breaking, entering and larceny of a labor camp was reported on 10/21/13 at 13688 NC 48
A breaking, entering and larceny of a residence was reported on 10/21/13 at 7669 S NC 58
Found property was reported on 10/21/13 at 5756 Autry Road
A breaking, entering and larceny of a business was reported on 10/22/13 at 10962 E NC 97
More ...
Nashville Elementary hosts Fall Festival, pics 1


Colin Howard, a kindergarten student at Nashville Elementary, plays a fishing game on Friday night while Marianne Matthews, a fourth and fifth grade teacher at the school, helps. The school, with the help of the PTA, hosted its annual Fall Festival on Friday night on the ballfield at the school.

More ...
Graphic photos by Amanda Clark
Commissioners narrow search for manager


Nash County Commissioners have narrowed down the list of candidates for county manager down to two and will meet this week to compare the two candidates before bringing them back for additional interviews next week.
Interim County Manager Wayne Deal said the board met last week and decided on the two candidates. Earlier this month the board had narrowed down the candidates to six, after reviewing the 20 applicants who had applied for the county manager position.

More ...
AMANDA CLARK, GRAPHIC STAFF WRITER

Nash Central High School Marching Bulldogs

Marching Bulldogs earn Grand Champion award


The Nash Central High School Marching Bulldogs competed at the Roanoke Rapids H.S. Eastern North Carolina Band Festival recently winning awards in the following categories:

More ...
Contributed
Area towns to receive Powell Bill funds
The N.C. Department of Transportation will be distributing more than $145.6 million in State Street Aid, also known as the Powell Bill Fund, to 507 municipalities across the state. The initial allocation of $72.8 million was sent out on Sept. 30, with the rest to be paid by Jan. 1, 2014. That is an increase of about $2.8 million over last year's allocation.
More ...
Nashville Chamber sponsors candidate forum


All three candidates for Nashville's Town Council want the town to keep its small town feel but also hope for some growth.
The candidates faced off last Wednesday during a forum sponsored by Nashville's Chamber of Commerce.
Larry Taylor and Patricia Rogers are hoping to keep their seats on the board while Jerry Harris is looking to fill one of the two available seats.

More ...
AMANDA CLARK, GRAPHIC STAFF WRITER
Grand Opening
Governor Pat McCrory visited Hospira in Rocky Mount last Wednesday for a special ribbon cutting to celebrate the construction of a new laboratory.
More ...
Coopers Ruritan Club visits
The Coopers Ruritan Club visited Coopers Elementary School on Friday morning to give third graders their very own dictionary. Ruritan Charles Ethridge stressed the importance of having a dictionary to the nearly 100 third graders who received the book. Pictured above on the back row (L-R) are Ruritans Ruth Pridgen, James Pridgen, Bob Walker, Jane Tyson, Linda Ethridge and Charles Ethridge.
More ...
ROTARY GUESTS
Pat Ellis Daniels, Associate VP of Institutional Advancement/Executive Director, NCC Foundation, stands with local students who attended the Rocky Mount Rotary Club meeting recently. Guest speaker at the meeting was NC Attorney General Roy Cooper.
More ...
Holland named president of Boice Willis Clinic Board
The Board of Directors of Boice-Willis Clinic has announced that Michael D. Holland, MD, was named President of Boice-Willis Clinic.  He succeeds Dr. Nicholas A. Patrone.  Dr. Holland previously served as Vice-President of the Executive Committee.
More ...
NCC staff earns marketing and public relations awards
Nash Community College's Marketing was recently recognized by the National Council for Marketing and Public Relations (NCMPR) Southeast United States district for its marketing collateral. The NCMPR is an organization for marketing and public relations professionals at community colleges and technical colleges across the United States.
More ...
Cooper speaks at Nash Democratic Fall Rally


Nash County Democrats made it clear who they want to serve as North Carolina's next Governor; Roy Cooper.
The Attorney General was the guest speaker last week at the Democratic Fall Rally. During the rally, Cooper was presented a banner that read "Cooper for Governor." He accepted the banner but never mentioned his intentions of running for governor. However, there has been speculation that he would be running for the governor's seat in 2016.

More ...
AMANDA CLARK, GRAPHIC STAFF WRITER
Food Drive
Nash County Department of Social Services recently sponsored a food drive. Non-perishable goods collected were provided to the Salvation Army.  Accepting the items on behalf of the Salvation Army is Thomas Ivey, along with DSS employee Pamela Williams.
More ...
Nashville to host trick-or-treaters October 31
Nashville will host trick-or-treaters on Thursday, October 31 with several events.
Cooley Library will have Halloween activities from 4 until 5:30 p.m. Youth can come out and play games, get their face painting and trick-or-treat. At 5:30 p.m. Glover Park will have a special Haunted Walking Trail until 6:30, where trick-or-treaters can come out and walk around the walking trail to receive candy from different booths. At 6:45, the movie "Para Norman" will be shown at the park.
More ...
Health Department to offer flu shots
It's that time of year again! Health officials with Nash County Health Department are planning to provide community flu and pneumococcal vaccination clinics starting October 24th at various sites within Nash County.
Walk-in vaccination clinics will be held at both health department offices on:
More ...
Fall Festival
Members of Nashville Fire Department enjoyed their second annual Fall Festival on October 20.  The engine room was taken over by children of Nashville firefighters and their families playing games and enjoying fellowship of one another. The afternoon ended with a hot dog cookout and a trunk or treat. Pictured above, Captain Edwards' daughter, Charlotte, and  Engineer Green' niece, McKinley, pose for a picture.
More ...
Veterans appreciation lunch in Middlesex, pics 1


Ginger Thompson and Rob Smith gave a special performance for the veterans at the luncheon. The two are part of the Ginger Thompson Band. Thompson went to school with Stallings and many of the other volunteers and volunteered to perform for the veterans.

More ...
Graphic photos by Amanda Clark
BEULAH COMMUNITY NEWS


It really seems like the month of October has just flown by. This Friday night from 5 to 8 p.m. is the monthly fish fry at the Beulah Church of Christ Annex on Reges Rd. Once again please mark your calendar and come by for great food and great fellowship. We always look forward to seeing everyone each month and we thank you for your continued attendance and support.

More ...
WILMA ENROUGHTY
MOUNT ZION FWB CHURCH NEWS


Yesterday was Harvest Festival Day at Mt. Zion. We were pleased to have a good turn out. I met a family from Wilson. They said they read about it in the paper. I wonder if they read it in my article in the Nashville Graphic. Maybe my article has a larger readership than I realized. There were lots of games for the young and old. Plenty of hot dogs, hamburgers, chips and etc. We had a cake walk that  was very popular.

More ...
Roselene Bass
RED OAK NEWS


Red Oak Baptist Church members participated in a Love and Serve Weekend on Oct. 25-27.  They came together Friday evening for a spaghetti supper provided by the Baptist Men.  Following the meal The Watchman Quartet began the service which included message by Dr. Rob Roberts, Chowan Association Director of Missions.  Then Saturday morning Sunday School class members went out to serve the community by participating in missions projects.

More ...
Suzy Pearce - 1 opinion posted
PEACHTREE COMMUNITY NEWS


On a perfect autumn morning, Peachtree folks gathered for worship at the church.  Pastor Whitehouse greeted those present.  Sanctuary flowers were given by Beverly Wilson in memory and honor of all the saints of Peachtree Church.  The worship music was a solo by Robert Sykes titled, "Thank You for Giving Me the Lord".

More ...
Barbara Hardison
Hawkins starts TV show/ministry
As an advocate for the single parent family, Dr. Willie Mae Hawkins started a TV show to continue that support in hopes to reach more single parent households.  There is an urgency to inform single parent families that there is still hope for a better life...to regaining a healthy bonding relationship between parent and child, to balancing their lives and to achieving their personal dreams and goals with God on their side.
More ...
Nash County Blood Drives for November 2013
Saturday, November 2 from 10 a.m. until 2 p.m. at Thorne's Chapel Baptist Church, 1624 Windsor Drive, Rocky Mount
Saturday, November 2 from 9:30 a.m. until 2:30 p.m. at the Nashville Police Department, 501 S Barnes Street, Nashville
Monday, November 4 from 2:30 until 7 p.m. at Lakeside Baptist Church, 1501 Sunset Avenue, Rocky Mount
More ...
We'll soon run out of offensive things


It seems if you want to be offended these days, you don't have to look far.
Maybe you saw that Turkey has now legalized the letters Q, W and X.
This seems pretty odd, considering how awkward conversations might be. Journalists, in the past, could not ask Who, What, Where and When, which would explain the lack of award winning reporters who could only say Ho? Hat? Here? And Hen?

More ...
Mike Brantley
Appreciating those who appreciate veterans


I get to do a lot of neat things each year as a reporter. I cover board meetings (they aren't really all that neat!), I cover school events, I cover community events and I cover veterans events, among many other things.
For the past three years, I've traveled out to Middlesex to cover a veterans appreciation luncheon. This luncheon is put on by a group of people. They are just citizens who want to show their gratitude for veterans. And they do a fantastic job.

More ...
Amanda Clark
Please take time to vote on Tuesday, Nov. 5th!


Nashville's Chamber of Commerce hosted a candidate forum last week offering the community an opportunity to meet the three people running for two seats on Nashville's Town Board and hear their answers to questions and opinions on local issues.
Unfortunately I wasn't too surprised of the very low attendance. It seems we don't take time to pay attention to local politics until something  happens that affects us personally.

More ...
Jo Anne Cooper
Backward Glances


This photo was originally published in The Graphic on December 6, 1973. Ladies from the Home Economics Extension Agent's Office are pictured analyzing the results of a cookie recipe they tried out for the Food Festival with Holiday Ideas.

More ...
A PICTORIAL LOOK INTO THE PAST

RACE YA. Northern Nash High School's Trey Watson (left) challenges Havelock's Jeremy Pritchard during last Saturday morning's action at the Class 3-A East Regional Cross Country Championships on the campus of Red Oak Middle School.

RUN TO STATES


RED OAK -- Before the race, veteran Northern Nash High School boys coach Jeff Dodrill assessed that his Knights could finish anywhere between third and seventh place as a team at the Class 3-A East Regional Cross Country Championships.
So NN's ensuing fourth-place effort, along with a team berth in this coming week's Class 3-A State Finals, was certainly on the high end of Dodrill's prediction scale.

More ...
GEOFF NEVILLE, Graphic Sportswriter

CAN'T STOP ME. Northern Nash's Isaac Dupree picks up yardage during last Friday night's road football decision at Nash Central.

Northern wins over Bulldogs


ROCKY MOUNT -- After two heartbreaking losses to open the Big East Conference football schedule, the Northern Nash Knights were able to break through into the win column last Friday night.
And the Knights didn't have to travel very far to nab the elusive decision. Just across U.S. 64, in fact.
Heading the few miles over to Nash Central High School, the Knights left with a convincing 21-0 decision over the winless Bulldogs.

More ...
Staff Reports

SOUTHERN NASH SIGNAL-CALLER. Southern Nash Middle School quarterback Nadir Thompson finds some running room during last Thursday afternoon's Tri-County Conference football victory over the homestanding Red Oak Tigers.

Cobras Clutch On Gridiron


RED OAK -- The three-pronged football pipeline in Southern Nash County continues to rack up the victories on all levels.
The Nash County Firebirds have been successful on the Eastern North Carolina Youth Football League level since beginning their program in the  late 2000s.
Many of those players have become impact performers on the varsity level at Southern Nash High School, where long-time coach Brian Foster has built a consistent winner.

More ...
GEOFF NEVILLE, Graphic Sportswriter
NCHS star wraps up her career


BURLINGTON -- Nash Central High School's Kaley Price capped off her brilliant tennis career by competing in the Class 3-A State Girls Championships last weekend at the Burlington Tennis Center in Alamance County.
Price was defeated in the first round by Asheville's Adrienne Hayes (6-0, 6-1).
Wilson Hunt's Taylor Love, the Big East Conference champion, reached the quarterfinals before falling 6-1, 6-3 to Weddington's Heidi Swope, who would be the eventual state title winner.

More ...
Staff Reports
State boys soccer playoffs kick off today


NASH COUNTY -- A first-round matchup in the Class 3-A Boys Soccer State Playoffs usually involves a home match -- or a lengthy road trip -- against an unfamiliar opponent.
That's certainly not the case this year as Northern Nash and Southern Nash will tangle in the opening round of the playoffs.

More ...
GEOFF NEVILLE, Times Sportswriter - 1 opinion posted

WE'RE IN A BIT OF A HURRY. (L to R) Riley Bunch of the Big Devils and Maura Kennedy of the Firebirds rush toward the ball during recent Nash County Parks and Recreation Department 2013 Fall Youth Soccer League action.

NASH CO. PARKS AND REC SOCCER


NASH COUNTY -- Listed are updated results from the Nash County Parks and Recreation Department's Fall Soccer Season:

More ...
Staff Reports

A TRUE TEAM EFFORT. On behalf of her teammates, Red Oak Middle School volleyball captain Katelyn Wood presents a check to Penny Hearn, Breast Health Navigator for the Nash Breast Care Center.

Superb Spike Season


RED OAK -- Red Oak Middle School's volleyball team sported pink shirts this month to raise awareness for breast cancer -- an issue that has hit home for the team.
Coach Lisa Clark was diagnosed with breast cancer in May 2012, just before school let out for the summer.
Clark said she was fortunate in that she was able to get through radiation during the summer months and be done just in time to start back the new school year.

More ...
AMANDA CLARK, GRAPHIC STAFF WRITER
Adams' effort not enough for the Bishops


MONTGOMERY, ALA. -- Freshman Malik Adams hauled in a program-record three touchdown receptions last Saturday, but it would not be enough as his North Carolina Wesleyan College Battling Bishop football team dropped a 59-35 decision at Huntingdon College.
In the first half, the Hawks (5-2, 3-1 USA South) opened up a quick 14-0 lead before Wesleyan cracked the scoreboard with a 40-yard TD pass from senior Greg Edwards to Adams on a trick play midway the first quarter.

More ...
Staff Reports
ALMOST THERE
(L to R) Eastern Wayne's Josh Bartz and Nash Central's Montre Cash make one final push toward the finish line at the Class 3-A East Regional Cross Country Championships.
More ...
AND THEY'RE OFF
Members of the Southern Nash High School boys squad start the Class 3-A East Regional Cross Country Championship Race last Saturday.
More ...
COOK KEEPS PACE
Nash Central's Joseph Cook makes a move at last Saturday's Class 3-A East Regionals Cross Country Championships in Red Oak.
More ...
SIDE BY SIDE
(L to R) Southern Wayne's Anthony Womble and Northern Nash's Jordan Lucas challenge each other.
More ...
SPECIAL DELIVERY
Northern Nash's Quan Whitakers (right) makes a strong run upfield during the Knights' road Big East Conference triumph last Friday night against rival Nash Central.
More ...
WON'T BE DENIED
Red Oak's Joseph Dickens (right) follows his blockers last Thursday afternoon versus Southern Nash.
More ...
NASH ARTS EVENTS
The Electric Image Band - November 2: 7 p.m.,   $10 general admission
A Christmas Carol, Adapted and  Directed by Jim Singleton, December 6, 7, 13, and 14 at 7:30 p.m. Matinee: December 8: 2:30 p.m. $12 general admission, $10 senior citizens and children 12 and under
More ...
ETHEL JONES COTTON
ROCKY MOUNT –– Ethel Jones Cotton, 76, died October 21, 2013.  Funeral arrangements to be announced. Arrangements by Stokes Mortuary, Inc.
More ...
ADA STALLINGS
BOSTON, MASS. - Funeral services for Ada Stallings, 76, who died Monday, Oct. 21, 2013, took place Saturday, Oct. 26 at 12 noon at Mt. Vernon Baptist Church. Burial followed at Oakland Cemetery with Rev. Dr. Tyrone Jones officiating.
More ...
ALICE OUTLAW SHEARIN
Alice Outlaw Shearin, 67, passed away  Sunday, October 27, 2013 at Nash General Hospital. She was born August 21, 1946, to the late Lewis Howard Wood and Ethel Viola Taylor Wood. In addition to her parents, she was preceded in death by her brother Ray Wood; two sisters Joann Rackley and Loretta Groover.
More ...
CAROLYN GOODYEAR PATTERSON
Carolyn Goodyear Patterson, 70,  passed away on October 24, 2013. She was born in Dillon, SC to the late Lawrence H. and Hazel Llewellen Goodyear. She is preceded in death by her parents, her son, Donnie R. Patterson, and stepmother, Anne Johnson Goodyear.
More ...
GRACE BAKER MINOR
Grace Baker Minor, age 78, passed away  October 24. A Memorial Service was held October 26 at Lakeside Baptist Church in Rocky Mount.
More ...
JAMES EARL BRAKE
ROCKY MOUNT –– James Earl Brake, 58, of Rocky Mount, died on Saturday, October 26, 2013 at Nash General Hospital in Rocky Mount.
More ...
JAMES WORTH CARROLL
James Worth "JW" Carroll, 73, of Bailey passed away October 22, 2013. A memorial service was held October 24, 2013 at Joyner's Funeral Home.  The Rev. Ronald Gurganus   officiated.
More ...
JOHNNIE THOMAS "J.T." RAPER
Johnnie Thomas "J.T." Raper, 79, passed away  Saturday, October 26, 2013. A native of Nash County, he was the son of the late Johnnie Stanford Raper and Octavia Stancil Raper. He was preceded in death by his brother, Larry Bryant Raper and sisters, Eunice Raper Newton and Evelyn Raper King.
More ...
LULA GRAY NEWCOMB
Lula Gray Newcomb, 77, of Middlesex passed away on October 26, 2013. Funeral services were held October 28, 2013 at Joyner's Funeral Home.  A graveside service was held October 29, 2013 in Bailey Town Cemetery.  The Rev. Reuben Batchelor and Rev. Marie Batchelor   officiated.
More ...
MARY DIVEN DONEGAN
Mary June Diven Donegan passed away on October 24, 2013 at the age of 89.  She was born in Washington D.C. on June 13, 1924 to Charles Albert Diven and Mary Eliza Morrison Diven. She was preceded in death by her  husband of fifty years Gorman Stafford Donegan and her older sister Martha Diven Johnson.
More ...
TOMMY GEORGE HARRISON
RICHMOND, VA - Tommy George Harrison formerly of Rocky Mount died October 18, 2013.  Funeral arrangements to be announced.  Arrangements by Stokes Mortuary, Inc.
More ...