Subscribe/Access
Advertisements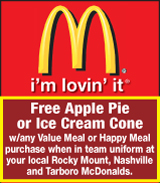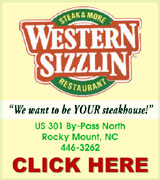 Sections
Member Options
Back

NASH COUNTY 4H–– Sandy Hall (left) stands with Casey Strickland (right) who was named the Nash County 4H'er of the Year.

Strickland honored as 4H'er of the year


Nash County 4-H celebrated the achievements of its many clubs on Sunday afternoon, but singled out a few for Club of the year, Volunteer of the Year and 4-H'er of the Year
Casey Strickland was surprised with the 4-H'er of the Year Award. Sandy Hall, Nash County Extension Agent for 4-H Development, presented Strickland with the award.
Hall said there were really good nominations this year for 4-H'er of the Year.

More ...
AMANDA CLARK, GRAPHIC STAFF WRITER
Nash County to expand water system


Nash County is hoping to expand its water system to the Red Oak/Dortches area and is starting the customer recruitment process by hosting two informational meetings.
Nash County Public Utilities will host the two on Thursday, October 10 at 7 p.m. and on Tuesday, October 15 at 5:30 p.m. at Red Oak Middle School.

More ...
AMANDA CLARK, GRAPHIC STAFF WRITER
PUMPKIN FESTIVAL 2013
Pictured above, Southern Nash cheerleaders perform a cheer while riding on a float at the parade. For more pictures from the Spring Hope Pumpkin Festival, go to Page 3-A.
More ...
Truman's footprints restored!


The footprints of President Harry S. Truman have been on display in the courtyard of the Nash County Courthouse for the past 53 years.
The footprints have been exposed to the elements and over the years, have become worn and just about unrecognizable.

More ...
AMANDA CLARK, GRAPHIC STAFF WRITER
Fire destroys storage unit at shelter
An overnight fire destroyed a mobile unit at the Nash County Animal Shelter early Saturday morning.
An employee discovered the fire on Saturday morning but the fire had already destroyed the building, which served as a storage facility and office for animal control officers.
No animals were injured in the fire, as the building is separate from the shelter, where the animals are housed.
More ...
Town donates land for EMS station


Nashville's Town Council has agreed to donate a piece of land to Nash County to build an EMS station in Nashville.
Nash County Commissioners budgeted around $400,000 in the current fiscal year budget for a new EMS station in Nashville. Since commissioners approved the budget, the county has been working on proposals for the new station.
Last Tuesday night, at Nashville's regular Town Council meeting, Town Manager Preston Mitchell said they had received a proposal from the county on the EMS station.

More ...
AMANDA CLARK, GRAPHIC STAFF WRITER
Spring Hope residents speak out about recent break-ins


Spring Hope residents expressed concern to commissioners on Monday night over the number of break-ins the town has seen the past several months.
Debbie and Larry Oxendine, told commissioners that their home had been broken into on August 16 and that ever since, they have not felt safe. Debbie said since her break-in, she discovered there have been numerous break-ins in town.

More ...
AMANDA CLARK, GRAPHIC STAFF WRITER
Brown celebrates 100 years


Bertha Brown stopped counting her age around 30 years ago so when September 20th came around, Brown said she was shocked to discover she was 100 years old.
"I don't feel 100," she said. "When I think about it, I can't even put it together."
Brown was born in 1913 in Robeson County. She later moved to Wilson and then came to Rocky Mount as a teenager.

More ...
AMANDA CLARK, GRAPHIC STAFF WRITER
Spring Hope Pumpkin Festival, 1


NRMS Teachers of the Year from Spring Hope Elementary, Southern Nash Middle and Southern Nash High Schools participated in the Pumpkin Festival Parade on Saturday. Dana Williamson, the Teacher of the Year for Southern Nash MIddle School was also named the NRMS Teacher of the Year. Williamson is pictured above in the passenger seat.

More ...
Graphic photos by Amanda Clark
NASHVILLE POLICE BRIEFS
INCIDENTS
A hit and run was reported on 9/30/13 on Washington Street
A larceny and breaking and entering of a motor vehicle was reported on 10/1/13 at Kerr Drug, 703 Washington Street
More ...
NASH COUNTY SHERIFF'S OFFICE REPORTS
A resisting a public officer and injury to personal property was reported on 9/30/13 at 3741 Sunset Avenue
A breaking, entering and larceny of a residence was reported on 9/30/13 at 2987 Batchelor Road
A breaking, entering and larceny of a residence was reported on 9/30/13 at 209 Morning View Lane
A simple assault was reported on 10/1/13 at 7827 Logans Run Lane
More ...
Hobson, Futrell unite in marriage
Jessica Anne Hobson and William Clifton Futrell III were married Saturday, Aug. 10, 2013 at Sunset Avenue Baptist Church, Rocky Mount. The officiating minister for the 6 p.m. ceremony was Pastor Mark L. Pridgen Jr.
The bride's parents are Lennie and Karen Breedlove of Rocky Mount. She is the granddaughter of Lee and Helen Hines of Nashville, Jr. and Ruth Breedlove of Oxford, and the late Evelyn R. Hobson.
More ...
BIRTHDAY TRIP
Oretha Parker, of Nashville, recently celebrated her 97th birthday on September 9 with a fishing trip with her grandson, Tim Vick. The two went to Bogue Inlet on September 14, where Parker caught a two-pound stone crab. Parker also celebrated her birthday with a special lunch at Mayflower, where she was joined by family and friends.
More ...
2013 Twin County Hall of Fame Inductees
Twin County Community Pride, Inc. has announced the Twin County Hall of Fame Class of 2013 to be inducted on Thursday, Nov. 14 at Nash Community College. This year's class of ten inductees includes two photographers, a pediatrician, two community volunteers, two sports figures, an educator, a broadcaster, and a state legislator.  The class was selected from over 50 nominations submitted in the spring.
More ...
Business Expo to be held Oct. 17
The Rocky Mount Area Chamber of Commerce and the Tarboro-Edgecombe Chamber of Commerce, along with Premier Sponsor Suddenlink Communications and Host Sponsor Nash Community College, join together to host the 2013 Regional Business Expo.  Members of the region's business community will take center stage on Thursday, October 17, 2013 at Nash Community College Business & Industry Center for the annual Business Expo.
More ...
Castalia seeks park donations


The pieces are finally fitting into place for the Town of Castalia after a long battle to secure funding for a community park. Mayor Ellene Leonard announced last Tuesday, October 1, that the town had received a contract for the PARTIF grant and was simply waiting on the Land and Water Conservation Grant, which should be in place by the beginning of November. However, all this funding hinges on the town doing its part in raising $26,000 for the project.

More ...
AMELIA HARPER, GRAPHIC CORRESPONDENT
COMMUNITY WALK
Around 40 residents of the Birchwood Community joined together on Sunday afternoon for a neighborhood walk. Nashville Police Community Services Officer Jennifer Bull and Chief Thomas Bashore also participated in the walk. Among those participating were children on bikes and in strollers. There was a 10-minute break at Birchwood Country Club, where residents stopped to enjoy water and Gatorade.
More ...
Digital devices not yet delivered to NRMS non-paying students


The Nash-Rocky Mount Schools (NRMS) technology department announced that the delivery of digital devices to students in grades 4-12 was completed on Friday, Sept. 27, reporting that nearly 7,600 devices had been given out.
But this announced delivery completion does not include every student in grades 4-12, as "day user" devices have not been delivered, Ashley Simmons, NRMS chief public information officer told The Graphic.

More ...
MICHELE CRUZ, GRAPHIC CORRESPONDENT
Nashville PD implements Nextdoor network
The Town of Nashville hopes the addition of a new social network will build a stronger community.
The town and its police department recently started using Nextdoor, a private social network for neighborhoods. The network allows communication between neighbors.
More ...
Nash Health Board meets in Middlesex


The board of Nash Heath Care met for its October meeting at the Middlesex Powell Clinic located in Middlesex, NC.  The clinic is one of several Management Service Organizations (MSO) owned by the hospital and is one of Nash Health Care's most recent ventures.

More ...
AMELIA HARPER, GRAPHIC CORRESPONDENT
Sheriff's Office investiages cigarette thefts
The Nash County Sheriff's Office is investigating 21 incidents where cartons of cigarettes were stolen from stores throughout four counties.
In the incidents, a masked individual broke into the stores in Nash, Wilson, Franklin and Johnston Counties and took large quantities of cigarettes.
More ...
Wild Turkey Federation hosts annual JAKES Day, 1
The Tar River Chapter of the National Wild Turkey Federation sponsored its annual J.A.K.E.S. Day on Saturday, September 28 at Rose Hill Plantation. J.A.K.E.S. stands for Juniors Acquiring Knowledge Ethics and Sportsmanship. The event had many stations full of events for youth to participate in. Pictured above, Carla Freeman, with the NC Forestry Services, answers questions from five-year-old Tack Thurman, of Wilson.
More ...
Nashville, Cedar Grove recognized as Title I Schools
Two Nash-Rocky Mount Public Schools are among only 174 schools in the state that were recently named Title I Reward Schools by the North Carolina Department of Public Instruction. Cedar Grove Elementary School and Nashville Elementary School were recognized on September 9 by the Nash-Rocky Mount Board of Education. (Pictured (Above): Cedar Grove Elementary School was also recognized at a recent NRMS Board meeting for being recognized as a Title I School. Pictured (L-R) is: Evelyn Bulluck, School Board Chair, Brad Jones, Principal of Cedar Grove Elementary, Brenda Tuten, teacher at Cedar Grove, and Dr. Anthony Jackson, Superintendent.
More ...
FRIENDS DONATION
Friends of the Harold D. Cooley Library donated $2,500 to the library recently. The money was raised at the Friends' annual Library Luncheon. The money will be used to increase the kid's collection. The next luncheon is planned for April 26, 2013. Pictured (L-R) is: Hattie Cooper, Friends Board Member, Brian Booth, Library Director, Nashville Mayor Donald Street and Pam Bass, Friends Board Member.
More ...
COFFEE WITH A COP
The Nashville Police Department  hosted its monthly Coffee with a Cop on September 16 at The Nashville Exchange in downtown Nashville. As part of the event, Chief Thomas Bashore and officers served drinks to customers and spent time talking with customers. The next Coffee with a Cop is scheduled for Tuesday, October 22 from 7:30 until 9 a.m. at Hardees in Nashville.
More ...
MOUNT ZION FWB CHURCH NEWS


Our choir sang "Into My Heart" for the call to worship. Pastor Aycock welcomed everyone and prayed the prayer of invocation. Hymns of worship were "Nothing But the Blood" and "How Great Thou Art," led by Algie Jones Jr. Prayer concerns were shared; Mozelle Batchelor is in Pitt Memorial Hospital, the shut-ins, sick, those with health issues,; Standley Bass, Atlee Matthews and maybe others.

More ...
Roselene Bass
RED OAK NEWS


The Red Oak United Methodist Church family grew again last Sunday, Sept. 29, with the welcoming of two new members into fellowship. God is doing amazing things in and through the congregation. Worship with us on Sunday. All are welcome.

More ...
Suzy Pearce
BEULAH COMMUNITY NEWS


We want to thank everyone who came to the Beulah Church of Christ monthly fish fry last Friday night at the annex on Reges Rd. Your support and fellowship is always appreciated.
If you have not marked your calendar for this coming week-end please do so right now!

More ...
WILMA ENROUGHTY
PEACHTREE COMMUNITY NEWS


Pastor Whitehouse greeted his congregation on a beautiful "Indian Summer" morning.  Sanctuary flowers were given by Ann Browder in memory of her husband Bobby Browder Sr. The topic of Pastor Whitehouse's sermon was "When Preparation Meets Opportunity", based on scripture from Samuel 16: 14-17.

More ...
Barbara Hardison
FARM SERVICE AGENCY NEWS
On September 18, 2013, Agriculture Secretary Tom Vilsack declared a natural disaster in the State of North Carolina based on losses caused by excessive rain and flooding that occurred May 1, 2013 and continuing. As a result of this natural disaster, 13 North Carolina counties were declared eligible for Federal disaster assistance, including Farm Service Agency (FSA) emergency (EM) loans for eligible family farmers.
More ...
UDC Bethel Heroes
Margaret Sink, at left, Registrar for UDC Bethel Heroes Chapter 636 presented Helen Sharpe, at right,  with two supplementals for her ancestors Theoderick N. Cole and James H. Cole who served in the Confederacy during the War Between the States. (Contributed photo)
More ...
Nash County Blood Drives for October 2013
Thursday, October 10 from 12 until 6 p.m. at Englewood Presbyterian Church, 100 South Englewood Drive, Rocky Mount
Friday, October 11 from 11 a.m. until 5 p.m. at Englewood Presbyterian Church, 100 South Englewood Drive, Rocky Mount
More ...
We're outnumbered and outwitted


T.S. Eliot said, in "The Hollow Men," that "this is the way the world ends/not with a bang but a whimper."
Maybe 2013 might shape up as a micro-example of that for Kristi and me.
We knew as long ago as 2007 that it might go down this way. That is when Child #3 came along, and we found ourselves outnumbered. As we told many people, we went from playing man-to-man to playing a zone.

More ...
Mike Brantley
Thankful for Pumpkin Festival volunteers


The weather certainly cooperated for Spring Hope's Pumpkin Festival this year but I think it cooperated a little too much.
It got up to 90 degrees on Saturday!
I've been to some pretty humid Pumpkin Festivals but Saturday's was a record breaker for sure!
I suppose, however, that organizers were pleased with the weather and would much rather it be hot and humid than rainy.

More ...
Amanda Clark
Attempting to interpret the new normal


Several months ago I was searching through the archives here at The Graphic trying to find some information for Lee Coppedge at Nashville Fire Department. While doing so, I began reading copies of some personal letters and newspaper clippings written by the founder of  The Graphic, Maurice W. Lincke. The copies were sent  to us by his granddaughter Chris Johnson.

More ...
Jo Anne Cooper
Backward Glances


VOLLEYBALL CHAMPIONS –– This photo originally published in The Graphic November 20, 1973. Both the junior varsity and varsity girls teams of Nash Central had won the volleyball championships in the county.

More ...
A PICTORIAL LOOK INTO THE PAST
Do you have the courage?


Please read this Mr. Jones.  I have lived in Eastern NC all my life (so far) except two years when I was in graduate school.)  I remember being served by Congressman L.H. Fountain when I lived in the Wilson-Nash County areas.  And I remember Walter Jones because I grew up in Pamlico and Craven Counties.

More ...
Letters to the Editor:
Reader responds to NC Attorney General


Don't know why it hasn't been said before now, but it's time for North Carolina's Attorney General, Roy Cooper to step aside and pursue his personal objectives in other venues.
As the state's top cop, it is his job to enforce our laws without prejudice. His lack of professionalism regarding the recently enacted election law reforms make it impossible for his office to defend the state law in federal court.

More ...
Letters to the Editor:
Nash County Animal Friends' Notebook


God was overlooking the pets on the night of Friday Oct. 4.  The Nash County Animal Control Shelter's office trailer with a majority of the food stock burned to the ground.  It is near the Shelter, but  the fact that the Shelter is cinderblock, probably saved the animals.  Thank goodness  the roof didn't catch fire.  The cause is unknown at this time.

More ...
Carol Vierela, NASH COUNTY ANIMAL FRIENDS

SOCCER SPEED RACERS. (L to R) Northern Nash's Tucker Daughtridge and Louisburg High School's Kaleb Calamaco sprint toward the ball during last Thursday evening's non-conference boys soccer matchup on the NN campus in Red Oak.

WELL WORTH IT


RED OAK -- Due to a miscommunication with the starting time, officials showed up 30 minutes after the scheduled kickoff of last Thursday's non-league boys soccer meeting between Louisburg and host Northern Nash.
The wait would prove to be worth it for the Knights, who toughed out a 2-1 decision over the Warriors at the NNHS Soccer Complex.

More ...
GEOFF NEVILLE, Graphic Sportswriter

PASS HAPPY. Nashville Hornets' Rookie League quarterback Isaac Lewis prepares to throw a pass during last Saturday's game at SouthWest Edgecombe.

Hornets take out Cougars


PINETOPS -- Each week, the Nashville Hornets' Varsity Team continues to get better and better.
The proof is on the scoreboard, where the Hornets opened the campaign with a pair of tough losses in Eastern North Carolina Football League action.
Since then, the Hornets have rattled off three consecutive conquests, with the most impressive one quite possibly coming last Saturday night.

More ...
GEOFF NEVILLE, Graphic Sportswriter

O'NEAL GOES AIRBORNE FOR SN. Southern Nash High School fullback Sebastian O'Neal (with ball) flies for extra yardage during the Firebirds' non-conference road gridiron victory last Friday night over perennial powerhouse Tarboro.

Southern's Streak Still Alive


STANHOPE -- Even with a string of injuries unlike anything Coach Brian Foster has ever seen, the Southern Nash Firebirds continue to find a way to win -- even against the most difficult opponents.
In Foster's estimation, the Firebirds have been able to claim so many close victories in part due to veteran leadership from a talented string of upperclassman.

More ...
GEOFF NEVILLE, Graphic Sportswriter
Northern wins over Southern


STANHOPE -- Northern Nash's volleyball squad secured a three-game sweep last Thursday against a feisty Southern Nash squad at the SNHS Gymnasium.
The Lady Knights won the Big East Conference meeting by scores of 25-19, 25-19 and 25-19.
Alexus Hill (8) and Shelby Godwin (6) combined for 14 kills for victorious Northern Nash, while Caroline Jenkins contributed 15 assists.

More ...
Staff Reports

LOOSE BALL. North Carolina Wesleyan College's Elzia Silver (left) tries to come up with an interception during last Saturday's home football game against LaGrange College in Rocky Mount. (Photo Submitted by Anthony Barham)

A Busy Weekend


ROCKY MOUNT -- North Carolina Wesleyan College celebrated its 2013 Homecoming last Saturday, and the day was full of notable highlights.
A pair of USA South Conference soccer wins headed the athletics action, while the Department of Athletics annual Hall of Fame inductions capped off a memorable night in Rocky Mount.

More ...
Staff Reports
NASHVILLE HORNETS ROOKIE HIGHLIGHTS, 1
NASHVILLE ROOKS IN ACTION. The Nashville Hornets' Rookie Team headed to Pinetops last Saturday to tangle with the SouthWest Edgecombe Cougar Cubs in Eastern North Carolina Football League action. Among the highlights were (above) Isaac Lewis goes around end for the Hornets.
More ...
NASHVILLE HORNETS ROOKIE HIGHLIGHTS, 2
NASHVILLE ROOKS IN ACTION. The Nashville Hornets' Rookie Team headed to Pinetops last Saturday to tangle with the SouthWest Edgecombe Cougar Cubs in Eastern North Carolina Football League action. Among the highlights were (above) team captains (l to r) Braylon Moore and Xzaviare Richardson head to midfield for the coin flip.
More ...
NASH CO. SOCCER REPORT


NASH COUNTY -- Listed are updated results from the Nash County Parks and Recreation Department's Fall Soccer Season:

More ...
Staff Reports

KEY BIRDS. (L to R) Quarterback Matt Foster and Coach Judd Hyde discuss strategy during a recent Nash County Firebirds' varsity football matchup. The Birds will be in action this Saturday morning on the road at Nashville.

Nash County travels to meet rival Enfield


ENFIELD -- The Nash County Firebirds traveled to Enfield last Saturday to take on a tough Warriors team in Eastern North Carolina Football League action.
The weather was hot -- it felt like the first game of the season back in early September. 
It's October now and,  with only two games remaining on the schedule, the Firebirds are looking to finish strong. 
It was an epic battle in the Rookie contest. 

More ...
Staff Reports
County Line hosts its Race For The Cure


ELM CITY -- Last year, Mother Nature prevented County Line Raceway from putting on its Race for the Cure benefiting Susan G. Komen.
But this beautiful day last Saturday would see not only great racing, but a 1 lap walk around the track & balloon release in honor of survivors and in memory of those that we loved who lost their lives to this horrible disease.

More ...
Staff Reports
NASH CO. SOCCER PHOTOS
GIMME FIVE. Members of the Cobras have a good time during recent action in the Nash County Parks and Recreation Department's Fall Soccer Season. The Cobras play in the Red Oak Ages 4-5 Division.
More ...
ADVANCED PLACEMENT
Northern Nash's Tyler Jones (left) makes his way through the midfield during last Thursday evening's home soccer decision against the Louisburg HS Warriors.
More ...
ELLIS ON THE MOVE
Nashville Hornets' varsity standout Jamar Ellis sprints upfield after a pass reception during last Saturday's win at SouthWest Edgecombe.
More ...
GARRETT GOES FOR THE TACKLE
Nashville's Garrett Pannell (left) comes up with a defensive stop during the Hornets' road triumph last Saturday afternoon against the SouthWest Edgecombe Cougar Cubs.
More ...
LEADING THE WAY
Southern Nash senior quarterback Deon Lavender (right) is just as proud of his blocking abilities as his passing statistics. On this play, Lavender is shown blocking for teammate Clinton Whitaker during last Friday's road conquest at Tarboro. The Firebirds will remain on the road this Friday to open Big East Conference play at Wilson Fike High School.
More ...
SAMMY WITH SPEED
Northern Nash's Sammy Cervantes (left) gains possession for the Knights during last Thursday's home soccer victory against the Louisburg Warriors.
More ...
CYNTHIA DENISE ALSTON
BELTSVILLE, MARYLAND –– Cynthia Denise Alston, 54, of Beltsville, Maryland and formerly of Nash County, died on Monday, September 30, 2013 at Mandrin Inpatient Care Center in Harwood, M.D.
More ...
GEORGE WILLIAM LEWIS, SR.
George William Lewis, Sr., 87, passed away Monday, October 7, 2013. He was born April 19, 1926 in Nash County to the late James Erwin and Sophie Daughtridge Lewis. George was preceded in death by two brothers; Nick and Ben Lewis.
More ...
HELEN COOPER
ROCKY MOUNT –– Helen Cooper, 85, of Rocky Mount, died on Thursday, October 3, 2013 at Nash General Hospital.
More ...
HELEN FRANCES MORGAN WILKINSON
Helen Frances Morgan Wilkinson, age 93, passed away  on October 1, 2013. Born February 15, 1920, she was a lifelong resident of Rocky Mount. Helen was the daughter of the late Paul N. Morgan and Helen Lavinia Edwards Morgan. She was preceded in death by her husband of over 50 years, George Alexander Wilkinson, Jr. and her brother, Paul Morgan, Jr.
More ...
INEZ PRIVETTE GOFF
Inez Privette Goff, age 84, passed away on October 2, 2013. Born in Nash County on May 10, 1929, she was the daughter of the late Edward Dowd Privette and Mamie Moore Privette. She was also preceded in death by her sister, Cleo Ferrell and brother, Tommy Privette.
More ...
JAMES "JIM" ROY COCKRELL, SR.
James "Jim" Roy Cockrell, Sr., 67, passed away Friday, October 04, 2013.  He was born in Nash County, December 6, 1945 to the late Roy and Geneva Batts Cockrell.
More ...
JOSEPH E. "BUDDY" BAINES
Joseph E. "Buddy" Baines passed away on October 4, 2013 at his home. He was born on June 20, 1932 to the late Charlie David Baines and Millie Ganey Baines. Buddy was preceded in death by his brothers Wiley Baines, Gray Baines and Jimmie Baines.
More ...
NANCY CURRIN MOODY BULLUCK
Nancy  Currin Moody Bulluck, age 82,  passed away on Monday September 30, 2013. She was born in a farmhouse to John G. and Lucille Greene Moody at the Moody family farm in Townsville, North Carolina on July 4, 1931.
More ...
RACHEL LUZIE SEXTON
Rachel Luzie Sexton, age 81 passed away on  October 3, 2013. Born in Wadesboro, NC on September 24, 1932, she was the daughter of the late Charlie William and Hattie Ramsey Chewning. She was preceded in death by her husband, Edwin Hocutt Sexton, Sr.; son William Michael, baby daughter Krista Gayle; sisters Broadus C. Cobb, Doris C. Godwin, and Lois C. Proctor and brothers Bennett, June, and Tom Chewning.
More ...
RAYMOND ARTHUR TOBIAN
Raymond Arthur Tobian, 77, passed away Saturday, October 5, 2013. He was born in Detroit, MI on January 24, 1936. In addition to his parents, he was preceded in death by his wife, Peggy Walston Tobian.
More ...
TERRY CARLYLE LOGAN
Terry Carlyle Logan, 63, passed away Monday, October 7, 2013. He was born October 8, 1949. He was preceded in death by his father; Charles Harvey Logan and a brother; Derrell Logan.
More ...
WAYLON HAROLD BUNN
Waylon Harold Bunn, 87, of Bailey passed away October 2, 2013. Funeral services were held October 4, 2013 at White Oak Hill FWB Church, 3967 W Hornes Church Road, Bailey.   A graveside service was held October 5, 2013 in the Bailey Town Cemetery, Bailey.  The Rev. Reuben Cason officiated.
More ...
WILLIAM RICHARD WINSTEAD
NASHVILLE - William Richard Winstead, age 97, passed away September 30, 2013. Born in Nash County on September 26, 1916, to the late Dempsey Richard Winstead and Rhoda Lindsey Winstead. He was preceded in death by his wife of 66 years, Pauline Langley Winstead, and eight brothers, Melton, Otha, Russell, Leaston, John, Horace, Norman, and Cleveland; and a granddaughter, Amanda Pauline Winstead.
More ...
YOULANDA R. MORRIS
NASHVILLE - Funeral services for Youlanda R. Morris, 86, who died Thursday, Oct. 3, 2013, will be held today (Wednesday, Oct. 9) at 1 p.m. at Bethlehem Missionary Baptist Church. Burial will follow in Oakland Cemetery with Rev. Milton Batts officiating.
More ...