Subscribe/Access
Advertisements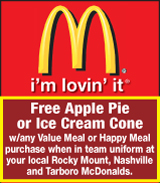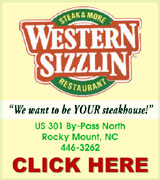 Sections
Member Options
Back
Town OKs new industrial park


Land recently purchased by the Town of Nashville is now considered a part of the city limits and in a light industrial district, which will pave the way for an Industrial Park in Nashville.
Nashville's Town Council unanimously voted on Tuesday night to rezone and annex the property, which is on Cooke Road, off of Old Bailey Highway, just outside the city limits.

More ...
AMANDA CLARK, GRAPHIC STAFF WRITER
County, School Board debate 10-year improvement plan


Nash County Commissioners met with the Nash-Rocky Mount Public Schools Board of Education on Monday night to hear several presentations, including the school system's 10-year Capital Improvement Plan (CIP).
The 10-year plan was presented by Dr. Eric Cunningham, Associate Superintendent for NRMS, and is divided up into two phases.

More ...
AMANDA CLARK, GRAPHIC STAFF WRITER
Nash Arts Fundraiser deemed huge success


When Amy Beasley thought up the idea to hold a dance competition at Nash Arts, she had no idea what the end result would be.
Today, she said she is still shocked at the success of the first ever Dancing With The Arts event.
The event was held on Friday night at Nash Arts and was held in front of a packed house.

More ...
AMANDA CLARK, GRAPHIC STAFF WRITER - 1 opinion posted

Hailey Askew, Miss Pumpkin Queen

It's Pumpkin Festival time!


This year's Spring Hope Pumpkin Festival almost didn't happen but thanks to community support, and volunteers stepping up to the plate, the 42nd annual event will take place this weekend.
The festival will kick off on Friday, October 4 with the Pumpkin Recipe Contest, Pumpkin Weigh-in competition and Pumpkin Creations Contest. The carnival will get started on Friday afternoon and the evening will end with the band Spare Change performing.

More ...
AMANDA CLARK, GRAPHIC STAFF WRITER
Nash General nurses to aide midwives in Haiti


Three nurses from Nash General Hospital's Labor and Delivery unit are taking their nursing skills to Haiti for a week.
Cindy Taylor and Robin Wheeler, both of Nashville, along with Lorrie Pipkin, of Ayden, will leave on October 11 for a trip with the group Midwives for Haiti, an organization that helps to educate and train Haitian nurses in prenatal care and skilled birth assistance.

More ...
AMANDA CLARK, GRAPHIC STAFF WRITER
NASHVILLE POLICE BRIEFS
INCIDENTS
A possession of counterfeit money was reported on 9/23/13 at Dollar Country
A larceny (shoplifting) was reported on 9/23/13 at Wal-Mart, 1205 Eastern Avenue
A larceny was reported on 9/23/13 at Wal-Mart, 1205 Eastern Avenue
More ...
NASH COUNTY SHERIFF'S OFFICE REPORTS
A breaking, entering and larceny of a residence was reported on 9/23/13 at 5006 Dorothy Lane
A failure to register as a sex offender was reported on 9/23/13 at 833 West Haven Blvd
A breaking, entering and larceny of a residence and injury to real property was reported on 9/23/13 at 8456 S Halifax Road
More ...
NRMS completes iPad, laptop delivery to schools


The Nash-Rocky Mount Schools (NRMS) technology staff completed delivery of all iPads and MacBook Air laptops to their 28 elementary, middle, and high schools on Friday, Sept. 27. The delivery goal NRMS administrators set was for all students to have their devices by this Wednesday, Oct. 2.
The NRMS tech staff delivered and handled individualized setup for all students' iPads in grades 4-6 and all students' laptops in grades 7-12, according to the administration's "iConnect" program.

More ...
MICHELE CRUZ, GRAPHIC CORRESPONDENT
Nash Commissioners to interview manager applicants next week


Nash County Commissioners will interview six candidates next week for the county manager position.
Commissioners met last week in a closed session for over an hour to discuss the 20 applicants who have so far applied for the position.
Former County Manager Bob Murphy was terminated in July, following a closed session board meeting, where commissioners later voted 4-3 to terminate Murphy.

More ...
AMANDA CLARK, GRAPHIC STAFF WRITER
Local scout creates drop box for community to retire flags


An old postal service mailbox now has a new use, thanks to the efforts of a local scout.
Ryan Eason, a scout with Troop 16 out of Red Oak, recently refurbished the mailbox as part of a community service project.
On Saturday, Eason unveiled the new box at Nashville's Police Department, which will now serve as a collection point for retired United States flags.

More ...
AMANDA CLARK, GRAPHIC STAFF WRITER - 1 opinion posted
Entrepreneurial contest set
SpringBoardNC is seeking participants for an upcoming business idea competition to highlight area entrepreneurs and new business ideas.  Existing and aspiring entrepreneurs from the area, local college students, and members of the Rocky Mount Area Chamber of Commerce's Youth Entrepreneur Academy (YEA) are encouraged to participate.
More ...
Rocky Mount Rotary Club
Rotarian President Krista Ikirt (at left) stands with Nadia Moffett (at right) of The Queens Foundation, who spoke to the Rocky Mount Rotary Club on Monday, September 23 at the DoubleTree hotel at their 1 p.m. meeting. The Rocky Mount Rotary Club is continuing the work of Rotary International to improve literacy in the Twin County area by raising money to purchase dictionaries for local elementary schools.
More ...

Laura Haynes
Two local nurses honored for their efforts
For two local nurses, the road to a lifetime of caring for others did not begin with a single step; it began with a single memory that impressed upon them the importance of the nursing profession. By seeing firsthand the difference that health care workers made in the lives of others, these two Nash Health Care employees chose to enter the nursing profession.
More ...
MILITARY NEWS
Daniel R. Place
Army Cadet Daniel R. Place has graduated from the Army ROTC (Reserve Officers' Training Corps) Leader's Training Course at Fort Knox, Ky.
The four-week course is a leadership internship for cadets that can lead to the ultimate goal of becoming an Army officer.
More ...
Silver earns Price Award
Nash Community College President Bill Carver, during a recent ceremony, awarded Darlene Silver of Hollister the 2013 NCC Pride Award. Each year, the Pride Award honors a full-time employee or group of employees who approach their role with pride. Silver was selected as the recipient for the Pride Award for demonstrating a high level of service and commitment in her position as Administrative Assistant for the Offices of the Executive Vice President and Chief Finance Officer and Vice President for Instruction and Chief Academic Officer.
More ...
90th BIRTHDAY
Family and friends of Bronis L. Avent, Sr. recently joined together to celebrate his 90th birthday,which was on Monday, September 2. A party was held for Avent at Social Union Baptist Church in the Fellowship Hall on Saturday, September 7, with around 100 attending. Avent was raised in the Swift Creek Community where he worked on a farm and married his high school sweetheart, the late Bettie Powell Avent, before joining the military.
More ...
SHARPSBURG ANNIVERSARY CELEBRATION
The Town of Sharpsburg celebrated 130 years of being incorporated on Saturday, September 14. The town hosted a variety of activities for the community to enjoy, including entertainment, games, food and fireworks. Pictured above, Camera Dennis (at right) paints the face of five-year-old Erick Newton, of Rocky Mount.
More ...
Wesleyan homecoming is Saturday, Oct. 5
North Carolina Wesleyan College will include free activities for the entire Twin-Counties region during its Homecoming Weekend Fall Festival on Saturday, October 5, at the Rocky Mount Athletic Complex.
The Fall Festival will kick off at 9 a.m. with a car, truck, and bike cruise. At 10 a.m., other fun will begin, including bounce houses, a train ride, a vendor fair, and temporary Wesleyan tattoos.
More ...
Nash County Blood Drives October 2013
Tuesday, October 1 from 2:30 until 7 p.m. at Women of the Moose Chapter 123, 521 Country Club Road, Rocky Mount
Thursday, October 10 from 12 until 6 p.m. at Englewood Presbyterian Church, 100 South Englewood Drive, Rocky Mount
Friday, October 11 from 11 a.m. until 5 p.m. at Englewood Presbyterian Church, 100 South Englewood Drive, Rocky Mount
More ...
NRMS seniors score below standard on SAT


On average, Nash-Rocky Mount Schools (NRMS) seniors continue to score below average on the Scholastic Aptitude Test (SAT), earning between an average combined score of 1323 to 1405 in 2013. The average SAT combined scores for NRMS seniors has dropped every year for the past three years, from 1383 in 2011, to 1370 in 2012, to 1355 in 2013.

More ...
MICHELE CRUZ, GRAPHIC CORRESPONDENT
Sixth graders suspended for not getting vaccine
Nash-Rocky Mount Schools  suspended 71 sixth-graders last week for not getting the Tdap vaccination prior to the state's September 25 deadline.
As of Monday morning, however, the school system reported all but eight students had since gotten the vaccination.
More ...
MOUNT ZION FWB CHURCH NEWS


Oh! How I love this beautiful, nice Fall weather we are enjoying. God blesses us every day with so many things. I thank Him for all His blessings and the opportunities He gives us. Do we take advantage of all our opportunities? Let's try.
Our choir sang "Let's Talk About Jesus" for the call to worship. That's an opportunity.

More ...
Roselene Bass
PEACHTREE COMMUNITY NEWS


On another perfect autumn day Peachtree folks gathered for worship.  Sanctuary flowers were given by Glenn and Arlyne Wood in memory of his parents, Bert and Dorothy Wood.  Pastor Whitehouse greeted those present.
Some of the children who had attended summer camp at the Baptist Camp in Asheboro spoke to the church about their experiences.  Those speaking were Jamie May, Destiny King and Sarah and Ivey Jones.

More ...
Barbara Hardison
RED OAK NEWS


Congratulations to Matt and Keesha Wells in the birth of their daughter, Mia Raelyn, on Monday, Sept. 23!  Grandparents are Neil and Dot Griffin.
 Welcome to new members to Red Oak Baptist Church!  Those joining the church on Sunday, Sept. 29 by baptism include Elana Griffin, Hallee Holloman, Taylor Jordan, Andrew Lewis, Maegan Phillips, and Brooke Thompson.

More ...
Suzy Pearce
Ebenezer celebrates homecoming
October 6 is Homecoming and Pastor Appreciation Sunday at Ebenezer Pentecostal Holiness Church, located at 452 First Street Extension in Nashville
The guest speaker for the day is Mr. Jay Cannon, the distinguished East Carolina University baseball player who proudly wore number 23 this year as a senior in honor of former Coach and leader Keith LeClair.
More ...
UDC Bethel Heroes
UDC Bethel Heroes 636 member Donna Boykin (at right) was awarded five Supplemental certificates at the September meeting.  Her ancestors, who served in the War Between the States, were Van Buren Batchelor Co 1, 30th Regt, William Richard Batchelor Co H 12th Regt, William Burton Brown Batchelor, Co H. 12th Regt, Andrew Jackson Batchelor, Co I 30th Regt. and John Astor Batchelor, Co K 20th Regt.
More ...
Brinkley appointed manager
Rachel Brinkley, RN, MSN, was recently appointed to the position of manager of the Case Management Department at Nash Health Care. In her new role, Brinkley will work closely with doctors, patients, families and insurance carriers to ensure the care patients receive best suits their needs.
More ...
Donation
Adams Wholesale Company and Freds Food Club recently donated $5000 to My Sister's House. Pictured on the front row (L-R) is: Zola Cutler, Customer Service Manager Fred's Club; Amy Bielhl, Board Chair of My Sister's House; Heather Ray, Administrative Manager Adams Wholesale; and Greg Cockrell, Manager Fred's Club. On the back row (L-R) is: Donald Benson,Manager Fred's Club; Mike LaBounty, General Manager, Adams Wholesale; and Roger Boles, Vice President, Adams Wholesale.
More ...
BBQ Throw Down is set for next weekend
The sixth annual Eastern Carolina BBQ Throw Down, presented by the City of Rocky Mount, will be held in front of the Train Station in Downtown Rocky Mount on Fri., Oct. 11, 2013 from 12 to 8 p.m. and Sat., Oct. 12, 2013 from 10 a.m. to 6 p.m. The weekend of festivities will include a BBQ Competition, BBQ food vendors, a live performance from The Embers, kid's activities, a Corn Hole Tournament and much more.
More ...
Deal is recipient of 2013 Ambassador Award at NCC
Nash Community College has awarded the 2013 Ambassador Award to Kelley Deal of Rocky Mount, Senior Director of Marketing and Communication. Each year, the award is given to a full-time employee or group of employees who provide outstanding representation of the College in the community.
More ...
Close rivalries make for the need of shin guards


My boys, aged 8 and 6, play soccer.
If you were to come to my house any night of the week when they don't have practice, you would think tryouts were coming soon for MLS. There is plenty of shoving, trash-talking and aggressive, alpha male behavior. This is just when they're getting dressed.

More ...
Mike Brantley
Dancing with the Arts did my heart good!


If you missed the first Dancing with the Arts competition Friday night --- you missed a memorable event!
Not only did we get a chance to see many of our business neighbors compete on stage for the trophy --- they raised a little over $9,000 for Nash Arts while doing so!
The fund raiser was organized by Amy Beasley who serves on the Nash Arts board and volunteers at the center quite a bit.

More ...
Jo Anne Cooper
Corbin's first day of school was tough –– for me


Sending your first kid off to school is just as traumatizing for the parent as for the kid. I know because I just had to do it.
Corbin started a little two-year-old school program recently. It's two days a week for a few hours.
I was all excited about September  3 at first. I couldn't wait to get Corbin off to school.
Because our kids stay at home with their daddy during the day, they have some separation anxiety.

More ...
Amanda Clark
Backward Glances


CAMPER BADGES EARNED –– This photo was originally published in The Graphic on November 13, 1973. Members of Nashville Girl Scout Troop 352 braved cold temperatures on a camping trip to Camp Hardee near Washington and earned the troop camper badge for applying scout skills on the outing. Seated, left to right, are: Lisa Sykes, Melinda Sasser, Leigh Ann Askew, Gail Jackson and Drillious Jordan. Standing: Jennifer Ferrel and Wanda Winstead.

More ...
A PICTORIAL LOOK INTO THE PAST
Nash County Animal Friends' Notebook


We have joy when there are pets adopted or rescued.  We have sadness when pets are killed.  So many of them are killed because the pets  weren't fixed. They weren't spay/neutered.  Why does this make a difference?  Well, first of all, it makes more babies that grow up and end up without a home.  Just this last week, someone brought in 8 puppies.  They are lab/beagle mixes and as I write this note, there are still seven left.

More ...
Carol Vierela

FIRM RETURN. Northern Nash's Lauren Phillips whips a forehand across the net as part of the Lady Knights' tennis match last Thursday at Nash Central.

Northern Nash Wins Rematch


ROCKY MOUNT -- Senior Day was truly a total team effort for the Nash Central Lady Bulldogs during the 2012 tennis campaign.
This season's event was much more centrally focused as NC said goodbye to just one upperclassman -- Kaley Price -- during last Thursday's home finale against backyard rival Northern Nash.

More ...
GEOFF NEVILLE, Graphic Sportswriter

EVERYTHING IS UP IN THE AIR. Nashville Hornets' defender Garrett Pannell tries to come up with a Wilson-The SPOT pass during last Saturday's Eastern North Carolina Football League contest at The Hornets Nest.

SECOND THE MOTION


NASHVILLE -- Even after two early losses, there has been no quit in the Nashville Hornets' varsity squad.
Instead, the Hornets have bounced back with consecutive wins to even their record at 2-2 heading into the final three weeks of regular season action in the Eastern North Carolina Football League.
Nashville's comeback quest continued last Saturday as the Hornets used a dose of trickery to post a 49-0 home decision over Wilson-The SPOT at The Hornets Nest at Glover Park.

More ...
GEOFF NEVILLE, Graphic Sportswriter

MAN ON THE MOVE. Northern Nash's Connor Woodburn advances the ball during last Thursday's road soccer victory vs Louisburg.

Knights get past Warriors


LOUISBURG -- Regardless of the sport, coaches are always interested to find out how their team responds to adversity.
For veteran NNHS skipper Joe McCarthy, that opportunity came last week after the Knights suffered a tough overtime loss on Wednesday against Big East Conference rival Wilson Fike.
One day later, Northern had a quick bounceback on the road at Louisburg, pulling away in the second half for a 6-2 decision.

More ...
GEOFF NEVILLE, Graphic Sportswriter
Bishops earn first grid win


DANVILLE, VA. -- The Battling Bishop football team of North Carolina Wesleyan College picked up its first win of the season last Saturday afternoon, holding on for a 27-24 victory over Averett University to spoil the Cougars' homecoming.
Sophomore quarterback Robbie Lanier threw for a career-high 236 yards and three touchdowns to pace the Bishop offense.

More ...
Staff Reports

PLAYING KEEPAWAY. Nash Central's Michael Morris (right) tries to avoid a Durham Hillside tackle attempt during last Friday's football game.

Hillside Handles Nash Central


ROCKY MOUNT -- For Nash Central High School, the good news is that one of the state's most challenging non-conference schedules has finally come to a close.
The bad news is that the Bulldogs went 0-6 through the brutal stretch, including a 40-0 home loss Friday against Durham Hillside.

More ...
GEOFF NEVILLE, Graphic Sportswriter
Nash County Birds tangle with Wilson


STANHOPE -- The Nash County Firebirds hosted the Wilson Boys and Girls Club Jets for a trio of contests last Saturday in Eastern North Carolina Football League action at Firebird Stadium on the campus of Southern Nash High School.
Here is a look at each of the matchups:

More ...
Staff Reports

USING YOUR HEAD. Southern Nash's Lorenzo Valdez (right) heads the ball forward during the Firebirds' home soccer victory last Wednesday afternoon against Rocky Mount.

SN's Patience Pays Off


STANHOPE -- Patience has proven to be a virtue for the Southern Nash Firebirds as they make their way through the competitive Big East Conference boys soccer schedule.
First-year head coach Kurt Bienias preaches that matches -- especially against higher-caliber foes -- are won by consistent possession, and not by outmanned rush attempts or long passes up the field.

More ...
GEOFF NEVILLE, Graphic Sportswriter
Lady Knights giving back to community


RED OAK -- When Patricia Haggerty was selected as Northern Nash's Athletic Director, one of her first priorities was to make sure the school's student-athletes became more involved in the community.
Haggerty, a long-time coach at NN, was named the school's interim AD last spring -- and the 'interim' portion of the title was erased over the summer.

More ...
GEOFF NEVILLE, Graphic Sportswriter
Northern Nash nabs spike triumph vs. RM


ROCKY MOUNT -- Northern Nash came up with a clutch road volleyball victorty last Tuesday as the Lady Knights swept rival Rocky Mount by scores of 25-10, 25-10 and 25-16 at the RMHS Gymnasium.
NN is now 7-5 overall and 3-2 in the Big East -- a mark that is good enough for third place in the competitive conference.

More ...
Staff Reports

MAN IN THE MIDDLE. Nashville's Shemar Henderson (middle) tries to stay on his feet while running past a pair of Wilson SPOT defenders during last Saturday's junior varsity football game.

JVs Still Perfect


NASHVILLE -- With their grind-it-out offense, the Nashville Hornets have found a way to overpower teams in the second half of junior varsity action this fall in the Eastern North Carolina Football League.
That intangible was evident once again as the Hornets remained undefeated last Saturday with a 21-6 home victory against Wilson-The SPOT.

More ...
GEOFF NEVILLE, Graphic Sportswriter
A FABULOUS FRESHMAN
Ninth-grader Kaley Sharpe has made an instant impact this fall as the new member of the Nash Central High School girls tennis squad.
More ...
ELEY ON HER WAY
Nash Central's Brianna Eley has made tremendous improvement this season according to NCHS girls tennis head coach Susan McCarthy.
More ...
EYE ON THE FIRST DOWN
Nashville's Jimmandre Hilliard heads upfield during last Saturday's junior varsity football matchup at The Hornets Nest at Glover Park.
More ...
ISH ON HIS WAY
Southern Nash's Ishmael Rodriguez heads into the box during last Wednesday's home victory against Rocky Mount.
More ...
JUST OUT OF REACH
Nashville's Joshua Bullock (7) and Matthew Johnson (35) try to come up with a pass during last Saturday afternoon's home decision against the Wilson-SPOT Warriors.
More ...
NASH ARTS PLAY
Keeping Score, an original musical drama by local playwright and composer Jim Lee, will be performed at Nash Arts on Thursday, Friday and Saturday, October 3rd through 5th at 7:30 p.m. and on Sunday, October 6th at 2:30 p.m. Keeping Score, tells the story of four generations of small-town North Carolina women from the perspective of three Thanksgiving mornings in 1957, 1977, and 1997.
More ...
MYRTLE HAWKINS HARPER
Myrtle H. Harper, 91, passed away on Saturday, September 28, 2013. She was born on May 5, 1922 to the late Dee and Sally Hawkins. She was preceded in death by her husband, Luther Harper;  son-in-law's Aster Griffin and Ted Beichner; brothers, Jesse, Lonnie and Johnny Hawkins; sisters, Betty Leonard, Nellie Leonard, Hazel Allen and Annie Laura Harper and a grandson, Ray Griffin.
More ...
RHONDA TOI BENNETT
RALEIGH –– Rhonda Toi Bennett, 45, of Raleigh, passed away on Wednesday, September 25, 2013 in Raleigh.
More ...
MCARTHUR KING
ROCKY MOUNT - McArthur King, 69, of Battleboro, passed away Tuesday, September 24, 2013.
More ...
DANIEL KEITH "DANNY" WATSON
NASHVILLE - Daniel Keith "Danny" Watson, age 65, passed away Saturday, September 28, 2013. Born in Pitt County on July 27, 1948, he was the son of the late William "Bill" Ernest Watson and Lydia Meeks Watson.
More ...
CHESTON VAUX "CHET" MOTTERSHEAD, JUNIOR
ROCKY MOUNT – Cheston Vaux "Chet" Mottershead, Junior, passed away on September 26, 2013. He was born on November 9, 1936, to the late Cheston V. Mottershead, Senior, and Caroline Wichterman Mottershead. He was preceded in death by his brother, John Mottershead.
More ...
GERALDINE "GERRIE" ANN ROBERSON
Geraldine "Gerrie" Ann Roberson, age 84, passed away on September 26, 2013. A Durham native, Gerrie was born to the late John Knox and Juanita Gentry Roberson.
More ...
ALBERT VERNON EDWARDS
Albert Vernon Edwards, age 83, passed away Thursday, September 26, 2013. Born in Robeson County on July 21, 1930, he was the son of the late Samuel Cary Edwards and Artie L. Edwards. He was also preceded in death by his brother, Arthur Edward; and sister, Veronia Turner.
More ...
SHELLEY MEDLIN LOCKAMY
Shelley Medlin Lockamy, 79, passed away Sunday, September 29, 2013.  She was born on November 19, 1933 in Macon County. She was preceded in death by her mother, Ruby McCall and a brother, Cleo McCall.
More ...
MARY O. RICHARDSON
NASHVILLE - Funeral services for Mary Ossie Richardson, 94, who died Thursday, Sept. 26, 2013, will be held at 1 p.m. Thursday, Oct. 3, at Philadelphia Baptist Church, with the Rev. Thomas Richardson officiating. Burial will follow in the Tillman-Lynch cemetery.
More ...