Subscribe/Access
Advertisements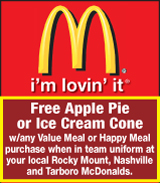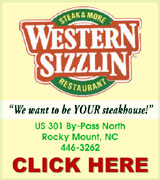 Sections
Member Options
Back
NC Senate candidate arrested
Castalia Commissioner Clarence Alexander Bender, 54, was arrested on Thursday, October 18 on drug-dealing charges which resulted from a two-month long investigation into reports of local prescription pill trafficking, the Nash County Sheriff's Office reported. Bender was charged with three counts of "trafficking opium or heroin" and "maintaining a vehicle/dwelling place" for this purpose. More ...
Amelia Harper, Graphic Correspondent
Sanderson Farms price tag climbs
The notion of Sanderson Farms bringing a poultry operation to Nash County has brought hope and optimism to the region's flagging economy. However, it has also brought dissension and despair as well. As legal costs are climbing, with no end in sight, some are questioning whether the benefits of the operation are worth the costs incurred. More ...
Amelia Harper, Graphic Correspondent - 1 opinion posted
YAM JAM!
A crowd of people could be seen on the Richard Tyson Farm off of Highway 58 this past Saturday as dozens showed up to participate in the annual Yam Jam event. Hundreds of pounds of sweet potatoes were picked to donate to the NC Food Bank. The event is held each year and sponsored by First Christian Church. Pictured in the above photo, Myah Harrison, 9, of Rocky Mount, tosses a sweet potato into a bucket on Saturday morning. More ...

Town to host Halloween events
Nashville's J.W. Glover Memorial Park will serve as a safe place for trick-or-treaters this Halloween, as the Recreation Department will sponsor its first "Trick-or-Treat in the Park" event.
Nashville Recreation Director Jim Glover said the town wanted to give parents an opportunity to bring their kids to a place where they could trick-or-treat without worrying so they decided to host an event at the park. More ...
Amanda Clark, Graphic Staff Writer
Boys & Girls Clubs fundraiser set for Thursday
Boys and Girls Club youth will sit down and enjoy a steak dinner on Thursday night as part of the 18th annual Steak-N-Burger Dinner.
The fundraiser was put on hold several years ago but was brought back this year to replace the Phil Ford Golf Tournament, said Boys and Girls Clubs of Nash/Edgecombe Counties CEO Ron Green. More ...
Amanda Clark, Graphic Staff Writer
LaHay wins Reserve Champion at State Fair
A local 4-H'er earned top honors recently at the North Carolina State Fair while showing his steer.
Luke LaHay, of Elm City, was named the Reserve Grand Champion for his Steer on Friday, October 12.
LaHay said he was surprised to hear his steer had won, especially since this was his first time showing at the state level. Winning Reserve Grand Champion is like winning second place, with Grand Champion being the top spot. More ...
Amanda Clark, Graphic Staff Writer
NPD expands social media sites for public
Nashville's Police Department is ramping up its presence on social media sites to give residents a chance to better know what's going on in the community.
Last week, the police department began bombarding its Facebook and Twitter accounts with various information, said Interim Police Chief Neal Boone. More ...
Amanda Clark, Graphic Staff Writer
Construction to begin at Stony Creek Environmental Park soon
The Stony Creek Environmental Park will become a reality for the Town of Nashville next Spring.
Town Manager Preston Mitchell told council members earlier this month that construction on the park should be underway soon. Mitchell said some cuts had to be made on the park to fit the project within the allowed budget. More ...
Amanda Clark, Graphic Staff Writer
A GREENER TOWN
Downtown Nashville now has recycling trash bins to encourage citizens, and visitors, of downtown to recycle. Pictured above (L-R) Thurman Evans, of Nashville's Public Works Departments, and Larry Williams, Public Works Director, work to install a container at the corner of Washington and Boddie Street on Monday morning. More ...

NASHVILLE POLICE REPORTS
ARRESTS
Dianna Richardson Ricks - 10/16/12 - charged with driving while license revoked
Adam Craig Schroeder - 10/16/12 - charged with larceny More ...

NASH SHERIFF'S OFFICE INCIDENT REPORTS
A breaking, entering and larceny of a residence was reported on 10/15/12 at 12797 TaLon Drive
A breaking, entering and larceny of a residenc was reported on 10/15/12 at 4563 Mullen Road
An obtaining property by false pretense was reported on 10/16/12 at 522 N Old Carriage Road
A breaking, entering and larceny to a residence was reported on 10/16/12 at 1251 E. Beulah Road More ...

Eagle Scout project enhances Nash Senior Center outdoors
Visitors of the Nash County Senior Center are now able to enjoy the outdoors a little more, thanks to a local teen's Eagle Scout project.
Kirby Hill, 16, of Red Oak, recently built two picnic tables as well as a walkway area to earn his Eagle Scout rank, the highest honor a scout can achieve. More ...
Amanda Clark, Graphic Staff Writer
NC changes food safety codes
Nash County residents dining out at local restaurants may not notice the changes, but their dining experience may soon be a little safer thanks to changes in North Carolina's food safety code. The new rules were effective September 1. More ...

Vierheller selected for poster presentation, publication
Caroline C. Vierheller, MSN, RN, a quality data specialist in the Emergency Department of Nash Health Care, recently had three of her proposals accepted for a poster presentation at the NC Organization of Nurse Leaders conference in Wilmington. In addition, an article by Vierheller is scheduled to be published in The Journal of Emergency Nursing. More ...

MONUMENT VISIT
The Hat Sisters for Christ visited the newly restored Confederate Monument in Battle Park. Members attending are pictured. On the back row (L-R) is: : Jean Howell, Patsy Guy, Margaret Cobb, Peggy Butler and Connie Dupree. On the front row (L-R) is: Jean Sharpe, Helen Sharpe More ...

PEACHTREE COMMUNITY NEWS
On a beautiful autumn Sunday Peachtree folks gathered to worship. In the absence of Pastor Whitehouse the pulpit was filled by the Rev. George Shore of Raleigh. His sermon was titled "Growing Up in Our Salvation", based on I Peter 2: 1-10. He said that recent statistics show that 2/3 of the people in the United States believe in God. More ...
BARBARA HARDISON
MOUNT ZION FWB CHURCH NEWS
Robert Tyner welcomed everyone to Sunday school. There were 74 present with one visitor. Barbara Morgan was our pianist for the day. "Thank you."
Our choir sang "God is So Good" for the call to worship. Pastor Bogle welcomed everyone to worship service. More ...
ROSALENE BASS
RED OAK NEWS
The Adult IA Sunday School Class of Red Oak Baptist Church had a great day Saturday, Oct. 20 as they sold BBQ sandwiches and hot dogs. They had a wonderful turn out and sold out early! All proceeds will go towards their class projects including providing food at Thanksgiving for families in need. More ...
SUZY PEARCE
Fisher elected to Tar River Land Conservancy Board
Linda Fisher of Nashville was recently elected to a three-year term on the Board of Directors of Tar River Land Conservancy, a Louisburg-based non-profit land trust. Ms. Fisher grew up in the Red Oak community of Nash County. She raises cattle on several farms in Nash County and Halifax County. More ...

Local teens participate in Governor's Page program
Jackson Valentine, of Nashville, and Lucas Pressley, of Castalia, participated in the Governor's Page Program in Raleigh.
Valentine and Pressley spent a week gaining valuable life experience and providing administrative support as a page for the Department of Transportation for the week of September 24- 28. More ...

Observations made at the NC State Fair
The fall is my family's favorite time of year for many reasons. The weather starts to turn to where it is safe to go outside, the kids' fall sports seasons are nearing a tiny window of offseason, the holidays are creeping closer, and the state fair comes to town.
Due to a number of circumstances, we didn't get to go to N.C. State Fair last year. This year wasn't looking much better, but three pleading faces put us on Highway 64 West Sunday. More ...
Mike Brantley
Some regulations are for our own good
Recently it was suggested that small businesses "do" make it on their own but many are encumbered by regulations. Well here are some facts that clarify that: First off only one of 11 small businesses make it. Many do not mature into the second year. The main reason is poor marketing research. Lack of second term funding or skill failures in management. More ...
Letters to the Editor:
Backward Glances
MOMEYER FIREMEN CERTIFIED –– This photo was originally published in The Nashville Graphic on December 9, 1976. These firemen of the Momeyer Volunteer Fire Department were awarded certification upon completing a 51-hour fire fighting course. Their certification allowed residents in their district a 15 percent reduction in fire insurance rates. More ...
A PICTORIAL LOOK INTO THE PAST
Nash County Animal Friends' Notebook
HUNTERS who use dogs have become a problem for the Shelter. I'm not going to get into a discussion about hunting, just the dogs. Some of the hunters dump their dogs when they don't hunt good anymore. They either bring them to the Shelter or just leave them to fend for themselves. More ...
Carol Vierela, Nash County Animal Friends

FANCY FOOTWORK. Southern Nash's Tristan Stallings (right) keeps the ball between his feet while being defended by Nash Central's Tristan Miller during last Wednesday's Big East Conference boys soccer match.

Perfect Ending
ROCKY MOUNT -- Southern Nash wrapped up the 2012 boys soccer season with an undefeated record in the Big East Conference -- a first in school history.
But the to-do list for Coach John Matthews has just started as SN hopes to continue its quest to claim as many firsts as possible in the history of the school's soccer program. More ...
GEOFF NEVILLE, Graphic Sportswriter

TACKLE ATTEMPT THWARTED. Nashville quarterback Raymond 'Goody' Bullock (left) avoids a sack during the Hornets' home varsity football victory last Saturday against the Rocky Mount Panthers at Glover Park.

GREATNESS ACHIEVED
NASHVILLE -- Given his long-time pedigree as a coach, Jim Glover isn't one to heap historical superlatives on a football team.
But Glover couldn't hold back his adulation for his current group of Nashville Hornets, who capped their amazing run through the Eastern North Carolina Football League varsity schedule last Saturday. More ...
GEOFF NEVILLE, Graphic Sportswriter - 1 opinion posted

UNDER PRESSURE. Nash Central's Khalil Macklin (with ball) tries to escape a Wilson Hunt rusher during last Friday night's football contest.

Hunt Does In 'Dogs
ROCKY MOUNT -- Wilson Hunt didn't play its "A" game in beating Nash Central in a Big East football matchup last Friday night.
But the Bulldogs didn't play their "C" game either in getting blanked 34-0 by the Warriors. They turned five turnovers into their 21st straight regular season win and secured the Big East title for the fourth straight football time. More ...
CHARLES ALSTON, Graphic Correspondent
Bishops a winner vs. Scots
ROCKY MOUNT -- In USA South Conference men's soccer action, North Carolina Wesleyan College turned in a 1-0 shutout of Maryville College last Saturday afternoon.
Sophomore Alambi Clarke netted the only goal of the contest, unassisted, in the 77th minute. Freshman keeper Fabian Broich did the rest in goal, tallying a pair of saves en route to his first shutout. More ...
Staff Reports
HIGH SCHOOL GRID SCORES
NASH COUNTY -- Listed are last Friday night's results from the North Carolina High School Athletic Association football season: More ...
Staff Reports
Hollis helps Wesleyan rally for key victory
RED OAK -- Senior Dwayne Hollis scored a pair of touchdowns last Saturday afternoon to lead his North Carolina Wesleyan College football team to a 45-23 victory over Greensboro College in USA South Conference play.
Down 17-6 at the break, Hollis provided a much-needed spark with a 90-yard touchdown return on the opening kickoff of the second half, the first of five TDs the Bishops would score in the third quarter alone. More ...
Staff Reports
SIDEWAYS
Nashville's D.J. Brown (right) leans to try to avoid a Rocky Mount tackler during last Saturday's Eastern North Carolina Football League showdown at The Hornets Nest. More ...

Birds win in home finale
STANHOPE -- It was the last home game for Nash County last Saturday as the Firebirds hosted the Sharpsburg Gators at Southern Nash High School.
The Gators did not have a Rookie team, so the Nash County Rookies finished up with a fun scrimmage against themselves.
More ...
Staff Reports
NASH CO. SOCCER RESULTS
NASH COUNTY -- Here are recent results from the Nash County Parks and Recreation Department's Fall Soccer League: More ...
Staff Reports
HORNETS TEAM PHOTOS
HORNETS ARE THE LEAGUE CHAMPIONS. The Nashville Hornets are the 2012 Eastern North Carolina Football League Varsity Champions. The Hornets wrapped up regular season action last Saturday with a title-clinching conquest at home against the Rocky Mount Panthers. More ...

Champs crowned at Co. Line
ELM CITY -- After a long week away, drivers were back at it last Saturday for some hot racing action at County Line Raceway.
With a couple of good points battles going on, the double points format would prove imperative, as it was also final points. More ...
Staff Reports
Mudcats' schedule is released
ZEBULON -- The Carolina Mudcats of the Class A Carolina League will open their 2013 baseball season with a six-game homestand at Five County Stadium that begins on April 5 versus the Winston-Salem Dash.
In addition to the traditional Independence Day game (Thursday, July 4 vs. Salem), Carolina will also host home games on Mother's Day (May 12 vs. Potomac) and Memorial Day weekend (May 24-27 vs. Winston-Salem and Wilmington). More ...
Staff Reports
Central rolls through tennis foes
ROCKY MOUNT -- Nash Central is using a two-pronged attack in its attempt to outflank some of the state's top high school tennis players and teams.
As part of the annual prep posteason, clubs participate in tournaments on both the individual and team level.
The Lady Bulldogs are currently undertaking both tasks -- and with grand success -- following a tremendou regular season of action. More ...
GEOFF NEVILLE, Graphic Sportswriter
CONTACT
Wilson Hunt's Bryan Brown (with ball) churns ahead for yardage for the Warriors during last Friday night's Big East Conference football matchup at Nash Central High School. More ...

Nash County Sheriff Jenkins offers Halloween Safety Tips
Soon our streets will be scattered with little ghosts, goblins and witches trick-or-treating this Halloween. "Halloween should be filled with surprise and enjoyment, and following some common sense practices can keep events safer and more fun," said Sheriff Jenkins of Nash County. More ...

LOCAL EVENTS
The Town of Nashville will observe Halloween festivities this year on Wednesday, Oct. 31. Nashville's Recreation Department will host Halloween events at Glover Park at 6 p.m. Nashville's Police Department will be in attendance at this event and out in full force that night to assure that everyone will have a safe and fun filled night. More ...

History Alive! is Oct. 27
A daylong celebration at the oldest museum in the United States dedicated to the history of rural health care will be held Saturday, Oct. 27.
The Country Doctor Museum will host "History Alive!" from 10 a.m. until 4 p.m. Free activities will include museum tours, horse drawn carriage rides from 11 a.m. until 2 p.m., and pony and cart rides for children from 11 a.m. until 3 p.m. More ...

Nash County's Got TALENT!
Nash County's Got Talent auditions are October 29, 30 at 5:30 p.m. $25 registration for individuals, $50 for groups. Callback rehearsals November 5 at 5:30. Finals are November 8, 9 at 7 p.m. Admission: $15 (2 day pass); $10 (1 day pass) $10, 8 Students 17 and under. More ...

JACKIE HINSON PURGASON
Jackie Hinson Purgason, age 52 of Calhoun, GA passed away Wednesday, October 3, 2012. She was born in Nash County, on December 13, 1959, daughter of Heath Hinson and the late Doris Black. More ...

BEATRICE K. MCKEITHAN
ROCKY MOUNT - Beatrice K. McKeithan died October 13, 2012. Funeral services were Saturday, October 20, 2012 at St. John AME Church at 12 p.m. Rev. Florence Pender officiated. Burial was at Northeastern Cemetery.
More ...

PHYLLIS LYNETTE MEDLIN THARRINGTON PARIS
Phyllis Lynette Medlin Tharrington Paris, 82, passed away Saturday October 20, 2012. She was born in 1930 at Camilla, Georgia. She was the daughter of the late Henry Arthur Medlin and Ethel Medlin. She was predeceased in death by a sister Evelyn Medlin Stanford of Virginia, two brothers, Jimmy Medlin and Max R. Medlin of Rocky Mount, her husband Marvin Paris. More ...

MICHAEL LAWRENCE WHITMAN
Michael Lawrence Whitman, 18, passed away Wednesday October 17, 2012. He was born June 11, 1994 in Pitt County. He was preceded in death by paternal grandparents, David and Anna Whitman and aunt Nicole Taylor. More ...

MARGIE TYSON LANGLEY
ROCKY MOUNT - Margie Tyson Langley passed away on October 20, 2012. Margie was one of eleven children born October 20, 1927 to the late Otis and Lula Tyson. More ...

RUBY RAE WARREN
Ruby Rae Warren, age 85, passed away Wednesday, October 17, 2012. She was born in Martin County on October 15, 1927 to Willie Roebuck and Ida Belle Edmondson Roebuck. She was preceded in death by her parents, Willie and Ida Belle Roebuck; husband, Leon Warren; daughter, Peggy Vioral; brothers, Jack Roebuck and George Roebuck; and sister, Elsie Roebuck. More ...

GLADYS BARNES PROCTOR
Gladys Barnes Proctor, age 86, passed away Wednesday, October 17, 2012. Born in Nash County on September 12, 1926, she was the daughter of the late Elisha Ozzie Barnes and Emma Davis Barnes. She is also preceded in death by her husband, Raymond Clay Proctor; sister, Agnes Barnes and Mae Elks; and brothers, James Barnes, Carl Barnes, and Joe Barnes. More ...

WILLIE EDWARD ELLIS
Willie Edward Ellis, age 79, passed away Tuesday, October 16, 2012. He was born in Wilson County on November 7, 1932 to Luther Edward Ellis and Minnie Mae Barnes Ellis. He was also preceded in death by three siblings, Louise Ellis Baker, Jeanette Ellis Grimsley, and Charles Eric Ellis, Sr. More ...

MAE BUNN TAYLOR
Mae Bunn Taylor the widow of Jesse Taylor passed away on October 20, 2012 at the age of 87. More ...

THERMAN "BUD DO" HEDGEPETH
NASHVILLE - Funeral services for Therman "Bud Do" Hedgepeth, 83, who died on Thursday, Oct. 19, 2012 were Tuesday, Oct. 23, at 12 noon at Swift Creek Baptist Church. Burial followed in the church cemetery with Rev. O.J. Sykes officiating. More ...

BOBBY RAY SCARBORO
ROCKY MOUNT - Funeral services for Bobby Ray Scarboro, 51, who died Tuesday, Oct. 9, 2012, were Monday, Oct. 15 at 1 p.m. at the Richardson Funeral Home chapel. Burial followed in the Oakland Cemetery, with Rev. Mack E. Battle officiating. More ...