Subscribe/Access
Advertisements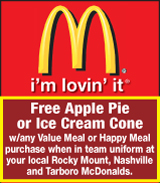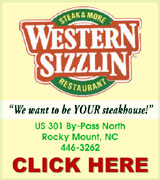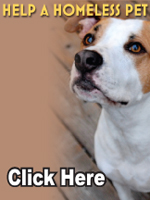 Sections
Member Options
Back
Castalia to hold public study circle
Castalia Commissioners plan to host a study circle on Saturday, April 28 at 9:00 a.m. in order to gather community input for strategic planning of the future of Castalia and the surrounding area. Commissioner James Alston said that he had researched the topic of the study circles that were forming throughout the Twin Counties and felt that Castalia should play a role in the planning. More ...
Amelia Harper, Graphic Correspondent
FIRE DESTORYS HOME
A fire at 3031 Womble Road in Nashville destroyed a family's residence shortly after they left for church on Sunday. Local sources tell The Nashville Graphic that though all family members are ok, they lost their family dog in the fire. The Nashville Graphic attempted to contact department heads at the Nashville Fire Department for additional details. However, phone calls were not returned by presstime. More ...

NRMS Board asks legislators to reduce cuts
According to the recommendation of the North Carolina School Boards Association (NCSBA), the Nash-Rocky Mount Schools board of education unanimously approved a resolution requesting the state legislature to reverse the discretionary funding cut for next school year.
This "funding priority is tops on the list of the NCSBA's annual conference agenda," said NRMS board chairman Evelyn Bulluck. More ...
Michele A. Cruz, Graphic Correspondent

Daylon Jones

Local teen's art exhibited at NC Wesleyan's Dunn Center
Forty-four drawings line the walls at the Dunn Center at Wesleyan College. Each drawing is different but they all share a common story, a story of overcoming challenges.
Each of the drawings were perfected by 17-year-old Daylon Jones, a senior at Southern Nash High School.
Daylon has progressive muscular dystrophy and is a quadriplegic and though he has limited movement in his hands, he still manages to push the pain away and draw. More ...
Amanda Clark, Graphic Staff Writer
Nash Sheriff's Office to host memorial service
A memorial service on Saturday will celebrate the memory of police officers who were killed in the line of duty.
The North Carolina Fraternal Order of Police Lodge #46 and Blue Knights of North Carolina XXI are hosting the memorial service, which will be held at 12 noon on Saturday, April 21 at the Nash County Court House. More ...
Amanda Clark, Graphic Staff Writer

Ribbon Cutting. Nashville Chamber of Commerce members, Nashville Mayor Donald Street, and the Nashville Town Council join Nash County Farm Bureau Agents, staff, state and regional representatives at a ribbon cutting last week.

Nash County Farm Bureau celebrates new facility
Just seven months after breaking ground for a new facility, Farm Bureau has opened in its new headquarters.
A special ribbon cutting and grand opening celebration was held last Thursday for the new facility, which opened on Eastpoint Avenue, behind the Wendy's off of Eastern Avenue.
The new facility is over 6,700 square feet, over 1,000 square feet larger than the former one. More ...
Amanda Clark, Graphic Staff Writer
Local woman joins Multiple Sclerosis Walk
Thousands of people joined together on March 31 in Raleigh to walk for Multiple Sclerosis (MS). Among them was Meredith Coley.
Coley, of Momeyer, was diagnosed in 2009 with MS after her son, Mason was born. Coley said she began experiencing dizziness and was tired a lot and finally went to the doctor, where she received the diagnoses. More ...
Amanda Clark, Graphic Staff Writer
NEWSPAPER VISIT
Tiger Cub Scouts Pack 37 from the Sandy Cross area visited The Nashville Graphic newspaper Tuesday night, April 10, 2012 to learn about the newspaper operation as part of the requirements to earn their Tiger Cub Badge. Members pictured, front row, left to right, are: Anthony Paris and Evan Johnson. Back row, left to right, are Joshua Revoir, Dylan Vick, Jaylen Lucas, and Austin Moss. More ...

NASHVILLE POLICE BRIEFS
ARRESTS
Shanika Staton - 4/2/2012 - charged with failure to appear for failing to return rental property
David Wayne Turner, II - 4/2/2012 - charged with larceny More ...

Chamber to host candidate forum
The Nashville Chamber of Commerce is hosting a candidate forum for the four candidates on the May 8th primary ballots seeking a seat on the Nash County Commissioners District Four seat.
The forum is set for Tuesday, April 24 at Nash Arts. A meet and greet will be held from 6:30 until 7 p.m. with the forum slated to begin at 7 p.m. More ...

Butterfly Release
Nashville United Methodist Church had a Butterfly Release on Easter Morning following a combined service. Approximately 300 caterpillars had been ordered weeks before and were raised and hatched by the families of the church. The butterflies were brought to church on Easter morning and released as a symbolic gesture of the transforming power of Christ and the new life into which He has called us. More ...

RED OAK NEWS
Congratulations to Logan Ennis and Susan Pridgen who were united in marriage on Saturday, April 14. Logan is the son of Jim and Jackie Ennis and Susan is the daughter of Wayne and Evonne Pridgen.
Everyone had a wonderful time April 13-14 at the 16th Annual North Roanoke Baptist Association GA Mother/Daughter Overnight Camp for girls in grades 1-6 and their moms or female guardians. More ...
SUZY PEARCE
MOUNT ZION FWB CHURCH NEWS
Robert Tyner welcomed everyone to Sunday school. There were 80 in attendance Some of our people were gone off again.
Our choir sang "Alleluia" for the call to worship. Pastor Bogle welcomed everyone to worship service. Bobby Farmer prayed the prayer of invocation. More ...
ROSALENE BASS
PEACHTREE COMMUNITY NEWS
On a beautiful spring morning folks at Peachtree Church met for worship. The Adult Choir presented a musical cantata. It was titled "Champion of Love" and beautifully told the story of Christ's love for mankind. Solos were performed by Stephanie Denis, Robert Sykes and Jerry Hobgood. More ...
BARBARA HARDISON
BEULAH COMMUNITY NEWS
I hope you all had a good week! Last week in the news I mentioned the Red Oak Alumni Banquet which is held each year. I glanced at the calendar wrong and was thinking it was being held last week but I was a week ahead of schedule. Sorry about that! The annual banquet is Friday night of this week. More ...
WILMA ENROUGHTY
Relay for Life News & Events
TEAM FUNDRAISERS
Hope t-shirts: Watson Eye's team is selling Hope T-shirts with your choice of a black or white t-shirt with the pink ribbon on front with the "Hope' on the back and a butterfly in the center of "Hope." Shirts are $15 each. Watson is also selling various designs of bracelets for $6 and hair bows for $5. For more information, call 443-1006. More ...

Local author to hold book signing at Cooley Library
The Harold D. Cooley Library will host a book signing by local author Tillie Bell on Thursday April 26 at 5 pm.
The author grew up in the Corinth Community of Nash County and graduated from Nashville High School. She then began working as a reporter for The Nashville Graphic where she won first place in feature writing for two consecutive years from the North Carolina Press Association. More ...

April is month of military child
April is the Month of the Military Child, a time to recognize the sacrifices made by military families and their children. A number of events are scheduled across the state to honor military youth.
Children whose parents have been deployed live with uncertainty and concern for their parents on a daily basis. More ...

Nash Health Care Board approves diversity plan
The Nash Health Care Board of Commissioners approved a diversity plan at its last meeting earlier this month.
The plan was presented to commissioners by Leslie Hall, Senior Vice President and Chief Nursing Officer.
Hall said the diversity plan helps the hospital fulfill its mission of providing superior quality health care service. More ...
Amanda Clark, Graphic Staff Writer
Sunnyfield residents to receive discount water tap fees
Residents of the Sunnyfield Subdivision will be able to connect to the Town of Nashville's water system at a discounted rate, the board decided at its meeting earlier this month.
The decision was made after some discussion about whether to offer the rates at a discounted price, since the Sunnyfield Subdivision is already a part of the town's city limits. More ...
Amanda Clark, Graphic Staff Writer
Nash 4-H team wins Hippology contest
Nash County youth recently returned from Greensboro with a first place win in the NC 4-H Hippology Contest.
Nash County's Junior Hippology Team won first place at the district competition and then went on to win at the state competition on March 3 at A&T University in Greensboro. More ...

Nash Health CMO resigns
A search committee has been put in place at Nash Health Care Systems to find a new Chief Medical Officer after Dr. Rick Guarino announced his resignation in February.
Nash Health Care Systems CEO Larry Chewning announced Dr. Guarino's resignation to the Board of Commissioners in February at their regular meeting. Chewning said he was sad to see Dr. Guarino go. More ...
Amanda Clark, Graphic Staff Writer

Burt

Sheriff's Office seeks break-in suspects
The Nash County Sheriff's Office is looking for a Wilson man suspected in several break-ins.
There have been several residential break-ins along Highway 97, Old Carriage Road and Old Smithfield Road. The Sheriff's Office suspects 37-year-old John Douglas Burt is responsible for the break-ins. More ...

Pesticide Collection Day is Thursday
Do you have pesticides at home or on your farm that you no longer need? If so, bring them to the Nash County Pesticide Collection Day on Thursday, April 19 from 10 a.m. until 2 p.m.
NC Cooperative Extension, along with the NC Department of Agriculture and Consumer Services' Pesticides Disposal Assistance Program, will offer this Pesticide Collection Day for residents in Nash County and surrounding North Carolina counties. More ...

FARM MARKET SUMMARY
April 9-13, 2012
North Carolina's egg prices trended steady on small, lower on the balance when compared to last week. Supplies are heavy to meet a light demand. The North Carolina weighted average price quoted Thursday, Apr 12, 2012 for small lot sales of delivered, cartoned, grade "A" eggs was 122.40 for Extra Large, 120.38 for Large, 92.38 for Medium, and 78.00 for Small eggs.
More ...
Contributed by the Federal - State Market News Service
Seven year old fills in for the Soap Box
It is hard to believe it has been a whole year since the last time I got a chance to write for the newspaper. I've done a few of these now, and I know from seeing you folks on the street you like them a lot better than the ones Daddy writes. Just go easy on him, he is really old (he just had a birthday, too) and he makes a lot of noise when he walks around now. More ...
Mike Brantley
So glad the bug is gone!
There's some kind of bug going around and my family unfortunately were the recipients of it last week.
I don't even know if "bug" is the appropriate word for it, as it makes it seems sort of like a casual, easy going illness. This isn't an easy going type of deal at all.
But I'll spare all the wonderful details of the actual virus because they aren't pleasant. More ...
Amanda Clark
Please vote yes to NCC Bond
I am writing to ask the citizens of Nash County to please vote YES for the Nash Community College (NCC) bond referendum. The referendum is not about politics or a political party, it is about what NCC is trying to do for all the citizens of Nash County. More ...
Letters to the Editor:
Former Southern Nash educator voices opinion
We are a group of Southern Nash High School retired educators, who meet monthly because we are good friends, because we bonded during our years of counseling and teaching math, English, foreign languages, science, Career and Technical Education, library science, ESL, special education, and every other course taught at any top rated high school, and because teaching at Southern Nash was a positive experience. More ...
Letters to the Editor:
Backward Glances
This photo of the 1962 Nash County Farm Bureau Board of Directors was submitted by Greg Bunn, the current president of Nash County Farm Bureau. More ...
A PICTORIAL LOOK INTO THE PAST
Nash County Animal Friends' Notebook
You killed a puppy on Tuesday of last week. It died from Parvo. We tried to save it. His brothers and sister got sick too, but looks like they will survive. All you had to do was to give the baby the puppy shots that you can get from Tractor Supply or online. They help protect the babies against disease. More ...
Carol Vierela, Nash County Animal Friends

WHERE'S THE BALL? Nash Central's Hannah Turner and Southern Nash's Christina Brooks glide past the ball during last Wednesday afternoon's soccer matchup on the SN campus in Stanhope.

One-Goal Game
STANHOPE -- Cool temperatures and cruel winds blew in a scoring famine during last Wednesday's Big East Conference girls soccer matchup between host Southern Nash and Nash Central.
Southern had fallen at Central by three goals earlier in the campaign, but it was quickly apparent that number wouldn't be touched again during this defensive stalemate. More ...
GEOFF NEVILLE, Graphic Sportswriter

CAUGHT IN A RUNDOWN. Southern Nash's Erin Ogden (left) is tagged by Nash Central's Brittani Strickland (right) as Lindsey Sharpe looks on during last Thursday's Big East Conference softball showdown.

BLAST OFF FOR BIRDS
ROCKY MOUNT -- Southern Nash wasn't about to repeat its heartbreak from an earlier-season softball loss to Big East Conference titan Nash Central.
Instead, the Ladybirds turned the tables of Nash Central, handing the Bulldogs their first league setback with a 9-7 victory at The Dawg Pound. More ...
GEOFF NEVILLE, Graphic Sportswriter
Central A Winner
STANHOPE -- After posting a disappointing 1-2 record during its play in the Pitt County Easter Tournament over Easter break, Nash Central High School's baseball team was ready to bust out of a scoring rut.
Last Thursday evening, they did that ... and more.
The Bulldogs scored an amazing 12 runs in their first at-bat at Big East foe Southern Nash en route to a 17-6, five-inning demolition of the Firebirds. More ...
CHARLES ALSTON, Graphic Correspondent
Southern wins on the links
ROCKY MOUNT -- Scott Collie's once-young Southern Nash High School boys golf squad is now loaded with veterans -- and the experience is showing during Big East Conference matches.
Collie's Firebirds claimed their second Big East victory of the 2012 schedule on Monday by posting 312 strokes during a match at Northgreen County Club. More ...
Staff Reports
NCWC season ends
BURLINGTON -- North Carolina Wesleyan College saw its 2012 baseball season come to an end at last weekend's USA South Conference Tournament at the Burlington Athletic Complex in Alamance County.
The Bishops dropped their opening-round game to Shenandoah last Thursday, 5-3, but rebounded for a solid 3-0 shutout of Greensboro on Friday morning. More ...
Staff Reports
SOMETHING IS MISSING
Southern Nash third baseman Haley Wood (left) tries to come up with a relay throw during last Thursday's softball victory at Nash Central. More ...


BIG CUT. Rocky Mount Academy's Ben Brantley takes a swing during last Wednesday's fifth-place game against Warren County at the Verizon Wireless of Louisburg Easter Baseball Tournament.

RMA 6th At Tourney
LOUISBURG -- Rocky Mount Academy's last-place finish at the Verizon Wireless of Louisburg Easter Baseball Classic was deceiving in the sense that the Eagles were in every game -- but couldn't muster a victory.
The trend started in last Monday's opener, when RMA was stifled by Franklinton in a 3-0 setback.
Later that night, the Eagles couldn't hold on to a one-run lead midway through the contest and eventually lost 6-4 to eventual tournament runner-up Wilson Fike. More ...
GEOFF NEVILLE, Graphic Sportswriter
ECU takes series vs. Memphis
MEMPHIS, TENN. -- No. 24-ranked East Carolina University (25-10-1, 8-3-1) scored six runs in the sixth inning and held off a late charge by Memphis (16-20, 6-6) to take the rubber match and recorded its third-straight Conference USA series win Sunday afternoon at FedExPark, 14-7. More ...
Staff Reports
RM in Wells Fargo mix
CHAPEL HILL -- When a team wins a state championship during a sports season, a high ranking in that season's updated Wells Fargo Cup standings is virtually assured.
So is the case with Rocky Mount High School, which saw its boys basketball team claim the NCHSAA 3-A state title in March. More ...
CHARLES ALSTON, Graphic Correspondent
Mudcats dethroned vs. Dash
WINSTON-SALEM -- The Winston-Salem Dash recovered from losing an early three-run lead to beat the Carolina Mudcats 6-5 in front of 3,682 on Sunday afternoon at BB&T Ballpark in a Class A Carolina League baseball event.
The win pulls Winston-Salem (5-4) into a first place tie with Carolina (5-4) in the Carolina League's Southern Division. More ...
Staff Reports
JAMES HENRY RICHARDS
ROCKY MOUNT –– James Henry Richards, 83, of Rocky Mount, died on Sunday, April 8, 2012, at Nash General Hospital in Rocky Mount. More ...

RUTH VICK PRIDGEN
Rocky Mount –– Ruth Vick Pridgen, 92, passed away Wednesday April 11, 2012. She was born August 31, 1919 in Nash County. Ruth was the daughter of the late David Clayton and Lena Bone Vick. More ...

CHRISTOPHER "CHRIS" TODD MURPHY
Christopher "Chris" Todd Murphy was born in Cincinnati, Ohio August 25, 1962 to the late Joseph Richard Murphy and Laura Janet Towner Bucher. He was preceded in death by a brother, Jeffrey Murphy, an aunt, Mary Rogers and stepfather, Charles Bucher. More ...

CAROLYN ARRINGTON
CHARLOTTE –– Carolyn Arrington, 53, of Charlotte, and formerly of Rocky Mount, died on Sunday, April 8, 2012. More ...

MAE DELL BLOUNT
ROCKY MOUNT - Mae Dell Blount, 87, died April 10, 2012. Graveside services were Sunday, April 15, 2012 at Northeastern Cemetery at 2 p.m.
More ...

ELLEN RICKS BOBBITT
Ellen Ricks Bobbitt, 49, of Nashville, died on Wednesday, April 11, 2012. She was born on February 14, 1963 to Loretta Ricks and the late Robert Lee Ricks. More ...

RANDY LEVON ELLIOTT
ROCKY MOUNT –– Randy Levon Elliott, 22, of Rocky Mount, died on Monday, April 9, 2012, at Nash General Hospital in Rocky Mount. More ...

FRANCES "BUG" PULLEN WARREN
Frances "Bug" Pullen Warren, 83, passed away Thursday, April 12, 2012. Born in Nash County on December 17, 1928, she was the daughter of the late Zorah David Pullen and Lillie Rouse Pullen. She was preceded in death by her husband, William "Bill" Warren. More ...

RITA FAYE INSCOE
Rita Faye Inscoe, age 52, passed away on Tuesday, April 10, 2012. Born in Ozona, Texas on March 11, 1960, she was the daughter of the late Lotis Columbus Smith and Lenora Herrera Smith. More ...