Subscribe/Access
Advertisements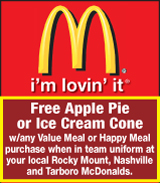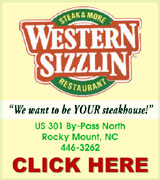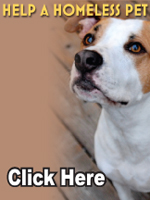 Sections
Member Options
Back

Doug Starr

Boys & Girls closing two clubs in June
The Boys and Girls Club of Nash/Edgecombe Counties will close two of its five units to help offset a $127,000 deficit and may be faced with more closings if funding is not found.
Doug Starr, who serves on the Board of Directors for the Boys and Girls Club of Nash/Edgecombe Counties and is also the Chair of the Finance Committee, came before Nash County Commissioners on Monday night with a funding request of $20,000. More ...
Amanda Clark, Graphic Staff Writer
Nashville eyes new areas for improvements
Nashville Town Council members continue to discuss ways to improve downtown, moving their focus to Boddie and Barnes Streets.
The town recently finished up its Downtown Redevelopment Project, which focused on improving Washington Street. The improvements included underground utilities, new street light poles as well as new sidewalks along downtown. More ...
Amanda Clark, Graphic Staff Writer
WEST POINT BOUND
In late December, Matthew Pope received the news he'd been patiently waiting for: he'd been accepted into The United States Military Academy at West Point on Congresswoman Renee Ellmers' nomination.
Pope said his mom, Angela, informed him of the news while he was riding down the road.
"I was in shock," Pope said. "I had to sit there for a few minutes and let the full effect kick in." More ...
Amanda Clark, Graphic Staff Writer
Audit report presented to Nashville
An annual report for the Town of Nashville revealed one non-compliance issue.
Scott May, of May and Place, PA, presented the audit report to council members during the board's annual retreat January 26.
May said the non-compliance came from grants the town had received for its Downtown Redevelopment Project. More ...
Amanda Clark, Graphic Staff Writer
Spring Hope woman pens book
Robbie Edwards Mills can now add published author to her list of accomplishments.
Mills released her first book, "The Church as the Surrogate Family" in November of last year.
Mills, of Spring Hope, has seven degrees under her belt, including two in nursing, one in law and four in ministry. More ...
Amanda Clark, Graphic Staff Writer
Citizen voices concerns over poultry plant
A Nashville woman approached Nashville's Town Council on Tuesday night asking that they get off the fence and make a decision on where they stand with Sanderson Farms.
Rose Anne Shearin, who lives on Thorne Road in Nashville and operates Solaris Farms, gave a 10-minute presentation on the effect Sanderson Farms could have on Nashville if they were to locate at their proposed location on Highway 97 in Nash County. More ...
Amanda Clark, Graphic Staff Writer
Red Oak plans to expand Ennis Park amenities
Red Oak Commissioners voted Monday to approve revised maps for the Ennis Park to add 74 new parking spaces and a new volleyball court. The move came at the regular business meeting held on February 6.
Plans for parking expansion have been under discussion for some time. The town hired Stocks Engineering to investigate the feasibility of additional parking and to draw up the new maps. More ...
Amelia Harper, Graphic Correspondent
Nashville Chamber of Commerce seeks next Distinguished Citizen
Do you know someone in the Nashville community who devotes time working to make Nashville a better place to live, or someone who volunteers with a local organization helping the needs of others or working on projects to improve our town? This person could be Nashville's Distinguished Citizen of the Year!
The Nashville Chamber of Commerce is seeking nominations for this year's Distinguished Citizen. More ...

NCDOI investigators recover $22,000 in restitution and recovery for Nash
Over $10.4 million was returned to victims of insurance fraud in 2011 due to the efforts of the Criminal Investigations Division of the North Carolina Department of Insurance, Insurance Commissioner Wayne Goodwin recently announced.
In 2011, the work of these investigators led to 144 arrests, 83 criminal convictions, more than 100 pending court cases, and more than $10.4 million in restitution and recoveries. More ...

Citizen declares poultry farm will lose battle
The Co-Chair of the Nash County Landowners Association ensured Nash County Commissioners on Monday night that the Sanderson Farms slaughterhouse project would not happen.
Con Ward spoke before commissioners during the board's regular meeting on Monday night. Ward told commissioners that there were enough organizations and residents against the project that they would continue to fight as long as they had to. More ...
Amanda Clark, Graphic Staff Writer
NC DOT awards contract for Nashville bridge replacement
N.C. Department of Transportation Secretary Gene Conti has awarded a contract to replace the bridge over Stoney Creek on First Street Extension, northeast of Nashville in Nash County.
The $1.2 million contract was awarded to Fred Smith Company of Raleigh. Work can begin as early as February 27, 2012 and be completed by December 31, 2012. More ...

Raleigh man charged with rash of motor vehicle B&E's in Middlesex
The Nash County Sheriff's Office has arrested a Raleigh man in connection with at least 37 motor vehicles that were broken into.
The Sheriff's Office responded to Massey Road in Middlesex on November 28, 2011 in reference to numerous motor vehicle breaking and enterings in the area. Thirty-seven vehicles were reported broken into a well as two outbuildings and one residence. More ...

Smith named Marshal of Sudan Shriners
Carl Wayne Smith of Nash County was appointed Marshal of Sudan Shriners on January 28, 2012 at the annual meeting and election of officers. The term "Marshal" is a ceremonial title given to one of the appointed officers of a Shrine Temple.
Smith and his wife Janet, make their home in Nashville and are the parents of one son and two daughters. More ...

NEW BOARD CHAIR
Down East Radio Reading Service recently named Brandon Berry (right), of Rocky Mount, the new Chairman of the Board of Directors. Passing the reins is David Edwards, who has headed the organization since its inception in 2002. More ...

ENGAGED
Joe and Frances Collins of Castalia announce the engagement of their daughter, Alison Blair Collins of Raleigh to Jonathan Lee Saunders of Raleigh, the son of George and Donnye Saunders of Whitakers. The wedding will take place Sept. 15, 2012 at Bellamy Manor and Gardens, Enfield.
More ...

ENGAGED
Mr. and Mrs. James Allen Bledsoe of Raleigh announce the engagement of their daughter, Lindsey Barrett Bledsoe to Jeffrey Grayson Taylor, the son of Mr. and Mrs. William Jake Taylor Jr. of Raleigh. Lindsey is the granddaughter of the late Mr. and Mrs. James Clarence Dove of Rocky Mount and Mrs. Mary Johnson Bledsoe of Raleigh and the late Mr. James Albert Bledsoe. More ...

Local sorority members celebrate anniversary
Members of the Rocky Mount Alumnae Chapter of Delta Sigma Theta celebrated the Sorority's 99th national anniversary. Founded on January 13th, 1913, Delta Sigma Theta Sorority, Incorporated focuses on sisterhood, scholarship, and public service. More ...

PFLAG visit
The South Atlantic District Director of Parents, Families and Friends of Lesbians and Gays (PFLAG) recently visited the Rocky Mount Chapter. Pictured, South Atlantic District Director Linda Stroupe (second from right) and husband Mac (far right) receive a Rocky Mount PFLAG welcome from Mark Brown, far left, and Elaine Baker (second from left). More ...

Pregnancy Care Center banquet is Feb. 16
The Pregnancy Care Center Board of Directors, by popular demand, has named Shawn Carney, Co-Founder of 40 Days for Life and the host of television show "Being Human," as the keynote speaker at this year's Pregnancy Care Center Celebrate Life Banquet.
Shawn's good combination of humor and seriousness is captivating. More ...

BLET Cadets graduate from Nash Community College's 34th class
Thirteen cadets recently graduated from Nash Community College's thirty-fourth Basic Law Enforcement Training (BLET) class. During the twenty-seven week training, students learned essential skills required for entry-level employment as law enforcement officers with state, county, or municipal governments, or with private enterprise. More ...

UNC announces Dean's List
The University of North Carolina at Chapel Hill recognized 6,589 students for outstanding academic achievement through their selection for the Dean's List for fall 2011.
Dean's list recognition requires full-time students who enter the University as new first-year students starting in fall 2010 or thereafter to earn at least a 3.5 grade-point average on a 4.0 scale with no grade lower than a "C" for 12 hours of letter-grade credit. More ...

BEULAH COMMUNITY NEWS
We were greatly saddened to learn of the death of Doris Fay Nelms. She was loved by all who knew her. Our sincere sympathy goes out to her husband, Jimmy "Lonnie" Nelms, her daughter, Sandra N. Williams, and all other family members and friends. She will be missed by everyone, especially her family. May God Bless and comfort them is our prayer. More ...
WILMA ENROUGHTY
RED OAK NEWS
Suzy and Audrey Pearce, NRBA WMU Children's Missions Consultants, attended the Associational Leadership Team meeting on Saturday, Feb. 4 at the Associational Center in Dortches.
The Adult I-A Sunday School Class at Red Oak Baptist Church had a very successful hot dog/hamburger fundraiser Saturday, Feb. 4 for the Brandon Pitt family and the Pitt Stop Food Pantry. More ...
SUZY PEARCE
PEACHTREE COMMUNITY NEWS
On this first Sunday in February, Peachtree Church observed its 203rd anniversary. To commemorate this, sanctuary flowers were given by Beverly Wilson. She stated that they were given in memory of all of the saints who have served the Lord here throughout these 203 years. More ...
BARBARA HARDISON
MOUNT ZION FWB CHURCH NEWS
I was happy to be able to be back in Sunday school and worship service today. I have recently read the book, "31 Days of Praise" by Ruth and Warren Myers. It will help you in your daily praise to God.
We had 91 in attendance for Sunday school today. Praise God. We recognized those with birthdays in February. More ...
ROSALENE BASS
USDA announces conservation reserve program sign up
Acting Under Secretary for Farm and Foreign Agricultural Services (FFAS) Michael Scuse announced that the U.S. Department of Agriculture (USDA) will conduct a four-week Conservation Reserve Program (CRP) general signup, beginning on March 12 and ending on April 6. CRP has a 25-year legacy of successfully protecting the nation's natural resources through voluntary participation, while providing significant economic and environmental benefits to rural communities across the United States. More ...

Nash Central Middle School Beta Club
The Nash Central Middle School Beta Club will be sending 38 students to the North Carolina State Beta Club Convention in February. Students from the NCMS Beta Club have competed throughout the year at the school level to qualify for the state convention.  At the convention, students will be competing in several categories such as Quiz Bowl, Battle of the Books, English, Social Studies, Math, Science, Spelling, Photography, Jewelry making, Scrapbooking, Woodworking, Recycled Art and Living Literature. More ...

Nash County Blood Drives for February 2012
Wednesday, February 8 from 12:30 until 5 p.m. at Draka Elevator Products, 2151 North Church Street, Rocky Mount
Wednesday, February 8 from 10 a.m. until 2 pm. at Edgecombe Community College in the student lounge, 225 Tarboro Street, Rocky Mount More ...

RMA student is finalist for Morehead-Cain Scholarship
Rocky Mount Academy Senior Emma Park has been selected as a Finalist for the Morehead-Cain Scholarship at UNC-Chapel Hill. This is the nation's oldest merit scholarship program and fully funds a student's undergraduate college education by paying for full tuition, books and a laptop, housing, meals, student fees, travel, and supplies. More ...

How to make out on Valentine's Day, so to speak
Hopefully by now, you've gotten the last of the cheese dip out of the carpet, found the jar of missing jalapenos and remembered why it is a bad idea to let kids eat popcorn in the living room.
That's right, the most sacred of American holidays –– the Super Bowl –– has passed. Why we don't just call the Monday that follows The Real Big Game a vacation day is beyond me. It would certainly stimulate the economy (a boon for Tums and hangover cures) and probably decrease industrial accidents. More ...
Mike Brantley
Nash County's new schedule is confusing
Nash County's Board of Commissioners has started meeting at night to better accommodate citizens who work during the day and may want to attend and participate in these meetings.
I think it's great that the board wants to give citizens a better opportunity to attend meetings. However, I think the way the board is scheduling these meetings is confusing. More ...
Amanda Clark, Graphic Staff Writer
Ready to dump your debt? Beware of pitfalls
Did you resolve to get out of debt in the New Year? Now is a great time to get started on putting your financial house in order, but there are some pitfalls you want to be sure to avoid.
My office constantly hears from consumers about companies or firms that promise to negotiate your debts down in exchange for an upfront fee which is illegal in North Carolina.
More ...
GUEST COLUMN, Attorney General Roy Cooper
Backward Glances
PINE SEEDLINGS –– Wesley Layton of Little Easonburg was among several county 4-H members who received loblolly pine seedlings in 1961. W.R. Shackelford, assistant county agent, is pictured delivering the seedlings to Layton, who is the son of Mr. and Mrs. Ben J. Layton. This photo originally published in The Graphic February 23, 1961. More ...
A PICTORIAL LOOK INTO THE PAST
Nash County Animal Friends' Notebook
Nash County Animal Friends has been working very hard, 24/7 to make a difference for the forgotten pets of Nash County. It is only due to people caring, like you, that we have been able to reduce the number of companion animals being killed. It started with a camera and an idea. Promotion was the key. Facebook became the perfect media to get the Rescues. We need your help. The BIG thing that YOU can do is Spay/Neuter. More ...
Carol Vierela, Nash County Animal Friends

NEED ASSIST-ANCE? Nash Central Middle's Shaniah Griffin dishes the ball to a teammate for two points last Thursday versus Speight.

A Happy Ending
NASHVILLE -- Nash Central Middle School couldn't have asked for a better ending to its upbeat girls basketball campaign.
In last Thursday's regular season finale, the Lady Trojans offered one final impressive performance as they rolled to a 54-20 victory over Tri-County Conference rival Speight Middle School at the NCMS Gymnasium. More ...
GEOFF NEVILLE, Times Sportswriter

SOUTHERN SIGNEES. (L to R) Southern Nash standouts Tracey Coppedge (Elon), Matt Boswell (UNC-P), Josh Sessoms (NC State) and Terron Huffman (UNC-P) sign college football letters-of-intent last Wednesday.

'BIRDS LEAVE NEST
STANHOPE -- Few things make Brian Foster happier than working with a young player -- and developing them into a strong performer for Foster's Southern Nash High School football program.
But to Foster, it's just as important to make sure those standouts have a future -- and that includes the opportunity to play on the collegiate level while earning an education. More ...
GEOFF NEVILLE, Graphic Sportswriter

SHE WON'T BE DENIED. A Northern Nash High School player (with ball) drives to the basket last Friday night versus Nash Central.

NC's Senior Salute
ROCKY MOUNT -- It was just the way Christian Jones, Phillip Jones and Jalen Hendricks wanted their last regular season home game to go.
The three Nash Central seniors got a nice going-away present in the form of a 69-41 Big East Conference basketball win over rival Northern Nash on Senior Night last Friday evening. More ...
CHARLES ALSTON, Graphic Correspondent
Southern schedule finalized
STANHOPE -- Southern Nash High School's 2012 Boys Golf Season will begin March 7 with a road match against Wilson Fike at Willow Springs.
Southern's home layout will be The River Golf and Country Club in Franklin County.
Here is the complete schedule for the Firebirds, who will be coached by Scott Collie: More ...
Staff Reports

TIGHT DEFENSE. Nash Central's Charles Harvey (right) blocks the path of a Speight player during last Thursday evening's middle school basketball regular season finale at the NCMS Gymnasium.

Crowning Achievement
NASHVILLE -- After suffering their first loss in over one month the Nash Central Middle School Boys Basketball team rolled through three county opponents over the last week to claim perfect 8-0 mark in the county and win the county championship.
The Trojans ran through Southern Nash, Edwards, and Red Oak winning all three by double-digit margins. More ...
Staff Reports
NC Wesleyan men claim a home victory
ROCKY MOUNT -- North Carolina Wesleyan College senior Alex Murray recorded a team-high 14 points and 13 rebounds to lead his Battling Bishop men's basketball team to an 80-70 USA South victory over Greensboro College on Saturday in Everett Gym.
The victory evens Wesleyan's record at 10-10 on the season, 4-4 in conference action. More ...
Staff Reports
A JOB WELL DONE
Javan Richardson of Nashville served as the videographer this season for the Nash Central Middle School girls and boys basketball squads. More ...

NC swimmers break marks
GOLDSBORO -- Five school and two Big East Conference records were shattered last Saturday when Nash Central High School competed in the annual Class 3-A East Regional Swim Meet at the Goldsboro YMCA.
NCHS' Girls 200 Medley Relay of Kaitlyn Beal, Kaila Billups, Neill Bunn and Lindsey Sharpe broke both school and conference marks with a time of 2:02.11, which was good enough for fourth place overall. More ...
Staff Reports
TRACEY COPPEDGE
Southern Nash's Tracey Coppedge signs a letter-of-intent to join the football program at Elon University. Also pictured are his parents, Tracey and Ophelia Coppedge. (Graphic photo by Geoff Neville) More ...

TERRON HUFFMAN
Southern Nash's Terron Huffman signs a letter-of-intent to join the football program at UNC-Pembroke. Also pictured are (back, l to r) Terron Huffman (father) and Shaquille Rivers (stepbrother); (front, right) Charlotte Riley (mother). More ...

MATT BOSWELL
Southern Nash's Matt Boswell signs a letter-of-intent to join the football program at the University of North Carolina-Pembroke. Also pictured are (back, l to r) Travis Boswell (brother) and Harold Boswell (father); (front, right) Donna Boswell (mother). More ...

JOSH SESSOMS
Southern Nash's Josh Sessoms signs a letter-of-intent to join the football program at North Carolina State. Also pictured are (back, l to r) Paige Emig (girlfriend), Garland Sessoms (father) and Darius Sessoms (brother); (front) Carolyn Sessoms (mother) More ...

FAMILY MATTERS
Southern Nash football signees and their families posed with their families during last Wednesday's National Signing Day Ceremonies at the SNHS Media Center in Stanhope. More ...

Schock steps down
ROCKY MOUNT --After three seasons, Dickie Schock has stepped down as Rocky Mount's head football coach.
Rocky Mount Athletic Director Michael Gainey officially confirmed Schock's resignation Sunday.
"Dickie has resigned due to personal reasons and we will be searching for a new leader," said Gainey. "All resumes are to be sent to our principal (Leon Farrow). He has not set a deadline to receive them as of yet. The vacancy will also be posted on the North Carolina High School Association (NCHSAA) website." More ...
CHARLES ALSTON, Graphic Correspondent

Lewis Smith dances with his daughter Allison at the Daddy Daughter Dance.

Dancing with Daddy
Hundreds of dads and their daughters danced the night away Saturday at the fifth annual Daddy Daughter Dance.
The dance, sponsored by Nash County Parks and Recreation, brought out around 500 dads and their daughers. More ...
STORY AND PHOTOS By Amanda Clark Graphic Staff Writer
Dancing with Daddy, pics 1
Francesca Miller, 6, and Bella Connelly, 5, (L-R) both of Nashville, dance together on Saturday at the Nash County Agricultural Center in Nashville. More ...

Dancing with Daddy, pics 3
Quincy Williams and his daughter, Whitley, 9, of Nashville take a break from dancing on Saturday at the Daddy Daughter Dance. This is the fourth year the Williams' have attended. More ...

Leslie visits Autumn Care
CONTRIBUTED – Bill Leslie, an Emmy award-winning journalist who anchors the morning and noon news casts for WRAL-TV in Raleigh, recently visited the residents of Autumn Care of Nash. With over thirty years in broadcasting experience and the winner of many distinguished professional awards, he is also known as a recording artist who composes and performs traditional, as well as Celtic fusion music. More ...

Ciompi Quartet to perform at Cherry Hill Plantation
The popular Ciompi Quartet will be making a return trip to historic Cherry Hill in Warren County.
The group, founded in 1965 by renowned Italian violinist Giorgio Ciompi, will be performing in concert at 3 p.m. Sunday, Feb. 19.
This concert will commemorate Eugenia Williams Voorhees and will feature music by Haydn, Shostakovich and Dvorak. More ...

DORIS MINSHEW NELMS
Doris Minshew Nelms, 70, passed away Saturday, February 4, 2012. She was born in Wilson County on December 24, 1941, daughter of the late Robert and Alberta Bunn Minshew. She preceded in death by a daughter, Tracy Gail Nelms. More ...

LETTIE DORIS PEARSALL
Lettie Doris Pearsall, 74, passed away on Thursday February 3, 2012. Doris was born in Nash County on February 16, 1937, the daughter of Tom and Annie White Woodruff. She was preceded in death by her brothers Charles Milton Woodruff and Tommy Morris Woodruff. More ...

DELORES HARPER CHURCHILL
RED OAK - Delores Harper Churchill, age 75, passed away Sunday, February 5, 2012. Born August 8, 1936 in Nash County, she was the daughter of the late William Harper and Madelyn Holland Harper Boone. She was also preceded in death by her husband, John Churchill and son, Allen Ray Currin, Jr. More ...

DOROTHY ARMSTRONG FISHER
Dorothy Armstrong Fisher, 82, passed away on Wednesday, February 01, 2012. She was born April 15, 1929 in Nash County, daughter of the late Charlie Lawrence Armstrong, Sr. and Lola Winfree Armstrong. She was also preceded in death by her husband, E. Lee Fisher, Sr. More ...

DAVID LEE CLARK
ROCKY MOUNT - David Lee Clark, "Bunk", 76, of Rocky Mount, died on Monday, January 30, 2012, at Nash General Hospital in Rocky Mount. More ...

ETHEL LEE JONES EDWARDS
ROCKY MOUNT - Mrs. Ethel Lee Jones Edwards, 79, of Rocky Mount, died on Thursday, February 2, 2012, at Nash General Hospital in Rocky Mount. More ...

MASTER JAYDEN CAMERON WILLIAMS
GREENVILLE - Master Jayden Cameron Williams, infant, of Greenville, and whose parents are from Rocky Mount, died on Thursday, February 2, 2012, at Pitt County Memorial Hospital in Greenville.
More ...

GEORGE JASPER DAUGHTRIDGE
George Jasper Daughtridge passed away on January 31, 2012. He was born September 20, 1927, to the late Jasper Hayes (Jack) and Emma Vick Daughtridge. He was preceded in death by brothers, David and Jackie Daughtridge, sisters Nellie Moore and Shirley Shearin and son, Marvin Daughtridge. More ...