Subscribe/Access
Advertisements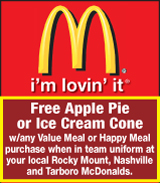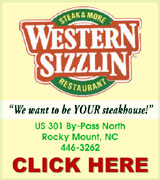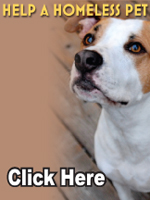 Sections
Member Options
Back
County to apply for grant funds
Nash County is moving forward with applying for a grant that will help low-moderate income households connect to the county's water system.
The first of two required public hearings was held last Monday morning during the board's regular meeting. More ...
Amanda Clark, Graphic Staff Writer

Lance Corporal Keith R. Henderson

Ceremony honors local Vet
The Joint Veterans Committee of Nash and Edgecombe Counties retired a flag on Monday in honor of Lance Corporal Keith R. Henderson, who was killed in a training accident in 1992.
Henderson was preparing to deploy to Desert Storm when he was killed at Fort Knox, Kentucky. He was 22 years old. More ...
Amanda Clark, Graphic Staff Writer
Club director of operations relocates
In another month, Tony Orr, Director of Operations, will say goodbye to the Boys and Girls Club of Nash/Edgecombe Counties.
Orr has taken a position as a Resource Development Director with the Boys and Girls Club in Collier County, Florida. More ...
Amanda Clark, Graphic Staff Writer
Local woman speaks against poultry plant
A Nashville woman told Nash County Commissioners she was selling her dream farm and moving because of the issues that could come if Sanderson Farms locates in the county.
Rose Ann Shearin spoke to commissioners at the monthly meeting last Monday morning.
Shearin said she was representing Solaris Farms, Inc. She added that she had been at the property since the end of 1995. More ...
Amanda Clark, Graphic Staff Writer
Vote to be held in May for new NCC facility
Nash County Commissioners approved a resolution last Monday that will allow county leaders to move forward with a bond referendum on a new facility at Nash Community College.
In December, commissioners made the decision to hold a bond referendum during the May elections so voters could decide whether the county should fund a $12.9 million new continuing education and public services facility. More ...
Amanda Clark, Graphic Staff Writer
Community celebrates life, legacy of Dr. King
Nashville residents came together on Monday morning to remember the life and legacy of Dr. Martin Luther King, Jr.
This is the ninth year the Nashville Willing Workers Club has hosted a breakfast to honor Dr. King.
Nashville Mayor Dr. Donald Street was the guest speaker for the event. More ...
Amanda Clark, Graphic Staff Writer
NCDOT awards $9.4 million for projects in Nash, Wilson Counties
N.C. Department of Transportation Secretary Gene Conti has awarded three contracts totaling $9.4 million for several projects in Nash and Wilson counties.
Projects included in the contract include the replacement of the bridge on Halifax Road over the Tar River in southwest Rocky Mount near the community of Westmount in Nash County. More ...

Rocky Mount man sentenced
A Rocky Mount man was sentenced to 96 months in prison for stealing a firearm.
Judge Malcolm J. Howard sentenced Jervis Ricky Davis, 33, to 96 months in prison followed by three years supervised release. More ...

NASHVILLE POLICE BRIEFS
ARRESTS
Kenya Anesia Perry - 1/10/2012 - charged with failure to appear for simple worthless check
Phillip Clyde Batchelor - 1/10/2012 - charged with failure to appear for trespassing on posted property
Kelvin Earl Davis - 1/10/2012 - charged with failure to appear for interfering with a utility meter More ...

PLANNING FOR THE NEW YEAR
Members of the Nashville Kiwanis Club's Board of Directors discuss plans for 2012 at their regular meeting. The club meets each Wednesday at 1 p.m. Meetings are held at Langley's Town and Country except for the first Wednesday of the month, when meetinsg are held at Cooley Library. More ...

Local libraries to hold read-ins
The Twin Counties Literacy Council will sponsor three Read-Ins in February. Each will be hosted by an area library on February 16 from 6:00 to 7:00 pm. Participants have the option of attending the event at the Harold D. Cooley Library in Nashville, the Edgecombe County Memorial Library in Tarboro, or Braswell Memorial Library in Rocky Mount. More ...

DONATION
The Rocky Mount Debu-ette Club recently donated items to A Second Season to benefit My Sister's House. Pictured (L-R) is: Anna Ergish, Mary Frances Raper, Chloe Thompson, and Marie Noble. More ...


EMT BASIC GRADS: From (L-R) is: Justin Price of Zebulon, Dani Coley of Elm City and Kyle Jones of Rocky Mount. Not pictured is Olivia Moss, Instructor.

Nash Community College announces EMT graduates
Nash Community College recently announced its January 2012 Emergency Medical Technician (EMT) graduates.
The Nash Community College Emergency Medical Technician (EMT) class includes 179 hours of classroom and lab instruction and 24 hours of field training. The EMS-Intermediate class is a 322 hour course. The 1,099-hour Paramedic course includes advanced classroom and clinical instruction and a field internship. More ...

EMT PARAMEDIC GRADS
Pictured on the front row (L-R): Meagann Camacho of Nashville, Carolyn Crisp of Rocky Mount, Jimmy Goodyear of Nashville, Debbie Beecham of Nashville and Antwan Brown of Tarboro. Pictured on the second row (L-R): Bryan Ward of Nashville, Christopher Pace of Spring Hope, Jeremy Bunn of Rocky Mount, Dana Nowell of Weldon and Alan Peaden of Pinetops. More ...

RMA announces recipients of Turner Battle Scholarship
This year's recipients of the Turner Battle Scholarship at Rocky Mount Academy have been announced and honored at a recent reception for students, parents and Foundation Trustees.
The scholarship, given for a student's "outstanding record of scholarship, college potential, leadership, and school spirit" has been awarded for the 2011-12 school year to Lee Arnold, Ashley Bissette, Meg Deyton, Megan Griffin, Raven Norton, Nicholas Place, Ann Claire Roberson, and Olivia Roberson. More ...

Leadership Rocky Mount
The 2011-2012 Leadership Rocky Mount class visited Nash Community College on Wednesday during their higher education day. The group toured NCC's student run radio station - Big Bang Radio 89.1FM, the new interactive Math Tank, Cosmetology, Health Sciences and Computer-Integrated Machining before having lunch in the Brown Auditorium. More ...

EMPLOYEE OF THE MONTH
Tommy Woodruff was selected as the Nash County Department of Social Services Employee of the Month for December 2011. Woodruff has been with the agency for four years, of which the last three years have been as an Income Maintenance Caseworker in Adult Medicaid. Since his employment, co-workers said Tommy has displayed a positive attitude, professionalism, and high quality of work ethics. More ...

Instructor selected for task force
NCC English Instructor Franchesca Battle has been selected to serve on a North Carolina Community College System English/Reading Redesign Task Force. The English/Reading Redesign Task Force has been charged with developing and sharing with the Developmental Education Initiative (DEI) State Policy committee a redesigned developmental English/Reading curriculum. More ...

Nash Community College Foundation
Nash Community College's Drama Club recently awarded the Nash Community College Foundation $200 for student scholarships. The gift was from ticket sales from the October "Night of One Acts." The NCC Foundation was established in October 1983 to increase community awareness, raise funds for the student scholarship program, and to help meet the needs of Nash Community College. More ...

DONATION
The DeLeon Carter Foundation has agreed to give $30,000 to North Carolina Wesleyan College to go toward the construction of the new tennis facility on campus. In December the foundation presented Wesleyan President Jim Gray with a check for $20,000 toward its commitment. More ...

RED OAK NEWS
Gideon Al Boone shared with the congregation of Red Oak Baptist Church on Sunday, Jan. 15 the importance of the Gideon ministry around the world in its efforts to share the gospel.
Anyone interested in attending the NRBA Women on Mission Prayer Retreat at Fort Caswell should contact Marilyn Boone by Jan. 20. The cost for the retreat in $75.00 per person. More ...
SUZY PEARCE
PEACHTREE COMMUNITY NEWS
Sunday was a cold but sunny day. Peachtree's pastor, Rev. Eugene Whitehouse, chose as his sermon topic "Equality- not of Opportunity but of Faithfulness". It was based on a scripture from Matt. 20: 1-16. He summarized his sermon by saying "We overestimate our contribution but underestimate the Grace of God.___ Remember that God rewards faithfulness not production". More ...
BARBARA HARDISON
MOUNT ZION FWB CHURCH NEWS
Brother Bob Watkins welcomed everyone to Sunday school. There were 88 present. Allie Farmer read the Bible verse for today. Stacie Jones prayed the closing prayer.
Our choir sang "Thy Loving Kindness" for the call to worship. Pastor Bogle welcomed everyone to worship service. In addition to his wife, Martha, they brought a son and his wife and a grandson to church. More ...
ROSALENE BASS
BEULAH COMMUNITY NEWS
Big News - Sunday night, Jan. 22 at 6:00, a really great musical group, "The Psalmsmen" will be at Beulah Church of Christ. Anyone who has heard this group will tell you, they are really one of the best groups anywhere in this area. Please plan to attend! Once you have heard them you will agree! There will be refreshments after the program. We hope to see you THIS Sunday night. More ...
WILMA ENROUGHTY
United Daughters of the Confederacy honors local veterans
A brother and sister were honored on December 7, 2011 for their active duty military service by the Bethel Heroes Chapter 636 of the United Daughters of the Confederacy.
James Arthur Parker, CSM, US Army Special Forces, received the Vietnam Conflict Cross of Military Service. His sister, Margie Parker Brantley, Captain., US Air Force, received the National Defense Medal. More ...

A few bizarre news clips for the new year
As is tradition around the Soapbox, we collect as many strange, unusual and mostly true news items throughout the year as we can. When the file is full, we have a column.
So, enjoy a taste of the odd, with a little dumb crook news thrown in for fun: More ...
Mike Brantley
Boundaries or lines are always needed, even when parking
Downtown Nashville sure does look good.
The town has really done a great job reviving its downtown. But, of course, it couldn't have been done without the support of citizens and downtown businesses. Many business owners have stepped up and revamped their own storefronts, some with the help of the town and some on their own dime. More ...
Amanda Clark
Is Government really the enemy?
I didn't get far into Bill Clinton's new book, "Back to Work," before he stopped me in my tracks. The American public has largely bought into the theory that government is the problem, the reason for all our ills. If we "get government out of the way," cut taxes, shrink government and reduce regulations, happy days will be here again. More ...
Guest Column / My Spin By Tom Campbell
Backward Glances
WATER PROJECT – This photo was originally published in The Graphic on October 6, 1966. Clay Braswell (left) and Henry Mercer supervise the installation of 12-inch pipe on Church Street a part of a water expansion project in Nashville. More ...
A PICTORIAL LOOK INTO THE PAST
DONATION
Are YOU a CAT person? They get LOTS of friendly cats and kittens at the Nash County Animal Control Shelter. If you have ONE, please consider that TWO CATS ARE BETTER THAN ONE!
Cats that have a playmate tend to be more socially well adjusted and avoid behavior problems like shyness, biting, hissing, being frightened and hiding in the company of people they don't know. More ...
Carol Vierela, Nash County Animal Friends

DETERMINATION. Southern Nash High School's Terron Huffman (right) makes a spirited move against a Washington opponent during last Saturday's action at the annual Firebird Duals Wrestling Tournament.

SN'S MAT TRADITION
STANHOPE -- By anyone's estimation, the Southern Nash Firebird Duals Tournament makes one of the most important days every year on the Nash County wrestling calendar.
This season would prove to be no different as 12 top-notch programs descended on the Southern Nash Gymnasium last Saturday for an intense schedule of round-robin matches. More ...
GEOFF NEVILLE, Graphic Sportswriter
Northern Nash excels at the Firebird Duals
STANHOPE -- Tough competition is necessary for the Northern Nash Knights as they prep for the all-important, upcoming Big East Conference wrestling showdown on Jan. 28 at the Rocky Mount High School Gymnasium.
During an early-season, round-robin league event at Nash Central, there was a three-way tie for the top of the dual standings, with Northern Nash finishing even with Rocky Mount and a much-improved Southern Nash contingent. More ...
GEOFF NEVILLE, Graphic Sportswriter
RMA wins basketball matchup
ROCKY MOUNT -- Homestanding Rocky Mount Academy held Cary Christian Academy without a point in the first period en route to earning a 57-38 victory last Friday in an Eastern Plains Independent Conference boys varsity basketball matchup.
Despite playing without injured senior J.R. Parks (ankle), the Eagles claimed the decision to improve to 12-3 overall and 3-0 in the EPIC. More ...
Staff Reports
Nash Central MS takes on Elm City
NASHVILLE -- Nash Central Middle School made a key tactical adjustment at halftime -- and the result was a key Tri-County Conference boys basketball victory last Wednesday afternoon for the Trojans.
After watching Elm City torch the nets from the perimeter in the opening half, NCMS veteran coach Todd Brewer opted for a switch to a zone defense for the final 12 minutes of action. More ...
GEOFF NEVILLE, Graphic Sportswriter

SN DRIBBLE DRIVE. Southern Nash's Tony Wills (with ball) heads to the basket during last Friday night's Big East Conference basketball victory against Northern Nash.

Basketball Splitsville
RED OAK -- When the boys teams from Southern Nash and Northern Nash met in the consolation game of the Nash County Christmas Tournament, the Firebirds had their way in a near 30-point win.
The final margin was much lower last Friday night when the two squads met in Big East Conference play at Death Valley, but the result was the same. More ...
CHARLES ALSTON, Graphic Correspondent
NC Wesleyan collects clutch victories
ROCKY MOUNT -- The women's basketball team of North Carolina Wesleyan College erased an 18-point second-half deficit en route to a 61-56 victory over USA South foe Shenandoah University last Saturday afternoon at Everett Gymnasium on the NCWC campus.
In her first collegiate start, freshman Shelby Jackson netted a team-high 10 points and pulled down six rebounds to pace the Bishops. More ...
Staff Reports

TOO QUICK FOR YOU. Nash Central speedy guard Michaela Nelms (with ball) makes her way upcourt during the Lady Trojans' home basketball victory last Wednesday afternoon against Elm City.

Revenge Factor
NASHVILLE -- Given a second chance to make a first impression, the Nash Central Middle School Lady Trojans made the most of the opportunity.
Earlier in the season, Central had suffered its only girls basketball loss when the Lady Trojans were edged by Elm City. More ...
GEOFF NEVILLE, Graphic Sportswriter
Nash Co. clubs ranked in state
HAMPTONVILLE -- The Northern Nash Lady Knights maintained their ranking in the latest NCPreps.com/HS Media Basketball polls released Monday evening.
Northern stayed in its No. 4 spot in the 3-A ranks from a week ago after beating Wilson Fike 61-38 last Friday night in their only contest of the week. More ...
CHARLES ALSTON, Graphic Correspondent
Nash Central effective again in the pool
ROCKY MOUNT -- Nash Central continued its season-long girls surge through the Big East Conference by earning another victory last Saturday morning in league action.
Central remained undefeated both in the conference and overall by collecting 136 points in the event at the Harrison Family YMCA. More ...
Staff Reports
PARKS AND REC RESULTS
NASH COUNTY -- Listed are last weekend's results from the Nash County Parks and Recreation Youth Basketball League: More ...
Staff Reports
Mudcats announce agreement
ZEBULON -- The Carolina Mudcats and Cleveland Indians have jointly announced the signing of a two-year player development extension that keeps the Indians in Zebulon through the 2014 season.
Additionally, the Mudcats will be hosting a major league exhibition game with the Indians on April 3 at Five County Stadium. More ...
Staff Reports
Eagles shine at Roanoke Rapids
ROANOKE RAPIDS -- Rocky Mount Academy continued its strong 2011-12 swim season by taking part in a multi-school meet on Jan. 7 at the Roanoke Rapids Aquatic Center.
The RMA girls claimed second place overall, while the boys earned the third position.
RMA's results from the event were as follows: More ...
Staff Reports
MATCH ACTION
Southern Nash's Tevin Lynch (left) butts heads with a Washington foe and SN's Davin Moore. More ...

NICE SHOT
Nash Central's M. Harris attempts a jumper during the Lady Trojans' home victory last Wednesday afternoon against foe Elm City. More ...

KATHLEEN MARIE KELLER
NASHVILLE - Kathleen Marie Viverette-Keller, 62, died Monday, January 9, 2012 after an extended illness. She was preceded by her parents Marvin and Ruth Viverette of Rocky Mount; sister, Claudia Wall of Wrightsville Beach and brother, Arthur Viverette of Portageville, Mo.. She leaves behind her loving and devoted husband Robin D. Keller of the home. More ...

STEVE MANNING
ROCKY MOUNT - Steve Manning, 55, died December 31, 2011. Funeral services were Saturday, January 14, 2011 at Stokes Mortuary Chapel, at 2 p.m. with the Rev. Dwight Johnson will be officiating. Burial was at Gardens of Gethsemane.
More ...

MAE LANCASTER ROBERSON
Mae Lancaster Roberson, 84, died after a brief illness Tuesday January 10, 2012. She was born May 15, 1927 in Castalia, the daughter of the late Esker Lancaster and Maggie Griffin Lancaster. More ...

RETHA THORNE WALKER
ROCKY MOUNT - Retha Thorne Walker, 81, of Rocky Mount, died on Friday, January 6, 2012, at Heritage Hospital in Tarboro. More ...

DANIEL "DAN" JOSEPH WHEELER
Daniel "Dan" Joseph Wheeler, 60, of Rocky Mount, died Wednesday, January 11, 2012 at Duke Hospital. He was born June 26, 1951 in McLeansboro, IL the son of Thomas Winfield Wheeler of Benton, IL and the late Eleanor Greer Wheeler. More ...

BONNIE FAYE MITAN
Bonnie Faye Mitan, age 65, passed away January 13, 2012. She was born October 30, 1946 in Jesup Georgia and later moved with her family to Roanoke Rapids. She was preceded in death by her parents Leonard and Rosa. More ...

EVIA LUCY CARY WINSTEAD
Evia Lucy Cary Winstead, 86 passed away Wednesday, January 11, 2012. She was born in Alamance County, November 5, 1925, daughter of the late Octavious Cary and Maggie Wells Cary. She was also preceded in death by her daughter, Wanda Faye Winstead. More ...

OLIVIA RICHARDSON
NASHVILLE - A memorial service for Olivia Richardson, 81, who died on Friday, Jan. 6, 2012 was Friday, Jan. 13 at 4 p.m. at Richardson Funeral Home Chapel with Rev. Terry Stample officiating. More ...