Subscribe/Access
Advertisements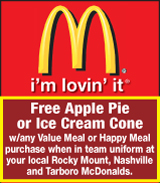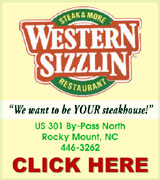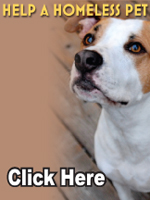 Sections
Member Options
Back
Rocky Mount sues over annexation laws
The battle continues.
Just days before the Board of Elections counted Oak Level annexation petitions, the City of Rocky Mount filed a lawsuit challenging whether the new annexation laws are constitutional.
The lawsuit was filed last Thursday and questions whether it is constitutional to not allow those that rent property in the proposed annexation area to sign petitions for or against a proposed annexation. More ...
Amanda Clark, Graphic Staff Writer - 2 opinions posted

Lynch

Five charged with Wal-Mart robberies
A former Wal-Mart employee was one of five recently charged in connection with a string of robberies that have occurred at the Nashville Wal-Mart store since June.
The first robbery was reported on June 29, 2011. In that incident, it was reported that an armed gunman demanded money from the cashier in the garden department of the store and then made his escape on foot. More ...

CHILDREN'S DAY
CHRISTMAS TIME IN NASHVILLE – Local youth came out on Saturday afternoon to participate in Nashville's Annual Children's Christmas Parade, decorating their wagons, bikes, themselves and even creating their own floats. Pictured above, Randy Vick, as Santa, hides in the chimney prior to the parade on Saturday, Vick was the first place winner, receiving a $50 prize, which was sponsored by the Nashville Chamber of Commerce. More ...

Lowe's Foods now "Just Save"
Lowes Foods in Nashville has closed and will reopen as Just $ave Foods on Friday.
The change is a part of a series of store conversions in the Carolinas. The Nashville store will be the ninth Just $aves store to open.
Beth Talley, Senior Adminstrative Assistant for the Marketing Department, said Just $ave Foods is a part of Lowes Foods. The new Nashville store will better accommodate Nashville residents. More ...
1 opinion posted
Nashville Board approves reduced tap-on fees
Residents just outside of Nashville will have the opportunity to tap onto the town's water system at a discounted rate while a water line project is under construction.
Nashville Public Utilities Director Jamey Baines came before Nashville's Town Council on Tuesday night with the information. More ...
Amanda Clark, Graphic Staff Writer
School Board discusses district lines
The boundary lines for Nash-Rocky Mount Schools (NRMS) board districts 8-11, represented by Reginald Silver, Robert Bynum, Evelyn Bulluck, and Joe Edge, could not be finalized in their special meeting Monday night. The board met to review the second plan for changing their district lines presented by Adam Mitchell of Tharrington Smith Attorneys at Law. More ...
Michele A. Cruz, Graphic Correspondent
Nash Commissioners approve bond referendum for new Nash Community facility
Nash County Commissioners want voters to decide on whether to fund a new continuing education and public services building at Nash Community College.
Bill Marshburn, Chairman of the Board of Trustees for Nash Community College, came before the board on Monday morning to request a commitment of funding for construction of a proposed 78,000 square foot facility. More ...
Amanda Clark, Graphic Staff Writer
Habitat dedicates home
Janet Alston's already got her Christmas wish; a new home.
Alston received the keys to her new home on Apache Drive in Nashville last Wednesday evening during a special dedication ceremony, hosted by Nashville's Habitat for Humanity. This is the ninth home Habitat has built in Nashville. More ...
Amanda Clark, Graphic Staff Writer
Nash County ABC bookkeeper retires with 26 years of service
Rosanne Kinsey initially took a job as a bookkeeper with Nash County Alcohol Beverage Control (ABC) to help put her kids through college. That was 26 years ago.
Last Wednesday, Kinsey celebrated her last day with ABC with a retirement party thrown by coworkers.
Kinsey moved to Nashville from Eerie, Pennsylvania in 1976 after her husband landed a job in Rocky Mount. More ...
Amanda Clark, Graphic Staff Writer

Pictured from (L-R), Doug Moore, Troop Leader Dr. William Jarvis and Glenn Jarvis attended the Red Oak Commissioner meeting on Monday night to present a new park project. (Graphic photo by Amelia Harper)

Eagle Scout project to enhance Red Oak's park
Representatives from local Boy Scout Troop 628 were present at Monday's regular meeting of the Red Oak Town Council to ask for permission to pursue a new project for the park in Red Oak. They also were present for the swearing in ceremony of two incumbent board members Commissioner Bill Moore, who ran unopposed, was sworn in for a third term as commissioner. More ...
Amelia Harper, Graphic Correspondent
Sign cards for service members
Rocky Mount-area residents will have two more opportunities this year to send holiday greetings to military heroes around the world. More than 1,000 area residents have already signed cards at local events, sending a bright message of hope and thanks to military personnel away from families during the holidays. More ...

McGladrey employees donate their time to help My Sister's House
Employees from the Rocky Mount office of RSM McGladrey, Inc., and McGladrey & Pullen, LLP, providers of assurance, tax and consulting services, recently volunteered at My Sister's House, an agency providing shelter and support for victims of family violence. A group of nine volunteers worked two hour shifts to help enhance the curb appeal of the agency's shelter by planting flowers, setting out more than 200 bulbs, putting down mulch and re-finishing the lawn furniture. More ...

Unique Boutique
Northern Nash High School students in Elizabeth Harris' Apparel II Class celebrate the opening of their "Unique Boutique" with a ribbon cutting and refreshments. Students enthusiastically described to invited guests the process of developing an entrepreneurial business. Students conducted surveys to select a product that would have a customer base and be profitable. More ...

ANNIVERSARY
Henry and Eloise Hux, of Castalia, celebrated 63 years of marriage on Sunday November 27, 2011. The couple moved to Castalia after retiring from Virginia about 20 years ago. More ...

Employee of the Month
Edith Serrano has been selected as Nash County Department of Social Services Employee of the Month for November 2011. For the past 10 years, Edith has been employed as Foreign Language Interpreter II and helps overcome language barriers for the Hispanic population. Edith serves clients throughout the agency in a timely manner. More ...

Local girls earn Girl Scout Silver Awards
Alexandra Humphreys of Rocky Mount, and Laura Brown and Sarah O'Berry of Nashville have been awarded the Girl Scout Silver Award by Girl Scouts – North Carolina Coastal Pines, which is the second highest achievement in Girl Scouting. This award symbolizes outstanding accomplishments and a commitment to excellence, and helps girls build skills, explore careers, gain leadership skills, and make a commitment to self-improvement. More ...

MOUNT ZION FWB CHURCH NEWS
Brother Bob Watkins welcomed everyone to Sunday school. Everyone with a birthday in December was recognized and given candy by A.J. Jones. Then we all sang "Happy Birthday" to them. All those with wedding anniversaries were also recognized and given candy. Reggie Tanner read the bible verse for today. More ...
ROSALENE BASS
Brooklyn Community News
The Nashville community would like to thank Fellowship Church and Brooklyn Community members for taking an interest in the Nashville Boys & Girls Club. They saw a need, and stepped up to offer a helping hand to show the students of the Boys & Girls club that they care. More ...
LENA SESSOMS
RED OAK NEWS
Perry and Maxine Bobbitt from Littleton visited with Madgie Macklin and Dorothy Pearce last week.
Continue to contribute to the GA Christmas Post Office. Mail your Christmas cards now for 25 cents each for church members. All money collected will go to the Lottie Moon Christmas Offering for Internantional Missions. More ...
SUZY PEARCE
Word for the week
Zaccheus was rich. He took a cut of the taxes he collected on behalf of Rome. As a chief tax collector, he was atop the pyramid. Local Jericho residents despised this little fellow.
When Jesus passed through town, Zaccheus scrambled up a sycamore tree to see Him.
More ...
DENNIS PRUTOW
PEACHTREE COMMUNITY NEWS
The theme for this second Sunday of Advent was "Peace." The candle of peace was lit by Robert Sykes. He and his wife, Amy, led in the scripture reading from Mark 1:2-3. Pastor Whitehouse chose as his sermon topic, "God's Design of Love." He based it on John 3:16. God was there in the beginning. He still loves this sin-sick world. More ...
BARBARA HARDISON
DICTIONARY DONATION
The Coopers Ruritan Club recently donated a dictionary to every third grade student at Coopers Elementary School. More ...

Nash County Animal Hospital raises money for local SPCA
Nash County Animal Hospital wants animal lovers to remember their four-legged friends this holiday season and raise money for a local animal rescue in the process.
The hospital is spearheading a fundraiser that will benefit the SPCA Alliance of Nash County.
Dr. Pam Childress said the fundraiser will allow pet owners to purchase lights for a Christmas tree at the Nashville location. More ...
Amanda Clark, Graphic Staff Writer
COAT DRIVE
The Layman's League of Union Hill Missionary Baptist Church in Nashville recently adopted Williford Elementary School for a coat drive. Members collected around 100 coats for youth at the school. The group will also begin another collection drive for clothes. More ...

NASHVILLE POLICE BRIEFS
ARRESTS
Stancil Van Davenport - 11/22/2011 - charged with operating a vehicle with no insurance
Kenya Anesia Perry - 11/22/2011 - charged with failure to appear for simple worthless check
Phillip John Lynch - 11/23/2011 - charged with failure to appear for driving while license revoked More ...

Nash County Blood Drives for December 2011
Wednesday, December 7 from 9:30 a.m. until 3 p.m. at the Nash County Senior Center in the Multi-Purpose Room
Saturday, December 10 from 11 a.m. until 5 p.m. at Zaxby's on Jeffrey's Road in Rocky Mount
Tuesday, December 13 from 3:30 until 7:30 p.m. at 9914 NC Highway 4, Battleboro More ...

Elf on the Shelf and other traditions
It is always amazing when little ideas – ones that should not work – become huge sensations, offer a valuable service and make their creators incredibly rich.
For example, in the spirit of Christmas, and to kickstart another family tradition (read: strike the fear of Santa into two small boys), we recently added a new house guest: The Elf on the Shelf. More ...
Mike Brantley
Santa, call me if you need an extra sleigh!
What a great weekend I had!
On Saturday, I got to go to Nashville's Christmas Parade and see all the boys and girls and their neatly decorated bikes, wagons and selves. Santa, of course, was there too and he took the time to visit with the kids and hear their Christmas wishes. More ...
Amanda Clark
Backward Glances
This photo was originally published in The Graphic February 23, 1967. Larry Hedgepeth goes high in the air to score two point for Northern Nash in the Northern Nash-Four Oaks game. More ...
A PICTORIAL LOOK INTO THE PAST
Nash County Animal Friends' Notebook
'Tis the night before Christmas and all through the town, every shelter is full - we are lost but not found,
Our numbers are hung on our kennels so bare, we hope every minute that someone will care,
They'll come to adopt us and give us the call," Come here, Max and Sparkie - come fetch your new ball!!
More ...
Carol Vierela, Nash County Animal Friends

AIR BALL. (L to R) Nash County's Jordan Ramirez (left) goes up for an interception attempt as Mebane's Ryan Puckett looks on during last Saturday's SWAC Football Tournament Semifinals at Southern Nash's Firebird Stadium.

NC'S FRENZIED FINISH
STANHOPE -- Mebane needed just 104 seconds to erase two years of frustration against the Nash County Firebirds.
The Eagles, who hail from Alamance County, had been defeated by Nash County in each of the past two Statewide Athletics Committee Football Tournaments -- including last season's heartbreaker, which featured a last-minute drive by the Firebirds. More ...
GEOFF NEVILLE, Graphic Sportswriter

KAILA CLEANS UP. Nash Central High School veteran Kaila Billups enjoyed a strong day in the pool last Wednesday afternoon as part of the latest Big East Conference Swim Meet.

Nash Central A Winner Again
ROCKY MOUNT -- Nash Central's girls made it two in a row in Big East Conference swim action during the second league meet of the season, which was staged last Wednesday at the Harrison Family YMCA.
In addition to the six Big East schools, other competitors were Tarboro, Wilson Beddingfield and SouthWest Edgecombe. More ...
GEOFF NEVILLE, Graphic Sportswriter
Northern gets past Bruins
RED OAK -- Northern Nash High School's wrestling squad hosted Wilson Beddingfield last Thursday and earned a 52-30 decision.
Results from the match were as follows: More ...
Staff Reports

READY OR NOT, HERE I COME. Nash Central's Timyra Staton (with ball) drives while being defended by Bunn freshman Tainasha Vines during last Thursday's girls basketball game at the Bunn Dome.

Big Win For Bulldogs
BUNN -- Bunn didn't drop a game until the postseason as part of its storybook girls basketball campaign in 2010-11.
But it took only one outing this winter for the Ladycats to experience defeat as they were toppled last Thursday night at home in the regular season opener. More ...
GEOFF NEVILLE, Graphic Sportswriter

HOLD ON TIGHT. Nash Central's Nathaniel Pittman (right) tries to maintain possession of the ball while being defended by Bunn's Deshawn High during last Thursday night's boys basketball event at the Bunn Dome.

Bunn boys topple foe Nash Central
BUNN -- Bunn is at it again -- taking down taller teams with their rare blend of skill, coaching guile and opportunism.
BHS continued that trend last Thursday during its 2010-11 regular season opener at home against Nash Central. More ...
GEOFF NEVILLE, Graphic Sportswriter
Hot-shooting Marlins defeat Wesleyan
ROCKY MOUNT -- The 5th-ranked Marlins of Virginia Wesleyan shot 53 percent from the floor and knocked down ten three-pointers en route to a 99-76 victory over homestanding North Carolina Wesleyan College in men's basketball action on Sunday afternoon in Everett Gymnasium. More ...
Staff Reports
SNHS Claims JV Crown
STANHOPE -- In Coach Brian Foster's estimation, there were no superstars this season for the Southern Nash High School junior varsity football squad.
And that fact suits Foster just fine.
For the second time in three years, the Firebirds have won the Big East Conference Junior Varsity Football Championship. More ...
GEOFF NEVILLE, Graphic Sportswriter
NCHSAA'S STATE FOOTBALL FINALS
CHAPEL HILL -- Listed are last weekend's results from the championship games of the 2011 North Carolina High School Athletic Association State Football Playoffs: More ...
Staff Reports
Lady Knights top SW
PINETOPS -- Northern Nash's girls basketball team moved to 2-0 on the young season last Tuesday with a 50-30 road victory over SouthWestEdgecombe.
The Lady Knights raced out to a 12-6 lead after the first period in the Lady Cougars' season opener. A 15-6 output by Northern has the Lady Knights up 27-12 at the half. More ...
CHARLES ALSTON, Graphic Correspondent
Avent likes potential of Pack's signees
RALEIGH -- North Carolina State University baseball coach Elliott Avent has announced the signing of 15 players to national letters of intent during the November 2011 signing period.
Avent is a Nash County native who grew up in Aventon and graduated from Northern Nash High School.
Avent and assistant coaches Tom Holliday and Chris Hart looked to follow up last year's nationally ranked recruiting class by seeking both immediate help and long-term depth with this year's signees. More ...
Staff Reports
Will CH join Big East?
NASH COUNTY -- Judging by the North Carolina High School Athletic Association's latest findings, the Class 3-A Big East Conference will be around in its current at least through 2017.
That's what the league member schools want -- and those plans should be finalized next spring by the NCHSAA. More ...
GEOFF NEVILLE, Times Sportswriter
Eagles post strong pool finish
HENDERSON -- Rocky Mount Academy's swim team traveled to the Aycock Recreation Center in Vance County last Tuesday for the second meet of the 2011-12 season.
The Lady Eagles took first place in the team standings, while the Eagles claimed the No. 3 position.
The girls victory was the first in school history for a multi-squad event in Henderson. More ...
Staff Reports
DECISIVE SCORE
Mebane's Jake Christman runs into the end zone for the game-winning 2-point conversion as part of last Saturday's victory over Nash County in the SWAC Football Tournament Semifinals. More ...

ALVIN WAYNE BATCHELOR
Alvin Wayne Batchelor Sr., 65, of Nashville, NC passed away on Monday afternoon, December 5, 2011. Wayne was born in Nashville, NC to the late W.T. and Eunice Batchelor. More ...

NICHOLAS BUNN BODDIE JR.
Nick Boddie, 84, passed away December 2, 2011. He was born July 8, 1927 in Nash County son of the late Nicholas Bunn Boddie, Sr. and Lucy Mayo Boddie. More ...

CHRISTINE HICKS BRIDGES
ROCKY MOUNT- Christine Hicks Bridges, 84, died November 21, 2011. Funeral services were held Saturday, December 3, 2011 at Ebenezer Baptist Church at 12 p.m. with the Rev. Thomas L. Walker officiating. Burial was at Walter Williams Cemetery.
More ...

GLORY ANN BROWN
Glory Ann Brown, age 49 passed away on December 2, 2011 at her home in Elm City. She was born May 16, 1962 in Nash County, North Carolina. More ...

EDGAR LYNN JEFFREYS
Edgar Lynn Jeffreys, age 57, passed away Wednesday, November 30, 2011. He was born in Nash County on February 17, 1954. More ...

JOYCE ANNETTE PARKER LEWIS
Joyce Annette Parker Lewis, age 68, passed away on Tuesday, November 29, 2011. Born in Whitakers on May 23, 1943, she is the daughter of the late Willie "Billy" Smith Parker and Margaret Phelps Parker. More ...

JAMES "DICK" EVANS
ROCKY MOUNT- Funeral services for James "Dick" Evans, 81, who died Wednesday, Nov. 30, 2011 were Tuesday, Dec. 6 at 12 noon at Church on the Rise. Burial followed at Gardens of Gethsemane with Rev. Howard Kendrick officiating. More ...

LETTIE MAE HARRIS PATE
ELM CITY – Lettie Mae Harris Pate, 84, of Elm City, died on Wednesday, November 30, 2011, at Wilson Medical Center in Wilson. More ...

LEROY FITZHUGH WIGGINS
ROCKY MOUNT - Leroy Fitzhugh Wiggins, 77, died November 30, 2011. The funeral was Sunday, December 4, at 1:30 pm at Saint James Missionary Baptist Church. The Viewing was held on Saturday, December 3 from 3-7 pm at Stokes Mortuary. More ...

RANDALL HOYT COGGIN
Randall Hoyt Coggin, 57, passed away, Friday December 2, 2011. He was born August 18, 1954 in Nash County. He was the son of the late Henry Clegg Coggin Sr. and Inez Windley Coggin. Hoyt was a member of Corinth Baptist Church. More ...