Subscribe/Access
Advertisements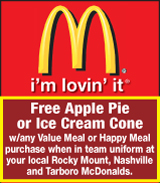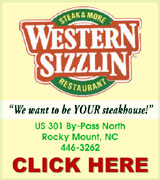 Sections
Member Options
Back
Area mourns loss of Register of Deeds
There's a void at the Nash County Register of Deeds Office.
Barbara Sasser, who had served as Nash County's Register of Deeds for 19 years, passed away last Tuesday after battling cancer. She was 74.
Sasser, of Nashville, had served as the Register of Deeds since 1992 but had worked in the Register of Deeds office since 1974. More ...
Amanda Clark, Graphic Staff Writer
Paving to start in downtown Nashville
The final step to Nashville's Downtown Redevelopment Project will begin next week, as paving of Washington Street is set to begin.
The North Carolina Department of Transportation (NCDOT) will start its road resurfacing of Washington Street the week of October 3. As a result, those traveling through Nashville may face delays, as lanes will be closed for the repaving. More ...


PRINCIPAL OF THE YEAR – Michael "Chip" Hodges (at left), Principal at Northern Nash High School is presented the Principal of the Year Award by Nash-Rocky Mount Public Schools Superintendent Dr. Anthony Jackson (at right).

Chip Hodges named Principal of the Year
Educators from Nash-Rocky Mount Public Schools (NRMPS) were encouraged, inspired and applauded last Tuesday night during the Annual Teacher and Principal of the Year Awards Celebration.
Northern Nash High School Principal Michael "Chip" Hodges was named the NRMPS Principal of the Year during the celebrations. In addition, Parker Middle School teacher Marie Mullens was named the 2011-2012 Nash-Rocky Mount Public Schools Teacher of the Year. More ...
Amanda Clark, Graphic Staff Writer

Pictured above, Castalia residents walked through town on Saturday morning as part of a walking audit, which is required for grants the town hopes to receive to build a new park.

Castalia holds walking audit of proposed park
Castalia residents braved the rainy weather on Saturday morning to participate in a mile-long trek around town.
The "walking audit" was a requirement for participation in one of two grants the town plans to apply for.
The town is hoping to make the January 2012 deadline to apply for a Parks and Recreation Trust Fund (PARTF) grant which, if received, will help fund construction of a new park in Castalia. More ...
Amanda Clark, Graphic Staff Writer
Busy season planned for Nash Arts
Nash Arts is gearing up for its busy season, with back to back events from now through the holidays.
Shelly Gray, Nash Arts Director, said the start of Fall typically means the start of a busy time for Nash Arts.
"We're usually, from this time through December, pretty busy," Gray said. "It's just nonstop from now until December." More ...
Amanda Clark, Graphic Staff Writer
Bardin named to Hall of Fame
Rosalie Bardin was recently recognized as one of the newest members of the North Carolina High School Athletic Association's (NCHSAA) Hall of Fame.
Bardin was one of eight recognized on Saturday, September 10 by the University of North Carolina at Kenan Stadium during halftime of the UNC-Rutgers football game. Bardin will be formally inducted into the Hall of Fame next spring during the annual banquet and induction ceremonies in Chapel Hill. More ...
Amanda Clark, Graphic Staff Writer
Senior Center patron turns 103
Francis McCullough had no idea when he walked into the Nash County Senior Center on Monday, September 12 for his usual visit that he'd end up eating cake and celebrating his 103rd birthday.
But that's what happened.
Members of the Nash County Senior Center surprised McCullough with a party to celebrate his birthday, which was on September 11. And McCullough said he was definitely surprised. More ...
Amanda Clark, Graphic Staff Writer
NASHVILLE POLICE BRIEFS
ARRESTS
Brett Donohue Alston - 9/20/11 - charged with larceny of motor fuel
Ricky R. Robinson - 9/22/11 - charged with failure to appear for driving while license revoked
Loretta Lewis Graham - 9/23/11 - charged with simple assault and resisting a public officer More ...

Nashville man wins big in NC lottery
After last Tuesday's Mega Millions drawing, Nash County has another big winner. Ray Charles Lassiter, a maintenance technician from Nashville, won $250,000 playing numbers based on his and his family members' ages. Earlier this year, Mega Millions wins of $1 million and $250,000 went to Rocky Mount players who also bought their tickets in Nash County. More ...


Three-year-old Cameryn Outerbridge plays the tamborine during a parade on the playground of Joyland Preschool and Daycare Friday morning.

Local daycare, B&G Club celebrates Day of Play
Youth organizations around Nash County took part in Worldwide Day of Play, which was officially held on Saturday, September 24. Joyland Preschool and Daycare, just outside of Nashville, and Nashville's Boys and Girls Club celebrated the day on Friday, September 23.
Worldwide Day of Play is an annual event that encourages youth to turn off the television and play, especially outdoors. It encourages healthy activity and eating in youth of all ages. More ...

Nash County Health Department offers flu shots
Health officials with Nash County Health Department are planning to provide community flu and pneumonia vaccination clinics starting Oct. 4 at various sites within Nash County.
Residents will have an opportunity to get a vaccination from drive-thru clinics or walk-in clinics without an appointment. All drive-thru clinics will be 4-7 p.m. Sites are: More ...

NNHS Class of 1969 holds 42nd reunion
Northern Nash High School Class of 1969 held its 42nd year Class Reunion on September 10, 2011 in the Brown Auditorium at the Nash Community College. The Reunion was attended by one hundred fifty-six people: Seventy members of the Class of 1969, 8 faculty members, and seventy-eight guests. Six classmates traveled from out of state to attend the Reunion. More ...

Nash County Blood Drives for October 2011
Saturday, October 1 from 10 a.m. until 2 p.m. at Thorne's Chapel Baptist Church, 1624 Windsor Drive, Rocky Mount
Monday, October 3 from 3 until 7 p.m. at First Baptist Church, 200 South Church Street, Rocky Mount
Tuesday, October 4 from 8 a.m. until 5 p.m. at Hospira, Highway 301, Rocky Mount More ...

Battle, Brinkley wed
Jennifer Battle and Willenn Brinkley were married August 20, 2011 at Word Tabernacle Church in Rocky Mount. The officiating minister for the 2 p.m. ceremony was Pastor James Gailliard, Sr.
The bride is the daughter of Margaret and George Battle of Franklinton. More ...

BIRTH ANNOUNCEMENT
David and Mindy Aloisio of Nashville announce the birth of a daughter, Asher Grace Aloisio, born Sept. 16, 2011 at Pitt County Memorial Hospital in Greenville. She weighed 7 pounds, 8 ounces and was 19 inches long. Maternal grandparents are Paul and Darlene Bergenn of Nashville. More ...

ENGAGED
Bill and Judy Freeman of Castalia are pleased to announce the engagement of their daughter, Maggie Lee Freeman to Jeremy Travis Lamm Barnes, the son of Jayne Brantley Barnes of Farmville and the late Joseph Douglas Lamm of Momeyer. The bride's grandparents are Mrs. Ruby Tunnell of Nashville and the late Bill Tunnell, and Mrs. Rachel Lynn Freeman and the late Drake Freeman of Castalia. More ...

Local heroes ride on two wheels
Contributed – More than 100 bicyclists will depart the Imperial Centre in downtown Rocky Mount Saturday morning, Oct. 8, for a non-competitive ride through Rocky Mount and Nash County. In addition to a pleasant ride through the countryside on an autumn morning, cyclists will get the satisfaction of knowing their pedaling will support the disaster relief efforts of the American Red Cross. More ...

Blood drive
Coopers Elementary held its first blood drive in several years on Wednesday, September 21st. The Red Cross came out and set up cots and stations in the Media Center. Staff, parents and community members all came out to donate. Almost 60 units of blood were donated. Coopers' principal Mr. Larry Catalano and staff would like to thank all those that donated and gave the gift of life. More ...

Lamm family meet for reunion
Approximately 60 heirs of Wiley and Fannie Lamm gathered at the Fellowship Hall of Ephesus Baptist Church on Saturday for a luncheon and reunion. There are no living children. Currently, there are 12 grandchildren living.
Judy Lamm Murray and Fannie Rae Lamm Wilder, grandchildren, hosted the event for the heirs. More ...

Red Oak Community Club
Members of the Red Oak Community Club were recently treated by David Griffin and Judy Sherrod to a barbecue chicken and beef lunch at the Griffin Farm in the Salem Community. After lunch, Mr. Griffin took the ladies, the oldest of whom was Mrs. Ruth Moore, 92, on a hayride around his pastures. More ...

RED OAK NEWS
The GA's and RA's will have their kick-off party at 6:30 PM on Wednesday, Sept. 28 emphasizing the year's theme, "Game On!".
The Prayer Touch Ministry (PTM) is a new ministry beginning on Wednesday morning. There will be a special time of prayer for college students, youth, and children each Wednesday morning at 10:00 AM - 11:00 AM in the Red Oak Baptist Church fellowship hall. More ...
SUZY PEARCE
MOUNT ZION FWB CHURCH NEWS
Today was Homecoming at Mt. Zion. A day we look forward to every year. We had 95 in Sunday school including two visitors. Welcome to everyone. Betsy Coppedge taught my Sunday school class lesson. We enjoyed a lesson from Proverbs on using wisdom in everyday life and in personal relationships. Robert Tyner was acting superintendent in the absence of Bob Watkins. More ...
ROSALENE BASS
PEACHTREE COMMUNITY NEWS
Peachtree folks gathered on Sunday morning to celebrate 202 years of serving the Lord on the same site. It was a wonderful day as people came to worship; to remember those who have passed on; to renew acquaintances; to share a bountiful meal. Pastor Whitehouse read letters of greeting from several former pastors. More ...
BARBARA HARDISON
BEULAH COMMUNITY NEWS
We had a good attendance at Beulah on Sunday. There were several visitors and we pray we will see them regular. Sunday school began at 9:45 followed by church services at 11:00. Beginning next Sunday, the first Sunday in October, church services will begin at 10:45. Sunday school will still begin at 9:45. More ...
WILMA ENROUGHTY
Vacation time can provide "those" moments
The wiry little orange-haired kid – don't say it is red – ran and stood in the misting area, with another group of kids, but really all by himself.
When he was sure no one was watching, or either he didn't care who was watching, he closed his eyes and reached out his arms, turning his face upward in anticipation. More ...
Mike Brantley
Little Corbin proves to have a healthy appetite
I am about to embark on a new journey with my four-month old.
About a week ago, Corbin began drinking a lot more formula than usual. He had just turned four months old and we had hoped to wait another month, at least, before we started giving him anything other than formula. But Allen and I are quickly learning that we don't really have a say in when our child does what. More ...
Amanda Clark
Area representatives address citizens
We want to thank the overflow crowd of almost two hundred area citizens from Nash, Edgecombe, Wilson, Halifax and Franklin counties who came out on Monday, Sept. 19, to attend the "NC Forward" Luncheon and share their passion for moving our state forward with NC Democratic legislators. More ...
Letters to the Editor:
Backward Glances
AWARDS – This photo was originally published in The Nashville Graphic December 14, 1972. Certificates of achievement and cash awards were made to four communities in the Large Rural Community Division of the Nash County Community Development Program. More ...
A PICTORIAL LOOK INTO THE PAST
Nash County Animal Friends' Notebook
Do you love puppies? We do also. Do you like designer dogs? Don't know what that is? That is when someone lets two types of purebred dogs produce babies, and then puts a fancy name on it. Two purebred dogs producing mutts. Many sell these crossbred dogs as if they were purebred or something special. Mutts for which they charge you a good price for them. For every designer dog sold, one dies in a Shelter. More ...
Carol Vierela, Nash County Animal Friends

THAT'S A WRAP. Nashville Hornets defender Stephen Tucker (right) brings down a Wilson-SPOT rusher during last Saturday's Eastern North Carolina Football League matchup at The Hornets Nest at Glover Park.

TWO OUT OF THREE
NASHVILLE -- Nashville's quest to improve to 2-1 on the season came down to the final play of last Saturday's showdown against Eastern North Carolina Football League showdown.
With time about to expire, Nashville quarterback Raymond Bulluck found Montre Cash in the end zone for a 6-yard touchdown with only six seconds left in the contest. More ...
GEOFF NEVILLE, Graphic Sportswriter

TACKLE BREAKER. Nashville Hornets running back Derrick Macklin sheds a Wilson-SPOT tackle attempt during last Saturday morning's Rookie Game, which was staged at picturesque Glover Park in Nashville Scores are not kept for this level.

Hornets Building For Future
NASHVILLE -- Scoring isn't kept for the Rookie Team Level of the Eastern North Carolina Football League.
And for good reason.
"When you've got kids 6-8 years old, the last thing you should be concerned about is winning a game,'' said Timmy Tucker, who serves as the head coach for the Nashville Hornets' Rookie Team. More ...
GEOFF NEVILLE, Graphic Sportswriter
SN girls win first matchup
STANHOPE -- The Southern Nash Ladybirds earned their first volleyball victory of the season last Thursday as they rallied to defeat Big East Conference rival Wilson Fike.
Southern trailed two games to one but was eventually able to come back for a 25-23, 16-25, 16-25, 25-16, 15-12 decision over the Lady Golden Demons. More ...
Staff Reports
HIGH SCHOOL GRID SCORES
NASH COUNTY -- Listed are scores from Week Five of the North Carolina High School Athletic Association's Football Season: More ...
Staff Reports
Wesleyan suffers loss at LaGrange
LaGRANGE, GA. -- In Saturday afternoon football action last week, the Battling Bishops of North Carolina Wesleyan dropped a 24-17 contest on the road at LaGrange College.
The Panthers benefited from a late interception that eventually led to the game-winning score and evened LC's record at 2-2 on the season. More ...
Staff Reports

SUPER SEVEN. Northern Nash's Deaquavais Mann gains yardage for the Knights during their non-conference, road football matchup Monday night against Tarboro.

Tarboro Edges NNHS
TARBORO -- On its final offensive play of the evening, Northern Nash had its fate in its hands Monday in its twice rescheduled matchup with two-time defending 2-A state champion Tarboro at Viking Stadium.
With the Knights facing a fourth-and-goal situation from the Tarboro 8-yard line with 38.7 seconds remaining and down 12-7, they opted to run a sweep to the right with senior Darius Perry carrying the ball. More ...
CHARLES ALSTON, Graphic Correspondent / Submitted photos by David Hahula
Nash County comes up huge at home
STANHOPE -- Last Saturday, the Nash County Rookie Firebirds hosted the Wilson Boys and Girls Club Panthers looking to play well in poor conditions.
It was another wet morning at Southern Nash's Firebird Stadium and both teams had trouble holding on to the ball.
More ...
Staff Reports
NCMS claims a pair
NASHVILLE -- Despite the wet weather and time out of school and no preseason jamboree the Nash Central Middle Trojans started the season with two impressive football victories over the South Edgecombe Dragons and the Elm City Trojans.
The Trojans got the 2011 schedule started at home with a 44-6 romp of the Dragons. More ...
Staff Reports
A TRUE LEGEND IS BACK IN ACTION
Long-time scoreboard operator Joey Rabil has returned for another season with the Nashville Hornets youth football program. Joey splits his Saturdays between working for the Hornets and cheering on the East Carolina grid squad. More ...

HERE THEY COME
Members of the Nashville Hornets' varsity team race to the field before the start of last Saturday's game against Wilson-SPOT at The Hornets Nest. More ...

JOHN DREW STANLEY
John Drew Stanley, 16, passed away Saturday, September 24, 2011. He was born February 26, 1995 in Wake County, son of William Drew and Teri Leggett Stanley. More ...
1 opinion posted
ANNIE LEE DANIEL ALSTON
SHARPSBURG – Annie Lee Daniel Alston, 92, of Sharpsburg, passed away on Thursday, September 15, 2011, at Nash General Hospital in Rocky Mount. More ...

SHIRLEY JEAN BYNUM
ROCKY MOUNT – Shirley Jean Bynum, 73, of Rocky Mount, died on Friday, September 16, 2011, at Wilson Medical Center in Wilson. More ...

MARGIE SNIPES RICE
Margie Snipes Rice, 87, passed away on Friday, September 23, 2011. She was born September 24, 1923 in Wilson County. More ...

JETTA "MAE" DORSEY
Jetta "Mae" Dorsey, 91, passed away on September 22, 2011. She was born in Nash County on November 8, 1919, to the late Charlie Grey and Tempie Moss Dorsey. In addition to her parents, she was preceded in death by her brothers, Pell and Horace Dorsey; father of her children, Sidney Ross Langley; son, Charles Sidney Langley; two grandsons, Charles Brent Langley and Christopher Scott Langley, and one granddaughter, Melissa Jo Wise. More ...

LOIS DAVIS CALE
Lois Davis Cale, 63, passed away Saturday, September 24, 2011. She was born in Edgecombe County on November 28, 1947 to the late James Wilbur and Helen Goodson Davis. In addition to her parents, she was preceded in death by an infant son, Joseph Alton Whitley; and brother, James Mason Davis. More ...

PATRICIA LYNNE BARBOUR NEWSOME
Patricia Lynne Barbour Newsome, 65, passed away Friday, September 23, 2011. She was born March 17, 1946 in Johnston County daughter of the late Milford Lee and Irene Harrell Lewis. More ...

CORNEATA COOPER
NASHVILLE - Funeral services for Corneata Cooper, 77, who died Friday, Sept. 16, 2011, were Thursday, Sept. 22 at 11 a.m. at Ebenezer Baptist Church with Dr. Thomas L. Walker officiating. Burial followed in Rocky Mount Memorial Park. More ...

HORTENSE "TENSIE" LEONARD
ROCKY MOUNT- Funeral services for Hortense "Tensie" Leonard, 85, who died Thursday, Sept. 22, 2011, were Monday, Sept. 26 at 1 p.m. at Union Hill Baptist Church with Rev. Douglas W. Leonard officiating. Burial followed at Union Hill church cemetery. More ...

IRMA M. GRIFFIN
RED OAK – Irma M. Griffin, age 85, passed away on Monday, September 26, 2011. A native of Nash County, she was the daughter of the late William Seth Mincher and Ethel Smith Mincher. More ...

WILLIAM REID
ROCKY MOUNT - William Reid, 88, died September 18, 2011. Funeral services were Saturday at Ebenezer Baptist Church, 1 p.m. Rev. Thomas L. Walker officiating. Burial was at Northeastern Cemetery. Arrangements by Stokes Mortuary.
More ...

JOYCE ANNE DAVIS
ROCKY MOUNT – Joyce Anne Davis, 51, of Rocky Mount, North Carolina, died on Thursday, September 22, 2011, at Wake Medical Center in Raleigh. More ...

RUTHER R. SCOTT
Ruther R. Scott, 93, of Rocky Mount passed away on Saturday, September 24, 2011. A funeral will be held at 1 p.m. Saturday, October 1, 2011 at the Rock Hill Baptist Church, Nashville. Burial will be at Oakland Cemetery. The wake will be from 7-8 p.m. Friday, September 30, at William Toney's Funeral Home in Spring Hope. More ...