Subscribe/Access
Advertisements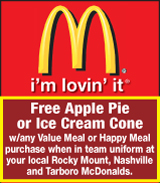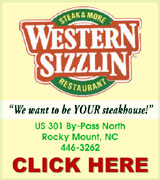 Sections
Member Options
Back
Local non-profits may lose tax exempt status
A local organization is trying to get the word out about a law that could revoke the tax-exempt status for several Nash County non-profit organizations.
The Internal Revenue Service reports that around 275,000 organizations under the law have automatically lost their tax-exempt status because they did not file legally required annual reports for three consecutive years. More ...
Amanda Clark, Graphic Staff Writer
School Board mulls fate of high school building
Nash-Rocky Mount School Superintendent Anthony Jackson is urging school board members to begin action to decide the fate of the old Rocky Mount High School Building as the new facilities near completion. During a school board work session on Monday, Jackson suggested the formation of a committee to explore the options and report back to the school board. More ...
Amelia Harper, Graphic Correspondent

VANHOOK IS HONORED – Wallace Darling (at right), Captain of the VFW Honor Guard, accepts a flag from Carolyn VanHook (at left), wife of Billy VanHook, who was honored on Monday during a flag-raising ceremony.

Billy VanHook honored at Jack Laughery Park
A flag-raising ceremony was held on Monday morning in honor of PFC Billy Marshall VanHook, who served in the United States Army during World War II.
VanHook was a lifelong Nashville resident who entered the United States Army on April 15, 1943. VanHook received training as a C2 operator and served as a mechanic who disassembled fighter planes after they were shot down. More ...
Amanda Clark, Graphic Staff Writer
Nash County Home Health moving day is next week
The Nash County Home Health Agency will be relocating to its new office space in Nashville at the end of next week.
Assistant County Manager Wayne Moore said renovations on the buildings in Downtown Nashville on Washington Street are wrapping up and plans are to start moving in next week. More ...
Amanda Clark, Graphic Staff Writer
Spring Hope woman pens book
After a little encouragement from a friend, Beverly S. Harless decided to write her own book.
Harless, of Spring Hope, recently released her first Christian fiction book, "One Night of Regrets: A Story of Restoration and Grace." The book is the first in a three or four-part series. More ...
Amanda Clark, Graphic Staff Writer
Disaster Recovery Center open this week in Nashville
A short-term disaster recovery center will open in Nashville at noon Tuesday, September 20, to help survivors with property damage and other setbacks from Hurricane Irene.
Hours for the Nash County center are 8 a.m. to 7 p.m. It will permanently close Friday, September 23, at 7 p.m. More ...

NASHVILLE POLICE BRIEFS
ARRESTS
Rajneesh Yaphet Stevens - 9/11/11 - charged with failure to appear for possession of drug paraphernalia, driving while license revoked and possession of marijuana and possession of drug paraphernalia More ...

CONSTITUTION DAY
Students at Nashville Elementary School celebrated Constitution Day on Friday, September 16 with a special program in the gym. Constitution Day commemorates the formation and signing of the U.S. Constitution on September 17, 1787. More ...


RIDING FOR THE KIDS – Danny Fowler rides with Hometown Heroes on the Annual Road Tour which came through Nashville on Monday.

Hometown Heroes Annual Road Tour visits Nashville
Nashville caught a quick glimpse of some true heroes Monday.
The Annual Road Tour charity ride supporting Hometown Heroes stopped in Nashville for lunch Monday while making its way back to Mecklenburg County. Approximately 50 bikers drove into town, all of whom had been riding since Friday to raise money to assist families with kids who have terminal illnesses or have debilitating injuries due to tragic accidents. The group started its round trip from Matthews, N.C. More ...
Jo Anne Cooper, Graphic Publisher
Nashville residents receive weatherization services
Over 200 Nash County residents have submitted applications to the Martin Community Action Weatherization Assistance Program.
The figures were provided by Lois Watkins to Nashville Council Members at their regular meeting on September 6. More ...
Amanda Clark, Graphic Staff Writer

Wendy Surles and Rylee Crocker (L-R) dance with Smokey the Bear on Sunday at the Spring Hope Fireman's Day. The two girls met for the first time at the Fireman's Day and began instant friends.

Spring Hope hosts Fireman's Day event
Spring Hope Fireman's Day was held on Sunday, September 18 from 2 until 5 p.m. in Downtown Spring Hope. The event was rescheduled from August 13 due to heavy rains.
Activities included entertainment by the East Coast Rhythm and Blues Band as well as games, exhibits, fire fighter competitions and food. Smokey the Bear was also on hand to talk to kids about fire safety. More ...
Graphic photos by Amanda Clark
NRMPS welcomes 47 new teachers for 2011-2012 year
Nash-Rocky Mount Public School System recently welcomed 47 beginning teachers as they launched their careers in education with NRMPS. The new educators recently spent 3 ½ days engaged in meaningful activities to ease their transition into teaching in Nash-Rocky Mount Schools.
More ...


Shane O'Malley competed in the Junior District Show in June, taking home first place in Showmanship in her age division. (Contributed photo)

Locals compete in dairy shows
Cedar Isle Dairy, of Nashville, has competed in five dairy shows this summer.
In June, Cole Strickland and Lindsey Melvin competed in Raleigh at the North Carolina Black and White Show. Four heifers started out the year in the show string, "Adler, "Azland," "Pie," and "Erin." All four finished near the top of the line-up. More ...

Braswell, Anderson unite in marriage
Mary Scott Braswell and Douglas Allen Anderson were married at 4:30 p.m. on September 10, 2011 at Nashville United Methodist Church.
Reverend Ralph A. Brown performed the ceremony. More ...

CONTRIBUTION
Junior Volunteers at Nash Health Care recently gave a $3,000 donation to the Nash Health Care Foundation to go toward the establishment of a Pediatric Emergency Care Center. More than 40 area students spent their summer volunteering for Nash Health Care as a part of the organization's Junior Volunteer Program. More ...

KIWANIANS HEAR ABOUT TRAVEL AND TOURISM
Leonard Veillette, left, and Martha Lamm, center, of Nash County Visitors Bureau presented a program on local travel and tourism to the Kiwanis Club on Thursday, September 15. They were introduced by the program chair, Kiwanian Chris Miller, right. More ...

Approved
A resolution proclaiming September 2011 as Tar River Reads month has been approved by the Nashville Town Council. Pictured above are Mayor Street, Alana Fisher, Trey Boone (age 3) and his mother Stephanie Boone. Tar River Reads, a community wide reading event, will be observed during September by encouraging as many people as possible to read "A Lesson Before Dying" by Ernest Gaines. Harold D. Cooley Library has supplied the Town of Nashville book clubs with copies so they may enjoy and discuss. Extra copies will be available to community members for checkout, as well as a copy of the DVD featuring Don Cheadle, Cicely Tyson and Mekhi Phifer. The theatre production will be at the new Booker T. Theatre in downtown Rocky Mount September 23, 24 and 25. A lecture/discussion led by Professor Vivienne Anderson will be held at Braswell Memorial Library September 27. (Contributed photo) More ...

United Way traveling exhibit to feature My Sister's House
United Way's Community Campaign launched on September 8th at The Rocky Mount Train Station. This year's campaign celebrates 60 years of positively impacting lives in the Twin County Region. The campaign is dedicated to the late Frederick E. Turnage former Rocky Mount Mayor. The announcement of the fundraising goal of $1.26 million and the display of the Snapshots of Success was also included in the event.
More ...

Work begins on Winstead Avenue widening project
Construction is now underway on a N.C. Department of Transportation project to widen Winstead Avenue in Rocky Mount from south of Hunter Hill Road to Sunset Avenue. Westbound traffic on Winstead Avenue has been shifted onto the eastbound lanes in a two-lane, two-way pattern between Sunset Avenue and Curtis Ellis Drive. More ...

Local Partnership director selected for statewide leadership group
The Down East Partnership for Children's Executive Director Henrietta Zalkind was selected to join a group of 12 leaders from across the state to participate in a statewide early childhood leadership program.
The Smart Start Leaders' Collaborative is a new initiative funded by the Blue Cross and Blue Shield of North Carolina Foundation and the W. K. Kellogg Foundation. More ...

Eaton Corporation tours Nash Community College
Nash Community College hosted Eaton Corporation for their quarterly planning meeting on August 11th and 12th. During the visit, Eaton employees toured the Computer-Integrated Machining Technology, Robotics, Electrical Electronics and Industrial Systems Maintenance departments. More ...

PEACHTREE COMMUNITY NEWS
On Sunday morning it was a privilege to have Richard Brunson bring the morning message. He is the Executive Director of NC Baptist Men and he spoke of their work. The scripture passage that he chose to use was John 6:1-14. His talk showed that God can take ordinary things and do extraordinary things with them, when they are given to Him.
More ...
BARBARA HARDISON
BEULAH COMMUNITY NEWS
On Sunday morning at Beulah Church of Christ we had a special speaker. Mr. Loren Lung gave us a talk on the Open Door Christian Ministries, located in Creswell. They minister to children, and their families who need assistance in their daily lives. More ...
WILMA ENROUGHTY
RED OAK NEWS
The NRBA WMU Missions Involvement orgnized and presented 2 WorldCrafts parties on Saturday, Sept. 17. The 1st party was held at Quankie Baptist Church at 10:00 AM and the 2nd was held at Momeyer Baptist Church at 2:00 PM. Mary Ann Howell, Missions Involvement Consultant, organized the events with the assistance of Barbara Jo Batchelor who provided the food and beverage, and Audrey and Suzy Pearce who presented the program. More ...
SUZY PEARCE
Word for the week
The convicted couple threw themselves on the mercy of the court. "We understand our crimes. We promise the court we will reform. No more car-jacking and no more convenience store robberies." The judge takes pity. "Thirty days and five hundred dollars." It's short time and a small fine. More ...
DENNIS PRUTOW

Taylor Joyner and Brittany Wind

Nash 4-H'ers honored at 4-H Congress
Two Nash County 4-H'ers received one of the highest honors a 4-H'er can achieve, while two other county 4-H'ers were named winners during the annual 4-H Congress in Raleigh.
Congress is the high point of the 4-H year, bringing young people from across the state to the North Carolina State University campus and Raleigh for four days of activity. This year's congress was July 18-21. More ...

Donation
The Nash Health Care Volunteer Auxiliary recently donated stuffed animals to the Emergency Care Center at Nash General Hospital. These toys will be used to help comfort children who have arrived in the Emergency Care Center as the result of a traumatic event. More ...

Thanks
Nash Community College President Bill Carver (left) and NCC Foundation Executive Director Pat Daniels (right) thank Sales Consultant Graham Nelson of Davenport Auto for his support of the 22nd Annual Nash Community College Foundation Student Scholarship Golf Classic. More ...

I believe they called it "Puppy Love"
There are two puppies sleeping in a box in my living room.
Two, really cute little puppies.
I have no idea how they got there.
Yes, it is true that I saw an ad on a local website for these puppies. It is also true that I sent an email and made a phone call to the puppy's owners. It is true that I showed the posted photos to my wife and kids. More ...
Mike Brantley
Flag raising ceremonies are wonderful tributes to our heroes
If you've never been to one of the flag-raising ceremonies at the Veterans Memorial at Jack Laughery Park, then you are definitely missing out.
Since the Joint Veterans Committee began hosting the special ceremonies, which honor a deceased veteran, I've had the pleasure of attending many of the flag-raising ceremonies. More ...
Amanda Clark
Open letter to county commissioners:
Dear Commissioners,
Please tell me that the Graphic is making this up! After reading of the company that wanted to expand its product line, I was completely flabbergasted that our county planning board would deny this request. And, the commission would support their wrongheadedness. More ...
Letters to the Editor:
Backward Glances
SOFTBALL CHAMPS – This photo was originally published in The Nashville Graphic August 7, 1975. The Little Wolfpack, a Rocky Mount softball team composed of girls from 10-14 years of age, won championship honors in its league with an 8-1 record. More ...

Nash County Animal Friends' Notebook
I was reviewing some documents when I came across the statistics that helped me decide to form Nash County Animal Friends. I thought I would share them with you.
This is a partial list of some NC counties statistics for 2009: More ...
Carol Vierela, Nash County Animal Friends
Feeling The Bern
NEW BERN - Undefeated Nash Central traveled to 4-A power New Bern Friday without its most potent weapon in its lineup - senior Jalen Hendricks. He rolled his ankle in the Bulldogs' win at Hertford County the week before and was unavailable for their first-ever encounter with this second set of Bears.
Without Hendricks, Nash Central couldn't stay on an even keel with this offensive-minded New Bern squad. More ...
CHARLES ALSTON, Graphic Correspondent

FULL EXTENSION. Nash Central's Lizzie Eakin reaches for a forehand during the Lady Bulldogs' home victory Thursday afternoon against Big East Conference rival Wilson Hunt at the NCHS Tennis Courts.

A Perfect Scenario
ROCKY MOUNT -- Nash Central continues to be the talk of the Big East Conference girls tennis circuit -- and for good reason.
The talented and deep Lady Bulldogs have roared through eight opponents so far during the 2011 season -- including four in league action. More ...
GEOFF NEVILLE, Times Sportswriter

A RACE TO THE BALL. (L to R) Bunn's Erik Lopez and Northern Nash's Jeff Roy try to gain possession during last Tuesday's non-conference boys soccer matchup. Host Bunn won the event by a 4-2 score.

NN Picks Up A Win
RED OAK -- Maybe more than any season he has coached, Northern Nash men's soccer skipper Joe McCarthy isn't necessarily looking at just wins and losses to determine the improvement of his inexperienced Knights through the 2011 campaign.
Northern is loaded with young players, meaning the future of the program looks extremely strong. More ...
GEOFF NEVILLE, Graphic Sportswriter
Southern drops two VB events
STANHOPE -- The Southern Nash Ladybirds are still looking for their first volleyball victory of the 2011 season after dropping a pair of Big East Conference matches last week.
Last Tuesday, Wilson Hunt stopped the Ladybirds by a 25-16, 25-23 and 25-17 score.
Southern Nash's statistical leaders for the event were as follows: More ...
Staff Reports
HIGH SCHOOL GRID SCORES
NASH COUNTY -- Listed are last weekend's results from the North Carolina High School Athletic Association football season: More ...
Staff Reports
Northern, Tarboro to play postponed contest
RED OAK - This is traditionally a football bye week for members of the Big East Conference. But Hurricane Irene put a monkey wrench in those plans for one league member - Northern Nash.
Its contest at Tarboro, originally scheduled for Sept. 2, was postponed due to the aftermath of Irene. Luckily, the two schools shared the same open date, Friday, Sept. 23, so the two will meet at 7:30 p.m. at Vikings Stadium. More ...
CHARLES ALSTON, Graphic Correspondent
SIMPLY SMASHING
Nash Central's Randi Price whacks a forehand winner during her singles match as part of last Thursday's home event against Wilson Hunt High School. More ...

KALEY CONQUERS ANOTHER FOE
Nash Central's Kaley Price returns a forehand during her victory at No. 1 Singles last Thursday for the Lady Bulldogs against rival Wilson Hunt High School. More ...

RACE TO THE BALL
Nash Central's Caley Bass tries to catch up to the ball during her singles match vs. Wilson Hunt. More ...

MAMIE WILLIAMS ALSTON
ROCKY MOUNT - Mamie Williams Alston, 96, died September 9, 2011. Funeral services were Thursday, September 15, 2011 at Church of God of Deliverance at 1:00 p.m. Burial was at Gardens of Gethsemane. More ...

LENORA BRADLEY
ROCKY MOUNT - Lenora Bradley, 78, died September 10, 2011. Funeral services were Saturday September 17, 2011 at St. James Baptist Church at 1:00 p.m. Burial was at Gardens of Gethsemane. More ...

LEE S. HYDE
Lee S. Hyde, Sr., 68, passed away on Wednesday, September 14, 2011. He was born August 16, 1943 in Nash County son of the late Harold Franklin and Cora Lee Pridgen Hyde. More ...

RONALD GRAY LEWIS
Ronald Gray Lewis, 65, passed away Wednesday, September 14, 2011. He was born February 8, 1946 in Nash County, North Carolina. He was preceded in death by his parents, Willie and Mittie Lewis; brothers, Yoman and William (Bill) Lewis. More ...

GERALENE ROBBINS HILL
Geralene Robbins Hill, 97, passed away on Thursday, September 15, 2011. She was born in Rocky Mount, Nash County on January 7, 1914 to Elder Lawrence Robbins and Kate Williams Robbins. She was preceded in death by her parents; her husband, Roy Hill and sisters, Alice Hedgepeth, Mary Ruth Burgess, Neries Kermon and twin sister, Angelene Spain. More ...

JOSEPH "JOE" ALLEN RAYNOR
Joseph "Joe" Allen Raynor, age 53, passed away Thursday, September 15, 2011. Born in Nash County on September 29, 1957, he was the son of the late Norman Raynor and Ida Lee Dixon Raynor. More ...

BRITTANY NICOLE GLOVER
Brittany Nicole Glover, age 18, of Rocky Mount, the daughter of Jeff and Robin Glover passed away on September 12, 2011. More ...

CARL C. POLLARD
Carl C. Pollard, 66, passed away on September 15 at home. Carl was the son of the late Alvis (Higgie) and Edna Best Pollard. More ...