Subscribe/Access
Advertisements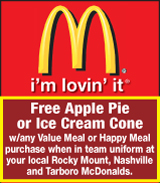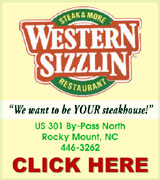 Sections
Member Options
Back
Castalia commissioners talk ethics
Castalia commissioners voted last Tuesday to adopt a formal ethical code of morals and conduct drawn directly from the North Carolina General Statutes found in section 160-86. However, the move caused some commissioners to question the need for the formal adoption of a code that all town commissioners were supposed to have signed when coming into office. More ...
Amelia Harper, Graphic Correspondent
Robbery spurs Birchwood Community Watch program
An armed robbery has prompted citizens of the Birchwood and surrounding communities to form a neighborhood community watch.
An informational meeting was held last Thursday with close to 100 residents of the Birchwood, Woodfield and South Creek Communities attending. More ...
Amanda Clark, Graphic Staff Writer - 1 opinion posted
DEVOTED PHYSICIAN
Nashville's Town Council adopted a resolution of recognition for Dr. Joseph Liverman at their meeting last Tuesday evening. Dr. Liverman has served 55 years as a general practitioner in Nashville and retired on August 31 from Boice Willis. Mayor Donald Street stopped by Liverman's home last Wednesday to present the framed resolution to Dr. Liverman. More ...

Teens robbed at Birchwood tennis courts
Nashville Police are looking for two men involved in an armed robbery at the tennis courts on Birchwood Drive.
According to Lt. Joseph Corbett, of the Nashville Police Department, two teenagers were playing tennis at the tennis courts across from Birchwood Country Club in mid-August when two males approached them with a gun. More ...
Amanda Clark, Graphic Staff Writer
Union Hill Missionary Baptist celebrates 140 years of ministry
Union Hill Missionary Baptist Church celebrated 140 years of ministry this past Sunday with a special service that concluded with a catered homecoming meal.
According to Doris McBride, a member of the church, the church was chartered in 1877 but has been around since 1871, when services started on what is now known as the Johnny Griffin farm. Back then it was known as the Billy Woodard Plantation. More ...
Amanda Clark, Graphic Staff Writer
Spring Hope backs transportation plan
Spring Hope Commissioners approved their portion of Nash County's Comprehensive Transportation Plan and gave endorsement to the entire plan at the regular meeting on Monday night.
The transportation plan was first brought before commissioners during the board's August meeting but commissioners wanted someone from the Upper Coastal Plain Council of Government (UPCOG) to provide more information on the plan. More ...
Amanda Clark, Graphic Staff Writer
Nashville Chamber hosts ribbon cutting for Verizon
Nashville's Chamber of Commerce hosted a ribbon cutting for Verizon Wireless last Wednesday morning at their new location on Nashville Commons Drive.
The business, owned by Cellular Communications, opened in February.
Leah Owen, Store Manager, said Verizon was happy to open a location in Nashville. More ...
Amanda Clark, Graphic Staff Writer
GRAPHIC VISIT
The Nashville Graphic welcomed local homeschoolers to its office last Thursday afternoon. Youth learned about the daily activities of putting a newspaper together and even created their own front page. Pictured on the back row (L-R): Noah Tippett, Kevin Childers, Lindsey Bryant and Haley Ross. On the front row (L-R) is: Madison Bryant, Lauren Bryant, Kaitlyn Ross and Hannah Ross. More ...

Nash County increases funds for legal fight
Nash County Commissioners voted to once again increase the amount of county funds allocated for legal fees as they face a new round of lawsuits concerning zoning issues surrounding a proposed Sanderson Farms poultry plant. At the September 6 County Commissioner's meeting, commissioners went into executive session to discuss legal matters and came back to vote to add another $150,000 to the legal coffers. More ...
Amelia Harper, Graphic Correspondent
Nash Commissioners deny rezoning for Middlesex man
Nash County Commissioners rejected a Middlesex man's request to rezone his property so he could expand his business.
The request came from Danny Ray Peele and Nash 231, LLC to rezone 5.36 acres at 6491 S. NC 231 in Middlesex from R-40 (Single Family Residential) to GI-CU (General Industrial - Conditional Use). More ...
Amanda Clark, Graphic Staff Writer
MILITARY NEWS
Jordan
Civilian Keyana T. Jordan, daughter of Cynthia M. Lilly, of Rocky Mount, and Michael E. Jordan, of Rocky Mount, recently enlisted in the United States Navy under the Delayed Entry Program at Navy Recruiting District, Raleigh.
More ...

Nine local women presented at North Carolina Debutante Ball
Nine local women were among 179 young ladies from across the state presented to society September 9, 2011 at the 85th annual North Carolina Debutante Ball. The ball was part of three days of festivities held from Thursday through Saturday in the capital city by the Terpsichorean Club of Raleigh. The presentation was held at Meymandi Concert Hall. The women were selected by more than 200 nominators from across the state. More ...

60TH ANNIVERSARY
Mr. and Mrs. Paul Gulley Bass of Momeyer celebrated their 60th wedding anniversary September 9, 2011 with family at the Outback Steakhouse in Rocky Mount. They have two children, Paula Sue Rogerson and Frank Bass; one grandchild and one great-grandchild. The couple were married at Momeyer Baptist Church. More ...

West Mount Ruritans step up to help Duke K.I.D.S.
West Mount Ruritans are the primary sponsors of the 2nd annual Duke K.I.D.S. (Kids in Desperate Situations) Captain's Choice Golf Tournament scheduled for Saturday, Oct. 1, at Birchwood Country Club. Last year over $12,000 was raised for Duke Children's Hospital and Health Center. This year the event is being held in honor of Bayden Collins, grandson of Ruritan member Wayne Outlaw and Connor Armstrong, the son of Ruritan member Tommy Armstrong. More ...

PEACHTREE COMMUNITY NEWS
On the tenth anniversary of 9/11, Peachtree folks remembered those events when this nation was attacked by terrorist. Pastor Whitehouse chose as his sermon topic, "Where Was God on 9/11?" His scripture passage was from Matthew 27:46. He traced the history of God's presence with his people throughout history. The choir sang "Let Freedom Ring" under the direction of Pastor. More ...
BARBARA HARDISON
BEULAH COMMUNITY NEWS
The attendance at Beulah Church of Christ on Sunday was good. We have several special events coming up I'd like to tell you about. Please mark your calendar so you will keep these in your mind and hopefully attend. Sept. 18, on Sunday morning service, Mr. Loren Lung with Open Door Christian Ministries will be with us sharing information about the work of the children's home in Creswell. More ...
WILMA ENROUGHTY
NHCS volunteers gear up for 2011 Lights of Love
For the past eight years, the volunteers at Nash Health Care have held an annual "Lights of Love" honor and remembrance ceremony, donating the proceeds from the event toward hospital projects that help the entire community. This year, the Lights of Love proceeds will go toward the new Pediatric Emergency Care Center. More ...

Word for the week
There are no divorces among the class of 1950 at a certain Christian college. Amazing. This must be an example of Romans 12:9. "Let love be without hypocrisy. Abhor what is evil; cling to what is good" (Romans 12:9).
We love without hypocrisy by abhorring what is evil and clinging to what is good.
More ...
DENNIS PRUTOW
RED OAK NEWS
"Connect...Grow...Act!" was the emphasis for the kick-off for Women in Action. The event was held at Red Oak Baptist Church on Thursday, Sept. 1 with a salad supper followed by planning and special speaker, Marilyn Boone, WMU Director. Members and guests attending included Mindy Dennis, Maureen Fletcher, Marion Hawkins, Hazel Hill, Jeanette Hill, Jean Mellor, Audrey Pearce, and Suzy Pearce. More ...
SUZY PEARCE
Weaver is named new Mental Health Director
Mental Health America of the Tar River Region has welcomed a new Executive Director, Mike Weaver.
Weaver is recognized across the state and nation as a leader in helping those who experience mental illness to achieve recovery. He is experienced in managing both child and adult mental health programs.
More ...

CHECK PRESENTATION
The West Mount Ladies Auxiliary presented a check for $6,000 to the West Mount Fire Department recently to purchase a Thermal Imagine Camera. Pictured (L-R) is: Trish Pittman, Patricia Joyner, Jan Howell, Assistant Chief Ronald Cobb, Assistant Chief Buck Pittman and Gladys Winstead. More ...

NASH COUNTY FSA NEWS
Legislative authority for the Supplemental Revenue Assistance Payments (SURE) program ends on Friday, September 30. Producers must meet specific eligibility requirements to receive SURE assistance for disasters that occur on or before September 30, and affect fall 2011 and 2012 crops. More ...
SHARON TAYLOR
DOT to pick up storm debris
The N.C. Department of Transportation has begun a phased approach to debris removal in counties affected by Hurricane Irene.
Starting Monday, Sept. 12, contract crews will pick up storm-related debris along state-maintained roads in Edgecombe, Halifax, Nash, Wilson and Wayne counties. More ...

Jobs for everyone, and a big one to just get there
If you've ever had that awkward moment, then maybe you thought about it too.
That moment when, after you've had a disagreement with someone or a misunderstanding or conflict, and maybe you've said some things about that person that were uh, less than flattering, you find yourself face-to-face with him/her. More ...
Mike Brantley
Family dogs are adapting well to little Corbin
I'm sure everyone is wondering how my two girls have adjusted to having a new baby in the house. To be honest, I don't really know how they've adjusted. It's not like they can talk to me.
But sometimes I can tell what they are saying just by looking at their faces. And here's some of the things I think are going through their mind: More ...
Amanda Clark
Legal fees could have been spent on creating jobs
According to an article in The Wilson Times on September 10, 2011, Nash and Wilson Counties have spent a combined total of $856,080 fighting each other over the proposed site for the Sanderson Farms chicken slaughterhouse. Instead of spending all that taxpayer money making lawyers richer, the two counties could come together and combine their assets to recruit more attractive businesses that would furnish numerous jobs on that site.
More ...
Letters to the Editor:
We should remember Roosevelt's words of wisdom
My remarks are prompted by Wednesday night's Republican debate and Thursday night's Democratic response. I am a pragmatic idealist, and that I have little use for partisan politics. I share the position of President Roosevelt, since I stand "equally against government by a plutocracy and government by a mob." By the way, that was President Theodore Roosevelt. More ...
Letters to the Editor:
Backward Glances
This photo originally published in The Graphic September 27, 1973. Ladies of the Castalia Community were preparing for the town's centennial celebration. Pictured left to right are: Mrs. F.E. Belche, Mrs. Elaine Drake, Starr and Missy Manning, Mrs. W.R. Manning and Mrs. Connie Manning. More ...
A PICTORIAL LOOK INTO THE PAST
Making your opinion count
All of us were deeply affected by the tragic happenings of Sept. 11, 2001. As that painful day unfolded, our emotions ranged from hurt, anger and fear, to awe at the courage of our brave emergency responders and pride in being an American as we heard more stories of bravery following the first shocking images. More ...
Elaine F. Marshall, North Carolina Secretary of State
Nash County Animal Friends' Notebook
Computers. How on earth did we survive without them, when I was young? Last week, my Internet went down. What really POed me was the fact that we used to have satellite, but switched to a wireless network, so that we wouldn't be stranded. The Network was experiencing difficulties throughout the Carolinas. More ...
Carol Vierela, Nash County Animal Friends

READY TO STRIKE. Southern Nash's Chelsea Gaston prepares to hit a forehand during her No. 5 Singles Match as part of Monday's home girls tennis event against the Franklinton High School Lady Rams.

A SOUTHERN SWEEP
STANHOPE -- Southern Nash didn't prove to be a hospitable host when the Ladybirds stepped out of league action Monday to entertain the Franklinton Lady Rams at the picturesque SNHS Tennis Courts.
Southern Nash, coached by Brad Joyner, swept the scoreboard, winning all singles and doubles matches en route to claiming a convincing 9-0 decision over FHS. More ...
GEOFF NEVILLE, Graphic Sportswriter

FORWARD THINKING. Nashville Hornets' junior varsity player Hunter Robinson (with ball) lumbers ahead for yardage during last Saturday's home victory against the Enfield Warriors in ENCFL action at The Hornets Nest in Nashville.

Hornets Open With Enfield
NASHVILLE -- Nashville's much-anticipated season kicked off in strong fashion last Saturday as the Hornets hosted the Enfield Warriors for a key Eastern North Carolina Football League matchup at The Hornets' Nest.
Nashville's varsity scored early and used a strong defense to pick up an 8-0 decision over the Warriors from Halifax County. More ...
GEOFF NEVILLE, Graphic Sportswriter
Bulldogs dominant on court
ROCKY MOUNT -- Nash Central High School's early-season girls tennis roll continued last Thursday with an impressive 9-0 victory against Wilson Fike.
Each of Central's six singles competitors failed to lose even one combined game as part of a dominant effort. More ...
Staff Reports
Central ups mark to 4-0
AHOSKIE -- How good is the 2011 Nash Central High School varsity football team so far this year?
It's good enough to have set two all-time school records for scoring in the same season -- and the campaign is just four games old.
The Bulldogs moved to 4-0 for the first time in school history with a record-breaking 61-21 victory over Hertford County last Friday night. More ...
CHARLES ALSTON, Graphic Correspondent
HIGH SCHOOL GRID SCORES
NASH COUNTY -- Listed are last weekend's results from the North Carolina High School Athletic Association football campaign: More ...
Staff Reports
Wesleyan defeated by Hampden-Sydney
RED OAK -- Freshman Jacques Alston scored a pair of rushing touchdowns and racked up 151 return yards, but it would not be enough on Saturday as Hampden-Sydney cruised to a 56-17 victory at the Northern Nash Football Complex, spoiling the Bishops' 2011 home opener.
The loss drops Wesleyan to 0-2 on the season, while the Tigers improve to 2-0. More ...
Staff Reports
Nash County's clubs get ready
NASH COUNTY -- Week 5 of the varsity high football season will mark the end of non-conference competition for Nash County's teams, save Northern Nash's rescheduled game at Tarboro next week.
However, it may be their toughest week of the year as all four will face some solid teams and three of the four are on the road. More ...
CHARLES ALSTON, Graphic Correspondent
Nash County Rec claims varsity game
STANHOPE -- The Nash County Firebirds kicked off their 2011 Eastern North Carolina Football League campaign last Saturday with a home meeting against SouthWest Edgecombe at Firebird Stadium on the campus of Southern Nash High School. More ...
Staff Reports
NCC to host golf tourney
ROCKY MOUNT -- Area golfers have provided 21 years of support for the Nash Community College Foundation and its scholarship program by participating in the NCC Foundation Student Scholarship Golf Classic.
Golfers will tee off October 6 at noon at Birchwood Country Club in Nashville for a day of challenging fun, while providing scholarships for deserving college students. More ...
Staff Reports
BACKHAND BLAST
Southern Nash No. 3 Singles Player Desiree Perry executes a backhand during the Ladybirds' home tennis match Monday against Franklinton HS. Perry was a winner in her singles event and also was part of a winning doubles team for the Ladybirds, who would secure an impressive 9-0 overall team decision against the Lady Rams from Franklinton. More ...


Photo by Triston Gregory - 4-H action

NCSU presents Nash County winners of state photo contest
The Nash County winners of the 2011 North Carolina 4-H Photo Contest are Elias Moore (junior division, second place, 4-H action category) and Triston Gregory (junior division, honorable mention, 4-H action category). Out of 188 photos exhibited at the 4-H Congress at NC State University (NCSU) in Raleigh last month, Moore's and Gregory's photos were chosen to be included among the 12 winning junior division shots. More ...
Contributed
JAMES EARNEST BELLAMY
NASHVILLE - James Earnest Bellamy, 65, of Nashville, died on Saturday, September 3, 2011, at Nash General Hospital in Rocky Mount. More ...

ANTHONY C. COOPER
ROCKY MOUNT - Anthony C. Cooper, 30, of Rocky Mount, died on Friday, September 2, 2011, at Pitt County Memorial Hospital in Greenville. More ...

MARIE MERCER WIGGINS
ROCKY MOUNT - Marie Mercer Wiggins, 69, of Rocky Mount, died on Friday, September 2, 2011, at Nash General Hospital in Rocky Mount. More ...

JOEL MARSHALL MANGUM
ROCKY MOUNT - Joel Marshall Mangum 38, of Rocky Mount died on Sunday September 4, 2011. He was born October 5, 1972, in Nash County, son of Patsy Land Mangum and the late Julian Mangum. More ...

CARRIE ADAMS NARRON
Carrie Adams Narron, age 93, passed away Tuesday, September 06, 2011. Born in Wilson County on November 30, 1917, she was the daughter of the late Leiugene Adams and Nora Cobb Adams. She was also preceded in death by her husband, Roy L. Narron Sr.; son, Roy L. Narron Jr.; daughter-in-law, Jean Narron; 1 grandson, Kenneth Narron; and three sisters. More ...

JOHN RICHARD "JACK" KANDL
John Richard (Jack) Kandl, age 69, died at home on Tuesday, September 6, 2011. He was born June 15, 1942, in Chicago, IL, to the late John D. and Alma M. Kandl. More ...

ANNIE RUTH NETT BARNES
Annie Nett Barnes, 84, passed away on Wednesday, September 07, 2011. Born in Pitt County on June 10, 1927, she was the daughter of the late Walter Smith and Lula Mae Boyd Smith. She was also preceded in death by her first husband, Peter Nett; her second husband, Marvin C. Barnes; and several brothers and sisters. More ...

MARYELLA PITTMAN JOYNER
ROCKY MOUNT – Mary Ella Pittman Joyner, 78, passed away Sunday, September 11, 2011. She was born in Wilson County, November 17, 1932 to the late Bennie Battle Pittman and Gladys Edwards Pittman. More ...

LOIS CHEWNING PROCTOR
Lois Chewning Proctor, 71, of Rocky Mount passed away September 11, 2011. Born March 27, 1940 in Edgecombe County, she was the daughter of the late Charlie and Hattie Ramsey Chewning. In addition to her parents she was preceded in death by her brothers, Charles, Bennett, and Tom Chewning. More ...

BOBBY R. DRAKE
Bobby R. Drake, 51, passed Wednesday, August 31, 2011. Funeral services were held Tuesday, September 6, 2011 at 1 p.m. at Union Hill Baptist Church. Burial followed at Oakland Cemetery. Rev. Douglas Leonard officiated. More ...

EDNA MAE CARROLL HYDE
The life of Mrs. Edna Mae Carroll Hyde came to its close with her family by her bedside at her home in Nashville, NC on September 8, 2011. Born on June 24, 1919 in Johnston County, North Carolina, she was the eldest living child of eleven children born unto Herman and Annie Kirks Carroll. More ...