Subscribe/Access
Advertisements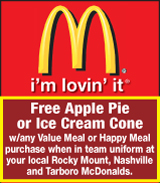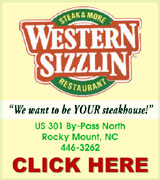 Sections
Member Options
Back
McMahon announces retirement
Nash-Rocky Mount Board School Superintendent Richard McMahon announced his impending retirement last week at the regular school board meeting held Thursday, January 13. The retirement takes effect on July 1, 2011.
In a later interview, McMahon said that he plans to join his wife in retirement and has no plans to move to another position at this time. "We hope to travel and relax, "he said. More ...
Amelia Harper, Graphic Correspondent
Nashville's board reviews budget shortfall concerns
Financial concerns were among the many items discussed by Nashville's Town Council during its annual budget retreat held last Wednesday and Thursday.
Nashville holds its annual budget retreat every year to give council members an opportunity to look at and discuss departmental needs before the budget is put together. More ...
Amanda Clark, Graphic Staff Writer

MLK DAY – District Court Judge Tony Brown speaks during the annual Dr. Martin Luther King Jr. Breakfast held at the O.D. Moore Building in Nashville.

Locals celebrate legacy of Dr. Martin Luther King, Jr.
The life and legacy of Dr. Martin Luther King, Jr. was celebrated on Monday in Nashville at an annual community breakfast.
This is the eighth year that the Nashville Willing Workers Club has sponsored the breakfast.
District Court Judge and Castalia native Tony Brown was the guest speaker for the event.
Brown spoke on striving for excellence. More ...
Amanda Clark, Graphic Staff Writer
Hospital board addresses state Medicaid funding gap
The Nash Health Care Board of Commissioners approved a resolution that will address the increasing losses and funding gap Medicaid has created in North Carolina hospitals.
The resolution was recommended by the North Carolina Hospital Association and was approved by the Nash Health Care Board of Commissioners during the regular meeting on January 6. More ...
Amanda Clark, Graphic Staff Writer
County to repeat rezoning process for Sanderson Farms
In answer to growing concerns, the Nash County Planning Board meets this week in order to propose amendments to the county's zoning procedures. The county also plans to repeat the rezoning process of the proposed site for Sanderson Farms near the interchange of Hwy. 97 and Interstate I-95. More ...
Amelia Harper, Graphic Correspondent
Ditch collapses under worker
The Nashville Fire Department's Trench Rescue Team was called in last Thursday afternoon to rescue a construction worker who became stuck after a ditch gave way under him.
According to Captain Scott Whitford, of the Nashville Fire Department, a crew was working at the corner of Boddie and Washington Streets, on the sidewalk next to the old town hall building, when the incident happened around 1 p.m. More ...
Amanda Clark, Graphic Staff Writer
Opry lands new home at Nash Arts
The 33rd annual Elsie Clark Memorial Nashville Opry is being hosted in a new venue, thanks to a partnership with Nash Arts.
The event, sponsored by Nash Arts and Nashville Business and Professional Women (BPW), will take place on Saturday, January 29 from 6 until 10 p.m. at Nash Arts. More ...
Amanda Clark, Graphic Staff Writer
MILITARY NEWS
Air Force Airman Adrian J. Inniss graduated from basic military training at Lackland Air Force Base, San Antonio, Texas.
The airman completed an intensive, eight-week program that included training in military discipline and studies, Air Force core values, physical fitness, and basic warfare principles and skills. More ...

RED OAK NEWS
The Women in Action missions group of Red Oak Baptist Church met on Thursday, Jan. 13 at the home of Jean Mellor. Jean presented the program with other members sharing a Bible verse, IMB and NAMB prayerline requests, and the prayer calendar. The group donated cleaning supplies for the homeless shelter in Rocky Mount.
More ...
SUZY PEARCE
PEACHTREE COMMUNITY NEWS
Peachtree folks survived another week of icy, wintry weather. They were happy to be back in church on Sunday morning for worship.
For the Children's Sermon, Beverly Wilson, talked with the children about TV broadcasting of 'breaking news". She role played an announcer bringing "breaking news" from Peachtree Church.
More ...
BARBARA HARDISON
EPHESUS NEWS
Baptist Men's Day at Ephesus began with the men enjoying a delicious breakfast and fellowship. Our worship service began with the Baptist Men's Choir singing "Love Lifted Me" and "Standing on the Promises". Special music was provided by Terry and Jenny Alford singing "I Need Thee Every Hour". More ...
DEBBIE PHILLIPS
MOUNT ZION FWB CHURCH NEWS
We had ninety-four in Sunday school.
Zach Tyner read the Bible verse.
Our choir sang "I'm So Glad" for the call to worship.
Pastor Rogerson welcomed everyone and prayed the prayer of invocation. More ...
ROSALENE BASS
BEULAH COMMUNITY NEWS
I hope you have had a good week. Please remember to keep those in your prayers who have fell or had injuries due to the snow and ice. I heard that a few or you have fallen, but I hope you are doing better by now. Several of our members and friends were not at church Sunday because of sickness, viruses, etc. More ...
WILMA ENROUGHTY
Relay for Life News & Events
Pancake Breakfast: PaTeam Operation Cure's team is having a Pancake Breakfast fundraiser on Saturday, January 22 at Applebees in Rocky Mount 8am-10am. Tickets are $6 each. Please call Abby Bandy at 252-937-0171 for more information. More ...

NAIL SALON VISIT
Twenty-one young ladies from Nashville's Boys and Girls Club visited Paradise Nail Salon on November 24, 2010 for a little pampering. Pictured above, Kristan Lewis (at front) and Jalia Foster (at back) dry their nails.
More ...

NCC HONOR STUDENTS
Nash Community College has announced that the following students achieved academic honors during the 2010 fall semester. To qualify for the Dean's List, students must earn a perfect 4.0 grade point average (all A's) while taking 12 or more semester hours. Students who qualify for the Honor Roll must earn a grade point average of 3.3 or above and be enrolled in 12 or more semester hours. More ...

KIWANIS HONORS
Southern Nash High School student Yancey Medina, left, the son of Felipe and Jackie Medina, and Rocky Mount High School student Julia Amend, right, the daughter of Frank and Mary Ellen Amend, were recently named Students-of-the-Week by the Rocky Mount Kiwanis Club.
More ...

Cole Brothers Circus
NCWC President Jim Gray, right, and Rocky Mount Kiwanis President Jon Wiggs, left, signed an agreement on January 6 to work toward bringing Cole Brothers Circus, the last of the big tops, to the N. C. Wesleyan Campus this spring, April 20-21. It will be the first such event in the twin county area in 10 years.
More ...

Community Hospice Foundation establishes scholarship at NCC
The Board of Directors of the Community Hospice Foundation of Rocky Mount recently established a scholarship endowment at Nash Community College. This fund will serve as a perpetual legacy to the Community Hospice Foundation to train skilled healthcare professionals for careers in palliative care. More ...

Southern Bank Foundation gives to Habitat for Humanity
The Southern Bank Foundation recently made a $5,000 contribution to the Rocky Mount Area Habitat for Humanity. The mission of the Rocky Mount Area Habitat for Humanity is to eliminate poverty housing and homelessness in the Rocky Mount Area. The Rocky Mount Area Habitat for Humanity has built more than 54 homes in the community since its founding in 1991.
More ...

Nash-Rocky Mount Public Schools awarded Clean Energy Grant
Nash-Rocky Mount Public School System was recently awarded a Clean Fuel Advanced Technology grant by the North Carolina Solar Center totaling $43,796. The funds were used to purchase two 2010 Toyota Prius HEV cars. Both vehicles will replace 11-year old station wagons with poor fuel economy. One HEV will support the school system in delivering mail to schools daily.
More ...

AWARD WINNER
Rocky Mount High School senior, Caleb Heidelmeier, recently received a Gold Key Award in the national Scholastic Art and Writing Contest. Operated by the Alliance for Young Artists & Writers, the Scholastic Art & Writing Awards recognize student achievement in the visual arts and creative writing. Annually, the Alliance and its 81 Regional Affiliates review more than 100,000 submissions of art and writing by creative teenagers from across the country. More ...

An open letter to the new Congress
Dear 112th Congress of the United States,
Congratulations on your recent election or re-election, for those of you in the House, and for some of you in the Senate.
Now get to work.
This open letter is to all of you generally, and to the recently elected, "new" Republican members of your august body specifically. More ...
Mike Brantley - 3 opinions posted
Our baby boy is on his way!
I've tried really hard to not do too much baby talk in this space but it's been really hard because I have lots of stories to share. Since this is my first pregnancy, it's been interesting.
For the first few months, I was really sick, every single day. I became an expert in throwing up and Allen became an expert in what not to do when your pregnant wife has her head in the toilet. More ...
Amanda Clark - 1 opinion posted
Nash County has reversed the Robin Hood method of government
Since the early 1900s the position of governments throughout the United States have been to play Robin Hood to the citizens of the nation. The governments take from one group of individuals and transfer the monies or property to another group. Generally the transfer has taken place by extracting more from the wealthier citizens and transferring it to the poor or less fortunate citizens. More ...
Letter to the Editor:
Backward Glances
This photo was originally published in The Graphic May 18, 1961. R. C. Joyner presents awards to winners in the annual pine wood derby. From left to right are Ray Bissette, 3rd place winner; Ronnie Winstead, 2nd place winner; and Kenny Batchelor, top winner.
More ...
A PICTORIAL LOOK INTO THE PAST
YOU are the SOLUTION – Fix Your Pets!
You are a pet owner and want to do the right thing by them. When you fix (spay/neuter) your pet many things good thing occur.
Female pets live longer, healthier lives. Helps prevent uterine infections and breast cancer. Myth: one litter good for them.
Male pets experience major health benefits. Helps prevent testicular cancer, if done before 6 months old. More ...
Carol Vierela / Nash County Animal Friends Nash County Animal Friends' Notebo

A LEG UP ON THE COMPETITION. Nash Central's Demetrice Taylor (left) tries to escape this leg hold from a Cary High School wrestler during last Saturday's mat action at the Firebird Duals at So. Nash.

Central Shines
STANHOPE -- Nash Central's 4-1 overall team record at the Firebird Duals was impressive, but the Bulldogs also came within a whisker of leaving the Southern Nash Gymnasium last Saturday with an undefeated worksheet.
Taking on perennial power Cary -- one of the state's most storied programs -- the Bulldogs built an early lead, but eventually the Imps rallied in the higher weight classifications to claim the hard-fought conquest. More ...
GEOFF NEVILLE, Graphic Sportswriter

IN CONTROL OF THE SITUATION. Southern Nash's Vishal Patel (top) puts a hold on a Southern Vance grappler during last Saturday's action at the Firebird Duals Wrestling Tournament at the SNHS Gymnasium.

KINGS OF THE CIRCLE
STANHOPE -- It's not just another other meet when some of the area's top squads convene at the Southern Nash High School Gymnasium for the annual Firebird Duals Wrestling Tournament.
It's an event the Firebirds take great pride in hosting, thanks in part to the connection the tourney has with former SNHS coach Thomas Cowles, who passed away in the 1990s. More ...
GEOFF NEVILLE, Graphic Sportswriter

HOLD-ING HIS OWN IN THE MATCH. Northern Nash's Kendall Hamilton (right) executes a hold during the Knights' team matchup against event host Southern Nash as part of last Saturday's Firebird Duals.

Challenges Ahead
STANHOPE -- When Head Coach Corey Mercer assesses the past and future opponents on his Northern Nash wrestling schedule, he rarely mentions some of the lesser-regarded programs the Knights have faced -- or will face in the very near future.
For Mercer, it's all about the competition -- and about building his Knights into a consistent winner. More ...
GEOFF NEVILLE, Times Sportswriter
Hot Stove scheduled in Wilson
WILSON -- The 37th Annual Wilson Hot Stove League Banquet is slated for Jan. 24 at 6 p.m. at the Wilson County Shrine Club.
Former Major League pitcher Dooley Womack and Atlanta Journal-Constitution reporter David O'Brien (beat writer for the Atlanta Braves) will serve as guest speakers. More ...
Staff Reports

SPLITTING THE DEFENSE FOR SNHS. Southern Nash's Kadijah Manning (with ball) drives to the basket during the Ladybirds' home loss to Northern Nash last Friday.

Big East Showdowns
STANHOPE -- Break up the Firebirds!
Southern Nash head coach Robbie Kennedy watched his boys basketball squad pull off its second straight upset last Friday evening with a 68-62 win at home over Big East rival Northern Nash.
The Firebirds improved to 2-1 in Big East play and 4-6 overall. More ...
CHARLES ALSTON, Graphic Correspondent / Submitted photos by David Hahula

IT'S KNIGHT-TIME IN POLAND. Former Northern Nash High School hoops standout Michael Deloach (pictured at right) is currently playing for ASK KS Siarka Tarnobrzeg in the Polish Basetball League.

Pozdrowienia z Polska
TARNOBREZG, POLAND -- The road to the NBA isn't an easy one. But former Northern Nash and Norfolk State basketball star Michael Deloach was willing to take that road -- even if it meant playing in Europe.
But playing professional basketball in Poland definitely wasn't on his radar after completing a 116-game college career that saw him score 1,796 points and finishing just ahead of NSU's most celebrated hoops alum -- four-time All-Star and two-time NBA champion Bob Dandridge (Milwaukee, 1971; Washington, 1978). More ...
CHARLES ALSTON, Graphic Correspondent / Submitted photos by David Hahula
Wesleyan keeps up win streak
ROCKY MOUNT --North Carolina Wesleyan College extended its regular season USA South Conference men's basketball winning streak to 13 games this week with key home victories over Christopher Newport and Greensboro last Wednesday and Saturday, respectively. More ...
Staff Reports
State HOF adds seven inductees
RALEIGH – The 2011 North Carolina Sports Hall of Fame honorees raced stock cars, played college and professional football, coached and played high school basketball and college tennis and football, described the action on radio and television and made playing safer for athletes. More ...
Staff Reports
Staal named an All-Star Captain
NEW YORK -- Eric Staal of the Carolina Hurricanes and Nicklas Lidstrom of the Detroit Red Wings have been named team Captains for the 2011 NHL All-Star Weekend in Raleigh, the National Hockey League Players' Association (NHLPA) and the National Hockey League (NHL) announced Tuesday. More ...
Staff Reports
Running for the donuts
RALEIGH -- The 2011 Krispy Kreme Challenge (www.krispykremechallenge.com) will take place February 5, 2011 in Raleigh.
Organized by North Carolina State University students, the event is expected to draw 7,500 participants in its seventh year. Proceeds benefit the North Carolina Children's Hospital. More ...
Staff Reports

Cliff Eberhardt

COMING UP AT NASH ARTS
Saturday, January 29: Nashville Opry.
Saturday, February 5, 7 p.m.: Sylvia Thomasson-Gospel Show.
Friday, February 11, 7 p.m.: Cliff Eberhardt in Concert. More ...

ANTOINETTE VIOLA DEANS
Rocky Mount - Mrs. Antoinette Viola Deans, 35, of Rocky Mount, passed away Saturday, January 8, 2011 at Nash General Hospital in Rocky Mount. More ...

DALTON RUSSELL LEONARD
Spring Hope - Mr. Dalton Russell Leonard, age 57 died Friday January 14, 2011 in the Nash General Hospital. He was preceded in death by his father, Russell C Leonard and mother, Catherine Leonard; sister, Linda Faye Carney. More ...

MARY ELIZABETH FORBES
Mrs. Mary Elizabeth Forbes, 63, of Rocky Mount, died on Tuesday, January 11, 2011, at Nash General Hospital in Rocky Mount. More ...

SHIRLEY LUCAS WELLS
Shirley Lucas Wells, 75, passed away, Saturday, January 15, 2011. She was born August 7, 1935 in Wilson County. She was the daughter of the late John Thomas and Jennie Lamm Lucas. She was preceded in death by her husband, Eddie "Robert" Wells. More ...

ROBERT MARSHALL LINDSEY
Robert Marshall Lindsey, 85, died Saturday, January 15, 2011. He was born February 10, 1925 in Nash County, son of the late B. N. and Maggie Bone Lindsey. More ...

HENRY DAVID BELL
Henry David Bell, 88, passed away Saturday, January 15, 2011. He was born October 23, 1922 in Faison, NC, son of the late Buck Bell and Maggie Mason. More ...

CHARLES RUCKER "PETE" VAUGHN
Charles Rucker "Pete" Vaughn, 79, died on Saturday, January 15, 2011. He was born July 22, 1931 in Rutherford County North Carolina, son of the late Jesse and Aggie Allen Vaughn. More ...

WILLIAM GREENE DAUGHTRIDGE
William Greene Daughtridge, 90, passed away Monday, January 17, 2011. Greene was born February 7, 1920 in Rocky Mount, NC to Lester and Mary Daughtridge, the second oldest of six children. More ...