Subscribe/Access
Advertisements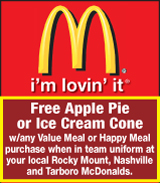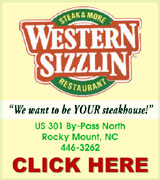 Sections
Member Options
Back
New EMS facility is approved
A proposed Emergency Medical Services building on the Nash Health Care Systems campus was brought back before Nash County Commissioners on Monday after being tabled last month.
The issue has been in discussions since June, when commissioner voted to move forward and seek bids for the proposed 12,527 square foot facility. More ...
Amanda Clark, Graphic Staff Writer
Downtown project price increases
The extra work required for Nashville's Downtown Redevelopment Project could wind up costing the town between $9,800 and $68,000.
Nashville's Town Council met last week during a special called meeting to take the necessary action to move forward with the project. One matter of business was to approve a construction contract with Narron Contracting of Middlesex. More ...
Amanda Clark, Graphic Staff Writer
PUMPKIN FESTIVAL
Spring Hope Pumpkin Queen Ashley Cone waves to parade goers on Saturday during the Spring Hope Pumpkin Festival. More ...

Nashville gets tips on PARTF grant funding
The Town of Nashville received tips for applying for the next round of the Parks and Recreation Trust Fund (PARTF) at the regular board meeting on Tuesday night.
Joe Dooley, who is with the Upper Coastal Plan Council on Government, came before the Town Council on Tuesday night to discuss the next round of funding for PARTF grants, which would be during the 2010-2011 fiscal year.
More ...
Amanda Clark, Graphic Staff Writer
Citizens seek answers on sewer access
The Red Oak Town Hall was packed on Monday, as residents came seeking answers about sewer accessibility for Red Oak citizens. Attorney Charles Craft of Craft, Levin, and Abney was also present, representing Bryant Faulkner in his quest to obtain sewer services for his property holdings on Red Oak Road. More ...
Amanda Clark, Graphic Staff Writer
School board changes field trip policy
Nash Rocky Mount Schools (NRMS) board reviewed three policies at a special committee meeting on Tuesday, Sept. 21, resulting in a change to the field trip policy. The change makes it necessary for trips to have a 10:1 student to chaperone ratio from now on. This action was finalized as part of the board minutes approval at their meeting Monday night. More ...
Michele A. Cruz, Graphic Correspondent
Thomason shares cancer story
Fannie Rick "Shortie" Thomason was 45-years-old when she discovered she had breast cancer. That was 42 years ago.
Thomason, of Nashville, was visiting New York City with her husband, "Tommy" Thomason, when she discovered the lump in her breast.
"I felt a lump in my breast and on the plane coming back, I told (my husband), I reckon I ought to go see Dr. Bob when I get back," Thomason said. More ...
Amanda Clark, Graphic Staff Writer
NASH COUNTY DISTRICT 5
Charlotte Lewis Mizelle
Age: 63
Education: B.S. degree, Old Dominion University, some graduate work at UNC-CH
Professional: Over 35 years in healthcare and management, retiring from Nash Health Care Systems, Rocky Mount, NC, 2007.
Family: Married to Wayne Mizelle, a retired Nash-Rocky Mount teacher, 6 children, 11 grandchildren More ...

NASH COUNTY DISTRICT 6
Mary P Wells
Age: 74
Professional: Small Business Owner, Koretizing Cleaners.
Family: Talmage, husband of 55 years; four children: James (wife Kelie), Royce (wife Mary), Tammy Davis (husband Bob), and David. Eleven grandchildren More ...

NASH COUNTY DISTRICT 6
W. Douglas Starr
Age: 66
Education: Attended Georgia Military Academy, now known as Woodward Academy, on a four-year academic scholarship. I then attended the US Air Force Academy, served in the Air Force and completed my military duty in the Air Force Reserves. I graduated NCSU with a degree in mathematics and a minor in economics. More ...

Worthy, Mercer exchange vows
Ashley Marie Worthy and Justin Graham Mercer were married Saturday, Sept. 25, 2010 at Our Lady of Perpetual Help Catholic Church, Rocky Mount. The officiating minister for the 2 p.m. ceremony was Father C. Timberlake Meares.
The bride is the daughter of Cynthia and W. Craig Worthy of Rocky Mount. She is the granddaughter of the late Mr. and Mrs. Vincent B. Howell and the late Delores and Bill Worthy. More ...

Helping out
Pictured are some of the servers who helped out at the Duke Children's Hospital fundraiser held August 30, 2010 at Pizza Inn Restaurant in Rocky Mount. Left to right are: Jane Tyson, Wayne Outlaw, Sharon Outlaw, Betty Bissette and Steve Felton. Organizers thanked Craig Johnson, Pizza Inn and everyone that supported the dinner to help raise funds.
More ...

Douglas to compete for Miss Teen Raleigh title
Ashley Douglas of Nashville was recently selected to participate in the 2010 Miss Teen Raleigh pageant competition that will take place on Oct. 24, 2010 at the Dunn Center.
Ashley submitted an application and took part in an interview session that was conducted by this year's Raleigh Pageant Coordinator. More ...

Mt. Zion FWB Church News
We were happy to use our new Sunday school rooms today for the first time. Large freshly painted walls and new carpet. It was all I had anticipated. O! What a joy. Betsy Coppedge was the teacher in my class and did an excellent job teaching from Psalm 8, God's Majesty. David was the writer of this Psalm and he began by saying "O Lord our Lord how excellent is thy name in all the earth! Who hast set thy glory above the heavens". More ...
ROSALENE BASS
Rock Creek to host spiritual renewal services
Rock Creek Baptist Church will host Dr. Levi Skipper for two special services on Monday and Tuesday evening, October 11 and 12. Dr. Skipper will speak at 6:30pm each evening and everyone is invited to attend.
Dr. Skipper holds degrees in theology from Shorter College, New Orleans Baptist Theological Seminary, and Luther Rice University.
More ...

Beulah News
Attention: Very important announcement! This Sunday, Oct. 10, is a very important day! It is the time for the annual homecoming at Beulah Church of Christ. Our visiting minister for homecoming will be Reggie Webb from Edenton, NC. He was the speaker last year at homecoming and everyone enjoyed him so much, we are pleased that he accepted an invitation to return this year. More ...
WILMA ENROUGHTY
Red Oak News
The annual Red Oak Community Cystic Fibrosis Foundation Fundraiser was held on Saturday, Oct. 2 at Faulkner's Store. Several people contributed baked goods for the sale and many more purchased items and gave donations. Over $455 was raised and will help the foundation in their continued search for a cure for Cystic Fibrosis. Thank you to all who helped to make this a success. More ...
SUZY PEARCE
Rice epitomizes what a public servant should be
Say it ain't so, Ronnie.
I had mixed feelings last week when I picked up my Nashville Graphic and saw that my mailman was retiring.
On the one hand, I was happy that Ronnie Rice had made it safely to retirement status – and let's face it, after 37 years on a job, anyone should be able to retire. More ...
Mike Brantley
Political mudslinging doesn't impress me
Mudslinging and name calling. That can only mean one thing. It's election time!
It seems to me that campaigns are getting uglier and uglier. It used to be that the worst thing that was done during election season was calling someone a liar, but they didn't just come out and say "liar," they sugarcoated it and just insinuated the whole "liar" thing. More ...
Amanda Clark
Mudslingers should give the public more credit
Seems like no matter where you go these days, the hot topic is politics, politics and more politics. National, state and local issues surface in just about every conversation.
And recently Nashville's own NC Senator A.B. Swindell has been in the hot seat over a negative ad campaign mailer sent out by the Democratic Party on his behalf, and apparently approved by him, about his Republican opponent Buck Newton. More ...
Jo Anne Cooper
Backward Glances
HARVEST FESTIVAL – This photo was found in The Graphic's 1959 Harvest Festival archive.
More ...
A PICTORIAL LOOK INTO THE PAST

HUGE FIRST DOWN. Nashville Hornets' running back Vernon Whitaker picked up this key first down late in the game, and the Hornets held on to defeat Rocky Mount in Eastern North Carolina Football League action.

VICTORY CELEBRATION
NASHVILLE -- Nashville's first varsity football victory of the season proved to be worth the wait for the Hornets.
Playing at home for the first time in three weeks, the Hornets, who entered the contest with an 0-3 record, were able to outlast county rival Rocky Mount by a 20-15 margin at The Hornets Nest at Glover Park. More ...
GEOFF NEVILLE, Graphic Sportswriter

BULLUCK BLASTS HIS WAY IN. Nashville Hornets' quarterback Raymond Bulluck (with ball) prepares to dive into the end zone during last Saturday morning's junior varsity football showdown at The Hornets' Nest at Glover Park in Nashville.

JV Hornets Remain Unbeaten
NASHVILLE -- Just like any level of football, ball control is a priority for any club in the Eastern North Carolina Football League Junior Varsity standings.
But with the shorter clock, long drives are even more important for the JVs -- as evidenced by last Saturday's matchup between the host Nashville Hornets and Rocky Mount. More ...
GEOFF NEVILLE, Graphic Sportswriter
Bulldogs a winner on court
WILSON -- Nash Central went on the road last Tuesday and earned a key 5-4 victory against Big East Conference foe Wilson Fike in prep girls tennis action.
The Lady Bulldogs, coached by Susan McCarthy, improved to 12-2 overall and 7-0 in the league.
Results from individual and doubles matches at the event were as follows: More ...
Staff Reports
High-Scoring Showdown
STANHOPE -- Southern Nash was hoping to not to interfere with the start of the Annual Pumpkin Festival by moving its non-league contest with county rival Nash Central to last Thursday,
But the constant rain that pounded the area last week kept the Firebirds from doing that and play was moved to Friday. Southern made the home folks forget about that minor inconvenience by pounding the Bulldogs 42-27. More ...
CHARLES ALSTON, Graphic Correspondent

ISAI ON THE MOVE. Northern Nash midfielder Isai Gonzales (with ball) dribbles upfield during his club's home loss Monday evening against the Rocky Mount Gryphons.

Building Season For NN
RED OAK -- Rare are the rebuilding seasons for the Northern Nash High School boys soccer team -- but this is one of them.
Faced with massive graduation losses in each of the past two campaigns, the Knights are fielding a young club that is learning as it goes against tough competition. More ...
GEOFF NEVILLE, Graphic Sportswriter
Nash Central has busy spike week
ROCKY MOUNT -- Nash Central's volleyball team opened play last week with an out-of-conference match with visiting Bunn last Monday.
The Wildcats took the Bulldogs in four games, 25-22, 22-25, 25-4 and 25-13.
Last Tuesday, the Bulldogs jumped back into Big East Conference play with a road trip to league member Wilson Fike. More ...
KENT WHEELESS, Graphic Correspondent
Nash Co. Firebirds sweep Beddingfield
WILSON -- Last Saturday, the Nash County Firebirds took on the Beddingfield Cougars for the first time in league history.
It was a hard-fought junior varsity game all the way through.
The cougars first the marched down the field to take an early 6-0 lead. More ...
Staff Reports
Claytor takes tourney
WILSON -- Daniel Claytor has gotten off to a strong start to the 2010 Fall Men's Golf Season at Barton College.
Claytor, a sophomore who prepped at Northern Nash High School, earned the individual championship at the Kiawah Island Invitational in South Carolina early September.
Claytor shot 73-68--141 to finish in the tie for first place with Pfeiffer University freshman Luiz Jacintho. More ...
Staff Reports
Wesleyan rallies for road win
FERRUM, VA. -- North Carolina Wesleyan College's football team began defense of its 2009 USA South Conference title last Saturday with a 24-14 victory over Ferrum College on the road, spoiling the Panthers' Homecoming festivities in the process.
Trailing 14-10 with just over seven minutes left in the game, Wesleyan turned back-to-back Panther fumbles into a pair of touchdowns to secure the come-from-behind win. More ...
Staff Reports
DEFENDERS OF THE GOAL
A pair of Nashville Hornets' defensive players make a stop on a Rocky Mount running back during last Saturday's Eastern North Carolina Football League game.
More ...

ROBERT EARL HINTON
ROCKY MOUNT - Robert Earl Hinton, 62, of Rocky Mount, NC, passed away on Tuesday, September 28, 2010 at Nash General Hospital in Rocky Mount. More ...

MARGIE ALMETA GARRIS
ROCKY MOUNT - Margie Almeta Garris, 72, passed away Monday, October 4, 2010. She was born March 14, 1938 in Nash County. She was the daughter of the late William Louis and Viola Cooke Garris. More ...

HAROLD J. "PUTT" PUTNAM
ROCKY MOUNT - Harold J. "Putt" Putnam passed away on September 30, 2010 at his home in Rocky Mount. He was born on May 20, 1938 to Irene and L.B. Putnam of Greenville County, South Carolina. More ...

VERNON WILLIAMS
ROCKY MOUNT - Vernon Williams, 63, died September 30, 2010. Arrangements to be announced by Stokes Mortuary, Inc.
More ...

ROSA LEE WHITFIELD POPE
ROCKY MOUNT - Rosa Lee Whitfield Pope, 84, died October 2, 2010. Funeral services will be at North End Missionary Baptist Church Thursday at 2:00 pm. Rev. Elbert Lee officiating. Burial will be at Northeastern Cemetery.
More ...

GWENDOLYN BATTLE HUNTER
Mrs. Gwendolyn Battle Hunter, 58, of Enfield, North Carolina, died on Monday, October 4, 2010, at Nash General Hospital in Rocky Mount, NC. More ...