Subscribe/Access
Advertisements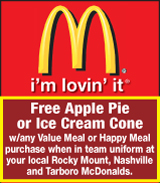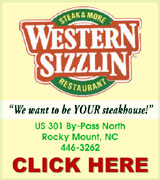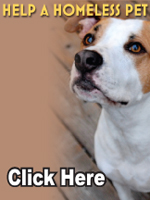 Sections
Member Options
Back
Group petitions city to stop forced annexation
Members of the Oak Level Community Against Forced Annexation (OLCAFA) presented a petition with over 800 signatures to the Rocky Mount City Council on Monday afternoon.
Betty Edmondson, who serves as president of the organization, spoke on behalf of the group, who is fighting Rocky Mount's proposed annexation of 1,733 acres in Nash and Edgecombe County. Close to 1,400 acres is in Nash County around the Nash Central High School area. More ...
Amanda Clark, Graphic Staff Writer

Greg Camp

Election countdown is less than a week
Five of six Nash Rocky Mount School Board members are seeking reelection unopposed in the November 4 election. Only one school board seat, currently occupied by James Lilley, is contested with Nashville resident Dennis Nielsen and Rocky Mount resident Gregory Camp running for Lilley's seat in district five. Lilley is not seeking reelection.
Nielsen, who ran for governor in the May primaries, said he is interested in serving his community. More ...
Amanda Clark, Graphic Staff Writer
Haunted Walk set for Saturday night
Nash Arts held its first annual Haunted Walk through downtown Nashville Saturday night. The walk began at Nash Arts with a ride to the cemetery, where guests were dropped off to walk around the cemetery and down First Street back to Washington Street, with scary stops along the way. Pictured, a duo of pirates lead groups throughout the tour. More ...

CVS opens new store in downtown Nashville
CVS held its ribbon cutting and grand opening events on Saturday, October 25. Pictured (L-R) is Ashley Hassell and JoAnna Skorupski representing the Nashville Chamber of Commerce, Nashville Councilwoman Louise Hinton, CVS employee Gail Dinkins, Nashville Mayor Donald Street, CVS Manager Jeffrey Baker, Nashville Councilman Charles Taylor and CVS employee Debbie Martin. More ...

Ribbon cutting held Saturday, October 25
A ribbon cutting Saturday morning officially celebrated the opening of CVS Pharmacy in downtown Nashville.
CVS opened on October 19 but held its ribbon cutting and grand opening events on Saturday, October 25.
Jeffrey Baker, Manager of Nashville's CVS, said the first week of business was good. Despite the rainy weather on Saturday, Baker said the grand opening events were also well received by the community. Nash Central Middle School's PTO sold hot dogs, which were donated by CVS. The school also raffled off two bikes. More ...
Amanda Clark, Graphic Staff Writer
Momeyer plans celebration of new town hall facility
The Town of Momeyer will celebrate its new town hall on Saturday, November 8 from 2 until 4 p.m. with a special ceremony.
The town purchased the former home of Russell and Blonnie Windley in April 2007. Renovations were made to the home to convert it into office space to house the new town hall facility. The Town of Momeyer previously leased space in the Momeyer Fire Department. More ...

Halloween tips from Nashville Police
Trick-or-treaters will take to the streets on Friday night in Nashville.
Nashville Police Chief Bill Creech said as in years past, trick-or-treating must end at 8 p.m. And for youth 16 and over, masks cannot be worn.
Though trick-or-treating is mainly for youth 12 and under, Creech said the main goal of the Police Department is to keep the community safe on Halloween. More ...

Budget amendments include increase in TAG program
Budget amendments approved by the Nash-Rocky Mount Schools (N-RMS) board last Monday night make possible new Talented and Academically Gifted (TAG) positions at all five of the system's middle schools. "This school year," N-RMS finance officer Susan Blackwell reported, "the Department of Public Instruction approved an ABC Transfer of Funds Request for our district to move $743,639 from TAG to Non Instructional Support and At Risk Services." More ...
Michele A. Cruz, Graphic Correspondent
LeHardy named to Great 100
Many who enter the nursing profession claim it was a calling they felt years ago, long before they even entered junior high school. They claim it was something they have always wanted to do. Nancy LeHardy's story is somewhat different, but no less inspirational. LeHardy was working as a receptionist at Hillhaven when she suddenly felt the desire to go into the nursing profession.
"It hit me suddenly, just like a bolt out of the blue. From there I pursued a career in nursing. I have never looked back," she said. More ...

Cooley Library thanks donors
Nashville's Harold D. Cooley Library recognized the donors who helped furnish the library during a special ceremony on October 12.
The ceremony was hosted by the Friends of the Library organization, who headed up a "Furnishing the Future" campaign to furnish the new library, which opened in January of this year. More ...
Amanda Clark, Graphic Staff Writer
Marching Knights win back to back competitions
The Marching Knights of Northern Nash High School are on a roll. They have won Grand Champion at both of their last two competitions.
Last Saturday, October 25, the 103 members of the Northern Nash Marching Knights, performing their program "The Winds of Change" proudly accepted 7 trophies at band competition sponsored by Greene Central High School in Snow Hill. They received 1st Place for Percussion and General Effect and 1st Place Music Performance along with 1st place Overall. They were also awarded Grand Champions in Class 3A, 4A and 5A beating out bands from as far away as Raleigh and Roanoke Rapids. More ...

Nashville native promotes book
Nationally syndicated talk show host Phil Valentine of Westwood One's The Phil Valentine Show visited Rocky Mount on October 18 to promote his latest book, The Conservative's Handbook.
Valentine, the son of former Congresman Tim Valentine, grew up in Nashville. More ...

Military News
Navy Seaman Robert W. Westphal, Jr, son of Lauri J. and Robert W. Westphal of Rocky Mount, recently completed U.S. Navy basic training at Recruit Training Command, Great Lakes, Ill.
During the eight-week program, Westphal completed a variety of training which included classroom study and practical instruction on naval customs, first aid, firefighting, water safety and survival, and shipboard and aircraft safety. An emphasis was also placed on physical fitness. More ...

Mt. Zion FWB Church News
Sunday school superintendant, Bob Watkins and I have been praying for our attendance to get above 100. Today we had 102 including 3 visitors. I'm sure others had been praying also. We praise God for every person in attendance. Hope Batchelor read our verses for today. She chose Matthew 28:19-20. Brother Bob's thought for today was on prayer. "Prayer is exhaling the spirit of man and inhaling the spirit of God" Scripture that inspires this thought is James 5:16, "The effectual fervent prayer is a righteous man availeth much." More ...
By ROSALENE BASS
Ephesus Community News
Anne and Phillip Murray and Johnny and Sherrie Murray spent several days touring and enjoying the Amish country recently. More ...
By LOTTIE LOU DICKENS
Beulah Community News
We had another great service at Beulah Church of Christ on Sunday. Sunday school began at 9:45, followed by church services at 11:00. We had a call to worship by our minister, Daniel West, followed by a hymn of praise, "The Solid Rock". Our prayer hymn was "God Will Take Care of You". More ...
By WILMA ENROUGHTY
Peachtree Community News
On Monday night the Tar River Association of Churches met in its 178th session at Peachtree Church. The Association is composed of fifty-two churches in Franklin, Nash and Wake Counties. Each church sends a designated number of churches to vote on the pertinent business. The main matters of business were approval of the 2009 Policies and Procedures Manual, the budget and officers. More ...
By BARBARA HARDISON
Red Oak Community News
The date for the Fall Festival at Red Oak Baptist Church has been changed due to weather to Saturday, Nov. 8 from 10 AM - 12 PM. The WMU Bazaar scheduled for Nov. 1 will now be included in the festivities on Nov. 8. Look forward to seeing you then! More ...
By SUZY PEARCE
Swift Creek announces honor roll students
A Honor Roll
Ashlee Brackett, Jessi Browning, Gabrielle Carter, Caitlyn Cooke, Matthew Dickerson, Emily Garner, Hannah Grant, Lucas Ghiloni, Alex Guerrero, Davis Hedgepeth, Alexis Immediato, Marleen Jefferson, Sierra Joyner, Nathan Kluttz, Kennedy Miller, Kodie Mizell, Jackson Orr, Owen Phillips, Tommy Rouse, Owen Sondergard, Brooke Taylor, Anna Shaye Thompson, Jacob Walker, Julia Williams, Joe Williams, Anna Zinn More ...

RMA celebrates 40 years
During the celebration of the 40th Anniversary of Rocky Mount Academy, 13 men were inducted into the newly established Order of the Eagle. This special recognition will be the highest honor ever given by Rocky Mount Academy and will always be in recognition and in honor of an individual who has made a "truly tremendous impact in the life and growth of the Academy through his or her time, talents, and resources," RMA Headmaster Thomas R. Stevens explained. This year's inaugural class of recipients is the founding Board members from 1968. More ...

Which is scarier, Halloween or the election?
In the next few days, we'll be haunted by witches, goblins, wizards, creeps, scary people and others who will make us scream in fear or want to cry.
That's right — elections are just a few days away. What did you think I was talking about, Halloween?
Usually this time of year, we run scary stories, or local legends in this space just to get you ready for Halloween. This year, we don't need that. More ...
Mike Brantley
Senator Swindell clarifies legislation process of municipal annexation bill
Dear Editor
In response to the story "Moratorium bill is dead, says Swindell," I would like to clarify the process concerning this legislation. The Chairman of the Rules Committee, Senator Tony Rand, ruled that the bill was ineligible to be considered during the "short session" because the Senate Rules did not permit it to be. During even-numbered years, our primary focus is budget legislation and the rules do not allow for many exceptions to that. While I oppose involuntary annexation, the Rules Chair's decision was final. More ...
Letters to the Editor:
Reader recommends Guidepost gift to troops
Dear Editor,
For those who want to help brighten the Christmas holiday for an American service man or women, go to www.GuidepostsFoundation.org for information. Guidepost will send you a special Christmas card to sign from an individual or organization to return to them by November 10. The "How to Have Strong Faith" by Norman Vincent Peale and "A Christmas Prayer" by Robert Louis Stevenson are the inspiring words with an American flag pictured. They make sure of delivery to our brave troops in time for Christmas. More ...
Letters to the Editor:
Haunted Walk is the only survivor on my camera
I like to believe I'm a pretty tough girl but on Saturday night, I found out just how much of a wimp I am.
I attended the "Haunted by the Arts" event on Saturday night with every intention of it being just another day on the job. I had conversation after conversation with myself about how I would not let myself be scared because I had a job to do and I certainly wouldn't be able to take pictures if I let the monsters scare me. Besides, being a scaredy cat isn't exactly professional. More ...
Amanda Clark
Key Varsity Victory
NASHVILLE -- Nashville scored early and often, and then turned to its defense to score a key youth football league victory last Saturday morning against the SouthWest Edgecombe Cougar Cubs.
The Hornets scored three times in the first half and went on to defeat SouthWest Edgecombe by a 21-0 margin in a varsity gridiron matchup at The Hornets Nest at Glover Park. More ...
Geoff Neville, Graphic Sportswriter
Mistakes Doom Central -- Again
PINETOPS -- "Why can we not protect the ball on our end of the field?''
Those were the words of a Nash Central High School assistant football coach during the decisive second period of Monday's crucial NEW-6 Conference setback at SouthWest Edgecombe.
Thanks to a pair of Bulldogs' miscues in their own territory, the opportunistic Cougars were able to quickly turn a close game into a lopsided matchup en route to a 34-21 decision. More ...
Geoff Neville, Graphic Sportswriter
Wesleyan program is slated
ROCKY MOUNT -- The North Carolina Wesleyan men's and women's basketball squads have announced plans for their annual "Late Night Blue & White" games to be held on Saturday, November 1 in Everett Gymnasium.
The event will kick off at 9 p.m. and is being sponsored by the Fellowship of Christian Athletes. More ...
Staff Reports
Rocky Mount's volleyball campaign wraps up
ROCKY MOUNT -- Rocky Mount volleyball coach Debbie Webb is retiring from the sidelines after 20 seasons. But she would have probably loved to have delayed that retirement for another win.
The victory was not to be as South Central ended Rocky Mount's season last Tuesday evening with a 3-0 triumph in the second round of the NCHSAA 3-A playoffs. More ...
Kent Wheeless, Graphic Correspondent
NNHS Captures Crown
RED OAK -- In the postseason, soccer matches inevitably become more defensive-minded.
Less chances are taken that could ultimately foil a team's season. Clubs get an early advantage and then retreat into a defense-first mode.
Northern Nash boys soccer head coach Joe McCarthy has subscribed to that belief this fall, and he feels it has made the Knights well-prepared for the upcoming rigors of the Class 3-A State Playoffs. More ...
Geoff Neville, Graphic Sportswriter - 1 opinion posted
RMHS wins at Southern Nash
STANHOPE -- Rocky Mount's passing game never quite clicked in its game last week at SouthWest Edgecombe. But it was the Gryphons' prime method of moving the ball last Friday in their 24-7 NEW 6 Conference win over Southern Nash at Firebird Stadium.
The game was played in a steady rain, conditions that stopped the night's other NEW 6 games from even being played. More ...
Charles Alston, Graphic Correspondent
Wesleyan rolls to a key road conquest
WINCHESTER, VA. -- Behind 143 receiving yards and two touchdowns by junior wide receiver Orlando Webb, the Battling Bishops of North Carolina Wesleyan earned a 47-28 gridiron victory over USA South foe Shenandoah University last Saturday.
Webb put NCWC up 6-0 with a 79-yard TD catch in the first quarter, and the Bishops would never trail en route to their third victory in their last four outings. More ...
From Staff Reports
Mudcats release 2009 SL diamond schedule
ZEBULON -- The Cincinnati Reds Major League exhibition game , a traditional 4th of July fireworks blowout, along with 21 Friday or Saturday home contests highlight the Carolina Mudcats' 2009 Southern League schedule announced last Friday. More ...
Staff Reports
Athletic safety addressed by N-RMS Schools
NASHVILLE -- In light of the recent deaths of three high school athletes in the state, Nash-Rocky Mount Schools (N-RMS) athletic director Wayne Doll has presented the N-RMS board with an update on the system's proactive steps used to ensure athletic safety.
Doll said having this many student athlete fatalities across the state during a sports season is "unprecedented." More ...
Michele A. Cruz, Graphic Correspondent
Bishops win 2 VB matches
ROCKY MOUNT -- Junior Brittany Insley tallied a team-high 27 kills and an impressive .535 hitting percentage over two matches last Saturday, leading her North Carolina Wesleyan volleyball squad to two USA South victories over Mary Baldwin and Greensboro College, respectively. More ...
Staff Reports
Nash County's Got Talent auditions start Nov. 3
Auditions for Nash Arts' annual Nash County's Got Talent contest will begin November 3 at the center in downtown Nashville and will run through November 4.
All participants must be 15 years or older and a resident or attend school in Nash County. Registration fees $25 individual, $50 for groups. Finals are November 13-14. More ...

JOHN WHITAKER
NASHVILLE - John Whitaker, Jr. 76, passed away Thursday, October 23, 2008 at Nash General Hospital in Rocky Mount. Funeral services were held Tuesday, October 28 at 1 p.m. at Union Hill Baptist Church with the Rev. Wayne Leonard officiating. More ...

BARBARA ANN JOYNER
ROCKY MOUNT - Barbara Ann Joyner, 63, passed away October 23, 2008. She was born October 7, 1945 in Nash County. She was the daughter of the late Raymond and Pearl Pridgen. She was preceded in death by her grandson, Hudson. More ...

LAWRENCE JOHNSON
FRANKLINTON - Lawrence "Hoss" Johnson, 65, died Wednesday, October 22, 2008. Funeral services were conducted at 11 a.m. Monday, October 27 at Shiloh Missionary Baptist Church of Kittrell with the Rev. Dennis Brown officiating. Burial followed in the church cemetery. More ...

IRLA REE CARPENTER WORRELL
SANDY CROSS - Irla Ree Carpenter Worrell, 76, passed away, Wednesday, October 22, 2008. Funeral Service were Friday, October 24, 2008 at 7:00PM in the Chapel of Cornerstone Funeral Home with Rev. Woody Jones officiating. Visitation followed after the service. Burial was Saturday, October 25, 2008 at 1:00PM at Rocky Mount Memorial Park. More ...

BETTY "RUTH" BONE JOYNER
Betty "Ruth" Bone Joyner, 93, passed away Tuesday, October 21, 2008. She was born July 26, 1915 in Nash County. She was the daughter of the late William Lee and Bettie Winstead Bone. Ruth was a member of Sandy Cross Methodist Church. She was a loving mother and grandmother. Ruth loved her flowers, crocheting, music and especially Elvis. She was preceded in death by her husband, Otha J. Joyner, one son, Herbert Monroe Joyner and a grandson, J.W. Joyner, three brothers and two sisters. More ...

JEFFREY DALE MORPHIS
Jeffrey Dale Morphis, 37, passed away, Sunday, October 26, 2008. He was born September 4, 1971 in Kealakekua, Hawaii. Jeffrey was a quiet and loving person. More ...