Nashville woman goes to Africa on mission trip
By Amanda Clark, Graphic Staff Writer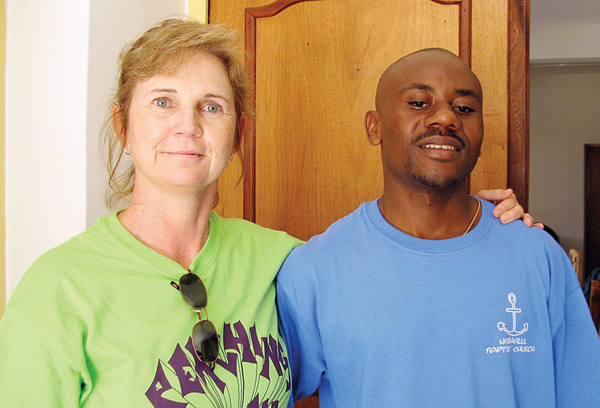 Nashville resident Cindy Taylor spent a week in Rwanda, Africa on a mission trip with SOLACE. Pictured is Taylor (at left) with the cook of the place that her group stayed while in Rwanda. Taylor gave him a Nashville Baptist t-shirt to wear.

NASHVILLE – The people of Rwanda, Africa can still recall the genocide of 1994 that killed close to one million people. Today, those left behind are cleaning up the pieces and telling their stories with hopes that people will see the progress being made. A Nashville resident was one in a group of 13 who went on a mission trip in October to the country to help with the healing process.

Cindy Taylor went with a group of Wisconsin residents through SOLACE, a ministry that offers holistic support for survivors of the genocide and war in Rwanda. Taylor said she was the only one out of the group not from Wisconsin but knew of the group through a friend.

Taylor's church, Nashville Baptist Church, supported her mission trip and funded her way.

Taylor, who is a nurse, said she has been on other mission trips before but the others, all to Honduras, were medical trips. This one, she said, was different.

"This was more of a ministry of presence," Taylor said. "They use sort of a holistic approach."

Taylor said though she had researched Rwanda and the genocide, nothing could prepare her for the stories she heard and the things she saw.

"It is a totally different culture over there," Taylor said. "I had a little idea of what I was getting into but seeing it in person is a different perspective. Seeing it brings to mind what these people really went through."

"It was really overwhelming," she added. "The things we saw, it's really heart-wrenching."

Taylor said a lot has been accomplished since the 1994 genocide. Though SOLACE's main focus is counselling and evangelism, the group also helps with the building projects and other community based programs.

"SOLACE is doing a whole lot there," she said. "They're just doing a whole lot of good things."

Taylor said though the survivors of the genocide had heart-wrenching stories to tell, she said everyone was intrigued by the Americans visiting and they all were friendly and grateful for the group's help.

"The people are just absolutely wonderful," Taylor said. "It's a beautiful country, it really is. It's just a shame it's remembered in a bad way."

Taylor said the trip was a real eye-opener for her and really made her appreciative of all the things she has.

"To come back over here and see what all the kids have here, it really is eye opening," she said. It makes you think."

For more information about SOLACE, visit www.solaceusa.org.