Subscribe/Access
Advertisements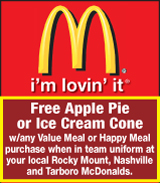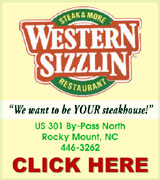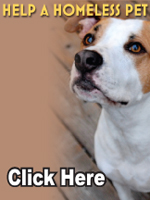 Sections
Member Options
Back

Nash UNC Health Care employees stand outside during a special event held Friday saluting their efforts.

A GESTURE OF RESPECT


First responders applauded the work of employees at Nash UNC Health Care on Friday during a brief appreciation event.
The event was hosted by first responders with the help of Dexter David from Wheeler and Woodlief Funeral Home in Rocky Mount.
The event started with first responders, which included the Nash County Sheriff's Office, Nash County EMS, Rocky Mount Police, the Rocky Mount Fire Department, along with other first responders, parading through the Nash Health Care Campus with lights flashing.

More ...
AMANDA CLARK, GRAPHIC STAFF WRITER
PRAYERS
Kim Langston, Director of Emergency Services at Nash UNC Health Care, prays during the event held Friday to honor employees of Nash. The event was hosted by first responders with the help of Dexter David.
More ...
Nash officials warn of complacency


Nash County Health Director Bill Hill is applauding Nash County residents for doing their part to keep the number of COVID-19 cases at a minimum.
Though cases in Nash County continue to rise, Hill said it could be much worse.
"I feel it would be so much worse if our citizens weren't adhering to these public health messages," Hill said.

More ...
AMANDA CLARK, GRAPHIC STAFF WRITER
Beware of COVID-19 scams


The Nash County Senior Center is warning older adults to be aware of scams related to COVID-19.
Morgan Doughtie, Nash County Senior Health Insurance Information Program Coordinator, said already, there's been a specific instance of a potential scam targeting older adults.
"Unfortunately, our older adults are a vulnerable population and are targeted the most," Doughtie said.

More ...
AMANDA CLARK, GRAPHIC STAFF WRITER
Practice opts for virtual visits


As the COVID-19 global pandemic affects the globe, it's currently snaking through North Carolina. Community health care facilities and medical practices are turning to new and innovative solutions to care for their patients while coronavirus continues to spread throughout the population.
The question facing primary care and specialty care physicians is how to keep non-COVID19 patients safe, while meeting the needs of patients with acute respiratory illnesses - and possibly COVID19. For many practices, the answer is telehealth.

More ...
Contributed
GET COUNTED!
There's still time!


Census Day was April 1 but there is still time to take part in the 2020 Census.
Responses are more important than ever, said Nash County Manager Zee Lamb.
"It does mean dollars to Nash County," Lamb said. "The more people we have the more federal and state dollars we get."

More ...
AMANDA CLARK, GRAPHIC STAFF WRITER
Nash County celebrates telecommunicator week
Nash County Emergency Services is celebrating telecommunicators this week for the critical role they play.
Public safety agencies nationwide recognize the week of April 12 through 18 as National Telecommunicators Week. Telecommunicators are the true first responders and one of the most critical contacts citizens have with emergency services.
More ...
Castalia to hire accountant for overdue audits


It was business not quite as usual at the regular monthly meeting of the town board of Castalia last Tuesday evening.
Social distancing measures were following with board members distanced and many chairs where the public would normally sit had been removed. Everyone present wore a mask, and hand sanitizer was offered upon entering the town hall.

More ...
JESSICA SMITH, GRAPHIC CORRESPONDENT
NASH COUNTY SHERIFF'S OFFICE REPORTS
A felony larceny was reported on 4/6/20 at 10427 Camp Charles Road, Bailey A possession of heroin was reported on 4/11/20 at 10696 E NC 97, Rocky Mount
A damage to personal property was reported on 4/6/20 at 11439 Cedar Lake Drive, Middlesex
A missing persons was reported on 4/6/20 at 11898 Sims Road, Wilson
More ...
Farm market summary April 6-9


North Carolina's egg prices were lower on all sizes when compared to last week. Supplies of extra large were light, large fairly light, while medium were heavy to meet a moderate demand. The North Carolina weighted average price quoted Wednesday, April 08, for small lot sales of delivered, cartoned, grade "A" eggs was 277.74 for Extra Large, 273.48 for Large, 157.76 for Medium, and 87.00 for Small eggs.

More ...
FEDERAL - STATE MARKET NEWS SERVICE, DIVISION OF MARKETING - NCDA&CS
Nashville delays seating change


Nashville's Town Council is holding off on relocating the seating area for the board in council chambers.
The item was discussed on March 30 during the board's agenda meeting.
The project has been a wish list item for some board members for a while. Currently, the board's seating area restricts the full board from being able to see the full area where the audience sits.

More ...
AMANDA CLARK, GRAPHIC STAFF WRITER
Nash County Animal Friends' Notebook


NOW is a good time to bring a new family member into your home. If you are one of the "non-essential" workers and having to stay at home, it will give you more time to bond. The Shelter is open weekdays by appointment. So, if you want to adopt, reclaim or have found a lost pet that you cannot keep while trying to find the owner, then call them for an appointment. Saving pets is essential too. You won't regret it.

More ...
CAROL VIERELA
Nash County 4H Sew What?
Club members and volunteers made masks and presented them to Spring Arbor Senior Living. Pictured are Megan Garciga, Rosie Strickland of Spring Arbor Senior Living and Phoebe Young. Not pictured in the photo but also helped is Madison Hill. Others that helped with the project are Marlene Strufe, Sarah Williams, Sherry Hull, Brenda Wind, Jane Tyson and Cheryl Glover, all volunteers. Approximately 130 masks were donated to Joann Fabrics to give to local hospitals.
More ...
Braswell Family Farms hosts Build-A-Bed event
Braswell Family Farms, a producer of premium and specialty eggs and feed on the East Coast, hosted a Build-A-Bed event on January 25 to support Sleep in Heavenly Peace, a nonprofit dedicated to building, assembling and delivering top-notch bunk beds to children and families in need. A group of Braswell Family Farms employees and their families built 20 beds that were delivered to families in need.
More ...
ATLANTIC OCEAN
Gas Turbine System Technician 3rd Class Isaac Edge, from Rocky Mount, North Carolina, takes a fuel sample for testing during a replenishment-at-sea abaord the Arleigh Burke-class guided-missile destroyer USS Carney (DDG 64), March 23, 2020. Carney, forward-deployed to Rota, Spain, is on its seventh forward deployed naval force patrol in the U.S. 6th Fleet area of operations in support of regional allies and partners as well as U.S. national security interests in Europe and Africa.
More ...
Luke's Word for the Week


Remembering the past impacts our way of living in the present, thus directing our future. Therefore, we need to get the past right.
This could certainly be a problem for those of us who have a sketchy past, filled with foolish decisions, hurtful conversations, and broken relationships.
As Rafiki said, "the past can hurt".

More ...
LUKE WHITEHEAD
A promise for Easter


Easter is my favorite holiday. It ushers in spring and renews the hope and joy that the winter season seems to steal from so many of us.
I've always thought of Easter as a season of celebration. In fact, my former church in Georgia hosts an Easter production each year for which thousands will literally get off work early to go on one of the seven nights that the play is running just to get a seat.

More ...
MIKE RUFFIN
SANDY CROSS NEWS


Rev. Steve Massey led the online Bible study for Kingdom International Church on April 8. His message was about the Wednesday before crucifixion. Youth Pastor Grant McGlothlin and Victoria Moss also led the online Bible study for the KIC Aftershock Youth. Their message was about Passion week.
KIC held "drive-in church" this past Sunday. Amber Mims, Mindy Lester and Taylor Mercer mimed the song "Ain't No Grave".

More ...
EMILY SILLS
Nashville student earns NCC Academic Excellence Award
Adam "Gus" Griffith of Nashville is Nash Community College's 2020 Academic Excellence Award recipient.
Gus Griffith is an Associate in Engineering degree student who plans to transfer to North Carolina State University and major in Chemical Engineering with a concentration in nanoscience.
More ...
Cubing makes a comback
A Nash Community College instructor and her family are bringing a favorite 1980's pastime back to the area. Information Technologies Instructor, Amy Vester, along with her children Baeden, age 16, and Lachlan, age 14, have re-introduced the Rubik's Cube as a fun pastime for all ages.
"Lachlan first became interested in cubing last year as a result of boredom," Vester said.
More ...
PEACHTREE COMMUNITY NEWS


A message from Pastor Gene Whitehouse of Peachtree Baptist Church.
Two thousand years ago, before corona virus shook the world, an earthquake rocked the world --- and it changed everything. On the morning of Jesus' resurrection, the Bible says, "Suddenly there was a great earthquake! For an angel of the Lord came down from heaven, rolled aside the stone and sat on it."

More ...
FRAN BUNN
Kent has an advanced degree in teenager


Greeting from The Bunker.
That's what my dad calls my room, since I spend most of my time there now. I like to play computer games with my friends online and it's the only place to escape the exhausting people, I mean family, that I live with.
My parents say daylight, eating, and socialization are important. I think they are being a little dramatic. Maybe that stuff mattered in olden times.

More ...
Mike Brantley
Virus continues to bring out the bad - and the good!


There is one thing for sure about the COVID-19 pandemic - you won't find anyone who isn't feeling the pinch in some form or fashion right now.
Emotions are all over the place, and rightfully so.
People who had to shut down businesses with no means of creating revenue are at a loss as to how they're going to stay afloat. Thankfully there are relief funds, but the process of getting the funding is getting slower and slower due to the overwhelming response.

More ...
Jo Anne Cooper
COVID-19 crisis will teach us many lessons for the future


Do you also find it hard to believe that only four weeks ago a slate of presidential candidates were making last chance stops here in North Carolina, vying for a Super Tuesday victory? How has time moved so slowly, and yet so fast?
These are unprecedented times, and perhaps what's happening right now is the pinnacle of an unprecedented era. For me, it seems our society has, for some years now, begun accepting the unparalleled as the ordinary.

More ...
LETTER TO THE EDITOR
Backward Glances


BATTLESHIP - This photo was taken sometime during the years 1954-1956. The photo shows an elevated view of the "Battleship" island in downtown Nashville as well as a rare glimpse of the hotel which no longer exists.

More ...
A PICTORIAL LOOK INTO THE PAST
In Their Own Words
Seniors reflect on potential end to careers: Owen Hans
When I first heard the news, I wasn't really the slightest bit surprised.
I had heard several days beforehand that Wake County and other counties were starting to suspend all athletic travel and practice and knew that Nash County was soon to come.
Immediately, I thought of the match I was about to play and that it was sure to be my last.
More ...
In Their Own Words
Seniors reflect on potential end to careers: Landon Alford
As of now I am missing the sports season, mainly due to being so confident and hopeful it would help me focus on college and better myself.
Everything has shut down, and with almost no hope of returning, I think I speak for all athletes when I say this senior season has been the most disappointing.
With the start of my year having a new soccer coach, it was already off to a bad start.
The outbreak of COVID-19 was unheard of or unworried about at first.
More ...
In Their Own Words
Seniors reflect on potential end to careers: Brandon Strickland


My senior year has not gone as planned, especially with baseball.
I anticipated my teammates and I would be able to play our full season just like any other year.
When I got the news that the season was being postponed, I was pretty bummed. I thought this season was going to be an amazing season for us all.
It would be extra special for me because of it being my last high school year.

More ...
1 opinion posted
In Their Own Words
Seniors reflect on potential end to careers: Amber Silver
I went out on a limb last year and randomly decided to try out for the soccer team. It was my junior year and I hadn't played a contact sport since I was 10 years old.
I don't know what prompted my rash thinking, but it was one of the best decisions I have ever made.
I was able to grow individually and collectively with the team. I met new people and extended my sports family.
More ...
E-W Selection


STANHOPE -- It may never happen, but at least Matt Foster will always know that he was chosen for the honor.
Foster, a senior quarterback at Southern Nash High School, has been selected to the East roster for the annual East-West All-Star Football Game.
The event is scheduled for July 22 at 8 p.m. at historic Jamieson Stadium on the campus of Greensboro Grimsley High School.

More ...
GEOFF NEVILLE, Graphic Sportswriter
Is is safe to go bass fishing?


BIRMINGHAM, ALA. -- The rapid spread of the coronavirus has forced the closure of schools, businesses, events and any other nonessential gatherings of people in our country and across the world.
For many of us, being off work or out of school means an opportunity to go bass fishing. But should we?

More ...
Staff Reports
Mudcats offer kids activities


ZEBULON -- The Carolina Mudcats have designed a new web page aimed at helping baseball fans find fun new materials and activities for their children to work on at home.
The new WakeMed Mudcats Kids Club Activities Page is available now at carolinamudcats.com and includes video tutorials, coloring pages, word searches, crossword puzzles, bingo boards and more.

More ...
Staff Reports