Subscribe/Access
Advertisements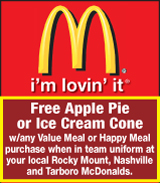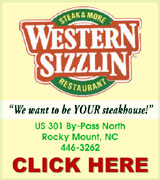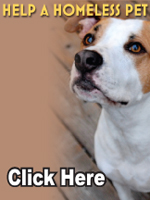 Sections
Member Options
Back
Nash County reports first COVID-19 death


Nash County is reporting its first COVID-19-related death.
The man, who was reportedly in his late 70's, passed away on Tuesday, April 7. He had underlying conditions and passed away from complications associated with the virus.

More ...
Amanda Clark, Graphic Staff Writer
Nash reports new COVID-19 cases


The toughest weeks in the nation's fight against the Coronavirus, or COVID-19, pandemic are yet to come.
Nash County Health Director Bill Hill said reports coming from United States Surgeon General Vice Admiral Jerome Adam and National Institute of Allergy and Infectious Diseases Director Anthony S. Fauci are dismal, at best, and predict the hardest and saddest weeks are coming.
"It was a pretty grave warning for the next week or so as the epidemic escalates in the United States," Hill said.

More ...
AMANDA CLARK, GRAPHIC STAFF WRITER
Nashville presents budget


Nashville's Town Council received a conservative budget proposal for the Fiscal Year 2020-2021 during a special called meeting on Tuesday night.
The proposed budget is at $12,281,443, which is a $1.9 million increase from the current FY 2019-2020 proposed budget but a $400,000 decrease compared to the current year's amended budget.

More ...
AMANDA CLARK, GRAPHIC STAFF WRITER
SIGNS OF THE TIMES
A resident on Aviation Avenue wanted to brighten spirits in her neighborhood by posting inspirational signs for her neighbors.
Signs of closure can be found in every town, this one at the public park in Red Oak.
Many businesses have signs posted on their doors and windows, this one in downtown Nashville simply asks people to "Just Pray."
More ...
School board chooses architect


The Nash-Rocky Mount Board of Education has selected an architect for the new elementary school but the vote was not unanimous.
Board members voted 6-4 to enter into contract negotiations with Oakley Collier Architects for design services of the new elementary school, which will be located on the campus of the current Red Oak Elementary School.

More ...
AMANDA CLARK, GRAPHIC STAFF WRITER
Bunch named HR director


The Coronavirus pandemic has caused the Town of Nashville to act early on a personnel change.
Town Manager Randy Lansing said he made the decision to split the town clerk and human resources director position into two separate positions.
Lansing said the decision was one he made and had been considering since becoming town manager.

More ...
AMANDA CLARK, GRAPHIC STAFF WRITER
Nash moves forward on jail project


Nash County Commissioners on Monday approved hiring Moseley Architects to assist with the design, permitting, bidding and contract administration phase of the Nash County Detention Center Renovation and Expansion Project.
Commissioners unanimously voted to move forward with the project, giving Nash County Manager Zee Lamb the authority to negotiate a proposed scope, fee, and schedule for the work.

More ...
AMANDA CLARK, GRAPHIC STAFF WRITER

Nash County 4-H Program Assistant Barbara Wind stands at the Farmers Market entrance making sure people wash their hands upon entering and exiting the market.

Farmers market opens with restrictions in place


Opening day at the Nash County Farmers Market looked a bit different this year.
With social distancing measures in place due to the Coronavirus pandemic, vendors and market staff were asked to take extra precautions to ensure a safe season and to prevent the spread of the virus.

More ...
AMANDA CLARK, GRAPHIC STAFF WRITER
Spring Hope adds local restrictions for seniors


The Town of Spring Hope has added restrictions to local stores to allow senior shoppers a chance to shop early.
Commissioners met last week to approve a resolution directing stores in town that sell groceries or other items typically sold in a grocery store, to only allow customers who are 62 years or age or older to shop from 7 a.m. through 8 a.m. Monday through Friday.

More ...
AMANDA CLARK, GRAPHIC STAFF WRITER
Class of 2020: NASH CENTRAL HIGH SCHOOL


You were born at a time our nation was rising to the challenge of becoming its best and rebuilding after 9-11. You're now a senior, getting ready to celebrate the beginning of the rest of your life. Your generation was destined to become something truly great. And you are! Your new journey will soon begin, and you are ready for all the great things to come. We salute you!

More ...
2 opinions posted
Local man makes face shield frames for EMS
Nash Community College alumnus James Simpson of Nashville is doing his part to support front line workers as they respond to the COVID-19 pandemic. Simpson used his personal three-dimensional (3-D) printer to produce more than 100 face shield frames for Nash County Emergency Services employees and friends who are serving in healthcare occupations.
More ...
NRMS to receive COVID-19 funding
The Nash-Rocky Mount School System is set to receive $582,022 in assistance to help with COVID-19 related issues. The State Board of Education (SBE) and the North Carolina Department of Public Instruction (DPI) will establish a new $50 million flexible allotment for public school units to address COVID-19-related expenses.
More ...
NASH COUNTY SHERIFF'S REPORTS
A second degree trespassing and drunk and disruptive was reported on 4/2/20 at 12466 Bloomer Lane, Whitakers
A motor vehicle theft was reported on 4/2/20 at 1398 Devan Lane, Nashville
A misdemeanor larceny was reported on 4/4/20 at 1720 S First Street, Nashville
More ...
Good news of the Gospel begins with the Easter Resurrection


"See my servant will act wisely; he will be raised and lifted up and highly exalted." (Isaiah 52:13)
Michelangelo once turned to a fellow artist and said with frustration in his voice, "Why do you keep filling gallery after gallery with endless pictures on the one theme of Christ in weakness, Christ on the cross, and most of all, Christ hanging dead"? he asked.

More ...
MIKE RUFFIN
PEACHTREE COMMUNITY NEWS


A message from Pastor Gene Whitehouse of Peachtree Baptist Church.
As the world confronts the coronavirus (COVID-19), our thoughts and prayers are with everyone affected. This pandemic is a global humanitarian challenge that evolves day by day, and we're all doing our best to navigate unchartered territory.

More ...
FRAN BUNN
Luke's Word for the Week


Do you find yourself suddenly relating with the neighbor of Tim "the Tool Man," Wilson? A sturdy separation of 6 foot high fencing along with 6 feet of separation is the new norm when interacting with our neighbors. Do you find yourself regretting those prayers of being able to watch Hallmark movies all day while in your pajamas?

More ...
LUKE WHITEHEAD
SANDY CROSS NEWS


This past Sunday was Palm Sunday. Christian Fellowship Church held online service at 10 a.m. Communion was also held during the online service. All services can be viewed on the CFC You Tube Channel and Facebook page.
Vaughan's Chapel Church held their first "drive-in" service this past Sunday with great success.

More ...
EMILY SILLS
Intersections: God and Life


One of the most oft-cited commands in the Bible is stated as "Do not fear," or "Be strong and courageous." In our modern era in the west, often if you want to grow in courage and fearlessness you need to go look for growth opportunities, whether it be through rock climbing, quitting an old job to begin a new one, having some kind of difficult conversation, or some other initiative.

More ...
CARLYLE HALL
Time truly moves fast, Holly turns 20


Dear Holly,
As your grandmother would say, it's a time in the land.
Who would have thought -- just a month ago -- that the entire world would be on some form of quarantine, not really knowing when it's going to end?
We've had to make adjustments to how we do everything, so birthday celebrations are no exception.

More ...
Mike Brantley
Beware of COVID-19 scammers


In March, the federal government enacted a $2 trillion recovery law that will give many Americans up to $1,200 per person, with additional amounts for children, to help navigate economic hardships caused by the COVID-19 pandemic. As this money is sent out over the next few weeks, please be careful of scammers trying to get your personal or financial information so they can pocket your money or ruin your good name instead.

More ...
NC Attorney General Josh Stein
Backward Glances


This photo originally published in The Nashville Graphic on April 2, 1970. Pictured, a crew leader and a census worker check over a census form that has been filled out by a Nashville resident.

More ...
A PICTORIAL LOOK INTO THE PAST
In Their Own Words: coaches reflect on potential end to season
Jeff Dodrill
The news of the COVID-19 had a major impact on the spring sports season at both the middle and high school levels.
Some teams had already started competing while other were just about to play their first game.
The announcement was made that the seasons were going to be suspended came on a Thursday and went into effect as of that Friday at 5 p.m.
More ...
In Their Own Words: coaches reflect on potential end to season
Juan Jackson
I am really distraught and disappointed that our Spring Sports season was suspended.
Distraught because of how I had to relay the message to our teams after practice on that day, as we were preparing for Invitational Meets and Championship season.
Teary-eyed and all I had to tell those seniors that their careers were over only having completed four meets in the early part of the season.
More ...
In Their Own Words: coaches reflect on potential end to season
Kyle Bain
On March 12, 2020 at 2:15 p.m., an e-mail from the North Carolina High School Athletic Association immediately changed the 2020 spring sports season.
According to the memo, spring sports were being canceled from 3/13 to 4/6.
As I sat in my office, I was trying to think of the words to say to our athletes and coaching staff when suddenly the bell rang for dismissal.
More ...
In Their Own Words: coaches reflect on potential end to season
Robbie Kennedy
My name is Robbie Kennedy. I am the Athletic Director, sssistant football, head boys basketball and head girls soccer coach at Southern Nash High School.
As you can see, I am a busy man. But I love every bit of it. I have coached at SN for over 20 years.
I have the privilege of working with a lot of good people and good student-athletes.
More ...
NN's Booth Picks ECU


RED OAK -- The world of professional, college and high school sports alike have been rather bare recently, but that didn't prevent a Northern Nash High School track and field star from announcing where he'll be attending school this fall.
With interest from as many as 15 NCAA Division I schools, Northern Nash's Terence "TJ" Booth verbally committed to run track at East Carolina University next year.

More ...
CHANCE PUCKETT, Correspondent