Subscribe/Access
Advertisements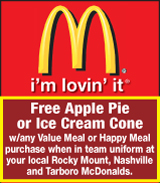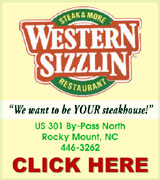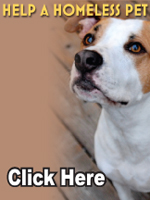 Sections
Member Options
Back
NC reports first COVID-19 related death
A person from Cabarrus County died on March 24 from complications associated with the virus. The patient was in their late seventies and had several underlying medical conditions. A second person in their sixties, from Virginia who was traveling through North Carolina also died from COVID-19 complications. To protect the families' privacy, no further information about these patients will be released.
More ...
Nash has positive COVID-19 cases


Nash County residents will likely see a steady increase of positive Coronavirus (COVID-19) cases, Health Director Bill Hill reported on Tuesday afternoon during a daily update with local leaders.
Hill said the fourth Coronavirus case for Nash County was reported on Monday evening.

More ...
AMANDA CLARK, GRAPHIC STAFF WRITER
24th annual Blooming Festival is canceled
Organizers of the Nashville Blooming Festival announced Tuesday the 2020 event has been canceled.
The long-running event hosted by the Nashville Chamber of Commerce has never been canceled or postponed in 23 years.
A press release from the committee states, "We are broken-hearted to announce the 2020 Nashville Blooming Festival has been canceled due to concerns about COVID-19."
More ...
Two charged with parking lot shooting


Two men have been charged in connection to a parking lot shooting that happened at Wal-Mart Sunday afternoon.
Police were called to the parking lot of Wal-Mart in Nashville around 1:23 p.m. on Sunday, March 22. The call came through as an active shooter situation but Police Chief Anthony Puckett said that was not the case.

More ...
AMANDA CLARK, GRAPHIC STAFF WRITER
Eastern Carolina 4-H Show and Sale is canceled


Local youth won't get a chance to show their animals at this year's Eastern Carolina 4-H Show and Sale.
Officials announced last week the event has been canceled.
This year would have been the 83rd year of the event, said Sandy Hall, Nash County Cooperative Extension Director and 4-H Agent.

More ...
AMANDA CLARK, GRAPHIC STAFF WRITER
Nashville fees may rise


Nashville's Town Council is considering rate changes that will cost taxpayers an additional $7.41 a month.
Council members met on Monday afternoon to for a budget work session and heard a presentation from Finance Director Samantha Sanchez on the proposed changes.
Sanchez said though rate increases are proposed, the property tax rate is proposed to remain the same in the FY 20-21 budget she plans to present.

More ...
AMANDA CLARK, GRAPHIC STAFF WRITER
School board decides to hire architectural firm


The Nash-Rocky Mount Board of Education is moving forward with selecting an architectural firm to design the new elementary school.
The board met on Monday evening to approve interviewing four firms following a request for qualifications that was sent out earlier this month. The Board of Education will interview the four candidates in a joint meeting with Nash County Commissioners.

More ...
AMANDA CLARK, GRAPHIC STAFF WRITER
Hospital seeks donations of medical supplies
As the coronavirus outbreak puts more stress on hospitals nationwide, Nash UNC Health Care is asking for donations of medical supplies, especially personal protective equipment, or PPE, for health care providers.
The biggest needs include N95 masks, surgical masks (with and without shields), disposable gloves, disposable shoe covers, eye protection and protective gowns. Other needs include nasal swabs, disinfectant, hand sanitizer with more than 60 percent alcohol and hand soap.
More ...
County manager requests residents use online services
In the interest of safety for residents and county employees, Nash County Manager Zee Lamb is asking citizens to use the county's online services before considering an in-person visit to any of the Nash County facilities.
"We are requesting that residents do business with the county through our services online, over the phone, or by email whenever possible.
More ...
AREA PARKS CLOSED
Due to the COVID-19 concerns, all parks under the Nash County's supervision: WB Ennis Memorial Park, Spring Hope Community Park, Bailey/Middlesex Community Park, JW Glover Memorial Park, and Castalia Community Park are closed until at least April 30th.
This includes all playground equipment, restrooms, athletic fields, picnic shelters, basketball courts, and tennis courts.
More ...
Man charged in RM shooting
Eugene Jenkins, 31, was arrested for his alleged involvement in the shooting incident on March 18, 2020, at the intersection of Lynn Ave and Carlton Ave.
Jenkins was charged with assault with a deadly weapon with intent to kill, inflicting serious injury. He received a $100,000 secured bond and was transported to the Edgecombe County Jail.
More ...

Thomas Ray Edmondson
Father, son charged with multiple break-ins
A Rocky Mount father and son were arrested and charged with multiple breaking and enterings on East NC Highway 97 in Nash County.
The Nash County Sheriff's Office responded to eight calls for service on March 15 and 16. The calls ranged from breaking into storage buildings, residences and vehicles, which also allowed the suspects to commit several larcenies. The suspects were reportedly targeting lawn equipment, appliances and tools.
More ...
NC 2-1-1 provides assistance for COVID-19
Statewide service can refer people to organizations in their community that are helping with health and human service resources
Governor Roy Cooper announced NC 2-1-1 by United Way of North Carolina as a resource for people to call for assistance related to the COVID-19 coronavirus.
NC 2-1-1 is an information and referral service that families and individuals can call to obtain free and confidential information on health and human services resources within their community.
More ...
Down East Senior Games postponed
The Down East Senior Games Committee is closely monitoring the situation at hand regarding the growing concern due to the COVID-19. Organziers state, "As always, your safety and health are our first priority."
"Unfortunately, we will have to postpone our games. At this time, North Carolina Senior Games (NCSG) has stated that we have additional time to reschedule events for State Finals qualification."
More ...
DEPC RESOURCES
The Down East Partnership for Children has compiled a list of resources for food and child care as well as other local and online learning resources. We will keep this updated throughout this pandemic.
The Family First line is still open for parents who have a question or need more information about available resources.
More ...
Tax deadline extended to July 15
The North Carolina Department of Revenue (NCDOR) announced that they will extend the April 15 tax filing deadline to July 15 for individual, corporate, and franchise taxes to mirror the announced deadline change from the Internal Revenue Service.
"Taxpayers need relief during this difficult time and my administration is bringing it," Governor Roy Cooper said.
More ...
Nash UNC Health Care Foundation's Blue Jeans & BBQ is rescheduled
Nash UNC Health Care Foundation's Blue Jeans & BBQ scheduled for Friday, April 24th is rescheduled to Friday, September 11th at the Power House, Rocky Mount Mills.
The announcement states, "We have so much planned for our new fundraising event and we look forward to seeing you in September."
More ...
We don't have all the answers


We live in a world that teaches us that we are at the center of whatever success or failure we experience. You know the old saying, "There's nothing you can't accomplish, if you put your mind to it".
That all sounds real good, but it's not true. Actually, it's a form of humanism and we are peppered with it every day. So it's no wonder we often face problems in our own lives with the notion that we can find the solutions.

More ...
MIKE RUFFIN
SANDY CROSS NEWS


Mrs. Johnson, the Librarian of Coopers Elementary School, has been recording book readings on You Tube. If you have a child at home and would like to tune in, the readings are called "Books For Bulldogs" and can be found on Mrs. Johnson's You Tube page at this link: https://www.youtube.com/channel/UC0UF_V3MacDNgqEPaaqYpAQ

More ...
EMILY SILLS
Luke's Word for the Week


Anytime a natural disaster or pandemic occurs, the same question inevitably comes up, "Is Jesus coming back?"
My response is usually the same, "yes, yes he is coming back". Until Jesus comes back, he is always coming back. We must always be ready, whether conditions look like it or not. Remember what the one who is coming back said concerning his coming back (Acts 1:7).

More ...
LUKE WHITEHEAD
PEACHTREE COMMUNITY NEWS


"So much has happened in our world in just one week. We are further restricted from social contact and our community fellowship of the church has been severely interrupted; all of which I condone and feel is absolutely necessary to contain this insidious virus. We indeed live in very different and strange times.
As I studied this week, my thoughts were drawn over and over to verse 14 from 2 Chronicles 7:

More ...
FRAN BUNN
Nash County Animal Friends' Notebook


Everyone should be responsible for the stray dogs that are in your area, especially if you take pity on it and start feeding it. At that point, you are starting to become the owner. Now remember, please, that a stray dog may have an owner. They may have taken off on an adventure. There are several things you must/should do.

More ...
CAROL VIERELA NASH COUNTY, ANIMAL FRIENDS
Some odd, but really good, movie choices


This coronavirus is certainly dangerous.
Really, I'm not so sure that the situations it's causing aren't more dangerous than the actual virus. I've heard from some folks confined for a week with their families who are on the verge of tears or perhaps felonies.
Last week I tried to offer some good reading suggestions, hoping to deliver some underappreciated gems.

More ...
Mike Brantley
We're all in this together, but at a distance


We're all attempting to adapt to a lifestyle we could never imagine.
We've watched this pandemic, COVID-19, bring out the worst in some people, but we've also seen it bring out the best too.
Some local services and businesses are having to shut down completely or operate bare-boned. We are warned to keep our distance from one another, even isolate ourselves.

More ...
Jo Anne Cooper
Backward Glances


This photo was found in The Nashville Graphic's 1970 negative archives, filed under "fishing trip." We're not sure if this photo was published at a later date or if it was part of The Graphic's photo files for other organizations.

More ...
A PICTORIAL LOOK INTO THE PAST

A MULTI-SPORT STAR. Unique Braswell has excelled in several endeavors at Nash Central High School, including the Track & Field Boys High Jump.

A UNIQUE STANDOUT


ROCKY MOUNT -- Unique Braswell only played two seasons of football during his career at Nash Central High School, but he certainly made the most of them -- especially his senior campaign.
Braswell joined the NCHS gridiron program as a junior and didn't see extensive varsity action until his senior year.

More ...
GEOFF NEVILLE, Graphic Sportswriter
A New Opportunity


FRANKLIN COUNTY -- Randy Davis has navigated through plenty of ups and downs during his 25 years in the golf industry -- and he hopes to bring that problem-solving expertise to his new position at the Club Professional at The River Golf and Country Club at Lake Royale.
Davis has witnessed participating soar to tremendous heights during the peak of the Tiger Woods Era in the late 1990s and early 2000s.

More ...
GEOFF NEVILLE, Graphic Sportswriter

NASH CENTRAL HIGH SCHOOL SWIMMER LANCE NORRIS

A SWIM SALUTE


ROCKY MOUNT -- Nash Central High School continues to make a splash in the Eastern Plains Conference swim standings -- and beyond.
This past season, the Bulldogs won the EPC boys and girls championships for the third consecutive year in dominant fashion.
At the EPC Finals at the Harrison Family YMCA, Nash Central won a combined 17 events en route to sweeping the boys and girls crowns for veteran head coach Kyle Bain.

More ...
GEOFF NEVILLE, Graphic Sportswriter
NCHSAA releases an update


CHAPEL HILL -- Here is the latest update from the North Carolina High School Athletic Association concerning its spring sports season:
"Having heard the updated information relative to schools remaining closed until the middle of May, NCHSAA interscholastic athletics will remain suspended until at least May 18.

More ...
Staff Reports
COUNTY FUTSAL RESULTS


NASH COUNTY -- Listed are the final Nash County Recreation & Senior Services Youth Futsal Scores for the winter season:

More ...
Staff Reports