Subscribe/Access
Advertisements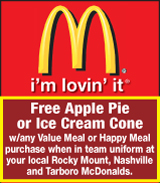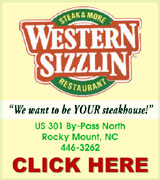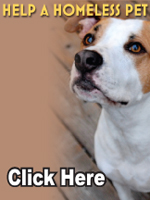 Sections
Member Options
Back
Murder trial moved to Pitt County


A trial date has been set for Lynn Keel, who is accused of murdering his wife, Diana, last March.
The trial will be held in Pitt County this summer.
Rexford Lynn Keel appeared briefly in Nash County Superior Court last Thursday, where Senior Superior Court Judge Quentin Sumner announced the trial would be moved to Pitt County and tentatively was scheduled for July 27.

More ...
AMANDA CLARK, GRAPHIC STAFF WRITER
PRIMARY ELECTION
Arrington wins vote for Nash County board seat


Close to 21,000 Nash County voters cast votes in the 2020 Primary Election.
The District One seat on the Nash County Board of Commissioners was the sole local seat up for grabs. Marvin Arrington, of Battleboro, won the seat, receiving 1,462, or 71.21 percent, of the votes. His opponent, Mike Johnson, received 591, or 28.79 percent, of the votes.
Arrington will take the place of Commissioner Lou Richardson who has served District One for many years.

More ...
AMANDA CLARK, GRAPHIC STAFF WRITER

Scooter Station owner Ashley Whitley, dressed as a mouse, helps with the second clue.

Nashville Elem. kicks off reading program


Students at Nashville Elementary School were on pins and needles Monday afternoon, as they waited for the big reveal of a book they will read along with members of the community.
The event was the kick-off for the annual "One Book, One School, One Community" reading program.

More ...
AMANDA CLARK, GRAPHIC STAFF WRITER
Town is stalled on parks, rec location options


Nashville's Town Council continues to hold off on a decision regarding its parks, recreation and cultural resources department.
The item was brought back before Town Council on Tuesday during the board's regular meeting. This time, the Parks, Recreation and Cultural Resources Department brought a recommendation to town council.

More ...
AMANDA CLARK, GRAPHIC STAFF WRITER
It's official! New school superintendent is sworn into office


It was a busy first day for the new Superintendent of Nash-Rocky Mount Public Schools.
Dr. Steve Ellis started his first official day on Monday, March 2 by serving as Firefighter Fred at Nashville Elementary School's Letterland Celebration and ended it with a lengthy, somewhat controversial board meeting.

More ...
AMANDA CLARK, GRAPHIC STAFF WRITER
Nash County Health monitors Coronavirus
North Carolina has identified its first case of coronavirus in Wake County.
The person was tested by the North Carolina State Laboratory of Public Health. The test was presumptively positive and will be confirmed by the US Centers for Disease Control and Prevention Lab. The person is doing well and is reportedly in isolation at home.
More ...
Castalia to hold public forum for economic development


At the regular monthly meeting of the town board of Castalia, board members heard a brief presentation from Susan Phelps, a Retail Economic Developer for Nash County. Phelps told the board she had met with Mayor James Alston to discuss how to engage the public in a conversation on the future of Castalia. Highway 58, which runs through Castalia is a busy thoroughfare.

More ...
JESSICA SMITH, GRAPHIC CORRESPONDENT

Nancy Kirkwood stands among the line of sight words she created to help kindergartners and first graders.

Retired teacher sets her "sights" low


Nancy Kirkwood can't seem to stay away from Nashville Elementary School and that's alright by her.
Kirkwood spent 26 years as a teacher at the school and since retirement in 2012, continues to come back and help as often as she can.
Kirkwood often serves as a substitute at the school and tutors once a week. But Kirkwood is also spending her time at the school on a special project meant to help the students learn their sight words.

More ...
AMANDA CLARK, GRAPHIC STAFF WRITER
PRINCESS STORYTIME
Harold D. Cooley Library hosted a Fairytale Storytime at the library last week. Pictured above, Harold D. Cooley Library Director Tikela Alston reads a book while Paisley Strickland looks on during a Fairytale Storytime last week at the library.
More ...
Spring Hope man sentenced for heroin, firearm charges
A Spring Hope man was sentenced to over 13 years in prison on heroin and firearm convictions.
United States District Judge Louise W. Flanagan sentenced Michael Jermaine Jackson, 36, to 160 months in prison followed by five years of supervised release last Wednesday in federal court.
More ...
Man charged with cold case homicide
A newly established Cold Case Unit has led to the arrest of a man wanted for the 2014 murder of Kelly Anderson.
Anderson, 30, of Rocky Mount, was found shot to death on August 5, 2014 at the corner of Holly Street and Pennsylvania Avenue.
Despite an extensive investigation, no arrests were made.
More ...
RMPD investigates bank robbery at BB&T
Rocky Mount Police are investigating a bank robbery that occurred last Friday.
Officers responded to BB&T Bank at 2632 Sunset Avenue around 11:37 a.m. on Friday, February 28 in reference to an attempted bank robbery.
No injuries were reported during the robbery attempt.
More ...
RED OAK NEWS


Welcome to Nicole Longmire, new member at Red Oak Baptist Church!
Several from Red Oak Baptist Church attended the 30th Annual Celebrate Life Banquet on Thursday, February 27 at Englewood Baptist Church. The banquet included dinner catered by Something Different of Wilson followed by various speakers sharing about their experiences working at Your Choice Resource Center or benefiting from some of the many programs offered there.

More ...
SUZY PEARCE
Luke's Word for the Week


Alright, saints, we are back at it with the story from Acts 3:1-10. Last week we ended with Peter's utterly weird words to the world, but normal in the realm of heaven. We will pick up with Acts 3:7.
I'm sure the beggar was hungry and a couple dollars would have gone a long way.

More ...
LUKE WHITEHEAD
SANDY CROSS NEWS


Nash-Rocky Mount Schools will use March 16 as a regular school day to make-up the day students were out for snow.
Last week at Southern Nash Middle School, Ms. Oakes 6th grade science classes had fun learning in a measurement lab. Some of the items weighed and measured were rocks, golf balls, wood, and different liquids.

More ...
EMILY SILLS
Intersections: God and Life


Biblical repentance is an easily misunderstood and misapplied concept that warrants close examination.
Several texts clearly indicate that repentance, together with faith, is essential for the forgiveness of sins (Luke 24:47; Acts 2:38; 3:19; 5:31; 11:18). In Acts 3:19 and 26:20, metanoe (to repent) and epistreph (to turn back; see Acts 26:18) "are placed side by side as equivalent terms, though in these cases the former may focus on the abandonment of evil and the latter on turning to God."

More ...
CARLYLE HALL
PEACHTREE COMMUNITY NEWS


Peachtree members, family, and friends met Sunday to praise our Lord for all He does for us. He continues to bless and protest us.
The sanctuary flower arrangement Sunday was presented to glorify God by Fran and Bobby Bunn in honor of Fran's father Jake Robertson on his 95th birthday, their two grandsons, JR Bunn and Giorgi Martinez, on their birthdays.

More ...
FRAN BUNN
Cedar Grove celebrates Letterland!, 1


First grader Melissa Adkins gets ready to lead her class dressed as Vicky Violet for the Letterland Parade on Monday at Cedar Grove Elementary School.

More ...
GRAPHIC PHOTOS BY AMANDA CLARK
Cedar Grove celebrates Letterland!, 2
Teachers and other staff also got in the Letterland spirit Monday. Pictured (L-R) are front office staff Angelia Jones, as Dippy Duck, and Debbie Rightmyer, as the Quarrelsome Queen.
More ...
Downtown Strong reports presented to council


Recommendations on how to make Nashville a more thriving community were presented to town council members last Wednesday.
Bruce Naegelen, of the Main Street Planning Center, and Hilary Greenberg, of Greenberg Development Services, each presented their findings to council members at the board's regular agenda meeting.

More ...
AMANDA CLARK, GRAPHIC STAFF WRITER
Daylight Savings Time is for the birds - early ones


Sunday at 2 a.m., Daylight Savings Time rolls in.
That means clocks go forward one hour and the decent among us lose an hour of sleep.
Of course, that is one hour less we have to hear about the coronavirus, the Democrat Party primaries, and what Donald Trump has done in the last 60 minutes (or the next) to destroy the entire world.

More ...
Mike Brantley
Sometimes there's more than meets the eye


I feel the need to set the record straight regarding press association awards since some neighboring newspapers recently announced their winnings.
This is not meant to trivialize awards won by other publications.
It's just really not fair to our veteran reporter, Amanda Clark, that I not explain the process to enter and/or win NC Press Awards.

More ...
Jo Anne Cooper
Backward Glances


Last week's Backward Glances photo featured a 1967 pageant. The negative was filed alone and marked only Spring Hope. Thanks to a loyal reader, Sandra Mayo, we now know the photo was from the Miss Nash County 1967 pageant which was held in Spring Hope. The event was held in April of 1967. We were able to locate the article which states Frances Stott of Spring Hope was crowned Miss Nash County in the event.

More ...
A PICTORIAL LOOK INTO THE PAST

SHOWDOWN OF STARS. (L to R) Northern Nash's Mazie Murphy and Nash Central's Mallory Roughton attempt to gain possession during Monday's match.

SOLID START FOR NN


ROCKY MOUNT -- The 2019 girls soccer campaign proved to be a learning experience for the Northern Nash Lady Knights -- both for the players and the head coach.
The Lady Knights were extremely young last year and also featured a new coach in Cameron Avery, who was known more for his football prowess during his prep days at Wilson Fike High School.

More ...
GEOFF NEVILLE, Graphic Sportswriter
State Champ For NN


RED OAK -- Last year, Sidney Sullivan finished in third place, during the North Carolina Girls Wrestling Invitational sponsored by High School OT.
This season under a bigger spotlight with the NCHSAA backing the event, she knew things would be different.
For the first time in school history, Northern Nash had a female wrestler crowned Individual State Champion, with Sullivan, a sophomore at Northern, taking the crown in the 132-pound division at the Carolina Courts in Concord.

More ...
CHANCE PUCKETT, Correspondent
STRONG SEASON


STANHOPE -- It would be an understatement to say that Jordan Bass inherited a rebuilding situation when he took over the girls basketball head coaching job at Southern Nash High School several years ago.
Southern had been a long-standing resident in the cellar of the always-tough Big East Conference -- and with seemingly no hope for advancement at the time.

More ...
GEOFF NEVILLE, Graphic Sportswriter
Northern wraps up schedule


CLAYTON -- Some of the most intense matchups of the high school basketball season in North Carolina take place during the Playoffs, which begin in late February.
When two teams meeting in a playoff game have already competed against one another during a tight-knit contest in the regular season, the stakes are even higher.

More ...
CHANCE PUCKETT, Correspondent
NCWC gets past Brevard


ROCKY MOUNT -- The North Carolina Wesleyan College baseball team pulled out a series win over conference foe Brevard College on Sunday, using stellar pitching and clutch hitting to grab a 2-1 win at Bauer Field on the NCWC campus.
Junior pitcher Drew Tubb threw a complete-game 4-hitter allowing just a solo home run in the 9th while walking two and striking out 7 to pick up his first win of the season. He also lowered his ERA to 2.82 on the season with 21 strikeouts.

More ...
Staff Reports
STATE PLAYOFF HOOPS RESULTS


NASH COUNTY -- Listed are Tuesday's results for the fourth round of the North Carolina High School Athletic Association's State Basketball Playoffs:

More ...
Staff Reports
Pirates defeat High Point


GREENVILLE -- Bryson Worrell hit a pair of home runs, while Lane Hoover and Connor Norby both tallied three hits leading No. 17 East Carolina University to a 13-1 home baseball win over High Point Sunday afternoon at Lewis Field inside Clark-LeClair Stadium.
With the win, the Pirates improved to 8-3 on the season and the Panthers fell to 5-7.

More ...
Staff Reports
Wesleyan splits men's tennis matches


ROCKY MOUNT -- The #20-ranked North Carolina Wesleyan College men's tennis team went on the road to defeat #35 New York University on Sunday afternoon 7-2 to pick up their 4th win of the season after falling 6-3 to Johns Hopkins University in Maryland on Saturday.
The men sit at 4-3 after the weekend.

More ...
Staff Reports
BALANCING ACT
Nash Central's Hailey Boone attempts to advance the ball during Monday afternoon's girls soccer meeting with Northern Nash in the regular season opener for both squads.
More ...
CONTACT SPORT
(L to R) Northern Nash's Janiah Godley and Nash Central's Diamond Williams engage in a physical joust for possession during Monday afternoon's soccer rivalry showdown.
More ...
Gospel Jubilee is Satuday, March 7th at O.D. Moore Bldg


The O.D. Moore Scholarship Foundation will host its fourth annual Gospel Jubilee Fundraiser on Saturday.
The event will be held at 2 p.m. on Saturday, March 7 at the O.D. Moore Building in Nashville.
Goldie Moody, one of the organizers for the event, said at least seven groups will perform.

More ...
AMANDA CLARK, GRAPHIC STAFF WRITER