Subscribe/Access
Advertisements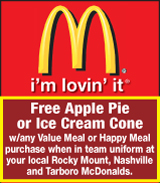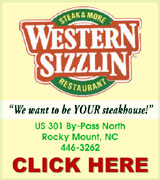 Sections
Member Options
Back
Baines leaves post with Town of Nashville


Jamey Baines has spent most of his life serving the citizens of Nashville.
After this week, he will set out on a new journey.
Baines is leaving his current position as Public Works Director to go into the private sector. Baines has worked for the Town of Nashville for 18.5 years.

More ...
AMANDA CLARK, GRAPHIC STAFF WRITER

WILLIAMS

Two charged with woman's death


The nephew of Sarah Denise Patterson, 51, has been charged with first degree murder after her body was found in a shallow grave last Wednesday.
Patterson, of Raleigh, was recently reported missing while visiting Spring Hope.
Last Tuesday, investigators found Patterson's vehicle burned, Nash County Sheriff Keith Stone said during a press conference. The vehicle was found in Edgecombe County.

More ...
AMANDA CLARK, GRAPHIC STAFF WRITER

HELPING OUT - Southern Nash High School student Robert Hough helps with clearing limbs from a hay field so the Strickland family can attempt to salavage the hay on Friday in Middlesex. A tornado wreaked havoc on the Strickland farm on May 13.

Locals help tornado victims


Local farmers, 4-H'ers and others in the community have pulled together to offer support and assistance to a local family devastated by a tornado earlier this month.
Marina and Larry Strickland's Nade Road home and farm in Middlesex received significant damage after a tornado came through the area on May 13.
Damage was also reported along Massey Road and Brantley Road in the Middlesex area.

More ...
AMANDA CLARK, GRAPHIC STAFF WRITER
Renovated facility to open as assisted living facility
A new assisting living community will open up this summer in the renovated space of what used to be Universal Healthcare.
Hickory, North Carolina-based Affinity Living Group (ALG) will open the doors to The Gardens of Nashville and five other new assisted living communities this year.
Universal Health closed the facility in 2016 to reportedly make extensive repairs. However, in May 2018, the facility was sold for $1.7 million to a company listed as Nashville Prop Co. LLC.
More ...
Nashville Readiness Center nears completion


The North Carolina National Guard is nearing completion of two capital improvement projects at the Nashville Readiness center on Eastern Avenue.
The facility closed in 2017 to undergo renovations and members of that National Guard unit were temporarily reassigned.
State funding of over $2 million was received for the two capital projects in the 2013-2015 biennium and matching federal funds were recently received to allow the National Guard to complete the construction projects.

More ...
AMANDA CLARK, GRAPHIC STAFF WRITER
New accounting firm opens in Nashville


Jen Deal recently opened up shop in Nashville in what is traditionally known as the Abernathy house.
Deal has owned her own accounting business, Jen Deal CPA, since 2003 but always worked from her home.
She moved to Nashville from Florida in 2015 and continued working from her home but said she found it necessary to move into a building.

More ...
AMANDA CLARK, GRAPHIC STAFF WRITER
American Legion hosts Memorial Day ceremony


Memorial Day is a time for Americans to be thankful for those who paid the ultimate sacrifice. But the legacy of those who gave their lives should be remembered every day.
Those were the sentiments of Frank Stancil, who was the guest speaker for Nashville's Memorial Day Ceremony, which is hosted each year by American Legion Post 110.

More ...
AMANDA CLARK, GRAPHIC STAFF WRITER
NASH COUNTY SHERIFF'S OFFICE REPORTS
A driving while intoxicated was reported on 5/19/19 at 301 South and Cooley Road
A larceny by an employee and obtaining property by false pretense was reported on 5/19/19 at 14490 Avent Road
A driving while intoxicated and misdemeanor child abuse was reported on 5/19/19 at Highwway 97 and S Old Carriage Road
More ...
Harper named to President's List at Bob Jones University
Keren Harper, a Sophomore Communication Disorders major of Nashville, was among approximately 540 Bob Jones University students named to the Spring 2019 President's List.
The President's List recognizes students who earn a 3.75 or higher grade point average for the semester.
More ...

Nashville Interim Police Chief Joey Corbett speaks during a recent VOICE of Nashville meeting.

NPD Interim Chief says citizens always come first in Nashville


Nashville's Interim Police Chief Joey Corbett was the guest speaker at last Monday night's VOICE of Nashville meeting.
Corbett shared information about his role as the interim chief as well as about how Nashville's Police Department chooses to police the town.
"The citizens come first, then the town, then the department," Corbett explained.

More ...
AMANDA CLARK, GRAPHIC STAFF WRITER
Airport receives funding for improvements
The NC Board of Transportation approved state and federal grants for projects to bolster the economy and improve safety at nine North Carolina airports. The approval came during the board's May meeting.
Nearly $13.6 million in state and federal funding has been granted for projects that will help these airports grow, such as new hangar sites and updated safety lighting.
More ...
Stop doubting and believing


It may sound a little dramatic, but the thing I worry most about in my faith is that Jesus will return before a family member or friend comes to a saving knowledge of him. Ever since Jesus was born and since he died, we have the opportunity for salvation. "For God did not send His Son into the world to condemn the world, but that the world through Him might be saved. " (John 3:17)

More ...
MIKE RUFFIN
Word for the Week


When I first heard God calling me into ministry from a career in academia, I thought surely I was mistaken. I was a family therapist and professor of child development at NC State University. I had worked hard and was on my way to building a prominent career. There was one problem: God had different plans for me.

More ...
NICHOLE HUFF
Intersections: God and Life


"Confess."
What does that word bring to mind when you read it? What does it mean in the Christian life? How does one actually confess? These days, it seems like each week brings new headlines with apologies from pedestaled persons owning up to moral failings.

More ...
CARLYLE HALL
SANDY CROSS NEWS


School is finally out for the summer for traditional calendar students! Many of our community kids received awards for jobs well done during the school year. We will have more to report on this next week.
The Young At Heart Senior Citizens met on Saturday night May 25 at KIC. Guest speakers were Billy and Leah Perry from the Christian Motorcycle Association.

More ...
EMILY SILLS
PEACHTREE COMMUNITY NEWS


This past Sunday was a time to remember our armed forces that paid the ultimate price for our freedom. The Peachtree Baptist Church Congregation family and friends welcomed and recognized our Active and Retired Veterans to worship.
The Sanctuary flower arrangement Sunday was presented to glorify God by Beverly and Cecil Wilson to honor the memory of Hulda Strickland Wilson and in loving memory of those who gave their lives for our country.

More ...
FRAN BUNN
Locals inducted into Phi Kappa Phi
Two Nashville residents were among those recently initiated into the Honor Society of Phi Kappa Phi, the nation's oldest and most selective all-discipline collegiate honor society.
Eugene Padgett and Victoria Cooper, of Nashville, were both initiated at East Carolina University.
More ...
Forget the calendar, we know the deal


Look, I don't care what you call it.
You can tell me about Gregorians and and equinoxes and solstices, or whatever you want, but when the temperature hits 90 with regularity, it is summer.
If it makes you feel better to hold off until June 21 this year to officially call it summer, then fine. My car seat burns say otherwise.

More ...
Mike Brantley
Nashville will miss Baines and Glover


This week, Nashville will say goodbye to two behind-the-scenes employees who have spent their careers going above and beyond.
Jamey Baines has served Nashville for 18 and a half years. He is well known and well liked by so many. His staff does a tremendous job in town and they do so much, it's really hard to keep up!

More ...
Amanda Clark
Backward Glances


This photo originally published in The Nashville Graphic July 4, 1968. Jean Martin McNair of Nashville tackles a tall cone of ice cream before it melts in the hot sunshine.

More ...
A PICTORIAL LOOK INTO THE PAST

BEST OF THE BEST AT NCHS. Nash Central High School's Athletes of the Year for the 2018-19 season are Drifton Padgett and Cana Shrock.

HARDWARE SHOP


ROCKY MOUNT - Nash Central decided to go old school -- as in the first year in school history -- as part of its recent Athletic Awards Ceremony at the NCHS Gymnasium.
As part of the event, Nash Central inducted a pair of 'original' Bulldogs into its Athletics Hall of Fame.

More ...
GEOFF NEVILLE, Graphic Sportswriter

NORTHERN NASH'S SAM PAGE

Another Great Season


RED OAK -- League championships are hard to come by in the challenging Big East Conference -- but Northern Nash High School amassed quite a collection during the 2018-19 school year.
Six Northern Nash clubs picked up Big East crowns this season as the Knights continued to excel in athletics in one of the area's toughest conferences.

More ...
GEOFF NEVILLE, Graphic Sportswriter

LOOKS LIKE THIS SHOT WILL BE CLOSE

TRUE TRADITION


ROCKY MOUNT -- Now 10 years old, the H. Earl Coley Golf Classic continues to grow.
The annual event, which is part of the OD Moore Scholarship Foundation from the former Nash Central High School, was held last Friday at the Belmont Lake Golf Club near North Carolina Wesleyan College.

More ...
GEOFF NEVILLE, Graphic Sportswriter

NORTHERN COACH GROVER BATTLE

Northern will host campers


RED OAK -- The Northern Nash Girls Basketball Camp is scheduled for June 3-5 at the NNHS Gymnasium in Red Oak.
Times will be from 5:45-8:15 p.m. each day, and the camp is opener to girls in grades 4-12.
Cost is $25, which includes a T-shirt.

More ...
Staff Reports
East Carolina nabs regional


GREENVILLE -- The NCAA Division I Baseball Committee announced 16 regional sites for the 73rd annual NCAA Division I Baseball Championship Sunday evening, and for the second-straight year and third time in facility history, East Carolina University's Clark-LeClair Stadium will serve as a site for the opening round of The Road To Omaha.

More ...
Staff Reports

FANCY PASSING. The well-rounded Chris High showcased his diverse basketball talents during his career at Nash Central High School -- including his exceptional passing ability.

Fly Like An Eagle


ROCKY MOUNT -- It would be a bit of an understatement to say that Chris High loves the game of basketball.
High, a senior at Nash Central High School, is a gym rat who is always intent on improving his fundamentals and understanding of the game.
But the self-improvement steps don't end inside the NCHS gymnasium.

More ...
GEOFF NEVILLE, Graphic Sportswriter
Parker Gay stars for Pizza Inn


ROCKY MOUNT -- It was the Parker Gay Show last Thursday evening at Grover Lucas Park as the tall Pizza Inn 12-year-old tossed a 6-0 shutout over the Wesley Men, putting on quite a display for the players and fans alike.
Striking out 15, walking no one and coughing up only 3 harmless singles, the all-star hurler was in complete control as the Ringmaster on this gorgeous, "made for baseball" night.

More ...
Staff Reports
Mudcats drop diamond contest


ZEBULON -- The Carolina Mudcats rallied back from a five-run first inning deficit to eventually take a one-run lead in the fifth, but the Down East Wood Ducks came back with two in the sixth before defeating the Mudcats 9-7 in the finale of a four-game series on Monday afternoon at Five County Stadium in Class A Carolina League baseball action.

More ...
Staff Reports
HALL OF FAMERS
Tami Vaughan and Kenneth Grantham are the latest inductees into the Nash Central High School Athletics Hall of Fame. Both were at NCHS when it opened in 2002.
More ...