Subscribe/Access
Advertisements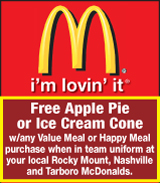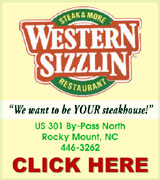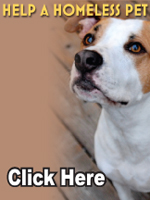 Sections
Member Options
Back
Recovery rally is Saturday


The second annual Recovery Rally is set for Saturday, September 23 at Glover Park in Nashville.
This year's rally will focus on recovery and will include several speakers.
The event is planned from 2 until 5 p.m.

More ...
AMANDA CLARK, GRAPHIC STAFF WRITER
Art in the Gardens is Saturday


The Nash County Arboretum is one of Nash County's best kept secrets but local Master Gardeners want that secret to get out.
On Saturday, September 23 from 2 until 4 p.m., Nash County Extension Master Gardener Volunteers will host, along with the Nash County Cooperative Extension, "Art in the Gardens" to showcase all the Arboretum has to offer.

More ...
AMANDA CLARK, GRAPHIC STAFF WRITER
LITTLE FIREMAN
COOPERS FIRE-RESCUE DAY -- Little Kyle Hammett tries on firefigher gear during the fourth annual Coopers Fire-Rescue Department Community Day Saturday. The event included a dunking booth, food, face painting, the smoke house and obstacle course plus a V.I.P. for a V.I.P demonstration.
More ...
Nash Sheriff investigates two murders
The Nash County Sheriff's Office is investigating two homicides that happened on Sunday and Monday. On Sunday, deputies responded to the 9000 block of Grover Road in Nashville in reference to a shooting. Upon arrival, deputies found Brian Scott Keen, Jr., 31, of Elm City, with a single gunshot wound. EMS arrived on the scene soon after and pronounced Keen dead.
More ...
Momeyer Community Day is Saturday


The Momeyer Volunteer Fire and Rescue Department will host its third annual Community Day on Saturday, September 23 from 12 until 4 p.m.
There will be plenty to do, said Amanda Melvin, one of the organizers for the event.
Melvin said the event has been held in October the past two years but was moved to September with hopes of bringing more families out.

More ...
AMANDA CLARK, GRAPHIC STAFF WRITER
Just Save to close doors


Just Save employees were told last week that the grocery store would be closing its doors by the end of the month.
Kimberly George, Vice President of Communications and Corporate Citizenship for Alex Lee, the parent company of Just Save, confirmed the store, located at 731 E Washington Street in Nashville, would be closing.

More ...
AMANDA CLARK, GRAPHIC STAFF WRITER
HOMETOWN HEROES 5K
Eighty-five runners participated in Saturday's Hometown Heroes 5K. This is the second year Nashville Elementary School has hosted the race, which raises money for the school's playground. The race also serves as a tribute to public service officials. Following the 5K race, a one-mile fun run was also held. The school also hosted its annual Fall Festival following the race events.
More ...
NRMS hopes to start new high school


The Nash-Rocky Mount Public School System recently submitted an application seeking permission to start a new high school.
The new school is allowed under legislation and will be considered a Cooperative Innovative High School program. The purpose of the program is to expand students' opportunities for educational success through high quality instructional programming.

More ...
AMANDA CLARK, GRAPHIC STAFF WRITER
NRMS Superintendent responds to report


The Nash-Rocky Mount Public School System is taking significant steps to improve the health of the district.
Earlier this month, the State Board of Education announced that the district was once again on the list of low performing school districts in the state. This is the third year the district has been on the list.

More ...
AMANDA CLARK, GRAPHIC STAFF WRITER

The Nash County Chapter of the NC EMS Angels hosted a fundraiser Saturday to support three firefighters, The Dice Run began at West Mount Fire Department.

Dice Run benefits local firefighters


Three firemen benefitted from a fundraiser hosted by the NC EMS Angels recently.
The Nash County chapter of the NC EMS Angels Motorcycle Club hosted a Dice Run on Saturday, September 9 that started at the West Mount Fire Department in Rocky Mount.

More ...
AMANDA CLARK, GRAPHIC STAFF WRITER
Tobias named Nash Health Care Marketing Director
Nash Health Care recently announced the hiring of Rocky Mount native Dorsey Tobias as Director of Marketing and Communications.
Tobias replaces long-time director Jeff Hedgepeth, who announced his retirement.
Hedgepeth continues his employment at the hospital on a part-time basis, managing the chaplains, volunteers and the switchboard operators.
More ...
NASHVILLE POLICE REPORTS
INCIDENTS
A larceny was reported on 9/11/17 at 227 S. Barnes Street
A larceny after a breaking and entering and a breaking and entering a commercial property was reported on 9/12/17 at Richardson Court Apartments, 1101 S Brake Street
More ...
NASH COUNTY SHERIFF'S OFFICE REPORTS
A domestic was reported on 9/11/17 at 1498 Broken Road
A possession with intent to manufacture, sell and deliver cocaine and maintaning a place for a controlled substance was reported on 9/11/17
A breaking, entering and larceny was reported on 9/11/17 at 4124 Langley Road
More ...
Tyson chosen for NC Board of Agriculture
Gov. Roy Cooper recently announced new appointments to North Carolina Boards and Commissions, including the North Carolina Courts Commission, the Criminal Justice Education and Training Standards Commission, and the North Carolina State Board of Agriculture.
"These appointees bring years of experience and a wealth of knowledge to our state boards and commissions," Gov. Cooper said.
More ...
ROBBERY
The Nash County Sheriff's Office is on the lookout for the person responsible for a strong armed robbery at Bass Brothers in Momeyer on Friday. Pictured is the vehicle the suspect was reportedly driving. The robbery reportedly occurred on Friday afternoon on September 15. A suspect has not been caught. The Sheriff's Office reported it is searching for a white male with a beard with black hair and a red ball cap in his 30's.
More ...
Florida drug trafficker arrested
The Nash County Sheriff's Office arrested a Florida cocaine dealer on Tuesday morning.
Deputies conducted a traffic stop on a 2017 Nissan on I-95 northbound near the 137 mile marker around 8:13 a.m.
During the stop, criminal behavior was suspected so deputies conducted a search of the vehicle.
More ...
Big Sweep set for October 7
On October 7, you, your friends, family and co-workers can make a difference in Nash and Edgecombe Counties by participating in the Twin Counties Big Sweep Challenge. The event is a way for participants to clean up or improve sites in the area. Keep America Beautiful (KAB) of Nash and Edgecombe counties will provide the necessary supplies for volunteers.
More ...
Local woman launches addiction support group


Next month, Heather Panepinto will celebrate four years of recovery.
Her recovery is something she's proud of and doesn't want to be silent about anymore.
"Staying silent is killing people," she said. "Staying quiet is not helping the situation."

More ...
AMANDA CLARK, GRAPHIC STAFF WRITER
Marching Band Showcase is Saturday evening
For the first time ever, the marching bands at all four Nash-Rocky Mount Public High Schools will take to the fields together.
The first annual Nash County Marching Band Showcase is slated to be held on Saturday, September 23 at the Northern Nash High School Football Field at 6 p.m.
The bands of Nash Central, Rocky Mount, Southern Nash and Northern Nash High Schools will take the field as one program.
More ...
Coopers Fire-Rescue Community Day Snap-Shots, 1


Coopers Volunteer Fire Department Chief Chris Joyner took several dips in the water while spending time on the dunking booth Saturday. Funds raised from the dunking booth, along with t-shirt sales and other contributions, are earmarked to send to hurricane victims. Joyner said the event raised $700 for hurricane relief plus items were donated for victims.

More ...
Graphic photos by Jo Anne Cooper
RED OAK NEWS


Women in Action of Red Oak Baptist Church met on Thursday, September 14. They enjoyed a hot dog supper, missions program, and mission action for Red Oak Elementary School. There were 9 ladies present and they encourage all ladies who are not a part of an adult missions group to join them. The next meeting will be Thursday, October 19 at 6:30 pm at the church.

More ...
SUZY PEARCE
Luke's Word for the Week


Knowing how to do certain things in the world has advanced greatly within the past decade. With the rise of YouTube and Google, we are a mere search box away from figuring out how to install a new kitchen sink or change the oil in our cars. For this specific how to, Google and YouTube are not the best places to look.

More ...
LUKE WHITEHEAD
PEACHTREE COMMUNITY NEWS


On a beautiful September morning Peachtree folks met at the church for worship. Sanctuary flowers were given by Kenneth and Linda Edwards in honor of their granddaughter, Charlotte and Abigail Edwards. For the offertory, Jane May played "He Hideth My Soul". She accompanied David Griffin as he sang and whistled "Wonderful Grace of Jesus".

More ...
BARBARA HARDISON
Word for the week


Mortal combat takes place within us. It is devastating. "I joyfully concur with the law of God in the inner man, but I see a different law in the members of my body, waging war against the law of my mind and making me a prisoner of the law of sin which is in my members" (Romans 7:22-23).
We come to agree with God's Ten Commandments. We should not lie, steal or kill. We should worship the living and true God.

More ...
DENNIS PRUTOW
Ten ladies to compete in Distinguished Young Women
The 37th annual Distinguished Young Women of Rocky Mount Program will be held on Saturday, September 30th at 7 p.m. at The Dunn Center for The Performing Arts at North Carolina Wesleyan College in Rocky Mount. Tickets can be purchased in advance from a participant for $15 or at the door for $20.
Founded in 1958 in Mobile, Alabama, Distinguished Young Women is the largest and oldest national scholarship program for high school girls.
More ...
Rocky Mount to bury time capsule
Earlier this year, the city of Rocky Mount unearthed a time capsule buried in 1967, when the city turned 100 years old. In keeping with the tradition and in honor of the 150th anniversary, the city is calling for entries to be placed in a new time capsule that will be opened in 50 years.
Citizens seeking to place items in the time capsule must complete and submit an entry form by Sept. 30, 2017, for consideration.
More ...
Distractions persist from the top down


President Trump on Twitter is like that annoying person you worked with, or that nutty relative, or that former classmate you never talked to who forwards you chain letters, inappropriate photos, or out of date jokes all the time, and that your Spam filter cannot seem to stop.
A few days ago, he re-Tweeted some video that shows him hitting Hillary Clinton with a golf ball. This reveals several troubling things:

More ...
Mike Brantley
Stepping out of my comfort zone to coach


Back in my younger days, I considered myself an athlete.
I wasn't the skinny, muscular, toned type of athlete but my figure definitely wasn't quite as round as it is now. And I could run if I absolutely had to and I wouldn't pass out.

More ...
Amanda Clark
Politics does affect you!


Dear Editor, As citizens of this great country we have certain rights, but with those rights come responsibilities to be active in positive change. Voting is a cornerstone of those responsibilities. We have all heard the "politics doesn't affect me" phrase used as an excuse not to vote.

More ...
LETTER
Backward Glances


DECLARATION SIGNING -- This photo originally published in The Graphic on July 2, 1981. A group of Nash County citizens recreated the signing of the Declaration of Independence to commemorate the first Fourth of July. Pictured seated are Russell Williams, left, and Judge Walter Bone. Standing, left to right, are Rex Paramore, Kenny Pierce and T.E. Ricks. The "signing" took place at Stonewall, the historic home at Rocky Mount.

More ...
A PICTORIAL LOOK INTO THE PAST

HELP PROVIDED. Nashville's Anthony Wilder runs behind his blockers during last Saturday's road football meeting against Wilson-The SPOT at Hunt High School.

Nashville Varsity Makes Gains


WILSON -- An inability to cash in on two early golden opportunities would eventually come back to haunt the Nashville Hornets' varsity fotball team last Saturday.
Still, the Hornets showed dramatic improvement in Week Two as opposed to its opening loss to Southern Nash.
The Varsity Hornets were much more effective during last Saturday's second-week showdown against Wilson-The SPOT in Eastern North Carolina Football League action at Wilson Hunt High School.

More ...
GEOFF NEVILLE, Graphic Sportswriter

AROUND END. Southern Nash's Zonovan Knight (right) tries to escape the Wake Forest defense during last Friday night's non-conference prep football matchup at Firebird Stadium on the SNHS campus.

UNFRIENDLY VISIT


STANHOPE -- Coming into what would likely be Nash County's most-anticipated football game of 2017, Southern Nash had rolled through its prior competition.
Wins over Green Hope, Nash Central, Bunn and West Johnson had Coach Brian Foster's Firebirds sitting at 4-0, with the 2016 4AA State Champion Wake Forest Cougars coming to Stanhope last Friday for a non-confeence showdown of powerhouses.

More ...
CHANCE PUCKETT, Graphic Correspondent

LINKS ANTICIPATION. Southern Nash's Elisabeth Collie follows the flight of her tee shot on the 11th hole at The River during Monday's Big East golf matchup.

GOLF CHALLENGE


BUNN -- Few participants will argue the assessment that The River Golf and Country Club provides one of the most challenging tests of the fall schedule on the Big East Conference girls golf scene.
The River, with its tricky, unpredictable greens, was at it once again during the latest Big East event Monday afternoon.

More ...
GEOFF NEVILLE, Graphic Sportswriter

ON THE MOVE. Nashville quarterback Cade Edwards tries to escape at Wilson The SPOT defender during last Saturday's contest.

JV squad defeated by SPOT


WILSON -- Despite being defeated, the Nashville Junior Varsity Hornets may have discovered a new strategy during last Saturday's road matchup against Wilson-The SPOT.
Trailing in the second half, the Hornets decided to implement the forward pass into their offense -- and enjoyed plenty of success as they marched down the field.

More ...
GEOFF NEVILLE, Graphic Sportswriter
NCWC drops road contest


MONTGOMERY, ALA. -- In last Saturday's USA South Conference football action, host Huntington College reeled off 31 unanswered points in the second half to score a come-from-behind 41-30 victory over North Carolina Wesleyan College in Montgomery.
The Bishops, who led 28-10 early in the third quarter, saw the Hawks connect on touchdown passes from 61, 33, and 56 yards in the third and fourth quarters to erase the deficit and tally the league win.

More ...
Staff Reports
NASH CO. SOCCER RESULTS


NASH COUNTY -- Listed are results from action on September 9 in the Nash County Recreation & Senior Services Youth Soccer League:

More ...
Staff Reports
NCMS ready for football opener


NASHVILLE -- Nash Central Middle School will kick off its 2017 football schedule today at home against Parker Middle School out of Rocky Mount.
All of Central's games this fall -- both home and away -- will start at 4 p.m.
The Trojans' complete ledger is as follows, with home events listed in CAPS:

More ...
Staff Reports
IT'S TOURNEY TIME
Golfers participating in the 28th Annual Nash Community College Foundation Student Scholarship Golf Classic on Friday, October 6, 2017 at Benvenue Country Club will have a chance to win a 2017 Buick Regal as a hole-in-one prize sponsored by Davenport Autopark.
More ...
Soccer soaring in Nashville


NASHVILLE -- Last Saturday brought another day of youth soccer action to Glover Park in Nashville.
The U12 Division saw another hard-fought game between Little Caesars and Mary Ruffin-Nationwide.
Mary Ruffin-Nationwide had goals from Dallas Ray (7 goals) and Cameryn Outerbridge.

More ...
Staff Reports
FLIGHT PLAN


Northern Nash's Brooke Taylor follows this shot en route to earning medalist honors during Monday's Big East Conference girls golf match at The River GC in Franklin County.

More ...
1 opinion posted
UPHILL BATTLE
Southern Nash's Elisabeth Collie sends this uphill putt toward the cup on the difficult 18th green.
More ...
Abstract impressionist exhibit opens at Mims Gallery September 28th
Opening Thursday, September 28 at NC Wesleyan's Mims Gallery, artist Gayle Blackerby will be taking us on "a journey into her parallel universe in a search for infinity through abstract impressionist painting." Join Gayle at the gallery from 5 p.m. on to see her colorful work and enjoy the live jazz ambience.
Blackerby is a free painter who comfortably jumps from nature to surrealism to improvisational abstraction.
More ...