Subscribe/Access
Advertisements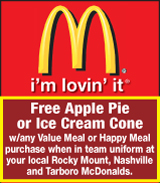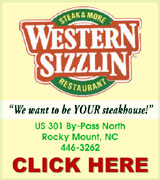 Sections
Member Options
Back
Tar River Task Force busts drug ring


Nash County Sheriff Keith Stone announced on Monday the dismantling of a cocaine trafficking ring with ties to Nash County.
The investigation was done by members of the Tar River Regional Drug Task Force, which initiated its investigation into the Rayfield Morgan Drug Trafficking Organization in August 2016.
Stone said really, though, the operation started several years ago and had evolved over time.

More ...
AMANDA CLARK, GRAPHIC STAFF WRITER
NHC to close pediatric wing


Nash UNC Health Care recently announced it would be closing the pediatric wing of its hospital.
Jeff Hedgepeth, Director of Public Relations and Marketing, said the pediatric wing is averaging 1.3 patients per day. However, the new Pediatric Emergency Department is seeing a tremendous increase in the number of patients it sees.

More ...
AMANDA CLARK, GRAPHIC STAFF WRITER
Nashville wins Odyssey of Mind


Nashville Elementary School recently sent seven teams to the Coastal Regional Odyssey of the Mind Competition, with two teams moving on to the state competition next month.
Two teams placed first in the competition and another team received third place.
Odyssey of the Mind is a creative problem-solving program that teaches students from kindergarten to college to learn creative problem-solving methods while having fun in the process.

More ...
AMANDA CLARK, GRAPHIC STAFF WRITER
Nashville utility rates may rise


Nashville Town Manager Henry Raper warned council members at a retreat last month that the town may be forced to increase its utility rates.
"We are anticipating Rocky Mount is going to go up on utility prices this year," Raper said. "If they go up on their rates, we will be forced to go up on our rates otherwise we're going to take a huge loss."
Raper said the town's enterprise fund is already tight and is a fund intended to operate to make money.

More ...
AMANDA CLARK, GRAPHIC STAFF WRITER
NRMS Kindergarten registration set for April


The Nash-Rocky Mount School System is urging parents to register their rising kindergartner in the coming weeks to help the school system assign the proper number of staff to classrooms during the next school year.
Pre-registration events are planned for April at several schools to encourage parents to take advantage of early registration.
Renee Johnson, Preschool Coordinator for Nash-Rocky Mount Schools, said signing up early is important for planning how many teachers are needed in August.

More ...
AMANDA CLARK, GRAPHIC STAFF WRITER
Nashville approves charging stations


The Town of Nashville will be receiving two electric vehicle charging stations after all.
Council members approved a reimbursement agreement last Tuesday night that paves the way for two charging stations to be set up at Cooley Library.
The town was notified in December it had received a $10,000 grant for the charging stations. However, at the board's February meeting, council members were hesitant to approve a reimbursement agreement that would reimburse the town the $10,000 upon completion of the project.

More ...
AMANDA CLARK, GRAPHIC STAFF WRITER

Red Oak Fire Department responds to a structure fire on Wollett Mill Road.

Local fires fueled by windy conditions


Nash County Firefighters have been busy the past few days.
Firefighters have responded to numerous fires since Friday all over the county.
Nash County Fire Marshal Chris Bissette said the strong winds have contributed to a few of the fires.
On Friday afternoon, the Salem Fire Department noticed smoke and went to investigate and found an abandoned chicken house on fire at 5116 Swift Creek School Road.

More ...
AMANDA CLARK, GRAPHIC STAFF WRITER
NPD featured in Governor Roy Cooper's address


Nashville's Police Department was a talking point in Governor Roy Cooper's State of the State address on Monday night.
Cooper discussed the opioid and substance abuse crisis facing the state.
"In my hometown of Nashville, North Carolina, Police Chief Tom Bashore is working to combat this addiction crisis."
Last February, Bashore and the department started up the HOPE initiative.

More ...
AMANDA CLARK, GRAPHIC STAFF WRITER
Tar River Task Force nabs heroin trafficking suspects
An investigation into the trafficking of heroin into Nash County has led to the arrest of two men.
The Tar River Regional Drug Task Force began investigating the trafficking of heroin into Nash County in March of 2016. The investigation led the task force to determine the heroin was originating from Scotland Neck and then distributed to Halifax, Nash and Edgecombe Counties. The task force then collaborated with the Halifax County Drug Task Force and the North Carolina Highway Patrol.
More ...
NASHVILLE POLICE REPORTS
INCIDENTS
An obtaining money/property by false pretense was reported on 3/6/17 at 1801 Sagamore Court
A damage to property (Vandalism) was reported on 3/7/17 at Oak Tree Apartments, 1847 S. First Street
A patient abuse - willful or culpably negligent pattern or conduct causing bodily injury was reported on 3/8/17 at Autumn Care, 1210 Eastern Avenue
More ...
NASH COUNTY SHERIFF'S OFFICE REPORTS
A possession of marijuana was reported on 3/7/17 on West Hornes Church Road
A misdemeanor larceny was reported on 3/7/17 at 4454 Dortches Boulevard
A misdemeanor larceny was reported on 3/8/17 at 7421 Kingsboro Drive
A criminal damage to property was reported on 3/9/17 at 4316 Marcus Way
More ...
Sew What
The Sew What 4-H Club recently made dog beds to donate to Odin's Orphans Rescue. Each girl made a cover for a pillow to make a dog bed. This was the first time the girls had installed a zipper.
More ...
ENGAGED
Jon Williamson, of Bear Grass, and Christy Jo Suthard, of Atlanta, Georgia are pleased to announce the engagement of their daughter, Britany Jo Williamson, of Castalia, to March Bass, of Castalia. He is the son of Dallas and Nancy Bass, of Castalia. An April 1, 2017 wedding is planned at Sunset Stables in Robersonville.
More ...
Sheriff Stone visits Red Oak council meeting


The town board of Red Oak hosted Sheriff Keith Stone at its regular monthly meeting last week.
Stone said he wants to be known as "the accessible sheriff," and was visiting towns in Nash County. In January, Stone attended the regular meeting of the Castalia town board. Red Oak, like Castalia, has no police force of its own, and relies on the county for law enforcement. Stone said Monday that the sheriff's department is focused on the issues of "gangs, guns, and drugs."

More ...
Jessica A. Smith, Graphic Correspondent

Keondra Dessaure was named the Youth of the Year for the Boys and Girls Club of the Tar River Region on Saturday. Pictured is Dessaure (center) with David Joyner (far right), Boys and Girls Club Board Chair, and Mayo Boddie, Jr. (far left) who serves on t

Tarboro teen named B&G Club's Youth of the Year


"It's not about how we fall but how we recover."
Keondra Dessaure has lived her life by those words.
The Tarboro High School Senior was named the Youth of the Year for the Boys and Girls Clubs of the Tar River Region on Saturday during the organization's annual celebration.

More ...
AMANDA CLARK, GRAPHIC STAFF WRITER
Nash County Animal Friends' Notebook


We have some great volunteers and I would like to highlight a couple!
~Cindy Whitley, with her hubby Sparky, are a retired couple that does a lot of temp fostering, plus they do a lot of transporting from the Shelter to vets and meeting other volunteer transporters. I sometimes call Cindy "my right hand lady!"
~Stanton Mesh is a volunteer extraordinary!

More ...
CAROL VIERELA NASH, COUNTY ANIMAL FRIENDS
PEACHTREE COMMUNITY NEWS


The weather man's prediction of snow did not deter the Peachtree faithful from attending church on Sunday morning. When church was over the sun was shining brightly. Sanctuary flowers were given by Ricky and Dianne Tucker in memory of his parents, Jensy and Kent Tucker.
The adult Choir sang "He Touched Me/Something Beautiful" under the direction of the pastor. Jerry Hobgood sang the solo part. The offertory was "Beulah Land", rendered so beautifully by Jane May at the piano.

More ...
BARBARA HARDISON
Luke's Word for the Week


It was a beautiful day in Eastern Carolina as I made my way across the front yard, venturing out to the mailbox. I had just seen the mail truck leave on a hot, sultry day across the coastal plain. I was a bit bored and decided to be a good boy and retrieve the mail. Upon reaching in the mailbox and pulling out the mail, I noticed something laying on the top of the stack of mail. I had never in my life seen something like this. It was amazing. It was life changing.

More ...
LUKE WHITEHEAD
RED OAK NEWS


Everyone's invited to attend Red Oak Baptist Church! There are several upcoming events. Due to construction to repair the church bell tower, all services are located in Burnette Hall in the Family Life Center.
Youth Sunday will be held at Red Oak Baptist Church on Sunday, March 19. Youth will lead the service with Rev. Nate James bringing the morning message. The worship service will begin at 11:00 am.

More ...
SUZY PEARCE
Nash County Blood Drives March 2017
Thursday, March 16 from 12:30 until 4:30 p.m. at Spring Hope Elementary School in the gym
Monday, March 20 from 3 until 7 p.m. at Ridgecrest Worship Center, 1120 West Mount Drive, Rocky Mount
Tuesday, March 21 from 12 until 4 p.m. Wesleyan College, 3400 N Wesleyan Boulevard, Rocky Mount
Monday, March 27 from 3 until 7 p.m. at Sandy Cross United Methodist Church, 3725 Sandy Cross Road, Nashville
More ...
Local Girl Scouts honored as Daisy's Dozen Elite Troop
North Carolina Coastal Pines designated Girl Scout Cadette Troop #530, of Nash County, as one of twelve Daisy's Dozen Elite Troops for its 2017 membership year. The Daisy Dozen Elite Troop is awarded to troops that go above and beyond in their outstanding leadership experiences.
In honor of the vision that Girl Scout founder Juliette Gordon Low, affectionately known as "Daisy," had for girls, the Daisy's Dozen Troop Assessment Program was created by Girl Scouts - North Carolina Coastal Pines to help ensure girls are receiving an enriching Girl Scout experience.
More ...

Bobbitt Cemetery before clean-up

Organization cleans up Confederate graves


The George Ricks, Miles Bobbitt and Viverette-Williams cemeteries, located in Nash County, were cleaned over a two weekend period (Feb. 4th and 11th) by members of the Robert Henry Ricks Camp (#75) and the William Dorsey Pender Camp (#1916).
The clean-ups were performed in honor of the individual soldiers George Ricks, Miles Bobbitt, and Micajah Williams who were from Nash County and served North Carolina in the War Between the States.

More ...
Contributed
Coach's remarks more evidence ACC is "rurnt"


I never thought the time would come when I would care so little about Atlantic Coast Conference basketball.
But then again, growing up as a Carolina fan, I never thought I'd know of a time when UNC athletes were involved in academic scandals, or got arrested, or that Woody Durham would no longer be calling the games on the radio.
I also never thought they'd take the conference beyond ruin -- the proper Southern term here is "rurnt" -- by adding a bunch of schools that have no business hanging out on Tobacco Road.

More ...
Mike Brantley
We are in need of a lot of sunshine these days!


Sunshine doesn't appear to be in the forecast this week in Nash County but journalists across the country are still spreading some sunshine.
And boy is it needed!
Sunshine Week is a week dedicated to transparency, accountability and good government.
Just typing that sentence made me chuckle a little.

More ...
Amanda Clark
Green energy isn't so gentle to our true renewal energy sources


Dear Editor:
There are many who appear to have missed the teachings of the Bible or have forgotten them. God created the earth and everything on and in the earth. After creating the earth, sun, moon, stars, and the universe God appointed mankind to rule over all the earth and its creatures during their time on earth.

More ...
LETTERS
Backward Glances


JAYVEE CHEERLEADERS -- This photo was originally published in The Graphic on May 28, 1974. Pictured are the Northern Nash Jayvee Cheerleaders for the following season. Pictured, left to right, first row, are: Bridgette Boswell, Denise Gibson and Fohliette Williams. Second row: Denise Ward, Lynn Henderson, Venessa Harrison, Cathy Alston and Linda Hinton. Third row: Becky High, Meba Richardson, Debbie Battle, JoAnn Battle, and Tammy Wells.

More ...
A PICTORIAL LOOK INTO THE PAST

MIDFIELD MASTERY. Veteran Lizbeth Gonzalez (left) is a key midfield returnee this season for the Southern Nash Ladybirds.

Southern Off To A Strong Start


WILSON -- After losing three key seniors -- and Louisburg College signees -- from last year's club, it was unsure how good the Southern Nash Ladybirds could possibly be during the 2017 girls soccer campaign.
It hasn't taken long for the Ladybirds of Coach Carlos Barron to respond to that assessment.
Through seven matches, the Ladybirds are an impressive 6-1 overall -- a mark that includes a strong victory over Hobbton last Saturday at the annual The Brittany Girls Soccer Showcase at Gillette Park in Wilson.

More ...
GEOFF NEVILLE, Graphic Sportswriter

NORTHERN NASH'S TAYLOR WEST

FRUSTRATING FINISH


WILSON -- Perhaps Northern Nash should have experienced a more positive fate during last Saturday's annual appearance at The Brittany Girls Soccer Showcase at Gillette Park.
But it wasn't meant to be as the Lady Knights had plenty of chances, but couldn't put a shot into the back of the net as part of a 2-0 loss to Bartlett-Yancey in frigid, windy conditions.

More ...
GEOFF NEVILLE, Graphic Sportswriter

YER OUT. Nash Central's Katelyn Pridgen retires a North Pitt batter during last Thursday's softball game at The Dawg Pound.

CHANGES AT NC


ROCKY MOUNT -- In more ways than one, Lauren McGrath is following Gary Smith's succesful path.
Back in the 1990s, Smith was a coach and teacher at Northern Nash before heading across US 64 back in 2002 to work at the then-new Nash Central High School.
Smith took over as Central's softball coach and led the Bulldogs for 15 productive years -- and even met up with McGrath when she was starring on the diamond at Northern before graduating in 2011.

More ...
GEOFF NEVILLE, Graphic Sportswriter
Southern softball is winning


STANHOPE -- Scott Collie's tenure as the Southern Nash High School softball coach has certainly gotten off to a strong start.
The Ladybirds have been dominant early in the 2017 campaign and have posted a 3-1 worksheet through four contests.
Southern Nash fell to perennial titan Wilson Beddingfield, but Collie's Ladybirds have defeated Eastern Wayne twice and Smithfield-Selma on one occasion.
Last Friday, the Ladybirds delivered a convincing 12-2 home decision over Eastern Wayne.

More ...
Staff Reports
Wesleyan nabs wins


ROCKY MOUNT -- North Carolina Wesleyan College sophomore Shelby Godwin picked her up second straight USA South Conference win with a 2-1 victory over Meredith College in game two of last Saturday's USA South softball twinbill at Edge Field on the NCWC campus.
The Bishops, who dropped the opener 11-3 in five innings, plated a pair of unearned runs in the first that proved to be enough to salvage the split.
The Angels (12-12, 3-1 USA South) chased Bishop ace Logan Lowery in the first inning of the opener with six runs on six hits in the frame.

More ...
Staff Reports

NASH CENTRAL'S LYNDSEY TAYLOR

Ryan Express At NC


ROCKY MOUNT -- The game may be the same, but everything else seems different about the Nash Central High School girls soccer program these days.
The Lady Bulldogs are undefeated at 6-0 and rolling in advance of Big East Conference play under veteran head coach Ryan Ruiz.
That's a stark and enjoyable contrast from last year, when a young Nash Central contingent won just five overall matches -- and zero in the Big East.
Central continued its early-season surge with a pair of triumphs late last week, beginning with a 5-3 home conquest against the Smithfield-Selma Lady Spartans at The Dawg Pound on the NCHS campus.

More ...
GEOFF NEVILLE, Graphic Sportswriter

CALEB FLUNO

County resident stars on diamond


NASHVILLE -- One of the state's highest-rated sophomore baseball players resides in Nashville -- and appears destined for big things as part of a promising future.
Certainly, Caleb Fluno has come a long way since he played rec baseball for the Town of Nashville until he was seven years old.
Now 15, Fluno stars for the Wake County Homeschool Warriors. A versatile performer, Fluno is regarded by next-level scouts for his abilities at first and third base, but he can also pitch and play the outfield when needed.

More ...
GEOFF NEVILLE, Graphic Sportswriter
Cross country event staged at Red Oak


RED OAK -- Red Oak Middle School served as the host last Tuesday for the Southern Bank Invitational Cross Country Championships.
Nash Central and Southern Nash tied for the top spot in the boys standings with 72 points, followed by Edwards (77) and Red Oak (97).
Red Oak rolled to the girls championship with 28 points -- far ahead of second-place finisher Elm City Middle.
Nash Central was third at 109, just one point ahead of Southern Nash Middle.

More ...
Staff Reports
East Carolina scores sweep over Charlotte


GREENVILLE -- Jacob Wolfe and Chris Holba combined for a two-hit shutout as No. 8 East Carolina University completed the doubleheader sweep and claimed a series win over Charlotte, 3-0, last Saturday afternoon at Lewis Field inside Clark-LeClair Stadium.
With the win, the Pirates improved to 12-4 on the season, while the 49ers fell to 10-6.
Wolfe (2-0) picked up the win tossing seven scoreless innings where he allowed a pair of hits, walked two and struck out four.

More ...
Staff Reports
Super Season


NASH COUNTY -- Undoubtedly, it was a tremendous year in Nash County for boys high school basketball as Northern Nash and Nash Central both added plaques to their respective school trophy cases.
Northern Nash was the regular season champion in the Big East Conference with an undefeated mark in league competition.
The Fighting Knights would go on to advance to the fourth round of the Class 3-A State Playoffs -- the club's deepest postseason surge since 1995.

More ...
GEOFF NEVILLE, Graphic Sportswriter
NC's Floyd signs with Trojans


ROCKY MOUNT -- When head coach Chris Lee arrived at Nash Central High School two years ago, one of his first orders of business was to upgrade the strength and skill levels of his offensive and defensive linemen.
A.J. Floyd was a willing participant in that endeavor, and his hard work has earned Floyd the opportunity to compete on the collegiate level.
Floyd, who starred on both sides of the ball for the Bulldogs, has signed a letter-of-intent to continue his career at Virginia State University.

More ...
GEOFF NEVILLE, Graphic Sportswriter
STATE BASKETBALL FINALS


CHAPEL HILL -- Here are the complete results from the North Carolina High School Athletic Association's State Basketball Championships, which were held last Saturday in Raleigh and Chapel Hill:

More ...
Staff Reports
CHASE SCENE
Caitlyn McLaughlin tracks down a ball for the Lady Knights during The Brittany Showcase.
More ...
FIELDING HER POSITION
Nash Central pitcher Addie Jones (left) retrieves a pop fly for the Lady Bulldogs during last Thursday's home softball decision against future league foe North Pitt.
More ...
FORWARD THINKING
Northern Nash's Kylar Wiggins (right) heads the ball upfield for the Lady Knights during last Saturday's match against Bartlett-Yancey at The Brittany in Wilson.
More ...
KEY RETURNEE
Linzi Long (right) is now a veteran standout for the Nash Central High School girls soccer squad.
More ...
RACE TO THE BALL
Southern Nash's Lizbeth Gonzalez (left) tries to gain possession of the ball during last Saturday morning's contest against Hobbton as part of the annual The Brittany Soccer Showcase at Gillette Park in Wilson.
More ...