Subscribe/Access
Advertisements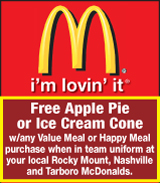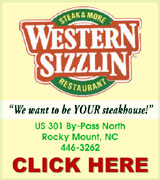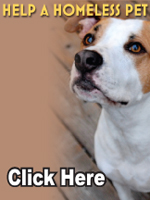 Sections
Member Options
Back

Aljah Ray Dew

Longtime Nashville business is closing


One of the oldest operating stores left in Downtown Nashville will soon be closing its doors.
Strick's Clothing Store has sold their building on Washington Street to BCS Contractors.
Alma and AC Strickland opened the store on August 9, 1958. Their son, Pete Strickland, said the building was a grocery store and one day, he noticed them moving out. He said he went up to the owner and was told they were moving to another location.

More ...
AMANDA CLARK, GRAPHIC STAFF WRITER
NCMS principal is moving to Wilson


The principal at Nash Central Middle School will soon be taking over the helm at a school in Wilson County.
The Wilson County Board of Education approved the appointment of Marquis Spell as the new principal of Springfield Middle School in Lucama. The recommendation was approved on Monday, September 19 during the Board of Education's regular meeting.
Spell was named the principal at Nash Central Middle School in 2013.

More ...
AMANDA CLARK, GRAPHIC STAFF WRITER
JAKES DAY
The Tar River Chapter of the National Wild Turkey Federation hosted its 15th annual JAKES Day on Saturday at Rose Hill Farm. Over 200 youth came out to enjoy the festivities, which included a BB shoot, rock climbing wall, shark tooth dig, zipline and rope bridge and much more. The event is held to involve youth in wildlife conservation and the wise stewardship of our natural resources. Pictured above, Julien Medford, 5, concentrates as he climbs a rock wall on Saturday.
More ...
Pumpkin Festival starts Friday


Organizers for the annual Spring Hope Pumpkin Festival are hoping for a sunny forecast for this year's 45th annual event.
Last year's event went on with a modified schedule due to rain and wind from a hurricane. The parade had to be cancelled, though a mini parade was held with some of the event's golf carts.
Tracey Jackson, one of the organizers for the event, said she is hopeful this year's event will be much better.

More ...
AMANDA CLARK, GRAPHIC STAFF WRITER
Farm Bureau donates $40,000 to fund SNHS Agriculture Facility


Nash County Farm Bureau considers Southern Nash High School as having one of the top agriculture programs in the state.
Recently, Farm Bureau showed their appreciation for the school's agriculture program by contributing $40,000 to a new agriculture facility Southern Nash High School is soon planning to build.
The announcement was made last Monday night at the Nash-Rocky Mount Board of Education meeting.

More ...
AMANDA CLARK, GRAPHIC STAFF WRITER
Contractor named for courthouse project


Nash County Commissioners selected Daniels and Daniels Construction out of Goldsboro for its Courthouse Expansion Project.
The decision was made during a special called meeting last Wednesday afternoon.
During the meeting, commissioners were provided financing options for the Courthouse Expansion Project.
Ted Cole, of Davenport and Associates, presented several options for commissioners to consider.

More ...
AMANDA CLARK, GRAPHIC STAFF WRITER

HALL OF FAME --Eddie Dozier, Faye Dozier and Bobby Joe Fisher were inducted into the Nash County 4-H Hall of Fame Saturday evening.

Three inducted into Nash County Hall of Fame


Nash County 4-H celebrated its latest Hall of Fame inductees at the Green Promise Banquet on Saturday night.
Bobby Joe Fisher, along with Faye and Eddie Dozier were all inducted into Nash County's 4-H Hall of Fame as well as the North Carolina 4-H Hall of Fame.
Fisher is a graduate of North Carolina State University. He was named a Nash County Young Farmer of the Year in 1969. Fisher was employed with the Tobacco Warehouse in Rocky Mount and also owned and operated Fisher Farms in the Red Oak community.

More ...
AMANDA CLARK, GRAPHIC STAFF WRITER
NASHVILLE POLICE REPORTS
INCIDENTS
A driving while impaired was reported on 9/20/16 at E Washington and Church Streets
A driving while impaired was reported on 9/20/16 at L&L #14, 479 W Washington Street
A larceny by bypass of an anti-theft was reported on 9/20/16 at Wal-Mart, 1205 Eastern Avenue
More ...
NASH COUNTY SHERIFF'S OFFICE REPORTS
A simple assault was reported on 9/18/16 at 1224 Bloomery Road
Found property was reported on 9/18/16 at 3225 Rackley Road
A misdemeanor larceny was reported on 9/18/16 at 4824 Davis Road
A criminal damage to property was reported on 9/18/16 at 2343 Oak Level Road
More ...
Spring Hope Police nab escaped juveniles
Officers with the Spring Hope Police Department helped capture four juveniles who escaped last week from the Edgecombe Youth Development Center.
The Division of Adult Correction and Juvenile Justice reported that Dakota Y. of Guilford County, Joshua G. of Wake County, Justin M. of Carteret Count, and Juan M. of New Hanover County were at large following an escape last Wednesday night.
The juveniles ran from the Edgecombe Youth Development Center, located at 78 Positive Way in Rocky Mount, following an assault on a staff member.
More ...
Kidnapped child found in Sharpsburg
The Rocky Mount Police Department continues to investigate a kidnapping and stolen motor vehicle that occurred on Monday night and resulted in an Amber Alert being issued.
The Amber Alert was issued for two-year-old N'eveah A'mirah Richardson.
According to Rocky Mount Police, the owner of a 2004 Mitsubishi Endeavor was briefly parked in the driveway of a home on Nashville Road in Rocky Mount just before midnight on Monday night.
More ...
Jacob's Friends hosts first Special Needs Carnival


The first ever Special Needs Children's Carnival was held on Saturday at Red Oak United Methodist Church. The event was hosted by Jacob's Friends, a ministry of the church that provides social interactions and activities to children and young adults with special needs. Jacob's Friends was formed last year by Bonnie Smith and is named after her son, Jacob. Pictured above, Jalyn Battle dances with the Chik-fil-A cow Saturday at the event. Christian band, Grafted, provided entertainment during the event.

More ...
Graphic photos by Amanda Clark
PANCAKE BREAKFAST
The Nashville Lions Club held its annual Pancake Breakfast on Saturday, September 10 at the Highway 55 diner. Members served guests pancakes and sausage or bacon. Pictured above, Lion Charles Foreman wipes down a table after a customer enjoys breakfast at the Lions Club fundraiser breakfast.
More ...
VETERANS HEALTH EXPO
The Nash County Senior Center hosted a Veterans Health Expo on Friday, September 9 at the Nashville center. The event assisted veterans and their families with issues regarding service and benefits. Pictured above, Fran Lee (at left), a volunteer with the United Way, talks with veteran E.J. Lucas.
More ...
DEPC receives $25,000 grant to support Play to Learn project
The Down East Partnership for Children (DEPC) recently announced a $25,000 grant from the PNC Foundation to support its Play to Learn Project, a program designed to use fun activities like puppet shows to help children learn. The PNC Foundation provided the funding in support of Grow Up Great, its bilingual program in early childhood education.
Why is the 'Play to Learn" project so important?
More ...
Nash Community names new VP for Advancement, Foundation Director
Pam Ballew of Littleton, has been named Vice President of Advancement and Foundation Executive Director at Nash Community College.
"Pam brings considerable experience to the position. Her energy and leadership skills will be an asset as the Foundation enters the next chapter in its proud history of providing students with the access to higher education," NCC President Dr. Bill Carver said. "Pam has worked in education and healthcare, including a similar role at another community college. She is known for her non-profit leadership and experience working with diverse constituencies including boards, corporate leaders, education and medical professionals, and volunteers."
More ...
NC drivers no longer required to take road sign test
Drivers who want to renew their North Carolina license will no longer be required to retake a test on the identification of road signs. This policy is part of Governor Pat McCrory's "Driving Change" initiative to increase efficiency and improve customer service at driver license offices.
The N.C. Division of Motor Vehicles will continue to require sign and symbol testing as part of the issuance of an initial North Carolina driver license. Vision testing will be conducted only as part of a required in-person, in-office license renewal.
More ...

Descendants of Duncan Bushrod Braswell attended a stone dedication ceremony to honor the Civil War Veteran. Pictured above are Allen Braswell and daughter Allison.
Civil War soldier honored
A Stone setting dedication was held September 17, 2016, at Mill Branch Cemetery in Sharpsburg for Duncan Bushrod Braswell. Braswell was a Confederate veteran who signed up for service in 1861 in Co. I, 7th Regiment Confederate Calvary as a Partisan Ranger. He was later transferred to Co. B, 16th Battalion N.C. Calvary and was captured July 11, 1864 at Hamilton, N.C. and confined to Point Lookout, MD until being released June 21, 1865. He received a Confederate pension in the early 1900s due to health issues that limited his ability to walk which stemmed from being frostbitten during the war.
More ...
Whitehurst named President and CEO of Providence Bank
Ted E. Whitehurst was recently named President and Chief Executive Officer of Providence Bank. The appointment was announced by Richard C. Anderson, Chairman of Providence Bank.
Following the retirement of former President and CEO John A. Barker, the board of directors felt that Ted was the obvious choice to lead the bank. "He received a unanimous vote from the board," said Anderson.
More ...
Jenkins awarded scholarship
Christopher Jenkins was recently awarded the first annual Dr. Walter "Bo" Parrish Memorial Scholarship. Chris received $1,000 towards his college degree. Chris is a former scout from Boy Scout Troop 7 located at First Presbyterian Church in Rocky Mount. Chris earned his Eagle Scout rank during his tenure as the troop's Senior Patrol Leader his senior year of high school.
Chris is currently attending Tennessee State University located in Nashville, Tennessee.
More ...
Hometown Heroes


I think a hero is someone who will put our lives before their life. A hero is someone who is willing to do anything for others. A hero is generous and kind in so many ways. Some people don't see that in a person, but I do because I happen to be related to my hero. He is my grandfather.

More ...
Grayson Strickland
KIWANIS NEWS
Mike Moss (2nd from left) from the WRAL weather team spoke to the Kiwanis Club about his life growing up in the Benvenue community, attending Northern Nash High School and his career as meteorologist. With Moss is Ben Moore, Kiwanis board chair, Moss, Jane Johnson, Kiwanis division 15 Lt. Governor and Ginny Mohrbutter, board vice chair.
More ...
Nash County Animal Friends' Notebook


One baby died and one baby is sick (there is hope) and three are being bottle fed and one is learning to eat hard food. This is what happens when you don't spay and neuter your pets. There are babies that come into the world that nobody wants and they end up at the Animal Control Shelter. Our group tries to save them, to prepare them for adoption or rescue. Sometimes we don't succeed

More ...
Carol Vierela, NASH COUNTY ANIMAL FRIENDS
RED OAK NEWS


Women in Action of Red Oak Baptist Church met on Thursday, September 22. They enjoyed a spaghetti dinner and program that followed. Women in Action is one of several Women on Mission groups at Red Oak Baptist Church.
Congratulations to Chris May who was ordained as a Deacon at Red Oak Baptist Church on Sunday, September 25!
Red Oak Baptist Church collected over 90 pounds of Christmas in August items for missionary David Parsons who ministers in Winston-Salem.

More ...
SUZY PEARCE
Luke's Word for the Week


Hundreds of years ago in Germany, settled a group of Moravian believers, looking for a new home on a beautiful hillside in the eastern corner of Germany. Just north of the Czech Republic border, the land belonged to Count Zinzendorf, a fellow believer in Jesus.
He gave this land to the Moravian refugees in the 1720's who were looking for a place to live out their faith. They called the community, Herrnhut, meaning "watch of the Lord." As years went by, people did what people do when they've been together too long - they fight.

More ...
LUKE WHITEHEAD
PEACHTREE COMMUNITY NEWS


Homecoming! Returning to the place of your childhood and youth; Remembering those who taught you and nurtured you in your faith; A time of sharing these memories with old friends and making new friends. This is Homecoming!
On Sunday morning Peachtree folks gathered for worship and Homecoming. Many people traveled distances to share in this event. They were celebrating 207 years of being a constituted church in the area.

More ...
BARBARA HARDISON
Bethel Heroes
Pictured above, Misty Elaine Griffin, at left, became a new member of Bethel Heroes 636 Chapter, UDC, at a recent Chapter meeting.
More ...
ACP gives to Nash County 4-H
The Atlantic Coast Pipeline Community Investment Program recently awarded a $8,000 grant to the Nash County 4-H for science programming kits and to help send youngsters to a 4-H residential camp and other district and state leadership activities and events.
"We at the Nash County Cooperative Extension are grateful to the Atlantic Coast Pipeline for its investment in our 4-H Youth Development Program, whose main focus is teaching life-skill development while preparing youth to be productive leaders and contributing citizens," said Sandy Hall, Nash County Cooperative Extension Director.
More ...
GUEST SPEAKER
Nashville Planning Director Brian Hassell (standing) spoke at the most recent Nashville Business and Professional Women's meeting, which was held at the Nashville Diner. Hassell spoke about the different projects going on around town. Pictured (L-R) are members Brenda Foster, Shirley House, Hassell and President Barbara Tyre.
More ...
Wells recognized by NCACC
Nash County Commissioner Mary P Wells was recognized by the North Carolina Association of County Commissioners for meeting the requirements for the Master level in the Local Elected Leaders Academy. A Master has completed a minimum of 66 credits (18 orientation credits + 30 focused in-depth credits + 18 elective credits) of continuing education since becoming a county commissioner.
More ...
Williford Elementary honor lists
Nash-Rocky Mount Schools has released its Honor Roll lists for the final semester of the 2015-2016 School Year.
The following students at Williford Elementary School made the A or A/B Honor Roll.
More ...
Back to the future as we sit in the present


Most of us who were born well before the year 1984 remember reading, or trying to read, author George Orwell's novel, 1984. I remember reading it in 1984, and wondering if the book would become less popular as time went on, since the predictions would be outdated.
The book was written in 1949, and must have seemed to be full of crazy notions, along the lines of science fiction.
The novel was difficult to read then, and the movie was just as difficult to watch.

More ...
Mike Brantley
What does election law appeal say about North Carolina voters?


The decision by the United States Court of Appeals for the Fourth Circuit (4th Circuit Court of Appeals) on North Carolina's new election law has brought about much discussion about its implications. What I have not seen is a discussion on what the decision says about the voters of North Carolina.
Many implications about North Carolina voters are indicated by the decision and those who support that decision.

More ...
LETTERS
Backward Glances


COTTON -- This photo was originally published in The Nashville Graphic on September 29, 1966. Roger Bartholomew (left) gins the first crop of cotton reported in the county as Lee King, owner of the cotton, looks on.

More ...
A PICTORIAL LOOK INTO THE PAST

OUT OF REACH. Bunn's Victor Dunston tries to come up with a reception during last Friday night's home contest against the Nash Central Bulldogs.

STREAK ENDS


BUNN -- Last season, Omar Rosa was a novelty third-down fullback for the Bunn Wildcats -- and quite an effective one at that.
But when injuries depleted the fullback position this fall, BHS coach David Howle bestowed increased responsibilities for Rosa, who was previously more known for his work along the line.
Rosa just keeps getting better and better at his new craft -- a fact that was in evidence during last Friday's 52-36 home decision over non-league opponent Nash Central.

More ...
GEOFF NEVILLE, Graphic Sportswriter

WALLACE WON'T BE DENIED. Nashville Hornets' junior varsity quarterback Keegan Wallace (left) takes to the outside for some yardage during last Saturday's home game against the Nash County Firebirds at The Hornets Nest at Glover Park.

A JV THRILLER


NASHVILLE -- Nash County's undefeated Firebirds received a stern test last Saturday from the Nashville Hornets, but were still able to pull away for a 35-19 decision in Eastern North Carolina Football League action at The Hornets Nest at Glover Park.
Nash County is now 3-0 heading into this Saturday's backyard rivalry showdown at home versus the Northern Nash Knights.
Last Saturday's contest was tough from the beginning as Nashville took the opening kickoff and proceeded to drive a whopping 78 yards in 14 plays.

More ...
GEOFF NEVILLE, Graphic Sportswriter

SEE YOU GUYS LATER. Nashville's Javon Macon (right) breaks away for a big gainer last Saturday against Nash County.

'Birds fly to victory at Glover


ROCKY MOUNT -- Nashville's offense came to life thanks to a sterling performance from Jimmandre Hilliard, but it wouldn't be enough to overtake a loaded Nash County Firebirds squad last Saturday.
Instead, the Firebirds piled up an early advantage and went on to defeat Nashville by a 41-20 margin in an Eastern North Carolina Football League rivalry showdown at The Hornets Nest at Glover Park in Nashville.

More ...
GEOFF NEVILLE, Graphic Sportswriter
NN tennis on upswing


RED OAK -- When Northern Nash High School had a coaching vacancy for its boys tennis program two years ago, NN Athletic Director Patricia Haggerty turned to an unlikely candidate -- English teacher Lisa Weaver.
"At first I was like 'Are you kidding me?', Weaver said. "But they needed a coach, and they couldn't play if they didn't have a coach.''
Haggerty's hunch proved to be a shrewd one as Weaver is in the process of building up the Knights' and Lady Knights' court programs.

More ...
GEOFF NEVILLE, Graphic Sportswriter
Knights surge at XC meet


GREENSBORO: Northern Nash High School cross country coach wasn't exactly thrilled with how his club performed during the annual Knights Invitational two weeks ago at the NNHS home course at Red Oak Middle School.
But the Knights made up for that rare subpar performance by rolling last Saturday at the annual Greensboro Invitational at Hagan Stone Park.
Taking on some high-level competition, the Fighting Knights took first place in the Boys Invitational Division with 73 points.

More ...
Staff Reports
NC Wesleyan wins contests


ROCKY MOUNT -- The North Carolina Wesleyan College Battling Bishop men's soccer team opened USA South Conference play last weekend, picking up a pair of league wins over Covenant College and Averett University at Scalf Field on the NCWC campus.
Versus Covenant last Friday, Wesleyan took a 1-0 lead into the half thanks to an A.J. Wadda goal at the 38:14 mark. Wadda took a through ball from senior Drew Wiltse and shot it left of Scot keeper Jonathan Crossman.

More ...
Staff Reports

RIGHT DOWN THE MIDDLE. Southern Nash's Julia Quintavalle watches her drive during Monday afternoon's Big East Conference girls golf match at Northgreen Country Club in Rocky Mount.

Conference Call


ROCKY MOUNT -- The weather cooperate last week as the Big East Conference girls golf campaign took a week off due to rain.
But optimal weather welcomed golfers for the resumption of the schedule on Monday afternoon at Northgreen Country Club.
Temperatures were lower than in recent weeks as action heated up in the competitive league standings.
Wilson Hunt continued its season-long dominance of the conference by compiling 289 strokes to easily finish in the top position.

More ...
GEOFF NEVILLE, Graphic Sportswriter

BANNER SEASON. Members of Red Oak Middle School's football team run through a banner before last Thursday's home showdown against Tri-County Conference rival Rocky Mount.

Tigers Topple RM


ROCKY MOUNT -- After a tough opening loss to Edwards Middle, the Red Oak Tigers bounced back last Thursday with an impressive decision over Tri-County Conference football opponent Rocky Mount.
The Tigers collected a pair of touchdowns in the opening half of action and never looked back en route to recording a strong 12-0 decision over RM at the Red Oak Football Field.

More ...
GEOFF NEVILLE, Graphic Sportswriter
NASH CO. REC UPDATE


NASH COUNTY -- Here are updated scores from the Nash County Parks and Recreation Department's Fall Youth Soccer Season:

More ...
Staff Reports
HOLD ON TIGHT
A Red Oak running back tries to tighten up his grip on the football while racing around right end during last Thursday's home football decision against foe Rocky Mount.
More ...
LINKS ACTION
Among the competitors from Monday's Big East Conference golf match at Northgreen CC were (above) Rocky Mount's Grace Strickland.
More ...
ON HIS WAY TO THE END ZONE
Nash Central High School's Sharquez Tillery (left) scored a touchdown on this long run during last Friday night's road football contest against the Bunn Wildcats.
More ...