Subscribe/Access
Advertisements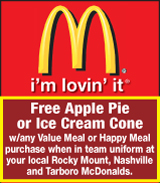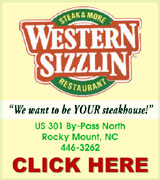 Sections
Member Options
Back
Counties find middle ground


Nash and Edgecombe County Commissioners agreed to disagree on several points during a joint meeting held on Tuesday morning but the final result was a proposal that could keep a merger of the Nash-Rocky Mount School System from happening.
The two entities met for their second meeting to discuss the issue of potentially splitting the school systems along county lines.
At the first meeting, Nash County Commissioner Chair Fred Belfield presented a proposal to both boards that he called a compromise.

More ...
AMANDA CLARK, GRAPHIC STAFF WRITER
FARMERS MARKET OPENS
Debra Holmes of Battleboro purchases tomatoes from a vendor at the Rocky Mount Farmers Market on opening day Saturday. Events scheduled for April include "Bee" Friendly Field Day on April 9, Music by DH Hurshell Baggett on April 16 from 9-11 a.m. and a musical performance by Triple-Knot & Friends on April 30 from 10 a.m. - noon.
More ...
School Board studies capital improvement plan


The Nash-Rocky Mount Board of Education received another look at an updated Capital Improvement Plan during a special call meeting last month.
Dr. Eric Cunningham, Associate Superintendent of Administration and Operations, initially presented the revised plan at a meeting in January. A special called work session was held in March to allow board members to ask questions and for Cunningham to go over the plan in more detail.
"Today, we're just going to have an open conversation about our facility needs," Cunningham told board members at the March meeting.

More ...
AMANDA CLARK, GRAPHIC STAFF WRITER
Castalia citizens now allowed to keep chickens, bees


A couple of ordinances were passed at Castalia's regular town board meeting Tuesday. First, Commissioner James Alston put forth a measure that will allow citizens within the town limits to keep chickens and bees. The motion was approved. There will be an annual fee of $25 for keeping chickens, and there are several regulations regarding how and where they can be kept, including a limit of five hens, no roosters, coops must be located behind a residence, and regulations regarding proper disposal of deceased animals. Chickens must not be allowed to roam, and must be provided adequate space within the coop.

More ...
JESSICA A. SMITH, GRAPHIC CORRESPONDENT
Spring Hope to apply for grants to benefit water, environment, housing


Spring Hope Commissioners gave the go ahead for Town Manager Jae Kim to apply for three different grants for the town.
Kim presented the three different grant opportunities to commissioners on Monday night during the board's regular meeting.
Two of the grants include no matching funds if received while the other grant would only be a five percent match.
The first grant would benefit the town's water and sewer systems.

More ...
AMANDA CLARK, GRAPHIC STAFF WRITER
Nashville leaders mull golf cart ordinance


Nashville's Town Council held off on making a decision on whether to allow golf carts to operate in the downtown area.
The council considered the request on Tuesday night at their regular meeting.
The request came from a downtown business owner who requested golf carts be allowed in the downtown area so he could make deliveries.
"It would be nice to be able to make these (deliveries) on a golf cart instead of a vehicle," said Butch Mull, who owners Church Street Grill, in a letter to council members. "I think it's a lot safer than walking along the side of the road or scooters being allowed to run the roads."

More ...
AMANDA CLARK, GRAPHIC STAFF WRITER
Town of Red Oak to partially fund Eagle project at ball field


The Red Oak Town Board made a few financial decisions at their regularly scheduled monthly meeting Monday.
First, the board heard a presentation by David Matthews, a scout working toward his Eagle rank. Matthews plans to improve the park by adding more bleachers to one of the ball fields. He had to present his plan for completing the project, and fundraising goals and budgets. Matthews plans to hold a car wash and a spaghetti supper as fundraisers.

More ...
Jessica A. Smith, Graphic Correspondent
Fisher receives 25 Year Service Award
Bobby Joe Fisher of Nash County was recognized recently with a 25 Year Service Award presented by the North Carolina Association of Soil and Water Conservation Districts in appreciation and recognition of meritorious service as District Supervisor for the Nash Soil and Water Conservation District. In addition to Fisher's service to the Nash Soil and Water Conservation District, he has also served on numerous other local boards including Nash County Social Services, the North Carolina Angus Association, the North Carolina Cattleman's Association and the Extension Board at NC State University.
More ...
Scholarship deadlines are this month
AgCarolina Farm Credit will be awarding $13,250 in scholarships to students who will be attending or who are currently enrolled in a North Carolina college or university. The deadline is approaching for the seventeen scholarships that are available to children or grandchildren of customers of the cooperative. Children or grandchildren of the cooperative's board of directors are not eligible for the scholarships, as well as children or grandchildren of the cooperative's employees.
Application deadlines are April 15 for the North Carolina A&T State University scholarships. April 30 is the deadline for the remaining scholarships.
More ...
Nash okays solar farm on Red Oak Road


Nash County Commissionerrs approved a 26-acre solar farm on Red Oak Road just outside of Nashville on Monday during their regular meeting.
The request was for a conditional use permit to allow for the development of a solar farm on the west side of Red Oak Road across from Reges Store Road.
The request was made by property owners Linda W. Rich and Susan Lancaster and co-applicant Strata Solar, LLC.
The property is an 80-acre tract but the solar farm is proposed for around 26 acres.

More ...
Amanda Clark, Graphic Staff Writer
County reluctantly okays NCC funds request


Nash County Commissioners reluctantly approved a request from Nash Community College for additional capital to replace an HVAC unit.
Nash Community College President Bill Carver came before the board on Monday morning to request $160,000 to replace a 230-ton chiller in the S&T Building.
Carver said the S&T Building was one of the college's main instructional buildings. It houses 12 classrooms and 18 instructional laboratories and is in constant use both day and night.

More ...
Amanda Clark, Graphic Staff Writer
Local students hold STEM Day event
Nash Central Middle School (NCMS) and Nashville Elementary School (NES) collaborated to put on a Science, Technology, Engineering and Math (STEM) Day event for eighth and fifth grade students. During the event, eighth grade NCMS students led fifth grade NES students through hands-on STEM activities. Students were able to design catapults, dissect sharks, build marshmallow towers, make homemade ice cream and more.
STEM Day allowed fifth grade NES students to rotate through various stations to learn a new activity while being taught the science, technology, engineering and/or math related to each activity.
More ...
Rocky Mount Luncheon Lions honor police and fire service
​The Rocky Mount Luncheon Lions Club sponsored its annual Police Officer and Firefighter of the Year Awards Luncheon on March 22 at Englewood United Methodist Church. Captain Gregory Pittman, a long-time resident of Red Oak (pictured, above) was named Rocky Mount Fire Department Firefighter of the Year.
More ...
NASH COUNTY SHERIFF'S OFFICE REPORTS
A breaking, entering and larceny and larceny of a firearm was reported on 3/27/16 at 11804 Straight Gate Road
A felony larceny and breaking and entering of a motor vehicle was reported on 3/27/16 at 2919 Bergeron Road
An out of state fugitive and damage to personal property was reported on 3/28/16 at 7786 Willies Walk
Found property was reported on 3/28/16 at 5754 Dortches Boulevard
More ...
Speaker
Rotarian Skip Carney, left, stands with Walt Wiley, former Chaplain of the Atlanta Braves. Wiley talked on his time with the Atlanta Braves as well as his experiences with other teams during a recent Rotary meeting. The next meeting will be April 4th with our Rotarian Barry Richardson speaking on the Haliwa-Saponi POW - WOW.
More ...
NASHVILLE POLICE REPORTS
INCIDENTS
A damage to property (vandalism) was reported on 3/22/16 at 607 E Birchwood Drive
A larceny was reported on 3/22/16 at 904 S Brake Street
An involuntary commitment was reported on 3/22/16
More ...
Brown receives Long Leaf Pine
Nash Health Care Systems Company Police Lieutenant Benjamin T. "Tommy" Brown has been inducted into the Order of the Long Leaf Pine. Among the most prestigious awards conferred by the Governor of North Carolina, this honor is awarded to persons for exemplary service to the State of North Carolina and their communities that is above and beyond the call of duty and which has made a significant impact and strengthened North Carolina.
More ...
Rotary to host mud run in Rocky Mount
The first ever mud run is coming to Rocky Mount on Saturday, May 14, at the Rocky Mount Sports Complex. Tackle the Tar, hosted by the Rocky Mount Rotary Club, will be filled with family-friendly fun, comradery, and charity. The festivities will include a 5k mud run complete with a challenging but fun obstacle course, live music, food trucks galore, bounce houses, beer and wine selections, entertainment and more. The first heat of the 5k will begin at 10 a.m. and festivities will continue throughout the entire day.
More ...

PAGE
Area financial advisors attend Women's Conference in St. Louis
Sherlon Page and Cathy Porter, Edward Jones financial advisors in Rocky Mount, recently attended the Edward Jones' Women's Conference from February 17 - 19 at its headquarters in St. Louis..
The conference, held to recognize successful female Edward Jones financial advisors, provided attendees with the opportunity to network, hear from internationally recognized speakers, participate in elective sessions that explore performance excellence best practices and interact with firm leadership.
More ...
Students of the Month
Nashville's Kiwanis Club recently celebrated Students of the Month at Cedar Grove Elementary School for the months of January, February and March. Pictured along with the students, on the back row are Kiwanis Club members Elaine Robertson and Hattie Cooper.
More ...
Nash County Animal Friends' Notebook


HELP!!! KITTENS and MORE KITTENS....
There is a population explosion at the Shelter. Several cats have come in pregnant and one cat even had three kittens in her cage. One was brought in with four kittens that had just been born in the last 24 hours. Then someone took six babies from a mom at two weeks old, rather than wait until they were weaned and brought them in.

More ...
Carol Vierela, NASH COUNTY ANIMAL FRIENDS
RED OAK NEWS


Easter Sunday was a day filled with joy. Six new members were welcomed into the fellowship of Red Oak United Methodist Church. Five transferred their membership and one was baptized. It is a wonderful thing to see the body of Christ grow, especially on Easter Sunday, the highest festival day in the Church calendar.
The Disciple Bible Study continues at Red Oak United Methodist Church. If you would like to participate, please contact the church office.

More ...
SUZY PEARCE
Luke's Word for the Week


I think we can say with confidence that talking about heaven is one of the most intriguing topics, not only in church, but in society. The thought of heaven fascinates minds, garners our deepest thoughts, and pleads with us to imagine the unimaginable. Consider all the books and movies that have recently exploded due to our curiosity about heaven - Heaven is For Real, 90 Minutes in Heaven, and Miracles in Heaven, just to name a few, all speak of that glorious place where we will at last meet Jesus face to face.

More ...
Luke Whitehead
Rocky Mount pastor inducted into MLK College Board of Preachers
James David Gailliard, Pastor, Word Tabernacle Church and President of The Impact Center was inducted into the world renowned Martin Luther King, Jr. Morehouse College Board of Preachers during a formal ceremony on Thursday, March 31, 2016 in the Martin Luther King, Jr. International Chapel on the campus of Morehouse College in Atlanta, GA. The theme for the 31st Anniversary of the College of Ministers and Laity was "How Ought We Treat Each Other: From Dominion to Dignity."
More ...
Presentation
Joyce White (at left), presented a beautiful pewter spoon, which had been hand cast by her late husband, Walter White, to North Carolina Mu Chapter, of The Delta Kappa Gamma Society International. On the handle of the spoon is a rose, the flower symbol used by The Society. Receiving the spoon is Tobey Worthington (at right) North Carolina Mu Chapter President. The spoon will be passed on from president to president each biennium.
More ...
BEULAH COMMUNITY NEWS


We are having revival at Beulah Church of Christ this week. Our minister for the revival is Phillip Alligood. He is a great speaker. Services are from Sunday night through Wednesday night. I hope many of you came and worshipped with us. I realize by the time you read this it will be over but you can worship with us on Sunday every week. Sunday School begins at 9:45 followed by church service at 10:45. You are always welcome to attend. I grew up attending Beulah Church.

More ...
WILMA ENROUGHTY
PEACHTREE COMMUNITY NEWS


On a beautiful spring morning Peachtree folks gathered for their Sabbath worship. Sanctuary flowers were given by Melba and Jerry Hobgood in honor of Patricia Wood and to glorify our Risen Lord.
The Children's sermon by Beverly Wilson was about 'perfume' and how good it smells. She told them a story about Jesus, when a lady poured an expensive bottle of perfume on His feet.

More ...
BARBARA HARDISON
Nash County Blood Drives for April 2016
Monday, April 11 from 3 until 7 p.m. at Bethlehem Baptist Church, 305 South Halifax Road, Rocky Mount
Wednesday, April 13 from 8:30 a.m. until 1 p.m. at Rocky Mount Preparatory School, 3334 Bishop Road, Rocky Mount
Friday, April 15 from 11 a.m. until 3 p.m. at Braswell Memorial Library, 727 North Grace Street, Rocky Mount
Wednesday, April 20 from 9:30 a.m. until 2:30 p.m. at Nash Health Care Systems, 2460 Curtis Ellis Drive, Rocky Mount
More ...
A traditional birthday column "How to be 11 years old"


Let me tell you something: I have been waiting SO long for my birthday to get here, and it finally has arrived. It's one week after Daddy's and just a few days after my sister's. Now, it is my time to live it up. I'm 11.
It's going to be a big time, although I can't figure out why Daddy keeps calling April and May bankruptcy season. Maybe he's confused from all his hospital stays. He doesn't find that funny when someone asks, by the way. So let me get you up to date.

More ...
Mike Brantley - 1 opinion posted
Violence begets violence. Is this the new trend?
Far back in the day, elementary students learned about the dignity and reverence of the office of the president. Students were often reminded that one of their peers would someday be great enough to be president.
Those words "great enough to be president," were taken quite literally. Just as Gandhi noted that the character of a society was defined by how that society treats animals, how a society defines greatness speaks volumes about that culture. Men like Dwight Eisenhower were justifiably considered dignified and great.
More ...
It's time to end a bad idea


Dear editor,
In 1992 the Nash County Board of Commissioners and the North Carolina General Assembly hung an albatross around the citizens of Nash County's neck. That albatross is a merged school system that does not benefit the citizens of Nash County but cost them greatly.

More ...
Letters to the Editor - 1 opinion posted
Dine Out event was successful


Dear editor,
It is time for celebration! The twentieth annual Dine Out for Communities In Schools on March 17th was a rousing success. I cannot say enough about the great job of the local media in promoting the event--all the buzz around town was positive and excited. We were featured in The Nashville Graphic, on radio, TV, electronic bulletin boards, numerous websites, social media, colorful yard signs, and on printed information in all participating restaurants.

More ...
Letters to the Editor
Backward Glances


This photo originally published in The Nashville Graphic on April 28, 1966. Members of American Legion Post 110 and other volunteers helped clear the lot of Mrs. Beulah Creekmore on Green Street in preparation for the construction of a new house. Mrs. Creekmore's husband, the late Weldon Creekmore, was adjutant of Post 110.

More ...
A PICTORIAL LOOK INTO THE PAST
SHELBY SHINES


ROCKY MOUNT -- Freshman Shelby Godwin's walk-off RBI single gave the North Carolina Wesleyan College softball team a two-game sweep of William Peace University last Wednesday afternoon at Edge Field.
The Bishops, who took the opener by a 4-1 score, overcame a 3-0 deficit in game two to steal the 4-3 win thanks in part to the heroics of Godwin, who prepped at Northern Nash High School.

More ...
Staff Reports
PACK PROWESS


CHARLOTTESVILLE, VA. -- The 17th-ranked North Carolina State University baseball squad knocked off host No. 14 Virginia 5-2 on Sunday at Davenport Field to win the Atlantic Coast Conference series.
The Wolfpack (19-9, 5-5 ACC) scored one in the first after Stephen Pitarra lead off his fourth game in a row with a walk. Andrew Knizner's RBI single to right gave the Pack its initial lead.

More ...
Staff Reports
SN goes 2-1 for tourney


WILSON -- Southern Nash closed out its tournament stretch with two victories in three tries at the annual Golden Leaf Baseball Invitational in Wilson.
After opening with two decisions, the Firebirds were edged 4-3 in last Tuesday's final against the Oakwood School at Wilson Hunt HS.
Southern, now 9-5 overall, saw Oakwood come through with two runs in both the sixth and seventh stanzas of action.
SN tried to rally with a single run in the bottom of the seventh, but came up just short.

More ...
Staff Reports
Mudcats' roster is finalized


ZEBULON -- The Atlanta Braves have officially set the initial Carolina Mudcats' opening night travel roster for 2016 season. The Mudcats travel roster features the number one overall draft pick from the 2015 Major League Baseball draft in INF Dansby Swanson and Atlanta's 2014 first round selection in OF Braxton Davidson.
The roster also includes returning Mudcats players OF Sean Godfrey, OF Keith Curcio, C Joseph Odom, INF Reed Harper and INF Joey Meneses.
In all, the opening night roster consists of nine returning Mudcats from the 2015 season, including eight players up from Class A Rome.

More ...
Staff Reports
SN salutes winter athletes


STANHOPE -- Southern Nash High School wrapped up a successful winter sports season recently by hosting an awards ceremony on the SNHS campus.
The following Firebirds were presented with awards, by sport:

More ...
GEOFF NEVILLE, Graphic Sportswriter
NAMA BELT TESTS


SUCCESSFUL TEST. Nashville Academy of Martial Arts recently held a belt test for its Tiny Nama Tots (T.N.T) students, with two students earning belt advancements. Pictured (l to r) is Micah Rackley, who received his orange with black stripe belt and Shyloh Wilson, who received her gold with white stripe belt. The students are shown with NAMA Sensei Allen Clark.

More ...
1 opinion posted

SUPER SAVE. Gardner-Webb's Alexus Hill goes airborne to save a ball during this past season's women's basketball action. (Photo Submitted by Tim Cowie/Gardner-Webb University)

Hill enjoys a solid season for 'Dogs


NASH COUNTY -- Alexus Hill's sophomore season at Gardner-Webb started with a stunner -- and kept rolling from there.
Hill, a former star at Northern Nash, poured in 14 points as the Bulldogs kicked off the 2015-16 campaign with an upset road victory at the University of North Carolina-Chapel Hill.
Gardner-Webb would win its first four games en route to posting a 19-12 overall record to go with a 13-7 mark in the Big South Conference.

More ...
GEOFF NEVILLE, Graphic Sportswriter
Everett Mayo Sabbatical Painting Retrospective opens Friday
In venue April 8 at NC Wesleyan College's Mims Gallery in the Dunn Center is the Everett Mayo Sabbatical Retrospective with paintings dating to 1964. A free public reception with complimentary beverages will be held 7-9 pm Friday, May 20.
Twenty-four years a professor, gallery director and curator at Wesleyan, Professor Mayo was awarded a semester sabbatical Spring 2015, two months of which were spent in Savannah where daily he visited a different historical square and sketched in watercolor. Eight of the sketches will be included in the exhibition.
More ...