Subscribe/Access
Advertisements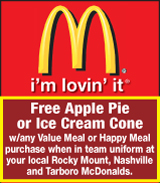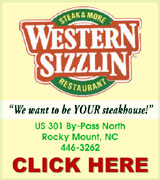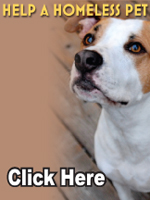 Sections
Member Options
Back
Superintendent takes stand to support board


Nash-Rocky Mount Schools Superintendent Dr. Shelton Jefferies fired back at critics of the school board on Monday night at the board's regular agenda meeting, which was held at Spring Hope Elementary School.
Jefferies said he'd spent his first two months as Superintendent learning and talking to various organizations. During his talks, he's learned that the community supports the school board and want to be a part of the solution. However, Jefferies added, there will always be those who want to continue to work to divide the board.

More ...
AMANDA CLARK, GRAPHIC STAFF WRITER
Task Force makes huge bust


A Nashville man in possession of 347 bricks of heroin was arrested on Sunday after a traffic stop by the Tar River Regional Task Force.
The Task Force conducted a vehicle stop around 10 a.m. on Sunday, March 6 on Highway 301 near Prussia Street in Halifax County as part of an ongoing investigation.
The driver of the vehicle, Billy Ray Johnson, 54, of Kates Lane, Nashville, was found to be in possession of 347 bricks of heroin as well as $4,720 in cash.

More ...
Amanda Clark, Graphic Staff Writer
Nash hopeful to meet with Edgecombe Co.


Nash County Commissioners are close to finalizing a meeting with Edgecombe County Commissioners to discuss funding of the Nash-Rocky Mount School System.
Nash County Commissioners have been trying to get a meeting with Edgecombe for several months, after receiving a report that there are inequities in the funding of the school system, however, Edgecombe Commissioners wanted to include Rocky Mount on the discussion.
Nash County Board Chair Fred Belfield reported to commissioners on Monday that he had received a letter from Edgecombe County Chair Leonard Wiggins, who said his board was ready to meet.

More ...
AMANDA CLARK, GRAPHIC STAFF WRITER

BEYOND THE CALL OF DUTY -- Nashville Fire Chief Randy Goodbrod congratulates Captain Chris Joyner as the 2016 recipient of the chamber's Beyond the Call of Duty award.

Chamber honors Nashville's Progressive Men's Club


Nashville's Chamber of Commerce presented the 2016 Distinguished Citizen Award to an organization that has been giving back to the Nashville community for 25 years.
Members of the Nashville Progressive Men's Club were surprised to learn they were the recipients of the award, which has been given out for 24 years to an individual or couple.

More ...
AMANDA CLARK, GRAPHIC STAFF WRITER
Nashville board okays ordinance amendments


Changes to state law were the primary factors behind two ordinance amendments approved by Nashville's Town Council last Tuesday night.
The first amendment was in reference to zoning protests.
Planning Director Brian Hassell told council members the ordinance was being changed to streamline the process.
"State law has changed which is why we are doing what we are doing tonight" Hassell said.

More ...
AMANDA CLARK, GRAPHIC STAFF WRITER
Primary election is Tuesday


Primary Election Day is just days away but there a few more days left to cast your vote early.
Nash County Board of Elections Director John Kearney said turnout has not been too heavy so far for early voting.
"I would consider it low turnout," Kearney said. "I expected a heavier volume than we've seen."
But Kearney said he's hopeful Friday and Saturday will pick up before Tuesday's election day.

More ...
AMANDA CLARK, GRAPHIC STAFF WRITER
Governor McCrory visits Nash County GOP meeting


Governor Pat McCrory was the guest speaker at the Nash County GOP's annual Convention held last Wednesday evening at Nash Community College.
McCrory didn't give a speech but instead sat down for a question and answer session with Robbie Davis, who serves on the Nash County Board of Commissioners.
Davis asked McCrory numerous questions, mostly about the things he's accomplished during his time in office. But the topic did turn to Attorney General Roy Cooper, who is seeking the Governor's seat. Cooper is a Nash County native and running on the Democratic ticket in the upcoming primary elections.

More ...
AMANDA CLARK, GRAPHIC STAFF WRITER
Relay for Life fundraisers set for this weekend


Relay for Life of Nash County is just over a month away and teams are working hard to raise money for the American Cancer Society.
Several fund raisers are slated for this weekend, including a Relay for Life Auction at the Farmer's Market.
The auction is set for Saturday, March 12 at 4 p.m. and will benefit Nash County Relay for Life.
Retha Pappas, who is a part of Relay for Life, said numerous teams will be at the event.

More ...
Amanda Clark, Graphic Staff Writer
Red Oak Board reviews updates of various projects


The regular meeting of Red Oak's Town Board Tuesday consisted mostly of updates.
The windows of the old dormitory, located across from Red Oak Elementary have been boarded up. The board also agreed to place "No Trespassing" signs around the property. At January's meeting the board had agreed to begin accepting bids for the demolition of the building. At last month's meeting several concerned citizens asked the board to appoint a committee to explore options other than demolition. After some brief discussion, the board decided to grant the request.

More ...
Jessica A. Smith, Graphic Correspondent
Battling fire
Fire departments from Salem, Whitakers, Battleboro and Red Oak, along with Nash EMS, battled a fast moving fire on Saturday, March 5th, at the Battle Grocery Store, a landmark in Salem at 10183 Straight Gate Road. Firefighters were able to get the fire under control in approximately 30 minutes. The fire reportedly started from an outside brush and grass fire in the rear yard of the building. The building was a total lost. No injuries were reported.
More ...

LEE
Tar River Regional Task force arrest four for drugs
The Tar River Regional Task Force made several arrests over the past week as part of numerous investigations.
On March 6, the Task Force conducted a vehicle stop at the Shell Station at 2420 N Church Street in Rocky Mount as part of an ongoing investigation.
During a search of the people and vehicle, 84.6 grams of crack cocaine and 14.2 grams of powder cocaine was found.
The occupants of the vehicle, Robert Earl Bazemore, 65, and Cadayre Pedro Lee, 36, both of Bertie, were arrested without incident.
More ...
NASH COUNTY SHERIFF'S OFFICE REPORTS
Found property was reported on 2/28/16 at 222 W Washington Street
A missing person was reported on 2/28/16 at 7061 Windy Court East
An accidental death was reported on 2/28/16 on Seven Paths Road
An injury to personal property and misdemeanor larceny was reported on 2/29/16 at 940 Holland Lane
More ...
NASHVILLE POLICE REPORTS
INCIDENTS
A driving while impaired was reported on 2/29/16 on W Washington Street
An obtaining money/property by false pretense, forgery of an instrument, possession of stolen property and uttering a forged instrument was reported on 3/4/16 at State Employees Credit Union, 1201 Eastern Avenue
More ...
Middlesex men plead guilty to drug conspiracy
Two Middlesex men pled guilty last week to drug conspiracy.
In Federal Court on Wednesday, March 2, Thurman Stancil, 69, and Harold Devon Scarboro, 25, both of Middlesex, pleaded guilty to conspiracy to distribute cocaine, cocaine base (crack) and marijuana.
As part of his plea, Stancil agreed to forfeit real property located at 357 Barns Lake Road in Middlesex. Both men face a maximum of 20 years imprisonment.
More ...
Rocky Mount Kiwanis Club
John Jesso, Rocky Mount Downtown Development Manager (far left), gave an up-date on all the projects and investments in downtown Rocky Mount and the surrounding areas at a recent Rocky Mount Kiwanis Club meeting. With John is Sydney Sadler, Downtown Development Coordinator and Ginny Mohrbutter, Rocky Mount Kiwanis Club President Elect.
More ...
Walkable Community Project construction has begun


If you have driven through the Town of Nashville lately, you may be wondering what all the construction is you have observed. We are proud to announce the construction is related to the Town of Nashville's "Walkable Community Project," which began on February 26. The project is anticipated to take approximately 120 days to complete. Through this project, the town will install new sidewalk along Alston Street, East Washington Street, and Eastern Avenue. The new sidewalk will provide Nashville citizens with a safe walking route from the Wal-Mart and Nashville Common Shopping Centers to existing sidewalks in our downtown residential districts.

More ...
Henry Edward Raper, Esq., Nashville Town Manager

Doug and Pamela McCausland took in the entertainment on Friday night at the annual Opry. The couple are from Canada and were visiting an aunt, who brought them out to the event. Doug is an Elvis impersonator and his wife also sings.

Annual Opry raises over $600 for scholarships for local BPW


The Nashville Business and Professional Women's (BPW) Club held another successful Opry on Friday night, bringing in around 75 people to watch a variety of family entertainment.
This was the 38th year of the annual Elsie Clark Memorial Opry and Mary Wells said she was pleased with the turnout.
"I thought it was well attended," she said. "I was pleased with the crowd."

More ...
AMANDA CLARK, GRAPHIC STAFF WRITER
COMMUNITY HELPERS
Students in Mrs. Cindy Puckett's four-year-old class at the Nashville United Methodist Church Weekday School recently learned about community helpers. Students were visited by a dentist and a Nashville Police Officer during the week and were able to dress as their favorite community helper on the final day. Pictured on the front row (L-R) is: Emma Bunn, Blake Bass, Corbin Clark, Carolyn VanHoute and Gavin Kirby. On the back row (L-R) is Maggie Narron, Olivia Clemmons, Nola Green, Ayden Narron, Hannah Cole, Sophia Anderson and A. Sullivan.
More ...
Attending Atlanta Ballet
Laura Anne Taylor, 12, of Sims, will be attending the Atlanta Ballet in Atlanta Georgia this summer for an intensive training in ballet and point. Taylor takes dance at Heavens Footprints in Wilson. She is the daughter of Brian and Jennifer Taylor. She is the granddauther of Sidney Long and the late Ruth Anne Long of Nashville and the late Jackie W. Taylor, of Nashville and Dallas and Ann Taylor of Greenville.
More ...
Nash County Animal Friends' Notebook


DOGS & CATS DIED LAST WEEK...
Simply put, they won't die if people stop buying from backyard breeders and if people will fix (spay/neuter) their pets. In particular, too many outdoor cats reproduce and most die not from natural causes, but painfully or at the Shelter because they become feral when loose. More than 50% of the intakes at the Shelter are cats and most of them die.

More ...
Carol Vierela, NASH COUNTY ANIMAL FRIENDS
BEULAH COMMUNITY NEWS


On Monday, February 29, my husband William and I were blessed with another great grandson. Our grandson, Randy Williams and wife, Natalie, have a beautiful little boy born at Vidant Hospital in Tarboro. His name is Landon Brooks Williams. He had a few little problems and was moved to Pitt Med in Greenville where he later got a great report of good health and now is at home with perfect health. He and his mother, Natalie, are both doing great. He has two brothers, Hunter and Mason, who are really happy and would hold him all the time if possible.

More ...
WILMA ENROUGHTY
PEACHTREE COMMUNITY NEWS


On a beautiful spring morning Peachtree folks gathered for worship at the church. This Sunday began the Week of Prayer for North American Missions, and brochures were distributed for daily prayers for missionaries throughout the nation. The Annie Armstrong offering is taken at Easter to support those who are serving in these capacities.
The choir sang, "I'm Standing on the Solid Rock", under the direction of the pastor. He chose as his sermon title "The Hidden Promises of God-Part 2".

More ...
BARBARA HARDISON
New member
The Nashville Lions Club recently installed a new member on Wednesday March 2 at their regular Lions Club meeting. PDG Jim Boehm (far left) installed Rev. Kenny Byrd (center) as the newest club member. Lion Linda Funkhouser (far right) was his sponsor.
More ...
UDC Bethel Heroes
A long lost iron cross is returned to the UDC Bethel Heroes Chapter 636 of Rocky Mount. Terry Bryant (at left), with the SCV Capt. Jesse S. Barnes Camp 771, presented an original iron cross that he located to Bethel Heroes. The cross had been placed on a grave of a confederate soldier in the early 1920's by the chapter. The exact grave site is unknown at this time. Bethel Heroes is in the process of raising money to purchase iron crosses to replace stolen, loss or damaged crosses that were originally placed by the chapter.
More ...
RED OAK NEWS


Al Boone presented the Gideon message at Red Oak Baptist Church on Sunday, March 6. A special offering was collected to support the Gideon ministry which involves distributing Bibles around the world in many languages to share the gospel.
Look forward to seeing everyone on Wednesday, March 16 at Red Oak Baptist Church Family Life Center in Burnette Hall for the Great North American Cookie Swap at 6:30 pm - 8:00 pm.

More ...
SUZY PEARCE
Luke's Word for the Week


It's easy to be ashamed isn't it? More specifically, it's easy to be ashamed to be a Christ follower in the world today isn't it? We go out to eat and try to make the blessing as quick and quiet as possible to not offend those dining in the same restaurant. (Oh and if you need help with some boldness in saying or singing the blessing in a restaurant ask some of the leadership at Nashville UMC - they can help!) We become ashamed of lifting our hands towards the heavens to praise God. We become ashamed of speaking about Jesus too much in the workplace so we won't be labeled as a "Jesus freak."

More ...
LUKE WHITEHEAD
Note Burning Celebration
Nashville United Methodist Church held a Note Burning Celebration on Sunday, February 28. The church recently paid off its mortgage for its worship center. Pictured above (L-R) is: Associate Pastor, Luke Whitehead, the Bishop of the NC Methodist Conference, Hope Morgan Ward, District Superintendent of the Heritage District of the UMC, Randy Innes and Senior Pastor Ralph A. Brown.
More ...

Katelyn Barnes enjoys playing with blocks after school.

GREAT FUTURES START HERE


Even though National Boys and Girls Club Week is coming to a close, Nashville's Boys and Girls Club will continue to show the Nashville community how it supports its kids and the community.
The club has formed several partnerships over the years with area churches, civic groups and even the local police and fire departments. Those partnerships are growing, said Nashville Unit Director Boris Ashford, and are a vital part of the club's success.

More ...
GRAPHIC PHOTOS BY AMANDA CLARK
The real ACC tournament is in the history books


It is possible you missed it. Some would say that's because it ain't what it used to be. I am, of course, referring to the Atlantic Coast Conference Men's Basketball Tournament.
Back in my day -- the halcyon days of Members Only jackets, the Boston Celtics, and when the Redskins owned North Carolina -- the ACC Tournament was a big deal. Whether it was sexist or not, you didn't have to add "Men's" or "Women's" Tournament.

More ...
Mike Brantley
Let's applaud the chamber for recognizing the good!


In a world with lots of ugly, it's nice to be in a town that still recognizes the pretty in life.
Nashville's Chamber of Commerce has been recognizing citizens that go above and beyond to help others for 25 years.
Last week, the Chamber recognized The Progressive Men's Club and Nashville Fire Captain Chris Joyner at its annual Distinguished Citizen event.
The Progressive Men's Club was recognized as the Distinguished Citizen, which makes the first time an organization has been honored with the award.

More ...
Amanda Clark
All lives matter to God


As an African American, I submit that during the year of 2015 when news report after news report reflected the number of black males that were killed under questionable circumstances at the hands of law enforcement, such fatalities caused me grief as a parent, mother, child of God, and sister.
From a 12 year old playing in a park with his toy gun, teens playing music on a Florida Highway the only way most teens play music-blasting, a father and husband hustling cigarettes on a New York Street, a brother purchasing a gun in a Walmart Store, or a teenager on a Baltimore Street, I honestly felt that these deaths were occurring too often.

More ...
Letters to the Editor
Backward Glances


This photo was originally published in The Graphic on April 2, 1981. Carlos Harris is shown putting a cake in the oven during Mrs. Harriet McCall's class at Nash Central Junior High School.

More ...
A PICTORIAL LOOK INTO THE PAST

OFF BALANCE. Bunn's Morgan Williamson (left) and Northern Nash's Ally Deans (right) tangle for possession during last Wednesday's soccer match.

SEASON STARTUP


BUNN - Northern Nash's girls soccer season is just over one week old, but the Lady Knights are already making a bit of history.
Thanks to a torrid opening week, Northern Nash's Rebekah Beal is now just two goals shy of breaking the career mark at NN of former standout Jordan Carter.
Beal registered a whopping 10 goals during the first week and was in position to break the record during Tuesday's home meeting against Wilson Beddingfield.
Thanks to Beal's heroics, the Lady Knights are off to an effective 3-0 start, though veteran head coach Joe McCarthy sees plenty of room for improvement.

More ...
GEOFF NEVILLE, Graphic Sportswriter
A DYNAMIC DUO


ROCKY MOUNT -- Robbi Allen's sophomore season at Nash Central was all about making up for lost time.
After a highly-touted stint on the middle school level, Allen arrived at Nash Central with lofty expectations -- but would miss her freshman campaign after tearing her anterior cruciate ligament..
Allen returned with a fury this winter, starring both inside and along the perimeter as part of the Lady Bulldogs' historic season.

More ...
GEOFF NEVILLE, Graphic Sportswriter

GOODY TO THE RIM. Northern Nash High School's Raymond 'Goody' Bullock (with ball) has been selected to the 2015-16 All-Big East Conference Boys Basketball Team.

Bulldogs honored in league


ROCKY MOUNT -- A shooting star and a talented coach helped propel the Nash Central Bulldogs to the top of the Big East Conference boys basketball standings this season.
Fueled by sharpshooting guard Josh Mullins, the Bulldogs were part of a three-way tie for first place -- along with Southern Nash and Rocky Mount -- in the Big East during the regular season.

More ...
GEOFF NEVILLE, Graphic Sportswriter
NCWC wins on diamond


ROCKY MOUNT -- The North Carolina Wesleyan College Battling Bishop baseball team swept a three-game USA South series versus William Peace over the weekend at Bauer Field.
NCWC is now 13-5 overall and 5-1 in league action.
In last Friday's opener, the two squads traded two-run homers in the second, with NCWC's coming off the bat of junior transfer Tony Sanchez.

More ...
Staff Reports
NCHSAA finales are targeted


CHAPEL HILL -- The North Carolina High School Athletic Association has announced the game times and sites for the eight championships in the NCHSAA's 102nd State Basketball Championships.
The Dean E. Smith Center in Chapel Hill will host the 2A and 4A games, while Carmichael Arena across campus will host the 1A and 3A games.
Here is Saturday's complete schedule of games:

More ...
Staff Reports

TOSS ACROSS. Nash Central High School's Kelsie Aycock makes a throw to first base during last week's home softball contest against Smithfield-Selma.

Central Getting Started


ROCKY MOUNT -- Nash Central notched one run in the bottom of the first but couldn't dent the plate the rest of the way en route to being defeated by Bunn by a 7-1 total on Monday in high school baseball action on the NCHS campus.
Bunn never trailed after delivering three runs in the top of the first thanks in part to a Jordan Payne RBI double, along with a leadoff single from Nick Sanders.
The Bulldogs also committed a costly throwing error as part of the uprising.

More ...
Staff Reports
State on win streak


RALEIGH -- The No. 8-ranked North Carolina State University baseball won its seventh game in a row, topping Bucknell 5-2 on Sunday at Doak Field at Dail Park on the NCSU campus.
The Wolfpack (10-2) pitching staff sat down 13 of the last 14 batters it faced, the lone runner reaching on a questionable hit-by-pitch call.
Chance Shepard started the scoring with a two-run homer in the first, his seventh in the last eight games.

More ...
Staff Reports
BIG STRETCH
Nash Central High School first baseman Tyler Sherrod provides a full extension at left to retire a Smithfield-Selma player during last Thursday's non-conference prep baseball meeting on the NCHS campus in Rocky Mount.
More ...
EYE ON THE BALL
Northern Nash's Olivia Bunn tracks down possession last Wednesday against the Bunn Ladycats.
More ...

Pictured above are cast members at the Junior Theater Festival.
Faith Christian to present Disney's Beauty and the Beast JR
Time does not stand still and neither does the Fine Arts department at Faith Christian School. After three nearly sold out performances in November of Disney's The Lion King JR, Faith Christian School began auditions and rehearsal for their March show of Disney's Beauty and the Beast JR.
Why such a quick start on a new show? Well, Faith Christian School drama teacher Danelle Cauley decided to take a brand new show to the Junior Theater Festival held in Atlanta back in January. This meant doing things a little backwards.
More ...