Subscribe/Access
Advertisements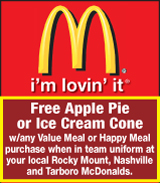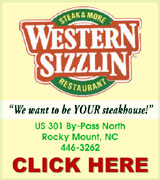 Sections
Member Options
Back
School Superintendent resigns


The Nash-Rocky Mount Public Schools Board of Education accepted a resignation agreement from Superintendent Anthony Jackson during a lengthy closed session on Monday night.
The acceptance came with a 6-5 vote. Board members accepting the resignation included Brenda Brown, Wayne Doll, Ricky Jenkins, William Sharpe, Reginald Silver and Wendy Wilson. Those voting not to accept the resignation included Chair Evelyn Bulluck, Doneva Chavis-Battle, Ann Edge, Franklin Lamm and LaShawnda Washington.

More ...
AMANDA CLARK, GRAPHIC STAFF WRITER
Coleman to file for town council seat


Michael Coleman, of Nashville, has announced his intention to file for the vacant Nashville Town Council seat.
The seat was previously held by Patricia Rogers, who resigned in June due to moving out of town. Council members recently decided to hold off on appointing someone to fill the seat, but instead wait until the November elections.
Coleman says he decided to run for the vacant seat for many reasons. In a submitted statement and bio, he says he has "a strong desire to serve his community at the highest capacity which includes sound policy making and innovative leadership."

More ...
Staff Reports
Nashville man faces drug charges
A 54-year-old Nashville man was arrested last week after law enforcement discovered marijuana growing in his pool.
The Nash County Sheriff's Office Narcotics Division arrested Michael Burton Randolph, of Red Road, last Thursday after receiving information that there was marijuana growing in a pool at Randolph's home.
Members of the Narcotics Division found 10 six-foot tall marijuana plants growing inside the pool. The marijuana plants weighed around 12 pounds, whcih has a street value of $28,800.
More ...

RETIREMENT DAY -- Nash County's Director of Emergency Medical Services, George Winstead, retires after 30 years of service.

Winstead retires from Nash County EMS


Nash County Emergency Medical Services was established in 1986 with just six employees and two ambulances.
One of those employees was George Winstead, who now leads the organization as the Director of Emergency Medical Services.
Winstead has been a major factor in the growth of Nash County Emergency Medical Services. Today, there are 78 full-time employees, 30 part-time employees and the Nash County Emergency Medical Services has been recognized as a model EMS system.

More ...
AMANDA CLARK, GRAPHIC STAFF WRITER
Landowners voice pipeline concerns


Landowners had a chance to hear another side of the Atlantic Coast Pipeline, as several attorneys presented information during a meeting on Tuesday night.
Over 100 attended the educational meeting, which was set up by a group of landowners whose property is impacted by the proposed Atlantic Coast Pipeline.
The Atlantic Coast Pipeline is a joint venture between Dominion Resources, Duke Energy, Piedmont Natural Gas and AGL Resources. The natural gas transmission pipeline is proposed to start in Harrison County, West Virginia and extend south into eastern North Carolina.

More ...
AMANDA CLARK, GRAPHIC STAFF WRITER
Castalia set to celebrate July 4th
Castalia's annual July 4th Celebration is set for Saturday which includes a Patriotic Parade, Veterans Ceremony, car show, music, food and fun.
Patrons might want to arrive a bit early this year as the detour around the town during the parade is a bit longer than normal due to the bridge is out on Edwards Road. This year traffic will be routed from traveling North on Hwy 58 to Boddie's Mill Pond Road, Pleasant Grove Church Road, Richardson Road, then back to Hwy 58. The detour will be in effect from 1-3:30 p.m.
More ...
County issues final offer on school funding


Nash County Commissioners have given their final offer on a compromise for school funding.
Commissioners unanimously approved a resolution on Friday afternoon following a closed session.
The resolution is what commissioners referred to as a compromise to resolve the funding inequities that they say exist between Nash and Edgecombe Counties for funding of the Nash-Rocky Mount School System.

More ...
AMANDA CLARK, GRAPHIC STAFF WRITER
ACCIDENT
Great team work is credited with saving the lives of two accident victims who were trapped in the wreckage of a car that struck a huge steel electrical pole on Dortches Blvd. on Saturday morning, June 27th. Fire fighters from Red Oak Fire Department, rescue squad members from Stoney Creek and Nash County EMS Units teamed up together to remove the trapped victims. The 21 year-old passenger was removed within 10 minutes, but it took over 30 minutes to remove the heavily trapped 19 year-old driver.
More ...
Local man pens book about journey to America


Since coming to America, Conrad Bastien has shared his story through many avenues.
He has written several plays, songs and poems, which were inspired by his story. His story can also be found in his debut book, "Wings of a Dream," which came out in 2009.
On Saturday, Bastien held a book signing at Cooley Library.

More ...
AMANDA CLARK, GRAPHIC STAFF WRITER
COTTON BLOOM 2015
Little Caitlynn Stewart Bissette holds the first cotton bloom found on her great uncle Burt Philips' Farm in the Battleboro Community. Holding Caitlynn is her grandmother Carolyn V. Philips. Standing with them is Travis and Nichole Denny, Caitlynn's aunt and uncle. Caitlynn is the daughter of Josh and Candice P. Bissette. Her grandfather is Stewart Philips. They brought the bloom to the Graphic office on June 26th. The Nashville Graphic has held a long-time tradition of offering a free one-year subscription for the first bloom of the season brought to the newspaper.
More ...
NASHVILLE POLICE REPORTS
INCIDENTS
A possession of stolen property was reported on 6/23/15 at First Street Convenience, 802 S First Street
A larceny was reported on 6/26/15 at Wal-Mart, 1205 Eastern Avenue
A possession of marijuana was reported on 6/26/15 at Eastern Avenue and Red Oak Road
More ...
NASH COUNTY SHERIFF'S OFFICE REPORTS
A robbery with a weapon, breaking and entering a motor vehicle and breaking and entering were reported on 6/22/15 at 11507 Watson Seed Farm Road
A possession of marijuana were reported on 6/22/15 at 10601 E NC 97
A possession with intent to sell and deliver MDMA, sell and deliver molly and maintaining a vehicle were reported on 6/22/15 at 5214 Blackhome Road
A misdemeanor larceny was reported on 6/22/15 at 2038 Cash Lane
More ...
Spring Hope okays budget


With little fanfare and no comments from the public, Spring Hope's Board of Commissioners unanimously adopted the 2015-2016 Fiscal Year Budget last Thursday night.
The budget included a three cents property tax increase, which will enable the town to add funds to the police department and sanitation department. The additional funds will also allow the town to have $6,000 to be used for any of the town's critical needs that were left unfunded.

More ...
AMANDA CLARK, GRAPHIC STAFF WRITER
BLOOMING WINNERS
The Nashville Graphic held a drawing at its booth during the Nashville Blooming Festival. Three lucky winners were drawn after the event. Pictured above, Erma Lucas won a gift certificate to Food Lion.
More ...
Area students graduate from East Carolina University
Nash County residents are among those graduating from East Carolina University recently.
Nashville residents graduating include Amanda Baker, with a Master of School Administration, Charnissa Brown, with a Master of Science in Nursing, Molly Cary, with a Bachelor of Science, Teresa Dantzler, with a Master of Business Administration and Certificate, Fredrisha Faison, with a Bachelor of Science, Nadia Ibrahim, with a Master of Arts in Education, Matthew Jones, with a Bachelor of Science in Nursing, Margaret Ross, with a Bachelor of Science and Susanne Strickland, with a Master of Arts in Education.
More ...
ECU Dean's List, Chancellor's List and Honor Roll are announced
Nash County residents were recently named to the Dean's List, Honor Roll and Chancellor's List at East Carolina University.
The Chancellor's List is composed of the names of all full-time undergraduates who make four grade points per credit hour on all work taken with no incomplete grades.
The Dean's List is composed of the names of all full-time undergraduates who make at least three and one-half grade points per credit hour on all work taken with no grade below C and no incomplete grades.
More ...
Nash County Blood Drives for July 2015
Tuesday, July 7 from 11 a.m. until 5 p.m. at 1221 Thorpe Road, Rocky Mount. For City of Rocky Mount employees
Friday, July 10 from 1 until 7b p.m. at Petsmart, 1462 Jeffries Road, Rocky Mount
Monday, July 13 from 2 until 7 p.m. at Northside Community Church, 1660 Beaver Pond Drive, Rocky Mount
Tuesday, July 14 from 9:15 until 11:30 a.m. at Boddie Noell, 1021 Noell Lane, Rocky Mount
More ...
Coopers AIG student hold mock trial in Nashville


On Friday, May 22nd Mrs. Adkins' AIG Reading students took a trip to the Nash County Courthouse in Nashville to hold a Mock Trial. The case heard was "The State vs. Jack Robinson", also known as "Jack from Jack and the Beanstalk."
When Jack cut down the beanstalk, the Ogre fell to his death and Jack was charged with breaking and entering, theft, and second degree murder.
The students learned about the different roles in the court room and were each given a role to carry out during the trial.

More ...
Naraly Rosas, 5th grader at Coopers Elementary
RIBBON CUTTING
Coopers Elementary School staff and students held a ribbon cutting ceremony in May during the gymnasium dedication ceremony.
More ...

Darlene Winston
PNC Bank promotes bankers
PNC Bank has promoted three bankers in its Tri-County area retail and business banking teams.
Darlene Winston, region manager, brings more than 30 years of financial services experience to this role, most recently as support manager for the Northeast North Carolina and Tri-County Area retail teams. Based at 131 N Church Street, she is responsible for developing and leading skilled Retail branch teams in the Rocky Mount region.
More ...
Contribution
The Southern Bank Foundation made a multi-year contribution totaling $36,000 ($12,000 per year for three years) to the S.N.A.C.K.S. And More organization in Bailey. S.N.A.C.K.S. (Southern Nash Answering the Call for Kids Sports) is a non-profit group in Nash County working to enrich the lives of and opportunities available to local youth athletes and members of the surrounding communities. They are currently working on a new Bailey-Middlesex Park project.
More ...
Gift to Peacemakers
Southern Bank recently presented a $2,500 gift to Peacemakers of South Rocky Mount in support of Peacemakers' After School Program. During the school year, Peacemakers' After School Program provides a safe, affirming environment where elementary and middle school students can receive tutoring at no charge. Volunteers work with young students Monday through Thursday afternoons, from 3:30pm until 5:30pm, assisting with homework assignments and working on specific skill areas that need improvement.
More ...
TERRIFIC KIDS
Nashville's Kiwanis Club recognized Terrific Kids of the Nashville Boys and Girls Club on June 10, 2015. Those receiving recognition were: Robert Richardson, Adrianna Lynch, Jayden Freeman, Malachi Brake, Destiny Harrison, Jayden Gray, Ke'Shawn Coppage and Caleb Allen. Club members Rhonda Jordan and Elaine Robertson presented the Terrific Kids with framed certificates, personal dictionaries and school supplies. Also pictured is Mr. Boris Ashford, Director of the Nashville Boys and Girls Club.
More ...
NC 231 Bridge closing for repairs
The N.C. Department of Transportation will close a section of N.C. 231 between N.C. 97 and U.S. 64 in southwestern Nash County on Tuesday, June 30, weather permitting.
The closure is necessary to allow crews with Keystone Contracting Co. Inc. to replace the bridge over Turkey Creek. The 90-year-old bridge is classified as functionally obsolete. A functionally obsolete bridge is like an old house. Although the house is safe to live in, the home must eventually be updated in order to meet current standards and the needs of its residents.
More ...
BEULAH COMMUNITY NEWS


We met for Sunday School at 9:45. Church service followed at 10:45. Welcome and announcements were given by Elder Earl Cary. The invocation was given by Chris Matchem followed by two praise hymns and prayer. Communion then followed and was given by Elder Randy Goodbrod. Communion was given by Deacons Jim Walker, Steve Wheeless, James Proctor and Mickey Matthews followed by prayers and giving of tithes and offerings. The morning message followed by brother Chris Matchem.

More ...
WILMA ENROUGHTY
AVENTON COMMUNITY NEWS


If you happened through Aventon last week and thought you were having a hallucination from the 103-degree heat, you weren't. Yes, that was Terry Milligan trying out his new jet ski in the farm pond. Fuel and oil, check; new battery, check; life jacket, check. All that was left was to try it out. Terry figured Lake Gaston was 30 minutes away and his pond was right there so he backed up, offloaded, cranked up and took off. The ducks and geese scattered, squawking as they flew.

More ...
JOJO RICKS
PEACHTREE COMMUNITY NEWS


On a beautiful Sunday morning Peachtree folks gathered for worship at the church. Sanctuary flowers were grown and arranged by Barbara Hardison. She gave them in memory of her late husband, John Beverley Privette. The choir sang a medley of "He Touched Me and Something Beautiful." Jerry Hobgood was the soloist.
Pastor Whitehouse's sermon was titled, "Though Your Sins Be as Scarlet," based on scripture found in Genesis 42-43.

More ...
BARBARA HARDISON
MINI CONCERT
Rev. Thomas Walker (center), Pastor of Ebenezer Missionary Baptist Church in Rocky Mount, held a mini concert at Universal Health Care in Nashville for residents. Pictured with Walker is Jackie Johnson (far left) and Roberta Little (far right).
More ...
Farm Market Summary June 22-26


North Carolina's egg prices were lower on all sizes when compared to last week. Supplies are moderate to meet a light demand. The North Carolina weighted average price quoted Thursday, Jun 25, 2015 for small lot sales of delivered, cartoned, grade "A" eggs was 217.95 for Extra Large, 215.18 for Large, 166.08 for Medium, and 102.00 for Small eggs.

More ...
FEDERAL - STATE MARKET NEWS SERVICE, DIVISION OF MARKETING - NCDA&CS
God must have more for America to do
It is definitely a mixed bag of unexplainable phenomena that defines my personal heritage.
I can illustrate the concoction of events and decisions that make up my heritage by relating comments made 14 years ago by an array of individuals who knew me quite well, but did not know each other. These friends were visiting me in the hospital over the course of several days after I had been moved from Intensive Care to a regular room.
More ...
A better understanding of dementia issues


Dementia and Alzheimer's are hard to understand, especially to family members of someone with the disease.
It's hard to comprehend what a person is going through who is suffering from the disease.
My family has had a few members to be diagnosed with both dementia and Alzheimers. It was a confusing and stressful time.
I know as my grandmother battled some dementia in the past few years, I wondered what exactly was going on in her head. I wondered what caused her confusion and irritation.

More ...
Amanda Clark
July 4th is all about symbols and celebration


As we head into what should be one of the nation's most joyous holidays, July 4th, we do so on the heels of a whirlwind of events and attitudes that make some think our amazing republic is coming apart at the seams.
It seems no one person or party has someone willing to stand up and tell us how to keep our great nation great. But it is just as well, for our electorate is highly unlikely to vote for someone willing to tell us what we need to hear as opposed to what we want to hear.

More ...
Mike Brantley
It's time to split school systems or pay the price


Dear editor:
The debate continues to rage over the splitting of the Nash-Rocky Mount School District. What appears to be missing in the debate is how the state of North Carolina is organized!!!
North Carolina like all other states in the United States is organized in a county/parish system.

More ...
LETTER TO THE EDITOR
Backward Glances


SIDEWALK REPAIR -- This photo originally published in The Graphic on October 27, 1981. Nashville Public Works Director Harold Pittman was photographed pointing to the damaged sidewalk anticipating a sidewalk improvement program to begin.

More ...
A PICTORIAL LOOK INTO THE PAST
Nash County Animal Friends' Notebook


ANIMALS vs HUMANS?
As I was catching up on my postings to our Facebook page, I came across the letter to the Editor about Animal Rights over Human Rights, where a dog bit a child in Rocky Mount. Others were criticizing an Animal Control officer because it looked like he was dragging the dog to his truck. The dog is fighting against the restraint, as many will do because it scares them. It is a slip lead, one that just happens to have a pole between the dog and the handler. A catch pole.

More ...
Carol Vierela, NASH COUNTY ANIMAL FRIENDS

HIGH AND TIGHT. Southern Nash's Luke Edwards (left) avoids an inside pitch during last Thursday's finale of the Nash County Babe Ruth Prep League Tournament. SN was defeated by Bunn in the title game at Nash Central HIgh School.

Southern Soars To Second Spot


ROCKY MOUNT -- Getting there was half the fun for the Southern Nash All-Stars in the finals of the Nash County Babe Ruth Prep League Baseball Tournament.
Nash Central dominated regular season action in the league, which features players of middle school age.
But in an elimination game to reach the title contest, Southern Nash stopped Nash Central in what will be remembered as one of the Firebirds' top performances of the summer.

More ...
GEOFF NEVILLE, Graphic Sportswriter

ON HIS WAY. Nash Rec's Hunter Proctor competes in the Individual Medley event as part of his team's road matchup last Thursday evening against Westridge in Nash-Halifax Swim League action.

SHARKS SAIL TO WIN


ROCKY MOUNT -- Nash Rec hit the road last Thursday for the first time this season, and the trip proved to be a successful one for the Sharks.
Nash Rec, the long-time powerhouse of the Nash-Halifax Swim League, traveled to rival Westridge and was able to come away with an impressive 414-281 triumph.
The Sharks are now 2-0 on the campaign under Coach Wendy Wilson and have outscored their opponents by a combined 900-405.

More ...
GEOFF NEVILLE, Graphic Sportswriter

BACK IN TOWN. Trey Sumler returned to Nash Central High School last Wednesday to host a basketball camp at The Dawg Pound.

Sumler's camp is a success


ROCKY MOUNT -- When he was growing up, Trey Sumler had the good fortune of learning from some positive role models as he made his way through Red Oak Middle School and Nash Central High School.
Two of those role models -- Coaches Michael Mosley and Jeff Dodrill -- welcomed Sumler home last Wednesday and served as instructors for the First Annual Trey Sumler Basketball Skills Camp at the NCHS Gymnasium.

More ...
GEOFF NEVILLE, Graphic Sportswriter

BIRCHWOOD'S BEST. Among the Birchwood participants from last Thursday's swim meet at Roanoke Valley were (above) Berkeley Miller.

Birchwood heads to RV


ROANOKE RAPIDS -- One week after taking on its nearest rival in Nash Rec, the Birchwood Swim Team made its longest journey of the Nash-Halifax Swim League season -- a trip to Roanoke Valley.
The host RVST club was able to defeat Birchwood by a 539-163 total at the Roanoke Rapids Aquatic Center in Halifax County.
Birchwood will return home today for a meeting with Westridge. Action will begin at 5 p.m. in Nashville.

More ...
Staff Reports

SAFE AT SECOND. Nash County All-Star Dylan Alford slides into second base to complete a stolen base during last Tuesday's game with Louisburg at the Tar Heel League District Baseball Tournament.

Nash Co. Falls At Tourney


ZEBULON -- Nash County and Louisburg have built a young-but-energetic rivalry in boys baseball action over the past few years, thanks in part to both clubs' status in the Tar Heel League.
The rivalry was renewed last Tuesday in the opening round of the Tar Heel District 6 13-14 Baseball Tournament at the Zebulon Community Park in Wake County.
The contest was similar to some of the squads' past nail-biters as the lead went back and forth before Louisburg rallied late to secure a 9-7 triumph.

More ...
GEOFF NEVILLE, Graphic Sportswriter
Mudcats topped by Potomac


WOODBRIDGE, VA. -- Dustin Peterson doubled and scored a run in the fourth, Seth Webster turned in a quality start with three runs allowed over seven innings pitched, but the Carolina Mudcats fell short in a 3-1 series-opening loss to the host Potomac Nationals on Sunday night.
Seth Webster started for Carolina (37-36, 3-1) and allowed three runs over seven quality innings pitched.
The Nationals (34-49, 1-2) pounded out 10 hits against Webster (L, 3-4, 2.96) and scored runs in the fifth and sixth to tie and later take the lead.

More ...
Staff Reports

SUPERB SPARTANS. The Spartans were the regular season champions in the Nash County Parks and Recreation Department's Tar River 13-14 Baseball League for the 2015 campaign.

PARKS AND REC BASEBALL


NASH COUNTY -- Listed are updated Nash County Parks & Recreation Spring Baseball League Scores:

More ...
Staff Reports

ENCOURAGING WORDS. Player Corey Mercer receives encouragement from Officer Mark Withrow during the Nashville Police Department T-Ball Team's 2015 season.

The T-Ball Titans


NASHVILLE -- Nashville Police Officers traded in their badges for a different uniform recently, as the department sponsored a youth T-Ball team.
The department did more than just sponsor the team. Officers also coached the squad, with Corporal Miles Costa and Officer Mark Withrow serving as the head coaches. Other officers also came out and helped with practices and games.
Nashville Police Chief Tom Bashore said this was the second year the department has sponsored a T-Ball team for three, four and five-year-olds. But, he added, it definitely won't be the last, as the experience has been rewarding, not only for the youth but also for the officers.

More ...
AMANDA CLARK, GRAPHIC STAFF WRITER
Elon to be featured on television


ELON -- Three of Elon University's football games have been selected to be televised as a part of CAA Football's 2015 television package.
The Phoenix will have two games on the American Sports Network (ASN) and another on Comcast SportsNet (CSN).
The Phoenix's games at New Hampshire and Stony Brook as well as a home game with William & Mary will be televised.
Including Elon's season opener at Wake Forest on Sept. 3 that will air on ESPN3, the maroon and gold will have a total of four televised contests.

More ...
Staff Reports
Buffaloe saluted in New York


NEW YORK -- Christian Buffaloe, 15-year-old local youth, recently competed in the "2015 All American Open International Karate Championships" in New York City on June 27.
This prestigious annual event is sponsored and organized by the International Kyokushin Karate Organization in Tokyo, Japan and featured fighters from Japan, Russia, Ukraine, Europe, Australia, South Africa, Canada, and South America.

More ...
Staff Reports
CAROLINA HURRICANES 2015-16 NHL SCHEDULE


RALEIGH -- The National Hockey League has released the 2015-16 schedules for its 30 member clubs.
The Carolina Hurricanes will open their 82-game campaign on Thursday, Oct. 8 at Nashville before playing their first home game on Saturday, Oct. 10, against the Detroit Red Wings.
Carolina's complete schedule is as follows, with the games listed in CAPS (all times Eastern):

More ...
Staff Reports
Wells Fargo winners announced


CHAPEL HILL -- Wells Fargo, along with the North Carolina High School Athletic Association, has announced the final standings in the Wells Fargo Cup competitions for the 2014-15 academic year.
The Wells Fargo Cup is sponsored by Wells Fargo and the NCHSAA. The award recognizes the high schools that achieve the best overall interscholastic athletic performance within each of the state's four competitive classifications. The Cup program is in its 36th year.

More ...
Staff Reports
LONG GONE
Nash County's Noel Thomas blasted this pitch for a home run as part of his team's contest against Louisburg last Tuesday at the Tar Heel League District Baseball Tournament.
More ...
MAGIC FROM THE MARLINS
The Marlins enjoyed a strong season in the Rocky Mount Parks and Recreation Department's Youth Baseball League. Pictured are (back, l to r) Coaches Don Whitley, Mike Harrell and Ted Leeson; (middle, l to r) Allen Beasley, Luke Leeson, Jeremy Eatmon, Mikius Dancy, Connor Whitley and Noah Harrell; (front, l to r) Gage Varnell, Matthew 'MJ' Jackson, Carter Hicks, Eli Hicks, Israel Whitaker and Levi Whitley. Not pictured is Jayden Whitaker.
More ...
POOL STARS
Among the Nash Rec Swim Team standouts from last Thursday's road meet at Westridge were (above) Grace Strickland.
More ...
VICTORY LAP FOR THE SHARKS
Nash Rec's Lance Norris was the winner of the Boys 11-12 Individual Medley during last Thursday's road swim matchup against Westridge in Rocky Mount. The Sharks will return home today for a 5 p.m. meeting with the Roanoke Valley Swim Team in another key Nash-Halifax Swim League event.
More ...
MELVIN "TYRONE" WRIGHT
Melvin "Tyrone" Wright, 36, of Louisburg, passed away Sunday, June 28, 2015. A funeral service will be held Thursday, July 2 at 1pm from the Cedar Rock Missionary Baptist Church. Burial will follow in the church cemetery. The Rev. Sylvester White, Jr. will officiate.
More ...
SANDRA MOSS BAILEY
Sandra Moss Bailey, 66, of Castalia, passed away Tuesday, June 30, 2015. She was born December 28, 1948 in Nash County to the late Paul and Minnie Wilder Moss.
More ...