Subscribe/Access
Advertisements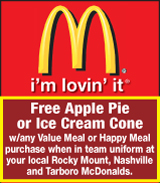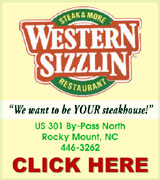 Sections
Member Options
Back
McCrory visits Nash


Governor Pat McCrory dropped in for a whirlwind tour of Rocky Mount last Thursday, February 12, focusing on visiting reclaimed historic sites and promoting the revival of historic tax credits for the state. He ended the tour with a press conference at the Imperial Center where he touted his plan for a new round of historic tax credits and hinted that new jobs may be coming to the area.

More ...
AMELIA HARPER, GRAPHIC CORRESPONDENT
Nash-UNC posts $15 million loss


At a meeting of the board of Nash UNC Health Care earlier this month, CFO Al Hooks presented a final accounting of the 2014 budget year which revealed a $15,524,707 loss in income from operations. The hospital had already braced for a bad year and had budgeted for a roughly 5 million dollar loss for the 2014 fiscal year. However, the actual loss more than tripled projections.

More ...
AMELIA HARPER, GRAPHIC CORRESPONDENT
Nashville Town Clerk retires


Nashville Town Clerk, Cynthia Richardson, is retiring from the Town of Nashville on March 6, 2015 after nearly 30 years of service. However, she will begin a new period of civic service with the Town of Selma that same month, where she will be working under the direction of former Nashville Town Manager Jon Barlow.
Richardson began her work in Nashville with the Nashville Police Department in 1985, but later transitioned over to serve the Town of Nashville in other capacities in the town office.

More ...
AMELIA HARPER, GRAPHIC CORRESPONDENT
TEAM COURTNEY BLANKETS
Courtney Moss (above) will soon celebrate her six-month anniversary of receiving a heart transplant. She has started a blanket project with the intent of giving back and providing comfort and support through no-sew blankets she is making and collecting. She will distribute the blankets to transplant patients at UNC and Duke Children's Hospitals. A Valentines Day Brunch was held Saturday at Beulah Church of Christ Fellowship Hall where members of Team Courtney gathered to donate material and assemble 31 blankets.
More ...
Winter storm hits Nash County


Winter storm Octavia has taken its toll on Nash County in the past few days, but, according to Nash County EMS Director Brian Brantley, things could have been far worse.
Brantley said that more than 20 accidents were reported on the Nash County portion of  I-95 alone on Monday night between 7 and 12 p.m. However, comparatively few accidents have been reported in Nash County since then.

More ...
AMELIA HARPER, GRAPHIC CORRESPONDENT
Boys and Girls Club gets new unit director


Boris Ashford is no stranger to the Boys and Girls Club.
Though he wasn't a club kid himself, he began volunteering with the organization in college and soon after began working as a program leader with the Cumberland County Boys and Girls Club. After three years in that role, he moved up to a Club Director, where he served the past two years.

More ...
AMANDA CLARK, GRAPHIC STAFF WRITER
PNC launches essay contest for local public high school students
An essay contest, launched Monday by The PNC Financial Services Group, Inc. (NYSE: PNC), asks local public high school students to reflect on the region's past and write about how it will influence the future. Prizes include iPad minis, publication in area newspapers, and money for the winner's school.    
More ...
Teen arrested in series of break-ins


A nineteen year old suspect has been arrested and charged in connection with a series of break-ins in the Sandy Cross area of Nash County. Alex Braswell, reportedly from Elm City, was arrested on January 30 and was incarcerated in the Nash County Detention Cented under a $9000 bond while he awaits trial.

More ...
Staff Reports
Rocky Mount tax service owner receives 30-month prison sentence
A Rocky Mount tax service owner was sentenced last week to 30 months in prison for tax fraud.
United States District Judge Terrence W. Boyle sentenced Tina Luretha Tyree Johnson, 46, in federal court last Wednesday to 30 months in prison and three years of supervised release.
On July 18, 2013, Johnson pled guilty to tax fraud and aiding and abetting.
More ...
NASH COUNTY SHERIFF'S OFFICE REPORTS
An assault with deadly weapon/malicious conduct was reported at 222 W. Washington Street on 2/9/15
A larceny of a firearm was reported at 2892 Bones Acres Ct. on 2/9/15
An unlawful obtaining credit card was reported at 1673 Mt. Zion Church Road on 2/9/15
A felony larceny was reported at 5808 Red Oak Road on 2/9/15
More ...
ENGAGED
Mr. and Mrs. Russell Cotton of Red Oak announce the engagement of their daughter, Elizabeth Deans Cotton, of Chapel Hill, to John Randolph Deans, also of Chapel Hill. He is the son of Dr. and Mrs. William R. Deans of Rocky Mount. The wedding is planned for June, 2015 in Rocky Mount.
More ...
Tanner dedicates Eagle Scout project for Red Oak Middle
Boy Scout Tanner Rhodes of Troop 7 recently dedicated his Eagle Scout Project for Red Oak Middle School. Tanner built two pitching mounds, landscaped the dugouts and installed a flag pole in left field. Woodmen of the World representatives were on hand for the dedication and presented the school with an American Flag. Woodman also helped Tanner with the purchase of the flag pole.
More ...
Valentine movie picked up by TV network
Phil Valentine's movie, An Inconsistent Truth, has been picked up by NewsmaxTV. Valentine's film production company, ExtryGood Productions, has entered into a two-year deal with the network to air the documentary. NewsmaxTV is currently carried by Dish Network, DirecTV, Verizon FiOS and several cable outlets across the country and is in negotiations with Comcast.
More ...
NHC therapists earn coping skills certifications
Physical therapists (PT) and Speech Language Pathologists (SLP) at Nash Day Hospital were recently trained and certified in an evidence-based treatment approach for individuals with Parkinson's disease. Attendance was funded by a grant from the National Parkinson's Foundation.
More ...

Northern Nash High School drama student Kayla Cobb is pictured playing the role of Vera Stark in the upcoming play, "By The Way, Meet Vera Stark." (Photos by Lou Roldan)
Northern Nash High drama students honor Black History
In honor of Black History Month, Northern Nash High School's drama department presents By The Way, Meet Vera Stark by Lynn Nottage on Feb. 27 and 28. All performances will be at Nash Arts Center, 100 E. Washington Street, Nashville.
By The Way, Meet Vera Stark tells the fictional tale of the very real life struggles of black women trying to break into the film industry in the 1930s.
More ...
PCC announces Dean's List, Honor Rolls and Graduate List
Pitt Community College has announced its  Fall Semester 2014 Graduates, Dean's List, and Honor Roll students.
All full-time students in a major who maintain a semester grade point average between 3.50 and 4.00 are recognized on the Dean's list at PCC. Those who maintain a semester grade point average between 3.00 and 3.49 are recognized on the Honor Roll.
More ...
Tar River Center receives grant
The Tar River Center for History and Culture Foundation, Inc. has received a grant from the North Carolina Humanities Council, a statewide nonprofit and affiliate of the National Endowment for the Humanities, to undertake an oral history of school desegregation in Franklin County. The project will be carried out by volunteers who are working with the Tar River Center for History and Culture at Louisburg College.
More ...
PEACHTREE COMMUNITY NEWS


On a frigid Sunday morning Peachtree folks gathered for worship.  Pastor Whitehouse greeted those who braved the cold and the power outages.  Sanctuary flowers were given by Robert Sykes in honor of his wife, Amy.
Pastor Whitehouse chose as his sermon topic, "Love your Enemies."

More ...
BARBARA HARDISON
RED OAK NEWS


Congratulations to Mollie Deans who celebrated her 100th birthday on Friday, February 13!  Family and friends visited her at the home in Red Oak.   
Women in Action of Red Oak Baptist Church met at the church on Thursday, February 12.   Maureen Williams presented the program.  Members donated items for the VA Medical Center in Fayetteville.

More ...
Suzy Pearce
Word for the week


We all have different gifts and abilities. Seven-foot basketball players have a life on the court. Their performance in computer programming may be quite different. Actors and actresses on stage and screen know how to play a role. Getting suited up for real life is another matter. Hollywood divorces are legendary. Gifts and talents are real.

More ...
DENNIS PRUTOW
AVENTON COMMUNITY NEWS


Shay Skinner recently attended the NCVLA Fall Conference in Raleigh on February 7th and 8th. She received the 4H Volunteer of the Year Award for the Northeast District. Congratulations Shay!  Your community family is very proud of you.
Hailee and Whitley Griffin, daughters of Mark and Aimee Griffin, participated in a dance competition this weekend at the Dunn Center.

More ...
JOJO RICKS
50 shades of bad ideals goes to the big screen


I going to put out a disclaimer here and come clean: I did not read all of Fifty Shades of Grey when the book came out. I have a policy that no matter how right or wrong you might think the commentary is, it comes from firsthand study.
However, I glanced at enough passages, heard enough readers talking about it, heard enough read and discussed on various outlets to know I didn't want the book in my house, around my family.

More ...
Mike Brantley - 1 opinion posted
I'm ready for gnats and dust


The mail room staff and I  jokingly noted last week that we were almost out of the woods for the 2015 winter season. But as I write this column –– there is an inch or more of ice on the ground and the forecast predicts temperatures to fall to historical lows over the next few days and possibly more snow Wednesday night!
I don't know about most folks, but this is more than enough winter for me! I typically don't mind snow and I enjoy venturing out to take pictures of kids on sleds and folks playing in the snow –– but this stuff was nasty!

More ...
Jo Anne Cooper
Foundation's director tips hat to communities across North Carolina
One of the great things about North Carolina is that we are a state full of determined people.
Everywhere the Z. Smith Reynolds Foundation goes across the State, we find people who are unwavering in their resolve to improve their communities by, for example, creating a better path for young children; revitalizing their local economies and expanding economic opportunities; enabling public schools to serve each child well; or building strong leadership for the future.
More ...
Backward Glances


EASTERN STAR OFFICERS –– This photo originally published in The Graphic March 31, 1977. Officers for 1977-78 of Nashville Chamber 332, Order of the Eastern Star, were installed at a special ceremonies held at the Masonic Hall in Nashville.

More ...
A PICTORIAL LOOK INTO THE PAST

CRASH COURSE. (L to R) Red Oak's Nisaja Thomas collides with Nash Central's Zhaterrica Cherry as the players race toward the ball during last Thursday's Tri-County Conference Girls Basketball Tourney Championship at the ROMS Gymnasium.

THIRD TIME AROUND


RED OAK -- The final step of Nash Central Middle School's climb toward a Tri-County Conference Girls Basketball Tournament Championship was destined to be the most challenging -- both mentally and physically.
Central had topped Red Oak in last year's finals, but ROMS had returned the favor by taking two regular season wins over the Trojans in 2014-15.

More ...
GEOFF NEVILLE, Graphic Sportswriter

SLAM SESSION. Southern Nash's Kendrick Watson (right) takes on a wrestler from Topsail during last Saturday's Class 3-A East Regional Tourney.

Wrestlers Qualify For States


LILLINGTON -- Nash County won't be a strong in numbers, but the chances for obtaining medals will still be solid at the upcoming Class 3-A State Wrestling Championships.
That's because a handful of Nash County performers were able to earn Top-Four and state qualification spots at the Class 3-A East Regional Tournament, which was held last weekend at Western Harnett High School.

More ...
GEOFF NEVILLE, Graphic Sportswriter

DEFENSE WINS CHAMPIONSHIPS. Red Oak's Jaylin Wilkins (above) clamps down on the defensive side of the ball during Thursday's win over Toisnot in the finals of the Tri-County Conference Boys Hoops Tourney.

Another crown for Red Oak


RED OAK -- Nobody knew that Red Oak's lights-out shooting performance last Thursday would take a literal turn.
With victory imminent in last Thursday's championship game of the Tri-County Conference Boys Basketball Tournament, the power went out in the ROMS Gymnasium, leaving fans and players in the dark.
When action was resumed about 20 minutes later, Red Oak continued to turn it on both offensively and defensively to pull away from Toisnot for yet another title for the ROMS hoops dynasty.

More ...
GEOFF NEVILLE, Graphic Sportswriter
Weather halts hoops action


NASH COUNTY -- However slim it might be, there is still a chance the Big East Conference Basketball Tournament could be staged this week.
At press time Tuesday, league officials were hoping to begin the event on Wednesday following two days of postponements.

More ...
Staff Reports
NC All-Star rosters announced


GREENSBORO -- Rosters have been finalized for the upcoming North Carolina -South Carolina All-Star Basketball Games, which will be held March 28 at Socastee High School in South Carolina (near Myrtle Beach).
The girls contest will begin at 6:30 p.m., with the boys event to follow.
Tickets will be available at the gate.

More ...
Staff Reports
Tyler Clark to coach Tigers


RED OAK -- Former Northern Nash and North Carolina Wesleyan College baseball standout Tyler Clark will remain on the diamond this spring -- but now as a head coach.
Clark will be in charge of the Red Oak Middle School program in 2015. The Tigers will open March 5 at Toisnot in Wilson.

More ...
Staff Reports
Wesleyan wins at Greensboro


ROCKY MOUNT -- The North Carolina Wesleyan College Battling Bishop men's basketball team got a season-high 28 points from Brandon Brown last Saturday afternoon en route to a 94-85 USA South win at Greensboro College, avenging a 3-point loss to the Pride just two weeks ago.
North Carolina Wesleyan looked to do the same at Averett University on Sunday, but the Cougars out-scored the Bishops 47-27 in the second half to seal the 81-62 victory.

More ...
Staff Reports
ALEXIA ON HER WAY
Alexia Hines and the Northern Nash Lady Knights will be in action next week in the Class 3-A State Playoffs.
More ...
CLEAR PATH
Nash Central's A'nya Bobbitt (with ball) drives toward the basket last Thursday against Red Oak MS.
More ...
IT'S A REPEAT
Members of the Nash Central Middle School girls basketball team pose after the Lady Trojans successfully defended their Tri-County Conference Girls Basketball Tourney crown.
More ...
SOAR TO SCORE
Red Oak's Carresian Whitaker (right) elevates for a basket during last Thursday's championship victory against Toisnot Middle School.
More ...
SPLIT THE DIFFERENCE
Red Oak's RoQuilla Tillery (middle) splits the Nash Central defense during a drive toward the basket late in the championship match of the Tri-County Conference Girls Basketball Tournament. The tourney concluded last Thursday afternoon.
More ...

Luther Barnes

Nash Arts Center touts busy season


UPDATE*****Luther Barnes event has been cancelled and will be rescheduled at a late date

Nash Arts Center continues its busy winter season which includes the kick-off show of its famous Nashville Showcase Series featuring Grammy nominated singer-songwriter and New York Blues Hall of Fame Master Inductee Slam Allen performing the first show on Thursday, Feb. 19th.
American Showplace Music recording artist Slam Allen has been noted as the  most dynamic and original soul and blues artist on the scene today offering the energy and soul of Otis Redding with a blazing guitar by his side.

More ...
Contributed
BARBARA CARTER HOUSE
Barbara Carter House, 72, passed away Friday, February 13, 2015.  She was born in Nash County May 15, 1942 to the late Joseph S. and Elizabeth Dunn Carter.
More ...
BEVERLEY ANN CARPENTER JOHNSON
Beverley Ann Carpenter Johnson, 78, passed away Friday, February 13, 2015.  She was born in Philadelphia, PA June 8, 1936.  Beverley was preceded in death by her husband, Raymond Otto Johnson, Sr. 
More ...
BILLY DEAN BULLUCK
Billy Dean Bulluck, Sr., age 71, passed away on Wednesday, February 11, 2015. Born in Nash County on August 15, 1943, he was the son of the late Plez Otis Bulluck and Lucy Loretta Davis. He was also preceded in death by his wife of 44 years, Beverly Ann Leggett Bulluck and his brother, Otis Ray Bulluck.
More ...
CAROLYN J. SMITH COLEY
Carolyn J. Smith Coley, 67, passed away Friday, Feb. 13, 2015. Funeral services will be held Saturday, February 21, 2015 at 1 p.m. from the Union Hill Baptist Church. Burial will follow in the Gardens of Gethsemane Cemetery. A visitation will be held Friday, February 20, 2015 at Richardson Funeral Home, Nashville from 6-7 p.m.
More ...
ERMA BRASWELL WILKINS
Erma Louise Braswell Wilkins, age 94, passed away on Thursday, February 12, 2015. She was born on November 14, 1920. A private graveside service will be held at Elmwood Cemetery in Enfield.
More ...
FATE PITTMAN, JR.
Fate Pittman, Jr., 78, of Washington, D.C., and formerly of Enfield, passed away February 9, 2015.
More ...
HENRY RUSSELL ROBERTS JR.
Henry Russell Roberts, Jr., 56, passed away, Friday, February 13, 2015. He was born November 8, 1958 to Henry Russell Roberts, Sr. and Mary Virginia Smith Roberts in Brevard County, Florida.
More ...
JANICE STOKES SOUTHALL
Janice Stokes Southall, 92, of East Liverpool, OH, passed away February 8, 2015. Born in Middlesex, she was the daughter of the late Theophilus O. and Annie Stokes.  The funeral was held Tuesday, February 17, 2015 in East Liverpool, OH. 
More ...
JOHN LEE WHITLEY
John Lee Whitley, 73, passed away Wednesday, February 11, 2015.  He was born in Nash County January 30, 1942 to the late Orville and Mayonna Whitley.
More ...
JOHN ROBERT CARSTENS JR.
John Robert Carstens Jr., age 77, passed away on Wednesday, February 11, 2015. He was born in Portsmouth, VA on March 11, 1937 to the late John Robert Carstens, Sr. and Elsie Irene See Carstens. Preceding him in death was his  wife of 30 years, Thelma Gray Holloman Carstens and two brothers, Arthur B. Carstens and Theodore "Teddy" Carstens.
More ...
JOYCE GRAY BRANTLEY
Joyce Gray Brantley, age 84,  passed away Friday, February 13, 2015. She was born in Nash County and was the daughter of the late Lonnie Henry Howell, Sr. and Eva Edmondson Howell. She was preceded in death by her beloved husband, Joseph Clarence "J.C." Brantley; one sister, Patsy Faye Howell; and five brothers, James Robert, Norman Speight, Leslie "Peewee', Lonnie Henry, Jr., and Earl "Eddie" Howell.
More ...
LINDA FAYE MITCHELL
Linda Faye Mitchell, 70, passed away Sunday, February 15, 2015. She was born in Nash County to the late Velburn and Rose Higson. She is also preceded in death by a sister, Bobbie Perdue.
More ...
LOTIS WILLARD LANGLEY
Lotis Willard Langley, age 85, passed away Monday, February 16, 2015. Born January 12, 1930, he was the son of the late Luther W. Langley and Nona Wallace Langley. He was preceded in death by his wife, Lorraine Moss Langley and his sister, Nell Farmer.
More ...
PEGGY SUTTON CARVER
Peggy Sutton Carver, age 81,  passed away Thursday, February 12, 2015. She was born in Edgecombe County  on October 7, 1933 to the late Lonnie A. Sutton and Anniebelle Wilson Sutton. She was preceded in death by her first husband, Richard Earl Pierce; sisters, Dorothy S. Lindsay, Betty S. Schmudlach, Shirley S. Edwards, and Patricia S. Culpepper and brother, Lonnie Sutton, Jr.
More ...
VIVIAN BAKER COCKRELL
Vivian Baker Cockrell, 74, passed away Monday, February 16, 2015.  She was born in Nash County to the late Samuel and Letha Viverette Baker. In addition to her parents, she was preceded in death by her husband, Marvin Ray Cockrell, a brother and several sisters.
More ...
WALTER "TOMMY" THOMAS BULLOCK, II
Walter "Tommy" Thomas Bullock, II, passed away Tuesday, February 10, 2015 in Fort Myers, Fl. Tommy was born October 20, 1953 in Halifax County to the late Walter 'Tom" Thomas Bullock and Seretha Jenkins Bullock.
More ...