Subscribe/Access
Advertisements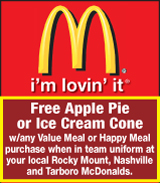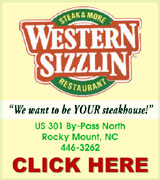 Sections
Member Options
Back
Ag Center to host pipeline meeting


The Nash County Agriculture Center is sponsoring a public educational meeting to help landowners affected by the Atlantic Coast Natural Gas Pipeline.
The meeting is planned for Tuesday, January 27 at 7 p.m. at the Ag Center on Eastern Avenue.
Charlie Tyson, Nash County Cooperative Extension Director, said the meeting is not an anti-pipeline meeting or a meeting about whether the pipeline is coming.

More ...
AMANDA CLARK, GRAPHIC STAFF WRITER

The breakfast event included entertainment by The Inspirations of Spring Hope, the Union Hill Dance Ministry (pictured above).

Locals celebrate MLK Day


Today's America needs another Dr. Martin Luther King, Jr.
Those were the words of Representative Bobbie Richardson, who spoke on Monday at the Nashville Willing Workers' annual celebration honoring the life of the civil rights leader.
Richardson said Dr. King was a man who defied all odds, rising up against the injustices of the south.

More ...
AMANDA CLARK, GRAPHIC STAFF WRITER

HOLLAND

Holland leaves My Sister's House


In just over a week, Meredith Holland will begin a new journey that will take her away from her leadership role with My Sister's House.
Holland's last day as the Executive Director of My Sister's House is January 30. She has served in that role since 1996 but been with the organization for 23 years.

More ...
AMANDA CLARK, GRAPHIC STAFF WRITER
TV news outlets cause school cancellation


A Raleigh news outlet inadvertently reported the closing of Nash-Rocky Mount Schools last Wednesday, causing confusion among parents.
Dr. Anthony Jackson, Superintendent for Nash-Rocky Mount Schools, said in a letter to the community that a two-hour delay had been announced for Wednesday, January 14th, due to the potential road conditions in the early morning hours.

More ...
AMANDA CLARK, GRAPHIC STAFF WRITER
Bass appointed as Nash County Public Administrator


Kirkland Bass has been appointed Nash County's Public Administrator.
Bass replaces Henry M. Fisher, who passed away in November.
Bass was appointed by Nash County Clerk of Court Rachel Joyner.
"This is a great honor for me to be able to publicly recognize and appoint one of the finest young attorneys I've seen in my years of service," Joyner said prior to swearing in Bass Friday morning.

More ...
AMANDA CLARK, GRAPHIC STAFF WRITER
NASH COUNTY BUILDING PERMITS
Nash County Planning and Inspections issued the following building permits from January 12 through January 16.
Building Permit (Commercial)
Esmeralda Avila; 3066 S. Wesleyan Boulevard; miscellaneous; $250
More ...
NASHVILLE POLICE BRIEFS
INCIDENTS
A simple assault was reported on 1/14/15 at 112 McCoy Drive
A hit and run was reported on 1/16/15 in the Richardson Funeral Home parking area on S. Alston Street
A larceny was reported on 1/17/15 at 403 S. Alston Street
More ...
NASH COUNTY SHERIFF'S OFFICE REPORTS
A possession with intent to sell and deliver cocaine was reported on 1/12/15 at Old Bailey Highway and Rose Loop Road
A breaking, entering and larceny was reported on 1/13/15 at 6099 Archibell Road
Found property was reported on 1/13/15 at 4927 Harrison Road
More ...
SCOUTS VISIT GRAPHIC
The Nashville Graphic had special visitors on Tuesday as seven members from Nashville Cub Scout Pack 76 and another from Troop 516 in Rocky Mount visited the office to learn about a newspaper. Pictured above are members of Pack 76. On the front row (L-R) is: Joseph Gibson, Steven Jeans and Cole Ezzell. Pictured on the back row, left to right, is Harrison Jones, Dynovan Marshmon, Conner Ezzell and Britt Bobbitt.
More ...
Middlesex Board discusses paying back general fund


Middlesex Commissioners had a brief discussion last week about the possibility of paying back monies to the general fund that were borrowed to pay water and sewer debt.
The item was listed under old business and was discussed at the board's regular meeting last Monday night, January 12.

More ...
AMANDA CLARK, GRAPHIC STAFF WRITER
Nash Health Care appoints new foundation members


The Board of Nash Health Care appointed new members to the Foundation board at its regular board meeting held on Thursday, January 8. The Nash Health Care Foundation, which was established in the year 2000, has as its avowed goal the desire "to advance the mission of Nash Health Care through advocacy, education, fundraising, relationships, and stewardship."

More ...
AMELIA HARPER, GRAPHIC CORRESPONDENT
Shark Tank applications accepted through Jan. 31
Online applications for entrepreneurs and aspiring entrepreneurs will be accepted now through January 31. Apply online at springboardnc.com and compete for part of this year's $15,000 purse.
The competition is modeled after the popular television show "Shark Tank," and provides an opportunity for aspiring entrepreneurs to showcase innovative ideas and concepts that will be the building blocks for our future economy.
More ...
NCC announces academic honors list
Nash Community College recently announced that the following students achieved academic honors during the 2014 Fall Semester.
To qualify for the Dean's List, students must earn a perfect 4.0 grade point average (all A's) while taking 12 or more semester hours.
More ...
UNC Pembroke Honors List
UNC Pembroke recently announced Chancellors and Honors lists for the Fall Semester 2014. 
Locals named to the Chancellor's List include Angela Louise Taylor of Castalia and Christine Michelle Friedrich and Kenya Dirae Williams, both of Spring Hope.
More ...
Donation
Nashville Chapter #332, Order of the Eastern Star, recently made a donation to Friends of Hospice of Nash General. Eastern Star officers (left to right) Janelle Ezzell, Ken Ezzell, and Susan Ayers present a check to Cindy Hall-Thomas RN, MSN and Hospice Manager and Dr. Douglas Boyette, Medical Director of Hospice and Palliative Care of Nash General Hospital. The Ezzells also serve as board members with local Hospice.
More ...
PEACHTREE COMMUNITY NEWS


The clouds were clearing away as folks gathered at Peachtree for worship.  The sanctuary flowers were given by David and Lynn Griffin in memory of Jonathan Kerby Griffin.
The title of Pastor Whitehouse's sermon was, "God is at Work Making You More like Jesus- 2".  It was based on scripture found in Galatians 5: 16-17.

More ...
BARBARA HARDISON
BEULAH COMMUNITY NEWS


I hope everyone was safe and warm during the bad weather last week. Most churches cancelled services on Wednesday night due to the weather. Beulah Church of Christ was one of those. We also changed our senior luncheon and it was held on Friday at lunch. We had a good meeting even though some of our members could not attend due to sickness or other appointments.

More ...
WILMA ENROUGHTY
RED OAK NEWS


Red Oak Baptist Church enjoyed Baptist Men's Day on Sunday, January 18!  The day began with the Men's Breakfast.  The Men's Choir sang several selections.  Mitch Pullen gave the welcome and announcements.  Justin Carp, Pat Griffin, and Larry Camp offered prayers.  Ronald Sykes brought the morning message.

More ...
Suzy Pearce
Word for the week


"Dad, can you help me?" Here are simple words expressing implicit faith and wholehearted trust. "Sure, sweetheart." This answer is unquestionably proper. Jesus said, "Permit the children to come to Me; do not hinder them; for the kingdom of God belongs to such as these" (Mark 10:14).
God's kingdom is not one of earthly boasting, political spin, and public relations.

More ...
DENNIS PRUTOW
AVENTON COMMUNITY NEWS


On Saturday, January 18, William D. Saunders along with his bother James R "Jay" Saunders and his two sons Jackson and Samuel attended the 150th anniversary of the fall of Fort Fisher, in honor of their great, grandfather Pvt. James Royal Saunders, North Carolina 36 Battalion, Company F, 2nd Artillery who fought there and was taken prisoner by Union forces in Jan. 1865 and later released from Elmira Prison Camp in Elmira NY.

More ...
JOJO RICKS
SUPPORTING MY SISTER'S HOUSE
Members of the Eastern Star recently made a donation to My Sister's House as part of a community outreach donation. Pictured (left to right) is Sue Smith, Secretary of Eastern Star, Beverly Whitehurst, Worthy Matron of Eastern Star and Meredith Holland, Executive Director of My Sister's House. My Sister's House provides shelter and services to survivors of domestic violence and sexual assault in Nash and Edgecombe counties.
More ...
Nash County Blood Drives for January 2015
Thursday, January 22 from 3 until 7 p.m. at the West Mount Volunteer Fire Department (sponsored by the West Mount Ruritan Club), 7955 West Mount Drive, Rocky Mount
Saturday, January 24 from 10 a.m. until 2 p.m. at Ebenezer Missionary Baptist Church, 652 Raleigh Road
Monday, January 26 from 3 until 7 p.m. at First Baptist Church, 200 South Church Street, Rocky Mount
More ...
New doctor joins Middlesex clinic
Dr. Scott Wiley Younkin, a board-certified internal medicine physician, recently joined the Middlesex Powell Clinic, located at 7540 Middlesex Corporation Parkway.
Dr. Younkin received his medical training from the Washington University School of Medicine in Saint Louis.
More ...
Newton sworn in for third term
Sen. Newton (R-Wilson) was sworn in last Wednesday for his third two-year term representing the 11th District in the North Carolina Senate. The oath of office was administered by North Carolina Supreme Court Chief Justice Mark Martin.
"I am honored and humbled by the tremendous responsibility the people of the 11th District have given me," said Newton.
More ...
There is a hole in the sun –– should I shave?


What would you do if you only had a short time to live?
Anyone who has been to a corporate retreat, or watched a Lifetime Channel movie has probably faced that question before. While both of those activities are designed to steal your life-force, there is really a simple, Solomon-like answer.
We all have only a short time to live. Some folks are shorter than others, but for most folks, you're looking at 76 years (men) or 81 years (women). As we age, those numbers seem awfully low.

More ...
Mike Brantley
We're all going to miss Meredith Holland


If you go to the Graphic's website and do a search for "Meredith Holland," you'll come up with more results than you can see.
If you do a search for "My Sister's House," you'll get just as many results and most of them will include Meredith Holland.

More ...
Amanda Clark
RN's - Real Nurses - What happened?


To the Editor:
Everyone reaches a crossroad in their lives where difficult decisions must be made. It can be a decision that will be life changing and requires much thought and meditation. It can be a decision that can be thought-consuming and one that keeps you up at night. But, never the less it must be made.

More ...
Letters to the Editor:
Government must serve all people


The nation's first Republican president explained what democracy ought to be: a government of the people, by the people, and for the people. But Abraham Lincoln's vision will remain a distant mirage if a money-drenched elections system devalues individual American's votes by auctioning off legislative seats, governors and judges to the highest bidder.

More ...
Letters to editor
Backward Glances


RURITAN OFFICERS FOR 1978 –– This photo originally published in The Graphic March 3, 1977. Eddie Bullard (right) of Benvenue was elected chairman of the Ruritan Clubs of Nash County for 1978 at the group's annual meeting in Rocky Mount.

More ...
A PICTORIAL LOOK INTO THE PAST
Nash County Animal Friends' Notebook


Brrrrr… We have experienced a streak of unseasonably cold weather. NCAF would like to remind you that pets suffer from cold right along with humans. Their fur coats could be equated to human indoor clothing. When you go outside without outwear and feel cold, they feel cold at exactly that same rate. And they have no footwear! We've heard people say, "But my dog likes to stay outside!" We are fairly sure they would be much happier in a warm shelter.

More ...
Kristy Carney, NASH COUNTY ANIMAL FRIENDS

TAKER OF THE BASELINE. Red Oak's Ro'Quelia Tillery (left) drives the baseline during last Thursday's road triumph over the Rocky Mount Ravens.

PRESSING PLAN


ROCKY MOUNT - The extreme force of Red Oak Middle School's full-court pressure defense was on display in the middle periods of last Thursday's girls basketball triumph at Rocky Mount.
But Red Oak struggled a bit in the first and fourth quarters and eventually had to stave off a late threat from the Lady Ravens to secure a 39-30 decision in Tri-County Conference action at the historic Old Rocky Mount High School Gymnasium.

More ...
GEOFF NEVILLE, Graphic Sportswriter

BUCKET BOUND. Red Oak Middle School's Victor Ward (right) drives for two points for the Tigers during last Thursday afternoon's Tri-County Conference boys basketball decision at Rocky Mount Middle.

IN THE HUNT


ROCKY MOUNT -- Red Oak Middle School's quest to make the Tri-County Conference Boys Basketball Playoffs comes down to a simple equation.
If the Tigers can win their remaining five games, they are in the postseason -- no questions asked.
But a loss could put Red Oak into a predicament, depending on how the other top clubs in the Tri-County's North

More ...
GEOFF NEVILLE, Graphic Sportswriter

EVERYONE NEEDS A PLAN. Nash Central High School girls basketball coach Terri Cash (center) discusses strategy with her players last Friday night.

Bulldogs swept by RM


ROCKY MOUNT -- Nash Central High School maintained hope that one -- or even both -- of its varsity squads come could up with a victory during last Friday's basketball journey to Rocky Mount.
But it wasn't mean to be as the Gryphons and Lady Gryphons delivered a clean sweep at the RMHS Gymnasium.
Rocky Mount's boys held off the Bulldogs by a 67-62 margin at the RMHS Gymnasium.

More ...
Staff Reports

GRAPPLING. Southern Nash's Carlos Hernandez (left) competes at last Saturday's Jolly Roger Invitational Wrestling Tournament at Corinth Holders HS.

UP THE CHARTS


WENDELL -- During the early portion of the event, Southern Nash coach Eddie Coble was asked by a fan if he had done anything to upset the people at Corinth Holders.
After all, Southern Nash's day had gotten off to a rocky start at the annual Jolly Roger Invitational Wrestling Tournament, which is hosted by CHHS.

More ...
GEOFF NEVILLE, Graphic Sportswriter
NASH COUNTY HOOPS SCORES


NASH COUNTY -- Here are opening-week results from the Nash County Parks and Recreation Department's Youth Basketball League:

More ...
Staff Reports
Bishops win on road


MARYVILLE, TENN. -- Freshman Adrian Moore turned in a stellar all-around performance on Saturday afternoon, helping his North Carolina Wesleyan College Battling Bishop men's basketball team secure a 68-66 win at USA South Conference foe Maryville College in the Volunteer State.
Moore netted a game-high 16 points to go along with nine rebounds, six assists and five steals.

More ...
Staff Reports
Nashville Recreation to host registration


NASHVILLE -- The Nashville Recreation Department will host spring sports signups from Feb. 2-6 at the Town Hall.
Times will be from 8 a.m.-5 p.m. each day. Cost is $15 for  town residents or $30 for non-residents.
Signups will be available in the following sports and age groups:

More ...
Staff Reports
CORNER TURNER
Red Oak Middle School's Vinsa Phillips drives for a basket for the Tigers during last Thursday afternoon's road basketball conquest against the Rocky Mount Ravens.
More ...
FAST FORWARD
Red Oak Middle School's Tyra Cutchin (right) speeds through midcourt for her team during last Thursday's Tri-County Conference girls baskeball victory against the Rocky Mount Ravens.
More ...
MAN ON A MISSION
Southern Nash's Vyshaun Richardson (right) tries to gain an advantage during his match as part of last Saturday's action at the Jolly Roger Invitational Wrestling Tournament. The annual event was staged at Corinth Holders High School in Wendell.
More ...
REASON TO CELEBRATE
Members of the Red Oak Lady Tigers' basketball team show emotion as Red Oak finishes off Rocky Mount during a Tri-County Conference basketball game last Thursday. Red Oak will be at home today to take on Phillips Middle School.
More ...
SPEIGHT SINKS ONE
Nash Central's Rebecca Speight cans a jumper during last Friday night's road girls basketball setback versus Rocky Mount.
More ...
TIGHT SQUEEZE
Southern Nash's Jacob Whaley (bottom) tries to hang on during this match against a Rocky Mount performer as part of last Saturday's action at the annual Jolly Roger Invitational Wrestling Tournament at Corinth Holders High School in Wendell.
More ...
TWO FOR 2-2
Nash Central's Ke-Shun Peoples delivers a basket during last Friday night's road conference showdown against rival Rocky Mount.
More ...
Reader's Recipes
Homemade Ribs for Super Bowl! A great Super Bowl party includes lots of food. Snack foods like tortilla chips and pretzels are standard Super Bowl party fare, but those who want to go the extra mile can impress their guests with the following recipe for "World Championship Ribs" from Karen Putman and Judith Fertig's "Championship BBQ Secrets for Real Smoked Food" (Robert Rose).
More ...
GLENDA MAE WAKEFIELD
Glenda Mae Wakefield, 61, passed away Tuesday, January 13, 2015.  She was born in Franklin County July 10, 1953 to the late John Andrew and Clara Griffin Cothran.  In addition to her parents, she was preceded in death by a brother, Dewey Andrew Cothran and a sister, Frances Cothran Wood.
More ...
JERRY LENDO BRANTLEY
Jerry Lendo Brantley, 75, passed away, Monday, January 19, 2015,. He was born in Wilson County on January 31, 1939, to the late Samuel Lendo and Evelyn Barnes Brantley. He was preceded in death by his parents, an infant brother, and a sister, Constance "Connie" Lucile Brantley Smith Lloyd.
More ...
LOU (SUSIE) DURHAM BATTS
Lou (Susie) Durham Batts, 72, passed away January 13, 2015. She was born, March 2, 1942, in Nash County.  She is preceded in death by her husband, Guy (Toby) Staton Batts, father, Walter Rudolph Durham and mother, Pattie Bottoms Durham.
More ...
MATTHEW SCOTT VARNELL
Matthew Scott Varnell, passed away on Tuesday, January 13, 2015. He was born on November 30, 1975, the son of William Council "W.C." Varnell, Jr. and Patricia Ann Rose Varnell. Matthew was preceded in death by his brother, Kim Varnell.
More ...
PATRICIA DAUGHTRIDGE BONE
Patricia Daughtridge Bone, passed away on Wednesday, January 14, 2015. She was born on December 14, 1927, the daughter of the late James Richard Daughtridge and Mary Moore Daughtridge. She was also preceded in death by her sisters, Hazel Sams, Mildred Williams Chilton, Margie Williams and by her brothers, Charles Edward Daughtridge and Julian Ray Daughtridge.
More ...
ROY LEE "BUCK" WIGGS
Roy Lee "Buck" Wiggs, 80, passed away Tuesday, January 13, 2015.  He was born in Nash County January 4, 1935 to the late Ed and Stella Whitley Wiggs. In addition to his parents, Buck was preceded in death by a brother, Ben Wiggs, a sister, Sissy Edwards and step-dad, William Driver.
More ...
SHIRLEY DAVIS WALKER
Shirley Davis Walker, 72, of Rocky Mount, died on Monday, January 19, 2015. Funeral arrangements are incomplete and will be announced by the Rocky Mount location of H.D. Pope Funeral Home. 
More ...
SUSAN BRYANT ENNIS
Susan Bryant Ennis passed away January 8, 2015. At her request, Susan is making an anatomical gift as part of the Duke Medical Research for Alzheimer's Disease and other medical programs. Susan was preceded in death by her husband Lloyd.
More ...
THURMAN SHERWOOD CAIN
 ROCKY MOUNT - Thurman Sherwood Cain, 92, passed away Sunday, January 11, 2015.  No services are planned. In lieu of flowers donations may be made to the American Lung Association 55 W. Wacker Drive, Suite 1150, Chicago, IL 60601.
More ...
TYLER WAYNE JOYNER
Tyler Wayne Joyner, age 24, passed away on Monday, January 12, 2015. He was born on October 21, 1990, the son of Ronald Wayne Joyner and Becky Winstead Joyner.
More ...