Subscribe/Access
Advertisements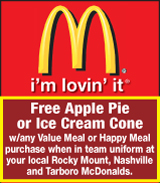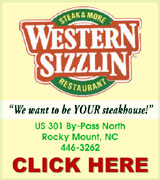 Sections
Member Options
Back
Nash mulls to combine services


Nash County Commissioners are considering whether to restructure human services into one agency, combining social services, health and possibly aging departments into one organization.
Commissioners met on Monday in a recessed meeting to discuss the issue.
The item was initially presented in November at the board's retreat.

More ...
AMANDA CLARK, GRAPHIC STAFF WRITER
Sheriff Stone aims to add courthouse street visibility


Nash County Sheriff Keith Stone came before Nashville's Town Council last Tuesday with a request for law enforcement parking on Washington Street.
Stone said he was working to build a barrier for the Nash County Courthouse in light of a shooting that occurred on the courthouse steps in October.

More ...
AMANDA CLARK, GRAPHIC STAFF WRITER
NRMS School Board changes meeting times


The Nash-Rocky Mount School Board chose to retain the same chair and vice-chair as it approaches a new year with four new members on board. Evelyn Bulluck will retain her seat as Chairman of the Board while Franklin Lamm will serve another term as Vice-Chair. However, the school board did decide to change its current meeting times back to a schedule similar to one held in the past.

More ...
AMELIA HARPER, GRAPHIC CORRESPONDENT

Bradly Leonard

Local teens set goal to break record, raise funds to fight cancer


A group of local teens spent the days leading up to the New Year playing a video game.
They played for 50 hours straight and though they didn't break the world record like they were hoping, they did raise $600 to fight cancer.
Bradly Leonard, Tyler Allen, Sam Hattaway, Jeremy Johnson and Joshua Hess were all aiming to break the world record of playing "Super Smash Brothers" for the Wii for 48 hours.

More ...
AMANDA CLARK, GRAPHIC STAFF WRITER
Organizers move annual Opry event to March


The 37th Annual Elsie Clark Memorial Opry will be held in March instead of late January, organizers recently announced.
Barbara Tyre, President of Nashville's Business and Professional Women (BPW), said the event was slated to be held on Friday, March 6 at Nash Arts.
Typically, the event is held the last Saturday in January.

More ...
AMANDA CLARK, GRAPHIC STAFF WRITER
Martin Luther King, Jr. celebration set for Monday


The Nashville Willing Workers will host a breakfast to honor the legacy of Dr. Martin Luther King, Jr.
This is the 13th year the group has hosted the breakfast, which will begin at 9 a.m. at the O.D. Moore Building in Nashville.
The keynote speaker for this year's event will be Representative Bobbie Richardson.
Entertainment will be provided by The Inspirations of Spring Hope as well as Ms. Tunisia Bullock, who will perform on the flute.

More ...
AMANDA CLARK, GRAPHIC STAFF WRITER
NASH COUNTY SHERIFF'S OFFICE REPORTS
An assault on a female was reported on 1/5/15 at 9338 Tar River Church Road
A possession of heroin and drug paraphernalia was reported on 1/6/15 on W Washington Street
An identity fraud was reported on 1/6/15 at 1132 Techwood Drive
A possession with intent to manufacture, sell, deliver marijuana and felony possession of marijuana was reported on 1/6/15 at 15053 Bellamy Mill Road
More ...
NASH COUNTY BUILDING PERMITS
Nash County Planning and Inspections issued the following building permits from January 5 through January 9.
Building Permit (Commercial)
Adam Williams; 111 W Nashville Drive; renovation/alteration; $5,500
More ...
NASHVILLE POLICE REPORTS
INCIDENTS
A missing person was reported on 1 /5/15 at 209 S Sixth Street
A larcey and mail tampering were reported on 1/7/15 at 120 Sixth Street
An obtaining money/property by false pretense was reported on 1/8/15 at 208 Windy Oak Drive
More ...
Nash Board approves solar farm requests


Nash County Commissioners approved a 139-acre solar farm last Monday morning, despite pleas from neighboring residents who requested the board deny the request.
The request was for a conditional use permit for a solar farm in the A-1 zoning district on around 139 acres on both sides of Frazier Road between Worth Road and US Highway 64 Bypass.

More ...
AMANDA CLARK, GRAPHIC STAFF WRITER
Deputy, two others injured after tractor trailer hits patrol car
A Nash County Sheriff's Deputy was injured after responding to an accident on Highway 64 Wednesday morning.
According to the North Carolina Highway Patrol, a 2004 Chevrolet SUV operated by Shon Lamont Henderson, 39, of Rocky Mount, was traveling west on US 64 near Red Oak Road. Henderson lost control of the vehicle, traveled into the median of US 64 and struck a guardrail. The impact caused Henderson's vehicle to travel back across the westbound lanes of US 64 and overturn on the shoulder.
More ...
Nash County Patrol Officers receive training on traffic stops


Patrol officers with the Nash County Sheriff's Office spent Monday in a training course that will help deputies better identify criminal activity during a traffic stop.
The course was taught by Anthony DiGiovanni, from the United States Attorney's Office.
The course was titled "Conducting the Complete Traffic Stop," said Lt. Allen Wilson, who is in charge of the patrol division for the Sheriff's Office.

More ...
AMANDA CLARK, GRAPHIC STAFF WRITER
RED OAK NEWS


On Wednesday, January 7 Red Oak United Methodist Church had their very first fellowship meal of the year, breaking in the newly remodeled kitchen area. Several people were present to share a meal and visit with one another. Fellowship meals take place on the first Wednesday of each month. There is no agenda or meeting, this is simply a time to enjoy one another's fellowship.

More ...
Suzy Pearce
PEACHTREE COMMUNITY NEWS


On a frosty January morning, Pastor Whitehouse greeted those Peachtree folks who had come to worship.  Sanctuary flowers were given by Janice and Bobby Sykes, to glorify God.
Pastor Whitehouse's sermon was titled, "God is at Work Making Your life More like Jesus ".  It was based on II Corinthians 3:18.  As we walk the Christian walk, God's Spirit works within us to help us become Holy.

More ...
BARBARA HARDISON
Word for the week


What's more important? A warm heart or a straight head? What do you think about a middle road that excludes neither but joins both? Is this possible?
Here is what the Bible says. "The goal of our instruction is love" (1 Timothy 1:5). We associate instruction with facts and arguments.

More ...
DENNIS PRUTOW
Barton College names new president
Douglas N. Searcy, Ph.D., was announced as the 12th president of Barton College in Wilson on Friday, January 9, 2015.
Dr. Searcy was elected by the Barton College Board of Trustees during a called executive session on Thursday, December 18, 2014.  A search committee composed of trustees and representatives of the faculty, staff, and students recommended Dr. Searcy to the Board of Trustees at the conclusion of an extensive national search.
More ...
Haliwa-Saponi Tribal School Exhibit now open
An art project that tells the history of the Haliwa-Saponi Tribal School is now on view at North Carolina Wesleyan College's Civic Gallery  through February 15. A reception for the Haliwa-Saponi school students will be held Friday morning, January 16, from 10 – 11 a.m. at the Dunn Center on the Wesleyan Campus. The public is invited to attend.
The mural project is entitled "From Indian Normal School to Charter School."
More ...
Guest speaker
Wallace Abernathy, at left, was the guest speaker for the UDC Bethel Heroes 636 January meeting.  He spoke on the CS Ram Albemarle Smokestack Legacy. Wallace presented Margie Parker Brantley, at right, president of Bethel Heroes with an older Evening Telegram newspaper article on Robert Henry Ricks. Ricks was a prominent Rocky Mount citizen and Civil War veteran, who was responsible for erecting the confederate monument in Battle Park.
More ...
Nashville Legion Post 293 to host health expo for veterans
American Legion Post 293 will once again host a Health Expo to assist veterans, the homeless and general public.
The expo will be held from 9 a.m. until 3 p.m.  on Saturday, January 24 at the O.D. Moore Building on South Alston Street in Nashville.
The expo will include health care enrollment from Greenville VA staff.
More ...
Nash residents named to honors lists at Halifax Community College
Halifax Community College has announced its listing of students who have made the President's List and the Dean's List for the fall 2014 semester.
To qualify for the President's List, a student must have completed 12 credit hours or more with all As, cannot be enrolled in any developmental courses and have no "Incomplete" grades for the term.
More ...
Nash County Blood Drives for January 2015
Thursday, January 8 from 2:30 until 7 p.m. at the Momeyer Ruritan Club, 4812 Momeyer Way, Nashville
Saturday, January 10 from 10 a.m. until 2 p.m. at 1624 Windsor Drive, Rocky Mount
Monday, January 12 from 3 until 7 p.m. at Bethlehem Baptist Church, 305 South Halifax Road, Rocky Mount
Monday, January 12 from 2:30 until 6:30 p.m. at The Church of the Good Shepherd, 231 N Church Street, Rocky Mount
More ...
Holland has been a huge asset to Nash County


The beginning of a new year tends to make us stop and think about change and fresh, new beginnings.  So far, it seems 2015 has done just that.
Just last week, one of my closest friends, the Director of My Sister's House, Meredith Holland, walked over to let me know she's moving. I knew the announcement was coming as she had mentioned the change as a long term plan –– but it happened quicker than either of us thought it would. 

More ...
Jo Anne Cooper
This deadline is coming way too fast!


I have never been so unready for something in my life!
I like to be prepared for life's little events when I can so having a baby in three weeks and not being ready is not really my style.
But here I am, unready as I've ever been.
You would think after having two already, I would know the routine.

More ...
Amanda Clark
The ugly words no one wants to say


By now, most of us with even a passing interest in the news, domestic and foreign events and the effects of it all, have seen and heard more than we want to about the attack on the French satirical magazine last week.
Twelve people left home for another day of work in Paris and were murdered by a group of Islamic terrorists. That is a one-sentence summary that is true, accurate and to the point.

More ...
Mike Brantley - 1 opinion posted
Backward Glances


CHEERS! –– We found this photo in The Graphic's March, 1977 archives of what looks to be a local high school cheerleader squad. We have not found that  was published, so we're not quite sure which high school. Call us if you recognize anyone! 459-7101

More ...
A PICTORIAL LOOK INTO THE PAST

DUEL OF ELEVENS. (L to R) Northern Nash's Rashad Bobbitt defends Southern Nash's Aaron Newkirk during last Friday's boys basketball contest.

Southern Turns Back Knights


STANHOPE -- Southern Nash High School boys basketball coach Robbie Kennedy was disappointed in the performance of his squad during the final two days of the Cleveland Classic Christmas Tournament -- albeit against tough competition.
SN opened the tourney with a victory but fell to Cleveland and North Raleigh Christian Academy in subsequent rounds.

More ...
Staff Reports

TURNAROUND TIME. Southern Nash's Jacob Whaley (top) tries to turn a Havelock wrestler as part of last Saturday's action at the Firebird Duals Wrestling Tournament at the SNHS Gymnasium in Stanhope.

SN'S DUAL DESTINY


STANHOPE -- Once again, a star-studded field was on display last Saturday at the annual Firebird Duals Wrestling Tournament at the Southern Nash High School Gymnasium.
But this year's event was a trimmed-down version as the field boasted four less schools than usual.
In addition to host Southern Nash, Rocky Mount was the only other Nash County squad that took part in the prestigious tournament.

More ...
GEOFF NEVILLE, Graphic Sportswriter

GOINS GOES FOR THE PIN. Nash Central's Jahkele Goins (top) wraps up a pinfall as part of last Friday night's tri-match at Louisburg High School.

Central Shines At Tri-Match


LOUISBURG -- Nash Central High School broke out of its normal routine to take part in a wrestling tri-match last Friday night at Louisburg High School.
Under usual circumstances, wrestling programs hit the mats on a Saturday at either a dual or individual tournament in the area.

More ...
GEOFF NEVILLE, Graphic Sportswriter
NN keeper an All-Star


RED OAK -- Northern Nash has experienced a wealth of successes as part of the school's rich soccer history.
But one accolade had eluded the Knights until now.
Northern Nash has never boasted a player at the annual North Carolina Coaches Association East-West All-Star Soccer Game for either boys or girls.

More ...
GEOFF NEVILLE, Graphic Sportswriter
ACC stars to appear at Central


ROCKY MOUNT -- On April 16, the Atlantic Coast Conference All-Stars will appear in Nash County for a basketball game at Nash Central High School.
This year's roster is highlighted with players from UNC, Duke, NC State, and Wake Forest.
Standouts include Duke's Quinn Cook, UNC's Desmond Hubert, NC State's Ralston Turner and Wake's Darius Leonard.

More ...
Staff Reports

MITCHELL MAKES IT HAPPEN. Nash Central's Kayla Mitchell (with ball) drives for two points during last Thursday's home victory against Southern Nash MS.

Lady Trojans on track with wins


NASHVILLE -- After a disappointing close to their pre-holiday schedule, the Nash Central Lady Trojans are back on the victory train in the Tri-County Conference.
NCMS coach Minnie White hopes that train will continue to build steam toward a possible playoff spot -- and that quest began with two victories after the Lady Trojans returned from Christmas Break.

More ...
GEOFF NEVILLE, Graphic Sportswriter

TIGHT DEFENSE. Southern Nash Middle's Zonovan Knight (left) tries to drive past toward the basket during last Thursday's basketball matchup.

NC Makes Statement


NASHVILLE -- 'Work Hard' was Nash Central Middle School's announced them when the Trojans broke the huddle before their key boys basketball meeting last Thursday against Tri-County Conference rival Southern Nash.
Nash Central did exactly that as the Trojans rode some strong outside shooting along with securing a season-high 20 steals en route to a 50-37 decision over the athletic Cobras.

More ...
GEOFF NEVILLE, Graphic Sportswriter
Nash County squads slated for Brittany


WILSON -- The 2015 Brittany Soccer Showcase will feature 77 schools -- including six from Nash County.
The annual event will take place on March 20 and 21 at Gillette Park in Wilson, and the field will boast some of the top girls soccer programs in the area and beyond.
Tickets will be available at the gate. All proceeds will go to the Brittany Willis Memorial Scholarship Fund.

More ...
GEOFF NEVILLE, Graphic Sportswriter

IN A JAM. Southern Nash's Jessy Lucas (with ball) is defended by Northern Nash's Susie Sykes during last Friday night's Big East Conference girls basketball matchup in Stanhope.

A Perfect Storm


STANHOPE -- Two teams on divergent ends of the record spectrum met for what was expected to be a suspense-less game last Friday night at the Southern Nash High School Gymnasium.
Southern Nash, which has yet to win a game this season, didn't provide much of a challenge to undefeated Northern Nash -- at least when the final score of 70-29 is observed.

More ...
Staff Reports
Top Gun event coming to RM


ROCKY MOUNT -- The city of Rocky Mount was recently awarded the Top Gun Summer and Winter World Series events for 2015.
According to Joel Dunn, recreation superintendent for Rocky Mount Parks and Recreation, this is the fifth year that the city's sports Complex has been chosen as the location for a variety of teams to play baseball from areas like Virginia, South Carolina, Florida, Georgia and more. 

More ...
Staff Reports
ECU baseball evening targeted


GREENVILLE -- East Carolina University baseball fans will get their first chance to meet the 2015 Pirates up close and personal on Saturday, Jan. 31 as ECU will host "An Evening With The Pirates" at Harvey Hall inside the Murphy Center.
The event, formerly known as Meet the Pirates, has been enhanced to an evening setting starting at approximately 6 p.m. and allows fans a chance to get autographs and photos of the players and first-year head coach Cliff Godwin.

More ...
Staff Reports
Elon announces football schedule


ELON -- Elon University football head coach Rich Skrosky released the program's upcoming 2015 schedule on Jan. 8.
The 11-game slate features five games at home in Rhodes Stadium. Game times will be announced this summer.
Southern Nash High School alum Tracey Coppedge will be entering his senior campaign at running back for the Phoenix.

More ...
Staff Reports
A DAY TO REMEMBER
TAYLOR SALUTED AT NCWC. Nash County native and resident Roger Taylor (second from right in above photo) was honored for his athletic and philanthropic achievements during a recent ceremony at North Carolina Wesleyan College. Taylor was an All-American basketball player at both NCWC and Louisburg College and is a member of each school's Athletics Hall of Fame.
More ...
CAMPUS DEANS
Southern Nash's Tahj Deans (with ball) enjoyed an effective performance last Friday night for the Firebirds during their home conquest against the Northern Nash Knights.
More ...
FIND A WAY OUT
Nash Central High School's Darius Bobbitt (bottom) tries to reverse the hold of a Louisburg wrestler during last Friday night's tri-match action in Franklin County.
More ...
LEARNING TO DRIVE
Southern Nash's Caitlin Batchelor (with ball) drives into the paint during last Friday's home defeat against league rival Northern Nash.
More ...
SPRAGLEY SOARS FOR TWO
Northern Nash's Darius Spragley (right) elevates and scores for the Knights during last Friday night's loss at Southern Nash.
More ...
STARING DOWN THE TALL TIMBER
Southern Nash guard A.J. Jones (with ball) attempts to find an open teammate in the paint during last Thursday's Tri-County Conference boys basketball game at Nash Central.
More ...

Slam Allen will perform at Nash Arts Center Thursday, Feb. 19th.
Nash Arts welcomes blues artist Slam Allen
Nash Arts Center is gearing up for a very busy February welcoming back members of Guitars and Friends to its stage on Saturday, Feb. 14th plus  announcing the rebirth of its famous Nashville Showcase Series featuring Grammy nominated singer-songwriter and New York Blues Hall of Fame Master Inductee Slam Allen performing the first show on Thursday, Feb. 19th.
More ...
Reader's Recipes
Corn Pudding
Submitted by Mildred Thompson
Mix together:
1 cup sugar
6 tablespoons self-rising flour
More ...
BARBARA HARDEE NEWTON
Barbara Hardee Newton, age 75, passed away on Friday, January 9, 2015. Born in Nash County  on December 7, 1939 she was the daughter of the late Frederick Raymond Hardee and Mary Ligon Hardee. She was also predeceased by her cousin, Curtis Hardee, Jr.
More ...
BETTIE MAE R. BATTLE
HOLLISTER –– Bettie Mae R. Battle, 70, passed away Monday, January 12, 2015. An open visitation will be held at Richardson Funeral Home in Nashville on Friday, January 16 from 3-7 p.m. Funeral services will be held Saturday, January 17, 2015 at Pleasure Hill Baptist Church. Burial will following in the Shiloh Church Cemetery. Rev. Will C. Tabron will officiate.
More ...
CHARLES "RANDY" HUGHES
Charles "Randy" Hughes, age 68, passed away on Friday, January 9, 2015. He was preceded by his parents, Charles and Lois Hughes of Rocky Mount.
More ...
CLARA MOORE LILLY
Clara Moore Lilly of Nashville passed away on January 12, 2105. She was born March 24, 1946 in Columbus County to the late Andrew McLain Moore and Ottie Young Moore.  Clara was preceded in death by her parents Mack and Ottie Moore and her brother William Moore.
More ...
DARRY ALLEN WINSTEAD JR.
Darry Allen Winstead, Jr., age 35, passed away on Wednesday, January 7, 2015. Born in Rocky Mount, NC on August 15, 1979. He is preceded in death by his grandmother, Clarice Smith.
More ...
DAVID THOMAS BLANTON
David Thomas Blanton, 58, of Rocky Mount,  passed away Wednesday, January 7, 2015. He was born in Nash County on January 11, 1956, to Betty Barefield Blanton of Rocky Mount and the late Blaney Blanton.
More ...
GENEVIEVE ROBINSON CARMICHAEL BASS
Genevieve Robinson Carmichael Bass, age 94, passed away Wednesday, January 7, 2015. Born in Nash County on August 25, 1920, she was the daughter of the late John A. Robinson and Sula Young Robinson. She was also preceded in death by her first husband, Horace W. Carmichael, Sr. and her second husband, Joseph B. Bass; two brothers, Willis A. Robinson and Geddy C. Casey. Also her beloved daughter, B. Sue Jaquays.
More ...
JAMES RUSSELL COATS
James Russell Coats, age 97, passed away Tuesday, January 6, 2015. Russell was born to the late James Robert Coats and Mary Jeanette Neese Coats on May 19, 1917 in Atlanta, Georgia. Russell was also predeceased by his only child, James "Jimmy" Russell Coats, Jr.
More ...
JEWEL PEARCE BRITT
Jewel Pearce Britt, 77, passed away on January 6, 2015. She was born October 24, 1937 in Rocky Mount   to the late C. Wood Pearce and Estelle Woodruff Pearce. Jewel was preceded in death by her husband Henry M. Britt, Jr, a sister, Barbara Pearce Holloway, and nephews Kipling Gray Deaver, Joseph Holloway and great niece Mattie Gray Deaver.
More ...
MARGARET FAITH JOHNSON LEHMAN
Margaret Faith Johnson Lehman, age 83, died January 8, 2015. Born November 20, 1931, in Sampson County,  she was the daughter of Rev. Leonidas L. and May Garner Johnson of Delway.  She  was predeceased by her husband of 59 years, Dr. Gaylord L. Lehman, brothers, A. B. Johnson and Calhoun Johnson, and sisters, Gretchen Corbitt and Dolores Miller.
More ...
MARY HELEN JONES
LOUISBURG –– Mary Helen Jones, 85, passed away on Tuesday, January 6, 2015. An open visitation will be held at Richardson Funeral Home in Louisburg on Friday, January 16, from 3-7 p.m. Funeral services will be held Saturday, January 17, 2015 at 1 p.m. from the Haywood Baptist Church with the Rev. Luther Coppedge and Douglas Harris officiating. Burial will follow in the Mary Helen Jones Cemetery.
More ...
MAX LYNN PEELE, SR.
Max Lynn Peele, Sr., 62, passed away, Thursday January 7, 2015. He was born October 14, 1952 in Wilson County to the late L.D. and Byver Dildy Peele. He was preceded in death by his Dad, Robert Holloman.
More ...
MIRIAM MAYO LEARN
Miriam Mayo Learn, 56, passed away on January the 8th, 2015. She was born in Rocky Mount on October 25th, to the late Jesse Claude Mayo Jr. and Carolyn Fay Reynolds Mayo. Besides her father, she was also preceded in death by her sister, Sarah Mayo Smith.
More ...
THOMAS TRUETT TANNER
Thomas Truett Tanner passed away on January 10, 2015. He was Born October 28, 1927 in Lasker, NC, the son of the late Matthias Thomas Tanner and the late Foyd Bridgers Tanner. He is also preceded in death by a brother, Matthias Mullins Tanner. A lifelong resident of eastern North Carolina,
More ...