Subscribe/Access
Advertisements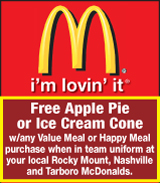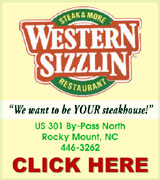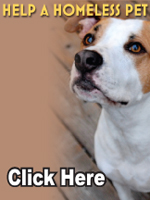 Sections
Member Options
Back
Citizens view pipeline plans


Dominion Transmission hosted an open house event on Monday, September 22 in order to help inform landowners and other interested parties in the area about the proposed natural gas pipeline that may be laid down through Nash County. The event was held at the Rose Hill Convention Center located just outside of Nashville. Representatives from other partners in the endeavor, including Duke Energy and Piedmont Natural Gas were also present at the event.

More ...
AMELIA HARPER, GRAPHIC CORRESPONDENT AND AMANDA CLARK, GRAPHIC STAFF WRITER
Nashville man pleads guilty to murder


A Nashville man pled guilty last week in Superior Court for killing his father during a dispute.
As part of a plea deal, Judge Quentin Sumner sentenced Lewis Shamir Richardson, Jr., 32, to between 92 and 123 months in prison.
Richardson's charge was reduced from first degree murder to voluntary manslaughter as part of the deal.

More ...
AMANDA CLARK, GRAPHIC STAFF WRITER
Felix is an All American Dog!


After being rescued from the Nash County Animal Shelter last year, Felix went on quite a journey before finding his forever home.
Felix's story appeared last week in American Dog Magazine's Fall issue.
Felix was picked up as a stray last year and brought to the shelter. A rescue organization in Vermont expressed interest in him but first, Felix had to go through heart worm treatment.

More ...
AMANDA CLARK, GRAPHIC STAFF WRITER
Donor Match check is today!
The Nashville Police Department is hosting a Be The Match cheek swab registry event, today, September 25th from 4 to 6 p.m. at the Nashville Police Department.
Nashville Community Services Officer Jennifer Bull said she wanted to organize the event because the likelihood of someone in need finding a match in their family is slim.
More ...

HONORING A BROTHER –– Over five hundred firefighters and friends from across the State pay tribute to John Derek Gupton, a Justice Volunteer Firefighter, who was killed while on duty September 16 responding to a fire call at Lake Royale.

Justice Community mourns the loss of young firefighter


JUSTICE –– Hundreds from around the community and the state turned out over the weekend to say goodbye to a firefighter struck down while on duty, in the prime of his life.
John Derek Gupton died Sept. 16 while responding to a fire call in Lake Royale.
He was 24.

More ...
CAREY JOHNSON, Special to The Graphic
Local Realtors, appraiser celebrate opening


Nashville's Chamber of Commerce offered their support last week to two businesses that have opened up in town.
Joyner-Silk-Reams Market Leader Realty and Wallace Appraisal recently opened in a renovated home at 915 Eastern Avenue.
A ribbon cutting was held for the businesses last Thursday morning, hosted by Nashville's Chamber of Commerce.

More ...
AMANDA CLARK, GRAPHIC STAFF WRITER
NASHVILLE POLICE BRIEFS
INCIDENTS
A larceny by bypass of an anti-theft device was reported on 9/16/14 at Wal-Mart, 1205 Eastern Avenue
A larceny was reported on 9/17/14 at Just Save, 731 E Washington Street
A damage to property (vandalism) was reported on 9/19/14 at 112 Village Lane
More ...
NASH COUNTY SHERIFF'S OFFICE REPORTS
A larceny from a trailer was reported on 9/15/14 at 5376 Highway 264 Alt
A larceny of a computer was reported on 9/16/14 at 11379 Old US 64
A breaking, entering and larceny of a residence was reported on 9/16/14 at 8005 Old Bailey Highway
A damage to property was reported on 9/16/14 at 534 Worth Road
More ...
50TH ANNIVERSARY
Wesley and Della Parrish celebrated their 50th Wedding Anniversary with a reception at Corinth Baptist Church in Nashville on September 13, 2014. The reception was given by their children. They were married September 12, 1964 at Maple Creek Methodist Church in Rocky Mount. Wesley retired from Carolina Steel Corp. where he worked for 46 years.
More ...
Kornegay, Hearn wed
Laura Anne Kornegay and George Bradley Hearn were united in marriage on September 20, 2014 at 5 p.m. in Swansboro. The ceremony was officiated by Reverend Ford Jordan.
The bride is the daughter of Mr. and Mrs. Roger Eugene Harris and Mr. William Ennis Kornegay, Sr., of Rocky Mount.
More ...
ENGAGED
Randall and Elaine Hull of Nashville announce the engagement of their daughter, Sandra Elaine Hull, of Kill Devil Hill, to Dr. David Reide Corbett, of Kill Devil Hill, the son of Col. David Corbett of Punta Gorda, Florida and Be Beasley of Hayesville, North Carolina. The wedding is planned for 3 p.m. on Sunday, October 12, 2014 in Manteo.
More ...
Spring Hope girl to participate in pageant
Olivia Knightlinger of Spring Hope was recently selected to participate in the 2014 Miss Jr. Pre-Teen Rocky Mount/Raleigh pageant competition that will take place on Saturday October 4, 2014.
Olivia learned of her acceptance into this year's competition when the pageant announced their selections following interviewing in the local Rocky Mount/Raleigh area.
More ...
Moore is certified
  Sheila Moore of Red Oak, a nurse manager at Nash General Hospital, recently earned her certification in Maternal Newborn Nursing from the National Certification Corporation.
A native of Kinston, Moore started as an LPN in 1987 at Pitt County Memorial Hospital, and she earned her nursing degree from Pitt Community College in 1992.
More ...
Nash County Blood Drives for October 2014
Monday, October 13 from 3 until 7 p.m. at First Baptist Church, 200 South Church Street, Rocky Mount
Tuesday, October 14 from 2:30 until 7 p.m. at Englewood Baptist Church, 1350 Winstead Avenue, Rocky Mount
Wednesday, October 15 from 12 until 4 p.m. at Eason Corporation, 8171 Planer Mill Road, Middlesex
More ...

Isaac Dewitt, 5, of Greenville, visited The Country Doctor Museum on Saturday and had a chance to experience pill making with Play-Doh as it was done in the earlier days.
Country Doctor Museum hosts History Alive!
The Country Doctor Museum brought history alive on Saturday, as it hosted its annual celebration of rural health care.
The Country Doctor Museum in Bailey is the oldest museum in the nation dedicated to the history of rural health care.
At the fourth annual "History Alive!" celebration, young and old came out for a glimpse into the past. Various activities were held, including museum tours and a horse drawn carriage rides.
More ...
Chief Bashore speaks at NCC 9/11 remembrance service
Nash Community College faculty, staff and students gathered recently to remember the events of September 11, 2001.
Nashville Police Chief Tom Bashore was the guest speaker for the event, which was held at the College's Business and Industry Center flag pole.
Bashore reflected on where he was that day and how that moment was etched in his memory, never to be forgotten.
More ...
COFFEE AND CONVERSATION
The Nashville General Store hosted Coffee with a Cop on August 22 at its downtown store. Nashville Police Chief Tom Bashore (second from left) and Community Services Officer Jennifer Bull (far left) spent a few hours chatting with customers. The police department regularly holds Coffee with a Cop events at various Nashville businesses to allow the community to get to know the police department and to ask questions.
More ...
TRAINING
Students from Nash County and Johnston County's Sheriff's Department recently completed Detention Officer training at Nash Community College. The certification includes 181 hours of training designed to train qualified participants to function as officers in detention facilities. The course is governed by the North Carolina Sheriffs' and North Carolina Criminal Justice Education and Training Standards Commissions.
More ...
Anderson replaces Muller as President of Nash Medical Staff


At the September board meeting of Nash UNC Health Care held on September 4, Dr. Frederick A. Frobose, President of the Medical Staff, announced that Gastroenterologist Dr. Mark Anderson is replacing Dr. Peter Muller as President-Elect of the Medical Staff. Anderson also replaces Muller as an ex-officio member on the Board of Commissioners.

More ...
AMELIA HARPER, GRAPHIC CORRESPONDENT
BEULAH COMMUNITY NEWS


Sunday was National Back to Church Service. We want to thank each of you who attended and made it a really great day of service and fellowship. We estimated our attendance at Beulah Church of Christ was almost twice what we have had lately on a regular Sunday service. I believe our regular members worked harder inviting friends to attend the special planned service.

More ...
WILMA ENROUGHTY
PEACHTREE COMMUNITY NEWS


On a beautiful autumn morning, Peachtree folks gathered for Sunday worship.  Sanctuary flowers were given by Linda and Kenneth Edwards in memory of her father, Melton Manning.  Pastor Whitehouse opened the service with the observance of "Believer's Baptism" for Debbie King.  The choir sang 'The Longer I Serve Him, the Sweeter He Grows".

More ...
BARBARA HARDISON
RED OAK NEWS


Red Oak Baptist Church welcomes new members, Wayne and Jonah Faye Hardy.
Women in Action of Red Oak Baptist Church met on Thursday, September 18 at the church.  They enjoyed a delicious spaghetti supper , discussed upcoming missions opportunities,  and learned what specific missionaries are doing to spread the gospel and ways we can do the same.      

More ...
Suzy Pearce
VOICE MEETING
The Voice of Nashville Community Group welcomed The Honorable Carol Allen White, NC Clerk of Superior Court of Edgecombe County, to their meeting on September 15 in the Town Council Chambers. They also welcomed Edgecombe County Sheriff James L. Knight to the meeting and members of the community.
More ...
How you phrase things really does matter


Just the other day, I thought about how language has changed dramatically in my lifetime.
I don't even mean the words that are allowed on television would have acceptable, or the situations, or the lifestyles that are glamourized. I mean simple, everyday phrases and places have changed. And so has how we communicate.
I can't say it has all been for the good.

More ...
Mike Brantley
Kudos to Nash County Finance Director for a job well done


Next week will be a bittersweet day for Nash County.
Tuesday, September 30 is Finance Director Lynne Hobbs' last day.
Lynne has been with Nash County since 1994 and has been the finance director since 1997.
I'm no financial expert by any means but I can say with 100 percent certainty that she has done an excellent job! There is no doubt this county is in such great financial shape because of her leadership.

More ...
AMANDA CLARK, GRAPHIC STAFF WRITER
Our sympathy goes out to the Justice Volunteer Fire Dept. and community


My heart was heavy last week for the Justice Community which lost a son, a friend and a fellow firefighter.
I was working on last week's newspaper when the news came through that a firefighter from the Justice Volunteer Fire Department had been killed.
Though Justice isn't in Nash County –– it's close enough that many of us know people who live there as it sits right on the outer edge of Spring Hope.

More ...
Jo Anne Cooper
Backward Glances


CONFERENCE CHAMPS –– This photo was originally published in The Graphic on May 24, 1962. Pictured is the Benvenue baseball team which defeated the Middlesex team for the 1962 conference championship.

More ...
A PICTORIAL LOOK INTO THE PAST
Nash County Animal Friends' Notebook


WHO WE ARE ~ Nash County Animal Friends (NCAF) is a group of shelter pet photographers and administrative volunteers that promote the pets available for adoption or rescue in the Nash County Animal Control Shelter. Promoting Animal Welfare in NC (PAWNC) handles donations and pet sponsorships for those pets. NCAF and PAWNC are volunteer networking advocacy groups working in partnership for the greater good of the pets in the Nashville facility.

More ...
Kristy Carney, NASH COUNTY ANIMAL FRIENDS

ARMS RACE. Nashville Hornets running back Derrick Macklin (with ball) uses a stiff-arm to evade a Rocky Mount defender during last Saturday morning's Eastern North Carolina Football League showdown at The Hornets Nest in Nashville.

RABIL'S RETURN


NASHVILLE -- On-field action had to take a backseat to another important matter of note during last Saturday's Eastern North Carolina Football League matchup between Rocky Mount and homestanding Nashville.
Long-time scoreboard operator and team fixture Joey Rabil returned to the press box for the Hornets after missing the opening home game of the season.

More ...
GEOFF NEVILLE, Graphic Sportswriter

ON TARGET. Nash Central's Sara Joyner delivers a perfect drive during Monday's Big East Conference girls golf match at Birchwood Country Club.

COURSE WORK


NASHVILLE -- Whether it be spring or fall, Birchwood Country Club always offers a stern test for Big East Conference golfers.
The latest Big East event at BCC featured more of the same as the league's girls contingent was welcomed by lightning-fast greens and dastardly rough.

More ...
GEOFF NEVILLE, Graphic Sportswriter

PRIYA MAKES THE RIGHT PLAY FOR SNHS. Southern Nash's Priya Patel concentrates on a forehand return during last Thursday afternoon's Big East Conference girls tennis matchup at home against the Wilson Fike Golden Demons.

Birds Shut Out By Fike


STANHOPE -- After being swept by Wilson Fike earlier in the season, the Southern Nash Ladybirds went into last Thursday's Big East Conference girls tennis rematch with tempered expectations.
But even though the 9-0 score ended up being the same as the previous event, the Ladybirds went to tie-breakers to determine the winner at Nos. 1 and 2 Singles before ultimately falling at the SNHS Courts.

More ...
GEOFF NEVILLE, Graphic Sportswriter

LEAP OF FAITH. Louisburg HS keeper Brevonte Bullock (right) rises to make a great save during last Thursday's soccer matchup at Southern Nash.

SN sweeps at home


STANHOPE -- For a high school coach in any sport, getting his or her team to be motivated for a non-conference event -- one day after a huge league victory -- is never an easy proposition.
That's the dilemma Southern Nash boys soccer skipper Kurt Bienias faced last week as his Firebirds came up with a key 2-0 home decision last Wednesday afternoon against backyard rival Northern Nash.

More ...
GEOFF NEVILLE, Graphic Sportswriter

FIVE ALIVE FOR NN. Northern Nash's Alex Shearin (right) gets tangled up with Bunn's Mason Makar during last Thursday evening's boys soccer matchup in Red Oak.

NN Outlasts Wildcats


RED OAK -- The waiting game proved to be a key attribute last Thursday for the Northern Nash Knights during a non-league boys showdown against the Bunn Wildcats.
Northern Nash had controlled BHS in convincing fashion one week earlier in Franklin County, but the Wildcats would prove to be a much more feisty foe this time around.

More ...
GEOFF NEVILLE, Times Sportswriter
Northern Nash falls in volleyball action


BUNN -- Northern Nash High School took on perennial powerhouse Bunn and was defeated in three tight sets last Thursday in non-conference prep volleyball action.
Scores were 25-21, 25-17 and 25-20 in favor of the homestanding Ladycats at the Bunn Dome.
The victory was the second for Bunn over the Lady Knights during the 2014 spike campaign.

More ...
Staff Reports
Horne among winners at County Line


ELM CITY -- Excellent weather greeted fans, drivers, crew and staff for the Lee Motor Company Night at the Races last Saturday night at County Line Raceway.
On tap on the card was the Super Stock 4's, PL Woodard Pure Stock V8's, Pure Stock 4's, Open Wheel Modifieds and the Late Models.

More ...
Staff Reports

TOUGH TACKLE. A Northern Nash player makes a tackle -- and loses his helmet -- during last Thursday's home junior varsity football contest against the Southern Vance Runnin' Raiders.

Northern sweeps SV


RED OAK -- The numbers don't lie when assessing Northern Nash's dominance during its pair of football games last week against the Southern Vance Runnin' Raiders.
For Northern, the festivities began Thursday in Death Valley as the homestanding Knights were able to claim a junior varsity victory by a score of 52-6.

More ...
Staff Reports
Knights' dominance continues


RALEIGH -- Northern Nash's talent-laden boys cross country squad has been so strong this fall that only one club -- Class 4-A titan Apex -- has been able to defeat the Knights to date.
That string includes both Big East Conference and prestigious weekend invitational events.
Northern has taken on some of the top clubs from across the state and beyond, including a victory last Saturday at the acclaimed Adidas Cross Country Challenge at WakeMed Soccer Park in Wake County.

More ...
Staff Reports
Junior Knights secure two wins


KENLY -- The Northern Nash Knights took two out of three contests last Saturday at North Johnston in a Johnston County Football League youth showdown.
Both the Northern Nash Rookie and JV clubs delivered 26-0 victories over the Junior Panthers.
The Rookies received two touchdowns from Damien Clemmons and one apiece from Cameron Lucas and Randall King.

More ...
Staff Reports
Alston sets record for NCWC


ROCKY MOUNT -- Senior Jacques Alston broke the North Carolina Wesleyan College football program's all-time rushing record last Thursday night at Bishop Stadium, but it would not be enough as NCWC suffered a tough 31-28 loss to Christopher Newport in the USA South Conference opener for both squads.
Needing 78 yards to eclipse Bryan Haywood's career record of 2,744 yards, Alston managed 106 yards on the night to stake his claim atop the record book.

More ...
Staff Reports
NASHVILLE HORNET ON A HUGE MISSION
FORWARD THINKING. Nashville's Derrick Macklin (with ball) leans forward to gain a few extra yards during a Rocky Mount tackle attempt last Saturday in Eastern North Carolina Football League action at The Hornets Nest.
More ...
GOLF EVENT SLATED
A CHANCE TO WIN A NEW CAR. Golfers participating in the 25th Annual Nash Community College Foundation Student Scholarship Golf Classic will have a chance to win a 2014 Buick LaCrosse as a hole-in-one prize sponsored by Davenport Autopark.
More ...
LET'S GET READY TO TEE OFF
FOR A GREAT CAUSE. Area golfers have provided 24 years of support for the Nash Community College Foundation and its scholarship program by participating in the NCC Foundation Student Scholarship Golf Classic. Golfers will have a choice to tee off October 2nd at 8 a.m. or 1 p.m. at Benvenue Country Club in Rocky Mount for a day of challenging fun, while providing scholarships for deserving college students.
More ...
NCWC wins spike match


GREENSBORO -- N.C. Wesleyan's volleyball squad picked up its first USA South win of the season on Saturday afternoon, turning in a 3-0 sweep of Mary Baldwin College in Greensboro.
The victory leaves the Bishops with a 1-2 league record on the week, having dropped earlier matches to William Peace and Greensboro.

More ...
Staff Reports
FOOTRACE
(L to R) Northern Nash's Thomas Roy and Bunn's Rey Murillo surge toward the ball during last Thursday evening's non-conference boys soccer showdown on the NN campus.
More ...
HE'S BACK!
Legendary long-time scorekeeper Joey Rabil returned to the press box last Saturday for the Nashville Hornets after an extended illness. It was a thrilling day for Joey -- and it got even better later when he went to Greenville to watch his East Carolina Pirates defeat the North Carolina Tar Heels. Welcome back, Joey!
More ...
MASON MAKES THE PUTT
Southern Nash's Mason Chamblee sinks this attempt during Monday's Big East Conference girls golf event at Birchwood Country Club.
More ...
RUMBLIN' AHEAD
Nashville's Keziah Hollinsworth (34) picks up yardage during last Saturday's varsity football action against long-time conference rival Rocky Mount.
More ...
STAY AWAY
Southern Nash's Alexis Barrett is hoping that this approach shot avoids a bunker during Monday's Big East Conference golf match at Birchwood CC.
More ...
TOUGH TO TACKLE
Rocky Mount's Jalen Bryant (with ball) runs for some tough yardage during last Saturday's Eastern North Carollina Football League event against the host Nashville Hornets.
More ...
YO-YO
Southern Nash's Jose Salgado (right) appears to have the ball on a string as he advances upfield for the Firebirds during last Thursday afternoon's boys soccer decision over Louisburg at the SN Soccer Field.
More ...
ANNIE CLYDE EDWARDS BANKS
Annie Clyde Edwards Banks, 97, formally of Spring Hope,  passed away Tuesday, September 16, 2014. She was born in Nash County, North Carolina, the eighth of ten children to the late Manalcus Clyde and Annie Vick Edwards. In addition to her parents and siblings, she is predeceased by her husband of 64 years, Carl V. Banks.
More ...
KENNETH LEVANE PAGE
Kenneth Levane Page, Sr., 73, passed away Sunday, September 21, 2014. He was born July 24, 1941 in Wilson County. 
More ...
MALLIE JACK BASS
Mallie Jack Bass, 73, passed away, Saturday September 20, 2014. He was born January 30, 1941 in Johnston County.
More ...
MARY KATHRYN RATCHFORD
Mary Kathryn Ratchford (Kay), passed away on September 20, 2014. She was born on October 10, 1935, the daughter of the late Frank Marvin Gregory and Mary Weeks Gregory. She was preceded in death by her husband of fifty-two years, Dr. George Rufus Ratchford.
More ...
NOLIA CURRIN CALLAHAN
Nolia Currin Callahan, 63, of Sharpsburg, passed away on Saturday, September 20, 2014.  Nolia was born in Rocky Mount on October 29, 1950 to Walter and Thelma Currin.  She is preceded in death by parents Walter and Thelma Currin and sister Billie Boyd.
More ...
TIFFANY CAROL STANFORD
Tiffany Carol Stanford, 39, of Hollister passed away Monday, September 22, 2014. She was born August 8, 1975 in Davidson County.
More ...