Subscribe/Access
Advertisements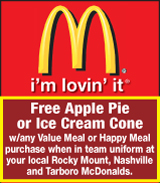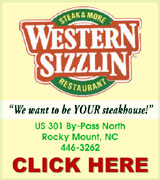 Sections
Member Options
Back
Nashville to hold public hearings


Several public hearings are on the agenda for Nashville's Town Council meeting next Wednesday night.
Two of the hearings are to rezone property. One of the properties being requested for rezoning is property that was the subject of a controversial rezoning request recently.
Initially, the request was to rezone property across from Kerr Drugs from residential to multi-family.

More ...
AMANDA CLARK, GRAPHIC STAFF WRITER
Kentucky Derby horse has ties to Nash County


This year's Kentucky Derby will feature a horse with ties to Nash County.
We Miss Artie will race in this year's Derby and Hubert Vester, of Nashville, plans to travel to Kentucky to watch the race.
The horse is the offspring of a horse owned by Vester.

More ...
AMANDA CLARK, GRAPHIC STAFF WRITER

SCHOLARSHIPS –– Jaylnn Westry performs a dance routine during the "Dancing with the Stars" fundraiser on Saturday. Westry is a recipient of the O.D. Moore Scholarship, presented by the Nash Central Senior High Alumni Association.

Nash Central Alumni funds scholarships


The Nash Central Senior High Alumni Association hosted its own version of "Dancing with the Stars" on Saturday night, with three couples competing to raise money for scholarships.
The fundraiser was the idea of Carolyn Morgan.
The Nash Central Senior High Alumni Association has been providing scholarships for around 40 years and has given over 250 scholarships. The association has hosted numerous fundraisers.

More ...
AMANDA CLARK, GRAPHIC STAFF WRITER
Universal Leaf to expand operations
Universal Leaf North America recently announced plans to launch a new company which will focus on dehydrated and juiced fruit and vegetable products.
Carolina Innovative Food Ingredients, Inc. plans to invest around $20 million over two years and hire around 64 people. Production is expected to begin during the first quarter of 2015.
More ...
Produce sales begin May 1 at Glover Park


Fresh fruit and vegetables will be available at Glover Park starting on May 1, thanks to a partnership between local farmers and Nashville's Recreation Department.
MarketFreshCSA will sell produce at the park Wednesday and Thursday nights, beginning next week. MarketFreshCSA is owned by Rob Glover and Andrew Strickland, who began a Community Supported Agriculture (CSA) program in 2009.

More ...
AMANDA CLARK, GRAPHIC STAFF WRITER
Relay for Life begins Friday


Fighting cancer will be on the minds of everyone who enters the gates at the Rocky Mount Athletic Complex Friday night, as the Nash County Relay for Life kicks off with survivor ceremonies.
Nikki Hanson, who serves as co-chair for the event, said this year's event is looking to be a great one.
The band Runaway Cab will play at this year's Relay for Life event, performing from 7 until 9 p.m.

More ...
AMANDA CLARK, GRAPHIC STAFF WRITER

STEER –– Nash County 4-H'er Landen Lucas showed his steer last Wednesday at the 77th Annual Eastern Carolina 4-H Livestock Show and Sale. Landen was one of around 50 Nash County youth who participated in the event.

Youth compete in annual 4-H Livestock Show and Sale


The weather didn't keep youth from coming out to show their animals at the Eastern Carolina 4-H Livestock Show and Sale last week. Over 150 youth from Nash, Halifax and Wilson Counties brought steers, lambs, goats and pigs to show at the sale.
Tanya Heath, Livestock Extension Agent for Nash and Edgecombe Counties, said the event went well.

More ...
AMANDA CLARK, GRAPHIC STAFF WRITER
NASHVILLE POLICE BRIEFS
INCIDENTS
A damage to property (vandalism) was reported on 4/13/14 at Glover Park
A possession of a controlled substance and possession of drug paraphernalia was reported on 4/14/14 on Washington Street
More ...
NASH COUNTY SHERIFF'S OFFICE REPORTS
An assault with a deadly weapon with serious injury was reported on 4/15/14 at 1544 E Castalia Road
An identity fraud was reported on 4/16/14 at 5875 Silver Court
A breaking, entering and larceny of a residence was reported on 4/16/14 at 2275 S Halifax Road
A missing person was reported on 4/16/14 at 3729 Twin Oak Way
More ...
Rocky Mount police arrest heroin dealers
The Rocky Mount Police Department arrested six people recently for distributing heroin.
According to a press release, the City of Rocky Mount, along with other North Carolina cities, has been battling a resurgence in the drug. The Rocky Mount Police Department has enhanced efforts to reduce the crime and damage the drug causes to citizens.
More ...
Twelve arrested in warrantless search in Nash, Edgecombe
Officers from the North Carolina Department of Public Safety conducted a warrantless search operation on April 10 in Rocky Mount, Nash and Edgecombe counties, making unannounced searches at the residences of 20 individuals on probation, parole or post-release supervision.  During the operation officers seized weapons, drugs and drug paraphernalia and captured one probation absconder.
More ...
Coffee with a Cop
Nashville Police Chief Tom Bashore (at left) chats with Church Street Grill owner Jerry Taylor (at right) last Thursday during Coffee with a Cop. The police department typically hosts a Coffee with a Cop each month at various locations in town to give citizens a chance to meet officers.
More ...
LADIES LUNCHEON
Organizers of the annual Cooley Library Ladies Luncheon met with homeowner Kate Barnes earlier this month to discuss the luncheon. Barnes (far right) will host the luncheon at her home Saturday, April 26. Pictured with Barnes is Jordan Lytton (far left) and Pam Bass (center) on the back porch of the home.
More ...
Governor appoints Batts
North Carolina Governor Pat McCrory recently appointed Renee Batts, of Nash County, to the North Carolina Advisory Committee on Cancer Coordination and Control.
Batts is the associate director of Allied Health.
More ...
Momeyer Board receives first look at proposed '14-15 budget


Momeyer's Board began budget discussions at its monthly meeting last Monday morning.
Commissioner George Alma Edwards presented the budget, which is proposed at $64,210.
The 2014-2015 proposal is around $4,000 less than what was proposed in the 2013-2014 budget.
Edwards presented the board with two budgets to consider. There is a $938 difference in the two budgets, she said.

More ...
AMANDA CLARK, GRAPHIC STAFF WRITER
Robert Evans named Chair of Nash Health Care Board
Robert Evans was recently named chairman of the Nash Health Care Board of Commissioners for 2014 to 2015.  Evans replaces previous Board chairman Vincent Andracchio II. The Nash Health Care Board of Commissioners is a 14-member volunteer board appointed by the Nash County Board of Commissioners.
Evans was a district court judge for 11 years and is currently the District Attorney for the seventh prosecutorial district, a position he has held  since May 2009. 
More ...
City of Rocky Mount receives United Way's Bronze Award
The City of Rocky Mount recently received the Bronze Award for contributing to the 2013-2014 United Way Campaign. Led by Public Works and Water Resources Director, Jonathan Boone, City employees contributed a total of $57,519.10, with 63.49 percent participation in the campaign.
More ...
N-RMPS Board receives award
Nash-Rocky Mount Public Schools Board of Education is among a select group of school boards across the nation to earn a 2014 First Place Magna Award. The Magna Awards honor districts across the country for outstanding programs that advance student learning and encourage community involvement in schools.
More ...
PINWHEEL GARDEN
To recognize National Child Abuse Month, A New Day Child Care Center planted a Pinwheel Garden in front of the center recently. Pinwheels for Prevention is a national campaign that raises awareness for the bright future children deserve. The Pinwheel Garden is open for the public to view.
More ...
ROTARY
Rotarian President Krista Ikirt, at left, stands with Kimberly Thigpen of The Bath Place, at right, who spoke to the Rocky Mount Rotary Club on Monday, April 14 at the DoubleTree hotel during their meeting.
More ...
MOUNT ZION FWB CHURCH NEWS


Some people attended the Sunrise Service Sunday morning, of course I wasn't able to make it. In the past years, I always enjoyed Sunrise Service. It's been a wonderful celebration of the resurrection of  our Lord Jesus Christ. That was when He won the victory for us.
Easter lilies were given today by the choir. "Thank you." The choir sang "Alive! Alive!" for the call to worship.

More ...
ROSALENE BASS
BEULAH COMMUNITY NEWS


Last Friday night the annual Red Oak High school  reunion was held at Rocky Mount Shriner Club in Rocky Mount. This year made 96 years this event has been held. Approximately 190 former graduates (and guests) attended. This reunion is always for all graduates, not just one year. The ages of those attending are 99 years to the last year Red Oak had a high school in 1966.

More ...
WILMA ENROUGHTY
RED OAK NEWS


On April 12, 2014, several members of both Red Oak and Bethlehem United Methodist Church traveled to the Billy Graham library in Charlotte, NC. An uplifting time of fellowship, this trip was greatly enjoyed by all who participated.
On Good Friday the youth of Red Oak United Methodist Church helped deliver Communion to some of the home-bound members. A youth led worship service will be taking place this Sunday, April 27, 2014.  Come see what they have planned!

More ...
Suzy Pearce
PEACHTREE COMMUNITY NEWS


The weather for Easter Sunday was sunny but chilly.  The worship at Peachtree was a glorious celebration of the Risen Lord, Christ Jesus.  Sanctuary flowers were given by the Reid Vick Family in memory of their loved ones.  Those remembered were Reid and Avis Vick, Randall, Cleon, Furman and Linda Vick Nozolina.

More ...
BARBARA HARDISON
FARM SERVICE AGENCY NEWS


Agriculture Secretary Tom Vilsack recently announced that starting April 15, eligible farmers and ranchers can sign up for U.S. Department of Agriculture (USDA) disaster assistance programs restored by passage of the 2014 Farm Bill. 
"We implemented these programs in record time and kept our commitment to begin sign-up today," Vilsack said.

More ...
SHARON TAYLOR
Cowell
Nash Community College plans for record graduation
Nash Community College students, faculty and staff are preparing for record graduations on Thursday, May 15 and Friday, May 16, 2014. More than 600 students will graduate with a degree, diploma or certificate at the College's forty-sixth graduation ceremony.
North Carolina Treasurer Janet Cowell will deliver the address at the curriculum commencement ceremony on Friday, May 16, 2014 at 6 p.m. in the College's Brown Auditorium.
More ...
GOLD RIBBON AWARD
Fran Bunn (at left), Ruritan District Governor, presented Gold Ribbon Award to West Mount Ruritan Club President  Russell Cockrell (at right) during one of the club's monthly meetings.
More ...
CANCER FRIENDS FOREVER!
The Cancer Friends Forever Women's Cancer Support Group  meets the second Monday each month at the Nash County Agricultural Center. At the April 14th meeting, the ladies decorated, designed and created Easter Bonnets.  Several of the ladies planed to wear the bonnets while visiting some of the nursing/rehab centers in the area last week.
More ...
Nash County Blood Drives for May 2014
Friday, May 9 from 8 a.m. until 12:30 p.m. at Rocky Mount Preparatory School, 3334 Bishop Road, Rocky Mount
Friday, May 9 from 10:30 a.m. until 3 p.m. at Braswell Memorial Library, 727 North Grace Street, Rocky Mount
Monday, May 12 from 2 until 6:30 p.m. at Sharpsburg Volunteer Fire Department, 300 Taylor Road, Sharpsburg
Tuesday, May 13 from 3 until 7 p.m. at Stony Hill FWB Church, 9649 Stony Hill Church Road, Middlesex
More ...
SERVICE PROJECT
Girl ScoutTroop 3249, of Red Oak, cleaned, prepared, and planted flowers around the flag pole at Red Oak Post Office on April 11. This has become an annual service project for these girls the past four years. Pictured (L-R) is: Mercedes Silver, Raven Davis, Destiny Silver, Laura Brown, Hannah Tollefsen and Sarah O'berry.
More ...
NCC graduate living dream as sous chef in New Orleans
"Challenge yourself and learn something new every day," NCC Culinary Arts graduate Lauren Bailey said. "Put these two items on your to do list and you'll never be bored." As a student, Lauren worked at Rose Hill Conference Center and was far from boredom. Today, she is fulfilling her dream, serving as a Sous Chef at Borgne Restaurant in New Orleans, Louisiana. Borgne is the latest Chef John Besh restaurant, with Brian Landry serving as Executive Chef.
More ...
MILITARY NEWS
Navy Seaman Recruit Christopher D. Lynch, son of Jacqueline D. Lynch of Rocky Mount, recently completed U.S. Navy basic training at Recruit Training Command, Great Lakes, Ill.
During the eight-week program, Lynch completed a variety of training which included classroom study and practical instruction on naval customs, first aid, firefighting, water safety and survival, and shipboard and aircraft safety. An emphasis was also placed on physical fitness.
More ...
Brown receives alumna award
Nash Community College has awarded the 2014 Nash Community College Outstanding Alumna Award to Lyn C. Brown of Rocky Mount, recognizing her achievements as a past graduate to provide inspiration for current students. She was selected for the College's highest alumni honor for her excellence in leadership and service, and dedication to lifelong learning.
More ...
NC STHL discusses legislative priorities during meeting
The North Carolina Senior Tar Heel Legislature (STHL) convened in Raleigh March 20 and 21 for its first meeting of 2014.
During the meeting, leaders shared information regarding the rise in elder abuse cases in North Carolina. As one of the STHL's five legislative priorities, the information proved to be very useful for the group's advocacy efforts to strengthen and fund the state's Adult Protective Services (APS) Program.
More ...
Monument to deceased chickens and other news


It's nearly May, and we're all thankful for these days for global warming. After all, how much colder could a late-April Easter had been? Brrr.
To help celebrate the end of winter, should it ever happen, the Soapbox has to do some winter cleaning of our notebooks, scratch pads and piles. Strange things happen in the world, and we don't want our readers to miss any of it.

More ...
Mike Brantley
Special events make our community a better place to live


There are plenty of local activities going on this weekend to keep you occupied so make sure you check your calendars and plan to attend at least one of them!
Friday will be the start to Relay for Life. This is the 20th year the event has been held.
I love going to Relay each year. The folks who are involved in putting this together truly have a passion and it shows.

More ...
Amanda Clark
Private trusts offer local scholarships


Dear Editor:
Nash and Edgecombe County residents can receive scholarships from private trusts designed specifically to benefit people in this area. Here is a list of what is available:
The Helen Lancaster Minton Educational Fund provides scholarships to qualified post-secondary students.

More ...
Letter to the Editor:
Backward Glances


JOHN SUSTARE, INC –– This photo originally published in The Nashville Graphic several times in 1954. The photo ran in an advertisement for John Sustare, Inc. advertising these four men as four expert body specialists trained by Ford, Fisher Body Company and Chrysler Corporation. Call us at 459-7101 if you know their names.

More ...
A PICTORIAL LOOK INTO THE PAST
Nash County Animal Friends' Notebook


SPRING HAS SPRUNG ~ We are getting BABIES at the Shelter.  PLEASE don't let your dog or cat breed.  Sure, you think you can find homes.  The animals at the Shelter know otherwise.  Now they are at risk of death if we don't find a Rescue or if they don't get adopted. If you can't afford to go to your regular vet, there are clinics and other options available.  Such as:

More ...
Carol Vierela, NASH COUNTY ANIMAL FRIENDS

BASE EQUATION. Northern Nash's Dwight Daniels (left) forces a Havelock runner at third base during last Thursday's action at the Pitt County Easter Baseball Tourmament. The contest was held at historic Guy Smith Stadium in Greenville.

Spring Break Blues For NNHS


GREENVILLE -- During his career, Northern Nash head coach Leonard Allen has seen the best and worst of what Spring Break baseball can offer.
Playing during the break can give a club an opportunity to sharpen its skills and gain experience -- without the burden of trying to win an important conference game.

More ...
GEOFF NEVILLE, Graphic Sportswriter

STAND AND DELIVER. Nash Central High School No. 4 Singles player Robbie Addington sends a forehand return toward the net as part of his team's regular season tennis finale on Monday against Big East Conference rival Wilson Hunt.

PURPLE POWER


ROCKY MOUNT -- Purple Passion has been en vogue this season for the Nash Central High School boys tennis squad under Coach Michael Mosley.
When Mosley, NC's Athletic Director, took over the court program before the campaign, he asked players if they would be interested in wearing purple T-shirts during some of the matches to raise awareness for Alzheimer's Disease.

More ...
GEOFF NEVILLE, Graphic Sportswriter

A DYNAMIC DUO. (Top to Bottom) Northern Nash's Chandler Pierce and Natalie DePalma attempt to clear the ball during Monday's road match at Fike.

Knights stopped by Fike


WILSON -- For Northern Nash, defense was put above offense when the Lady Knights tangled with long-time powerhouse Wilson Fike in a Big East Conference girls  soccer contest Monday evening.
And for good reason -- the Lady Demons have been prolific up front this season, meaning NNHS veteran coach Joe McCarthy needed to put his best performers in front of the net to stem Fike's attack.

More ...
GEOFF NEVILLE, Graphic Sportswriter
Southern will open Aug. 22


STANHOPE: Southern Nash High School's 2014 football schedule will kick off Aug. 22 with the annual Sweet Potato Bowl outing on the road against SouthWest Edgecombe.
The Firebirds, coached by Brian Foster, will play their first three games on the road before returning home Sept. 12 for a meeting with the Roanoke Rapids Yellow Jackets at Firebird Stadium.

More ...
Staff Reports
NCWC year is concluded


ROCKY MOUNT -- North Carolina Wesleyan College's baseball team wrapped up its 2014 season on Monday afternoon at Bauer Field, dropping an 11-3 decision to the Knights of St. Andrews University.
The game marked the end of the careers of seniors James Johnson, Alexis Rodriguez, Hayden Williams, Mike DeVinney, Matthew Rhyne, Tyler Clark, Daniel Carroll, Will Beasley and Jackson Pleasant.

More ...
Staff Reports
Carolina earns win against Frederick


ZEBULON -- Shawn Morimando looked stout over six innings as the homestanding Carolina Mudcats beat the Frederick Keys 6-1 on Sunday afternoon at Five County Stadium in a Class 1-A Carolina League baseball matchup.
Alex Monsalve drove in a season-high three runs and the Mudcats (9-7) snapped the Keys' winning streak at four games. 

More ...
Staff Reports
Houchins sparks ECU


GREENVILLE -- Zach Houchins belted his second home run of the season, while East Carolina University hurlers Tyler Bolton and Ryan Williams allowed one run in a 5-1 series win in game two of last Friday's diamond doubleheader against Middle Tennessee at Lewis Field inside Clark-LeClair Stadium.
The Pirates (24-16, 11-7), who picked up their fourth Conference USA series victory, dropped game one to the Blue Raiders (19-21, 9-9), 6-1 earlier in the day.

More ...
Staff Reports
Huge week looms for Central softball


ROCKY MOUNT -- Heading into the final two weeks of the regular season, Nash Central High School's softball campaign can still go in a variety of directions.
The Lady Bulldogs, with a 4-2 mark in the Big East Conference, are only one game behind Wilson Hunt in their quest to repeat as league champions.

More ...
GEOFF NEVILLE, Graphic Sportswriter
NC State drops close one versus Eagles


RALEIGH -- North Carolina State University's baseball team rallied with three runs in the bottom of the ninth to force extra innings, before Boston College escaped with a 9-7 win in 11 on Easter Sunday at Doak Field at Dail Park.
The Wolfpack (21-17, 7-14 ACC) stormed back from a 4-0 deficit to tie the game 4-4 heading into the fifth.
 Boston College (14-25, 5-16) took a 6-4 lead there, and added another in the eighth to make it 7-4.

More ...
Staff Reports
ALEX ON THE MARK
Nash Central High School No. 2 Singles standout Alex Whitehead returns a forehand as part of his team's Big East Conference home match Monday versus Wilson Hunt.
More ...
CHASE YA DOWN
A Wilson Fike player (right) gains the ball while being pursued by Northern Nash's. Natalie DePalma during Monday evening's Big East Conference girls soccer showdown on the Fike campus.
More ...
THE FOURTH HORSEMAN
Mo Alzer competed at No. 4 Singles for the Nash Central HS Bulldogs during Monday's home tennis match against conference rival Wilson Hunt.
More ...
THE TOP DOG
Jackson Willis has been a long-time standout at No. 1 Singles for the Nash Central High School boys tennis squad. The Bulldogs hosted Wilson Hunt on Monday in the regular season finale for both clubs.
More ...
JOSHUA GLENN PARRISH
Joshua Glenn Parrish, 25, passed away Sunday, April 13, 2014. He was born in Edgecombe County.   He was predeceased by a brother, Christopher Parrish; grandfather, Ed Joyner; grandmother, Katherine Joan Gray and great-grandmother, Myrtle Howell.
More ...
DAVID RANDALL WINSTEAD
David Randall Winstead passed away on Friday, April 18, 2014. A funeral service Monday, April 21, 2014 with a visitation to follow. Graveside services were held April 22.
More ...
FRED RAY AYERS
ROCKY MOUNT –– Fred Ray Ayers, 77, passed away Monday, April 21, 2014.  He was born November 15, 1936 in Nash County, son of the late Ruffin and Lessie Matthew Ayers.  He was also preceded in death by his brother Joe Ayers and Sister Angela Smith. 
More ...
GEORGE WASHINGTON WALKER
George Washington Walker, age 88, passed away Tuesday, April 15, 2014. Born in Halifax County on April 27, 1925, he was the son of the late Ernest Walker and Rhine Carter Walker. He was also preceded in death by his daughter, Rosa Mae Joyner and son, George Walker Jr.
More ...
RONALD DEAN METCALF JR.
Ronald "Dean" Metcalf, Jr., age 48, passed away  Sunday, April 20, 2014. Born in Elmira NY on January 26, 1966, he was the son of Ronald Dean Metcalf, Sr. and Catherine Garrahan Metcalf, both of Rocky Mount.
More ...