Subscribe/Access
Advertisements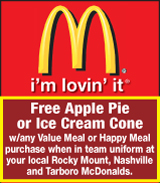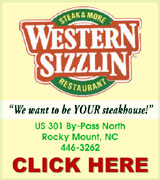 Sections
Member Options
Back
State lowers minimum proficiency level


Last month, the state board of education approved new achievement levels for all end of course (EOC) and end of grade (EOG) tests. Results will now include five scoring levels instead of four, Nash-Rocky Mount Schools (NRMS) assistant superintendent Robin May reported to the board at their work session last week.
The new Level 3 has been inserted between the old Level 2 and Level 3, enabling more students to earn proficiency status.

More ...
MICHELE A. CRUZ, GRAPHIC CORRESPONDENT
Providence chooses Nashville for new branch


A community bank plans to open its doors in Downtown Nashville in the coming weeks.
Providence Bank will open on May 1 at 241 W Washington Street. A ribbon cutting and grand opening celebration will be held on that same day.
This will be the fourth location for Providence Bank, which started in Rocky Mount in 2006. There are currently two locations in Rocky Mount and one in Tarboro.

More ...
AMANDA CLARK, GRAPHIC STAFF WRITER
WAITING FOR THE EASTER BUNNY!
Emma Bissette, 2, enjoyed Red Oak's Easter Egg Hunt at Ennis Park on Saturday, along with her seven-month old sister, Payton. The event also included photos with the Easter Bunny along with a bounce house. Nashville will hold its Easter festivities on Monday, April 21 with an Easter Egg Hunt at 9:30 a.m. at Glover Park followed by storytime at 10:30 a.m. at Cooley Library.
More ...
Town mulls adding splash pad at park


Nashville Town Manager Preston Mitchell told council members earlier this month that there was space at Glover Park to construct a splash pad in the future.
The splash pad was an idea discussed at the town's annual retreat earlier this year and has been on the town's list of goals and objectives for several years. The concept was the brainchild of former councilman Tommy Rogers but seemed far fetched due to cost restraints.

More ...
AMANDA CLARK, GRAPHIC STAFF WRITER
Middlesex pursues funds for sewer improvements


The Town of Middlesex is moving forward with pursuing grant funding to rehab and replace several of its sewer lift stations.
Towards the end of 2013, Middlesex Commissioners were given a report on the town's 11 lift station. The report gave bad news that most of the stations were in need of some sort of repairs. Three of the town's lift stations were in dire need of maintenance.

More ...
AMANDA CLARK, GRAPHIC STAFF WRITER
NUMC to host block party


A vision from a local youth pastor set in motion the idea for the Collins Street Block Party.
Nashville United Methodist Church is hosting the block party on Saturday, April 26 from 3 until 7 p.m.
The idea came from Youth Pastor Luke Whitehead.
Whitehead had a vision to raise money to purchase Bibles for children in Nash County that may not have one.

More ...
AMANDA CLARK, GRAPHIC STAFF WRITER
Red Oak Middle kids give back to community


Students at Red Oak Middle School have spent the school year focusing on giving back to the community.
The school has raised money for several organizations, including the Jimmy V. Foundation and Pasta for Pennies. Students have also donated stuff animals, coats and blankets to those in need.
Red Oak Middle School Principal Margaret Sharpe said students have really embraced the school's goal of giving back and went above and beyond her expectations.

More ...
AMANDA CLARK, GRAPHIC STAFF WRITER
NASHVILLE POLICE BRIEFS
INCIDENTS
A larceny was reported on 4/7/14 at 712 S Bass Drive in the parking lot
A maintaining a dwelling/place/vehicle with a controlled substance and possession of marijuana was reported on 4/8/14 at 803 Old Wilson Road
More ...
NASH COUNTY SHERIFF'S OFFICE REPORTS
A missing person was reported on 4/8/14 at 5948 Stott Street
A missing person was reported on 4/8/14 at 7079 NC Highway 301 North
A narcotics violation was reported on 4/8/14 on W Virginia Street
A narcotics violation was reported on 4/8/14 at Dollar General
More ...
Master Gardeners prepare for annual plant sale


Nash County Master Gardeners are hard at work preparing for the annual Master Gardener Plant Sale, which will be held on Saturday, April 26.
The plant sale has been the group's major fundraiser for many years, said Anne Pierce, chair of the plant sale.
Proceeds from the sale help fund upkeep and enhancement of the arboretum, which is located on the grounds of the Nash County Agriculture Center in Nashville.

More ...
AMANDA CLARK, GRAPHIC STAFF WRITER
RED OAK TIGERS GIVE BACK
Red Oak Middle School recently sponsored The Leukemia and Lymphoma Society Pasta for Pennies fundraiser, presented by Olive Garden.  During a three week period, Beta Club students collected spare change from classrooms each morning.  On two occasions Beta Club members and other student volunteers  worked the afternoon car line collecting money as part of the "Clean out Your Console for Cancer" part of the fundraiser.
More ...
Sheriff candidates visit community watch group: Gene Braswell


Gene Braswell spoke to the Park Avenue Community Watch in March. Braswell is running on the Democratic ticket in the May primary against Stanley Griffin.
Braswell grew up in Castalia. Upon graduating from Northern Nash High School in 1973 he joined the U.S. Airforce and served for 5 1/2 years.

More ...
JO ANNE COOPER, GRAPHIC PUBLISHER

Jared Johnson, a senior at Southern Nash High School, is pictured during the candle-lighting ceremony held April 1.
High School students inducted into National Technical Honor Society
The NRMPS Career Technical Education (CTE) department recently celebrated the accomplishments of seniors from Nash Central High School, Northern Nash High School, Rocky Mount High School and Southern Nash High School during the 2014 National Technical Honor Society induction held April 1 at the Nash Community College Brown Auditorium.
More ...
Cedar Grove Elementary announces honor students
Cedar Grove Elementary School has released its Distinguished Cedar Leaders and Honor Roll List for the fourth six weeks.
Kindergarten students named to the list include Kaelin Hill, Lynwood Harmon, Jr., Zoey Rose, Isabella Walton, Amber Varnell, Alexia Faison, Jabari Silver, Kayla Richardson, Jayden Morris and Kiawah Hill.
More ...
ENGAGED
Mohamed and Memrie Ibrahim of Rocky Mount announce the engagement of their daughter, Nadia Corrinne Ibrahim of Rocky Mount, to Kevin Charles Strickland of Nashville, the son of Charles and Joyce Strickland of Nashville. The wedding will take place June 21, 2014.
More ...
Special operation nets over 400 arrests
The United States Marshals Service joined the Rocky Mount Police Department in a special operation, which resulted in over 400 people being arrested.
Law enforcement officers from numerous agencies fanned out across the city of Rocky Mount and the surrounding areas of Nash and Edgecombe Counties over recent weeks as part of Operation Cerberus, with the goal of locating and apprehending subjects wanted for a variety of offenses.
More ...
Nash recognizes National Telecommunicators Week
Public safety agencies nationwide recognize the critical role played by public safety telecommunicators. These professionals are the true first "first responders" and one of the most critical contacts citizens have with emergency services. Every year, the second full week of April is dedicated to the men and women who serve as public safety telecommunicators. In 1992, Congress proclaimed it a national week of recognition.
More ...
Rocky Mount Railroad Museum to hold annual banquet and auction April 26
The Rocky Mount Railroad Museum will hold its second annual banquet and auction Saturday, April 26 at Hunter Hill Cafe, 501 Old Mill Road, Rocky Mount. Tickets are $25 for adults, $15 for children 12 and under.
This year's presenter, Doug Riddell, will "recall living in Rocky Mount, a town shaped by the railroad and explain why it is in a unique position to host a museum dedicated to railroaders."
More ...
Cedar Grove Elementary hosts Ronald McDonald
Several fifth-graders pose for a photo with Ronald McDonald on  Tuesday, March 25, when Cedar Grove Elementary hosted Ronald McDonald for a fun, interactive presentation entitled, "Go Active with Ronald McDonald!" Students were entertained and challenged by Ronald McDonald to get active doing whatever it is you like to do that involves moving.  He got the students up and moving and having fun at the same time.
More ...
Rocky Mount Rotary Club speaker
Rotarian President-Elect Ron Green, left, stands with Mayor David Combs, who spoke to the Rocky Mount Rotary Club on Monday April 7th at the DoubleTree hotel during their 1pm meeting.
More ...
PEACHTREE COMMUNITY NEWS


Sunday was Psalm Sunday- the beginning of Holy Week.  The weather could not have been more beautiful than it was on this special Sunday, as Peachtree folks gathered for worship.  
Sanctuary flowers were given by Brent Griffin in memory of Eric Vick, the son of Faye and Reggie Vick.  Eric died in Iraq in the service of his country on April 4, 2007.  His sacrifice is not forgotten.

More ...
BARBARA HARDISON
MOUNT ZION FWB CHURCH NEWS


Our choir sang "He Did it All For Me" for the call to worship. Pastor Ronnie welcomed everyone and prayed the prayer of invocation. Today being Palm Sunday, our music and message centered on that day. I was not able to attend again today, but I listened to a CD of the service. I still miss the fellowship and smiling faces. Hope to be back soon.
Hymns of worship were "At The Cross" and "The Old Rugged Cross."

More ...
ROSALENE BASS
BEULAH COMMUNITY NEWS


Flowers Sunday were placed in the church by Linda Fisher, Betty Ann Fisher and Nancy Booze in honor of their mother, Mrs. Dorothy Fisher who was celebrating her 85th birthday. Sunday afternoon they gave her a really nice party at the fellowship hall across the street. It was really nice. They had requested no gifts but instead brought pictures, cards and write-ups about Dorothy to honor her.

More ...
WILMA ENROUGHTY
RED OAK NEWS


Camp Mundo Vista is great fun!  Over 107 girls, mom, and staff from 9 churches and 2 associations participated in the 18th Annual North Roanoke Baptist Association GA Mother/Daughter Overnight Camp on April 11-12 at Camp Mundo Vista near Asheboro.  There were owls everywhere to remind campers of the theme, "Whooo...Me?"
Campers learned that God calls each of us to be on mission for him.

More ...
Suzy Pearce
UDC DISTRICT VIII MEETING
Bethel Heroes 636 members, of United Daughters of the Confederacy, attended the District VIII meeting, in Elm City.  Pictured (L-R) are:  Helen Sharpe, Margaret Sink, Dottie Barrett, Gary Riggs (Confederate Soldier Reenactor), Jeanette Starling Mcllwean, Margie Parker Brantley, and Edith Coggin Whitley.
More ...
Pesticide collection event is Thursday
The Nash County Agriculture Center will host a pesticide collection event on Thursday, April 17 from 10 a.m. until 2 p.m. in the parking lot.
Farmers, agribusiness and the general public are invited to bring old, unwanted or partially used pesticides for proper disposal.  Pesticides accepted include herbicides, insecticides, fungicides, rodenticides and plant growth regulators.
More ...

Winners in the first and second levels of the PianOlympics competition are pictured with their teachers.
Area youth earn honors at PianOlympics competition
ROCKY MOUNT — Local music students earned honors earlier this month when the Rocky Mount Piano Teachers Association held its annual PianOlympics competition March 15 at Church of the Shepherd.
This year's competition drew 101 piano students, representing 14 area teachers. Each student performed two memorized compositions and was evaluated in one of seven levels according to musical accomplishments.
More ...
Spring Break fun for kids, sanity for parents


For kids in the public and private schools in Nash and Wilson counties, this week is Spring Break. For many parents, this means trouble. Those who have trips to the beach planned, or some other type of vacation are set; others who have to make it to the summer months may not be prepared.
This, of course, is where, once again, where the Soapbox staff steps in and provides a valuable community service.

More ...
Mike Brantley
Reading a newspaper could solve a lot!


I've heard the comment, "People don't read newspapers anymore" quite a bit over the past few years.
It bothers me and not because newspapers is what I do for a living but more so because it makes me believe our world has become out of touch.
You hear a lot of the older generation complaining about our youth today. They don't do this and they don't do that.

More ...
Amanda Clark
Backward Glances


BUMPER CROP –– This photo was originally published in The Graphic on August 18, 1955. The photo was taken on the farm of R.P. Bass at Bass' Crossroads where workers were barning a bumper crop of tobacco.

More ...
A PICTORIAL LOOK INTO THE PAST
Nash County Animal Friends' Notebook


Don't "rescue" any animal unless you are prepared to provide vet care, love, socialization and a home until a forever home is found, one that you personally can find.  Remember too that you are responsible for the spay/neutering of all that  you rescue or you will just be contributing to the problem you thought you solved. Don't count on a Rescue to take them, because they are usually full, but at least be prepared to foster for them while they help.

More ...
Carol Vierela, NASH COUNTY ANIMAL FRIENDS

BALL CONTROL IS THE NAME OF THE GAME. Northern Nash's Macon Rollans (right) stretches to gain possession of the ball during the Lady Knights' road soccer victory last Thursday night against Louisburg High School in Franklin County.

TEN AND A WIN


LOUISBURG -- Northern Nash made it halfway home during last Thursday's non-league girls soccer matchup at Louisburg.
That wasn't a bad thing for the Lady Knights, who delivered 10 goals in the opening half to invoke the mercy rule as part of a 10-0 decision over the Lady Warriors at Joyner Park in Franklin County.

More ...
GEOFF NEVILLE, Graphic Sportswriter

ALL SMILES. Chad Haggerty and the Northern Nash Knights have been solid to date in the Big East Conference baseball standings.

Big week ahead for Northern


RED OAK -- Northern Nash is taking a brief respite from its Big East Conference baseball schedule this week -- but not from its rigorous schedule.
Instead, the Knights will use this week to refine their skills against some high-level competition at the annual Pitt County Easter Tournament.

More ...
GEOFF NEVILLE, Graphic Sportswriter

LOOSE BALL. Southern Nash second baseman Hannah Wood (second from right) tries to come up with a throw as Nash Central's Kelli Lewis slides during last Friday night's softball showdown.

Southern's Stock On The Rise


ROCKY MOUNT -- It's been a frustrating season of near-misses and close calls for the Southern Nash High School fast-pitch softball squad.
But the law of averages seems to be evening out for the Ladybirds following a pair of Big East Conference victories last week.

More ...
Staff Reports
Southern claims JV conquest


ROCKY MOUNT -- Southern Nash High School's junior varsity softball squad remained undefeated in Big East Conference action last Friday with a 14-6 road victory at Nash Central.
SN is now 4-3 overall and 4-0 in the Big East.
Hitting leaders for the Junior Ladybirds were as follows:

More ...
Staff Reports
NASH CO. PARKS SPRING UPDATE


NASH COUNTY -- Here are some early-season results from the Nash County Parks and Recreation Spring Youth Softball and Baseball Leagues:

More ...
Staff Reports

HERE'S THE PITCH. Rocky Mount Police Department Officer Lori Middleswarth delivers an offering toward home plate during her team's slow-pitch softball meeting with the Wounded Warriors last Saturday morning at Glover Park in Nashville.

Champs For A Cause


NASHVILLE -- As a long-time coach and Town of Nashville Recreation Director, Jim Glover understands the value of teaching life's lessons through athletics.
But even Glover was overwhelmed emotionally by last Saturday's appearance of the Wounder Warrior Amputee Softball Team at Glove Park.

More ...
Staff Reports
Mudcats win on the road versus P-Nats


WOODBRIDGE, VA. -- After things looked bleak on the outset, the Carolina Mudcats responded with a resounding 12-2 win over the Potomac Nationals on Sunday at Pfitzner Stadium thanks to a great spot start from D.J. Brown and a resurgent offense.
The Class A Carolina League baseball game veered off its expected course from the first inning as both bullpens were called into action before the third frame.

More ...
Staff Reports
Duke takes baseball series over NC State


DURHAM -- North Carolina State University baseball fell 11-10 in walk-off fashion to drop Sunday's Atlantic Coast Conference baseball series finale against Duke at the Durham Bulls Athletic Park.
The Pack (20-15, 6-12 ACC) built a 10-4 lead by the middle of the eighth, but Duke (20-17, 9-9) roared back with seven runs in the eighth and ninth to claim the win.

More ...
Staff Reports
Pirates top Monarchs in extras


NORFOLK, VA. -- East Carolina University scored five runs in the top of the 12th inning, claiming a 12-7 baseball win over Old Dominion on Sunday afternoon at the Bud Metheny Complex.
With the win, the Pirates improved to 21-15 overall and 9-6 in Conference USA action, while the Monarchs drop to 22-15 and 10-8.

More ...
Staff Reports
NCWC Nabs Series


ROCKY MOUNT -- North Carolina Wesleyan College 's baseball team edged Maryville College by a 2-1 score last Saturday afternoon at Five County Stadium in Zebulon in the rubber match of their USA South Conference Spring Sports Festival series.
The two squads had previously split a pair of games on Thursday and Friday at Wilson's historic Fleming Stadium.

More ...
Staff Reports
BEAL WITH THE BALL
Northern Nash's Rebekah Beal (right) gains possession of the ball during last Thursday evening's road soccer victory at Louisburg High School in Franklin County.
More ...
EYEING A HIT
Retired Rocky Mount Police Department Lieutenant Tim Mehus gets ready to swing at this pitch during last Saturday's softball meeting against the Wounded Warriors at Glover Park.
More ...
READY TO CONNECT
Bobby McCardle of the Wounded Warriors Amputee Team prepares to blast this pitch as part of last Saturday's slow-pitch softball festivities at Glover Park in Nashville. The Wounded Warriors travel across the country playing benefit games.
More ...
STRICKLAND SHINES AT SHORT
Nash Central's Brittani Strickland (right) makes a play at shortstop during last Friday night's home softball matchup with the Southern Nash Ladybirds.
More ...
TIMES TWO
Northern Nash's Katie Belton dribbles upfield during last Thursday evening's road triumph at Louisburg.
More ...
WOOD WITH THE WIN
Southern Nash's Olivia Lamm was the mound victor last Friday night as the Ladybirds secured a win at Nash Central.
More ...
JEAN DENTON MEDLIN
Jean Denton Medlin, age 85, passed away Saturday, April 12, 2014. Born in Wake County on March 28, 1929, she was the daughter of the late Simon Allen Denton and Edna Cone Denton. She is also preceded in death by her son Mike Leonard: and daughter-in-law, Debbie Leonard.
More ...
BERNICE HOWARD COOPER
Bernice Howard Cooper passed away Wednesday, April 9, 2014. She was born on October 29, 1917, the daughter of the late Ernie and Eunice Howard.
More ...
EDDIE C. "BIGGEON" MARSH
NASHVILLE - Funeral services for Eddie C. Biggeon Marsh, 86, who died on Wednesday, April 9, 2014, were observed Sunday, April 13, at Castalia Baptist Church with Rev. Victor Fenner officiating. Burial followed in Oakland Cemetery.
More ...
EDNA GAY WOOD
Edna Gay Wood, 98, passed away April 13, 2014. She was born April 11, 1916 in Edgecombe County to the late Luther Albert Gay Sr. and Lizzie Lancaster Gay. She was also preceded in death by her husband Willie (Buster) Wood, brother Luther Albert Gay Jr. and sister Elizabeth Gay Adams.
More ...
KENNETH RAY PATTERSON, SR.
Kenneth Ray Patterson, Sr., 68, passed away Tuesday, April 8, 2014. He was born July 24, 1945 in Nash County to the late Herbert and Virginia Lee Patterson.
More ...
LUCILLE JOYNER BONE
Lucille Joyner Bone, 95, of Sandy Cross passed away Sunday, April 13, 2014. She was born in Nash County to the late Bauzy W. Joyner and Mary Lizzie Hendricks.  In addition to her parents she was predeceased by her husband  Hubert C. Bone; sons William "Billy" Bone, Dale C. Bone; brothers, Howard Joyner, Ambler "Jake" Joyner and Jasper L. Joyner.
More ...
REGAN LEONI BATTLE
ROCKY MOUNT –– Regan Leoni Battle, 6 months, of Rocky Mount, North Carolina, died on Sunday, April 12, 2014.
More ...
STEPHEN BRADLEY ''BRAD'' JOYNER
Stephen Bradley ''Brad'' Joyner, 43, passed away April 9, 2014. He was born November 28, 1970 in Rocky Mount. He was preceded in death by his mother, Connie Neal Moore and grandparents Mr. and Mrs. James Neal and Vertice L. Joyner and Isaac Joyner, Sr.
More ...
STEVE RONALD KEAR
Steve Ronald Kear, 68, passed away Friday, April 11, 2014.  He was born in Knoxville, Tennessee February 19, 1946 to the late Ray O. and Edith Jenkins Kear. 
More ...
WILLIAM ANDREW VARNELL ("MR. V.")
William Andrew Varnell ("Mr. V."), 93, passed away Tuesday, April 8, 2014.  He was born in Wilson County to Willie and Florence Wadkins Varnell.  Besides his parents, he was predeceased by his first wife, Louvenia Morgan Varnell, brothers David Benjamin Varnell, Virgil Varnell, James Varnell (all from Rocky Mount area), and Johnnie Varnell (Soap Lake, WA), sister, Alma Exum Alley (Hampton, VA). 
More ...
ZRIPHA J. WARD
NASHVILLE - Funeral services for Ziripha J. Ward, 90, who died Saturday, April 12, 2014, will take place at 1 p.m.,  Friday, April 18 at Union Hill Baptist Church. Burial will follow in Oakland Cemetery with Rev. Thomas McCullers officiating.
More ...