Subscribe/Access
Advertisements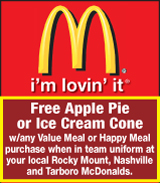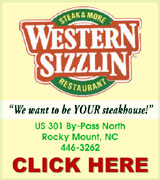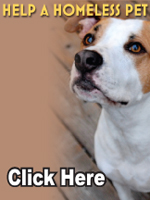 Sections
Member Options
Back
Valentine to speak at chamber event


Nashville's Chamber of Commerce will announce its 2014 Distinguished Citizen Award recipient next Thursday night at Nash Arts.
The annual Distinguished Citizen event is scheduled for March 6 at 7:00 p.m. It is free and open to the public. Refreshments will be served at 7 p.m. prior to the ceremony which will begin at 7:30 p.m.
Elaine Corbett, Chamber President, said the Distinguished Citizen event is one the Chamber always looks forward to.

More ...
AMANDA CLARK, GRAPHIC STAFF WRITER
Nashville man charged with sex crimes


A Nashville man is facing multiple counts of indecent liberties with a child and statutory sexual offense in Nash and Carteret Counties.
The Nash County Sheriff's Office arrested 69-year-old James Preston Peele, of Mt. Zion Church Road, Nashville on February 17 after being contacted last month in reference to a sexual assault.

More ...
AMANDA CLARK, GRAPHIC STAFF WRITER

Singleton Langley

Civil War Soldier honored


Descendants of Singleton Langley and members of the community gathered at Sandy Cross United Methodist Church Saturday morning to pay homage to a Civil War soldier who was also one of the founding fathers of the church.
Singleton Langley, along with G.D. Langley, Redmond Wells, and Blueford Williams are noted as the founders of Sandy Cross United Methodist Church. Singleton, a Confederate  soldier, is buried in the church cemetery and was honored during a memorial service Saturday morning at which his great-great-great-grandson, Clay Batchelor, unveiled a stone commemorating Langley's service during the Civil War.

More ...
JO ANNE COOPER, GRAPHIC PUBLISHER

FILING FOR OFFICE –– Tripp Finch of Spring Hope, a Republican, files to run for the office of Nash County Clerk of Court. (Graphic photo by Jo Anne Cooper)

Spring Hope man files for Clerk of Court


A Spring Hope man has filed to run for the Nash County Clerk of Court seat currently held by Rachel Joyner.
Tripp Finch filed on Monday morning at the Nash County Board of Elections.
Finch, a Republican, said he decided to run because he felt like it was time for his generation to take responsibility.
"I am running because I think it is time that my generation step up and start taking responsibility for leadership in this county," Finch said.

More ...
AMANDA CLARK, GRAPHIC STAFF WRITER
Nash County holds budget workshop


Nash County Commissioners met on Monday to hear budget requests from each department as part of the board's annual budget retreat.
The meeting was the first step in Nash County Manager Zee Lamb putting together the county's budget. Commissioners heard requests from Nash Community College and Nash-Rocky Mount Schools last Monday.

More ...
AMANDA CLARK, GRAPHIC STAFF WRITER
NPD Spotlight
The Nashville Graphic is introducing officers of the Nashville Police Department each month as part of an "Officer Spotlight" series.  The articles are featured the last Wednesday of each month  to help Nashville residents get to know the officers who protect and serve their communities.
More ...
Nash Central High teacher earns state award


A Nash County educator was recently recognized for her efforts teaching conservation.
Rachel Owens, a teacher at Nash Central High School was named the 2013 Conservation Teacher of the Year by the North Carolina Association of Soil and Water Conservation District.
The Teacher of the Year award recognizes the conservation education efforts of North Carolina teachers.

More ...
AMANDA CLARK, GRAPHIC STAFF WRITER
NCHS grad seeks community's help in creating Bulldog Scholarship


Kevin Jones has always dreamed of being a millionaire and helping others pay for college.
The Nash Central High grad said he realized after college that he may not have millions to give away but that he could still do something to help.
"I told myself that once I got "settled and established" I would start a scholarship to fund a kids entire tuition by 2017," Jones said.

More ...
AMANDA CLARK, GRAPHIC STAFF WRITER
SCOUTS VISIT NEWSPAPER
Tiger Cub Scouts Pack 76 from Nashville  visited The Nashville Graphic newspaper Tuesday night, February 18, 2014. Members pictured, front row, left to right, Jacob Gibson, Dominick Robbins, Jashine Silver and Josh Measamer. Middle row, left to right, are: Cole Jones, Larry Boyd, Sheldon Richardson and Dominick Cockrell. Back row, left to right, are Ethan Harrell and Mason Sullivan.
More ...
Junior Guild to hold Bargain Sale
The Junior Guild of Rocky Mount will hold its 11th annual Bargain Sale on Saturday, March 1, at the Rocky Mount Farmer's Market from 7 a.m. to 12 noon.
For a $2 admission fee, citizens can shop a warehouse full of gently-used items donated by Junior Guild members and friends of the Guild, including children's toys, furniture, electronics and appliances, holiday décor, office supplies, home accessories, and much more.
More ...
NASHVILLE POLICE BRIEFS
INCIDENTS
A larceny was reported on 2/17/14 at Wal-Mart
A possession of a controlled substance was reported on 2/17/14 on S First Street
A shooting into an occupied vehicle, resist/obstruct/delay and discharging a firearm in the city limits was reported on 2/18/14 on Brooklyn Boulevard
More ...
NASH COUNTY SHERIFF'S OFFICE REPORTS
A larceny of a stove was reported on 2/17/14 at 4814 Joyner Road
A larceny from an outbuilding was reported on 2/17/14 at 1396 Bryantown Road
A seizure was reported on 2/18/14 at 222 W Washington Street
A narcotics violation was reported on 2/18/14 at Benvenue Road and US 64
More ...
MILITARY NEWS
Navy Seaman Recruit Mercedes M. Vargas, daughter of Miguel Vargas of Middlesex,  and stepdaughter of Ernestina Reyes of Middlesex, recently completed U.S. Navy basic training at Recruit Training Command, Great Lakes, Ill.
During the eight-week program, Vargas completed a variety of training which included classroom study and practical instruction on naval customs, first aid, firefighting, water safety and survival, and shipboard and aircraft safety. An emphasis was also placed on physical fitness.
More ...
Tar River Academy students graduate
The turning of the tassel has a special meaning for all high school students, but for the 12 graduates at Tar River Academy, the recent ceremony was more than the traditional transition into adulthood; it was a moment of exhilaration and joy, after finally earning their high school diploma, an accomplishment that may have at one time seemed impossible.
More ...
Beekeeping course offered
The Coastal Plains Beekeeping Chapter in conjunction with the North Carolina State Beekeepers Association and NC Cooperative Extension is offering the beginning bee keeping short course every Tuesday night in March from 7-9 p.m. at Edgecombe County Audiotorium, 201 Saint Andrew Street, Tarboro. The entrance is at East Granville Street.
These courses are designed for anyone interested in honeybees and beekeeping, as well as a refresher for the most advanced beekeeper.
More ...
ENGAGED
Mr. and Mrs. Jeffrey Cummings of Sanford announce the engagement of their daughter, Kathryn Brooke Cummings to Patrick Roy Snipes II, the son of Mrs. Jill Ann Snipes of Bailey and Mr. Patrick Roy Snipes of Murfreesboro, Tenn. The wedding will take place June 7, 2014 at Jonesboro Heights Baptist Church, Sanford.
More ...
Three employees honored as "Health Care Heroes"
Three Nash Health Care employees—Krista Mosley, Robin Horne and Tracey Dickerson-Taylor--- were recently named Health Care Heroes, an honor given to those who demonstrate exceptional dedication the community. These three employees saved lives by utilizing their medical skills in response to emergencies within their communities.
More ...
EDGECOMBE-NASH RETIRED SCHOOL PERSONNEL


The Edgecombe-Nash RSP met in Braswell Memorial Library's Warner Room for its 10:30 A. M., February 11, 2014 meeting.
After President Mary Williams greeted everyone, Rev. Raymond Privott gave the devotion on love.  Member Cecil Long introduced his son, Steven Long, a graduate of Tarboro High School, University of North Carolina Business School, and Georgetown University Law School.

More ...
DEE LONG
Donations
The Nashville Lions Club recently donated scarves, hats and mittens to Cedar Grove Elementary School. Ladies of the Lions Club, with help from the Nash County Senior Center, made the scarves, hats and mittens. Last year the club gave to Nashville Elementary School and this year, chose Cedar Grove because Lion Club Member James McBride served as the principal of the school for many years and wanted to give back to his former school.
More ...
RED OAK NEWS


Several from Red Oak Baptist Church attended the Pregnancy Care Center's Celebrate Life Banquet on Thursday, February 20 at Englewood Baptist Church.
Red Oak Baptist Church held a Groundbreaking Ceremony for the new Family Life Center on Sunday, February 23.

More ...
Suzy Pearce
MOUNT ZION FWB CHURCH NEWS


Good morning to my readers. I trust my article informs you and gives you spiritual insight from our pastor's message. As you learn about the needs of our church family, we ask that you pray for us in our health problems, other struggles and our spiritual growth.

More ...
ROSALENE BASS
BEULAH COMMUNITY NEWS


Sunday school at Beulah Church of Christ began at 9:45. This was followed by church services at 10:45. Welcome and announcements were given by our minister, Daniel West. We had a call to worship by singing "Glory to His Name" and a praise song, "Are You Washed in the Blood?"

More ...
WILMA ENROUGHTY
Sometimes we just need to make a volcano


Many things have changed over the years in the education system.
Computers, iPads, Internet, SmartBoards — all kinds of new technology has been introduced. Subjects have changed and evolved, some curriculum has been written and should be recycled (think: Common Core).
But one thing has survived — good old "projects."

More ...
Mike Brantley
Nash County department heads should commended


I spent my Monday with Nash County's Board of Commissioners as they met to hear from each department head and to begin talk on the direction they'd like to see Manager Zee Lamb go in for the upcoming budget.
The meeting lasted all day long. It wasn't exactly what I'd call a day of fun but it was educational.
Commissioners heard presentations from each department head, which included their requests for the upcoming budget.

More ...
Amanda Clark
Please come out to support a special citizen!


Nashville's Chamber of Commerce will host its annual Distinguished Citizen Award ceremony and reception on March 6 at Nash Arts in downtown Nashville. This is one of my favorite events in town. For more than twenty-two years this event has offered us an opportunity to acknowledge and thank the people who have worked hard to make Nashville such a great town.

More ...
Jo Anne Cooper
Still hoping to find our "Maggie"


Dear Editor:
I am hoping that you do not tire of my letters asking for the return of our beloved Maggie dog who was lost in May when my husband became ill while in Nashville.

More ...
Letters to the Editor:
Backward Glances


WINNING TEAM–– This photo of the Falcons of Nash Central High School was published in The Graphic on May 27, 1965. The team won the Group II Track and Field Meet in Durham. They compiled 47 points compared to 33 points for Governor Moorehead High, the runner-up team.

More ...
A PICTORIAL LOOK INTO THE PAST

INTENSE ACTION. Nash Central's Kayla Mitchell (right) drives during last Wednesday's Tri-County Conference Tournament girls title matchup.

THE PERFECT ENDING


NASHVILLE - One final, familiar hurdler stood in the way of Nash Central Middle School and the opportunity to claim the top prize at the Tri-County Conference Girls Basketball Tournament Championship.
Central, coached by Minnie White, had defeated Red Oak twice as part of the Lady Trojans' undefeated run through the regular season of action.

More ...
Staff Reports

ON A MISSION. Northern Nash's CeCe Harrison (with ball) dribbles out of traffic for the Lady Knights during last Friday night's Big East Conference Tournament Championship Game.

Northern Nash nabs girls tourney crown


ROCKY MOUNT -- Given a second chance, the Northern Nash Lady Knights weren't about to squander the opportunity in the championship game of the Big East Conference Girls Basketball Tournament.
Last season, NNHS entered the tourney as the No. 1 seed, but fell to Rocky Mount in an overtime heartbreaker.
The rematch came last Friday in this year's tourney finale, which was held at the RMHS Gymnasium.

More ...
Staff Reports
Northern will open Thursday


RED OAK -- Northern Nash High School will kick off its 2014 boys soccer schedule on Feb. 27 at home against the Bunn Ladycats.
NN's complete ledger is as follows, with home matches listed in CAPS:

More ...
Staff Reports
Pirates swept vs. top-ranked Cavaliers


CHARLOTTESVILLE, VA. -- Top-ranked Virginia scored six two-out runs to complete a non-conference baseball sweep over East Carolina University, 6-2, Sunday afternoon at Davenport Field on the UVA campus.
Virginia (6-1) jumped out to a 4-0 lead in the bottom of the third thanks to five hits, three stolen bases and a walk.
With two outs, Joe McCarthy walked then stole second base to move into scoring position.

More ...
Staff Reports
SUCCESS AT THE STATES
STATE AWARD. Dillon Joyner, a freshman at Northern Nash High School, placed second in the North Carolina Junior High State Wrestling Tournament, which was held Feb. 8 in Winston-Salem.
More ...
Baseball Bishops drop series


ROCKY MOUNT -- The North Carolina Wesleyan College Battling Bishop baseball team opened up USA South play at Bauer Field last weekend with a three-game series versus Huntingdon College.
The Hawks took all three games in the set, turning in 8-4, 4-3 and 9-4 wins on Saturday, Sunday and Monday, respectively.

More ...
Staff Reports
Senior Day held at Wesleyan


ROCKY MOUNT -- North Carolina Wesleyan College's men's basketball team celebrated its 2014 Senior Day on Sunday afternoon with a 72-58 win over Ferrum College in Everett Gymnasium.
The Bishops, who closed out the first half with a 16-0 run to take control of the game, honored four-year letterwinners Josh Morrison and David Gurganus prior to tip-off.

More ...
Staff Reports
SKY HOOK
Red Oak Middle School's Shamiya Mercer (right) scores in the paint for the Tigers during last Wednesday's loss to Nash Central in the Tri-County Conference Tournament.
More ...
TUCKER'S TIME
Northern Nash's Kayla Tucker delivers a pass to a teammate during her club's victory last Friday over Rocky Mount in the title game of the Big East Conference Girls Tourney.
More ...
VALUABLE EXPERIENCE
Northern Nash's Alexus Hill was selected as the Big East Conference Girls Basketball Tournament Most Valuable Player following the Lady Knights' title victory last Friday night.
More ...
Nash Arts welcomes Curtis Wright


Renee Davis is hoping for a full house to welcome singer-songwriter Curtis Wright to Nash Arts on Saturday, March 8.
Davis, a member of the Nash Arts Board, and her husband David, were instrumental in getting Wright to perform at Nash Arts. The couple were in Jacksonville where Wright was performing a show.
"I just asked him if he'd be interested in coming to Nash Arts," Davis said. "He was gracious enough to say, "I'll come."

More ...
AMANDA CLARK, GRAPHIC STAFF WRITER
AUDREY WINSTEAD JOYNER
Audrey Winstead Joyner, 90, passed away Thursday, February 20, 2014. She was born in Nash County on June 7, 1923 to the late Ruffin and Emily Joyner Winstead.  Audrey was also preceded in death by her husband, James Earl Joyner; brother, Cecil Winstead; sisters, Virginia Bass, Edith Pate, Ida Ruth Medlin, Olivia Flora, and Maxine Deans; and a grandson, Keith Barnes.
More ...
BOBBIE EARL DAVIS
NEWARK, NEW JERSEY –- Bobbie Earl Davis, 75, of Newark, New Jersey and formerly of Nash County, passed away Sunday, February 16, 2014.
More ...
CLEO RAND
Cleo Rand of East Orange, New Jersey, formally of Nash County, passed away on Thursday, February 20, 2014 at the age of 92.
More ...
EDDIE CHERRY
ROCKY MOUNT –– Eddie Cherry, Jr., 80, of Rocky Mount, passed away Thursday, February 20, 2014 in Rocky Mount.
More ...
ELLIS "PLUTY" DAVIS
ROCKY MOUNT –– Ellis "Pluty" Davis, 68, of Rocky Mount, passed away on Friday, February 14, 2014 at Vidant Medical Center in Greenville.
More ...
ELNER J. DILDY
Elner J. Dildy, age 75, passed away at home on February 23, 2014. Born in Johnston County on August 11, 1938, she was the daughter of the late William Franklin Jones and Nettie Worley Jones. Mrs. Dildy was predeceased by her husband John B. Dildy; plus three brothers and three sisters.
More ...
LOUVENIA HENDRICKS LYNCH
ROCKY MOUNT –– Louvenia Hendricks Lynch, 88, of Rocky Mount, passed away on Monday, February 17, 2014 at Kindred Healthcare in Rocky Mount.
More ...
MARGERENE DEANS LAMM
Margerene Deans Lamm, 90, passed away  on Saturday, February 22, 2014. She was born in Nash County, on November 17, 1923 to the late Sam and Ora Vester Deans. In addition to her parents, she was preceded in death by her  husband, Onnie Lamm; and a sister, Jean Deans Winstead.
More ...
MATTIE SHEARIN WHITLEY
Mattie Shearin Whitley passed away Friday, February 21, 2014. She was born on September 14, 1932 at home in the Aventon Community to Herman J. Shearin and Nancy T. Shearin. She was preceded in death by her  husband Charles Henry Whitley, Sr. and a great grandson, Ayden Brooks Jones.
More ...
MICHAEL RAY THOMAS
WHITAKERS - Funeral services for Michael Ray Thomas, 55, who died on Thursday, Feb. 20, 2014, will take place Thursday, February 27, at 2 p.m. at Social Union Baptist Church. Burial will follow in the Hilliardston Cemetery.
More ...
MINNIE JEAN MORGAN STRUM
Jean Strum, passed away Tuesday, February 18, 2014. She was born in Nash County to the late J.W. Bass and Captolia Morgan. In addition to her parents, she was predeceased by her son, Mark Strum.
More ...
PAULINE CARPENTER BISSETTE
Pauline Carpenter Bissette, 87, passed away February 18, 2014.  She was born in Nash County September 10, 1926 to the late Paul Jacob and Mattie Jackson Turner.  In addition to her parents, Mrs. Bissette was preceded in death  by her first husband, Joseph David Carpenter; her late husband, Elmer Bissette; son, Ronald Wayne Carpenter; brother, George Melton; and sister, Mae Grubb.
More ...
ROBERT "BOB" EDWIN FUNKHOUSER
Nashville –– Robert "Bob" Edwin Funkhouser, 69, passed away suddenly on Friday, February 21, 2014. Bob was born in Ramsey County, MN to the late David and Lucille Hoffman Funkhouser.
More ...
RUDOLPH ALLEN
ROCKY MOUNT –– Rudolph Allen, 72, of Rocky Mount, passed away on Wednesday, February 19, 2014 in Rocky Mount.
More ...
SAMUEL JOSEPH DRAKE
Samuel Joseph Drake, 61, passed away Saturday, February 22, 2014. Sammy was born in Nash County to the late William Joseph and Elaine Manning Drake.
More ...
THOMAS OUTLAW, JR.
NASHVILLE –– Thomas Outlaw, Jr., 68, passed away Sunday, February, 23, 2014.  He was born January 14, 1946 in Nash County to the late Thomas and Mavis Gay Outlaw.
More ...
TIMOTHY LEE HARDY
Timothy Lee Hardy, 64, passed away Thursday, February 20, 2014. He was born April 27, 1949 to the late Leo Gleason Hardy and Vivian Raby Marks.
More ...
WILLIAM ROBERT EVERETTE
William Robert Everette, 91, passed away Tuesday, February 18, 2014. He was born July 11, 1922 in Martin County, NC to the late Joseph Henry and Dora James Henry. In addition to his parents, he was preceded in death by his wife, Annie Leigh Worrell Everette and daughter, Brenda Diane Everette West.
More ...