Subscribe/Access
Advertisements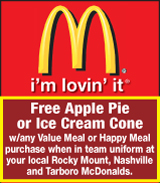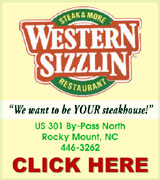 Sections
Member Options
Back
Write-in lands seat on Castalia board


Joyce Johnson will be sworn in next month as the newest board member for the Town of Castalia.
Johnson's name was pulled out of a hat  on Monday morning at the Nash County Board of Elections.
Johnson tied with candidate Debbie Moore Rodriguez for the second available seat on the Castalia Board during the November 5 elections. Johnson's 18 votes were all write-in votes, as Johnson did not file to run for the seat.

More ...
AMANDA CLARK, GRAPHIC STAFF WRITER
Downtown Open House is Nov. 30th


Local merchants in Downtown Nashville are encouraging shoppers to participate in Small Business Saturday, as Nashville's Chamber of Commerce will host an Open House on Saturday, November 30 from 10 a.m. until 4 p.m.
Several businesses are participating in the Open House event, including Jody's of Nashville, Madelyn's Flower Shop, Southern Swank Boutique, Tripp Furniture, The Nashville Graphic and the Nashville Exchange.

More ...
AMANDA CLARK, GRAPHIC STAFF WRITER
HERITAGE DAYS
Nash-Rocky Mount Schools classrooms visit the Farmers Market taking part in Nash County Heritage Days. Pictured above, Kasadi Richardson, a Swift Creek Elementary Student, holds a baby chick.
More ...
Brantley closes studio


A longtime photography business in Nashville will close its doors at the end of the year, leaving behind a historic building in Downtown Nashville.
Brantley's Studio moved into the former Valentine Fuller Antique building on Washington Street in 2011. Prior to that, the business had been in Nashville since the late 70s.

More ...
AMANDA CLARK, GRAPHIC STAFF WRITER
Dems host "Take Back Our State" event


The NC Legislative Black, Senate, and Democratic Caucuses hosted a Town Hall Meeting in downtown Rocky Mount last week in order to discuss strategies for "Taking Back Our State" from Republican rule. State Senators Angela Bryant and Don Davis, as well as NC Representatives Jean Farmer-Butterfield, Bobbie Richardson, and Joe Tolson were among those who spoke at the event, which was held on Thursday, November 14 at the Four Seasons Restaurant in Rocky Mount.

More ...
AMELIA HARPER, GRAPHIC CORRESPONDENT

Pictured above, the family of Warren "Sneak" Lewis were all presented replicas of the sign that will be on the renamed bridge in Middlesex.

Bridge named for "Sneak" Lewis


A Middlesex bridge will now remind passers-by of the sacrifice law enforcement officers make in the line of duty.
The bridge was recently renamed the Inv. Warren B. Lewis, III bridge and a dedication was held last Tuesday in the Nash County Board of Commissioners room. The room was full of family, friends, and fellow law enforcement officers.

More ...
AMANDA CLARK, GRAPHIC STAFF WRITER
Castalia woman turns 103


Family and friends surprised Avarata Thomas on Saturday by throwing a party in honor of her 103rd birthday.
Prior to Saturday, Thomas, of Castalia, said she knew something was up.
"When they do things, somehow I already know it," she said.
Nonetheless, Thomas was happy to celebrate another year.
Thomas was born on November 27, 1910 in Nash County. She was one of 11 children.

More ...
AMANDA CLARK, GRAPHIC STAFF WRITER
NASH SHERIFF'S OFFICE REPORTS
A domestic trespassing/exparte violation was reported on 11/8/13 on Red Oak Boulevard
A larceny of a dirt bike and rims was reported on 11/8/13 at 12593 Talon Drive
A breaking, entering and larceny of a residence was reported on 11/9/13 at 2545 Tom George Road
An assault was reported on 11/9/13 at 4883 Oakwood Drive
More ...
NASHVILLE POLICE BRIEFS
INCIDENTS
A credit card/atm fraud was reported on 11/11/13 at Wal-Mart, 1205 Eastern Avenue
A damage to property (vandalism) was reported on 11/16/13 at 201 S. Fort Street
A larceny was reported on 11/16/13 at 700 Bass Drive
A larceny was reported on 11/16/13 at Wal-Mart, 1205 Eastern Avenue
More ...

Pictured above are owners Lucy Finch and Bridget Tyson with Nashville Mayor Donald Street.

Nashville Chamber hosts ribbon cutting for LBJ


Nashville's Chamber of Commerce held a ribbon cutting on Friday morning to celebrate the completion of LBJ Chevrolet's renovated facility.
The renovations are part of a nationwide effort by Chevrolet to create a consistent image of its dealers. Renovations include a revamping of the showroom area as well as the exterior of the building.

More ...
AMANDA CLARK, GRAPHIC STAFF WRITER
Middlesex library now online with new system


The Middlesex Library is now online.
Library Director and Middlesex Commissioner Cherrye Davis reported last Monday night that the library was online with a new computer system Braswell Memorial Library had set up.
The new system includes a website for the library, www.middlesexlibrary.org, where patrons can access the library's catalog.

More ...
AMANDA CLARK, GRAPHIC STAFF WRITER
Driver injured in accident on Hwy 58, Nashville
A Rocky Mount woman was injured on Sunday afternoon after her vehicle ran off the road and overturned on Highway 58, just outside of Nashville.
According to the Highway Patrol, 72-year-old Idalene May Taylor was traveling north on Highway 58, just north of Taylor's Store Road, when she ran off the road to the right and overcorrected, causing the vehicle to cross the center line  and run off the road to the left, where the vehicle overturned.
More ...
BIKE RODEO
Nashville's Police Department hosted a Bike Rodeo on Saturday in the Nashville United Methodist Church parking lot. The department gave away helmets, courtesy of Erie Insurance. Pictured above, Officer Tiara Joyner helps Matthew Joyner, 3, with the obstacle course.
More ...
BIRTH ANNOUNCEMENT
Clifton Maddison Rabil and Alicia Faye Rabil of River Falls, WI,  announce the birth of a son, Giles Van Buren Rabil, born Nov. 13, 2013, at Hudson Hospital and Clinics. He weighed four pounds, three ounces and was 18 1/2 inches long. 
Maternal grandparents are Danielle and Fred Phelps of Burnsville, MN.
Paternal grandparents are Helen Rabil of Nashville and the late Bob Rabil.
More ...
Lights of Love project deadline is Friday
For more than nine years, the Nash Health Care Volunteer Auxiliary has continued the   popular tradition of the "Lights of Love" project, and they hope 2013 will be the biggest and brightest year ever. The deadline for purchasing a light is Nov. 22. Time is running out to purchase a light in honor/memory of a loved one. 
More ...
MILITARY NEWS
Benjamin D. Lancaster has been promoted to the rank of sergeant in the U.S. Army.
Lancaster is a behavioral health specialist assigned to the General Leonard Wood Army Community Hospital at Fort Leonard Wood, Mo. The new sergeant has served in the military for two years.
He is the son of James Lancaster, of Rocky Mount, and Susan Lancaster, of Nashville.
More ...
RED CROSS NEWS
A blood drive will be held Friday, November 29 from 12:30 until 4:30 p.m. at Golden East Crossing Mall, 1100 North Wesleyan Blvd, Rocky Mount.
More ...
Edwards, Polner wed
Jennifer Dawn Edwards and Scott Jeffrey Polner were married Saturday, Nov. 2, 2013 at Fort Fisher State Recreation Area, Kure Beach. The officiating minister for the 3 p.m. beachfront ceremony was the Rev. Penelope Morningstar of Wilmington.
The bride is the daughter of Mr. and Mrs. Robert W. (Billy) Edwards of Spring Hope.
More ...
Cary, Fincher marry
Marilyn Cary and Daniel Fincher were united in marriage Saturday, October 19, 2013 at the Griffin Farm in Whitakers. The 4:30 p.m. outdoor ceremony was officiated by Pastor John Hudson.
The bride is the daughter of Roger and Wanda Cary of Nashville.
The groom's parents are Floyd Fincher of Elm City and the late Cathy Fincher.
More ...
Local schools celebrate "Heritage Days", pics 1
GRITS –– Linda Tippette (at left) helps Cannon Puckett (at right) sift the grits out of corn that has been shucked at the Grist Mill Station on Friday during Heritage Days. Puckett is a student at Nashville Elementary School.
More ...
Local schools celebrate "Heritage Days", pics 2
HOMEMADE BUTTER –– Denise Hill (at left) offers Ashley Stokes, of Spring Hope Elementary, a pretzel with homemade butter on it, after Stokes learned about butter making at one of several stations as part of Heritage Days.
More ...
4-H CONFERENCE
Elias Moore and John Wind from Nash County attended 4-H State Council Conference November 16-17 in Raleigh. The delegation joined more than 260 youth and adults representing 61 counties.  While at the conference, delegates had the chance to improve their leadership skills, participate in interactive workshops and visit the campus of North Carolina State University.
More ...
VETERANS DAY
Rocky Mount City Councilman, W. B. Bullock, welcomes everyone at Rocky Mount Academy's Annual Veterans Day Ceremony held on Monday, November 11. Those Veterans in attendance were introduced with mention of their branch of the armed services. Dr. Casey Wells, current RMA Faculty member and Veteran of the U. S. Army, was the special speaker.
More ...
SCOUTS
Corporal Bryant from Nash County Sheriff Office visits with Girl Scout Troop 530 and Cub Scout Pack 16 to talk about the science of finger printing.  Pictured on the back row: Ashley, Corporal Bryant, Jaeyona, Andrew, Ryals, Deonna, Torrie. Middle Row: Kiley, Caroline, Daivd, Taylor, Daylan, Bryce, Sara Front Row: Cameron, Mikalah, Alex, Luke, Chase, Alyana.
More ...
Ragsdale speaks to Mu Chapter of Delta Kappa Gamma Society


Mu Chapter of Delta Kappa Gamma Society International was honored to have Lynn Ragsdale as guest speaker, in October.  Ragsdale is a member of Eta State (NC) Education Law and Policy Committee.  She discussed highlights of the final Education Budget for 2013-2014.  The top issues included:  Teacher Tenure, Teaching Fellows, Private School Vouchers, Pre-Kindergarten, and School Resource Officers.

More ...
Contributed
NC Cooperative Extension to hold public session on December 5
As the North Carolina Cooperative Extension Service nears its centennial celebration, the organization is holding a series of 12 listening sessions across the state in November and December 2013. Cooperative Extension, which provides educational programs in 4-H, Agriculture, Family & Consumer Sciences and Community Development to citizens in all 100 counties and the Eastern Band of the Cherokee Nation, is seeking public input as the organization launches a strategic planning initiative for the future.
More ...
BUSINESS AFTER HOURS
A Business After Hours was held recently at Ward Drug Specialty Pharmacy in Nashville. Pictured above, owner Gary Glisson stands with Charlotte Goodwyn, Adult Family Nurse Practitioner, who is now accepting new patients at the Nashville Wellness Clinic and Medi-Spa located at Ward Drug Specialty Pharmacy.
More ...
Local church to host Harvest Home Day
Nashville  Baptist Church will host its annual Harvest Home Day on Saturday, November 23 from 8 until 10 a.m. in the church's parking lot.
Harvest Home Day is a church-wide community missions project sponsored by Nashville Baptist Church and held each year on the Saturday morning before Thanksgiving in the church parking lot. 
More ...
PEACHTREE COMMUNITY NEWS


On a beautiful November morning Peachtree folks gathered at church for worship.  Sanctuary flowers were given by Bob and Fran Bunn in honor of her parents, Jake and Hazel Robertson.  The special music was by David Griffin as he whistled "Bless This House", accompanied by Jane May at the piano.

More ...
Barbara Hardison
MOUNT ZION FWB CHURCH NEWS


Call to worship, "Jesus We Just Want to Thank you" sang by the choir. Our pastor  welcomed everyone and prayed the prayer of invocation. Prayer concerns were shared; Standley Bass and Mozelle Batchelor, both able to be in church today. Tina Lamm has several health issues. She requested prayer for her. Our soldiers, missionaries and the lost. Hymns of worship; "Love Divine" and "There Shall be Showers of Blessings."

More ...
Roselene Bass
RED OAK NEWS


The youth of Red Oak United Methodist Church remain very active in the life of the church. Last weekend, Nov. 8 through 10, four  youth and three chaperones, traveled to Fayetteville, NC to take part in Pilgrimage 2013, a worship retreat designed specifically for United Methodist youth.

More ...
Suzy Pearce
BEULAH COMMUNITY NEWS


Sunday school began at Beulah Church of Christ Sunday morning at 9:45. Church services followed at 10:45 with our pianist, Bonnie Matthews at the piano. She is a faithful member and always does a great job. Thank you Bonnie. We had welcome and announcements by our minister Daniel West. Several members and friends have been in the hospital. Some of those have come home yesterday I understand. They were Jack Outlaw and Darwell Daniels.

More ...
WILMA ENROUGHTY
A few things that make Thanksgiving great


Over the last several years, this space has been used to document, record, reflect and remember great Thanksgivings.
It is truly my favorite time of the year, that sweet spot, however brief, that allows for a deep breath before the push and pressures of Christmas and the end of the year. That is not to slight December 25 or January 1 as wonderful, celebratory times of the year, it is simply to say that the timing and spacing makes Thanksgiving distinctive.

More ...
Mike Brantley
NPD is doing a great job in our community


Our police department has been hard at work in recent months, working not only to protect and serve, but also working to get out in the community and get to know the citizens and business folks of Nashville.
They've come up with about every type of event a police department can do that gets officers out into the community to interact with citizens of all ages and backgrounds.

More ...
Amanda Clark
Ms. Virgie Womble cherished life and people


We lost yet another Nashville icon a few weeks ago. Ms.  Virgie Womble, 97, passed away on November 3.  Most of us remember her as Ms. Alyce Smith's right hand at the Alyce Dress Shop in downtown Nashville.  Virgie worked there for 45 years.
The shop was in operation here in downtown for, I believe, more than 50 years.

More ...
Jo Anne Cooper
A note from the Police Chief


It is that time of year again and Christmas is right around the corner.  I know, I know – it snuck up on me too!  You would think that after all these years I would remember that it is every December!  As we did last year, the Nashville Police Department will sponsor a group of Nashville children who are in need of assistance during the holidays.  With the generous support of Nashville's Wal-Mart we will have our second Cops & Kids Christmas.

More ...
Thomas Bashore, Town of Nashville Chief of Police
Nash County Animal Friends' Notebook


At times I see a glimmer of hope.  There were empty kennels and cages at the Shelter.  I think to myself, maybe..... then my hopes get dashed when a lot of dogs or cats come in.  Too many of them go to the back, due to overcrowding or the fact that they are feral, like cats left to roam freely or pets too emotionally damaged by humans to be adoptable.  Then I get depressed again.  The stress of being a volunteer who tries to save them takes a toll.

More ...
By Carol Vierela, NASH COUNTY ANIMAL FRIENDS
Backward Glances


GIANT SNOW MAN AT RED OAK –– This photo was originally published in The Graphic on January 25, 1962. J.A. Martin, Red Oak School principal, puts the finishing touches to a giant snow man on the lawn of his home while neighborhood children who helped with the construction project smile for the cameraman. The snow man was 12 feet high.

More ...
A PICTORIAL LOOK INTO THE PAST

FRIENDS FOR LIFE. Jessica Ricks (top, third from left) was joined by her Northern Nash teammates as part of her recent softball signing with Appalachian State University.

Ricks Signs With Appalachian


RED OAK -- Given her status as one of her team's best players, Jessica Ricks can't be listed as an assistant coach on Northern Nash High School's fast-pitch softball roster.
But that fact is in theory only as Ricks consistently discusses batting strategies and tips with teammates -- along with offering advice to younger players.

More ...
GEOFF NEVILLE, Graphic Sportswriter

FINDING THE RIGHT FIT. Northern Nash High School basketball standout Alexus Hill has signed scholarship papers with Gardner-Webb University.

PERFECT MATCH


RED OAK -- When praise is received from Grover Battle, it must be remembered that he has a wealth of experience and knowledge -- and has seen pretty much everything during his long career as Northern Nash's girls basketball coach.
So when Battle ranks Alexus Hill among the best all-around athletes he has had the pleasure of coaching, it's an assessment that is certainly worth noting.

More ...
GEOFF NEVILLE, Graphic Sportswriter

BALANCING ACT. Jalia Williams waits for instruction from Coach Grover Battle before running a play during a recent practice for the Northern Nash High School girls basketball team.

Northern builds in Big East


RED OAK -- After saying goodbye to one of the school's best-ever senior classes, it would be easy to write off Northern Nash's 2013-14 girls basketball season as a rebuilding one.
But never underestimate the ability of NN veteran coach Grover Battle to reload on the fly -- especially when he has a Division I signee (Alexus Hill) to work with.

More ...
GEOFF NEVILLE, Graphic Sportswriter
Southern Nash opens playoffs with a road win


STANHOPE -- Southern Nash saved its best for last during last Friday's victory over homestanding Swansboro in the opening round of the Class 3-A State Football Playoffs.
Certainly, SN head coach Brian Foster was thrilled to leave Carteret County with a 51-21 decison. But he anticipates that a full, four-quarters performance will be needed in order to survive this Friday's second-round showdown at Eastern Wayne.

More ...
GEOFF NEVILLE, Graphic Sportswriter
Northern on road at S. Wayne


RED OAK -- Northern Nash High School's 2013-14 basketball schedule will begin today with a road matchup against Southern Wayne.
The Knights and Lady Knights will host the annual Nash County Christmas Tournament from Dec. 17-19.
Also, NN will be in holiday action at the Bunn Tournament (boys on Dec. 27-28) and the Wakefield Tournament (girls on Dec. 30-31).

More ...
Staff Reports
NCHSAA STATE PLAYOFF UPDATE


NASH COUNTY -- Listed are scores and results for the Class 3-A and Class 3-AA State Football Playoffs, which began last Friday:

More ...
Staff Reports
Edwards sets new mark for Bishops


FAYETTEVILLE -- Senior wideout Greg Edwards entered last Saturday's football season finale at Methodist University needing just four catches to break North Carolina Wesleyan College's career receptions record.
The senior from Fredericksburg, Va., wasted little time doing so, hauling in all four in the first half to eclipse former Bishop Orlando Webb's record of 171 receptions from 2006 to 2009.

More ...
Staff Reports
Wesleyan kicks off basketball schedule


ROCKY MOUNT -- The men's basketball team of North Carolina Wesleyan College officially opened the 2013-14 season last Friday and Saturday, hosting its annual Roger Taylor Invitational.
The host Bishops, along with the Pride of Greensboro College, went undefeated in the tourney as both teams earned victories over Bob Jones University and Maryland Bible College.

More ...
Staff Reports
RMA WINS STATE TITLE
CHAMPIONSHIP MOMENTS. Rocky Mount Academy won the NCISAA Eight-Man State Football Championship last Friday with a 42-30 victory over Southampton Academy at the Rocky Mount Athletic Complex. Among the highlights were (above) RMA head coach B.W. Holt, who claimed his first-ever state crown, calls a play to quarterback Brice Andracchio.
More ...
AND THE WINNERS ARE
The Bailey/Middlesex Community Park held a golf tournament at Birchwood CC on Nov. 8 to help raise funds for the park project. The tournament sponsor was Bissette Farms of Middlesex and included hole sponsors from many local businesses. The tournament was won by the Rudy's Truck & Trailer  Team (photo), with 2nd place going to Webb's Golf Cart Sales and 3rd place going to Farm Bureau-Bailey Office.
More ...
CLR concludes season


ELM CITY -- County Line Raceway capped off its 2013 season last weekend with two nights of festivities as part of the Fifth Annual Race For The Kids.
Here is a look at each night's results:

More ...
Staff Reports
STATE SOCCER FINAL SCORES


RALEIGH -- Listed are last weekend's results from the North Carolina High School Athletic Association Boys Soccer State Championships Games, which were held at Dail Soccer Field on the campus of North Carolina State University:

More ...
Staff Reports
Marshall's hit nominated for award


FAYETTEVILLE -- The USA South Athletic Conference has introduced a new endeavor for the 2013 football season as each week a "Football Play of the Week" will be chosen.
For each of the 10 weeks during the regular season, dynamic plays will be submitted by the coaching staffs of each institution.

More ...
Staff Reports
READY TO DEFEND
Amanda Richardson works on her inbounds defensive skills during a recent practice session for the Northern Nash High School girls basketball squad.
More ...
WITH A LITTLE HELP FROM HER FRIENDS
Northern Nash High School senior standout Alexus Hill (with ball) is joined by her girls basketball teammates during her recent signing ceremony with Gardner-Webb University. Hill has also starred in soccer and volleyball at NN.
More ...
ANNIE MAE ROWE-PENDER
HIGH POINT –– Annie Mae Rowe-Pender, 72, of Highpoint, died on Tuesday, November 12, 2013 at Highpoint Regional Hospital in Highpoint.
More ...
DENNIS RAY BRASWELL
MACCELSFIELD –– Dennis Ray Braswell, 55, of Maccelsfield, died on Wednesday, November 13, 2013 at Nash General Hospital in Rocky Mount.
More ...
DR. GAYLORD L. LEHMAN
Dr. Gaylord L. Lehman, age 81, died Friday, November 15, 2013, at Duke University Medical Center, Born September 19, 1932, in Louisville, KY, he was the son of the late J. Edward Lehman and Orpha Gerig Lehman.
More ...
ELISHA THOMAS "TOM" JOYNER
Elisha Thomas "Tom" Joyner passed away Tuesday, November 12, 2013.  He was 93.  Born in Nash County on January 20, 1920. He was the son of the late Lemon Littleton Joyner and Esther Pittman Joyner. He was preceded in death by his son, Jeffrey Dean Joyner. 
More ...
FRANK EARL WILLIAMS
ROCKY MOUNT  –– Frank Earl Williams, 62, of Rocky Mount, died on Saturday, November 9, 2013 at Nash General Hospital in Rocky Mount.
More ...
HERBERT B. PERRY
NASHVILLE - Funeral services for Herbert B. Perry, 83, who died Saturday, Nov. 16, 2013, were Tuesday, Nov. 19 at the Shocco Chapel Missionary Baptist Church. Burial followed at Oakland cemetery with Rev. Lenis Thorpe officiating.
More ...
LINDA BRADDY CHADWICK
Linda Braddy Chadwick, 66, passed away Saturday, November 16, 2013. She was born  on April 20, 1947 in Halifax County to the late Percy and Madeline Cooper Braddy.   In addition to her parents, she is preceded in death by a sister, Diane Broadbelt.
More ...
LOGAN COREY DENTON
Logan Corey Denton, 2, passed away, Thursday, November 14, 2013. He was born January 28, 2011 in Nash County.
More ...
LUETORIA LYNCH RICHARDSON
HOLLISTER - Funeral services for Luetoria Lynch Richardson, 75, who died on Wednesday, Nov. 13, 2013, were Sunday, Nov. 17,  at Pleasant Grove Baptist Church. Burial followed in the Richardson Family cemetery, with Rev. Kenneth Richardson officiating.
More ...
MALINDA JENKINS
CHARLOTTE –– Malinda Jenkins 68, of Charlotte, formally from Nash County, died on Thursday, November 14, 2013 in Huntersville, North Carolina.
More ...
MYRTLE WILLIAMS COLLINS
Myrtle Williams Collins, age 88, passed away Sunday, November 17, 2013. Born in Edgecombe County on September 30, 1925, she was the daughter of the late Willie Williams and Mable Christopher Williams. She was also preceded in death by her husband, Marvin Collins and brother, Marvin Williams.
More ...
ROBERT LEE WEST
SHARPSBURG ––Robert Lee West, 65, passed away Wednesday, November 13, 2013. He was born in Petersburg, VA, September 8, 1948, son of the late Benjamin West and Mildred Carter West. He was also preceded in death by a baby son, Jeffrey.
More ...
SAMUEL DAVID ASHE
ROCKY MOUNT - Samuel David Ashe, 83, passed away Friday November 15, 2013. He was born January 7, 1930 in Selma, Va. to the late John Floyd and Minnie Evelyn Gibson Ashe.
More ...
WILTON M. RICHARDSON
HOLLISTER - Funeral services for Wilton M. Richardson, 85, who died Tuesday, Nov. 12, 2013, were held Saturday, Nov. 16, at 1 p.m. at Trinity Baptist Church, with the Rev. Al Cooper officiating. Burial followed in the Pine Chapel  Church cemetery.
More ...