Subscribe/Access
Advertisements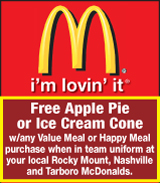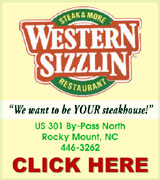 Sections
Member Options
Back
Nash County hires manager


Chowan County Manager Zee B. Lamb will take the helm of Nash County beginning January 1, 2014, Nash County Commissioners announced on Tuesday afternoon.
Commissioners unanimously agreed to hire Lamb at a salary of $156,800.
A special meeting was held on Monday to approve the contract and introduce Lamb to department heads and the public.

More ...
AMANDA CLARK, GRAPHIC STAFF WRITER

ROBINSON
Two nabbed for armed robbery
Two Rocky Mount men were arrested and charged last week with robbing the Dollar General in Red Oak.
The men, Aldridge Robinson, 18, and Alvonta Speight, 19, allegedly walked in the store last Tuesday night armed with a rifle and demanded money or they would shoot the clerk.
While on the way to the call, a Nash County Sheriff's Deputy passed the suspect vehicle on N. Old Carriage Road, where he attempted to stop the vehicle. The suspects failed to stop and sped up, leading the deputy on a chase.
More ...
Write-in ties for Castalia board seat


Luck of the draw will determine who will get to serve on Castalia's Board of Commissioners, as two candidates tied for the second seat in last week's elections.
Three were vying for two seats on Castalia's Board. One of the candidates, Brian Hinkle, easily won the first seat, receiving 28 votes, or 33.73 percent of the votes cast in Castalia.

More ...
AMANDA CLARK, GRAPHIC STAFF WRITER

Patricia Harris, Commander of the American Legion Department of NC, was the guest speaker at an event Sunday, hosted by Nashville's American Legion Post 293.

Nash County events honor local veterans


Veterans were recognized last week and again on Monday at several events throughout the county.
Three Nash-Rocky Mount schools participated in events honoring veterans last week.
Last Wednesday, students at Southern Nash Middle School held a Veterans Appreciation Service at the school. Sixth graders have been participating in a special program for many years.

More ...
AMANDA CLARK, GRAPHIC STAFF WRITER - 2 opinions posted
Middlesex public works head resigns


Middlesex Public Works Supervisor Dale Bachmann has resigned from the Town of Middlesex, Mayor LuHarvey Lewis announced on Monday night at the board's regular meeting.
Commissioners unanimously approved Bachmann's resignation. Bachmann, who also serves as a commissioner, abstained from voting.

More ...
AMANDA CLARK, GRAPHIC STAFF WRITER
Sheriff warns public of jury duty scam
The Nash County Sheriff's Office is warning residents of a person calling citizens pretending to be a law enforcement official.
According to the Sheriff's Office, the subject is making phone calls telling citizens they missed jury duty and will be arrested if they don't pay money to a Paypal account.
The individual has used the name Major Wilson, Badge number 72, the Sheriff's Office said.
More ...

THANK YOU – George Jefferies presents Anna Deans a gift in appreciation of her years of serving as president of the Community and Rural Development Council.

Communities join together at annual event


Seven Nash County communities joined together on Saturday for fellowship at the annual Community and Rural Development Banquet.
The event was bittersweet for Anna Deans, a member of the Nashville Willing Workers who has served for several years as President of the Community and Rural Development Council. Deans has resigned as President and will not serve in 2014. She said she will, however, continue to help the organization.

More ...
AMANDA CLARK, GRAPHIC STAFF WRITER
NASHVILLE POLICE BRIEFS
INCIDENTS
A hit and run was reported on 11/4/13 in the Mucho Mexico parking lot, 921 Eastern Avenue
A damage to property (vandalism) was reported on 11/6/13 on S First Street
More ...
NASH SHERIFF'S OFFICE REPORTS
A larceny of a motor vehicle was reported on 11/4/13 at Exit 30, off of US 264 Eastbound
A larceny of copper wire was reported on 11/5/13 at 4937 Community Drive
A domestic violence was reported on 11/5/13 on Taylors Mill Road
Counterfeit money was reported on 11/5/13 at 8168 Taylors Store Road
More ...
Booth attends monastery for spiritual retreat


Brian Booth returned last month from a spiritual retreat that left him renewed yet energized.
Booth, Director of Cooley Library, attended Saint Anselm Abbey in Washington, D.C., where he spent nine days living the life of a monk. Booth spent much of his time in silence, focusing on prayer and community service during his stay.
Monasteries are not new to Booth. He has lived in a monastery several times in year's past, once for a year and a half.

More ...
AMANDA CLARK, GRAPHIC STAFF WRITER
Nash Health Care faces uncertain budget


As Nash Health Care Systems plans the budget for the coming year, the uncertainties of the current health care situation make accurate predictions difficult, explained Al Hooks, CFO. At the November board meeting held on November 7, Hooks said that the new health care exchanges offered through the new Affordable Care Act were a "wild card" that made budgeting a challenge.

More ...
AMANDA CLARK, GRAPHIC STAFF WRITER
Proficiency scores for N-RMS below state average


The overall percent of proficient students in the Nash-Rocky Mount Schools (NRMS) system fell below state percentages for the 2012-13 school year.
Data released at the end of last week by the NC Department of Pubic Instruction (NCDPI) shows the NRMS system's total combined scores under state proficiency percentages by 10 to 14.4 percent. Proficiency, as defined by evaluators, means scoring at or above grade level.

More ...
MICHELE A. CRUZ, GRAPHIC CORRESPONDENT
Nashville continues to work with county on EMS building plans


The Town of Nashville and Nash County are still panning out details for a new EMS station that will be located in Nashville's Business Center.
Nashville Town Manager Preston Mitchell told council members last Wednesday during the board's regular meeting that county officials had made several requests regarding water lines for the new facility. Mitchell said the county was also unsure of the type of facade the building would have.

More ...
AMANDA CLARK, GRAPHIC STAFF WRITER

Smith
NRMS announces new administrators
Nash-Rocky Mount Public Schools recently announced three new administrative assignments during the NRMPS Board of Education meeting held November 4.
Sheila Wallace was named the new Director of Federal Programs. Andrea Smith was named the new Director of Testing. Michael Jones was named the new 6-12 Math Educational Specialist.
More ...
NATIONAL BPW WEEK
National Business and Professional Women's (BPW) Week was celebrated by Nashville and Rocky Mount clubs on October 21 with a dinner banquet at Langley's Town and Country in Nashville. Dr. Nichole Huff (pictured) was the guest speaker for the event.
More ...
Coffee with a Cop
Nashville's Police Department hosted Coffee with a Cop at Hardees in October and at PNC Bank in November. Pictured is Police Chief Thomas Bashore and Community Services Officer talking with people at Hardee's during October's event.
More ...
DEPC launches endowment fund
The Down East Partnership for Children recently launched its Endowment Fund with a kickoff celebration at Milton & Miles where business and community leaders as well as early childhood advocates learned more about the Fund and accepted the challenge to reach out to the community on behalf of the Partnership.
More ...
Seven finalists to enter "Shark Tank" Saturday
Seven finalists will enter the Shark Tank next Saturday in hopes of walking away with cash prizes and new business opportunities.  The competition was tough with over sixty applications received from entrepreneurs and students from Rocky Mount, Wilson, and the surrounding area. 
 Shark Tank by SpringBoardNC is the first business competition of its kind in the region.
More ...
College Prep Tour
Nash Community College Vice President for Instruction and Chief Academic Officer Dr. Trent Mohrbutter welcomed approximately 40 eighth graders from Parker and Edwards Middle Schools for a College Prep Tour at Nash Community College this week. The students are participants in the Communities in Schools College Access Program which identifies students, beginning in the sixth grade, who show potential for academic success.
More ...
Stars in Uniform Christmas Tree
Ladies Auxiliary VFW - Post 2057 in Rocky Mount is proud to present the Stars in Uniform Christmas Tree, which will go up at Golden East Crossing Mall on November 14, 2013 at 10:00 a.m.  Community members are welcome to attend and help decorate. If you haven't sent in your pictures for the tree yet, bring it with you and the Auxiliary can prepare it on site.
More ...
MILITARY NEWS
Air Force Reserve Airman Solana D. Mann graduated from basic military training at Joint Base San Antonio-Lackland, San Antonio, Texas.
The airman completed an intensive, eight-week program that included training in military discipline and studies, Air Force core values, physical fitness, and basic warfare principles and skills.
More ...
Veterans Day Ceremony
Nashville's American Legion Post 293 hosted a Veterans Day Ceremony at Union Hill Baptist Church on Sunday afternoon. State Legion leaders were among those who attended. Pictured above, Post 293 Commander Dennis Cobb (far left) presents a certificate of appreciation to American Legion Department of NC President Sharon Neville (center) while Anthony Leonard, Post 293 Adjustant looks on.
More ...
Nash High School recognizes Veterans Day


The United States Air Force Junior Reserve Officer Training Corps (JROTC) Unit at Southern Nash High School recognized Veterans Day on Friday by placing a cadet outside the flagpole during the entire day. Pictured, cadet Justin Sam stands at attention while marching around the flag pole.

More ...
1 opinion posted
Veterans Appreciation pics, 1


Bronson Manning (at left), a student at Southern Nash Middle, talks to Sgt. Johnnie Jones, of Sims, at the school School last Wednesday during a Veterans Appreciation service.

More ...
1 opinion posted
Veterans Appreciation pics, 2
Gene Braswell (at left), a member of Nashville's American Legion Post 110, talks about the military to Daylon Whitley at Southern Nash Middle School.
More ...
PEACHTREE COMMUNITY NEWS


On a sunny November morning Peachtree folks gathered for worship. Pastor Whitehouse welcomed those present to a service of remembrance of veterans.  The choir sang "Prayer for America" under the direction of the pastor.  His sermon topic was "Friends Forever" based on I Samuel 18-23. It was about the Biblical friendship of David and Jonathan.

More ...
Barbara Hardison
MOUNT ZION FWB CHURCH NEWS


Robert and Amy Tyner and friends played and sang for us today. The guys play string instruments and Amy does  most of the singing. One of the guys sings some. They played the prelude on the instruments. Amy sang and the guys played "Unfailing Love" for the call to worship. The congregation sang along with them on the hymn "Mighty to Save."

More ...
Roselene Bass
RED OAK NEWS


Youth Sunday was held on Nov. 2 at Red Oak Baptist Church.  The youth taught the Sunday School classes participated in the worship service by filling the choir, performing with the Praise Team, sharing announcements, and acting in a skit.

More ...
Suzy Pearce
Bethel Heroes
The United Daughters of the Confederacy Bethel Heroes Chapter 636 won awards at the UDC North Carolina Division 117th Annual Convention held in Durham in October. The chapter received the Daniel Bramston Coltrane Cup for making the highest record in UDC work and was awarded a certificate for being a superior chapter.
More ...

Fatback's BBQ & Rib Shack, ouf of Fayetteville, was named the Grand Champion of the Eastern Carolina BBQ Throw Down, which was held in October in Rocky Mount.
Fatbacks named grand champs of BBQ Throw Down
The winners of the sixth annual Eastern Carolina BBQ Throw Down have been announced, and there are some familiar and not-so-familiar names among the contestants. Fatbacks BBQ and Rib Shack out of Fayetteville, N.C. was named Grand Champion out of the 56 teams that competed in the Kansas City Barbecue Society sanctioned competition.
More ...
Stonewall to host reenactment
They say sometimes it takes an army to get things off the ground, and that's exactly what Historic Stonewall Manor will have as we reopen the house to the public after a long Summer and Fall filled with nagging but necessary repairs that prevented us from being open to the public.
More ...
Stith speaks to Garden Club
J. B. Stith, of Flowers and Gifts, of Rocky Mount, was the guest speaker, for the Englewood Garden Club, in November.  Stith brought items from his shop, as well as natural flowers and greenery, from the yard.  He showed the group how to make an impressive fall design, with a ceramic pumpkin.  In addition to this design, he created a beautiful arrangement with natural greenery, and two angels, with lights.
More ...
What will future Veterans Days hold?


Thankfully, it was hard to miss Veterans Day this week, or the birthday of the U.S. Marine Corps.
In recent weeks, there have been local dinners, dedications and ceremonies for those who have served our country in the armed services. There was a piece on CBS' Sunday Morning about the Vietnam Memorial (The Wall) in Washington, D.C., and there was a final gathering of three of the four surviving raiders who bombed Tokyo in 1942 with Lt. Col. James Doolittle.

More ...
Mike Brantley - 1 opinion posted
Even idiots enjoy freedoms our veterans fought for


On Monday, Veterans Day, while almost all of my Facebook friends were posting about how grateful they were for our veterans, I had one friend, a guy I went to high school with, post something extremely hateful towards our veterans and the holiday that recognizes them.
My first thought was, "did he really say that?" and then I just stared at the computer screen for a minute, trying to decide whether I should respond, "unfriend" him, or just ignore him.

More ...
Amanda Clark - 1 opinion posted
Voting is a privilege and our duty as citizens


Did you vote?
Only 7.82 percent of Nashville's 3,976 registered voters went to the polls last Tuesday to cast votes for town council members. The low voter turnout isn't surprising, but that doesn't make it okay. Typically when there are people running for state seats or a national seat, the turnout is much higher. But we should remember that  people who sit on Nashville's Town Council are elected officials who can make a huge impact on our lives right here in town.

More ...
Jo Anne Cooper
A note from the Police Chief
Use caution with solicitors


I would like to address an issue involving peddlers or solicitors in the Town of Nashville. 
You hear a knock on the door…but you are not expecting any visitors…whom could it possibly be you wonder?  Upon peering out the front window you see an unidentified individual with a clipboard in their hand patiently waiting for you to open the door.

More ...
Thomas Bashore, Town of Nashville Chief of Police
Backward Glances


CHAMPIONS OF 1962 ––This photo originally published in The Graphic on March 8, 1962. Pictured are the champion Bailey girls who won tournament honors with a winning streak of 102 games. From left to right, kneeling: Kay Strickland, Linda Lamm, Maxine Liles, Nancy Brannon, Sue Lamm and Susan Bissette. Back row: Teresa Creech, Kate Skinner, Betty Doris Temple, Linda Brantley, Faye Carroll, Alma Cummings and Margaret Haskins.

More ...
A PICTORIAL LOOK INTO THE PAST
Nash County Animal Friends' Notebook


As I write  on Veteran's Day, I am reminded of how many of our service people come home with physical and unseen aliments that a pet can help with.  A pet can be a service animal, especially dogs.  There are organizations that focus on finding just the right pet for our vets.  If you go online, you can find these organizations with a simple search.  A companion is actually good for everyone.

More ...
Carol Vierela, NASH COUNTY ANIMAL FRIENDS

CAPTAINS, OH CAPTAINS. (L to R) Southern Nash High School captains (l to r) Deon Lavender, Alonte Thomas, Seth Peyatt and Richard Hall lead the Firebirds into a key matchup this Friday night at Swansboro.

REMAKE ON THE ROAD


STANHOPE -- Southern Nash proved to be true road warriors during their best-ever postseason run toward the final four of the Class 3-AA State Playoffs back in 2009.
Thanks to a less-than-favorable seed, the Firebirds traveled for every playoff game -- and came within a hair of making the state finals.

More ...
GEOFF NEVILLE, Graphic Sportswriter
County players make All-Conference Team


NASH COUNTY -- Seven Nash County standouts were saluted on the First Team of the 2013 All-Big East Conference Volleyball Squad.
Northern Nash, which took third place in the league's regular season standings, featured Alexus Hill and Caroline Jenkins on the prestigous list.

More ...
GEOFF NEVILLE, Graphic Sportswriter
Gridiron schedules released


CHAPEL HILL— The schedule has been set for the North Carolina High School Athletic Association's state football championships.
The eight championships will once again be held at three locations, including Kenan Stadium in Chapel Hill, Carter-Finley Stadium in Raleigh, and BB&T Field in Winston-Salem.

More ...
Staff Reports
Vick advances in competition


NASH COUNTY -- Jordan Vick advanced to the 2013 NFL Punt, Pass and Kick Team Championship, which will be held at halftime of the Carolina Panthers vs. Tampa Bay Buccaneers game at Bank of America Stadium in Charlotte on December 1.
Jordan is an outstanding athlete and participates in multiple youth athletic programs for Nash County Parks and Recreation, including the Nash County Firebirds Football League.

More ...
Staff Reports
League honors NCWC athletes


FAYETTEVILLE -- The USA South Athletic Conference has released its weekly awards for November 4, and two Battling Bishops earned honors in their respective sports.
Freshman Travonne Marshall was tabbed the league's Defensive Rookie of the Week in football, while freshman Tori Stewart was named Rookie of the Week in volleyball.

More ...
Staff Reports
Event planned at County Line


ELM CITY -- Race fans and the Mid-Atlantic region's elite Super Late Model and Open-Wheel Modified dirt modified drivers are locked and loaded for Friday night's November 15th kickoff event at County Line Raceway for the 5th Annual "Race for the Kids" Benefiting Victory Junction Gang Camp  --the undisputed marquee event for County Line Raceway.

More ...
Staff Reports
IN HIS HANDS
Quarterback Deon Lavender (center) will undoubtedly play a key role for the Southern Nash Firebirds during Friday night's playoff showdown against host Swansboro.
More ...

Kristine Welsh-Loveman (3rd place) Savannah Frye (1st Place) Jamie Pridgen (2nd Place)

Nash County's Got Talent
Savannah Frye wins 2013 competition


Nash Arts held its eighth annual Nash County's Got Talent competition last week showcasing local artists. Nashville resident Savannah Frye won first place in the competition finals Friday night winning the $1,000 prize.
Frye competed in the talent show last year making it to the top ten. She again made it to the top ten this year and then to the top five, impressing the judges with her soulful voice singing "At Last" by Etta James and "Feeling Good."

More ...
JO ANNE COOPER, PUBLISHER
BEULAH DENTON BAKER
Beulah Denton Baker, 73, passed away November 9, 2013. She was born in Nash County on May 5, 1940 to the late Vance Gillis and Tamer Elizabeth Pollock Denton. She was also preceded in death by her brother, Raymond Denton.
More ...
FRANK EARL WILLIAMS
ROCKY MOUNT ––Frank Earl Williams, 62, of Rocky Mount, died on Saturday, November 9, 2013. Funeral arrangements are incomplete and will be announced by the Rocky Mount location of H.D. Pope Funeral Home.
More ...
GUY DEMPSEY DAVIS JR.
Guy Dempsey Davis, Jr., 60, passed away Saturday, November 9, 2013. Born May 5, 1953, he was the son of Guy Dempsey and Peggy Hackney Davis. In addition to his parents, he was preceded in death by his brother, Bobby Ray Davis.
More ...
MARY ADELINE WESTER RAPOZA
Mary Adeline Wester Rapoza passed away on November 6, 2013. She was the daughter of John Harvey Wester and his wife Mary Frances, both of Franklin County.  She is preceded in death by brothers, Perry Wester, John Harvey Wester Jr., June Wester; and sisters, Margaret Johnson and Rachael Newcomb; husband Thomas Frank Rapoza, and  sons Wade Rapoza and Rex Rapoza.
More ...
MORRISON WEBB FARMER, JR., (BUDDY)
Morrison Webb Farmer, Jr., (Buddy) son of the late Morrison Webb Farmer Sr., and Gladys Winstead Farmer passed away on November 5, 2013. He was born September 17, 1949 in Wilson County. He was preceded in death by his parents and a sister, Betty Jones of Elm City.
More ...
ROBERT PERRY LEONARD "PIE"
Robert Perry Leonard "Pie", passed away on Sunday, November 10, 2013. He was 73. Born in Franklin County on January 18, 1940 he was the son of the late Willie and Wilma Gupton Leonard.
More ...
RUTH ELIZABETH ARRINGTON WALKER
Ruth Elizabeth Arrington Walker passed away on Saturday, November 9, 2013. Born January 11, 1916, she was the daughter of Sarah Henrietta Draper and Henry Peter Arrington. In 1937, she married Maurice Walker.  In addition to her parents, she was predeceased by Maurice, her sister, Mary Hoyle, brother, Ben Arrington, son-in-law, Marvin Sherron, and grandson, Michael Sherron and his wife, Lynn.
More ...