Subscribe/Access
Advertisements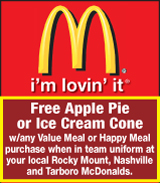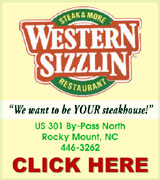 Sections
Member Options
Back
NASHVILLE POLICE BRIEFS
INCIDENTS
A hit and run was reported on 10/28/13 at 103 N Alston Street
An assault inflicting serious bodily injury was reported on 10/30/13 at 113 McCoy Drive
An assault on a government official and escape from custody or resist, obstruct, delay were reported on 10/31/13 at Railroad Street and Freeman Street
More ...
NASH SHERIFF'S OFFICE REPORTS
A breaking, entering and larceny of a residence was reported on 10/28/13 at 6585 Todd Road
A breaking, entering and larceny of a residence was reported on 10/29/13 at 8532 Old Middlesex Road
A breaking, entering and larceny of a storage facility was reported on 10/29/13 at 3094 S Weselyan Boulevard
A breaking, entering and larceny of a residence was reported on 10/29/13 at 13108 NC 33
More ...

High

Two charged in rash of Spring Hope break-ins


Two Spring Hope men have been charged in a rash of break-ins that have occurred in town since July.
Spring Hope Police Chief Tim Denton said Jermaine Antwon High, 20, and Terrell Antwan Wilkins, 20, both of Spring, were arrested and charged with several counts of breaking and entering and larceny.
Denton said the two men have allegedly broken into around 16 homes in Spring Hope, stealing electronics, jewelry, firearms and cash.

More ...
AMANDA CLARK, GRAPHIC STAFF WRITER
Nashville man among those charged in building code scam
A Nashville man was one of seven arrested and charged with exploiting an elderly Wilson County man in a building code scam.
Criminal investigators with the Department of Insurance allege that a group defrauded the man of over $7,400 between May 23, 2013 and October 10, 2013 by presenting themselves as code enforcement officials with the City of Wilson and misleading the victim that his home was in violation of state building codes.
More ...
Red Oak boosts water incentive


Red Oak commissioners voted to enhance the incentive to draw in water customers in the area, aligning their plans with the Town of Dortches, which also reportedly plans to increase the payout. The move came Monday, November 4, at the town's regular monthly business meeting.
Formerly, the Town of Red Oak planned to offer to pay the base tap fee, a value of $150, for one home for each resident.

More ...
AMELIA HARPER, GRAPHIC CORRESPONDENT
Stone dedication ceremony held for soldier
Confederate soldier Wiley Daughtridge was honored at a stone dedication service in September.
The service was attended by family and friends, who paid tribute to Daughtridge's service.
At the service, a stone was unveiled in Nash County, near Daughtridge's home.
Terry Bryant, Commander of the Captain Jesse S. Barnes Camp, 771 of the North Carolina Division of the Sons of Confederate Veterans, spoke at the special stone dedication service.
More ...

Halifax Resolves Chapter President Ken Wilson addresses students.
History comes alive at Southern Nash Middle
Southern Nash Middle School Social Studies teacher Charles Vester invited Halifax Resolves Chapter President Ken Wilson to talk with the eighth grade students about the Revolutionary War in North Carolina and the meaning of the dates on the North Carolina flag.  The program covered the writing of the Mecklenburg Declaration of Independence, the Battle of Moore's Creek Bridge, and the adoption of the Halifax Resolves.
More ...

Ken Wilson, President of the Halifax Resolves Chapter of the North Carolina Society Sons of the American Revolution presents American Flag Etiquette handbooks to Jennifer Harris, Kevin Pittman, Ken Wilson and Chris Mizelle, teachers at Red Oak Middle.
SAR presents program to Red Oak Middle
Dressed as a member of the Colonial militia, Ken Wilson, President of the Halifax Resolves Chapter of the North Carolina Society Sons of the American Revolution presented a program to Red Oak Middle School 8th grade students pertaining to the dates on the North Carolina flag.  The program covered events leading up to the Mecklenburg Declaration of Independence, the Battle of Moore's Creek Bridge and the adoption of the Halifax Resolves.
More ...
Hobgood Academy Honor Roll
The following students at Hobgood Academy made the Principal's List (A's) or the Honor Roll (A's and B's) the first six weeks of school.
More ...
Nashville native's DVD tops Amazon's rankings
Nationally syndicated talk radio host, and Nashville native,  Phil Valentine's newly-released DVD topped Amazon.com's rankings of best-selling documentaries as of this morning.  The award-winning An Inconsistent Truth is the definitive answer to Al Gore's movie.  The film has been skyrocketing up the Amazon charts and recently hit the overall ranking of #249 out of all the over 646,00 movies and TV shows sold on Amazon.com.
More ...
100 approved as Certified Public Accountants
RALEIGH - On Oct. 21, the North Carolina State Board of Certified Public Accountant Examiners approved 105 applicants for licensure as Certified Public Accountants (CPAs) in the state of North Carolina. Local newly approved NC CPAs are Rebecca Adams Parks of Rocky Mount, license number 37913,  and Muhammad Affan Akram of Nashville, license number 37968.
More ...

Pictured above, youth from Precious Angels Daycare got a chance to sit on a fire engine. Pictured (From L-R) is: Wyatt Batts, Cayden Allen, Emilia Macias, Haley Couch, Bryony Whitley and Braylon Whitley.
NFD recognizes Fire Prevention Month
During the month of October, Nashville's Fire Department visited all local daycares as well as Nashville Elementary school to promote fire safety. This year's theme was focusing on preventing kitchen fires within the home. The department visited over 700 children throughout the month and continued its fire prevention efforts during Halloween with events at the Cooley Library and Glover Park.
More ...
Law enforcement collects over 14,000 pills in Medicine Drop
Nashville's Police Department and the Nash County Sheriff's Office collected over 14,000 pills on October 26 as part of Operation Medicine Drop.
Operation Medicine Drop is an event that helps citizens properly dispose of unused medications. The program is administered by Safe Kids North Carolina and The NC Department of Insurance.
More ...
N-RMS parents now have access to student info via Parent Porta
Starting last month, Nash-Rocky Mount Public Schools students and parents began receiving the information needed to access the new Home Base PowerSchool Student and Parent Portal.  Using the portal, students and parents will have access to students' schedules, classroom assignments, grades, attendance, demographic data and more. It also includes several new features that will impact the performance and engagement of all key stakeholders.
More ...
NCC receives grant for workforce training
The 7×24 Exchange Carolinas Chapter recently presented $5,000 to three North Carolina community colleges, including Nash Community College, Wake Technical Community College and Cleveland Community College. On the same day, $23 million in US Department of Labor funds were awarded to three N.C. community colleges, UNC Charlotte and Moultrie Technical College in Georgia for the development of Mission Critical Operations training.
More ...
Nash County Blood Drives for November 2013
Sunday, November 10 from 12:30 until 4:30 p.m. at Shenandoah Baptist Church, 3894 Shenandoah Road, Rocky Mount
Sunday, November 17 from 12:30 until 5 p.m. at Sharpsburg Baptist Church, 3720 Hathway Blvd, Sharpsburg
Friday, November 29 from 12:30 until 4:30 p.m. at Golden East Crossing Mall, 1100 North Wesleyan Blvd, Rocky Mount
More ...
Ministers' wives, widows association to hold Founders' Day banquet
The Edgecombe/Nash & Vicinity Ministers' Wives & Ministers' Widows Association will celebrate their Fourth Annual Founders' Day Banquet on Saturday November 9 at 5 p.m. at the Four Seasons Restaurant and Conference Center, 209 N. Church Street, Rocky Mount. The keynote speaker for the banquet is Dr. Beverly Williams Glover of Macon, Georgia. Dr. Glover is the eighth elected president of The International Association of Ministers' Wives and Ministers' Widows, Inc.
More ...
PEACHTREE COMMUNITY NEWS


On a brisk autumn Sunday morning Peachtree folks gathered for worship.   Pastor Whitehouse greeted those present.  Under his direction the choir sang "In My heart There Rings a Melody".  The sermon title was "Good News for Envious People".  It was based on the scripture passage from I Samuel 18-19.  It was the concluding segment of the sermon about Saul and his envy of David.  Saul's admiration of David had turned into envy.

More ...
Barbara Hardison
MOUNT ZION FWB CHURCH NEWS


Our choir sang "In My Life, Lord, Be Glorified." Pastor Aycock welcomed everyone and prayed the prayer of invocation. Hymns of worship were "The Wonder of it All" and "There is Power in the Blood." Algie Jones Jr. led the singing.

More ...
ROSALENE BASS
RED OAK NEWS


What a sight!  Princesses, ninjas, Tiggers, werewolves, Duck Dynasty members, and more participated in Trunk or Treat at Red Oak Baptist Church on Thursday, Oct. 31.  Children received candy and scripture cards at each stop.  Everyone also enjoyed free hot dogs, drinks, and popcorn.

More ...
Suzy Pearce
BEULAH COMMUNITY NEWS


It was good to see a lot of you at the monthly fish fry last Friday night. Thank you for your support and we hope you enjoyed the food and also the fellowship. Happy Birthday to Mrs. Beadie Skinner who had her 92nd birthday over the week-end. Beadie, we pray God continues to bless you with good health. We sang Happy Birthday to her at Sunday school Sunday morning as she put money in the birthday bank.

More ...
WILMA ENROUGHTY
FARM SERVICE AGENCY NEWS


Agriculture Secretary Tom Vilsack recently announced that USDA has begun distributing Conservation Reserve Program (CRP) annual rental payments to participants across the country. USDA also will distribute 2013 direct payments beginning October 24. Payments originally were scheduled to be issued earlier in the month, but were delayed by several weeks due to the lapse in Federal funding.

More ...
SHARON TAYLOR
Edgecombe to host free pesticide collection day
Do you have pesticides at your home or farm that you no longer need or use? If your answer is 'yes', then you'll be interested in the Edgecombe County Pesticide Collection Day on Wednesday, Nov. 13, 2013.
The Edgecombe County Extension Office, in cooperation with the NC Department of Agriculture and Consumer Services Pesticide Disposal Assistance Program, a Non-Regulatory and Cost-Free program, will be offering this Pesticide Collection Day for residents in Edgecombe County and all of the surrounding North Carolina counties.
More ...
Senior Tar Heel Legislature meets


The North Carolina Senior Tar Heel Legislature (NCSTHL) heard from state leaders during the final meeting for 2013. In addition, the group also chose a new resolution to add to its current four that are sent to the North Carolina General Assembly for consideration. The group also elected new executive officers and celebrated the outgoing Speaker.

More ...
CONTRIBUTED
Grocery shopping not at the top of my list


I think it is the time commitment.
As I get older, I start to realize how little time there is in a day, a week and a lifetime. If I know the time I have left is fixed, I'm just not sure I want to spend any significant chunk of it trying to decide which brand of snack cracker is the best buy or what flavor of Sweet Baby Ray's Sauce is best for short ribs (CheezIts and Sweet & Spicy, if you're curious).

More ...
Mike Brantley - 1 opinion posted
Give poor Charlie Brown a break!


Now that Halloween is behind us, it's becoming more evident that the holidays are only a hop, skip and a jump away.
Some folks have already put up their Christmas tree. Me, well technically, I never actually got around to putting up my Halloween/Fall decorations. They are still sitting in my house waiting for the right moment to be displayed. So it's probably safe to say my Christmas tree won't be going up anytime soon.

More ...
Amanda Clark
We seem to be in a hurry these days!


I have to agree with ace reporter Amanda Clark's opinion this week. We seem to be rushing things a bit this year, more so than usual!
Indeed there was Halloween candy and Christmas candy merged together on the same shelf and costumes were just a few steps away from Christmas decorations.

More ...
Jo Anne Cooper - 1 opinion posted
Backward Glances


This photo of downtown Nashville was taken in December of 1973.

More ...
A PICTORIAL LOOK INTO THE PAST - 1 opinion posted
Nash County Animal Friends' Notebook


People want to adopt pets, but the Shelter isn't very adoption friendly.  By that, we are referring to the hours.  They are only open to the public  1-4 p.m., Monday through Friday.  Sometimes, appointments can be made for other times, but never after 5 p.m., never on the weekends. If you work during the week, it is difficult to get off if you want a pet.

More ...
Carol Vierela, NASH COUNTY ANIMAL FRIENDS

TOUGH TO TAKE DOWN. A pair of Northern Nash defenders try to tackle burly Wilson Fike running back A.J. Hines during last Thursday night's Big East Conference football showdown at Death Valley on the NNHS campus in Red Oak.

Demons Do In Northern Nash


RED OAK -- Given Wilson Fike's unblemished record, it wasn't a surprise that the Golden Demons were able to secure a road victory last Thursday night against Big East Conference foe Northern Nash.
But what did raise some eyebrows was the way the Demons were able to move the ball against Northern Nash's stern defense while building a lead in the first half of action.

More ...
GEOFF NEVILLE, Graphic Sportswriter

ON THE BALL. (L to R) Southern Nash's Moises Gonzalez and Northern Nash's Jett Bunn try to gain possession during last Wednesday's first-round contest in the Class 3-A Boys Soccer State Playoffs. The host Firebirds won the matchup.

ZERO TOLERANCE


STANHOPE -- Three matches and 240 minutes later, Northern Nash still couldn't get a shot past Southern Nash keeper Ben Liles.
During the 2013 boys soccer campaign, the Firebirds tangled with Northern on three different occasions, including last Wednesday's opener in the Class 3-A State Playoffs.

More ...
GEOFF NEVILLE, Graphic Sportswriter

TREMENDOUS TRIO. Rocky Mount High's Rashawn Harris heads upfield during last Thursday night's home conference football decision over Nash County rival Southern Nash.

RM claws back and tops SN


ROCKY MOUNT -- After spotting Southern Nash a 14-point cushion, the Rocky Mount Gryphons unleashed some Halloween Havoc on the Firebirds during last Thursday's crucial Big East Conference football showdown.
With third place in the league and a stronger postseason seed at play, the Firebirds came out rolling with a pair of early touchdowns to stun the homestanding Gryphons.

More ...
Staff Reports
NC Wesleyan wraps up women's soccer season


ROCKY MOUNT -- The women's soccer team of North Carolina Wesleyan College fell to Meredith College last Wednesday afternoon at Scalf Field by a 3-1 score, wrapping up their 2013 season.
The Bishops got on the board first with an early goal in the first period when Ashley Sankner beat the keeper and found Logan Bill on a one touch pass at the 6:24 mark.

More ...
Staff Reports
Southern schedule finalized


STANHOPE -- Southern Nash High School will begin its 2013-14 boys and girls basketball seasons with a home game on Nov. 19 against Goldsboro.
SN's schedules are as follows, with home contests listed in CAPS:

More ...
Staff Reports
Big East stars saluted


NASH COUNTY -- Big East Conference co-champions Wilson Hunt and Rocky Mount each placed four performers on the league's 2013 Girls Tennis All-Conference Team.
Leading the way was Wilson Hunt's Taylor Love, who was saluted as the Player of the Year after going undefeated in Big East action.

More ...
GEOFF NEVILLE, Graphic Sportswriter
CANES CLAIM THE CROWN
TRULY THE TOP GUNS. The Carolina Pilots/Evoshield Canes recently won the 2013 Top Gun Winter World Series 13-Under Gold Division Tournament. During the event, the club outscored its opponents by a whopping 56-11 margin.
More ...
Hurricanes to host Casino Night


RALEIGH -- Doug Warf, Vice President of Marketing for the Carolina Hurricanes and Executive Director of the Kids 'N Community Foundation, has announced today that tickets for the annual Casino Night and Wine Tasting, presented by PNC, are on sale.
The event will take place on the floor of PNC Arena on Feb. 1 from 7-11 p.m.

More ...
Staff Reports
A GREAT SEASON
Former Nash Central High School standout Vanessa Batchelor (holding ball) enjoyed a strong campaign in net this fall for the North Carolina Wesleyan College women's soccer team.
More ...
HOLD OF THE SITUATION
Southern Nash's Lorenzo Valdez tries to avoid a grab from Northern Nash's Hunter Davis during last Wednesday's boys soccer match.
More ...
IN THE CLEAR
Northern Nash's Hunter Davis (right) sends the ball out of harm's way as Southern Nash's Ben Liles gives chase during last Wednesday's action in the opening round of the 2013 Class 3-A Boys Soccer State Playoffs on the SNHS campus in Stanhope.
More ...
ISH ON THE MOVE
(L to R) Southern Nash's Ishmael Rodriguez is defended by Northern Nash's Tyler Jones during last Wednesday's first-round match in the Class 2-A Boys Soccer State Playoffs.
More ...
SACK ATTACK
Southern Nash's defense comes up with a sack of Rocky Mount quarterback J.T. Smith.
More ...
SCRAMBLE ACTION FOR NNHS
Northern Nash's quarterback Jacob Green escapes the pocket during last Thursday night's home gridiron setback against the Wilson Fike Golden Demons.
More ...
Nash County's Got Talent Finals Nov. 7-8 at 7 pm
Nash County's Got Talent finals will be held November 7 and 8 at 7 pm at the Nash Arts Center in downtown Nashville. Admission is $10 adults, $8 students 17 and under.
The top 15 selected from auditions will compete for cash prizes. (1st: $1,000; 2nd: $500; 3rd: $250)
Contestants are:
More ...
ALICE OUTLAW SHEARIN
Alice Outlaw Shearin, 67, passed away  Sunday, October 27, 2013. She was born August 21, 1946, to the late Lewis Howard Wood and Ethel Viola Taylor Wood. In addition to her parents, she was preceded in death by her brother Ray Wood; two sisters Joann Rackley and Loretta Groover.
More ...
DAVID V. XICOTENCATL
GOLDSBORO –– David V. Xicotencatl , age 25 of Goldsboro departed this earthly life on Sunday, October 27, 2013.
More ...
ELMER J. CUMMINGS
WILSON –– Elmer J. Cummings, passed away October 28, 2013. Arrangements by Hamilton Funeral Chapel of Wilson.
More ...
JOHN "JOHNNY" CALVIN JEFFERSON
John "Johnny" Calvin Jefferson, 53, passed away Thursday, October 31, 2013. He was the son of the late Calvin and Hetty Ramsey Jefferson. In addition to his parents he was preceded in death by a brother, James Jefferson.
More ...
LOIS PATRICK BELL
Lois Patrick Bell, 87, of Rocky Mount passed away October 28, 2013.   She was born January 13, 1926, in Ionia, Michigan, to the late Fred and Ulah Patrick.  In addition to her parents, Lois was proceeded in death by her husband of 65 years, Henry David Bell; daughter Jeannie Bell Davis, brother Frank Patrick, and sister Gladys Badder.
More ...
REBECCA HERRING MADIGAN
Rebecca Herring Madigan, age 56, passed away October 29, 2013.  She was born on November 15, 1956 to Myrtle Herring and the late Council Herring.  She was also preceded in death by her brother, Ronald and sister, Teresa Melton.
More ...
RUTH DICKENS ROBBINS
Ruth Dickens Robbins, age 81, passed away Wednesday, October 30, 2013.  Born in Nash County on December 20, 1931, she was the daughter of the late Charles Wesley Dickens and Lessie Breedlove Dickens. She was also preceded in death by her brother, Marice Dickens.
More ...
SHERRY JENKINS COBB
ROCKY MOUNT -Funeral services for Sherry Jenkins Cobb, 46, who died on Friday, Nov. 1, 2013 will be at 2 p.m., Thursday, Nov. 7, at the Richardson Funeral Home Chapel. Burial will follow in St. Delight Cemetery.
More ...
SIDNEY EARL HARPER
Sidney Earl Harper, 70, passed away, Monday, October 28, 2013. He was born December 13, 1942 to the late Sidney Harper and Lela Coley Harper Moore. Sidney was also preceded in death by a daughter, Leasa Harper Smith and a sister, Lily Harper.
More ...
VIRGIE SOUTHALL WOMBLE
Virgie Southall Womble, 97, passed away on November 3, 2013. She was born May 16, 1916 to Bessie Anna and Seth Elmer "Dick" Southall. Her husband James L. "Sol" Womble, preceded her in death along with her brother, Dick Southall and sister, Eleanor Mae Hedgepeth.
More ...
WILLIAM "BILLY" JENNINGS MEDLEY
William "Billy" Jennings Medley, 83, passed away Friday, November 1, 2013. Born in Edgecombe County on June 7, 1930, he was the son of the late Luther and Lizzy Mae Medley. In addition to his parents, he was preceded in death by his brothers; Bobby, Jack, and Clarence; one sister, Marie; daughter-in-law, Susan, and his self-adopted, mother, Granny Brown.
More ...