Subscribe/Access
Advertisements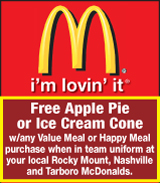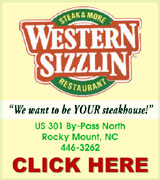 Sections
Member Options
Back
Middlesex man sentenced for sex crime


A Middlesex man will spend up to 12 years in jail after being convicted of second degree forcible sex offense last week.
Kevin Matthew Davis, 26, was convicted of the charge in Nash County Superior Court last Tuesday.
Davis was charged in October 2012 with the crime after it was reported that he inappropriately touched a teenage girl who was spending the night.

More ...
AMANDA CLARK, GRAPHIC STAFF WRITER
Bailey man found guilty of murder charge
A Bailey man will spend up to 19 years in prison after a jury found him guilty of second degree murder for a shooting at a party last September.
The jury found 20-year-old Burnice Antwon Hinnant guilty of second degree murder and assault with a deadly weapon after deliberating for three and a half hours in Nash County Court. The decision was made after the jury heard three days of testimony.
More ...

Harold Cooley, II, shares a photo of President Harry Truman (at the right) sitting with his grandfather, Congressman Harold Cooley (at left) on the couch at the congressman's home during the unveiling of Truman's footprints, which were restored.

President Truman's footprints restored


Nash County's Harvest Festival was an event many looked forward to each year but the 18th year proved to be the most exciting, as President Harry Truman visited the festival, literally leaving his footprints behind.
Truman's cemented footprints sat for years outside the Nash County Courthouse and for over 50 years, battled the elements. Over time the footprints became worn and barely recognizable, until someone suggested to Nash County Clerk of Court Rachel  Joyner that they be restored.

More ...
AMANDA CLARK, GRAPHIC STAFF WRITER
Sheriff nabs B&E suspects
The Nash County Sheriff's Office arrested four Rocky Mount men last week responsible for a number of residential break-ins.
Last Monday, the Sheriff's Office reported a high number of residential break-ins throughout the county, in the Red Oak, Spring Hope, Momeyer and Hickory areas. Most of the break-ins had front and rear doors to the home kicked in, with numerous items stolen. The break-ins began at 8 a.m. and continued into the afternoon.
More ...

HALL OF FAME –– Albert Batchelor of Sandy Cross was inducted into the N.C. State Fair Livestock Hall of Fame Sunday for his support and participation in the market hog shows at the fair.

Batchelor honored at NC State Fair


Albert T. Batchelor of Sandy Cross was one of four North Carolinians inducted into the N.C. State Fair Livestock Hall of Fame Sunday.
Agriculture Commissioner Steve Troxler inducted the new members at the State Fairgrounds. "This year's inductees have given so much to support livestock and horse shows at the State Fair over the past decades," Troxler said.

More ...
JO ANNE COOPER, GRAPHIC PUBLISHER
Just Save to close Spring Hope store


Lowes Foods, LLC recently announced that it would be closing three North Carolina stores next month, including the Just Save store in Spring Hope.
Along with the Spring Hope store, Lowes Foods, LLC will also close the Just Save store in Scotland Neck and the Lowes Foods store in Morganton.

More ...
AMANDA CLARK, GRAPHIC STAFF WRITER
Monster Dash is Saturday!


Downtown Nashville will be full of runners on Saturday morning as the inaugural Monster Dash for United Way is set for 8 a.m.
This is the first event of its kind in Nashville. The Monster Dash is being sponsored by Nash County Parks and Recreation and Nashville's Parks and Recreation. The event is a fundraiser for the local United Way, said Rosemary Dorsey, Nash County Assistant Manager.

More ...
AMANDA CLARK, GRAPHIC STAFF WRITER
NASHVILLE POLICE BRIEFS
INCIDENTS
A damage to property (Vandalism) was reported on 10/13/13 at 1187 S. First Street
A disorderly conduct was reported on 10/14/13 at L&L #9, Eastern Avenue
A larceny was reported on 10/14/13 at LBJ Chevrolet, 815 E Washington Street
More ...
NASH SHERIFF'S OFFICE REPORTS
A breaking and entering a residence was reported on 10/14/13 at 9253 NC 48
A breaking, entering and larceny of a residence was reported on 10/14/13 at 6607 Tall Cotton Road
A larceny of a credit card and obtaining property by false pretense was reported on 10/14/13
A breaking, entering and larceny of a residence and injury to real property was reported on 10/14/13 at 5591 Watson Seed Farm Road
More ...
Tripp Furniture cuts ribbon in Nashville


Nashville's Chamber of Commerce hosted a ribbon cutting last week to welcome Tripp Furniture to Downtown Nashville.
Tripp Furniture opened on September 16 in the former Nashville Furniture building at the corner of Washington and Boddie Streets.
Tripp Furniture moved from its location in Downtown Rocky Mount, where it had been since 2001.

More ...
AMANDA CLARK, GRAPHIC STAFF WRITER
Red Oak Girl Scout Troop earns elite recognition
Girl Scouts – North Carolina Coastal Pines designated Girl Scout Troop #530 of Red Oak  as one of twelve inaugural Daisy's Dozen Elite Troops for 2012-2013.  Troop members were presented with award medals at an evening ceremony on Thursday, October 10, 2013.
More ...
WEDDING ANNIVERSARY
Lervern and Patsy Sykes recently celebrated 60 years of marriage with a party given by their children at Peachtree Baptist Church in Spring Hope. They were married September 5, 1953 in El Paso, Texas.  They have four children, Robert Sykes and wife Amy; Cynthia Everett and husband Bill;  Vicky Valdivinous and husband Luna; and Timmy Sykes deceased in Nash County.  They are loved by nine grandchildren and six great grandchildren.
More ...
ELECTION 2013 CANDIDATES: Castalia Board of Commissioners / Debra Ann Sjoberg
Debra Ann Sjoberg
Age: 54 years old
Profession or background: Mental Health Tech, AA degree, St. Petersburg College, St. Petersburg Florida
Family: 4 children, Joshua, Jesse, Rebekah and Hannah, 1 grandchild, Nevaeh
Hobbies include, advocating special needs as well as adoption related issues. Former president of SNAP (Special Needs Adoptive Parents) Northern NJ Chapter, former foster parent. Animal rescue, with emphesis on elderly and special needs animals. I enjoy reading and listening to music.
More ...
ELECTION 2013 CANDIDATES: Middlesex Mayor / Luther "Lu Harvey" Lewis Jr.
Luther "Lu Harvey" Lewis Jr.
Age:  55
Profession: Town Administrator/Economic Development for The Town of Middlesex full time since July 2012 - Before that I was part time for two years - Independent Life and Health Insurance Agent for the Past 12 years
Background: Have been Mayor since being appointed in July of 2005 after which I was elected to the office in November of 2005 and re-elected in 2007,2009 and 2011
More ...
ELECTION 2013 CANDIDATES: Middlesex Board of Commissioners / Harold Meacombs
Harold Meacombs
Age: 64
Profession or Background: 
16 Years as a Middlesex Commissioner; I have an Associate's Degree in Electronic Technology; I worked with NC Highway Patrol from 1970-2008 as a Telecommunications Analysis where I engineered and managed projects with multimillion dollar budgets; I continue to work with NC Highway Patrol from 2009 until now as a Telecommunications Contractor;
More ...
ELECTION 2013 CANDIDATES: Middlesex Board of Commissioners / Robert Johnson
Robert Johnson
Age:  54
Profession or background: Quality/Implementation Supervisor for Bridgestone America Tire Operation - Wilson, Board Member for Nash County Tourism, 2013 Graduate of Nash County Citizen's Academy, Middlesex Board of Adjustment
Family: Married – Wife Pamela
Hobbies: Habitat Programs, Gardening, Traveling & Helping citizens
More ...
Certificate of Need filed for two dialysis stations
Two competing applications have been filed with the Certificate of Need Section of the N.C. Division of Health Service Regulation to develop dialysis stations in Nash County.
A public hearing for these projects will be held at 11 a.m. on Nov. 18 in the Warner Meeting Room, 1st Floor, Braswell Memorial Library, 727 Grace St., Rocky Mount.
More ...
Nash continues public meetings for input on proposed water expansion in Red Oak


Nash County officials met with more residents from the Red Oak –Dortches area on October 15 at the Red Oak Middle School in order to explain the advantages of signing on to the county water services, should they be offered. More than 200 people showed up for this session as Nash County Engineer Derek Hawkes and Wooten Company Project Manager Brian Johnson explained the details of the proposed system.

More ...
AMELIA HARPER, GRAPHIC CORRESPONDENT
Rocky Mount Police arrest over 100 in "Operation Spider Web"


Rocky Mount Police Chief James Moore compared law enforcement officers to spidermen last week, as the results of Operation Spider Web were released at a press conference.
Moore said the goal of the operation was simply restoring law and order to the streets of Rocky Mount.
"The ultimate goal was to bring peace to Rocky Mount," Moore said.

More ...
AMANDA CLARK, GRAPHIC STAFF WRITER
KICKBALL!
Robbie Amerson, a Nashville Firefighter, (at left) jokes with Jamie Moss (at right), who played for the EMS team during the kickball tournament.
More ...
NC Wesleyan Founders Day is October 24
North Carolina Wesleyan College invites the Rocky Mount community to join students, faculty, and staff to celebrate the establishment of the college at a Founders Day ceremony on Thursday, October 24, at 11:00 a.m. in Minges Auditorium of the Dunn Center.
This year's event will be a special tribute to the late Guy and Alice Barnes, long-time supporters of Wesleyan who were among the founders of the college in 1956.
More ...
MOUNT ZION FWB CHURCH NEWS


Our choir sang "His Name is Wonderful" for the call to worship. Pastor Aycock welcomed everyone and prayed the prayer of invocation. Hymns of worship were "Come Thou Fount" and We're Marching to Zion." Algie Jones Jr. led the singing. Prayer concerns were shared. Mozelle Batchelor at Autumn Care in Nashville and doing very well.

More ...
Roselene Bass
PEACHTREE COMMUNITY NEWS


After a week of dreary weather, Sunday morning brought beautiful sunshine.  Peachtree folks gathered for worship.  Pastor Whitehouse greeted those present.  Sanctuary flowers were given in honor of Mary Hazel Mink's fifteenth birthday by her grandparents, Bob and Fran Bunn.  The flowers were graciously grown and arranged by Melba Hobgood from her garden.

More ...
Barbara Hardison
RED OAK NEWS


Red Oak Baptist Church welcomes new members Ron and Robin Kelly and also Ron's sister, Julie Kelly! 
Several ladies attended the Women in Action meeting at Red Oak Baptist Church on Tuesday, Oct. 15.  They enjoyed the fellowship and the supper with the program following.  They have many exciting missions plans in the works! 

More ...
Suzy Pearce
BEULAH COMMUNITY NEWS


Sunday school began at Beulah Church Of Christ at 9:45 a.m., followed by church service at 10:45. Frances Hedgepeth played the piano to open Sunday School. Paul Davis played for church service. He filled in for Bonnie Matthews, our regular pianist who was on vacation. Thank you Paul, we really enjoyed having you with us on Sunday.

More ...
WILMA ENROUGHTY
Taylor attends training for state organization presidents
Patricia H. Taylor, a resident of Wilson and a member of Mu Chapter of Rocky Mount of the Delta Kappa Gamma Society International, returned recently from the leadership development training for new state organization presidents of the Delta Kappa Gamma Society International. The organization is a professional honor society for women educators with approximately 85,000 members.
More ...
UDC Bethel Heroes
Margaret Sink (at left) presented Jeanette McIlwean (at right) with a certificate for being a member of the UDC Bethel Heroes Chapter 636 for 10 years.  Presentation took place at the September meeting of the chapter.
More ...
Local man named superintendent at Johnston Correction Institute
Drew Stanley has been named as the new superintendent at Johnston Correctional Institution.  The state prison facility currently houses approximately 600 adult male inmates and employs a staff of 240 people.
 In his new position, Stanley will oversee the conversion of Johnston Correctional Institution from a medium-custody to a minimum-custody prison facility effective January 1, 2014.
More ...
NCC College Alumni Association reaches out to former students
"I remember walking onto the campus of NCC for the first time and I was so happy because I realized that I had finally made it to college. My first semester was so much fun. All the instructors were really nice and helpful. I could not believe how much they cared about their students. I was treated as a person, not just a number or a seat," 2002 NCC Associate in Applied Science in Business Administration graduate Allison Moss said.
More ...
DONATION
Linda Evans (third from left) and her grandson (fourth from left) Devin, both of Rocky Mount, donate a box of homemade stuffed dolls to the Nash Health Care Volunteer Auxiliary.  The dolls will be used to provide comfort and smiles for young patients.  Accepting the gifts are, from left, Nash Health Care Volunteer Auxiliary members Anne Hardy, Ben Turner, Floyd Burnette and Doris Parham.
More ...
Fair traditions get better as kids grow


There is one thing about the State Fair that never changes: you will always see something you wish you hadn't.
This year, it was the guy who apparently was frozen in 1974 and thawed out in September. He was wearing a yellow singlet, had been oiled up, and was pedaling a rickshaw that was blaring disco music.
While all at once my family had to look away quickly, at least we were in the midst of enjoying one of our favorite family traditions — the much-anticipated Fair in Raleigh.

More ...
Mike Brantley
Candidate coverage has been difficult


In this week's Graphic, you'll find answers to questions we asked candidates running for office in the upcoming election.
Typically, in the past, I receive responses from everyone in the local elections. It is the statewide elections that I sometimes don't have responses but those instances are rare.
I appreciate candidates taking the time to answer questions. Citizens do read them and we hope it helps them to better make decisions on who to vote for.

More ...
Amanda Clark
Thank goodness for Nashville's leaders and vision


Last week I had the pleasure of attending and covering the 75th anniversary celebration of the Nashville Lions Club.
I've always known Lions Clubs do a lot for their communities and that we've always been fortunate to have a club right here in Nashville which has remained a strong pillar in our community. Long-time member and past leader, Mr. Don Glisson, was a huge reason I knew the club was alive and well in our town. Though he has passed away, there are still many members and leaders keeping his legacy and his passion for the club's purpose going strong today.

More ...
Jo Anne Cooper
Backward Glances


HARVEST FESTIVAL - TRUMAN VISIT ––  These photos were taken during the Nash County Harvest Festival Parade in 1960 which is the year President Truman visited Nashville to attend the festival.

More ...
A PICTORIAL LOOK INTO THE PAST

TOUGH TO TACKLE. Northern Nash's Jaquez Avent (left) picks up yardage during last Friday night's road football contest at Southern Nash.

Southern Rallies To Edge NN


STANHOPE -- For the most part, Southern Nash High School football coach Brian Foster was frustrated with his club's compete level -- especially on offense -- during last Friday's key home Big East Conference showdown against backyard rival Northern Nash.
Foster felt like some of his offensive performers were a bit intimidated by the Knights' collection of heavy hitters, including one of the area's top linebacker groups.

More ...
GEOFF NEVILLE, Graphic Sportswriter

MEN IN MOTION. (L to R) Nash Central's Tristan Miller and Northern Nash's Kevin McLaughlin try to gain possession during last Thursday's soccer match.

A WILD SEASON


ROCKY MOUNT -- Fresh off an agonizing loss to Rocky Mount the day before, Northern Nash faced another quick turnaround challenge last Thursday in Big East Conference boys soccer action.
That's when the Knights traveled to Nash Central to serve as the opponent for the Bulldogs' Senior Night festivities in a make-up league contest.

More ...
GEOFF NEVILLE, Graphic Sportswriter
Bishops dropped by Pride


ROCKY MOUNT -- Despite a career-high 320 passing yards by sophomore Robbie Lanier and 180 rushing yards by junior Jacques Alston, it was the Pride of Greensboro College who came out on top of a 44-42 gridiron shootout with the North Carolina Wesleyan Battling Bishops on a rainy last Saturday afternoon at Rocky Mount Athletic Stadium.

More ...
Staff Reports
Nash County Firebirds wrap up football season


STANHOPE -- The Nash County Firebirds wrapped up their 2012 gridiron schedule last Saturday with a home event against Wilson-The SPOT in Eastern North Carolina Football League action.
Here is a look at each of the three contests:

More ...
Staff Reports
NC's Price qualifies for states


WILSON -- Nash Central's Kaley Price qualified for the states after a fourth-place finish at last weekend's Class 3-A East Regional Girls Tennis Tournament at the Barton College Courts.
Price reached the semifinals before falling 6-1, 6-1 to C.B. Aycock's Ashton Walker. She retired in the consolation match due to an injury.

More ...
Staff Reports

SHOW OF LEGS. (L to R) A Nash Central Middle School player and Red Oak's Zachary Wells go for the ball near the midfield during Monday's soccer match on the NCMS campus in Nashville.

ROMS' Big Season


NASHVILLE -- Here's how strong Gavin Meiring's conviction was about the 2013 boys soccer season at Red Oak Middle School:
When Meiring accepted an administrative position at Forest Hills School in Wilson, one of his stipulations was that he couldn't start until after the Tigers' pitch campaign had concluded.

More ...
GEOFF NEVILLE, Graphic Sportswriter

FOOTRACE. Northern Nash's Tyler Jones (left) gains possession and prepares to advance the ball upfield during Monday's road defeat against the Rocky Mount Gryphons at the Big East Conference Tournament.

Final Heartbreak


ROCKY MOUNT -- There couldn't possibly been a more fitting ending to Northern Nash's 2013 boys soccer campaign.
During Monday's opening-round match at Rocky Mount in the Big East Conference Tournament, the Knights needed a victory to keep their season alive -- but once again heartbreak would prevail.
Northern Nash had plenty of chances and had its share of controlled play, but the Knights couldn't find the back of the net.

More ...
GEOFF NEVILLE, Graphic Sportswriter
County Line moves racing up to Friday


ELM CITY -- Due to the forecast of imminent rain in the area last Saturday, County Line Raceway made the call early to have the Final/Double Points night on Friday.
With points championships on the line, $1,000 for PL Woodard Pure Stock V8 division and the final race of the Barnes Equipment Fast Five with $2,000 going to the winner, everyone was excited as they rolled through the gates.

More ...
Staff Reports
NN's Good Deeds


RED OAK -- Northern Nash High School's boys soccer program is no stranger to philanthrophy as the Knights have been offering support and equipment to the FC Hawks Gambian National Youth Football Program.
Under Northern Nash's new schoolwide mandate that each athletic program sponsor a charity throughout the season, the Knights' boys soccer crew recently raised canned goods to present to My Sister's House in Nashville.

More ...
GEOFF NEVILLE, Graphic Sportswriter
NCWC golfers achieve success


ASHLAND, VA. -- North Carolina Wesleyan College's golf team wrapped up the fall portion of its schedule on Sunday and Monday, tallying an impressive 3rd-place finish at the Ted Keller Memorial Tournament, which was hosted by Randolph-Macon College.
The Bishops were led by junior Chris Freeman, who carded a tourney-low 68 in the final round to cap a solid 295 team score on the day.

More ...
Staff Reports
A PRIZE HARVEST
Battleboro resident Maggie Huddleston, 13, outdid the boys in her hunting camp by recently killing a 9-point buck that weighed in at 164 pounds. The deer was killed in Edgecombe County.
More ...
ALL ABOUT ELEVATION
Red Oak's Sam Page (right) rises for a header during the Tigers' road boys soccer conquest Monday on the road against Nash Central.
More ...
BALL BOY
Christian Buck, 6, of Rocky Mount served as the ball boy during Monday's first-round matchup of the Big East Conference Boys Soccer Tournament between Northern Nash and host Rocky Mount. Christian's older brother, Stevie, plays for the Gryphons.
More ...
BEST FOOT FORWARD
Northern Nash's Tyler Jones advances the ball through the midfield for the Knights during last Thursday afternoon's road victory against rival Nash Central High School.
More ...
MIDDLE MAN
Nash Central's Andy Moody (middle) tries to escape the defense of Northern Nash's Jett Bunn (left) and Kevin McLaughlin (right) during last Thursday's conference soccer showdown.
More ...
TWO DETERMINED PLAYERS
(L to R) Rocky Mount's Kevin Ramirez and Northern Nash's Josh Collart try to obtain a 50-50 ball during Monday afternoon's opening-round matchup of the 2013 Big East Conference Boys Soccer Tournament on the RMSH campus.
More ...
Tar River Philharmonic Orchestra opens Oct. 24 at the Dunn Center
The Tar River Philharmonic kicks off the 2013-2014 season with a celebration of live music at their opening night concert on Thursday Oct. 24th at the Dunn Center.  One of their showcase pieces will be the Entrance of the Gladiators famously used by circuses around the world to call crowds to the big top.
In addition the Philharmonic is featuring two area soloists who have achieved exceptional levels of musicianship.
More ...
Nash Arts announces fall, winter programs
Purple Schoolbus, October 26, 8 p.m. Tickets are $10 in advance, $12 at the door. Come in costume & receive 10 percent  off your door admission!
Nash County's Got Talent Auditions - October 28 and 29 beginning at 5:30 p.m.  Registration: $25 Individual/$50 Group.
More ...
ALEXANDER BATTLE
BRONX, NY ––Alexander Battle, 80, of Bronx, New York and formerly of Rocky Mount,  passed away on Wednesday, October 9, 2013.
More ...
ANNIE L. KENNEY DOWD
ROCKY MOUNT - Annie L. Kenney Dowd, 94, died October 16, 2013. Funeral arrangements to be announced. Arrangements by Stokes Mortuary, Inc.
More ...
ISABEL LIMER HARPER
Isabel Limer Harper, 91, of Rocky Mount,  passed away on October 17, 2013. Isabel was born in Warren County on January 7, 1922 to the late Osborne Marion and Emma Tharrington Limer. She was married to the late Frank Lester Harper. In addition to her parents and husband, she was preceded in death by her brother, Tom Limer and sister, Irma Rideout.
More ...
KENNETH KEEN
Kenneth Keen, age 65, passed away Friday, October 18, 2013. Born in Nash County on August 4, 1948, he was the son of the late Stanford E. Keen and Christine Thorne Keen. He was also preceded in death by his brother, Elwood Keen and brother-in-law, Mike Bass.
More ...
LINWOOD MIDDLETON
ROCKY MOUNT- Funeral services for Linwood Middleton, 59, who died on Friday, Oct. 11, 2013, were held Saturday, Oct. 19,  at Social Union Baptist Church. Burial  followed at Spring Hope Memorial Gardens with Rev. Nathaniel Bunn officiating.
More ...
ROBERT LINWOOD PRIDGEN
Robert Linwood Pridgen, age 84, passed away Sunday, October 20, 2013. Born January 9, 1929 in Edgecombe County, he was the son of the late Luther Leonard Pridgen and Ida Mae Sutton. He was also preceded in death by his sister, Ophelia Worrell; brother, George Pridgen; and son-in-law, Tommy Jones.
More ...
THELMA EATMON BELL
Thelma Eatmon Bell, 92,  passed away Saturday, October 19, 2013. She was born on Thanksgiving Day, November 25, 1920. She was one of nine children born to Earnest and Nannie Eatmon. In addition to her parents she was preceded in death by her husband of 52 years, Russell Bell; three sisters and five brothers.
More ...