Subscribe/Access
Advertisements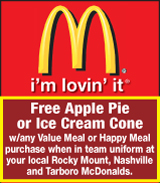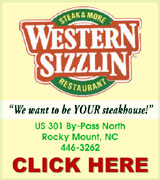 Sections
Member Options
Back
School system prepares for no tenure


With the new state law kicking in regarding teacher tenure and contracts, the Nash-Rocky Mount School (NRMS) system is faced with the task of developing proficiency standards to evaluate all teachers. Along with these standards, the administration is putting a new program in place to groom internal candidates for leadership positions in the school system beginning in January 2014.

More ...
MICHELE A. CRUZ, GRAPHIC CORRESPONDENT
County offers water to Red Oak, Dortches


More than one hundred people attended a meeting held last Thursday, October 10, where Nash County representatives gave a two hour presentation on the newest plan to extend water lines into the Red Oak-Dortches area. The purpose of the meeting was to encourage residents of that area to commit to becoming water customers in order to judge the economic feasibility of utility extension.

More ...
AMELIA HARPER, GRAPHIC CORRESPONDENT
Candidate forum set for Oct. 23
The Nashville Chamber of Commerce is hosting a candidate forum for the three candidates seeking seats on the Nashville Town Council. The event will be held   Wednesday, October 23 at 7 p.m. at Nash Arts Center in downtown Nashville.
The three candidates competing for the two open seats are Patricia Rogers, Larry Taylor and Jerry Harris.
More ...

75 YEARS OF SERVICE –– Lions District Governor W.B. Bullock presents the 75 Year Emblem to Nashville Lions Club President Mary Boehm congratulating the club on their years of service in the community.

Nashville Lions Club celebrates 75 years


The Nashville Lions Club celebrated its 75th birthday last week hosting a dinner for members and guests at Oak Level Ruritan Club.
Lions President Mary Boehm opened the event acknowledging the many contributions the club had offered in the past year which included projects at Nashville Elementary, purchasing eyeglasses, sending people to Camp Dogwood and to the VIP Fishing Tournament.

More ...
JO ANNE COOPER, GRAPHIC PUBLISHER
Middlesex citizen hushed during public comment


A Middlesex resident's public comments were cut short on Monday night during the board's regular meeting.
Mayor LuHarvey Lewis interrupted resident Edna Mount during her comments, asking her to move on from discussing the mosquito problem in Middlesex because it's a controversy that's already been brought to the board's attention. The issue was discussed at the board's meeting last month and has been discussed at several meetings prior.

More ...
AMANDA CLARK, GRAPHIC STAFF WRITER
Halloween fun planned in Nashville


The Town of Nashville is offering a fun-filled, safe place for parents to bring their children this Halloween.
For those looking for a spookier Halloween, Nash Arts is offering its Haunted by the Arts Ghost Walk.
The ghost walk will be held this Saturday, October 19 from 7 until 9 p.m., said Shelly Gray, Nash Arts Director.
The first "Haunted by the Arts" Ghost Walk was held in 2008 and was a success, Gray said.

More ...
AMANDA CLARK, GRAPHIC STAFF WRITER
Nash Produce hosts tour for newly hired professors


Nash Produce Company was one stop during a two-day tour of Eastern North Carolina by newly hired professors, researchers and administrators of N.C. State University's College of Agriculture and Life Sciences.
Richard Linton, Dean of the N.C. State University College of Agriculture and Life Sciences, led the two-day tour, which included stops in Merry Hill, Plymouth, Pinetown, Greenville, Edgecombe County and Research Triangle Park, along with the stop Friday in Nashville.

More ...
AMANDA CLARK, GRAPHIC STAFF WRITER
NASHVILLE POLICE BRIEFS
INCIDENTS
A larceny (shoplifting) and simple assault was reported on 10/6/13 at Wal-Mart, 1205 Eastern Avenue
A hit and run and driving while impaired were reported on 10/8/13 at Wal-Mart, 1205 Eastern Avenue
A larceny of a cell phone from a vehicle was reported on 10/9/13 at Braswell Milling, 105 E Cross Street
More ...
NASH COUNTY SHERIFF'S OFFICE REPORTS
A financial card fraud was reported on 10/8/13 at 197 Brandywine Lane
A breaking and entering of a residence was reported on 10/8/13 at 1200 NC 48
A breaking and entering of a residence and damage to property was reported on 10/8/13 at 10860 NC 48
A carrying a concealed weapon and resisting a public officer was reported on 10/8/13 at Universal Leaf
More ...
Cancer Friends Forever
Members of Cancer Friends Forever group, which is made of breast cancer survivors, met on Monday night and began work on their first outreach project, blankets to give to cancer patients at Vidant Hospital. Pictured ABOVE, at right, Bryan-Royal, Arnold and Kelly work on cutting the pattern for the blanket.
More ...
Coffee with a Cop is Oct. 22
Nashville's Police Department will hold its next Coffee with a Cop event on Tuesday, October 22 from 7:30 until 9 a.m. at Hardee's.
The "Coffee with a Cop" event is a community outreach program that allows citizens and others in the community to sit down and meet Police Chief Tom Bashore and Nashville Police Officers, ask questions and voice concerns.
More ...
Operation Medicine Drop set at Nashville Wal-Mart
Nashville's Police Department will host Operation Medicine Drop on Saturday, October 26 from 2 until 6 p.m.  at Wal-Mart in Nashville
Operation Medicine Drop is an event that helps citizens properly dispose of unused medications. The program is administered by Safe Kids North Carolina and The NC Department of Insurance.
More ...
NRMS receives Certificate of Excellence in Financial Reporting
The Nash-Rocky Mount Board of Education recently received the Association of School Business Officials International's (ASBO) Certificate of Excellence in Financial Reporting award for having met or exceeded the program's high standards for financial reporting and accountability.  
Dr. Anthony Jackson, Superintendent of Nash-Rocky Mount Public Schools, said he appreciates the work of district staff to ensure that reporting is clear and accurate.
More ...
Honored
Stephanie Brown (center) was honored recently by Down East Radio Reading Service with a Lifetime Achievement Award.  David Edwards (right), Immediate Past Chair, presented the framed certificate and praised Browns' years of exemplary service as DERRS' Director of Volunteer Services.  Edwards said, "When our organization was in the planning stages, we needed a person who had the expertise and local knowledge to gather a cadre of volunteers to staff a radio reading service.  Stephanie took on that task and has admirably directed volunteer operations by recruiting, training and scheduling our all-volunteer staff of readers since the beginning.  Her commitment to our efforts is commendable."  Adding his congratulations is DERRS' Chairman of the Board, Brandon Berry (left).
More ...
Nash County Blood Drives for October 2013
Wednesday, October 16 from 11:45 a.m. until 4 p.m. at Eaton Corporation, 8171 Planer Mill Road, Middlesex
Wednesday, October 16 from 3 until 7 p.m. at the Red Oak Volunteer Fire Department, 7951 Red Oak Road, Red Oak
Tuesday, October 22 from 9 a.m. until 2 p.m. at Edgecombe Community College, 225 Tarboro Street, Rocky Mount
More ...
Moore, Braswell unite in marriage
Laura Wimberly Moore and Ronald Scott Braswell III  were married  at 4 p.m. on Aug. 10, 2013 at Nashville United Methodist Church in a ceremony honoring and glorifying God. The officiating minister was Dr. Rev. Johnny Clark.
The bride is the daughter of Mr. and Mrs. Aurthur Stevenson of Nashville.
The groom's parents are Mr. and Mrs. Ronald Scott Braswell Jr. of Rocky Mount.
More ...
Puckett, Tedder wed
Danielle Puckett and Kyle Tedder were married Aug. 30, 2013 at White Dove Wedding  Chapel. Rev. Dr. Brigitte Gros was the officiating minister.
The bride is the daughter of Mr. and Mrs. Joel Puckett of Nashville.
The groom's parents are Mr. amd Mrs. Dan Tedder of Middlesex.
More ...
WEDDING ANNIVERSARY
Lervern and Patsy Sykes recently celebrated 60 years of marriage with a party given by their children at Peachtree Baptist Church in Spring Hope. They were married September 5, 1953 in El Paso, Texas.  They have four children, Robert Sykes and wife Amy; Cynthia Everett and husband Bill;  Vicky Valdivinous and husband Luna; and Timmy Sykes deceased in Nash County.  They are loved by nine grandchildren and six great grandchildren.
More ...
Nashville Elementary PTA expands Fall Festival


The Parent Teacher Association (PTA) at Nashville Elementary School is hoping to expand its annual Fall Festival by allowing for more community participation.
The festival is set for Friday, October 25 from 5 until 8 p.m. at the school's baseball field. The event is being moved to the baseball field from the lot next to the school because it has grown so much, said PTA Secretary Anna Matthews Joyner.

More ...
AMANDA CLARK, GRAPHIC STAFF WRITER

Owen Phillips made six bird boxes as part of his Eagle project. Three are at Glover Park and three are at Stoney Creek Environmental Park.

Local scout gives to Nashville Parks and Rec


The Nashville Hornets came to mind for Owen Phillips as he was thinking about what to do for his Eagle Scout project.
Phillips, an eighth grader at Red Oak Middle School, said he wanted to give back to the program that had taught him so much.
Phillips is a Life Scout with Troop 40 in Rocky Mount. He first joined the scouts as a cub scout and said scouting really appealed to him.

More ...
AMANDA CLARK, GRAPHIC STAFF WRITER
COOLEY LIBRARY GETS LAPTOPS
Patrons of Harold D. Cooley Library in Nashville will soon have access to laptops, thanks to a grant that is shared between Cooley and Braswell libraries. As part of the grant, Cooley received 10 laptops, which patrons will be able to use in the library. The laptops will be available in November, according to Library Director Brian Booth. Pictured above (L-R), Robin Romanus and Mark Sundbom, of Braswell Library, work on configuring laptops to prepare them for public use.
More ...
Nashville woman hurt in accident
A Nashville woman was injured after her vehicle was hit from behind on US Highway 64.
According to the Rocky Mount Police Department, Lori McLeod, of Nashville, had pulled over on Highway 64, near Benvenue Road, when she then pulled into the travel lane and was excellerating on Highway 64, when she was struck from behind by Mikel Hargrove, of Bunn.
More ...

Braxton Overby, a historical interpreter from Mordecai Historic Park, demonstrates hearth cooking during the History Alive! event at the Country Doctor Museum in Bailey.

History Alive!


The Country Doctor Museum in Bailey held its third annual History Alive! event Saturday, Oct. 12 attracting an estimated 400-500 visitors.
Visitors were treated to free museum tours, horse drawn carriage rides, hearth cooking demonstrations, mid-19th century music by The Huckleberry Brothers, children's activities, exhibits, food and more.

More ...
GRAPHIC PHOTOS BY JO ANNE COOPER
MOCK TRIAL
Local Girl Scounts and Cub Scouts participated in a mock trial at the Nash County Courthouse on Saturday, October 5th. Each participant had a role in which all roles from an actual teen trial were explored, and gave insight to all involved.
More ...
Twin Counties receive Cigarette Litter grant
Keep America Beautiful (KAB) of Nash and Edgecombe counties is the recipient of a $6,000 Cigarette Litter Prevention Program Grant awarded by the Keep America Beautiful national office. The purpose of the grant is to reduce litter caused by cigarette butts and will be applied to City Lake in Rocky Mount.; Riverfront Park in Tarboro and Stoney Creek Park in Nashville.
More ...
Unveiling
The City of Rocky Mount hosted an unveiling of the Bishop FC Barnes Marker on September 8 at Redd Budd Holy Church on Cleveland Street in Rocky Mount. Barnes founded and established Red Budd Holy Church in 1959. The church was initially located in Castalia but later moved to Rocky Mount. Barnes served as a pastor at the church for over 52 years. He was also a renowned gospel singer, best known for the song "Rough Side of the Mountain," which remained #1 on the billboard charts for over a year. Barnes died July 11, 2011. Pictured above is the marker along with those who attended the ceremony.
More ...
MOUNT ZION FWB CHURCH NEWS


Our choir sang "God is so Good" for the call to worship. Pastor Aycock welcomed everyone and prayed the prayer of invocation. Hymns of worship were "What a Friend" and "Jesus is Lord of All." Kenneth Parker led the singing. Prayer concerns were shared; sick, shutins, hurting, soldiers, missionaries, our church, our nation and the leaders. That Christians will be revived and the lsot saved this week in revival. Mon.-Wed. 7 p.m.

More ...
Roselene Bass
PEACHTREE COMMUNITY NEWS


On a drizzly, fall morning Peachtree folks gathered for worship.  Sanctuary flowers were given in memory of R. S. Griffin by his widow, Lillie Belle Griffin.
Pastor Whitehouse welcomed all those present.  His sermon topic was "Is Your Grace Hidden?"  It was based on scripture found in I Samuel 16:18-23.  It was a continuation of a study of King David's life.

More ...
Barbara Hardison
RED OAK NEWS


The NRBA WMU Leadership Team met on Saturday, Oct. 12 at the Associational Center in Dortches.  They continue to make plans for missions in the association.  Audrey and Suzy Pearce, Children's Missions Consultants, and Marilyn Boone, Area Director, attended.       
The Red Oak Fire Department will host a Blood Drive on Wednesday, Oct. 16 from 3:00 PM - 7:00 PM and on Thursday, Oct. 24 there will be a Flu Shot Clinic from 4:00 PM - 7:00 PM.

More ...
Suzy Pearce
Bethel Heroes


UDC Bethel Heroes Chapter 636 held its October meeting at the Braswell Memorial Library.  The speaker for this event was UDC member Margie Parker Brantley.    Mrs. Brantley spoke on her recent visit to the Civil War Museum at the old  Exchange Hotel in Gordonsville, Virginia.  Her speech included the history of the Museum as well as photographs of it as it appears today.

More ...
HELEN SHARPE
Self-defense
Nashville's Business and Professional Women (BPW) learned self-defense techniques at their September meeting. Allen Clark, owner and instructer of Nashville Academy of Martial Arts, showed members basic self-defense moves and how ladies can use typical items in their purses as weapons.
More ...
NEED seeks Board of Directors from District 1 in Nash County
The NEED, Inc. Board of Directors is seeking membership to represent District 1 of Nash County.
The Board of Directors serves as the policy-making body of NEED, Inc. The board's responsbilities include: developing policies, objectives and strategies to accomplish the organization's objectives, and to insure that its policies and plans are executed. In addition, the Board gives support, direction and guidance to the Executive Director in the formation of policies.
More ...
Local Mu Chapter meets


Mu Chapter of Delta Kappa International Society for Key Women Educators met at Lakeside Baptist Church on September 26, 2013, with President Tobey Worthington presiding. Treasurer Marianne Matthews presented the budget, and explained changes for this year. Jeannette Pittman, Chairman of the Educational Law and Policy Committee, presented some legislative issues concerning education. After the presentation, the membership was asked to complete a short survey.

More ...
MARGIE PARKER BRANTLEY
Nashville is still searching for Maggie


At least once a week, I take a drive down First Street Extension, past the cemetery, on my way out of town. During my drive, I find myself looking both ways, into the cemetery and on the right into the woods  and subdivision area with hopes that maybe, just maybe, a black furry dog will dart in front of me.
In my little world, I imagine the dog stopping and looking at me as I stop and slowly get out of my car.

More ...
Amanda Clark - 1 opinion posted
Forget what is right and wrong, just get the blame right


So let me get this straight:
Federal employees, when paid, don't prevent people from entering the open air memorials in Washington, D.C.
Federal employess, when not paid, show up to install barricades to prevent people from entering open air memorials in Washington, D.C.
Federal employees, when paid, don't really have anything to do with highways and overlooks in national parks.

More ...
Mike Brantley - 1 opinion posted
Lessons learned from remarkable women


National Business Women's Week will be celebrated across our  country October 21-25 and  locally by our BPW members here in Nashville.
Many businesses in Nashville are  owned or operated by women. I have watched many of those women raise families while working 50 plus hours a week and still make time to serve their community by volunteering with one or more organizations.

More ...
Jo Anne Cooper
Backward Glances


FUND-RAISING EFFORT ––This photo originally published November 27, 1973. Tina Lamm of the Momeyer community hands the winning ticket to Momeyer Rescue Squad President Steve Bass for a color portable television awarded to Braswell Milling Company of Nashville. The contest was held to raise money for the rescue unit.

More ...
A PICTORIAL LOOK INTO THE PAST
Nash County Animal Friends' Notebook


VOLUNTEERS ~ Nash County Animal Friends can use photographers, transporters and fosters.  We work through FaceBook.  If you wish to help, message us!  The Nash County Animal Control Shelter will not allow volunteers, due to the county's  liability insurance.  Mind you, they do allow community service workers.  If they would allow volunteers, we could take a lot of work off of the officers.  We could walk and socialize the pets.  We could clean.

More ...
Carol Vierela, NASH COUNTY ANIMAL FRIENDS

SHOW OF SPEED. (L to R) Northern Nash's Hunter Davis and Southern Nash's Carlos Hernandez race for possession during last Thursday afternoon's Big East Conference boys soccer showdown on the SN campus.

SN'S SEASON SWEEP


STANHOPE -- During the teams' earlier-season meeting, Southern Nash wasn't able to put away Northern Nash until a strong second half that propelled the Birds to a two-goal victory in Big East Conference boys soccer action.
Southern was much more efficient from the get-go during last Thursday's rematch on the SNHS campus.
The Firebirds were methodical and effective from the beginning and never gave the Knights any hope that they could escape Stanhope with a conquest.

More ...
GEOFF NEVILLE, Graphic Sportswriter

SERVING UP A CLUTCH VICTORY. Kelsee Whitley and the Nash Central Lady Bulldogs scored a road victory Thursday evening against Big East Conference volleyball rival Southern Nash High School.

Central Spoils SN Senior Night


STANHOPE -- All along, Nash Central High School volleyball coach Frank Poyer believed the effort was there for his Lady Bulldogs.
But in Poyer's estimation, Central has simply been unable to claim the big points in tight matches -- the rallies that often determine the outcome of the event.

More ...
GEOFF NEVILLE, Graphic Sportswriter
Northern stopped in league


WILSON -- Northern Nash took powerhouse Wilson Fike to four games last Tuesday but was still defeated in a key Big East Conference volleyball matchup.
Northern, which finished in third place in the league, fell 25-6, 25-8, 23-25 and 25-21 to the Golden Demons.
Shelby Godwin delivered six service points for the Lady Knights, including a quartet of aces.

More ...
Staff Reports
Buffaloe Takes 3rd


NEW YORK, N.Y. -- Christian Buffaloe, a 13-year-old local youth, recently competed in the "2013 All American Open International Karate Championships" in New York City.
This prestigious annual event is sponsored and organized by the International Kyokushin Karate Organization in Tokyo and features fighters from Japan, Russia, Europe, Australia, Canada and South America.

More ...
Staff Reports
NN FOOTBALL HIGHLIGHTS, 1
ONE TO REMEMBER. Last Friday was quite a night in Death Valley as Northern Nash hosted Wilson Hunt in the Big East Conference football opener for both clubs. Not only was NN celebrating Senior Night, but there was also a special pre-game presentation as Knights' coach Randy Raper received his commemorative jacket for being named to the Tar Heel coaching staff for the prestigious North Carolina-South Carolina Shrine Bowl Football Game, which will be played in December on the campus of Wofford University in Spartanburg, S.C. In the photo above: Coach Raper tries on his Shrine Bowl jacket.
More ...
NN FOOTBALL HIGHLIGHTS, 2
Northern's Kendrick Richardson stiff-arms a Hunt defender. The visiting Warriors held on to defeat the Knights by a 14-7 margin in the key Big East Conference meeting.
More ...
A Fitting Tribute


ROCKY MOUNT -- The Tar River Cats were determined to make a statement on and off the field during the recent Top Gun NIT 12-Under Baseball Tournament at the Rocky Mount Athletic Complex.
The club, which features players from Nash County, tried to come up with a fiiting way to honor Breast Cancer Awareness Month.

More ...
GEOFF NEVILLE, Graphic Sportswriter
ECU releases 2014 schedule


GREENVILLE --Thirty-two home games at Lewis Field inside Clark-LeClair Stadium, including the 11th-Annual Keith LeClair Classic, highlight the 2014 East Carolina baseball schedule announced last Friday morning by head coach Billy Godwin.
The 2014 slate features 18 games against teams that earned a bid to the 2013 NCAA Regionals, 25 against teams with 35-plus wins and 14 that finished ranked in the national polls.

More ...
Staff Reports
DANCE PARTNER
(L to R) Southern Nash's Ish Rodriguez and Northern Nash's Ishmael Rodriguez get tangled up near the ball during last Thursday's boys league soccer match in Stanhope.
More ...
Nash Arts seeks talent for Nash County's Got Talent


Nash Arts is continuing its search for local talent, as it prepares to host the Eighth Annual Nash County's Got Talent Show.
Auditions will be held on October 28 and 29 and are open to Nash County residents ages 14 and up.
"We're open to all types of talent," said Shelly Gray, Nash Arts Director.

More ...
AMANDA CLARK, GRAPHIC STAFF WRITER
BOBBY PRESCUTT STRICKLAND
Bobby Prescutt Strickland, 82, passed away Tuesday, October 8, 2013.  He was born January 24, 1931 to Elsie and James Strickland. Bobby was preceded in death by his parents, his baby brother Joe Elvis, his sisters Betsy and Nell, his wife, Mary Dixie Smith Strickland, his 2nd wife, Joyce Privette Strickland and his sons-in-law Barney Wilson and Larry Medlin, Sr.
More ...
CHARLES LUBY EPPS
Charles Luby Epps, 61, of Middlesex, passed away Monday, October 14.  A memorial service was conducted on October 15, 2013 at  Joyner's Funeral Home in Wilson.  The Rev. Robby Piper will officiate.
More ...
DAVID EARL ROWLAND
David Earl Rowland, Sr., age 71, passed away  Sunday, October 13, 2013. Born in Nash County on July 22, 1942, he was the son of the late Henry Thaxton Rowland and Glenni Barrett Rowland.
More ...
DOROTHY JOHNSON WACHOWICZ
Dorothy Johnson Wachowicz, 80, passed away, Saturday, October 12, 2013.  She was born in Nash County, July 11, 1933 to the late Lloyd and Sylvia Griffin Patterson.  In addition to her parents, Dorothy was preceded in death by her husbands, Bobby Johnson and Walter Wachowicz; son, Carl Ray Johnson and a grandson, Paul Lowe.
More ...
EDWOOD EARL TANNER
Edwood Earl Tanner, 71, of Nashville passed away Friday, October 11.  A graveside service was conducted October 15, 2013 in Battleboro Cemetery, 100 Cemetery Drive, Battleboro.
More ...
F.L. MOODY
NASHVILLE - F.L. Moody, of Nashville, passed away on Monday, October 7, 2013.
More ...
GEORGE BERGER WEAVER "BURT"
George Berger Weaver "Burt" passed away Saturday October 12, 2013 at the age of 87.  He was preceded in death by his wife, Mable Louise Weaver, father Will G. Weaver and mother Lillie B. Weaver.
More ...
HELEN GRAY WILLIAMS SIMPKINS
Helen Gray Williams Simpkins, age 79, of Rocky Mount, passed away on October 13, 2013. Helen was born in Wilson County on June 30, 1934 to the late William Henry Williams and Jessie Garrett Williams. She was married to the late William Howard Simpkins. She is survived by her sisters, Margaret Williams Gay and Doris Williams Jones, both of Rocky Mount.
More ...
LENORA BEDGOOD DENTON
Lenora Bedgood Denton, age 91, passed away on  Saturday, October 12, 2013. Born in Nash County on August 15, 1922, she was the daughter of the late John Gilbert Bedgood and Nancy Boone Bedgood. She was also preceded in death by her husband, Sidney Martin Denton; brother, George W. Bedgood; and sister, Betty Jane Kennedy.
More ...
LOUISE MIZELLE BULLARD
Louise Mizelle Bullard, 92, passed away on October 9, 2013. She was born in Ahoskie and was the elder daughter of Phay and Elemuel Mizelle. 
More ...
WALLACE "CROWBAR" LEE CREEKMORE
SPRING HOPE - Wallace "Crowbar" Creekmore, 75, passed away, Wednesday, October 9, 2013. He was born January 29, 1938 in Franklin County to the late Aaron and Catherine May Creekmore. In addition to his parents Wallace was preceded in death by three brothers; Wayne, Carl and Randolph Creekmore.
More ...