Subscribe/Access
Advertisements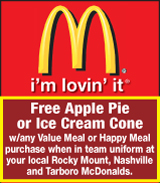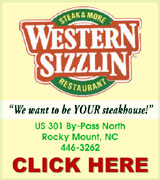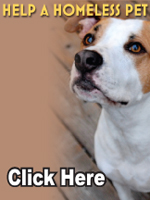 Sections
Member Options
Back
Senator Bryant urges hospital to take action


In a recent speech in Nashville, Senator Angela Bryant expressed her disapproval of the way that the hospital was handling the Medicaid expansion issue and urged her constituents to pressure the hospital to change its approach. However, hospital officials say that Bryant is "preaching to the choir" and that their ultimate aims are the same.
Bryant made her comments at a VOICE of Nashville meeting held earlier this month in the Nashville Council Chambers.

More ...
AMELIA HARPER, GRAPHIC CORRESPONDENT - 1 opinion posted

HAPPY BIRTHDAY OAK LEVEL! –– W.C. Joyner (at left) charter member of the Oak Level Ruritan Club watches as Oak Level Ruritan Club President John Denton (at right) lights the candle on the cake celebrating the club's 50th anniversary.

Oak Level Ruritan celebrates 50 Years of Service


The Oak Level Ruritan Club celebrated many things on Monday night; a new member, a presentation of the Tom Downing Award and the club's 50th anniversary.
The special anniversary celebration was held with several Ruritan National officials in attendance, including National Director Wally Hudson and 2013 Ruritan National President Dennie Clemmer, who made the trip from Virginia to attend the event.

More ...
AMANDA CLARK, GRAPHIC STAFF WRITER
Southall to leave Nash Senior Center


After three years as the Nash County Senior Center Coordinator, Christy Southall is returning home.
Southall will be joining the Franklinton Senior Center on Monday as the Senior Center Supervisor. Her last day at the Nash County Senior Center will be on Friday.
Before coming to the Nash County Senior Center, Southall worked for over five years at the Louisburg Senior Center.

More ...
AMANDA CLARK, GRAPHIC STAFF WRITER
West Nile death hits close to home


A Wilson County resident has died from the West Nile Virus and officials with the Nash County Health Department are reminding residents here to use precaution.
Amy Thomas, the Coordinator of Health Services for the Nash County Health Department, said because North Carolina's first death from the virus is so close to home, many residents in Nash County have expressed concern.

More ...
AMANDA CLARK, GRAPHIC STAFF WRITER
Nashville Police Officer Spotlight
The Nashville Graphic is introducing officers of the Nashville Police Department each month as part of an "Officer Spotlight" series.  The articles are featured the last Wednesday of each month  to help Nashville residents get to know the officers who protect and serve their communities.
More ...

Pictured above, the Nash Central High School Jazz Ensemble performs during the reception for the Teacher and Principal of the Year celebrations.

NRMS names teacher, principal of the year


Dana Williamson considers teaching an adventure. Each day, as she enters the halls at Southern Nash Middle School, she is prepared to guide children and teach them how to prepare for their own adventures in life.
Last Tuesday night, Williamson was named the Nash-Rocky Mount Public Schools (NRMPS) 2013-2014 Teacher of the Year.

More ...
AMANDA CLARK, GRAPHIC STAFF WRITER
NASHVILLE POLICE BRIEFS
INCIDENTS
A simple assault and larceny (Shoplifting) was reported on 9/16/13 at Wal-Mart, 1205 Eastern Avenue
A damage to property (vandalism) was reported on 9/18/13 at Wal-Mart, 1205 Eastern Avenue
A larceny (shoplifting) was reported on 9/21/13 at Wal-Mart, 1205 Eastern Avenue
More ...
NASH COUNTY SHERIFF'S OFFICE REPORTS
A simple assault and injury to personal property was reported on 9/17/13 at Nash Community College
A breaking, entering and larceny to an outbuilding was reported on 9/17/13 at 12289 W NC 97
A breaking, entering and larceny to a residence was reported on 9/17/13 at 6037 Waters Edge Drive
A larceny of rims was reported on 9/17/13 at 1679 West Castalia Road
More ...
SPRING HOPE FIREMAN'S DAY 2013, 1
RUNNING THE COURSE –– Spring Hope Fire Department hosted its fifth annual Fireman's Day on Sunday afternoon in downtown Spring Hope. The events included entertainment, vendors and a special competition among area fire departments, including junior members. Pictured above, Austin Pope, representing Coopers Volunteer Fire and Rescue, competes in the Spring Hope Fireman's Day activities.
More ...
Lobby groups, legislators voice opinions on election reform


In terms of sheer size, the new election reform bill recently passed at the NC state level may seem monstrous. However, some local groups and politicians are calling it the Monster Law for another reason. The Democracy North Carolina organization, for instance, claims that the law spends more money while allowing for less voting, is based on Jim Crow era politics, and targets the suppression of voting by minorities and women.

More ...
AMELIA HARPER, GRAPHIC CORRESPONDENT
NCC remembers 9/11
Nash Community College faculty, staff and students gathered on Wednesday, September 11 to remember the events of September 11, 2001.
Northern Nash High School's ROTC presented the colors and NCC Direct Loan Officer Heather Perry sang the National Anthem. Nash County Emergency Services Assistant Director and Risk Manager Scott Rogers shared remarks during the ceremony held by the Business and Industry Center flag pole.
More ...
Fountain speaks at banquet
Nash County native Dr. Ben E. Fountain, Jr., a former president of the N. C. Community College System, was the keynote speaker at a 50th anniversary celebration hosted in Walnut Creek Country Club near Goldsboro on Wednesday, September 19.
Fountain recounted not only his time as state president from 1971 to 1978, but also the entire span since the junior colleges and the early industrial education centers funded in the late 1950s.
More ...
NCC receives $2.5 million grant
Nash Community College, as a member of the Mission Critical Operations consortium led by Cleveland Community College, is the recipient of a $2,548,106 grant from the U.S. Department of Labor Employment Training Administration. Over $23 million was awarded this week to the consortium of college and university partners for the development of a Mission Critical Operations program.
More ...
ROTARY
Rotarian Ron Green, left, stands with Jeff Filkovski, Head Coach of NC Wesleyan Football, who spoke at the Rocky Mount Rotary Club meeting on Sept. 9th at the DoubleTree hotel.
More ...
Howard promoted at Southern Bank
Southern Bank recently announced the promotion of Julie Howard to Banking Officer and Multi-Branch Operations Manager in Rocky Mount.
Howard is a native of Nashville, where she currently resides with her husband Pat. She has been employed in the banking industry for 19 years as a teller, teller supervisor, and in regional operations support.
More ...
ENGAGED
Ray and Bonita Davis, of Sandy Cross, announce the engagement of their daughter, Georgia Kay Davis to Lee Travis Brown, the son of Steve and Loree Brown, of Lake Crystal, Minn. The wedding will take place Oct. 19, 2013 at Sandy Cross United Methodist Church.
More ...
Waugaman promoted at Nash General
Danielle Waugaman, RN, BSN, was recently named nurse manager of the cardio-pulmonary step-down unit (CPSU) at Nash General Hospital. The CPSU provides care for patients who have serious illnesses affecting their hearts and/or lungs.
More ...
Young women attend 87th Debutante Ball
RALEIGH – Six young women from Rocky Mount and two more from Wilson made their social debuts recently at the 87th annual N.C. Debutante Ball. Sponsored by the Terpsichorean Club, the ball presented young women from across the state. It was held  at Meymandi Concert Hall. The seven women honored were:
More ...
Nashville to host Monster Dash


Those excited about Halloween can get out their costumes a few days early and run the streets of Nashville, as the first annual Monster Dash Foot Race is set to take place on Saturday, October 26 in Downtown Nashville.
The event is a fundraiser for the United Way Tar River Region and is presented by Nash County and the Town of Nashville.

More ...
AMANDA CLARK, GRAPHIC STAFF WRITER

The Junior Quiz Bowl Team placed first in the Stockman's Bowl. Pictured (L-R) is: Grace LaHay, Stacie Winner, Julia Williams and Caleb LaHay with coach, Melissa Winner.
Nash 4-H Livestock Judging Team brings home awards
The Nash County 4-H Livestock Judging Team, also known as the "Quad Pods 4-H Club," made a huge impression on the State 4-H Livestock, Skillathon and Quiz Bowl competitions recently.  The members worked hard to prepare for the contests and it proved to be successful. 
The team won these various awards.
More ...
NASH HIGH SCHOOLS RECOGNIZED
The Halifax Resolves Chapter of the North Carolina Society, Sons of the American Revolution has awarded the Society Flag Certificate to Nash Central High School for correctly flying the U.S. flag.  This award may be presented to individuals, organizations and companies who adhere to proper flag etiquette.  The award was accepted by: (L-R) Sgt. Maj. Leonides Nieves, Jr. USMC (Ret) and LCDR Carther Jorgenson, USN (Ret) of the school's JROTC unit.
More ...
MOUNT ZION FWB CHURCH NEWS


Sunday was Homecoming at Mt. Zion. We had a good crowd, great worship service and good lunch. We were glad to have many former members who have moved away come back. It was good to see everyone. Our choir sang "Alleluia to the King" for the call to worship.

More ...
Roselene Bass
BEULAH COMMUNITY NEWS


Remember a very important date! On Sunday, the 13th of October, the annual homecoming will be held at Beulah Church of Christ. The speaker will be Jimmy Tickle from Roanoke Rapids, NC. Sunday school will begin at 9:45, followed by church services at 10:45. Please plan to come for that special service. See a lot of old friends and meet new ones also. We will have lunch after the service, around 12:00, outside behind the church if weather permits.

More ...
WILMA ENROUGHTY
RED OAK NEWS


Many exciting events are planned for the coming weeks in Red Oak.
The Baptist Men thank everyone for their support and participation in the "Helping Hands Tool Shower" for the Ramp Ministry.  They received many gifts and donations with which to purchase more tools.
World Hunger banks were given out at Red Oak Baptist Church on Sunday, Sept. 22.

More ...
SUZY PEARCE
PEACHTREE COMMUNITY NEWS


Following a rainy night, the sun came out on Sunday morning, just in time for the Homecoming service at Peachtree Church.  It was a celebration of 204 years of serving God, as a Baptist church, in the area.  Several people came from out of state to join in worship and remembrance.  The guest preacher was the Rev. Alfred Snipes, who had served as an interim pastor back in the late 80's.  He and his wife, Joyce, came from their home in Timberlake.

More ...
Barbara Hardison
BETHEL HEROES


The United Daughters of the Confederacy Bethel Heroes held their September meeting on September 4, 2013 at the Braswell Memorial Library.  Guest speaker for the meeting was Bethel Heroes member, Margaret Sink, who spoke on the Southern Cross of Honor.

More ...
HELEN SHARPE
CONSTITUTION WEEK
September 17 through 23 was National Constitution Week and The Micajah Pettaway Chapter, the local Daughters of the American Revolution, once again put up a display for Constitution Week at Braswell Memorial Library and made available copies of the US Constitution for people to pick up.
More ...
Address students
Southern Nash HS AP History teacher Scott Hendricks recently invited Ken Wilson, President of the Halifax Resolves Chapter of the North Carolina Society, Sons of the American Revolution to address his students about the meaning of the dates on the North Carolina flag.  Wilson, dressed in Colonial attire, explained the events leading up to the Mecklenburg Declaration of Independence and the Halifax Resolves and the march of Lord Cornwallis across North Carolina from Wilmington to Yorktown, Virginia and ultimate defeat. 
More ...
Bridles and Halters
Bridles and Halters Livestock 4H Club traveled to Siler City, North Carolina to compete in the annual Silk Hope Dairy Show on August 31, 2013.  This show is held in conjunction with the annual Farmer's Day Celebration.  The following club members competed in the event: Casey Strickland, McKenzie Kennedy, Maura Kennedy and Wesley Parrish.
More ...
Cedar Isle Dairy
In August, Cedar Isle Dairy Traveled to Lewisburg, West Virginia for their annual vacation at the West Virginia State Fair.  Five cows traveled with the Strickland's, Elliott's, and Arnold's to compete in the Junior and Open Dairy Show.  Casey Strickland competed in Senior Showmanship, she won first place in her class and went on to the "Master" level to compete and won First Place in this competition.
More ...
Annual Days for Wesleyan fundraising event underway
North Carolina Wesleyan College's 32nd annual Days for Wesleyan fundraising  event officially got under way recently as over 50 community leaders gathered at the Dunn Center for a kick-off breakfast. The team of volunteers will begin canvassing area businesses and college supporters to seek contributions and pledges to support needs such as scholarships for deserving students, academic programs, classroom technology, and campus improvements.
More ...
Congratulations to local educators of the year


Teachers have a tough job, a really tough job so it's always nice to see them being recognized.
Last week, Nash-Rocky Mount Schools honored its Teachers of the Year with a banquet. It's an event I always look forward to covering. I know I'll always leave feeling pretty confident about education.
The education field is a tough place to be in right now. Teachers are having to sit back and just deal with some of the things that have been passed on to them, whether it's from Washington, Raleigh or from their own Central Office.

More ...
Amanda Clark
It's our responsibility to vote


As citizens of this great country we have certain rights, but with those rights come responsibilities to be active in positive change.  Voting is a cornerstone of those responsibilities.  We have all heard the "politics doesn't affect me" phrase used as an excuse not to vote.  But politics affects almost every aspect of our lives from the ordinary to the profound.

More ...
Letter to the Editor:
Backward Glances


SCOUTS AND BIKES –– This photo originally published in The Graphic on October 9, 1973. Webeloes and Cub Scouts of Pack 76 in Nashville took a bicycle hike. Buddy Lata accompanied the youngsters.

More ...
A PICTORIAL LOOK INTO THE PAST
Nash County Animal Friends' Notebook


OUTDOOR CATS....
They can be killed.  There is no two ways about it.  The only safe cat is an indoor cat.  You are thinking, yes, I guess it is a possibility that they are killed by cars, by dogs, etc.  But did you think that they will be killed by Animal Control?  People complain about the cats roaming.  Then traps are set and they go to the Shelter.  Unless they are super friendly, they will be considered feral and die. 

More ...
Carol Vierela, NASH COUNTY ANIMAL FRIENDS

SNEAK ATTACK. Northern Nash quarterback Jacob Green (left) sneaks with the ball to pick up yardage during last Friday night's home football victory against the Southern Vance Runnin' Raiders.

WINNING STREAK


RED OAK -- After four weeks on the road to begin the season, the Northern Nash Knights were finally able to enjoy the comforts of Death Valley last Friday.
Not only was this Northern's home opener, but it was also the first home game for new coach Randy Raper, who was hoping to see his Knights increase their winning streak to two games.

More ...
Staff Reports

TWO-HANDER. Northern Nash's Molly Wilson goes to her backhand for a return as part of last week's Big East Conference home match with Hunt.

ON THE UPTICK


RED OAK -- Even a pair of recent losses to Big East Conference foes can't take away from the fact that girls tennis is once again on the upswing at Northern Nash High School.
The Lady Knights, under veteran head coach Henry Drake, appear to be back on their way up in the competitive Big East.

More ...
GEOFF NEVILLE, Graphic Sportswriter

MOORE MOVES UPFIELD. Nashville Hornets' Rookie Team standout Braylon Moore carries the ball during last Saturday's road matchup against the Sharpsburg Gators at Elm City Middle.

Nashville picks up road wins


ELM CITY -- After opening the season with a pair of tight losses, the Nashville Hornets certainly weren't in search of a three-peat at last Saturday's Eastern North Carolina Football League matchup with homestanding Sharpsburg.
Instead, the Hornets were able to work their way into the victory column for the first time this fall with an impressive 36-8 decison over the Gators in a game that was played at the Elm City Middle School Football Field.

More ...
GEOFF NEVILLE, Graphic Sportswriter

A LEAP OF FAITH. North Carolina Wesleyan College quarterback Robbie Lanier (with ball) takes flight during last Saturday afternoon's home football setback versus Salisbury University.

NC Wesleyan falls to 0-3 on grid campaign


ROCKY MOUNT -- The Salisbury University football team picked up a 28-10 win over homestanding North Carolina Wesleyan College last Saturday afternoon in Rocky Mount.
The Sea Gulls outscored the Bishops 21-7 in the second half en route to their first victory of the season.
Trailing 21-3 after a pair of SU third quarter touchdowns, sophomore quarterback Robbie Lanier capped a 6-play, 60-yard drive with a 4-yard touchdown run to open the fourth quarter.

More ...
Staff Reports
Northern wins over Bulldogs


RED OAK -- Northern Nash High School claimed the first 2013 installment of its boys soccer rivalry with Nash Central, winning Monday by a 3-0 margin.
Senior Hunter Davis took two shots for the match and made the most of them -- scoring on each attempt.
Connor Woodburn also found the back of the net as the Knights claimed the key Big East Conference decision for veteran head coach Joe McCarthy.

More ...
Staff Reports

PLAYMAKERS. Nash County Firebirds players Kedric Anderson and Quinton Cooley celebrate a big play late in the game during last Saturday's meeting with Rocky Mount.

Nash Co. Birds tangle with RM


STANHOPE -- The Nash County Firebirds hosted Rocky Mount Parks and Recreation last Saturday on the campus of Southern Nash High School.
It was a cool and wet morning, but that wasn't going to stop the kids from playing some great football. 
In the first game of the day, the Rookies started off the day with a barnburner of a game. 

More ...
Staff Reports

A MAN ON A MISSION. A Southern Nash player advances the ball for the Firebirds during last Wednesday night's road boys soccer conquest at Northern Nash.

Birds Back To The Top


RED OAK -- The Big East Conference's best soccer player over the past three seasons is also its worst-kept secret.
Few performers in the history of soccer in Nash County come with the complete scouting report that Southern Nash's Moises Gonzalez possesses.
If you're a prep soccer fan, you know all about Gonzalez. Just ask the folks who were in attendance during last Wednesday's key league matchup between Southern Nash and homestanding Northern Nash.

More ...
GEOFF NEVILLE, Graphic Sportswriter
Avent receives new contract at NC State


RALEIGH -- The North Carolina State University Board of Trustees has approved a new contract for Wolfpack head baseball coach Elliott Avent. 
Last spring, Avent, who hails from Nash County, led the Pack to its first College World Series appearance since 1968. The event was held in Omaha, Neb.

More ...
Staff Reports
National Stars


ROCKY MOUNT -- Sampling the area's legendary chocolate or enjoying some thrill rides at the world-class amusement park are usually the top priorities during a visit to Hershey, Pa. Pictured (Above): ALL-AMERICAN GYMNASTICS STANDOUTS. Eight members of the Tri-County Arts Gymnastics Team took part in the State Games of America last month in Hershey, Pa. Pictured are (back, l to r) Caroline West, Diamond Kinard, Ashley Brantley, Cassidy Dickens, Avery Cumpata and Christa Baines; (front, l to r) Paige Miller and Addison Vindigni.

More ...
GEOFF NEVILLE, Graphic Sportswriter
Coach Pietryk earns HOF honor


ROCKY MOUNT -- The North Carolina  Wesleyan College Department of Athletics has announced that head volleyball coach Dr. Robin Pietryk, has been selected as a 2013 Athletic Hall of Fame inductee at her alma mater, Bethany College.
"I consider this a tremendous honor," said Pietryk. "It's very humbling to be recognized for your accomplishments, and I'd like to thank the committee for this recognition."

More ...
Staff Reports
BACK AT YA
Northern Nash High School No. 2 Singles Player Isabel Marrero whips a forehand across the net as part of last Thursday afternoon's home conference meet against Wilson Hunt.
More ...
MORE MAGIC FROM MOISES
Southern Nash's Moises Gonzalez (right) dribbles while being defended by Northern Nash's Tucker Daughtridge during last Wednesday's key Big East Conference soccer match.
More ...
ROOKIE SENSATION
Nashville Hornets' Rookie League player Jamari Wright (left) carries the ball for a huge gain during last Saturday morning's road contest against the Sharpsburg Gators.
More ...
TIME FOR TALKIN'
Nash County Firebirds Rookie Team Coach Ben Alford (with ball) discusses strategy with his club during last Saturday's home football game against Rocky Mount.
More ...
USE THE FORCE, LUKE
Nashville Hornets Rookie Luke Green attempts a pass last Saturday morning against the Sharpsburg Gators. The contest was played at the Elm City Middle School Football Field.
More ...
"Keeping Score", musical drama, opens at Nash Arts Oct. 3
Keeping Score, an original musical drama by local playwright and composer Jim Lee, will premiere at Nash Arts in Nashville the first weekend in October.
 Keeping Score tells the story of four generations of small-town North Carolina women from the perspective of three Thanksgiving mornings in 1957, 1977, and 1997. As the play opens, Brenda has come home from a whirlwind Hollywood romance that has left her living with her mother, Gladys, and her infant daughter, Lucy.
More ...
Country Doctor Museum celebrates "History Alive!"
A daylong celebration at the oldest museum in the nation dedicated to the history of rural health care will be held Saturday, Oct. 12.
The Country Doctor Museum will host "History Alive!" from 10 a.m. until 4 p.m. Free activities will include museum tours and horse drawn carriage rides from 11 a.m. until 2 p.m.
More ...
Evangelistic Team to conduct a Revival Crusade in Rocky Mount
The Jeremy Frazor Evangelistic Team will be coming to Rocky Mount on October 6 through 11 to conduct a Revival Crusade at Westview Baptist Church. 
Evangelist Frazor and his wife Misha along with their four children and five team members travel the country in full time evangelism.
More ...
BOYCE CLAY ROARK
Boyce Clay Roark, 75, passed away Saturday, September 21, 2013. He was born in Ashe County on May 29, 1938 to the late Ray and Norma Roark. In addition to his parents, he was preceded in death by his brother, Ellis Roark.
More ...
CLEO MATTHEW LYNCH
Funeral services for Cleo Matthew Lynch, 65, who died Wednesday, Sept. 18, 2013, were held Sunday, Sept. 22 at 3 p.m., at Showers of Blessing Church. Burial followed in the Forest Hill Cemetery with Rev. Andrew Singletary officiating.
More ...
DOLLY ROBINSON SMITH
Dolly Robinson Smith, 58, passed away Sunday, September 22, 2013.  She was born in Nash County September 7, 1955 to the late Richard C. and Maggie Smith Robinson. 
More ...
ELMA LEIGH MORGAN SHERROD
NASHVILLE - Elma Leigh Morgan Sherrod, 84, passed away on Friday September 20th 2013. She was born in Nash County on January 28, 1929 to the late Randolph and Della Joyner Morgan.  She was also preceded in death by her husband of 64 years Luther Askew Sherrod.
More ...
FRANKLIN DELANO JONES
Rocky Mount - Franklin Delano Jones, 68,  passed away September 15, 2013. Funeral services to be announced.  Arrangements by Stokes Mortuary, Inc.
More ...
HERBERT MORGAN
NASHVILLE - Funeral services for Herbert Morgan, 65, who died Monday, Sept. 16, 2013, were Saturday, Sept. 21 at 12 p.m., at Union Hill Missionary Baptist Church. Burial followed in the Union Hill Church Cemetery with Rev. Thomas McCullers officiating.
More ...
JAMES MITCHELL BASS
James Mitchell Bass, 52, passed away on Sunday, September 15, 2013. A native of Philadelphia, PA, he was a resident of Rocky Mount. He is the son of Frances Amelia Hitt Bass and the late Luther James Bass. Besides his mother, Mitchell is also survived by his sisters, Susan B. Driver and her husband, Ronnie and Nancy Bass Jones. He is also survived by several nieces and nephews.
More ...
JIM SABISTON
Jim Sabiston, 66, passed away, Saturday, September 21, 2013. Jim was born January 24, 1947 in Onslow County to the late Jim Kinsey and Sallie Hudson Sabiston.
More ...
MARY ETTA BATCHELOR
NASHVILLE - Mary Etta Batchelor, 83, passed away, Friday, September 20, 2013. She was born July 22, 1930 to the late Pete and Mary Bennett Snipes. She was preceded in death by sister, Margie Rice and brothers; Sydney and Paul Snipes.
More ...
MINISTER PLUMMER DAVIS, JR.
Minister Plumer Davis, Jr., 59, of Rocky Mount, passed away Saturday, September 21, 2013. Funeral arrangements will be by the Rocky Mount location of H.D. Pope Funeral Home.
More ...
RUBY BUNN HOPKINS
Ruby Bunn Hopkins, 86, passed away, Thursday, September 19, 2013. She was born September 19, 1927 in Nash County  to the late Ronie Earl and Cleo Whitley Bunn. Ruby was preceded in death by her husband, Monroe Hopkins and daughter, Peggy Hopkins.
More ...