Subscribe/Access
Advertisements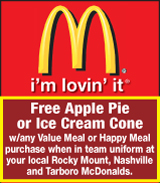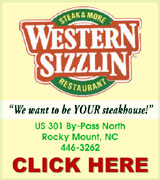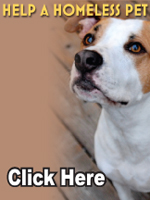 Sections
Member Options
Back
Annual 5K race honors fallen deputy
Volunteers are working hard to prepare for the second annual Warren "Sneak" Lewis Memorial Race, which is set for Saturday, September 14.
Around 300 runners have already registered for the 5K race, which is being held in Middlesex.
The race is in memory of Warren "Sneak" Lewis, III, who was shot and killed while serving a murder warrant with the Eastern North Carolina Fugitive Task Force. More ...

Locals reflect on MLK speech 50 years later
Fifty years after Dr. Martin Luther King Jr. gave his famous "I Have a Dream" speech, local leaders are reflecting on where our nation was then and where it is now.
Nine months prior to the March on Washington on August 28, 1963, Dr. King spoke before 1,800 in the gym at the then Booker T. Washington High School in Rocky Mount. In his speech on November 27, 1962 in Rocky Mount, King used a lot of the same expressions as his speech at the March on Washington. More ...
AMANDA CLARK, GRAPHIC STAFF WRITER

KINDERGARTEN –– Pictured above, Nashville Elementary kindergartener Cody Johnson (at right) works on a coloring activity while his dad, Brian Johnson (at left), looks on.

Local children begin new school year
Principals and teachers at area schools were just as excited about the first day of school as their students.
School began for Nash-Rocky Mount Public School (NRMPS) students on Monday, with over 15,000 students returning to school after summer break.
Dr. Anthony Jackson, Superintendent of NRMPS, said he felt the first day went well. More ...

Middlesex mayor offers park update
Middlesex Mayor LuHarvey Lewis said Bailey and Middlesex residents will soon start to see more activity at the Bailey-Middlesex Park, as construction on phase one gets underway.
The two towns celebrated the ground breaking of the new park in 2011. The park is located on Stoney Hill Church Road and was made possible due to PARTF grant funds. More ...
AMANDA CLARK, GRAPHIC STAFF WRITER
Nashville Police Officer Spotlight
The Nashville Graphic will be introducing officers of the Nashville Police Department each month as part of an "Officer Spotlight" series.
The articles will help Nashville residents get to know the officers who protect and serve their communities.
The articles will be featured the last Wednesday of each month. More ...

Middlesex incumbents face competition
The mayor's seat in Middlesex along with two seats on the Board of Commissioners are up for grabs in the upcoming primary elections and eight residents are vying for the three seats.
Three have filed for the mayor's seat, including current Mayor LuHarvey Lewis. Lewis has served as the town's mayor since 2005. He also serves as the town's town administrator and economic development director. More ...
AMANDA CLARK, GRAPHIC STAFF WRITER
NASHVILLE POLICE BRIEFS
INCIDENTS
A larceny was reported on 8/18/13 at 522 Indian Trail
An obtaining money/property by false pretense was reported on 8/20/13 at Murphy's Express, 1151 Eastern Avenue More ...

NASH SHERIFF'S OFFICE REPORTS
A fraud was reported on 8/19/13 at 5489 Sandpiper Way
A larceny of a dirt bike was reported on 8/19/13 at 3840 Red Oak Road
A breaking, entering and larceny of a residence was reported on 8/19/13 at 6475 Swift Creek School Road
A damage to personal property was reported on 8/20/13 at 12959 Highway 231 More ...

Locals donate pillow cases to Ronald McDonald House
Marguerite Baker and her granddaughter, Kaitlyn Baker, paid a visit to Greenville this weekend, where they delivered over 100 pillow cases to the Ronald McDonald House.
The two sewed 103 pillowcases in honor of Marguerite's son and Kaitlyn's uncle, Michael Edward Baker, who died on September 4, 2012 after a battle with stage four pancreatic cancer. More ...

21st Century Vision Van
The Nashville Lions Club hosted the "See the 21st Century Vision Van" at the Wal-Mart in Nashville on Friday, August 23. The vision van is owned by the NC Lions Foundation and provides free eye and ear screening to residents. More ...

Tar River Land Conservancy receives accreditation
After extensive review, Tar River Land Conservancy has been awarded accreditation by the Land Trust Accreditation Commission. Tar River Land Conservancy is one of 230 land trusts from across the country that has been awarded accreditation since the fall of 2008. The Land Trust Accreditation Commission awards its accreditation seal to community groups that meet national quality standards for protecting important natural places and working lands forever. More ...

Nash County Blood Drives for September 2013
Tuesday, September 3 from 3:15 until 6:15 p.m. at the Harrison Family YMCA, 1000 Independence Drive, Rocky Mount
Tuesday, September 3 from 10 a.m. until 4 p.m. at Nash Health Care Systems, 2460 Curtis Ellis Drive, Rocky Mount More ...

Rocky Mount Rotary Club
Monika Fleming, Chairperson of the Historic Preservation Program at Edgecombe Community College, and Ron Green, Chief Professional Officer of Boys & Girls Clubs of Nash/Edgecomebe Counties, are pictured representing the Rocky Mount Rotary Club which meets every Monday afternoon at 1 p.m. at the Doubletree by Hilton on Winstead Ave. More ...

BIRTH ANNOUNCEMENT
Zachary and Maria Parker of Nashville are proud to announce the birth of a son, Zachary Brian Cortez Parker, born June 18, 2013 at Nash General Hospital in Rocky Mount. He weighed 5 pounds, 10 ounces and was 20 1/4 inches long. More ...

ENGAGED
Brian Smith of Elm City and Amy Summerlin of Wilson announce the engagement of their daughter, Kasey Miranda Smith to Tanner Jo Eason, the son of Dennis and Jennifer Eason of Macclesfield. Kasey is the granddaughter of John and Janet Sharpe of Nashville, Roger and Tammy Summerlin of Elm City, Wayne and Linda Smith of Bailey, and the late Debbie Smith. More ...

Lights of Love project begins
The Nash Health Care Volunteer Auxiliary is continuing the popular tradition of the "Lights of Love" project, with hopes of 2013 being the biggest and brightest year ever. Now is the time to purchase a light in honor/memory of someone. Profits from this year's celebration will go to the new Pediatric Emergency Room, which will help Nash Health Care better serve the needs of area young people. More ...

League of Women Voters Twin Counties Unit Organizes
A meeting of the League of Women Voters Twin Counties unit was held August 15th at the Braswell Memorial Library. It was the culmination of a year of planning that began with the first organizational meeting held in August 2012. Officers were elected, bylaws and policies approved, and goals established for 2013-14. More ...
Contributed by Pat Adams
Spring Hope student makes Dean's List
Carolina Giraldo of Spring Hope was named to the Spring 2013 Dean's List at Mary Baldwin College.
Students named to the Dean's List earned grade point averages of 3.50 to 3.74. To be eligible, a student must be a degree candidate and must have earned at least 12 semester hours for the grading period. More ...

Local students receive NC 4-H Scholarships
As college and university students return to campus this month, a number of them have received scholarship assistance from the North Carolina 4-H Development Fund. The foundation has awarded $117,075 scholarships to students from 40 of North Carolina's 100 counties, including Nash County. More ...

RED OAK NEWS
A lot of things were going on at Red Oak Baptist Church on Sunday, Aug. 25! Prior to the morning worship service, the Sunday School Department had a time for several recognitions. Rev. Larry Bostian recognized the children who would be going into the first grade. He presented Bibles to Tristan Murray, Braxton Sykes, Joshua Dennis, and Brandon Worsley. More ...
Suzy Pearce
PEACHTREE COMMUNITY NEWS
On a beautiful Sunday morning, Peachtree folks gathered for worship. Pastor Whitehouse greeted those present. Sanctuary flowers were given by Dianne and Ricky Tucker in memory of her mother, Jean Williams. The choir sang "In Remembrance" under the direction of the pastor. The sermon topic for the day was "Coping with Fears and Anxieties". More ...
Barbara Hardison
MOUNT ZION FWB CHURCH NEWS
Our choir sang "Let's Just Praise the Lord" for the call to worship. Pastor Aycock welcomed everyone and prayed the prayer of invocation. Hymns of worship were "Blessed Be The Name" and "The Solid Rock." Algie Jones Jr. led the congregational singing. More ...
Roselene Bass
MILITARY NEWS
Army National Guard Pvt. Lindsey A. Oser has graduated from basic combat training at Fort Jackson, Columbia, S.C. More ...
Lindsey A. Oser
A summer of weird and unusual news
Politics isn't the only place to look for unbelievable and crazy stories. As the summer draws to a close, here is a good chance to clean out the Soapbox notebook, shake your head and maybe have a few laughs.
• • •
A security lab, delivering a report to the makers of software for a luxury Japanese toilet, warned that a flaw in their Android program renders the toilet hackable -- even while a user sits on it. More ...
Mike Brantley
Embracing technology, a sad day for books
It's back to school time!
Nash-Rocky Mount Schools began on Monday and I'm sure parents, at least, were excited. I'm sure at least half of the students who returned were excited as well. Maybe their excitement will rub off on the other half.
This year at school will be interesting. Students now have to use more technology, including ipads, which supposedly is going to make them more tech-savvy and be able to better embrace their future. More ...
AMANDA CLARK, GRAPHIC STAFF WRITER
Backward Glances
PRE-GAME PLANNING –– This photo originally published in The Graphic on June 18, 1970. John Williams and David Viverette of the Nash Sales team were engaged in a serious discussion on tactics prior to a game in Nashville's Little League. More ...
A PICTORIAL LOOK INTO THE PAST
Nash County Animal Friends' Notebook
LOST & FOUND Pets ~ Either way, there some steps that you should take with both.
~ FIRST and foremost... they are easier to return to their rightful owner if there is an ID tag! Even indoor dogs slip out! Microchips are great too! For found pets, be sure to have it scanned a vet or the Shelter! Owners, be sure your information is current! More ...
Carol Vierela

WHITAKER ON HIS WAY. Southern Nash's Clinton Whitaker (left) picks up yardage during last Friday's conquest against SouthWest Edgecombe.

QUICK STARTERS
STANHOPE -- Even after watching his team put up 27 points against a respected opponent, Southern Nash Coach Brian Foster was still lamenting his team's missed opportunities during last Friday's season-opening 27-14 home victory against SouthWest Edgecombe.
The Firebirds piled up 23 first downs and 379 total yards, but didn't find the end zone until Richard Hall hauled in a five-yard touchdown pass from Deon Lavender midway through the second period of action. More ...
GEOFF NEVILLE, Graphic Sportswriter

SEND IT YOUR WAY. Southern Nash's Trey Jerman advances the ball up the field during last Thursday evening's road soccer decision against the Franklinton Red Rams.

Southern kicks off schedule
FRANKLINTON -- A two-day road swing through Franklin County proved to be a fruitful one last week for the Southern Nash Firebirds.
Under new coach Kurt Bienias, the Firebirds opened their boys soccer schedule last Wednesday with a 3-0 decision at Bunn. More ...
GEOFF NEVILLE, Graphic Sportswriter

TRACKING HIM DOWN. Northern's Tucker Daughtridge (left) chases Bunn's Dionisio Lugo.

Eight Not Enough For Knights
RED OAK -- Eight minutes certainly wasn't enough on-field time last Friday night for the Northern Nash boys soccer squad.
While hosting Bunn in a non-league event, Northern competed for just eight minutes before lightning forced play to be halted. More ...
GEOFF NEVILLE, Graphic Sportswriter
Northern edged by Ladycats
RED OAK -- Northern Nash secured a sweep against Bunn during last year's prep volleyball action, but that won't be the case in 2013.
The Lady Knights hosted Bunn last Tuesday for a non-league event at the NNHS Gymnasium, and the visiting Ladycats were able to leave with a 26-24, 25-19 and 25-11 decision. More ...
Staff Reports

TARBORO'S TIME TO SHINE. (L to R) Tarboro football players (l to r) Radja Bobbit and Deshan Farmer celebrate after scoring a touchdown last Friday night.

A Tough Way To Start
ROCKY MOUNT -- Given some of the changes that were made in the preseason, Nash Central football coach Kevin Crudup considered his offense to be a work in progress heading into last Friday's campaign opener at home against Tarboro.
It still is. More ...
GEOFF NEVILLE, Graphic Sportswriter
Mark Gottfried to speak at Nash CC
RALEIGH -- The Wolfpack Club has announced the next stop of the 2013 North Carolina State University Coaches Caravan will be in Rocky Mount.
The event will take place at the Brown Memorial Auditorium at Nash County Community College on September 5. More ...
Staff Reports
Carolina Mudcats suffer key home defeat
ZEBULON -- The Salem Red Sox put together three straight hits in the ninth to score the decisive run in a 5-4 win over the Carolina Mudcats on Sunday afternoon at Five County Stadium in a Class A Carolina League baseball contest.
The Mudcats (31-31, 53-79) fall five games behind the Red Sox (36-26, 69-63) for the final playoff spot. More ...
Staff Reports
Northern Nash falls vs. Corinth Holders
WENDELL -- For any building program under a new coach, learning how to win is a definitive priority.
That will be the case this fall for the Northern Nash Knights under first-year skipper Randy Raper.
A veteran of success at Wilson Hunt, Raper is no stranger to winning -- but most of the performers on his varsity roster at Northern Nash are. More ...
Staff Reports

UP WE GO. Rocky Mount's Destini Parker (right) goes up for a kill attempt during last Wednesday evening's home volleyball match, which was claimed by the visiting Louisburg Lady Warriors.

LHS Tops Gryphs
ROCKY MOUNT -- A slow start ultimately doomed the Rocky Mount Lady Gryphons during a non-league volleyball matchup last Wednesday at home against the Louisburg Lady Warriors.
Louisburg might be a Class 1-A program, but the Lady Warriors have a rich volleyball history, and they added to that lore with a 25-8, 25-8, 22-25, 25-23 victory over the Lady Gryphons at the RMHS Gymnasium. More ...
GEOFF NEVILLE, Graphic Sportswriter
IT'S ALL ABOUT DEFENSE
Southern Nash defenders celebrate after a key stand during last Friday night's season-opening home victory against the SouthWest Edgecombe Cougars at Firebird Stadium. More ...

MUCH APPRECIATED
The Town of Red Oak recently presented plaques of recognition and appreciation to members of the 2012-13 Red Oak Basketball League's Board of Directors. The plaques were given in appreciation of the recipients' service to the community. For over 35 years, the Red Oak Basketball League has been offering elementary and middle school youngsters an opportunity to play basketball. More ...

READY FOR ACTION
Aaron Spivey and the Nash Central Bulldogs will have a road game this Friday against the Kinston Vikings. Kickoff is scheduled for 7:30 p.m. at the KHS Football Stadium in Lenoir County. More ...

HELEN CLARK
ROCKY MOUNT –– Helen Clark, 64, of Rocky Mount, passed away on Tuesday, August 20, 2013 at Nash General Hospital in Rocky Mount. More ...

ANTWAIN M. FAISON
ROCKY MOUNT –– Antwain M. Faison, 37, of Rocky Mount, passed away on Thursday, August 15, 2013 at Nash General Hospital in Rocky Mount. More ...

MARLENE GRIFFIN BENNETT
Marlene Griffin Bennett, age 79, passed away Sunday, August 25, 2013. Born in Edgecombe County on August 30, 1933, she was the daughter of the late Benjamin Frank Griffin and Anna Russell Griffin. She was also preceded in death by her husband, Harold Victor Bennett; son, John Wilton Bennett, and grandson, Jonathan Bennett. More ...

HARRY NELSON PITTS
Harry Nelson Pitts, 65, passed away, Tuesday, August 20, 2013. He was born September 26, 1947 in Nash County to the late Needham B., Jr. and Hazel Hyde Pitts. He was preceded in death by his brother, Wayne Pitts. More ...

BILLY WAYNE ROSE
Billy Wayne Rose, 77 passed away Monday, August 19, 2013. He was born in Nash County on September 26, 1935 to the late Willie Wise and Shirley Bradley Rose. More ...