Subscribe/Access
Advertisements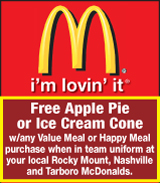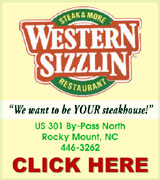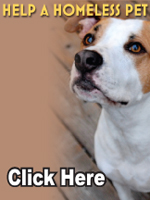 Sections
Member Options
Back
School principals to change seats
When Nashville Elementary students return to school in August, they will return to new leadership, as Nash-Rocky Mount Public Schools recently announced Sharon Huneycutt as the school's new principal.
Current Principal Margaret Sharpe will take over as principal at Red Oak Middle School.
Sharpe, a Nashville resident, has taught for 20 years in the Nash-Rocky Mount School System. More ...
Amanda Clark, Graphic Staff Writer

YEAH MAN! –– Dylan Rackley is all smiles upon receiving his diploma at Nash Central High School last Saturday. (Graphic photo by Anthony Barham)

GRADUATION 2013
Over 1,000 seniors graduated from Nash-Rocky Mount Schools on Saturday during commencement ceremonies held throughout the day.
Nash-Rocky Mount Schools Superintendent Dr. Anthony Jackson attended all ceremonies to personally congratulate each graduate. More ...

NRMS moves forward with staff cuts
Nash-Rocky Mount Schools (NRMS) Superintendent Dr. Anthony Jackson will be moving forward with budget proposals to cut teacher positions.
Jackson told board members at a meeting on Monday night that the school system had waited as long as it could on budget deliberations in Raleigh. Jackson said it was hoped that the Governor's proposed budget would restore the reduction in teacher assistants. More ...
Amanda Clark, Graphic Staff Writer - 1 opinion posted
Momeyer opposes franchise tax elimination
Momeyer's Town Council will send a resolution to Raleigh in opposition to a proposal to eliminate the franchise tax that municipalities receive.
Council members voted unanimously to approve the resolution during the board's regular meeting on Monday morning. More ...
Amanda Clark, Graphic Staff Writer
Castalia mulls rising water rates
Castalia commissioners have spent over five hours trying to hammer out a budget for the coming year that will adapt to the pressures of decreasing revenues and increasing expenses. In a special called meeting held on June 6, commissioners dealt primarily with the general fund budget and the enterprise budget which includes water services for the town. More ...
Amelia Harper, Graphic Correspondent
Middlesex bumps sewer rates 14%
The Town of Middlesex has seen a 29 percent jump in its sewer rates over the past two years. Last year, the town absorbed the increase, passed down from Raleigh, but this year, the town will have to pass on the increase to residents.
Commissioners approved a 14 percent increase on Monday night at the board's regular meeting. More ...
Amanda Clark, Graphic Staff Writer
Latour retires from Nash Cooperative Extension
As a young girl, Janice Latour wanted to learn how to cook and sew. She knew growing up, she wanted to do something to help educate others in the field of food and nutrition. Latour spent her career doing just that. She recently retired, with 10 years of service as the Family and Consumer Sciences Extension Agent for Nash County Cooperative Extension. More ...
Amanda Clark, Graphic Staff Writer
NASHVILLE POLICE BRIEFS
INCIDENTS
A larceny (shoplifting) was reported on 6/3/13 at Wal-Mart, 1205 Eastern Avenue
A larceny (shoplifting) was reported on 6/4/13 at Wal-Mart, 1205 Eastern Avenue
A larceny (shoplifting) was reported on 6/5/13 at Just Save, 731 E. Washington Street More ...

NASH SHERIFF'S OFFICE REPORTS
A breaking, entering and larceny from an outbuilding was reported on 6/3/13 at 7260 Schooners Road
A larceny from a residence was reported on 6/3/13 at 2110 W. Hilliardston Road
A larceny from a motor vehicle was reported on 6/3/13 at 3212 Ridgecrest Drive
A larceny from a motor vehicle was reported on 6/3/13 at 5144 S NC 58 More ...


Aaron Nichols sits by the cabbage plants while explaining how school custodian Sam Richardson helps them with the garden.

Let's plant a garden!
Coopers Elementary School first grade teacher Margaret Mincey remembers how excited she was as a young girl working in her grandmother's garden and how much the responsibility of planting vegetables taught her. "The best memories I have are those working in her garden. She gave me two rows of my very own, I was so excited," said Mincey. More ...
Jo Anne Cooper, Graphic Publisher
NRMS Digital Learning Initiative ready for 2013-2014
As the Nash-Rocky Mount Schools (NRMS) system "embraces the new normal in public education," school officials are ready to give out digital tools to all students in grades 4-12 next school year, administrative staff told the board at their meeting last week. More ...
Michele A. Cruz, Graphic Correspondent
NCC FBLA receives award
Nash Community College's Phi Beta Lambda (PBL) business organization received chapter and individual honors at the 59th Annual North Carolina Phi Beta Lambda State Leadership Conference held recently in Charlotte. More ...

50TH WEDDING ANNIVERSARY
Johnny and Argie Land of Nashville celebrated their 50th wedding anniversary at a dinner held Saturday, June 1, 2013 at the Macedonia Baptist Church Fellowship Hall. Approximately 80 guest attended the event which was given by family. The couple have three children, Glenn Land (Christie Narron), Michelle Green (Kenneth), and Greg Land. Mr. and Mrs. Land have 12 grandchildren. More ...

ENGAGED
Lennie and Karen Breedlove of Rocky Mount announce the engagement of their daughter, Jessica Anne Hobson, also of Rocky Mount, to William Clifton Futrell, III of Nashville. She is the granddaughter of Mr. and Mrs. Lee Hines of Nashville, Mr. and Mrs. Jr. Breedlove of Henderson and the late Evelyn R. Hobson of Nashville. More ...

Local students graduate from NC Wesleyan
Seven North Carolina Wesleyan College students from Nashville received their diplomas at the college's May 4 graduation ceremony held in Minges Auditorium of the Dunn Center for the Performing Arts in Rocky Mount. More ...


Kindergarten

Nashville Elementary students reach reading goals
Pre-K
Alisha Silver, Ashley Velasco-Morales, Austin Smith, Dionjanae Kirtz, Donovan Williams, Elijah Williams, Ibri Hayes, Jaden Whitaker, Jerbari Whitley, Jonathan Fox, Kayhla Winston, Kha'Nydre Wardrett, Lauryn Hedgepeth, Layla Hasan, Nathaniel Dozier, Nazir Durant, Savannah Larwa, Xavier Lucas; More ...

Phillips/Bricks alumni celebrate 35th reunion
The Phillips/Bricks Alumni celebrated its 35th Annual Reunion on Memorial Day Weekend.
The celebrations started with a meet and greet fellowship at Phillips Middle School, in Battleboro on Friday night. Saturday morning the alumni had breakfast, a business meeting and the election of the new officers for the next four years. More ...

Keeping America Beautiful
Pictured (L-R), Lena Sessoms, President of the Brooklyn Area Community Watch, and Ted Davis, President of the Voices of Nashville, recently participated in Keep America Beautiful. The two picked up trash around the Brooklyn Community, including on Sixth Street. More ...

Farm payments resume
The U.S. Department of Agriculture's Farm Service Agency (FSA) Administrator Juan M. Garcia announced today that farm payments, which had been temporarily suspended due to sequestration, are scheduled to resume on May 8. This includes payments for the 2011 Supplemental Revenue Assistance Payments Program (SURE), the Noninsured Crop Assistance Program (NAP) and the Milk Income Loss Contract Program (MILC). More ...

RED OAK NEWS
Several ladies from Red Oak Baptist Church participated in the Adopt-a-Dorm Bible Study at Fountain Correctional Center for Women in Rocky Mount on Monday, June 3.
The Mission Friends/GA/RA Recognition Service was held on Wednesday, June 5 at Red Oak Baptist Church. More ...
SUZY PEARCE
BROOKLYN COMMUNITY NEWS
On Friday May 31st, Ted Davis and I collected paper and trash on a few of the local streets in Nashville. Many wonder why would we do this especially since it wasn't the specific street or neighborhood where we live. Our main purpose was because we care about our streets, our community and our town. Just as your house and yard represents you; well it should be the same with your neighborhood. More ...
LENA SESSOMS
MOUNT ZION FWB CHURCH NEWS
We had 84 in Sunday school today. Praise the Lord! The pretty flowers were given in memory of Shirley Cooper Matthews by her sisters, Bonnie Manning and Jean Green. "Thank you."
Monday, Woman's Auxiliary at Fellowship Center at 7 p.m., Wednesday at 7:15 p.m., Bible study by pastor. VBS Aug. 2 at night, Aug. 3 Saturday morning, Commencement program Sunday morning. More ...
ROSALENE BASS
PEACHTREE COMMUNITY NEWS
On a perfect summer Sunday, Peachtree folks gathered for worship. Graduations were held in the public schools on Saturday, so recognition was given to two of our recent graduates. Jeremy Browder completed his high school requirements a little early so he already has a job. Allison Vaughan graduated from Nash Central Senior High and plans to continue her education in nursing at Nash Community College. More ...
BARBARA HARDISON
BEULAH COMMUNITY NEWS
I was really glad to talk with a friend of ours this week, Coak May. Also glad to learn that his wife, Nancy May was doing really great now after having eye surgery. Coak May told me that the May family had a really nice family reunion a few weeks ago. Not many families still get together but it is a really nice tradition to continue. Coak said they had a really good attendance. More ...
WILMA ENROUGHTY
Nashville Fire Auxiliary hosts Reverse Raffle
Over a dozen people went home with some extra cash and helped Nashville's Fire Department in the process at the Fire Department's annual Reverse Raffle.
The Nashville Fire District Auxiliary hosts the Reverse Raffle each year as a fundraiser for the fire department. All proceeds support the Fire Department's Life Safety and Injury Prevention Program. More ...
Amanda Clark, Graphic Staff Writer
Middlesex resident asks town to allow chickens
A Middlesex resident asked commissioners on Monday night to consider an ordinance allowing chickens inside the city limits.
Stacy Meek addressed the Middlesex Board during their regular meeting.
Meek has four chickens of her own. More ...
Amanda Clark, Graphic Staff Writer - 1 opinion posted
Spring Hope woman seeks to start gang prevention program
A Spring hope woman requested the town's support in putting together an organization that will focus on youth who are in a gang or have the potential to join one.
Gertrude Mitchell spoke before Spring Hope Commissioners last Monday night and asked if anyone in town was doing anything to address the problem of kids in gangs in Spring Hope. More ...
Amanda Clark, Graphic Staff Writer

R. Lewis

Two arrested for distributing cocaine
Two Rocky Mount brothers were arrested on Friday and charged with distributing cocaine.
The Nash County Sheriff's Office, with the assistance of the Rocky Mount Police Department and North Carolina State Bureau of Investigation, arrested Robert Toboris Lewis, 24, and his brother, William Joseph Lewis, 26, on June 7 following a month-long investigation. More ...

NC DHHS investigating product from compounding pharmacy in TN
The North Carolina Department of Health and Human Services and the North Carolina Board of Pharmacy are participating with other local, state and federal health agencies in an investigation of products prepared by a compounding manufacturer, Main Street Family Pharmacy of Newbern, Tennessee that were shipped to three North Carolina clinics. More ...

Rocky Mount Water Resources Director retires with over 30 years
Wayne Hollowell has an affinity for many things, like hunting, fishing, archery and various other outdoor activities. But, when you know Hollowell and hear him speak candidly, it is obvious he has an even stronger admiration for Water Resources.
Most can't understand Water Resources because it really is a complex subject. More ...

Reality TV not so real when it comes to life
I've watched more TV in the last week than I've watched in the previous nine months. This is due to: 1) My boys can apparently talk me into anything; 2) I'm on a break from the real world.
The choice of shows for the past week — and it changes about as often as my boys take showers — has been "Call of the Wildman." For the uninitiated, this is a "reality TV" show about a Kentucky redneck who catches wild animal/pests with his bare hands so that he can release them into the wild. More ...
Mike Brantley
Some local boards need a bit of "sunshine"
It's budget season and that means there are lots of meetings to attend!
I've covered my fair share of meetings over the past few months and still have plenty more to go. I'm not sure if my quality time with local boards has caused me to pay better attention or if it's just a coincidence, but I sure have noticed some "interesting" things lately. More ...
Amanda Clark
Backward Glances
WINNING TICKET –– This photo was originally published in The Graphic December 29, 1960. The Nashville Chamber of Commerce held a Christmas prize drawing. Pictured, Jim Glover is drawing the winning tickets from a box. Holding the box is Allen Hyde who was the president of the chamber. J.E. McLin is holding Glover. He was the chairman of the prize committee. More ...
A PICTORIAL LOOK INTO THE PAST
Nash County Animal Friends' Notebook
On Sunday, our volunteers transported 15 felines to a Rescue in Asheville. 4 Adults, 3 half grown and the rest were kittens. We were extremely lucky that they took that many. Why did they have room? Because in Asheville, they have excellent spay/neuter facilities with decent prices but more than anything else, they have a very active TNR program. More ...
Carol Vierela, Nash County Animal Friends
Throwed away –– Sunset in Chicago
Publisher's note: The following was submitted by Ben Casey who worked as a photo journalist at The Graphic under Tom and Joe Wilson's ownership. Pictured with the column is the Leica which Ben used during that period. Casey said, "I credit The Graphic, Joe and Tom, the Graphic staff, and all the loyal readers of my work in helping me really discover what I want to do when I grow up." More ...
CASEY AT BAT / BY BEN CASEY - 1 opinion posted

MAN WITH THE PLAN. Southern Nash's John Matthews will serve as the head coach for the Northeast Team at the Powerade North Carolina Soccer State Games, which will be held later this month near Charlotte.

LET THE GAMES BEGIN
STANHOPE -- John Matthews enjoyed his State Games experience so much last year that is he upgrading his level of participation in 2013.
Matthews, Southern Nash's boys and girls soccer coach, was an assistant to the girls squad last summer at the annual North Carolina Powerad State Games. More ...
GEOFF NEVILLE, Graphic Sportswriter

SUPER SENIORS AT NCHS. (L to R) Rachel Pearce, Nathaniel Pittman and Randi Price enjoyed tremendous athletic careers at Nash Central High School.

Central Seniors Bid Farewell
ROCKY MOUNT -- By anyone's estimation, this is one of the best senior classes in the history of Nash Central High School -- and a long list of accolades back up that assessment.
Members of Nash Central's Class of 2013 walked down the aisle last Saturday during graduation ceremonies at the NCHS Gymnasium. More ...
GEOFF NEVILLE, Graphic Sportswriter
Bulls will host pair of camps
DURHAM -- The Durham Bulls will host Summer Baseball Camps on July 10-12 and August 7-9 at the Durham Bulls Athletic Park.
The event is open to ages 7-14. Campers will receive instruction from Bulls' players and coaches.
Cost is $150 per child, which includes lunch and a T-shirt. More ...
Staff Reports
Warren In The Hall
MURFREESBORO -- Two former athletes with Nash County ties recently earned induction into the Chowan University Athletics Hall of Fame.
The event was held Nov. 3 on the CU campus in Northampton County. Athletes were introduced at halftime of the Hawks' football game, and a banquet was held later that night. More ...
Staff Reports
Mudcats tabbed for team
ZEBULON -- The Carolina League has announced the All-Star roster for the upcoming 2013 showdown with the California League in San Jose, Calif.
Four players, including a pair of the Cleveland Indians' first round draft picks, will represent the Carolina Mudcats in the annual mid-summer classic. More ...
Staff Reports
SN's Perry earns Whitley Award
STANHOPE -- Southern Nash Middle School's Casey Perry has been honored as the Dudley Whitley Nash County Coach of the Year for the 2012-13 season.
The award was presented by Whitley's family, was presented to Casey Perry on June 4 at the SNMS Awards Banquet. More ...
Staff Reports
NASH CO. REC REPORT
NASH COUNTY -- Here are updated results from the Nash County Parks and Recreation Department's Spring Youth Sports Season: More ...
Staff Reports
Co. Line hosts big event
ELM CITY -- County Line Raceway celebrated the beginning of the summer with its annual Kids Night last weekend.
Kids were able to take rides on race cars with their favorite drivers as Roary and the Kids Konnection were on hand to help them get on the racecars as well as having a Junior flagman and Kids Konnection members riding in the pace truck. More ...
Staff Reports
Avent, Pack advance to CWS
RALEIGH -- North Carolina State University advanced to its first College World Series since 1968 by winning the longest super regional game in history, 5-4, in 17 innings over Rice on Sunday at Doak Field at Dail Park.
NC State is coached by Nash County native Elliott Avent. More ...
Staff Reports
Pelicans sweep the Mudcats
ZEBULON -- The Myrtle Beach Pelicans earned a three-game sweep of the Carolina Mudcats after scoring four runs in the sixth inning of a 6-4 win on Sunday afternoon at Five County Stadium in a Class A Carolina League baseball game.
Myrtle Beach (33-28) won their eighth in a row over Carolina (20-42). The loss was the Mudcats' season-long sixth in a row. More ...
Staff Reports
BIG BEN
Southern Nash's Ben Liles (right) helped the Firebirds reach the Elite Eight of the Class 3-A Boys Soccer State Playoffs last fall. Along the way, he invented a new dance craze with his 'Firebird' goal-scoring celebration. Liles will take part in the upcoming State Games. More ...

CHARLES LINDBERGH BASS
Charles Lindbergh Bass, 86, of Momeyer, passed away Sunday, June 9th 2013. He was born May 15, 1927 in Nash County to the late Alvarado Hinton and Eddie Thomas Bass, Sr. More ...

WILLIE JUNIOR BATTS
ROCKY MOUNT –– Willie Junior Batts, 84, of Rocky Mount, died on Friday, June 7, 2013 at Nash General Hospital. More ...

ROBERT EARL RICH
ROCKY MOUNT – Robert Earl Rich, 58, of Rocky Mount, died on Tuesday, June 4, 2013 at Vidant Medical Center in Greenville. More ...

OREOLE GASKILL TURNER
Oreole Gaskill Turner passed away Saturday, June 8, 2013. She was born in Rocky Mount on May 25, 1918, the daughter of the late George Gilbert Gaskill and Anzy Lanie Gay Gaskill. She was preceded in death by her parents; her husband, Harvey Rudolph Turner; her sister, Anzy Lanie Gaskill Turner; her brother, George Gibbons Gaskill and her grandson, Travis Grant Batchelor. More ...

MILTON EDWARD STROUD
Milton Edward Stroud, 89, passed away on June 6, 2013. He was born in Lenoir County on January 18, 1924 to the late Melvin Stroud and Anna Grady Stroud. In addition to his parents, he was preceded in death by his daughter, Carolyn Stroud Webb, and his brothers, Harold W. and Christopher Stroud. More ...