Subscribe/Access
Advertisements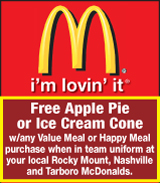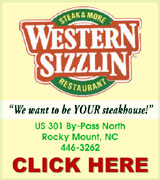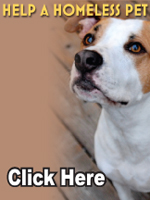 Sections
Member Options
Back
Agency plans walk in downtown
My Sister's House is coordinating a walk in Downtown Nashville next Wednesday afternoon to bring attention to sexual assault.
According to Lozen Pittman, Sexual Assault Program Coordinator for My Sister's House, there are many misconceptions about sexual violence. More ...
Amanda Clark, Graphic Staff Writer
Bailey Mayor resigns
Bailey Mayor Owen Strickland surprised commissioners on Monday night when he announced his resignation.
Town Clerk Becky Smith said Strickland made the announcement at the board's regular meeting on Monday night.
"Everybody was surprised," Smith said. More ...
Amanda Clark, Graphic Staff Writer
Cooley Library welcomes Chancey as new associate
Otis Chancey is the newest face at Harold D. Cooley Library.
Chancey, of Rocky Mount, started as a Librarian Associate on April 2.
Chancey has an art studio, StudiOh10, at the Bel Air Artisans Center and said he had been looking for something to help supplement his income as an artist when he came across the position at Cooley Library. More ...
Amanda Clark, Graphic Staff Writer
Spring Hope business shut down
A Spring Hope business that has been around since the 60s is being shut down.
The Ash Street Recreation Center has to close down by June 9 after an investigation on a nuisance property by the North Carolina Department of Public Safety.
According to a press release, the Ash Street Recreation Center had a history of criminal activity including drug violations, fights, assaults, robberies and one fatal shooting, which occurred in the 80s. More ...

Police seek armed robbery suspect
Spring Hope Police are searching for a man who robbed Subway on Sunday night.
According to Police Chief Tim Denton, a masked man walked in the Subway restaurant around 9:40 p.m. and walked behind the counter, where a female employee was standing. The man, who had a handgun, attempted to get the employee to open the register. More ...
Amanda Clark, Graphic Staff Writer
Citizens wish to buy town property
The Town of Nashville is reviewing a request from a local couple to buy property that borders their home.
Victoria Frazier spoke before Nashville Council Members earlier this month asking that the town consider selling property to her and her husband, Kelton. Frazier said they own rental property on Cedar Street.
The property is 10-foot wide by 135-foot long and sits next to the town's cemetery. More ...
Amanda Clark, Graphic Staff Writer

Friends of the Harold D. Cooley Library President Pam Bass (at left) sells a ticket to the fifth annual Ladies Luncheon to Rita Wade, of Wade Designs (at right). Wade Designs is one of the events sponsors.

Cooley Library Friends plan Ladies Luncheon
A newly remodeled home will be the location for the fifth annual Ladies Luncheon, sponsored by Friends of the Harold D. Cooley Library.
Chad and Joni Robbins have offered their home for the annual event, said Pam Bass, President of the Friends group. The Robbins' just recently bought the home, which is between Red Oak and Nashville, and have renovated the downstairs area, Bass said. More ...
Amanda Clark, Graphic Staff Writer
Nashville man sentenced for dumping contaminated soil
Chief United States District Judge James C. Dever, III recently sentenced a Nashville man to six months in prison for dumping contaminated soil in a protected wetland area.
Harvey Bryant Pridgen, 58, will also receive a year supervised release which includes six months home confinement with electronic monitoring. Pridgen will also pay a $300,000 fine. More ...

NASH SHERIFF'S OFFICE REPORTS
A larceny of prescription pills was reported on 4/8/13 at 766 Breedlove Road
A breaking, entering and larceny to a residence was reported on 4/8/13 at 6911 Squirrel Den Road
A suspicious fire was reported on 4/8/13 on Quarter Road near Highway 43
A larceny of tools and dog was reported on 4/8/13 at 7425 Southern Nash High Road More ...

NASHVILLE POLICE BRIEFS
INCIDENTS
A criminal damage to property (vandalism) was reported on 4/9/13 at 328 E Sixth Street
A larceny was reported on 4/10/13 at Food Lion, 1151 Eastern Avenue
A criminal damage to property (vandalism) and burglary - forcible entry was reported on 4/10/13 at 203 Laurel Spring Drive More ...

Spring Hope residents now eligible to purchase flood insurance
Spring Hope residents are now eligible to buy flood insurance, after the Board of Commissioners approved a resolution to join a National Flood Insurance Program.
Commissioners unanimously approved a resolution of intent to join the National Flood Insurance Program at the regular meeting on April 1. More ...
Amanda Clark, Graphic Staff Writer
Nashville's "Coffee with a Cop" is April 25th
Nashville's Police Department will host its next "Coffee with a Cop" event on Thursday, April 25 from 7:30 until 9 a.m. at Langley's Town and Country.
The "Coffee with a Cop" event is a community outreach program that allows citizens to sit down and meet Police Chief Tom Bashore and some of the Nashville Police Officers. More ...


Grace LaHay took first place in Cattle, Sheep, Goats, and Swine judging. She was also highest in oral reasons and overall high junior individual. LaHay also won top awards in the Steer competition.

Nash participates in 4-H Livestock Show and Sale
Nash County youth did well at the 76th annual Livestock Show and Sale, held April 2 and 3 at the Eastern Carolina Livestock Arena in Rocky Mount.
Over 175 youth from Nash, Edgecombe and Halifax Counties participated in the event and showcased their lambs, steers, goats and pigs. Cloverbuds, youth ages five to eight, also had a chance to showcase their goats at the event. More ...

MILITARY NEWS
Navy Seaman Recruit Cody P. Jared, son of Belinda M. Jared, of Nashville, and Kevin E. Jared, of Virginia Beach, Va., recently completed U.S. Navy basic training at Recruit Training Command, Great Lakes, Ill.
During the eight-week program, Jared completed a variety of training which included classroom study and practical instruction on naval customs, first aid, firefighting, water safety and survival, and shipboard and aircraft safety. An emphasis was also placed on physical fitness. More ...

Nash County recognizes Telecommunicators
This week, public safety agencies across the nation are recognizing the critical role played by telecommunicators. These professionals are the true first "first responders" and one of the most critical contacts citizens have with emergency services.
Each year, the second full week of April is dedicated to the men and women who serve as public safety telecommunicators. In 1992, Congress proclaimed it a national week of recognition. More ...

Golf tourney to benefit My Sister's House
ACDI is hosting its first charity golf event at Birchwood Country Club on May 2.
The company has been hosting charity golf tournaments in Maryland, where home offices are, for years and decided to branch out and start one in Nashville.
ACDI President Bill Hornbaker asked Teresa Shaw, who serves as the secretary for the Nashville company, to help search for local charities a golf tournament could benefit. More ...

Seventh District hires new Financial Crimes Prosecutor
The Seventh Prosecutorial District has hired Tonya Montanye as its new financial crimes prosecutor, District Attorney Robert Evans recently announced.
A state-wide prosecution team was developed through the Conference of District Attorneys to serve as a resource by offering various levels of prosecutorial assistance in the area of financial crime. Montanye will be responsible for prosecuting select financial crime cases. More ...

Citations issued in "No Need to Speed" campaign
A total of 42,290 traffic and criminal citations were issued statewide during this year's "No Need 2 Speed" campaign, which ran March 25-31. Law enforcement officers from across the state partnered with the Governor's Highway Safety Program to increase enforcement in an effort to put a stop to one of the main causes of crashes and fatalities on North Carolina's roads – speeding. More ...

Student leaders honored
More than a dozen student leaders were recently recognized with special honors during the 43rd annual Youth Legislative Assembly (YLA), held March 15 through 17 in Raleigh. Over 200 students from across the state participated in this event presented by the Youth Advocacy and Involvement Office of the NC Department of Administration. More ...

NHC Volunteers present Lights of Love donation to foundation
The Nash Health Care Volunteer Auxiliary recently made a $5,000 donation to the Nash Health Care Foundation towards the construction of a Pediatric Emergency Department. The money was raised from the auxiliary's annual Lights of Love ceremony.
Twenty percent of the patients at Nash General Hospital's Emergency Care Center are under the age of 17 – nearly double the amount of pediatric patients in other North Carolina emergency rooms. More ...

MOUNT ZION FWB CHURCH NEWS
We had 79 including three visitors in Sunday school today. Welcome to our visitors and regulars also. There will be a Sunday school council meeting Tuesday 7 p.m.
We had a good three night revival last week. Rev. John Mark Windley brought good Bible messages each night and also special music. More ...
ROSALENE BASS
BEULAH COMMUNITY NEWS
This Friday night (the 19th) a really big event will be held for everyone who graduated from Red Oak High School. This is an annual event and involves not just one class, but everyone. I graduated with the class of 1958 so this is our 55th anniversary. It will be held at the Shrine Club in Rocky Mount. It is always a happy reunion for everyone. More ...
WILMA ENROUGHTY
PEACHTREE COMMUNITY NEWS
Spring has finally arrived, along with a yellow cloud of pollen. Gardeners are getting serious about their yard work. Thanks to all of those who participated in the High Way Clean-up on Saturday AM. It was a job well done.
Peachtree folks gathered for worship on Sunday morning. More ...
BARBARA HARDISON
Nash Democrats to host annual rally on Thursday
The Nash County Democratic Party will hold its Spring Rally on Thursday, April 18 at 6:30 p.m.
The rally will be held at the Momeyer Ruritan Club. A spaghetti and tossed salad dinner will be served.
The guest speaker for the event is Representative Bobbie Richardson. Richardson represents District Seven in the NC House of Representatives. District Seven consists of Nash and Franklin Counties.
Richardson has dedicated her life to education. More ...

UDC Bethel Heroes visit burial ground of Confederate soldiers
Nine local Bethel Heroes Chapter 636 members made a trip to Weldon, NC to visit the Confederate Soldiers' Burying Ground Cemetery and to pay honor to the men buried there between 1861-1865 for their service.
During the War Between the States, confederate soldiers were transported through out the South via the railroads that passed through Weldon, NC. More ...
HELEN SHARPE
LIONS RAISE FUNDS
Nashville's Lions Club held its pancake breakfast on Saturday, April 13 at Andy's in Nashville. All funds received will go to help the visually impaired; you help the Lions and the Lions help those in need; what a team! The Lions Club would like to thank everyone who participated in this year's fundraiser. More ...

Trying to understand what I can't understand
We've made millions here at the Soapbox by writing about what we understand.
Millions of typos. Millions of poorly written sentences. Millions of angry readers (give or take 995,000 or so). Millions of head shakes.
This week, after consulting with the staff (they texted back: be sure to pick up milk on your way home), I thought it might be interested to write about things I don't understand. More ...
Mike Brantley - 1 opinion posted
Praying for Boston –– praying for America!
Like many others right now, I'm still trying to wrap my mind around the events that occurred in Boston Monday and I just can't fathom why someone would do something so horrific.
What is this world coming to?
It's hard to imagine a person setting up bombs to go off during such a massive event. Thousands attend the Boston Marathon each year. It's obvious the intention was to kill as many innocent people as possible. The question is why? More ...
Amanda Clark
North Carolina doesn't need Voter ID cards
I read with interest the comments by an intent writer concerning voter ID.
His premise was that this was easy to do and it would make the State of NC a high quality credentials presentation. A few things however do not support his opinions. His fervor belies some shadow reasons that many of us see quite clearly. More ...
Letter to the Editor: - 1 opinion posted
Backward Glances
RED OAK GRADUATES, 1963 –– Pictured are members of Red Oak High School's 1963 graduating class and their mascots. More ...
A PICTORIAL LOOK INTO THE PAST

A FIFTY-FIFTY SPLIT. (L to R) Southern Nash's Lacey Cantera and Nash Central's Christina Coggin race for the ball during Monday's soccer contest.

DOGS: THERE IT IS
STANHOPE -- Ryan Cherlinczuk-Ruiz's favorite in-game saying is 'There It Is' -- usually when his Nash Central High School girls soccer squad moves into scoring position.
For Ruiz and the Lady Bulldogs, that would be just about every time freshman Rebecca Beal touches the ball this season. More ...
GEOFF NEVILLE, Graphic Sportswriter

BUNKER HILL FOR SN. Southern Nash High School's Randy Perry executes a sand shot as part of Monday afternoon's Big East Conference golf showdown at Northgreen Golf Course in Rocky Mount.

Changing Course
ROCKY MOUNT -- From week to week, one of the greatest challenges facing Big East Conference golfers is the adjustment to the different courses used in the league's playing rotation.
Each course has its own nuances and style, and Northgreen Golf Course has a reputation for being long -- a whopping 6,400 yards from the white tees. More ...
GEOFF NEVILLE, Graphic Sportswriter

I'VE GOT THIS ONE. Southern Nash's Erin Ogden (left) fields a ground ball and throws to first for the out during last Wednesday afternoon's road softball contest against non-league rival Louisburg High School.

Late Rally For SNHS
LOUISBURG -- Due to the intense nature of Big East Conference games, it's often difficult for a softball team to get motivated for a late-season, non-league event -- especially against an opponent that it had defeated earlier in the campaign. More ...
GEOFF NEVILLE, Graphic Sportswriter
Southern will host campers
STANHOPE: Southern Nash High School will host a Volleyball Camp and Softball Camp this summer on the SNHS campus in Stanhope.
The volleyball event is scheduled for June 11-12 from 3-6 p.m. each day.
Girls in grades 6-12 are welcome. Cost is $40, which includes a T-shirt. North Carolina Wesleyan spike coach Robin Pietryk will serve as a camp assistant. More ...
Staff Reports
Central edges Wilson Fike
ROCKY MOUNT -- Nash Central earned a key 5-4 victory over Wilson Fike in Big East Conference boys tennis action last week.
At No. 1 Singles, Central's Jackson Willis defeated Thomas Smith 6-4, 6-3. The talented Willis is now 8-1 overall on the season. More ...
Staff Reports
NN-CENTRAL HIGHLIGHTS
KNIGHTS GET THE WIN. Northern Nash traveled to Nash Central last Thursday and earned a 7-5 victory, thanks in part to 16 walks. Among the game highlights (above) Northern Nash winning pitcher Derrick Carter delivers an offering. More ...

Pirates take series from Tulane
NEW ORLEANS -- East Carolina University scored two runs in the top of the ninth and Drew Reynolds sat down Tulane in order in the bottom of the frame helping the Pirates to a 4-2 Conference USA baseball series clinching win Sunday afternoon at Greer Field inside Turchin Stadium. More ...
Staff Reports
Mudcats defeated versus Dash
ZEBULON -- The Carolina Mudcats allowed a season-high 17 hits in a 15-2 loss to the Winston-Salem Dash on Sunday afternoon at BB&T Ballpark in a Class A Carolina League baseball contest.
The Dash claimed the series, and pulled into a first place tie with Carolina. Both teams are 5-4 after nine games. More ...
Staff Reports

NASH COUNTY SOCCER SENSATIONS. These youngsters enjoy their time on the field during a recent game as part of the Nash County Parks and Recreation Department's Spring Soccer Season.

NASH COUNTY REC REPORT
NASH COUNTY -- Here are updated results from the Nash County Parks and Recreation Department's Spring Youth Sports Season: More ...
Staff Reports
Wesleyan takes tennis title
ROCKY MOUNT -- The 2013 USA South Men's Tennis Tournament concluded with top-seeded North Carolina Wesleyan College taking home the championship.
The Bishops swept 2nd-seeded Christopher Newport, 9-0, to earn their fifth consecutive tourney title and NCAA berth. More ...
Staff Reports
Bishops' baseball season ends
ZEBULON -- The 2nd-seeded North Carolina Wesleyan College Battling Bishop baseball team saw its 2013 season come to an end last Saturday afternoon in the quarterfinals of the USA South Conference Tournament. More ...
Staff Reports
NASH CO. SOCCER RESULTS
NASH COUNTY -- Listed are early-season results from the Nash County Parks and Recreation Department's Spring Soccer Season: More ...
Staff Reports
North Carolina State sweeps Boston College
CHESTNUT HILL, MASS. -- No. 19 North Carolina State Unversity finished off a sweep of Boston College with a 3-2 comeback win on Sunday behind six no-hit innings from freshman lefthander Brad Stone.
The Wolfpack (28-10, 11-7 Atlantic Coast Conference) battled through six and a half scoreless innings before Boston College (6-29, 0-17) grabbed a 1-0 lead in the bottom of the seventh. More ...
Staff Reports
AIR BALL
Louisburg infielders (l to r) Cristina Coley and Natalie Wynne try to reach a ball as Southern Nash's Morgan Tyson (16) slides into second base during last Wednesday's softball contest. More ...

FEELING CHIP
Northern Nash's Tucker Daughtridge sends a chip shot toward the hole during Monday's Big East Conference golf showdown at Northgreen GC. More ...

HE LIKES IT
Nash Central's Garrett Tant follows the flight of this approach shot as part of Monday afternoon's Big East Conference golf match at Northgreen GC. More ...

SAFE DRIVER
Southern Nash's Jarred Purvis rips a drive on the difficult ninth hole at Northgreen GC during Monday afternoon's Big East Conference golf match. SN finished second as a team. More ...

STATE OF DENIAL
Nash Central junior keeper Abigail Ross (right) makes a save during the Lady Bulldogs' road soccer victory Monday against rival Southern Nash. More ...

NNHS presents "Annie Get Your Gun" starting April 18th
Northern Nash High School will present Irving Berlin's "Annie Get Your Gun" on April 18, 19 and 20 at Nash Arts.
"Annie Get Your Gun" is a musical about the life of Annie Oakley, with music and lyrics by Irving Berlin and based on the original book by Herbert and Dorothy Fields, as revised by Peter Stone. More ...


Members of the Nash Central High School Dance team perform during the 2013 Superintendent's Art Gallery Reception.

Students showcase artistic skills
Twenty-six students were recently honored for their artistic talents as part of the 2013 Nash-Rocky Mount Public Schools Superintendent's Art Gallery. During a special reception held April 8, students showcased their artwork and receive certificates from Superintendent Dr. Anthony Jackson.
Students from the Northern Nash High School band and the Nash Central High School dance team performed during the reception, which was held prior to the Nash-Rocky Mount Board of Education meeting. More ...

EARLON JEFFRIES PARKER
Earlon Jeffries Parker, age 73, passed away Thursday, April 11, 2013. Born in Nash County on February 28, 1940, she was the daughter of the late John Jeffries and Stella Mullins Jeffries. She was also preceded in death by her brother Robert Jeffries. More ...

ARCHIE EVANS
ROCKY MOUNT –– Archie Evans, 72, of Rocky Mount, died on Tuesday, April 9, 2013. More ...

CLARENCE LEE WIGGINS
ROCKY MOUNT –– Clarence Lee Wiggins, 76, died April 8, 2013. Funeral services were held Friday, April 12, 2013 at First Calvary Baptist Church at 1 pm. Rev. W. R. Burston officiated. Burial was at Pleasure Hill Cemetery. More ...

PEARLINE AVENT LLOYD
ROCKY MOUNT –– Pearline Avent Lloyd, 80, of Rocky Mount, died on Saturday, April 6, 2013 at Tarboro Nursing Home in Tarboro. More ...

JESSE EVERETT
WHITAKERS –– Jesse Everett, Jr., 76, of Whitakers, died on Friday, April 5, 2013 at Nash General Hospital. More ...

ROBERT (BOB) COOK CLARK
Robert (Bob) Cook Clark, 64, passed away Saturday, April 13, 2013. He was born in El Dorado, AR on June 29, 1948 to the late Dr. James Frank Clark, Sr., and the late Margaret Gibbs Clark. More ...

FREDERICK (RICK) LOUIS AUGST, III
Frederick (Rick) Louis Augst, III, 55, passed away on Wednesday, April 10, 2013. He was born February 14, 1958 to Fred L. Augst, Jr. and Burcha Goff Augst. He was preceded in death by his father, paternal grandparents Fred and Pattye Augst, maternal grandparents, Willie and Annie Goff. More ...

JOEL BUNN WARREN
MELBOURNE, FLA. - Joel Bunn Warren, 82, died Feb. 23, 2013 at Holmes Regional Medical Center in Melbourne, Fla. More ...