Subscribe/Access
Advertisements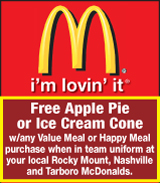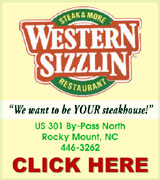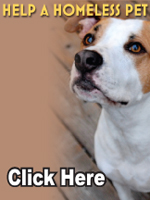 Sections
Member Options
Back
Boice Willis to build new facility
Boice-Willis Clinic is packing up and moving to a larger building.
The medical clinic on Church Street announced it was expanding and building a new, 9,000 square foot building on Eastpointe Avenue behind the State Employees Credit Union.
Boice-Willis CEO Gary J. Fazio said the expansion was due to a growing need for family medical care in the Nashville area. More ...
Amanda Clark, Graphic Staff Writer
Volunteers commit to save festival
Wanted: Dedicated volunteers.
That was the message in Spring Hope on Monday night at a public meeting with the town's Chamber of Commerce.
The Spring Hope Chamber's Board of Directors announced in late January that it was cancelling the 2013 Spring Hope Pumpkin Festival due to a lack of volunteers and financial support. More ...
Amanda Clark, Graphic Staff Writer
Student hit boarding school bus
A Red Oak Middle School student was struck by a car last week while trying to board his school bus.
According to the North Carolina Highway Patrol, the bus was stopped on Highway 58, just south of Castalia, around 6:20 a.m. last Thursday when Nicholas Benitez, 41, of Lancaster Store Road, approached from the other direction. Benitez allegedly didn't stop for the extended stop arm and warning lights and struck 13-year-old Jesus Ortiz-Licea. More ...

PINEWOOD DERBY
Cubscout Pack #37 in the Coopers Community held its Pinewood Derby Saturday, Feb. 23. Pictured above Austin Moss adjusts his car on the track with a little help from Earl Lucas. See more photos and winners in the 'Local News' section. More ...

Food Lion abduction rumor not true
Rumors of an abduction at Food Lion in Nashville this weekend are not true, Nashville Police Chief Thomas Bashore said.
The rumor started circulating on Saturday after a Facebook post warned readers to "be on the lookout for a white Lincoln with red lights under the mirrors." The post stated that a female was forced into the vehicle at Food Lion. More ...
Amanda Clark, Graphic Staff Writer
Locals arrested in insurance fraud scheme
Two Nash County residents were among seven arrested recently in an insurance fraud scheme involving staged auto accidents.
Insurance Commissioner Wayne Goodwin announced the arrest last week. The Department of Insurance is seeking help from the public in locating three additional suspects. More ...

Have "Coffee with a Cop" on March 8
Nashville's Police Department will host its second "Coffee with a Cop" on Friday, March 8 from 7:30 until 9 a.m. at Bojangles in Nashville.
The "Coffee with a Cop" event is a community outreach program that allows citizens to sit down and meet Police Chief Tom Bashore and some of the Nashville Police Officers. More ...


Tina Joyner (at left) received recognition for certification renewal of 4-H Master Volunteer Training. Pictured with Joyner is Dr. Marshall Stewart, Associate Director, North Carolina Cooperative Extension Service.

Nash County 4-H volunteers earn state awards
Nash County 4-H volunteers were recognized earlier this month at the North Carolina 4-H Leaders Conference in Raleigh.
Mary Strickland received the Individual 4-H Volunteer Award for her work with Nash County 4-H in leading the 4-H Medical Academy. More ...
Amanda Clark, Graphic Staff Writer
Operation Medicine Drop events to be held in Nashville
Local residents will have two opportunities to dispose of unwanted medication, as two Operation Medicine Drops are scheduled to be held in Nashville in March.
The Nashville Police Department will hold an Operation Medicine Drop on March 23, 2013 at Wal-Mart in Nashville from 2 until 6 p.m. The police department will also collected unwanted medications at Nashville Elementary School on March 19 from 6:30 until 8 p.m. More ...


White

Four arrested for drugs at checkpoint
A driver's license checkpoint led Nash County Sheriff's Deputies to charge four Louisburg residents with narcotics violations.
Members of the Nash County Sheriff's Office Patrol Division conducted a driver's license checkpoint on Tuesday, February 12 at NC 231 and Frazier Road. More ...

Dine Out for Schools set for March 7
The 17th annual Dine Out for Communities in Schools is set for next Thursday, March 7 at participating restaurants.
As part of Dine Out, participating restaurants pledge 10 percent of their sales to help increase student achievement.
More ...

Nash residents graduate from NCSU
North Carolina State University Chancellor Randy Woodson conferred 3,550 degrees when the university held its 2012 Fall Commencement on Saturday, December 15 at PNC Arena in Raleigh. This included 66 associate's, 2,174 bachelor's, 1,013 master's and 297 doctoral degrees. Twenty-five valedictorians were recognized for earning perfect 4.0 grade-point averages during their academic careers at NC State. More ...


Jamie Beecham's Jamie's Chorizo Sausage Poppers recipe has been awarded a blue ribbon at Just A Pinch Recipes.

Local woman's recipe awarded blue ribbon
Nashville home cook Jamie Beecham's Jamie's Chorizo Sausage Poppers recipe has been awarded a blue ribbon at Just A Pinch Recipes, a recipe and coupon social network for home cooks.
Beecham's Jamie's Chorizo Sausage Poppers was named a blue ribbon winner by Just A Pinch Food Editor Janet Tharpe. To land the award, Beecham served up a full flavored dish that was both tasty and easy to prepare. More ...

Nash County Blood Drives for March 2013
Tuesday, March 5 from 2:30 until 7 p.m. at Rocky Mount Moose Lodge, 521 Country Club, Rocky Mount
Sunday, March 10 from 1 until 5 p.m. at Englewood United Methodist Church, 300 S. Circle Drive, Rocky Mount
Monday, March 11 from 3 until 7 p.m. at Nashville United Methodist Church, 209 East Washington Street, Nashville More ...

Valentine is semi-finalist in national contest
Jackson Valentine from Nash Central High School is honored as a semi-finalist in the 44th annual national Washington Crossing Foundation Scholarship Competition. The prestigious awards are granted to high school students for the best all around presentations including an explanation of why they are planning careers in government service. More ...

ENGAGED
Laura Whitney Dale of Youngsville and Brandon Denson Vick of Nashville announce their engagement. The bride-elect is the daughter of the late George Frank Dale of Raleigh and the late Karen Walters Dale of Franklin County. The groom-elect is the son of Mr. and Mrs. Jackie B. Vick of Dortches and the grandson of Mrs. James J. Meade and the late Mr. Meade of Nashville. More ...

Top 75 Agent
Tonja S. Philbeck, Nash County Agent for North Carolina Farm Bureau Mutual Insurance Company was named among the Top 75 Agents for 2012, by Steven D. Carroll, CPCU, Executive Vice President and General Manager. More ...

Serving the community
Nash Community College Student Nurse Association members recently served the community by checking local residents' blood pressure, pulse oxygen rate and teaching about healthy ways to decrease hypertension at Compassion Cafe. Located on the corner of Church and Collins Streets in Nashville, Compassion Cafe is a ministry supported by local churches. More ...

Military News
Donald E. Mosley
Navy Seaman Donald E. Mosley, son of Tina Mosley, of Gaston, and Gary Mosley, of Nashville, recently completed U.S. Navy basic training at Recruit Training Command, Great Lakes, Ill. More ...

Cubscout Pack 37 Pinewood Derby, pics 4
OVERALL WINNERS ––Reagan Davis, Tiger (left) won first place; Colten Davis, Webelos II (center) won 2nd place; and Jaylen Lucas, Wolf (right) won 3rd place in the overall competition at the Cubscout Pack #37 Pinewood Derby. More ...

MOUNT ZION FWB CHURCH NEWS
We had 72 including one visitor in Sunday school. Robert Tyner welcomed everyone. He shared that the youth attended a good program at the Dunn Center last night. Pastor Aycock and his wife, Nancy went with them. He is not going to miss any fun events or meals if he can help it. He has a great sense of humor and just makes you love him. He is a great preacher also. More ...
ROSALENE BASS
BEULAH COMMUNITY NEWS
It's time to mark your calendars again! This Friday night, March 1st at 5:00 it's time, once again, for the monthly fish fry at the Beulah Church of Christ Annex on Reges Rd. We always look forward to seeing old friends and making new ones. Please come and bring the family and friends with you. More ...
WILMA ENROUGHTY - 1 opinion posted
PEACHTREE COMMUNITY NEWS
After a rainy Saturday, Sunday morning dawned sunny and beautiful. Peachtree folks gathered for worship. Pastor Whitehouse chose as his sermon topic, "Are We Listening to What God is Saying?" It was based on scripture passage Revelations 1: 1-7. God is telling us not to be so busy doing "church" that we forget to love Him. An apt quotation by a theologian says: "We can lose Christ by distraction, as easily as by denial." More ...
BARBARA HARDISON
FARM SERVICE AGENCY
Any foreign person who acquires, transfers or holds any interest, other than a security interest, including leaseholds of 10 years or more, in agricultural land in the United States is required by law to report the transaction no later than 90 days after the date of the transaction. More ...
SHARON TAYLOR
RECOGNIZED
UDC Bethel Heroes Chapter 636 members Helen Sharpe, left, and Dottie Barrett, right, received supplemental certificates at the February meeting. Certificates are awarded when members give proof of their ancestor's service during the War Between the States. More ...

SCOUTING FOR FOOD
Nashville Cub Scout Pack 76 completed its Scouting for Food Drive on February 9. Scouts collected over 800 pounds of food and donated it to Faith Christian Ministries of Nashville. Pictured (L-R) is: Anthony Cockrell, Gabe Cooper, Austin Harper, Griffin Wingfield and Austin Harrell. More ...

PFLAG celebrates 40 years
Members of PFLAG Rocky Mount (Parents, Families and Friends of Lesbians and Gays) met January 29 to celebrate important milestones in their local and national history. The celebration focused on their organization's movement to secure equal civil rights for LGBT persons.
The nation's largest grassroots-based non-profit, PFLAG began forty years ago when a courageous mother, Jeanne Manford, stepped onto the streets of New York to join her gay son in a march for equality. More ...

Eastpointe recieves award
Eastpointe LME/MCO was recently recognized with a Programs of Excellence Award in the category of Best Practice. The award was for their Wellness Recovery Action Plan (WRAP) Training program which is operated by Mental Health America of the Tar River Region. WRAP is a 16 hour program designed to help those with mental illness to manage their psychiatric symptoms and create individual plans of recovery. More ...

Maybe the problem with heroes is selection
An Olympic star is arrested for murdering his girlfriend.
Another Olympic competitor admits to being a part time prostitute.
A college football player ends up with a fake girlfriend on the Internet.
A legendary cyclist admits to using performance-enhancing drugs. More ...
Mike Brantley
New volunteers pledge to help with festival
On Monday night, Spring Hope's Chamber of Commerce met with concerned citizens to discuss the town's Pumpkin Festival. Due to a lack of volunteers, the chamber was considering the possibility of canceling the festival.
Of course, hearing the news that there could be no festival this year upset a lot of folks so the chamber held a meeting to discuss what goes on behind the scenes and encouraged folks to step up and help. More ...
Amanda Clark
"Protecting Our Children" inside today
Inside today's paper you'll find the "Protecting Our Children" tabloid which, in my opinion, is one of the most important special editions we publish here at The Graphic.
This publication delivers important information to parents regarding dangers and peer pressures that youth are exposed to such as alcohol, drugs, internet predators, social media and more. More ...
Jo Anne Cooper
Backward Glances
NASHVILLE GRADUATES –– This photo originally published May 23, 1963. Pictured is Nashville High School's 1963 graduating class. The mascots pictured are Cynthia Parrish and Allen Rose. More ...
A PICTORIAL LOOK INTO THE PAST
Nash County Animal Friends' Notebook
Last week ended on a high note. The first thing is that none of the pets that we promoted died. Did that mean NONE died? Nope. It ONLY means that the "Adoptable" ones didn't die. For example, if you let your cat outside, they can revert to the feral state (being wild, not being able to be handled) or start hanging out with other cats, many of them feral. Then your cat might have died. More ...
Carol Vierela, Nash County Animal Friends

CARRY ON. Northern Nash's Armon Moore is picked up by an opponent during last Saturday's action at the Class 3-A Eastern Region Wrestling Tournament at the Rocky Mount High School Gymnasium.

A SHOT AT STATES
ROCKY MOUNT -- Following last Saturday morning's consolation round, Southern Nash's name came over the public-address system as the team leader in the standings at the Class 3-A East Regional Wrestling Tournament.
SN coach Eddie Coble knew his club didn't have the staying power to remain atop the list.
More ...
GEOFF NEVILLE, Graphic Sportswriter

A DEFENSIVE STANCE FOR THE LADY KNIGHTS. (L to R) Northern Nash's Khadrijah Richardson and Quinesha Lynch play tight defense off the press during the Lady Knights' home victory Monday night against the Southern Wayne Lady Saints.

Knights Complete First Step
RED OAK -- If you're fortunate enough to be on one of the higher-seeded teams, it sometimes takes awhile before the true intensity begins in the Class 3-A Girls Basketball State Playoffs.
That won't be the case this time around for the Northern Nash Lady Knights.
After rolling through a first-round victory over Southern Wayne on Monday, the Lady Knights will encounter a large dose of high drama tonight at the NNHS Gymnasium. More ...
GEOFF NEVILLE, Graphic Sportswriter
Diamond event is targeted
WILSON -- The Wilson Tobs will host the First Annual Varsity Spring Baseball Classic, which will be held this Saturday at historic Fleming Stadium.
The event will feature four games involving eight area high school teams.
The schedule is as follows: More ...
Staff Reports
CLASS 3-A BOYS STATE PAIRINGS
CHAPEL HILL -- Here are the first-round pairings for the Class 3-A North Carolina High School Athletic Association Boys Basketball Playoffs.
Opening-round games were played Monday, with winners advancing to today's second round of action at the higher seed. More ...
Staff Reports
CLASS 3-A GIRLS STATE PAIRINGS
CHAPEL HILL -- Here are the first-round pairings for the Class 3-A North Carolina High School Athletic Association Girls Basketball Playoffs.
Opening-round games were played Monday, with winners advancing to today's second round of action at the higher seed. More ...
Staff Reports
ECU concludes strong baseball weekend
GREENVILLE -- Seniors Bryan Bass and Jay Cannon each collected a pair of hits to help East Carolina University (3-3) to a 5-1 baseball victory over New Mexico State (3-4) on Sunday afternoon at Lewis Field inside Clark-LeClair Stadium on the final day of the 10th Annual Keith LeClair Classic.
The Pirates used a four-run sixth inning to overcome a 1-0 deficit and picked up their third straight win of the season after dropping the first three contests of the year. More ...
Staff Reports
BIG MEN ON CAMPUS
Northern Nash heavyweight Jamal Harris (left) picked up a victory in this matchup as part of last weekend's Class 3-A East Regional Wrestling Tournament at Rocky Mount. More ...

Wesleyan wraps up seasons
FAYETTEVILLE -- The North Carolina Wesleyan College men's basketball team saw its season come to an end last Friday night in the semifinals of the 2013 USA South Conference Tournament.
Top-seeded Christopher Newport built a 13-point advantage at the half and held on for an eventual 72-59 win at Fayetteville's Crown Center Arena. More ...
Staff Reports
Camp scholarships are available
WAKE FOREST -- Wake Electric is accepting applications from middle-school students for scholarships to summer basketball camps on two of the state's largest campuses.
Young women can apply to attend the Kellie Harper Basketball Academy at North Carolina State University in Raleigh and young men to attend the Roy Williams Basketball Camp at the University of North Carolina at Chapel Hill this summer.
More ...
Staff Reports
CAMILLE CLAIMS THE BALL
Northern Nash's Camille Branch (right) wins a scramble for the ball in the paint during the Lady Knights' home playoff conquest Monday against Southern Wayne. More ...


WE'RE HOME! –– Anna Scott Wingfield (Wendy), Lisa Lamm (Mrs. Darling), Cannon Puckett (Michael), and Laura Parker (Nana) perform in the scene of the children returning home.

Peter Pan opens March 1st at Imperial Centre
Residents will have the opportunity to experience the magic of "Peter Pan" beginning this Friday as the production hits the stage at the Rocky Mount Community Theatre at the Imperial Centre.
David Nields, who serves as the director of the show, said "Peter Pan" is one show that can make you fall in love with theatre. More ...
Amanda Clark, Graphic Staff Writer
LELA MAE GRIFFIN
ROCKY MOUNT –– Lela Mae Griffin, 92, of Rocky Mount, died on Wednesday, February 20, 2013, at Nash General Hospital in Rocky Mount. More ...

CORINE WINSTEAD
ROCKY MOUNT ––Corine Winstead passed away February 21, 2013 at Vidant Medical Center in Greenville. She was born May 19, 1931 in Nash County to the late Kinchen and Rosa Joyner. She was preceded in death by her brothers, Otha, Odie and Floyd Joyner and sisters, Ethel Vick, Geneva Joyner, and Bertha Griffin. More ...

THOMAS REX RAPOZA
Thomas Rex Rapoza, 54 passed away Sunday, February 24, 2013. He was born January 24, 1959 in Nash County. He was preceded in death by his father, Frank Thomas Rapoza and a brother, Frank Wade Rapoza. More ...

DOUGLAS EUGENE "GATOR" BLANEY
Douglas Eugene "Gator" Blaney, 53, passed away Saturday, February 23, 2013. He was born in Chemung County, NY May 30, 1959. He was preceded in death by his son, Jason. More ...

RUTH KATHERYN BAIRD
Ruth Katheryn Baird, passed away Thursday, February 21, 2013. She was born March 21, 1943 in Manitoba, Canada. Ruth was preceded in death by her father, George Dueck. More ...

JOHN W. GYALOG, III
John W. Gyalog, III, 37, passed away Tuesday, February 19, 2013. He was born July 30, 1975 in Bell County, Texas. John was preceded in death by his grandparents. More ...

TEMPIE BASS LEWIS
Tempie Bass Lewis, 75 passed away February 19, 2013. She was born in Nash County on March 8, 1937. She was preceded in death by her husband, Bill Lewis; her father, Simon Bass; mother, Annie Parker Bass; three brothers, Luther Perry Bass, Simon K. Bass, and Hubert Parker and a brother in law, Joe Turner. More ...

TRAVIS EDWIN DAVENPORT
Travis Edwin Davenport, 83, passed away February 23, 2013. He was born January 1, 1930, son of the late Travis and Lillian Jones Davenport of Rocky Mount. More ...

GILBERT RODRIGUEZ
Gilbert Rodriguez was born November 3, 1925 and passed away February 21, 2013. He is survived by his wife, Sara; his daughter, Cristina; his son, Luis (Widyawati); three grandchildren; a brother, Fidel, sister, Delia; many nieces and nephews; and his "daughter #2", Danielle. More ...

LESLIE POLK BURROUGHS
Leslie Polk Burroughs Sr, age 64, passed away on February 20, 2013, He was born in Greenville on December 28th, 1948 to Polk and Margie Burroughs. More ...

THOMAS LEE MCLAWHORN
Thomas Lee McLawhorn, age 70, passed away on Tuesday, February 19, 2013. Born in Lenoir County on August 24, 1942, he was the son of the late Lubie McLawhorn and Hannah Gilbert McLawhorn. He was also preceded in death by his sister, Jean Koon and brothers, Lubie McLawhorn Jr. and Bobby McLawhorn. More ...

JOHN "DOC" JONES SR.
NASHVILLE - Funeral services for John "Doc" Jones Sr., 93, who died Saturday, Feb. 23, 2013 will be Friday, March 1 at 12 noon at Word Tabernacle Church with Rev. James Gailliard officiating. Burial will follow in the Gardens of Gethsemane Cemetery. More ...

JOHNNY LEE DANIEL
WHITAKERS - Funeral services for Johnny Lee Daniels, 65, who died Thursday, Feb. 21, 2013, will be Thursday, Feb. 28 at 1 p.m. at Pleasure Hill Baptist Church with Rev. Sean Bunn officiating. Burial will follow in the Daniel Family Cemetery. More ...