Subscribe/Access
Advertisements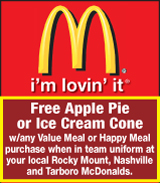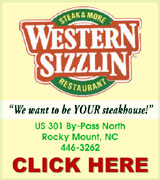 Sections
Member Options
Back
Nash County hit with new lawsuit
A series of legal maneuvers executed since the September 17 decision by Nash County Commissioners to give a 145 acre tract of Nash County land to poultry processors Sanderson Farms have now put the fate of that property on ice---at least temporarily. Among these issues is a new lawsuit filed on September 25 which seeks to make the original land purchase by Nash County void. More ...
Amelia Harper, Graphic Correspondent - 1 opinion posted
Nashville gets new interim police chief
Nashville's Police Department has a new interim police chief, as the former interim chief had to resign due to personal issues.
The Town of Nashville hired Glenn "Mick" Reed in July to serve as the town's Interim Police Chief after longtime chief Bill Creech retired. More ...
Amanda Clark, Graphic Staff Writer
Nashville denies auction house for downtown
The former Super 10 building will stay vacant a little longer, as Nashville's Town Council voted to deny a request to allow auction sales in the downtown area.
The request came from Scott Tyson, who owns the former Super 10 building but was for The Red Barn Auction Company, a local auction company currently just outside of Nashville. The Red Barn is owned and operated by Brent and Marcy Hoggard. More ...
Amanda Clark, Graphic Staff Writer
REALITY SHOW FAN
Olivia Vick sits with Repo Man Bobby from "Lizard Lick Towing" while getting his autograph. Bobby is one of the repo men at the towing company which also has its own reality show. Vick was one of hundreds who visited Hardee's Furniture recently to visit Bobby. More ...

NRMPS superintendent gains additional contract year
Dr. Anthony Jackson, superintendent of the Nash-Rocky Mount Schools (NRMS) system received high marks from the board for his first year in office. At their meeting Monday night, NRMS board chairman Evelyn Bulluck said that Jackson represents the interests of the district and its students "very well." More ...
Michele A. Cruz, Graphic Correspondent
Spring Hope mulls expanding internet sweepstakes zoning
Spring Hope's Revitalization Commission is recommending the town allow its planning board to look at amending a zoning ordinance to allow internet sweepstakes in a general business zone.
Allen Barbee, Chair of the Revitalization Commission, came before Spring Hope Commissioners on Monday evening, during the board's regular meeting with the recommendation. More ...
Amanda Clark, Graphic Staff Writer
Wal-Mart Express looks to build in Bailey
Wal-Mart hopes to build a Wal-Mart Express in Bailey but will have to go through a public hearing and board approval first.
A public hearing will be held on Monday, October 15 at 7 p.m. at the Bailey Town Hall. The hearing is to rezone property on Oak Avenue, off of Highway 581 from a residential district to a commercial special use district. More ...
Amanda Clark, Graphic Staff Writer
Whitley celebrates 104 years
Family and friends of Katie Langley Whitley recently got together to celebrate her 104th birthday, which was on Friday, September 21.
Rocky Mount Mayor David Combs and City Councilman W.B. Bullock even joined in on the fun, coming by the festivities to present her with a certificate acknowledging her special day. More ...

NASHVILLE POLICE BRIEFS
ARRESTS
Jesse Whitehead - 9/25/12 - charged with order for arrest for violation of court order and order for arrest for simple worthless checks
Falon Nichole Jackson - 9/25/12 - charged with order for arrest for speeding and order for arrest driving while license revoked More ...

NASH COUNTY SHERIFF'S OFFICE INCIDENT REPORTS
A possession of a weapon on school grounds was reported on 9/24/12 at 3170 Red Oak Battleboro Road
An assault was reported on 9/24/12 at 1463 Waynes Lane
A financial card fraud was reported on 9/25/12 at 4408 New Bern Avenue
An attempted breaking and entering of a residence was reported on 9/25/12 at 15488 N NC 33 More ...


Pictured above, Leon Farrow, Principal at Rocky Mount High School, was named Principal of the Year.

Englewood teacher is NRMS Teacher of Year
Teachers and principals of Nash-Rocky Mount Schools were honored last week during the school system's annual Teacher and Principal of the Year celebration.
Kristen Tedford, a fourth-grade teacher at Englewood Elementary School, was recognized as the 2012-2013 NRMPS Teacher of the Year. More ...
Amanda Clark, Graphic Staff Writer
Nash 4-H to hold open house
Nash County 4-H is hosting an open house on Sunday to raise awareness about what 4-H does and to also invite those not involved in 4-H to join a club.
The open house will be held on Sunday, October 7 from 4 until 6 p.m. at the Nash County Agricultural Center in Nashville. More ...
Amanda Clark, Graphic Staff Writer
Southern Nash student wins Young Artists award
Jordan Teachey was one of six winners in the 2012 Young Artists Competition sponsored by Professional Educators of North Carolina (PENC). Jordan was in ninth grade at Southern Nash High School in Bailey when she created the winning artwork.
Ms. Teachey and her art teacher, Kelly Williams, were recognized at an award ceremony at the Embassy Suites Hotel in Raleigh on Saturday, September 15, 2012. More ...

Nash County DSS visits Masonic Home for Children
William Everett, Jr., Magistrate in Nash County, arranged for social service workers from Nash County Department of Social Services to tour and visit with staff at the Masonic Home for Children in Oxford. Nash County DSS is committed to providing quality foster care and home environments for children who are dependent, neglected, abused or otherwise unable to live in their own homes. More ...

RED OAK NEWS
Congratulations to George and Marilyn Boone in the birth of their 12th grandchild, Tucker Boone Wedekind born Tuesday, Sept. 25. Parents are Lee and Suzanne Wedekind of Jacksonville, FL. Also, congratulations to Joshua Farmer and Jordan Williams in the birth of their daughter, Aubree Hayden born Sept. 17. Grandparents are Rusty and Ginger Farmer. More ...
SUZY PEARCE
Military News
Air Force Airman Vernon M. Arrington graduated from basic military training at Lackland Air Force Base, San Antonio, Texas.
The airman completed an intensive, eight-week program that included training in military discipline and studies, Air Force core values, physical fitness, and basic warfare principles and skills. More ...

BEULAH COMMUNITY NEWS
We hope to see you all this Friday night from 5:00 - 8:00. This is our monthly fish fry week-end at the Beulah Church of Christ Annex on Reges Rd. Come on by for some good food and fellowship!
Another date to put on your calendars is Sunday, October 14. This is a very important day also. It is the yearly homecoming at Beulah. More ...
WILMA ENROUGHTY
MOUNT ZION FWB CHURCH NEWS
Robert Tyner welcomed everyone to Sunday school. We had 77 in attendance with 2 visitors.
Our choir sang "I Will Offer You Praise" for the call to worship. Pastor Bogle welcomed everyone to worship service. Bobby Farmer prayed the prayer of invocation. Hymns of worship were "O Worship the King" and "Lead On, O King Eternal." More ...
ROSALENE BASS
PEACHTREE COMMUNITY NEWS
On Sunday Homecoming at Peachtree Baptist Church was a glorious occasion. It was a beautiful day and many former members came to join in the celebration. It is noteworthy that people have been worshiping and serving God in this place for 203 years. Rev. Eugene Whitehouse welcomed those present and recognized former pastors and their wives. Beverly Wilson, Church Historian, made brief remarks about events of the year.
More ...
BARBARA HARDISON
How I got beat by a 7-year-old at bowling
It has been the butt of jokes over the years. I know I've made plenty myself.
As a "sport," it has been much maligned, maybe because it has deep roots up North. It has been pronounced dead many times, but has managed to stick around.
I am, of course, talking about bowling. More ...
Mike Brantley
Poultry farm issue leaves far more than a stench
Something smells funny in Nash County. And it's not chickens.
I've been following this whole Sanderson Farms deal since it all began. I've been to the board meetings and sat through a countless number of them, listening to citizens express their disapproval about the whole deal. Luckily, I've had some help with actually covering the in and outs of the deal, with Amelia Harper pitching in to help throughout the past two years. And I am grateful, because this thing is a big, fat mess. More ...
Amanda Clark
Hats off to Public Works-Utilities guys!
Middlesex deal leaves me a bit concerned
I had a visitor from eastern North Carolina to drop by The Graphic last week. A veteran newspaper man, he is originally from Georgia and relocated to eastern North Carolina about 10 months ago. This was his first time visiting Nashville, N.C. and he had nothing but good things to say about our town. He spent a little time wandering around town prior to dropping by the office. During my conversation with him, which mainly focused on newspapers, I know he mentioned at least four times how clean this town is. More ...
Jo Anne Cooper
Backward Glances
NASHVILLE MERCHANT –– This photo was originally published in The Graphic October 12, 1976. L.R. Bass Sr. retired after 42 years in the department store business in downtown Nashville. He began work in 1934 with what was then L.R. Bass & Brothers. The name was changed to L.R. Bass & Son in 1966. Upon his retirement, his son L.R. Bass, Jr. and wife Becky continued operating the store until 1993. More ...
A PICTORIAL LOOK INTO THE PAST

TOUCHDOWN TRADITION. Nashville's Kendrick Bell (with ball) adds to his touchdown list for the season by going off right end during last Saturday's varsity football victory against the Enfield Warriors.

Winning Feeling
ENFIELD -- Only one thing has been missing from Nashville's amazing varsity start to the 2012 season.
A little suspense.
For Coach Jim Glover and his staff, the most pertinent decision has been when to insert the Hornets' myriad of substitutes against overmatched opponents in the Eastern North Carolina Football League. More ...
GEOFF NEVILLE, Graphic Sportswriter

TOUCH THE SKY. Nash Central keeper Daniel Benz (left) makes a spectacular save on Southern Nash's John Eatmon (11) off a corner kick during Monday's Big East Conference soccer showdown in Stanhope.

SN's HISTORY LESSON
STANHOPE -- Halfway through the Big East Conference schedule, the Southern Nash High School boys soccer team is on the cusp of making history.
Southern Nash has never won a league championship, but that may change this year if the Firebirds continue their recent string of success. More ...
GEOFF NEVILLE, Graphic Sportswriter

TOUGH COLLISION. Nash Central's Jarius Richardson (with ball) tries to shed a tackle attempt last Friday night against Rocky Mount.

A League Thriller
ROCKY MOUNT -- A dropped pass in the final seconds told the difference in the Rocky Mount-Nash Central Big East Conference football game last Friday night.
With Nash Central sitting with the ball on fourth down and 11 at the Rocky Mount 22, Bulldogs quarterback Khalil Macklin threw a perfect pass to a wide open Jarius Richardson in the right side of the end zone. More ...
CHARLES ALSTON, Graphic Correspondent
Northern earns two victories
RED OAK -- The Northern Nash Lady Knights picked up a pair of key Big East Conference volleyball victories last week against Nash County foes.
On Tuesday, the host Lady Knights roared to a sweep against Southern Nash, winning by a score of 25-13, 25-22 and 25-7. More ...
Staff Reports
HIGH SCHOOL GRID SCORES
NASH COUNTY -- Listed are last weekend's results from the North Carolina High School Athletic Association football schedule: More ...
Staff Reports

DESMON DOES IT AGAIN. Southern Nash's Desmon Jackson (with ball) returns an interception for the Firebirds during Monday evening's home decision against Wilson Fike.

Long Intermission
STANHOPE -- Football coaches usually have just a few minutes at halftime to make snap adjustment decisions.
But Southern Nash skipper Brian Foster had three nights to sleep on this one.
Foster and the Firebirds lined up last Friday for a key home meeting against Big East Conference rival Wilson Fike. More ...
GEOFF NEVILLE, Graphic Sportswriter
Wesleyan topped in conference opener
LaGRANGE, GA. -- North Carolina Wesleyan College 's football team dropped its USA South Conference opener last Saturday, falling to LaGrange College by a 40-13 score on the road.
The Panther defense held the Bishops to just 200 yards on the day, all through the air.
The game was the USA South opener for both teams as the Panthers (1-3, 1-0 USA South) got their first win of the season. More ...
Staff Reports

SPECTACULAR GRAB. Nashville's Devan Connelly (right) comes up with a great catch during last Saturday's game.

Never Give Up
ENFIELD -- Late in the game, it became apparent that the Nashville Hornets weren't going to secure a victory against a talented Enfield junior varsity squad last Saturday afternoon.
Enfield had surged to a four-touchdown lead, but Nashville wasn't about to stop playing -- despite the fact that defeat was imminent. More ...
GEOFF NEVILLE, Graphic Sportswriter

TOTAL CONCENTRATION. Red Oak Middle's Macon Rollans delivers a forehand return during a recent practice.

ROMS Holds Court
RED OAK -- Rain has spoiled some of Red Oak Middle School's early-season girls tennis matches -- but it hasn't dampened the spirits of the players.
A handful of ROMS' scheduled events have been called off due to poor weather -- leaving the Lady Tigers with a 1-1 overall mark that includes a team victory against Martin Middle School. More ...
GEOFF NEVILLE, Graphic Sportswriter
PARKS AND REC RESULTS
NASH COUNTY -- Here are recent results from the Nash County Parks and Recreation Department's Fall Ball Season: More ...
Staff Reports
GOING TO THE BACKHAND
Red Oak Middle School No. 2 Singles Player Kaley Sharpe works on her backhand during a recent tennis practice session at the Ennis Park Courts. The Lady Tigers are currently 1-1 on the campaign under head coach Greg Clark. More ...


Keiko Sekino

Cherry Hill Plantation fall concert set for October 28th
The second concert of the fall, 2012 season at Warren County's Cherry Hill will feature a two-piano concert by Keiko Sekino and Benjamin Hochman.
They will perform works from Mozart,Schubert, Debussy and Brahms. The concert commemorates Judge Walter Clark and is one of three this fall at Cherry Hill. The final fall concert on Oct. 28 will feature baritone Scott McCleod and pianist Daniel Steinert. More ...


Masonboro Sound in concert October 18

Nash Arts Center kicks off fall season line-up
"YOU WOULDN'T EXPECT," a play by Marilynn Barner Anselmi, directed by Tim Peck and Scottie Helm, tells the stories of four people who were affected by North Carolina's eugenics program, which took place between 1933 and 1973. The eugenics program was initially designed to protect the seriously mentally impaired but by the 1950s, the practice had morphed into an attempt to limit the racial and socio-economic populations of North Carolina. More ...

AKILAH ARRINGTON
ROCKY MOUNT –– Akilah Arrington, 31, of Rocky Mount, died on Sunday, September 23, 2012, at Nash General Hospital in Rocky Mount. More ...

TOMMIE LEE GUPTON
ROCKY MOUNT –– Tommie Lee Gupton, 68, of Rocky Mount, died on Monday, September 24, 2012, at Nash General Hospital. More ...

MARY ALICE EPPS JACKSON
ROCKY MOUNT –– Mary Alice Epps Jackson, 90, of Rocky Mount, died on Tuesday, September 25, 2012, at Nash General Hospital. More ...

GERTIE MAE "GERT" PARKER BARBIE
Gertie Mae "Gert" Parker Barbie passed away Tuesday, September 25, 2012. She was born July 8, 1925 in Nash County. She was the daughter of the late Eddie and Alice Eason Parker. More ...

MILDRED WEBB RODGERS
Mildred Webb Rodgers, 80 passed away Wednesday, September 26, 2012. She was born in Nash County December 28, 1931 to the late Johnnie and Maggie Joyner Webb. More ...

JOHN EDWARD DERINGER
John Edward Deringer, 81, passed away Thursday September 27, 2012. He was born February 3, 1931 in Queens, NY. He was the son of the late John George and Emma Augusta Sopa Deringer. More ...

EMMA PRICE BURGESS WOOD
Emma Price Burgess Wood passed away September 28, 2012 at Breckenridge Retirement Center. She was born November 21, 1924 in Edgecombe County. More ...

GRACE WILLIFORD DAUGHTRIDGE
Grace Williford Daughtridge, 101, died Friday, September 28, 2012 at the Golden Living Center in Tarboro. She was born in Wilson County, September 15, 1911. She was the wife of the late Ulyss "Doc" Daughtridge and the daughter of the late Thad and Mary Sharp Williford. More ...

ROY GENE GILLIAM
Roy Gene Gilliam, age 82, passed away on Wednesday, September 26, 2012. Born in Graham on June 5, 1930, he was the son of the late Edwin and Olivia Gilliam. More ...

HAZEL GOFF TAYLOR
Hazel Goff Taylor, age 89, passed away Tuesday, September 25, 2012. Born in Edgecombe County on May 24, 1923, she was the daughter of the late William David Goff and Annie Pitt Goff. She was also preceded in death by her husband, Henry Battle Taylor; and siblings, Peggy Goff Ferguson, Jean Goff Walston, William Frank Goff, and David Calvin Goff. More ...

JANET BYRNE YOUNG
Janet Byrne Young, 65, died September 29, 2012. She was born in Rocky Mount on February 21, 1947 to Charles Shepard Byrne and Phyllis Geraldine Arnold. She was preceded in death by her father, Charles Shepard Byrne. More ...

JOHN D. BUNN
LITTLETON - Funeral services for John D. Bunn, 71, who died on Tuesday, Sept. 25, 2012 were Sunday, Sept. 30 at 2 p.m. at Walter's Chapel Holiness Church. Burial followed in the Walter's Chapel Church cemetery with Elder Harley Richardson officiating. More ...