Subscribe/Access
Advertisements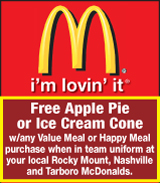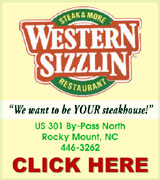 Sections
Member Options
Back
Nash County drug bust nets 36 arrests
The Nash County Sheriff's Office arrested 36 men and women throughout Nash County last week as part of a year-long campaign against street level drug dealers.
The arrests were made over a three-day period last week as part of Operation Dynamite.
The arrests were related to the selling of various types of illegal drugs, including marijuana, powder cocaine, crack cocaine, heroin and prescription pills. More ...

Nash County board to hold public hearing Thursday
Nash County Commissioners will meet in a recessed meeting on Thursday morning to receive public comments on an inducement agreement for an economic development project.
The project, referred to as "Project Lake," is for the expansion of an existing pharmaceutical manufacturing facility More ...
Amanda Clark, Graphic Staff Writer
New school lines plan ready for vote
New student attendance zones for 2013-14 for Nash-Rocky Mount Schools (NRMS) are near completion. The committee working on establishing new school attendance lines met last week to indicate which elementary, middle, and high school plans they favor. Only 16 committee members of the 32-member board attended; some of the members have only attended the first meeting. More ...
Michele A. Cruz, Graphic Correspondent

Marilynn Barner Anselmi

Red Oak woman's play to be held at Nash Arts Center
When Marilynn Barner Anselmi first started hearing about North Carolina's eugenics program, she said she was appalled. But then, the playwright in her came out and she decided to write a play about the program.
That play, "You Wouldn't Expect," will come to life at Nash Arts on September 28 and 29 at 7 p.m. and again on October 5 and 6 at 7 p.m. More ...
Amanda Clark, Graphic Staff Writer

Tim Askew tosses a pitch for the Nashville Fire Department team while playing a game against Coopers.

Nashville hosts annual Benefit Softball Tournament
The Eighth Annual Benefit Softball Tournament was held this past Saturday at Glover Park, raising $800 for the Warren "Sneak" Lewis Law Enforcement Foundation.
Four fire departments participated in the tournament, including Nashville, Coopers, Momeyer and Rocky Mount. Coopers Fire Department won first place in the single elimination tournament, with Rocky Mount coming in second place. More ...
Amanda Clark, Graphic Staff Writer
NASHVILLE POLICE REPORTS
ARRESTS
Calvin Denard Cheeks - 8/20/12 - habitual felon
Linda Howington - 8/15/12 - charged with assault on a government official
Ashley Renee Davis - 8/13/12 - charged with trespassing More ...

NASH SHERIFF'S OFFICE REPORTS
A damage to property was reported on 8/13/12 on Drake Street
A breaking, entering and larceny to a residence was reported on 8/13/12 at 10304 Old Middlesex Road
A breaking, entering and larceny to a residence was reported on 8/13/12 at 3862 W. Castalia Road
An identity theft was reported on 8/13/12 at 7903 Preacher Joyner Road More ...

IRS to host workshop for organizations
The Internal Revenue Service (IRS) will offer a workshop to educate tax-exempt organizations about meeting their tax obligations and maintaining their tax-exempt status in North Carolina.
The workshop will be held in Rocky Mount at the Gateway Technology Center, thanks to the efforts of Keith Davis, of Nashville. More ...
Amanda Clark, Graphic Staff Writer
Tournament pics
The Coopers Fire Department won first place in the benefit softball tournament, which was held Saturday at Glover Park. Pictured are members of the Coopers team with their first place trophy. More ...

NCC employees extend learning with international travel
Nash Community College faculty and staff travel at times internationally but it is not sightseeing. They are integrating their experiences into curriculum programs and the fulfillment of the College's mission.
Humanities Professor Marbeth Holmes was accepted for study and research in "Transformations Within the New South Africa," a course she attended in South Africa in May. The competitive enrollment selection included 20 students from seven universities across the United States. More ...

BOOK SIGNING
Nashville's Cooley Library hosted a book signing for Aaron Denton last Wednesday, August 15. Denton signed copies of his book, "Snowbirds," and also spoke about how the book came to be during the signing. Friends and family members came out to show their support for Denton, including longt-time friend Harold Crumpler. Crumpler and Denton (pictured above L-R) met 80 years ago and have been friends since. More ...

Home Depot Drive in Rocky Mount to close four weeks for road work
The N.C. Department of Transportation will close Home Depot Drive at Hunter Hill Road in Rocky Mount for approximately four weeks starting Monday, Aug. 20, weather permitting.
The closure is part of a project to widen 1.4 miles of Hunter Hill Road from Country Club Road to N.C. 43/48 (Benvenue Road). More ...

DSS EMPLOYEE OF MONTH
Margaret Randolph has been selected as Nash County Department of Social Services Employee of the Month for July 2012. Margaret has been with the agency for 15 years and is an Income Maintenance Caseworker II in Family and Children's Medicaid. Known for her positive attitude during adversity, Margaret always has a smile and encouraging words for coworkers and consumers. More ...


Stan Miller was welcomed as a new member of the Nashville Lions Club. Pictured is Miller (at left) with President Mary Boehm.

Nashville Lions Club installs new officers
At its annual installation of officers meeting, the Nashville Lions Club installed officers for the 2012-2013 year and also recognized members with appreciation awards.
New members for the 2012-2013 year include Mary Boehm, President; Tom Hathaway, Vice President; Doris McBride, Treasurer; Doug Whitehurst, Secretary; and James McBride, Club Director. More ...

SNHS students receive most master certifications in state
For anyone seeking computer whiz kids to explain the ins and outs of Microsoft Office programs, help might now be available at your nearest public high school. Twenty-seven Southern Nash High School Students as well as instructors Brandy Frazier and Claudia Jenkins were recently honored at the NCDPI's annual Career and Technical Education Summer Conference, held July 24-26 in Greensboro. More ...

4-H CAMP
The Nash County Sheriff's Office hosted a Criminal Justice Camp as part of 4-H camps this summer. As part of the camp, youth visited the Nash County Jail, 9-1-1 center, Southern Police Canine and learned about bullying and many other things. More ...

Abstract paintings to be featured at Dunn Center
Opening the 2012 Mims Gallery Dunn Center Season at North Carolina Weslyan College is an exhibition of Abstract Expressionist Paintings by Stacey Patterson of Rocky Mount.
Inspired by the ocean, Patterson's paintings express the dynamic power of waves crashing on the shore with bold sweeping brush stokes three to four feet in length. More ...

MILITARY NEWS
Army Pfc. Nakia I. Holley has graduated from basic combat training at Fort Jackson, Columbia, S.C.
During the nine weeks of training, the soldier studied the Army mission, history, tradition and core values, physical fitness, and received instruction and practice in basic combat skills, military weapons, chemical warfare and bayonet training, drill and ceremony, marching, rifle marksmanship,
More ...

MOUNT ZION FWB CHURCH NEWS
Robert Tyner welcomed everyone to Sunday school. We had 88 present with one visitor. Some of our young people did a type of fashion show. A recent mission project of the Women's Auxiliary had been making little dresses for use by our mission department whenever there is a disaster need. Our youth held these dresses up so the church could see the result of a mission project. More ...
ROSALENE BASS
Brooklyn Community News
The Brooklyn Community Watch and The Youth Day Committee would like to thank all the volunteers, parents and their kids for making our 7th Annual Youth Day our most successful one yet. The fellowship with the parents was great and the kids enjoyed a variety of activities such as basketball, face painting, the No Grind No Shine football camp given by Quinton Beale was on hand to enhance the young men football skills.
More ...
LENA SESSOMS
PEACHTREE COMMUNITY NEWS
On a stormy Sunday morning Peachtree folks gathered for worship. They were grateful that the storm had passed by with no serious damage. Pastor Whitehouse chose as his sermon topic "How to Live Without Anxiety." It was based on mark 4: 26-29. He reiterated that 'Anxiety does not empty tomorrow of its sorrows, but it empties today of its joy.' He also said that God's work done without God's power depletes God's people. More ...
BARBARA HARDISON
RED OAK NEWS
Congratulations to Ellen Moore on the birth of her grandson, George Alvin Faulkner Vinson! His parents are Steve and Anne Graves Whitaker Vinson.
Women in Action met at Red Oak Baptist Church on Tuesday, Aug. 14. More ...
SUZY PEARCE
BEULAH COMMUNITY NEWS
Sunday School began on Sunday morning at 9:45 followed by church at 10:45, at Beulah Church of Christ. Frances Hedgepeth played the opening song to begin Sunday School. Bonnie Matthews is the piano player for church services. They both do a great job and we thank them for this at each service at Beulah. The song service was led by Chris Matchem. More ...
WILMA ENROUGHTY
Neal to speak at reunion
The C.C. Spaulding Alumni Association will host its 38th annual reunion on Friday, August 31 through Sunday, September 2.
The weekend will be packed full of events, with a fish fry on Friday night at 7 p.m. in the Spaulding Gymnasium in Spring Hope, a dance on Saturday at 8:30 p.m. at the O.D. Moore Building in Nashville and a family fun day on Sunday, beginning at 4 p.m. at the home of a former teacher. More ...

A few creative ways to handle mean people
You have most likely been the victim of it, and maybe even the perpetrator.
We've all been there. One minute, you're standing around making nice at a social function, and the next thing you know, someone walks up and makes a really stupid comment. One that is usually an insult to one person in the group. More ...
Mike Brantley
Always proud to be part of a firefighter family
I love how emergency personnel can work together, no matter what.
Recently, fire departments got together to play a couple of games of softball in an annual tournament that is put on by Nashville's Fire Department. Each year, the tournament raises money that is, in turn, given to someone in need. Typically, the money is given to one of their own, or at least someone within the emergency personnel or law enforcement family. More ...
Amanda Clark
Citizen says there's a better way to promote economic growth in Nash County
For nearly two years now, concerned citizens of Nash and Wilson Counties have been educating their neighbors about the efforts of a few Nash County Commissioners to attempt to betray their constituents by ramming through a sweetheart deal for Sanderson Farms a company and an industry that are ill suited for our county. More ...
Letters to the Editor:
Backward Glances
NEWSPAPER MAN – Pictured is Edward Hendricks setting type at The Nashville Graphic in May, 1958 on a Linotype machine. He worked at The Graphic for eleven years. Hendricks is from the Macedonia Community. This photo was provided to The Graphic by his wife Ruth. More ...
A PICTORIAL LOOK INTO THE PAST
Nash County Animal Friends' Notebook
FREE PETS!!! Well…pets are not really free. Not if you take care of them! Actually, there is a $50 adoption fee at the Nash County Animal Shelter for a pet that needs to be fixed. However, the entire amount is refunded, if you have the pet fixed within a reasonable period. It is so critical that pets be fixed to stop the cycle of more pets coming into the Shelter.
More ...
Carol Vierela, Nash County Animal Friends

IF THERE'S A WILL, THERE'S A WAVERLY. Southern Nash's Waverly Powell picks up yardage during the Firebirds' road football victory last Friday night against the SouthWest Edgecombe Cougars.

The Opening Act
TARBORO -- Last season, Nash Central opened its football season with a major upset of two-time defending 2-A state champion Tarboro High School.
The now three-time defending 2-A champ wasn't in the mood for another loss to Central in this year's season opener. More ...
CHARLES ALSTON, Graphic Correspondent

GOOD EYE. Northern Nash's Deja Lewis follows a set by Bunn's Kristy Green during last Tuesday's match.

NORTHERN STUNNER
BUNN -- During his 19-year tenure as Bunn High School's volleyball coach, Henry Jones had never dropped a match against a foe from Nash County.
Never.
That two-decade streak ended Monday as the Ladycats fell to Northern Nash in BHS' regular season opener at the Bunn Dome. More ...
GEOFF NEVILLE, Graphic Sportswriter

MCLEAN MAKES HIS MOVE. Bunn's Karilee McLean (with ball) heads around end for yardage during last Friday night's non-conference football game at Rocky Mount High School. Bunn was a 37-21 winner.

The Party Spoilers
ROCKY MOUNT -- Bunn played the villain's role to perfect last Friday, and in the process spoiled the grand opening of the new Rocky Mount High School Football Field.
The Gryphons were hoping for a celebration, but instead Bunn gained a measure of revenge from last year's shutout loss at the hands of RM. More ...
GEOFF NEVILLE, Graphic Sportswriter
Northern kicks off with win
WILSON -- Northern Nash's boys soccer squad kicked off its 2012 campaign last week with a strong 1-0 decision on the road against Wilson Beddingfield.
Freshman Tyler Jones collected the lone goal of the match as he took a feed in the box from William Moore and found the back of the net at the 35-minute mark. More ...
Staff Reports
Peppers makes huge donation
CHAPEL HILL -- Former University of North Carolina-Chapel Hill football star Julius Peppers has donated $250,000 to the Light on the Hill Society Scholarship fund that supports African-American students.
Peppers is a Bailey native who attended Southern Nash High School, where he excelled in football, basketball and track and field. More ...
Staff Reports
HIGH SCHOOL GRID SCORES
NASH COUNTY -- Listed are last weekend's results from Week One of the North Carolina High School Athletic Association's football season: More ...
Staff Reports
NCWC ranked in league polls
FAYETTEVILLE -- The USA South Athletic Conference has released is 2012 fall sport preseason coaches polls.
North Carolina Wesleyan College received 4th-place billings in volleyball and men's soccer, while women's soccer was tabbed 10th.
More ...
Staff Reports
Myrtle Beach masters Mudcats again
MYRTLE BEACH, S.C. -- The Myrtle Beach Pelicans scored four runs, needing only one hit, over the final innings to beat the Carolina Mudcats 5-2 on Sunday night at TicketReturn.com Field in the Palmetto State
The win assured the Pelicans (33-23, 69-57) of the weekend series, and vaults them six games ahead of the Mudcats for the Southern division wild-card spot. More ...
Staff Reports
LIFE IS A BLAST
Northern Nash's Camille Branch (right) delivers a kill past Bunn's Tainasha Vines during last Tuesday's high school volleyball matchup on the BHS campus in Franklin County. More ...

REACHING FOR A STAR
Rocky Mount's Broderick Caudle (middle) is tackled by Bunn's Tank Williams during last Friday night's season-opening high school football game at the new RMHS Field. More ...

BIG TIPPER
Northern Nash's Claire Fleming (left) delivers a tip past Bunn's Tainasha Vines (middle) and Jayla Cofield (right) during last Tuesday's prep spike showdown at the Bunn Dome. More ...

YOUNG GUNS GET IT DONE
WOOD BAT TOURNEY CHAMPS IN NEWPORT. The Carolina Young Guns 11-Under Baseball Team won the Gold Bracket Championship at the 2012 Nations Wood Bat National Baseball Tournament from July 27-29 in Newport. More ...

AUTUMN CARE HEADS TO STATES
SOFTBALL STANDOUTS. Autumn Care of Nash will take part in the 2012 North Carolina Senior Games State Finals Softball Tournament at the Walnut Creek Complex in Raleigh from Sept. 10-13. Autumn Care qualified thanks to a strong showing at the Down East Senior Games in May in Wilson. Each member of the team is over 70 years of age. More ...

BARBARA W. MAYO
NASHVILLE - Barbara W. Mayo, 78 of Nashville and formerly of Richmond, VA passed away Friday, August 17, 2012. She was born January 3, 1934 to the late Linwood and Hazel Beatles White. She was preceded in death by her husband of 58 years, Sam B. Mayo, Jr. who passed away January 28, 2012.
More ...

WILBERT RAY NORWOOD
ROCKY MOUNT –– Wilbert Ray Norwood, 61 of Rocky Mount, passed away on Tuesday, August 14, 2012 at Vidant Medical Center in Greenville. More ...

REGINALD HILLIARD
Reginald Hilliard, 64, of Rocky Mount, passed away on Sunday, August 12, 2012, at Nash General Hospital. More ...

DONNA LYNN BARROW WEEKS
Donna Lynn Barrow Weeks, 52, passed away Thursday August 16, 2012. Donna was born October 31, 1959 in Nash County. She was preceded in death by her father, Wiley Edward Barrow and a brother James Richard Barrow. More ...

MARY LUCILLE HEDGEPETH CARTER
Mary Lucille Hedgepeth Carter, 88, passed away Friday August 17, 2012. Lucille was born in Nash County, May 7, 1924, to the late Arthur and Maggie Ayers Hedgepeth. More ...

DORIS EULA LANGLEY LINDSEY
Doris Eula Langley Lindsey, age 88, passed away Friday, August 17, 2012. Born in Nash County on December 6, 1923 she was the daughter of the late Willie Lindsey Langley and Emma Baker Langley. More ...