Subscribe/Access
Advertisements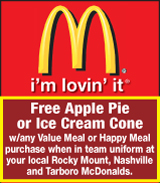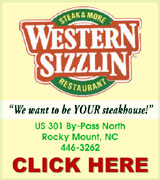 Sections
Member Options
Back
Red Oak addresses baseball concerns
Two area baseball coaches met with Red Oak commissioners last Monday to air concerns about problems with the baseball fields at Ennis Park and to request the town's intervention in working with Nash County Parks and Recreation to address the issues. The discussion took place at the regular Red Oak Town Meeting on August 6, 2012. More ...
Amelia Harper, Graphic Correspondent
Town to foreclose on abandoned Lumber St. house
The Town of Nashville will move forward with foreclosing on a Lumber Street home, after Nashville's Town Council gave the go ahead at their regular meeting last Tuesday night.
According to Town Manager Preston Mitchell, the house, at 215 N. Lumber Street, is an abandoned home whose owner passed away several years ago. Mitchell said his heirs have no interest in the home and the home has since fallen into disrepair. More ...
Amanda Clark, Graphic Staff Writer

CHARTER MEMBERS Pictured (L-R) is Elwood Berry, Joseph Liverman, Roy Taylor, Mayor Donald Street, who helped cut the celebratory ribbon and Luther Barbee.

Birchwood reopens greens
Fifty-two years ago, eight men hit the first ball on Birchwood's golf course.
Last week, four of those men came back to again be the first to tee off on the newly reopened course.
A reopening of the greens celebration was held on Friday morning at Birchwood Country Club with a ribbon cutting hosted by Nashville's Chamber of Commerce. Members of Rocky Mount's Chamber of Commerce were also in attendance. More ...
Amanda Clark, Graphic Staff Writer
Castalia to require pet registration
Castalia Commissioners approved several new text amendments to the zoning ordinances last Tuesday at the regular monthly business meeting. Most of the text amendments were made to clarify points or to bring the regulations in line with recent changes in the NC General Assembly.
A revision made to a controversial ordinance passed quietly and without comment in Tuesday's session. More ...
Amelia Harper, Graphic Correspondent
Nashville girl collects food for animal rescue
A Nashville girl is collecting canned food for animals as part of a community service project for the Girl Scouts.
Shania Zunie, who will be in the sixth grade at Nash Central Middle School this school year, is working on obtaining a Bronze Award for her girl scout troop, Troop 1262 out of Rocky Mount. The Bronze Award is the highest award a girl scout can earn as a Junior Scout. More ...
Amanda Clark, Graphic Staff Writer

MOODY

Nashville men busted for drugs
Two Nashville men were arrested last week and face drug charges following a search of a Nashville home.
Nashville's Police Department, along with members of the Nash County Sheriff's Office, executed a search warrant on the 100 block of Circle Drive in Nashville last Wednesday afternoon after receiving complaints.
During the search, police found marijuana and drug paraphernalia. More ...


BOONE

Joint investigation leads to arrest of two Rocky Mount men
The Nash County Sheriff's Office arrested two last week on drug charges, following a joint investigation.
The Nash County Sheriff's Office, with assistance from the North Carolina State Bureau of Investigation, conducted an operation after receiving information that Pernell Letroy Langley, 40, was selling drugs from his home on Horsepen Road in Rocky Mount. More ...

NASHVILLE POLICE BRIEFS
ARRESTS
Walter Melvin Wells, III - 8/6/2012 - charged with resisting a public officer
Taekwon Darius Allen - 8/7/2012 - order for arrest for failure to comply with monetary portion of judgment
Jeffery Quinn Sumerlin - 8/7/2012 - charged with obtain property by false pretense and possession of stolen goods/property More ...

Nine NRMS meet performance goals for 2011-2012
Last school year, the NC Department of Public Instruction began evaluating schools' performance by Annual Measurable Objectives (AMOs) instead of Adequate Yearly Progress (AYP) and now reports an annual graduation rate instead of a dropout rate.
The Nash-Rocky Mount Schools (NRMS) system met 76.4 percent of their AMOs for 2011-12, with nine of the system's 27 schools meeting all AMO targets and six meeting 90 percent and above. More ...
Michele A. Cruz, Graphic Correspondent
Cadets graduate from NCC BLET
Sixteen cadets recently graduated from Nash Community College's thirty-fifth Basic Law Enforcement Training (BLET) class. During the twenty-seven week training, students learned essential skills required for entry-level employment as law enforcement officers with state, county, or municipal governments, or with private enterprise. More ...

Demilio earns Excellence in Teaching Award
Nash Community College Health Sciences Professor Nick Demilio is the recipient of the 2012 J. Edgar and Peggie T. Moore Excellence in Teaching Award.
The Excellence in Teaching Award nominees are chosen through a peer and a student evaluation process from all full-time faculty members each year. There is a well-defined set of criteria developed to identify and reward quality teaching. More ...

MILITARY NEWS
Air Force Reserve Airman 1st Class Timothy Pettis graduated from basic military training at Lackland Air Force Base, San Antonio, Texas.
The airman completed an intensive, eight-week program that included training in military discipline and studies, Air Force core values, physical fitness, and basic warfare principles and skills. More ...

Junior Volunteers
Summertime didn't exactly mean vacation for many area teens who decided to spend their time as Junior Volunteers with Nash Health Care, dedicating their time and energy to serving others during June, July and August. More than 41 Junior Volunteers logged more than 4,738 hours of service, lending a helping hand to various departments throughout the hospital. More ...

New Rocky Mount High School Opens August 27, 2012
When Rocky Mount High School students return to school on August 27, they'll return to a new, state of the art building.
The new 240,000 square foot facility, which sits on 60 acres, has the capacity to hold 1,400 students.
The new high school site features all athletic facilities on site, a first for Rocky Mount High School students, who before, had to travel to access some athletic fields. More ...
Amanda Clark, Graphic Staff Writer
School system holds opening day at welcome centers
On Wednesday, August 1st, Nash-Rocky Mount Public Schools had opening day for the three regional Student Registration and Welcome Centers, which have redesigned the enrollment process for students in grades Kindergarten through 8th grade in the school district. Historically, students have always registered for school in the main office or guidance office at assigned school locations. More ...

Telemedicine technology supports clinical trials at Nash Health Care
Nash Health Care physicians Dr. Xiang Wang and Dr. Doug Harrison presented a case via Nash Health Care's telemedicine technology to the University of North Carolina Gastrointestinal Tumor Conference. This technology allows local physicians to share information and provide patients better access to medical services, including clinical trials. More ...

PEACHTREE COMMUNITY NEWS
It was good to have Pastor Gene back in the pulpit on Sunday morning. [He and Marta had been away on vacation in the mountains.] His sermon topic was "Don't Miss the Party." It was based on another of Jesus' parables found in Matthew 18: 12-14. It was about the lost sheep and also the lost coin. We always rejoice when we find something that has been lost. More ...
BARBARA HARDISON
MOUNT ZION FWB CHURCH NEWS
Robert Tyner welcomed everyone to Sunday school. We had 88 in attendance. Caroline Modlin read the Bible verse for today.
Our choir sang "This is the Day" for the call to worship. Pastor Bogle welcomed everyone to worship service. Robert Tyner prayed the prayer of invocation. More ...
ROSALENE BASS
RED OAK NEWS
Best wishes to Brandon Driver and Megan McIntyre who were united in marriage Saturday, Aug. 4!
Ladies from Red Oak Baptist Church participated in the Adopt-a-Dorm Bible Study at Fountain Correctional Center in Rocky Mount on Monday, Aug. 6. Hazel Hill led the study with Nell Boone, Sue Edwards, Marilyn Boone, Audrey Pearce, Suzy Pearce, and Marion Hawkins also attending. More ...
SUZY PEARCE
Community Office Hours
Nash-Rocky Mount Superintendent Dr. Anthony Jackson continued his series of Community Office Hours with the Superintendent at Ephesus Baptist Church in Spring Hope on Tuesday, August 7. Pictured above, residents discuss many topics during the community office hours meeting in Spring Hope. More than 50 community members attended the open meeting to hear the latest on the status of student reassignment as well as the opening of school and other topics. More ...


Triston Gregory

Gregory wins gold during 4-H Congress Week
Triston's Texas T-Bone was a favorite at 4-H Congress Week, held in mid-July in Raleigh.
Triston Gregory was named the State Gold Char Grill Presentation winner for his t-bone steak marinade recipe.
To be a part of the 4-H Congress presentation competition, Gregory won a gold medal at District Activity and then went on to compete at the state competition. More ...
Amanda Clark, Graphic Staff Writer
District Activity Day pics, 2
Stacie Winner was a gold winner at District Activity Day and went on to win a silver award at the State 4-H Presentation Contest. Pictured is Winner (far right) with Assistant State 4-H Leader Dr. Thearon McKinney. More ...

District Activity Day pics, 3
Emmett LaHay won a gold medal at District Activity Day. He also won a participation ribbon at state events. Pictured is LaHay (at right) with Assistant State 4-H Leader Dr. Thearon McKinney. More ...

Letting kids make their own way is tough
We all see the stories in the papers and on the Internet and TV about the crazy parent or parents getting in fights with referees or other parents or coaches at youth sports events.
Heck, I've umpired youth baseball and refereed adult basketball and seen some pretty ridiculous behavior myself. More ...
Mike Brantley
Lost photos are returned to family members
Last week we published a brief story and photos regarding two men from Nashville. A young man from Rocky Mount, Jason Hale, found photos of the two men and a newspaper clipping in an older home he was cleaning out for his grandfather. The photos of the two men, John Aster Winstead, Jr. and Roy Lee Tisdale, were taken while they were in the Vietnam War. More ...
Jo Anne Cooper
Our Water, Our Tax Money
For almost two years now the City of Wilson and the Nash County Landowners Association have been working to protect the water supply of Wilson and Nash Counties from a chicken slaughterhouse planned for the NC 97/ I-95 vicinity. Most taxpayers have not participated in the fray, but most Nash and Wilson County taxpayers will be affected.
More ...
Letters to the Editor:
Age is merely a state of mind
Last week, something horrible happened to me. I turned a year older.
It all happened last Thursday.
I went to bed Wednesday night feeling pretty good for a change but around 4 a.m., woke up with a pain in my chest.
I thought I was dying. More ...
Amanda Clark
Backward Glances
This photo was contributed by John Vanhook of Nashivlle. Pictured standing, left to right, are Robert DeLooza (NY), Earl Sizemove (SC) Bill Haefnel (NY) and John Vanhook. The photo was taken at Camp Brekinridge in January of 1943. More ...
A PICTORIAL LOOK INTO THE PAST

LOOKING FOR RUNNING ROOM FOR NC. Nash Central High School's Khalil Macklin (with ball) tries to find open space during last Wednesday evening's football scrimmage with Bunn on the NCHS campus.

A Duel Of Titans
ROCKY MOUNT -- Bunn and Nash Central proved to be perfect dance partners for a preseason football scrimmage.
Both clubs are expected to compete for the top spot in their respective conferences, and both are loaded with returning talent on each side of the ball. More ...
GEOFF NEVILLE, Graphic Sportswriter

MAN IN THE MIDDLE. Northern Nash's William Moore (middle) tries to escape a pair of Southern Nash defenders during action last Thursday evening at the Fighting Knights Boys Soccer Jamboree in Red Oak.

YOUNG ONCE AGAIN
RED OAK -- Sub-500 seasons aren't usually part of the boys soccer history books at Northern Nash.
But the Knights struggled through an uncharacteristic campaign in 2011 as a young team managed to post a 3-12-2 record in the difficult Big East Conference.
"We've got nowhere to go but up,'' veteran coach Joe McCarthy said just before his team traveled to Wilson on Tuesday for its opener at Beddingfield. More ...
GEOFF NEVILLE, Graphic Sportswriter

AROUND END. Southern Nash's Clinton Whitaker (left) follows his blockers last Friday against Warsaw James Kenan at the Wilson Fike Jamboree.

A Work In Progress
WILSON -- Statistically, Southern Nash had over 25 percent of its starters unavailable for last Friday's Wilson Fike Football Jamboree.
While SN head coach Brian Foster hopes those players will return to the lineup soon -- including quarterback returnee Deon Lavender -- he did see a silver lining during his club's scrimmage segments against Warsaw James Kenan, Louisburg and C.B. Aycock. More ...
GEOFF NEVILLE, Graphic Sportswriter
Northern schedule released
RED OAK -- Northern Nash kicked off its 2012 boys soccer schedule on Tuesday with a road meeting against Wilson Beddingfield.
NN's home opener will be Aug. 23 versus the Franklinton Red Rams.
Northern's complete ledger is as follows, with home matches listed in CAPS: More ...
Staff Reports

SPRINT TO THE BALL. Southern Nash's Tristan Stallings (left) tries to gain possession of the ball during the Firebirds' 1-0 home victory over Franklinton on Monday in the opener for both squads.

Open & Shut Out
STANHOPE -- Southern Nash's unique set of talented scorers versus stingy Franklinton keeper Jared Miller proved to be an entertaining facet of Monday's boys soccer season opener for both squads.
Southern, led by midfielder Moises Gonzalez and speedy wing Miguel Salazar, was able to put consistent pressure on Miller, who answered with a slew of acrobatic saves to keep the Firebirds off the scoreboard. More ...
GEOFF NEVILLE, Graphic Sportswriter
Rayl reels in the Hillcats, 5-0
LYNCHBURG, VA. -- Mike Rayl has been an anchor for Carolina over the last few weeks, and his unrelenting will power helped the Carolina Mudcats combine on a 5-0 shutout of the Lynchburg Hillcats on Sunday evening at Calvin Falwell Field in a Class A Carolina League baseball contest.
The Mudcats improved to 25-24 in the second half, and 57-62 overall. Carolina wins the season series over Lynchburg 11-9. More ...
Staff Reports
OUTNUMBERED
Nash Central running back Collin Staton tries to get past several Bunn defenders last Wednesday. More ...

FLEET AFOOT
Northern Nash's Luke Edwards (18) races toward possession during last Wednesday evening's Fighting Knights Boys Soccer Jamboree, which was staged on the NNHS campus. More ...

RM, NN ready for openers
ROCKY MOUNT -- Rocky Mount's Jason Battle is full of mixed emotions this week.
The new head football coach of the Gryphons is on Cloud 9 about being the school's gridiron leader.
He's beside himself about being a part of the school's first-ever on-campus football game when 2-A power Bunn comes calling for the season opener in RMHS' brand new stadium Friday. More ...
CHARLES ALSTON, Graphic Correspondent
County Line foiled by weather
ELM CITY -- Mother Nature once again had an agenda of her own planned last Saturday night, washing out yet another event at County Line Raceway.
Rain began falling shortly after the gates opened and forced track officials to cancel the evenings racing action for the fifth time this season.
More ...
Staff Reports
SUMMER CAMP HIGHLIGHTS
SUMMER FUN IN NASH COUNTY. The Nash County Parks and Recreation Department held several youth camps this summer. Above, Chason Royal is shown running with the pigskin during the Football Camp. More ...

LAST LINE OF DEFENSE
A Southern Nash player (right) makes a strong open-field tackle during a scrimmage against C.B. Aycock as part of last Friday night's Wilson Fike Jamboree. More ...


MEDALS COLLECTOR. Nashville resident Rachel Blankenship was the Top Highest Point Gymnast at the Tri-County Arts Fun Meet, which was held in Rocky Mount in June.

Tri-County hosts event
ROCKY MOUNT -- Just as its name implied, a good time was had by all at the 2012 Tri-County Arts Fun Meet gymnastics event in June.
Tri-County Arts and Coach June Fenton hosted the meet, which was open to young gymnasts from both Tri-County and other schools in the area. More ...
GEOFF NEVILLE, Times Sportswriter
TOP BOY
Eric Barry was the Top Boys Finisher at the Tri-County Arts Fun Meet. More ...

GEORGE SELVA EDWARDS, JR.
George Selva Edwards, Jr., 77, passed away Thursday, August 8, 2012. He was born in Wilson County July 13, 1935 to the late George S. Edwards, Sr. and Gertrude Williams Edwards. In addition to his father and mother, he was preceded in death by a brother Billy Fate Edwards and a great grandson, C.J. Jones. More ...

CHARLES DOUGLAS LONG
Charles Douglas Long, 88, passed away Wednesday August 8, 2012. He was born May 1, 1924 in Nash County to the late Avery C. and Effie Sherrod Long. Charles was preceded in death by a brother, Pershing Long and a sister, Gertrude Cooper. More ...

RACHEL BRIDGERS VICK
Rachel Bridgers Vick, 65, passed away Monday, August 13, 2012. She was born August 26, 1946 in Wilson County to the late Millard Eugene and Mary Lee Whitley Bridgers. She was preceded in death by her husband Billy Vick. More ...

LLOYD BYNUM, SR.
ROCKY MOUNT - Lloyd Bynum, Sr., 76, of Rocky Mount, died on Sunday, August 5, 2012, at South Village Nursing Center in Rocky Mount. More ...

LLOYD "REGGIE" ELVIN HICKS
ROCKY MOUNT - Lloyd "Reggie" Elvin Hicks, 66, died August 1, 2012. Funeral service was Friday, August 10, 2012 at Cedar Grove Baptist Church at 1 pm. Rev. Marcellious Phillips officiated. Burial was at Gardens of Gethsemane.
More ...

MAGGIE LEE WARREN
BROOKLYN, NY –– Maggie Lee Warren, 65, of Brooklyn, New York, and formerly of Rocky Mount, died on Friday, August 3, 2012. More ...

RENA BELLE DAVIS
Rena Belle Davis, 79, passed away Sunday, August 12, 2012. She was born July 6, 1933 in Lenior County to the late Needham Chancey and Rena Bell Atkins Brock. In addition to her parents Rena was preceded in death by her sisters, Clarice Jones, Eva Miller, Irene Carroll, Gertrude Brock, Callie Brock, Daisy Catherine Jones, Betty Lou Mercer and Marie Byrd; brothers, Ransom Brock, Jack Brock, and Bobby Brock. More ...

THELMA NELSON LILLY
ROCKY MOUNT - Thelma Nelson Lilly, 83, died August 7, 2012. Graveside services were Tuesday August 14, 2012 at Gardens of Gethsemane at 1 p.m.
More ...